25 Gorgeous Black Diamond Engagement Rings
These dazzling black sparklers bring the drama.
We have included third party products to help you navigate and enjoy life's biggest moments. Purchases made through links on this page may earn us a commission.
The embodiment of elegance and all things chic, black is arguably the most loved color in fashion. It should come as no surprise that black diamond engagement rings have emerged as one of the hottest wedding ring trends among "it" girls in recent years. Bold, glamorous and a little bit mysterious, these gray to black versions of natural diamonds are a gorgeous option for the bride searching for a unique engagement ring. After all, Mr. Big proposed to style icon Carrie Bradshaw with a a five-carat black diamond Itay Malkin ring set in 18-karat white gold (if we're being specific) in the 2010 movie Sex and the City 2, catapulting these unique gemstones into the mainstream.
Their trendy status aside, black diamonds are also a wise choice for to-be-weds on budget, as they tend to cost less than traditional white diamonds. Another plus? They're also surprisingly versatile. Whether surrounded by a halo of smaller white diamonds, the dazzling center stone of a solitaire ring setting or a more subtle accent stone in a wedding band, there's a black diamond ring style for everyone.
What Does a Black Diamond Engagement Ring Mean?
We've established black diamond rings are synonymous with a killer sense of style, but their significance is much deeper and more sentimental than cool girl appeal. For centuries, diamonds have symbolized flawless, eternal and unchanging love, making them the preferred stone for engagement rings for obvious reasons. Given that black diamonds are also real diamonds, all of these romantic characteristics of white diamonds can also be applied to black diamonds. And, due to the intense, color that sets them apart from white diamonds, black diamonds are also associated with passionate love and strength.
Is a Black Diamond a Real Diamond?
While they may not have the same brilliance (read: out of control sparkle) as white diamonds due to their dark color, black diamonds are real diamonds. Most naturally colored black diamonds get their color from large amounts of dark-colored mineral inclusions (also known as internal flaws) made of graphite, pyrite or hematite that occur as the stone is forming in the earth's crust. These diamonds may also have fractures that are stained black or have become black over time. Natural black diamonds are typically opaque, with a luster that makes them appear almost metallic. Fun fact: Most of the black diamonds sold for fine jewelry and engagement rings have been treated with a high-temperature/low-pressure treatment to enhance their black color.
The Best Black Diamond Engagement Rings of 2020
Feeling a black diamond engagement ring now? Shop some of our fave rings styles below.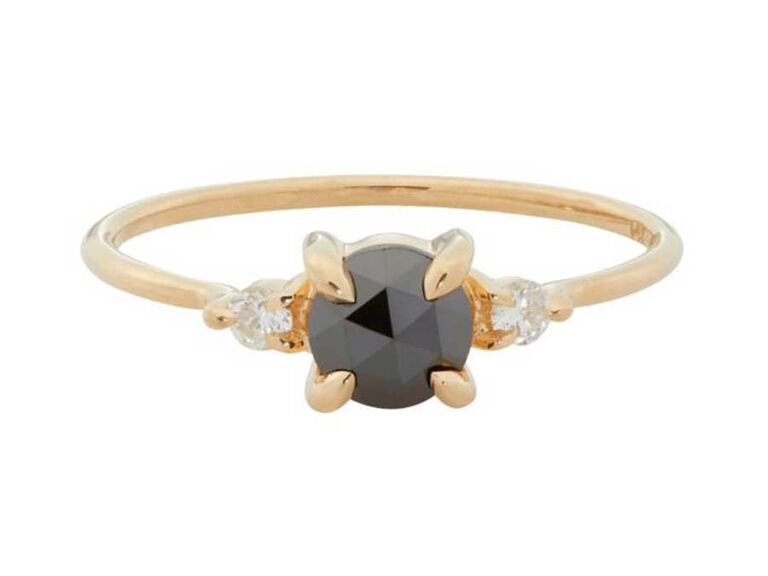 The traditional three stone ring gets a modern update with this dainty style featuring a rose-cut black diamond and petite round-cut side stones set in 14k rose gold.
Catbird Wedding Odile the Swan ring in 14K Yellow Gold, $1,350, CatbirdNYC.com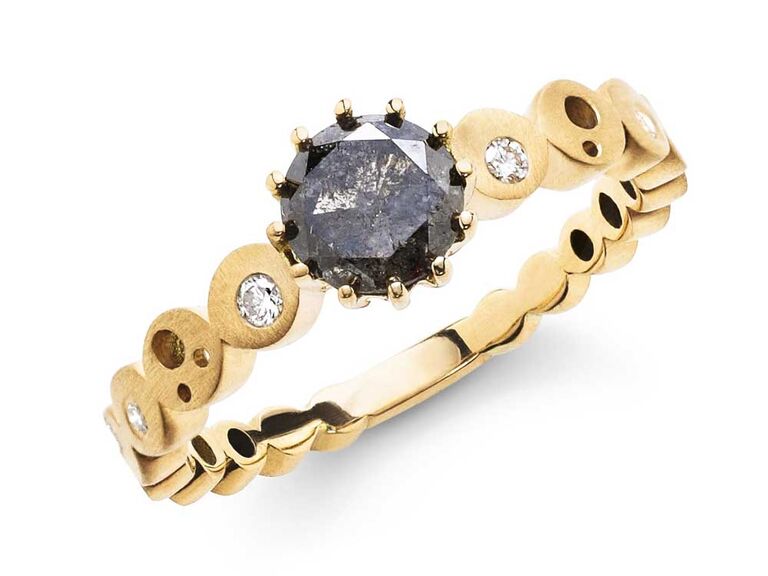 Coins and the sparkle of the night sky inspired the unique design of this black diamond solitaire ring set in yellow gold, making it a talisman of luck.
Dana Bronfman Constellation coin band round solitaire ring in 18K Yellow Gold, $1,935, DanaBronfman.com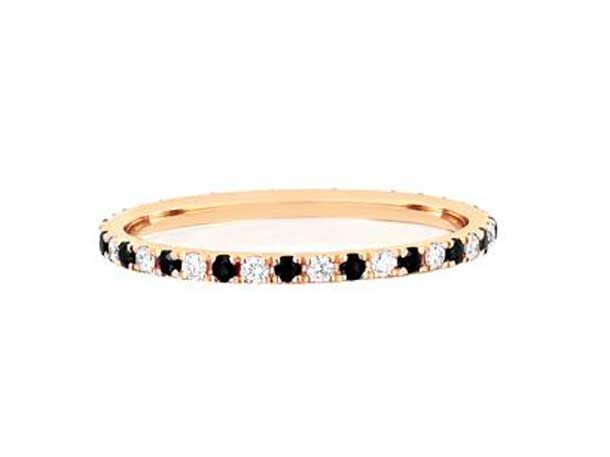 Alternating black and white diamonds in yellow gold give this wedding band a fashion-forward vibe. Wear alone or add it to your bridal set.
EF Collection diamond and black diamond dot eternity band ring in 14K Yellow Gold, $1,025, EFCollection.com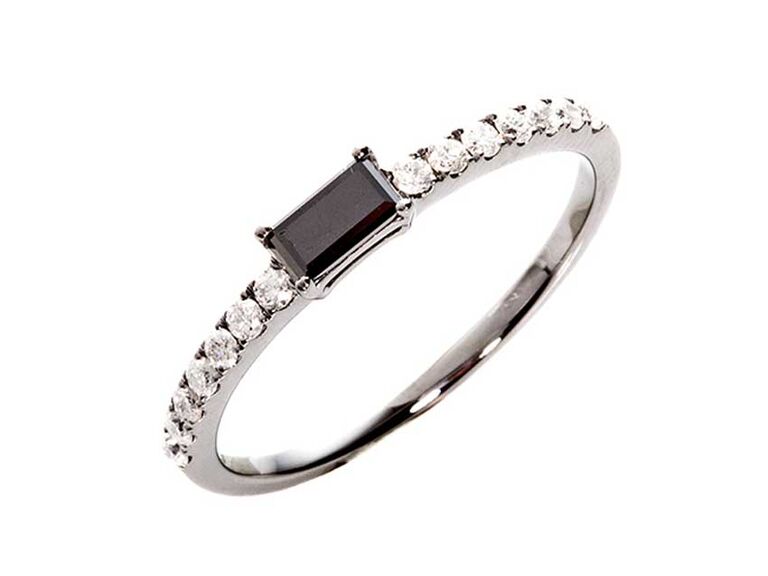 A classic ring style with a twist, this east west emerald cut black diamond in a white gold setting is both edgy and timeless.
Graziela baby black and white baguette band ring in 18K Dark Rhodium, $1,620, GrazielaGems.com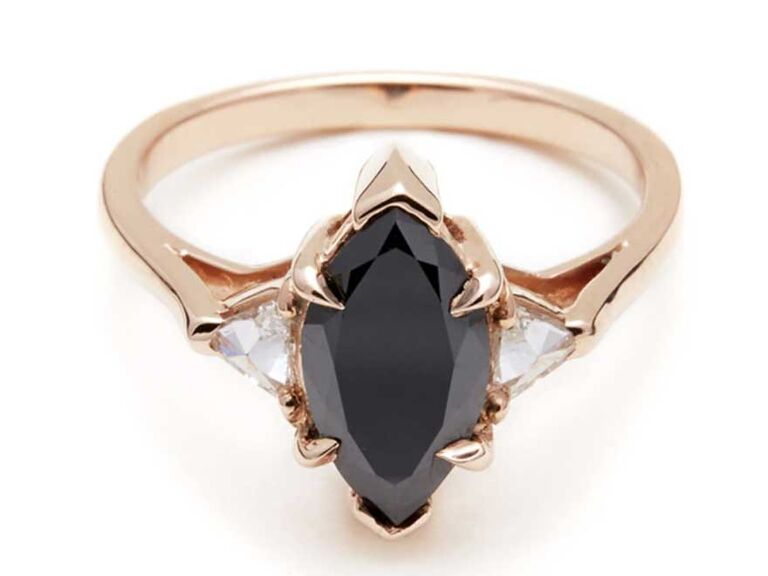 A marquise-cut center stone, trillion side stones and a rose gold prong setting make for one standout sparkler.
Anna Sheffield Bea marquise black diamond ring in 14K Rose Gold, $5,600, AnnaSheffield.com
It doesn't get more luxe than a halo engagement ring with a black diamond center stone and white diamond halo set in 18k yellow gold.
Blanca Monrós Gómez Aura black diamond ring in 18K Yellow Gold, $2,104, CatbirdNYC.com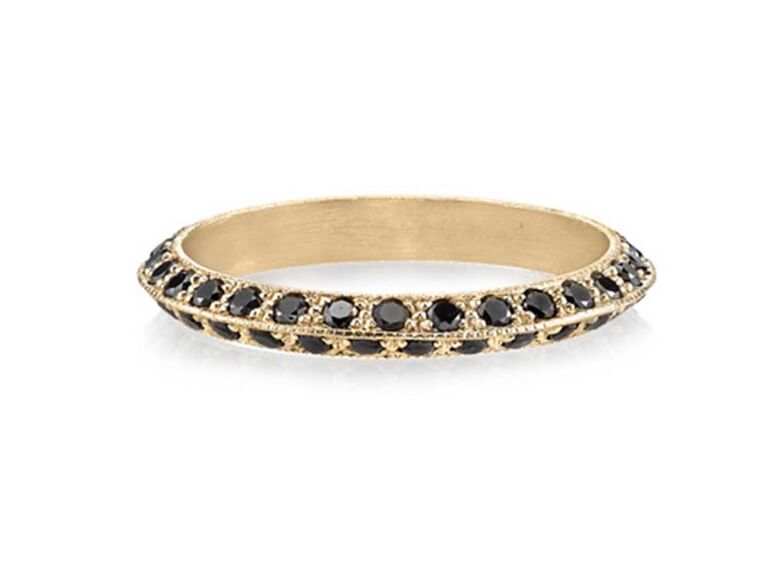 If you're in the market for an unexpected wedding band or a statement piece to add to your ring stack, consider this uber-chic option with a sleek knife edge and allover black diamond pavé.
Lizzie Mandler pavé knife edge band in 18K Yellow Gold, $2,495, LizzieMandler.com
Feeling bold? Opt for the edgy combo of a black diamond center stone and ruby side stones set in 18k white gold.
Maria Jose Jewelry black diamond and ruby ring in 18K White Gold, $8,000, ModaOperandi.com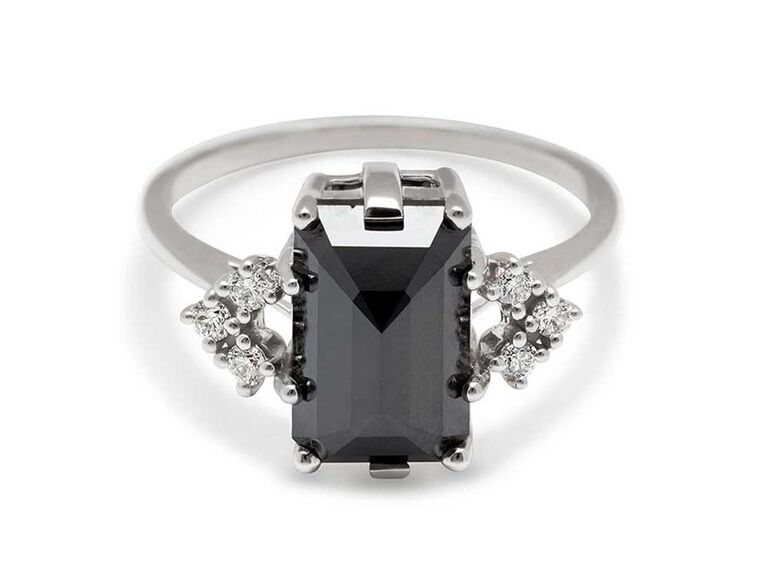 An emerald-cut black diamond plus round-cut diamond side stones that create delicate "arrows," this modern ring is all about clean lines and unexpected details.
Anna Sheffield Bea arrow ring in 14K White Gold, from $9,275, AnnaSheffield.com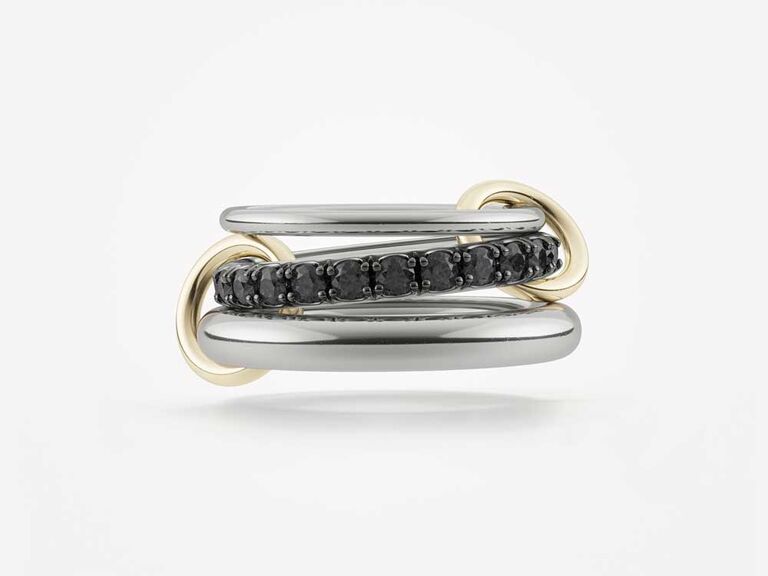 Three 18k black gold linked rings with a pavé-set black diamond center band creates one standout stack.
Spinelli Kilcollin Nyx BG ring in 18K Black Gold, $5,800, SpinelliKilcollin.com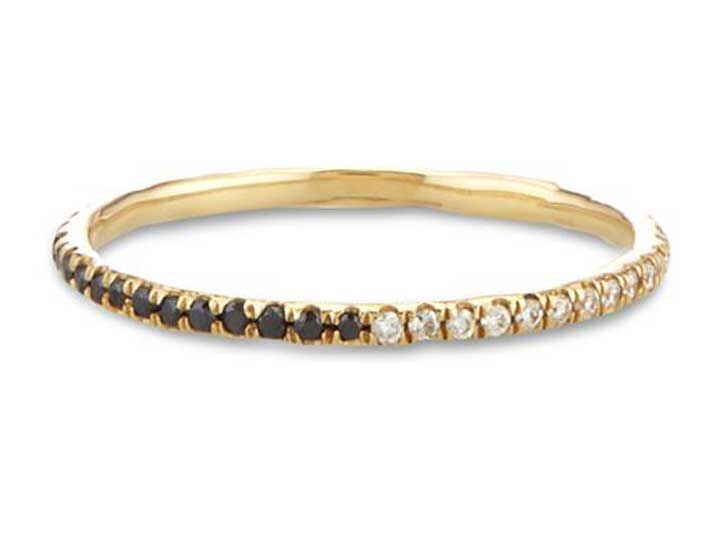 Opt for a yellow gold wedding band with half black diamonds and half white diamonds for a cool contrast.
Vale white and black diamond eclipse ring in 18K Yellow Gold, $1,250, Swoonery.com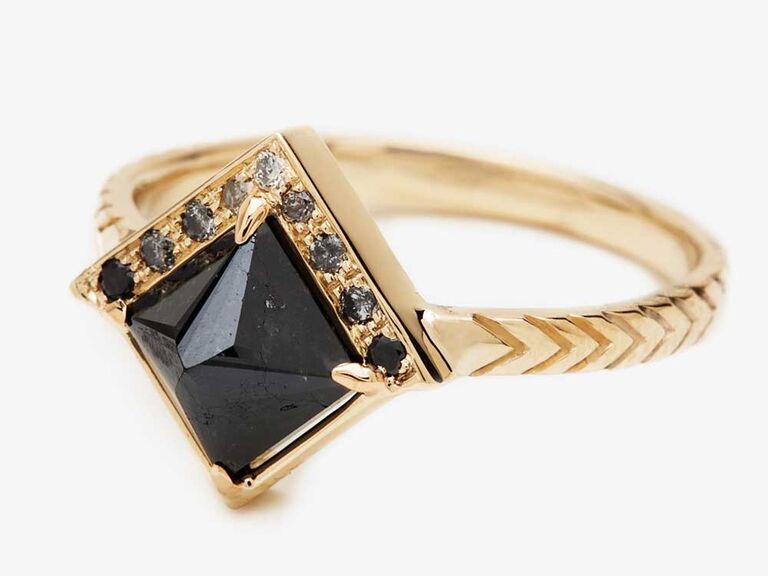 Boho brides: This one's for you. It doesn't get more effortlessly glam than an inverted princess-cut black diamond and a yellow gold setting with chevron details.
Digby & Iona Raziel ring in 14K Yellow Gold, $3,180, DigbyandIona.com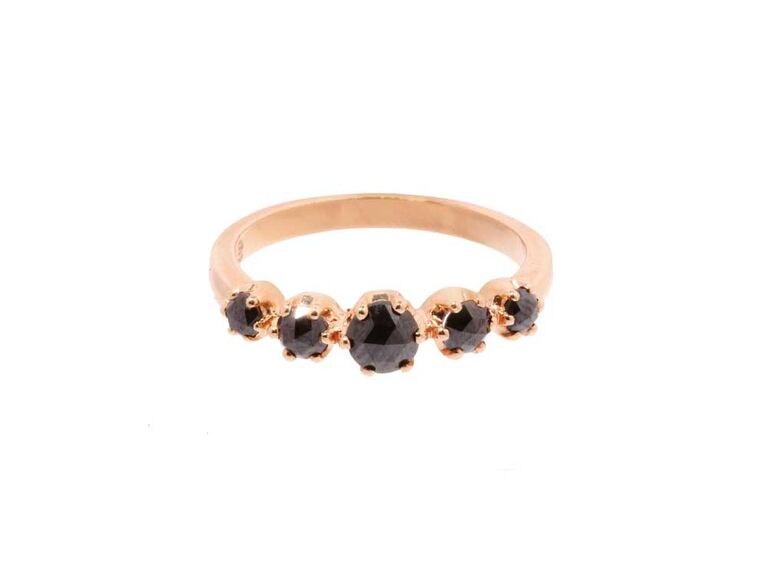 If more traditional wedding band styles aren't your thing, try a chunkier band with rose-cut black diamonds set in rose gold.
Sethi Couture black rose-cut diamond ring in 18K Rose Gold, $1,100, BrokenEnglishJewelry.com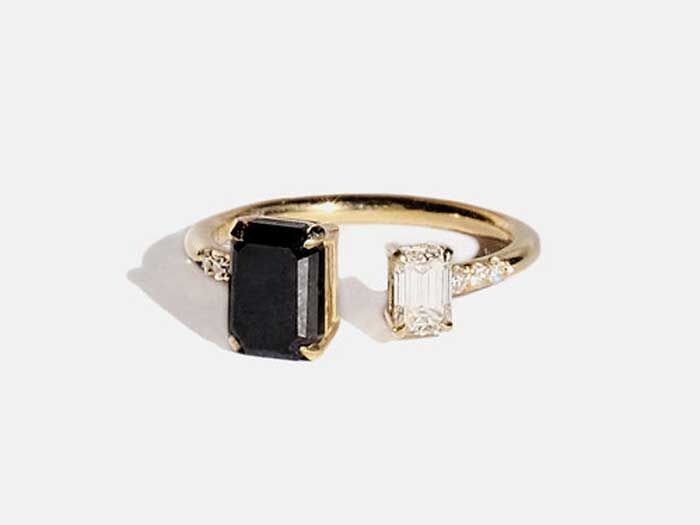 This gorgeous take on a toi et moi ring features an emerald-cut black diamond and an emerald-cut white diamond.
Katkim Jewelry Mommy+Me emerald black and white diamond ring in 18K Yellow Gold, $4,770, KatkimFineJewelry.com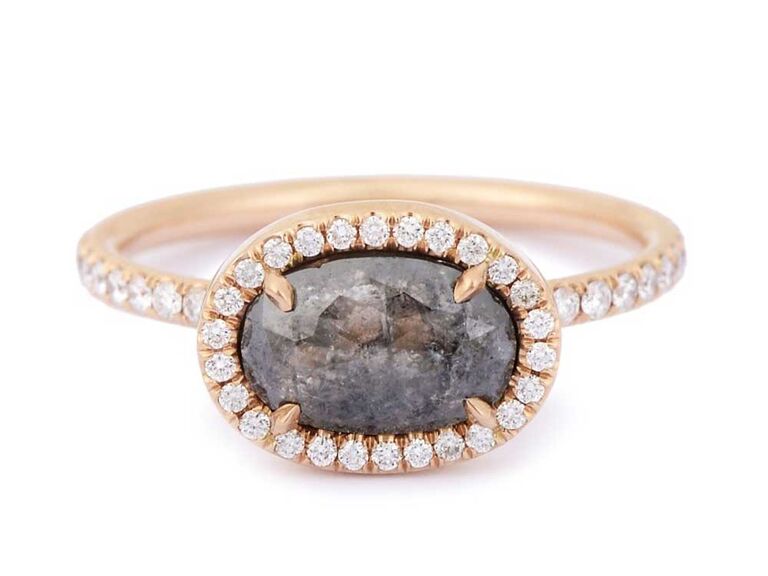 A rose-cut black diamond surrounded by an organically-shaped white diamond halo gives this ring an artsy feel.
Greenwich St. Jewelers Ceremony Barclay ring in 18K Rose Gold, $3,200, GreenwichJewelers.com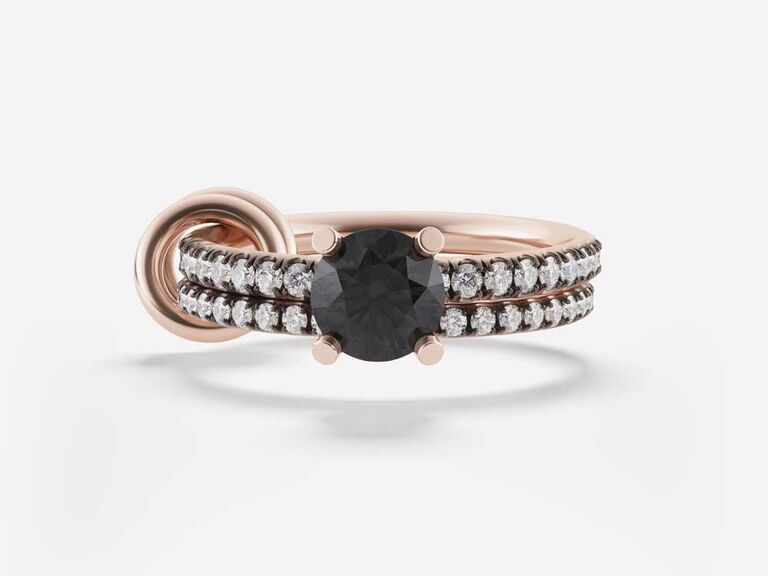 Calling all non-conformists: A solitaire black diamond in a linked ring with two bands of 18k rose gold is an alternative bride's dream.
Spinelli Kilcollin Petra Rose ring in 18K Rose Gold, $7,800, SpinelliKilcollin.com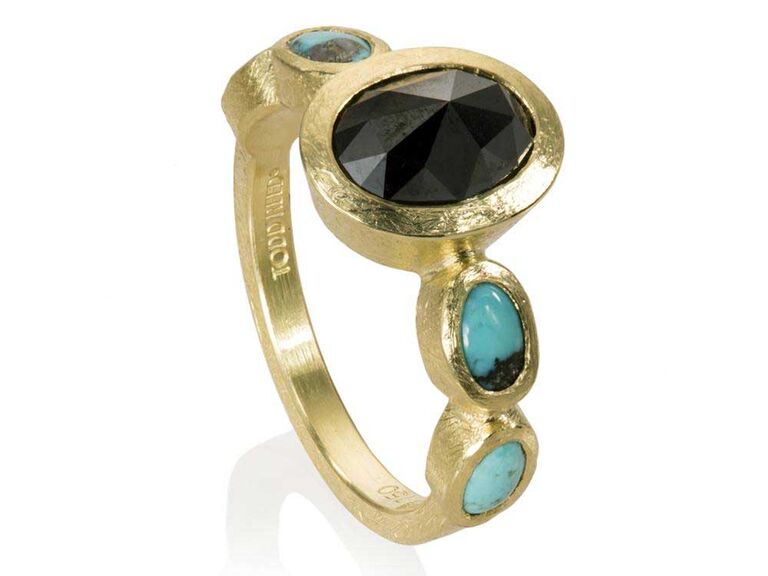 This eclectic combo of an oval black diamond center stone and oval cabochon turquoise side stones is sure to set you apart from the crowd.
Todd Reed TRDR50016 ring in 18K Yellow Gold, $8,450, ToddReed.com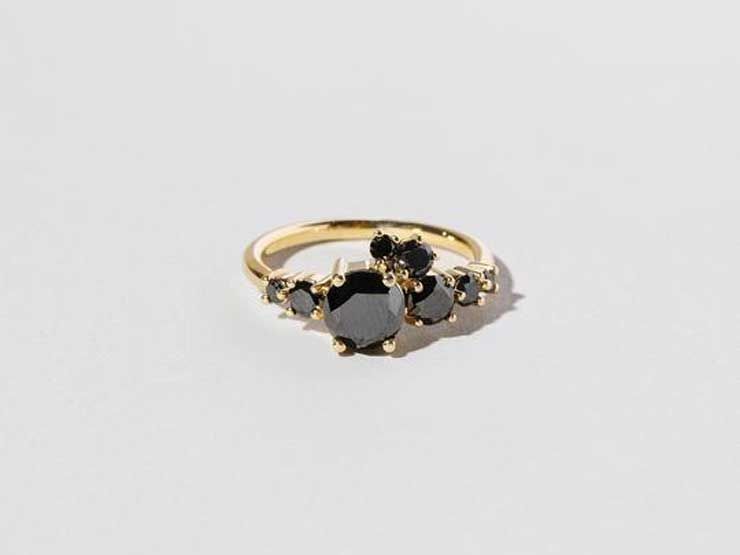 What's better than one black diamond? Eight. This offbeat sparkler features seven round cut, black diamond accent stones clustered around a rose-cut black diamond center stone.
Mociun Luna asymmetrical stone cluster ring with black diamonds in 18K Yellow Gold, $3,500, Mociun.com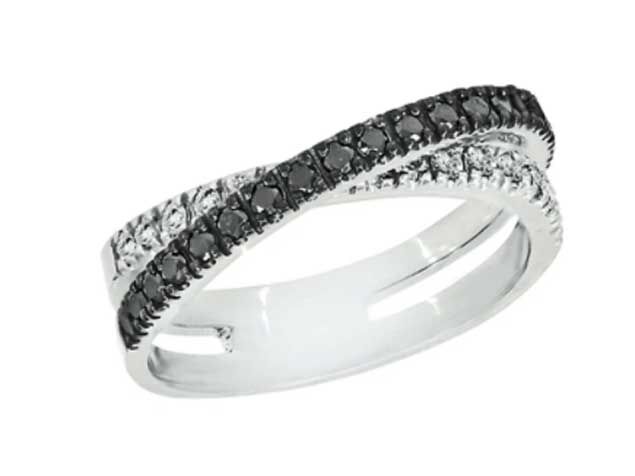 Up the cool factor on a classic bypass setting and opt for a style with black and white diamonds.
Effy black and white diamond ring in 14K White Gold, Inquire for Details, EffyJewelry.com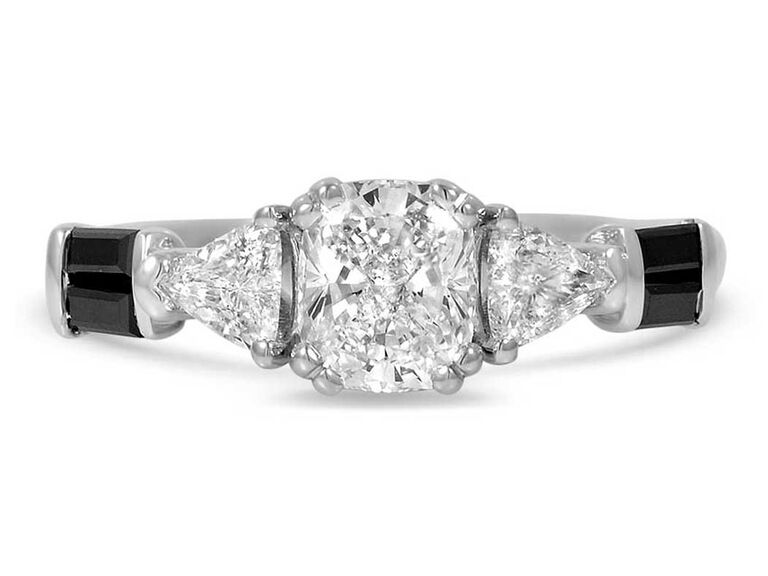 Bar-set baguette black diamonds along the shoulders of the setting give this otherwise traditional ring a modern update.
Brilliant Earth trillion trellis black diamond ring, Inquire for Details, BrilliantEarth.com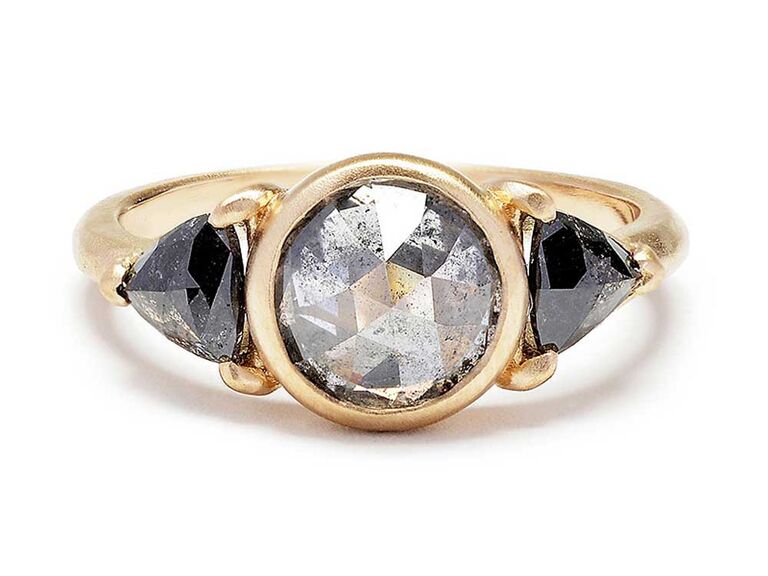 Black diamond trillion side stones set off a lustrous gray diamond center stone.
Rebecca Overmann Totem diamond engagement ring in 14K Yellow Gold, $6,250, GreenwichJewelers.com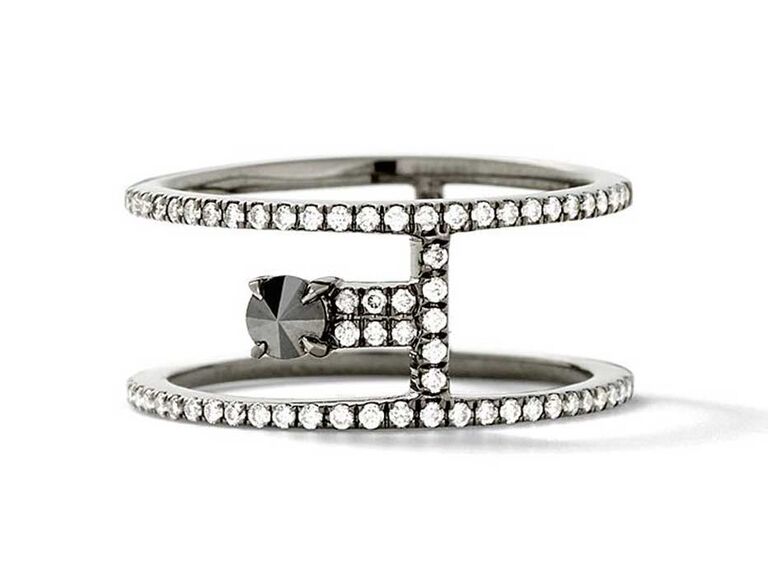 Fashionistas, take note: This seriously unique ring featuring an inverted black diamond in a blackended gold setting is as forward as it gets.
Eva Fehren The Single Rouleau ring, $3,325, EvaFehren.com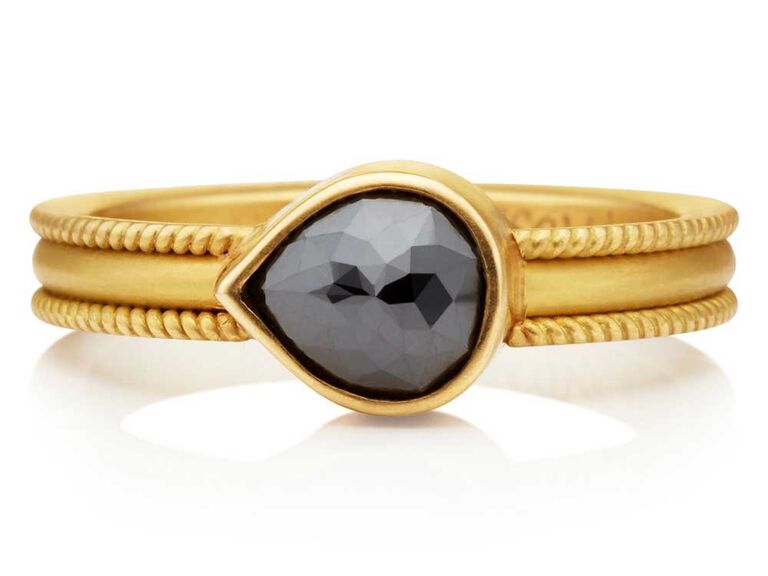 This pear-shaped black diamond gives a timeless peach gold setting just the right amount of edge.
Reinstein Ross Teardrop Black Diamond Ribbon ring, $3900, ReinsteinRoss.com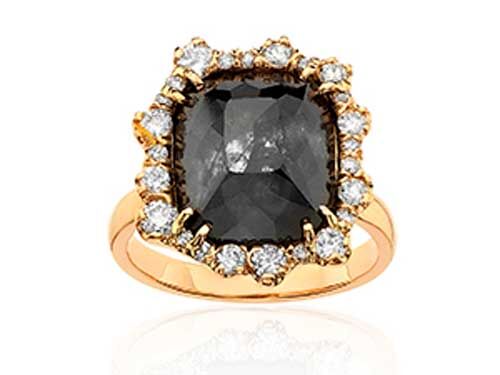 Made for the bride who isn't afraid to get über-glam, this impressive black diamond center stone and luxe diamond halo are sure to turn heads.
Kimberly McDonald black diamond ring with diamond halo, Inquire for Details, KimberlyMcDonald.com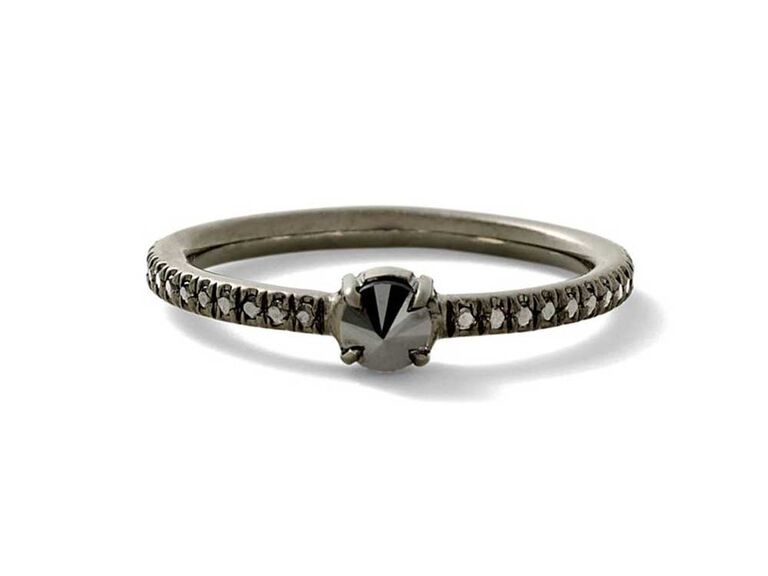 Bigger isn't always better. This dainty inverted black diamond ring still packs a totally fabulous punch.
Eva Fehren The Solitaire ring, $1,425, EvaFehren.com