21 Glamorous Emerald-Cut Engagement Rings
These classic rings will never go out of style.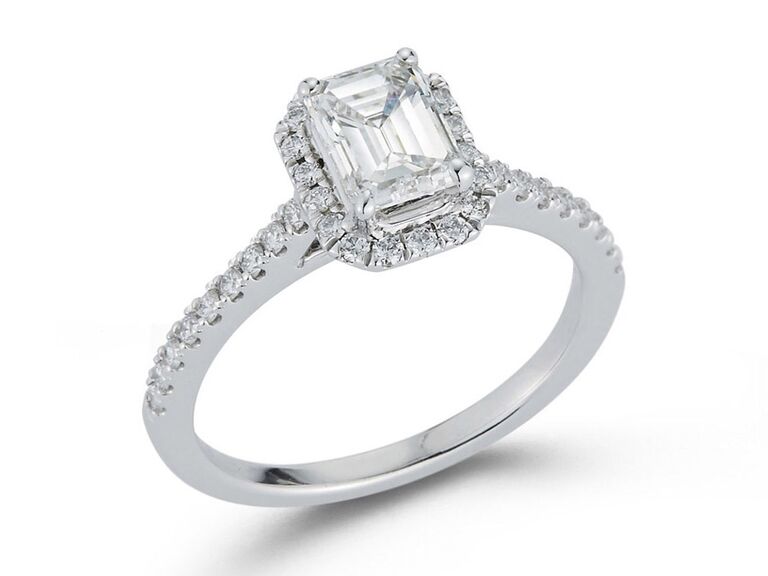 We have included third party products to help you navigate and enjoy life's biggest moments. Purchases made through links on this page may earn us a commission.
Emerald-cut engagement rings are all about timeless glamour. From the stars of old Hollywood like Elizabeth Taylor to modern-day celebrities like Beyoncé and Amal Clooney, it would seem that emerald-cut engagement rings are always on trend.
If an emerald-cut engagement ring is on your wishlist, there are a few things to know before taking the plunge. To help you out, we put together this comprehensive guide on emerald-cut engagement rings that's sure to answer all of your questions. Even better, we've curated a list of 21 editor-approved rings you can add to your cart right now.
In this article:
21 Emerald-Cut Engagement Rings You Can Buy Now
Feeling an emerald-cut engagement ring right now? Shop some of our faves below.
Brilliant Earth Elodie Solitaire Engagement Ring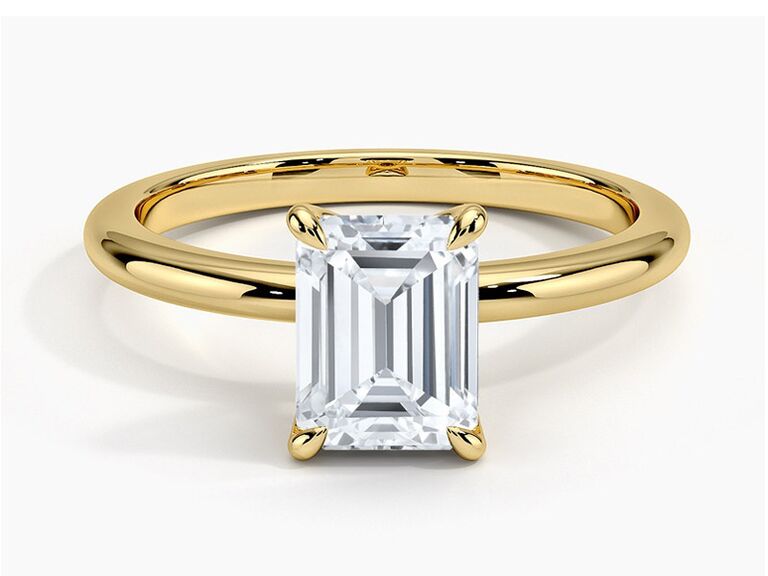 It's a classic. The claw prongs, open basket setting and simple band of this emerald-cut engagement ring will stand the test of time.
Holden The Emerald 3-Stone Ring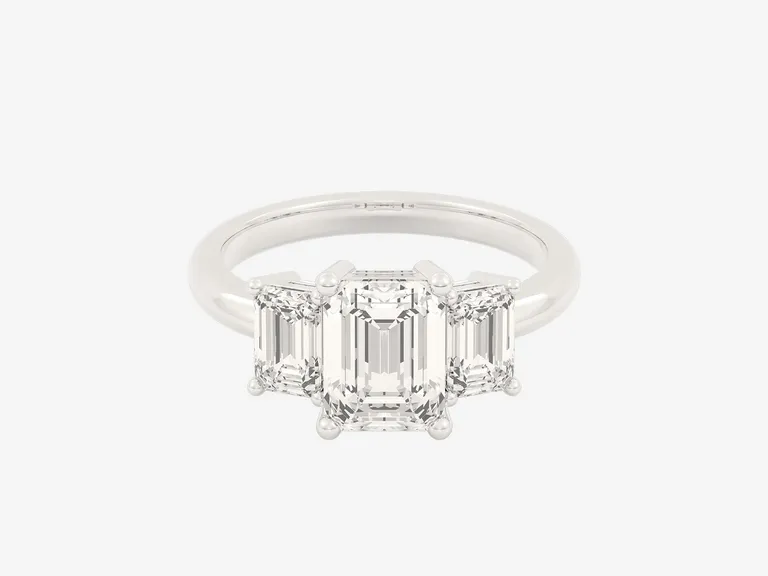 Thanks to a minimalistic setting with two smaller emeralds framing a dazzling center emerald-cut diamond, this ring is sleek, chic and the picture of modern elegance.
Kwiat Engagement Ring With an Emerald-Cut Diamond and Channel-Set Band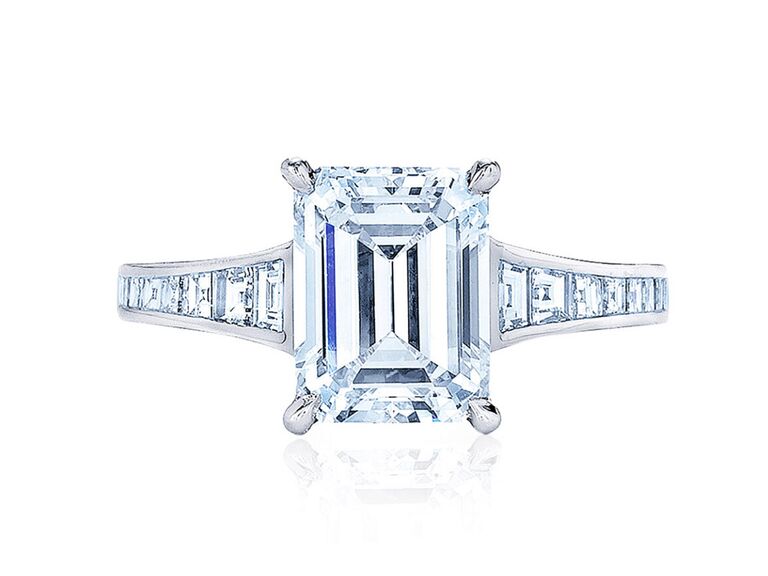 A streamlined band with channel-set carré-cut diamonds puts all the focus on a striking emerald-cut center stone.
Wwake East-West Emerald-Cut Diamond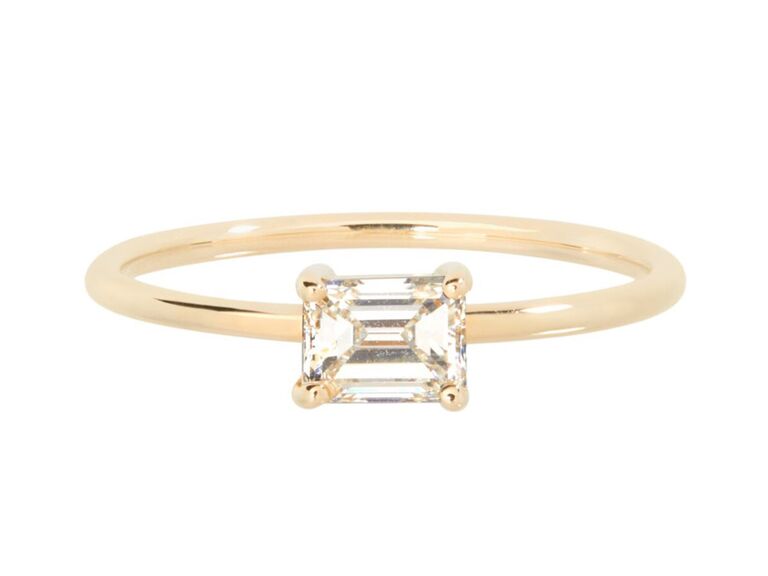 Sometimes less is more. With its clean, simple rectangular shape, this east-west solitaire is made for the ultra-modern bride.
Barkev's Emerald-Cut Black Diamond Halo Engagement Ring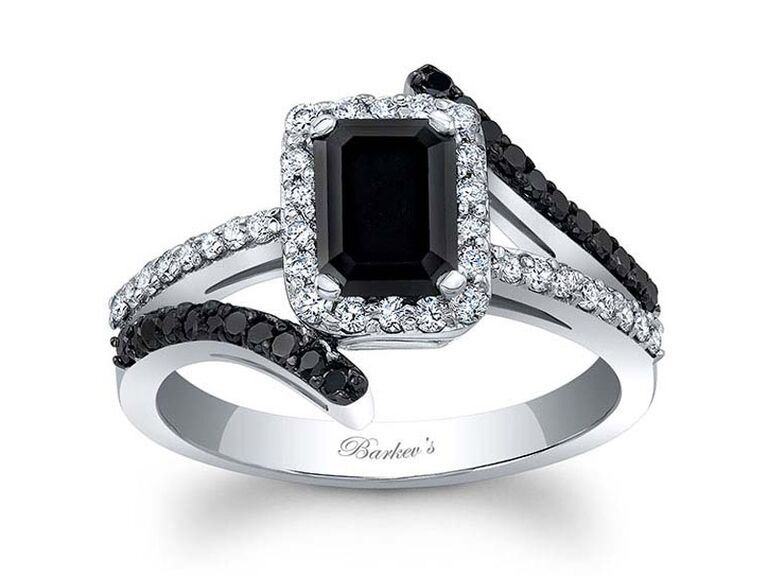 While this alternative engagement ring has a stunning black center diamond with a bright white diamond halo, the split shank is really the star of the show.
David Yurman Delaunay Engagement Ring in 18K Gold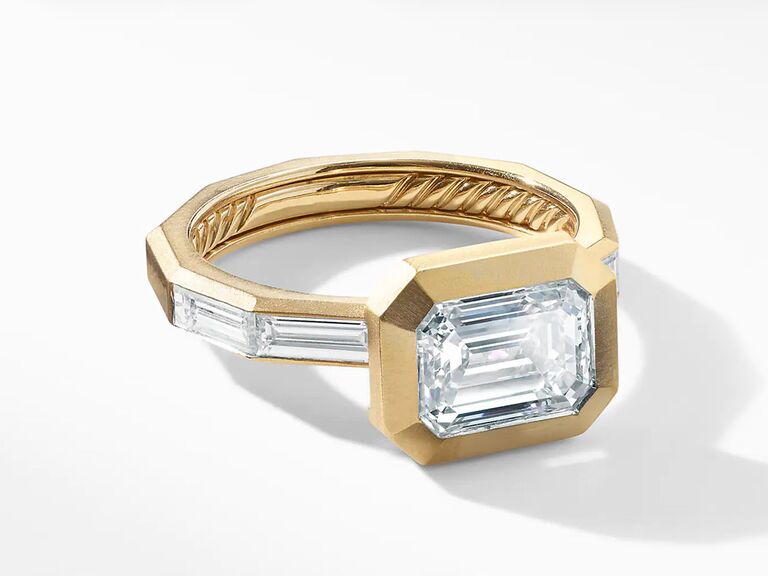 The showstopper from David Yurman was modeled after the engagement ring the master jeweler created for his wife. Artfully designed with a brushed gold finish, this ring features a dazzling emerald-cut diamond with a clean bezel ring setting.
Jared Emerald-Cut Diamond Ring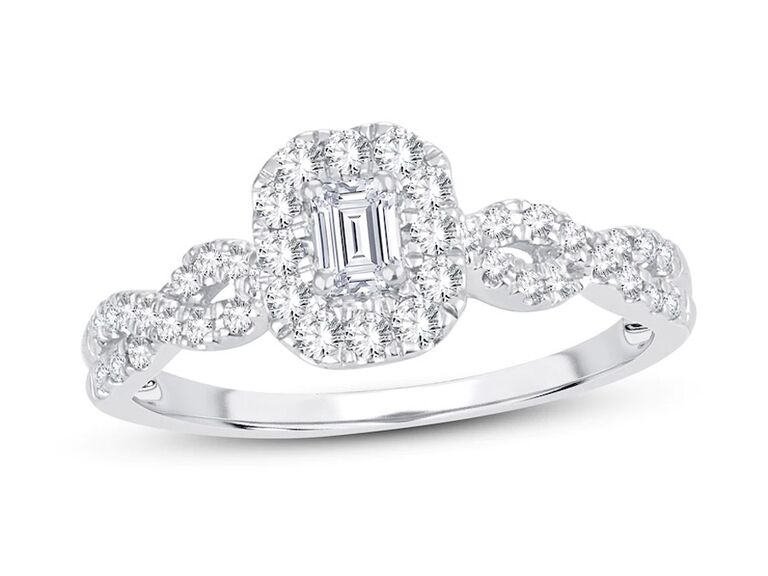 Perfect for the bride who likes to double down on the glam, this ring features a gorgeous emerald-cut diamond framed by a brilliant halo of round diamonds. Bonus: Plenty more diamonds line the twisted shank, bumping up the total carat weight.
Jennie Kwon Melody Ring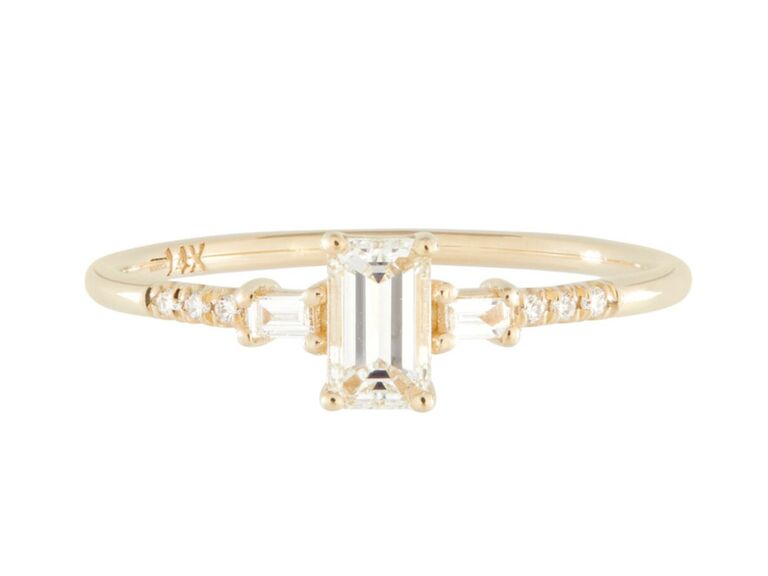 Boho brides, this one's for you. This understated ring by Jennie Kwon is modern and minimalist with a hint of vintage vibes. Crafted in 14-karat gold, it features a petite emerald-cut diamond flanked by baguettes and round diamonds on either side.
Neil Lane Art Deco Inspired Diamond Engagement Ring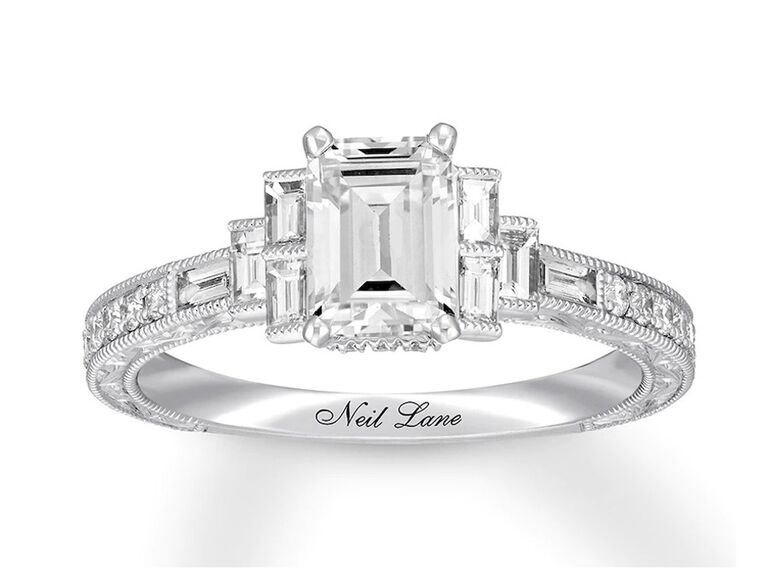 In this ode to Art Deco, Neil Lane does it again. Thanks to an emerald-cut diamond center stone, stunning baguettes all around and intricate milgrain details, this sparkler is all about modern day elegance and antique charm.
Brilliant Earth Nadia Marquise Diamond Engagement Ring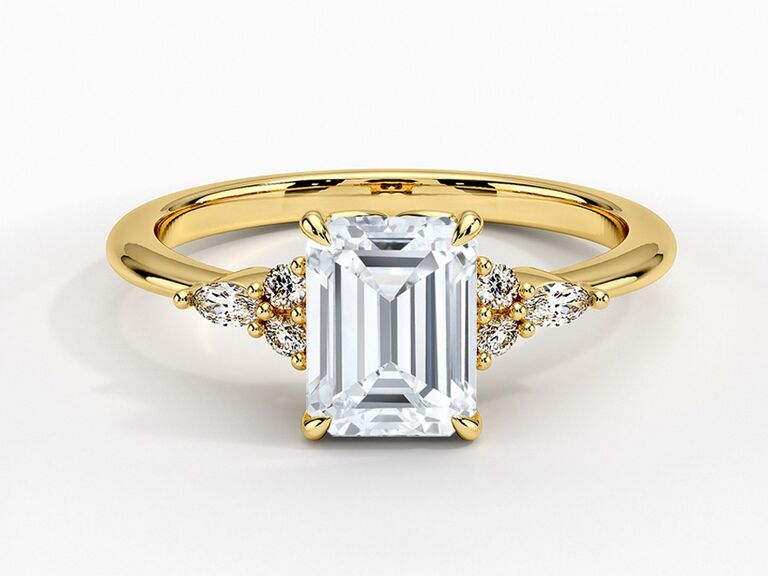 With a cluster of round and marquise-shaped diamonds resting on its shoulders and a stunning emerald-cut diamond sitting regally in the center, this ring serves understated elegance. And while the yellow gold setting is pretty fabulous, this ring looks equally stunning in rose or white gold.
Dana Rebecca Designs Emerald Cut Halo Pavé Cathedral Engagement Ring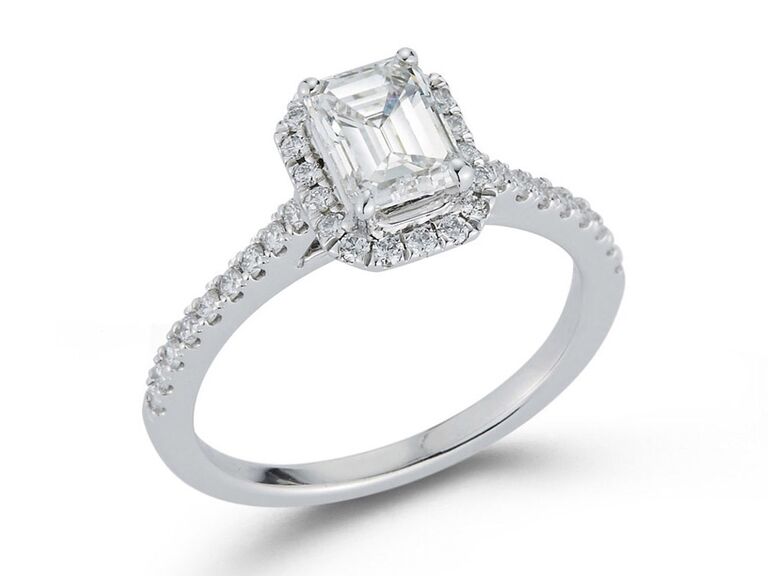 Bring on the bling. Crafted in 14-karat white gold, this ring features a shimmering emerald-cut center diamond surrounded by a delicate halo of pavé-set round diamonds. And if that weren't plenty of sparkle, more pavé diamonds cascade halfway down the shank on either side.
KATKIM Floating Emerald Diamond Ring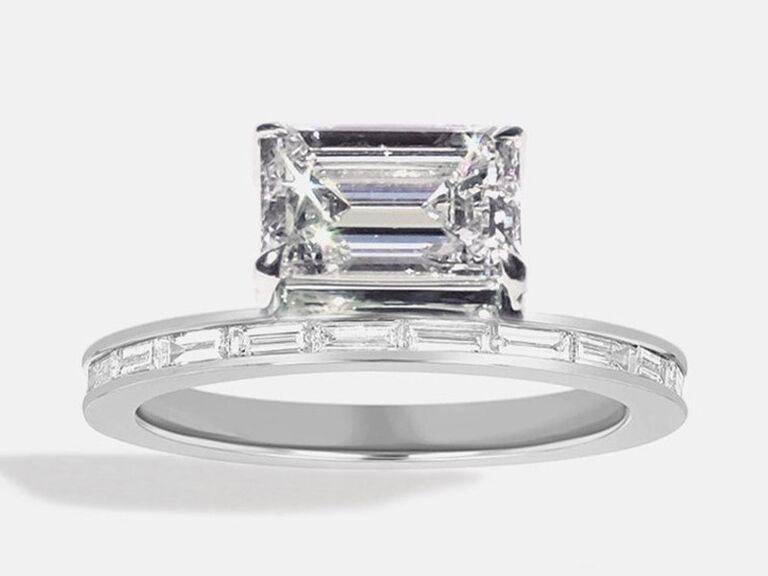 Float on. Made for the avant-garde bride, this emerald-cut diamond center stone appears to float above a channel-set baguette diamond band.
James Allen Emerald-Cut Diamond Graduated Halo Diamond Engagement Ring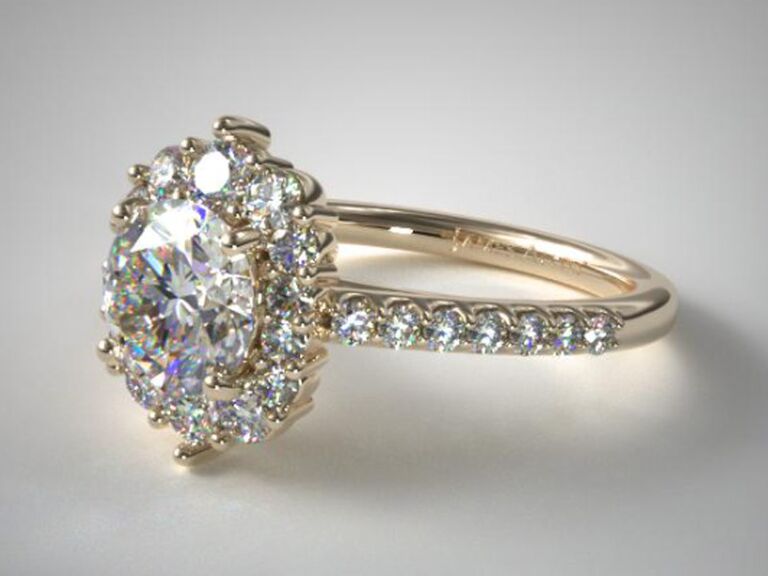 Calling all vintage lovers. An emerald-cut diamond and graduated halo turn this antique-style ring into the stuff of dreams.
Marrow Fine The Posey East-West Engagement Ring
In the market for something effortlessly glam? Look no further. An east-west solitaire emerald-cut diamond in a yellow gold solitaire setting is seriously chic.
Greenwich St. Jewelers Claudia Emerald Cut Halo Engagement Ring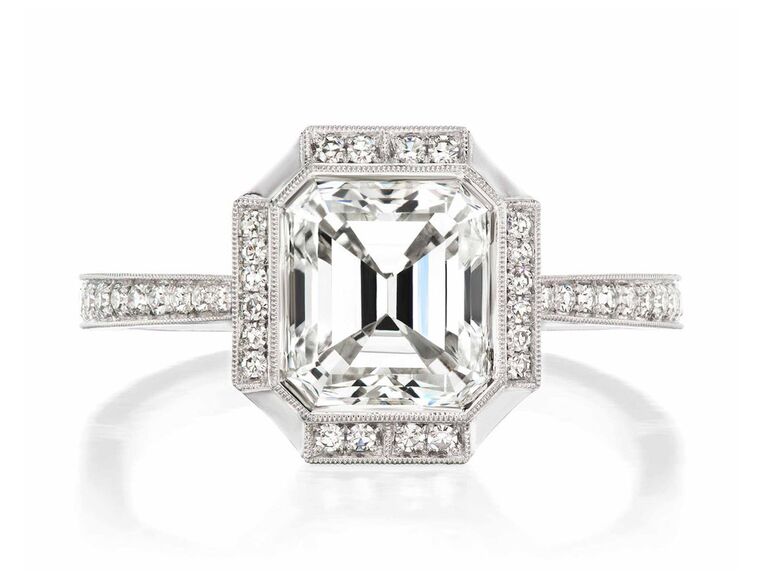 Get your wish list ready. This stunning sparkler features a brilliant emerald-cut diamond center stone framed by a luxe halo of pavé diamonds and milgrain details.
Tiffany Novo® Emerald-Cut Engagement Ring With a Pavé Diamond Platinum Band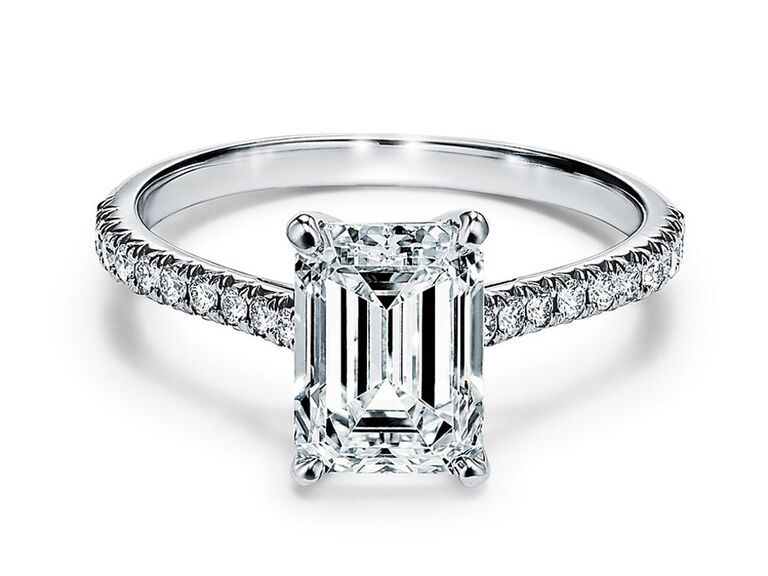 Channel the iconic engagement ring style of none other than Queen Bey with a solitaire emerald-cut engagement ring. The pavé band on this one takes its megawatt shine to the next level.
Brilliant Earth Reina Diamond Engagement Ring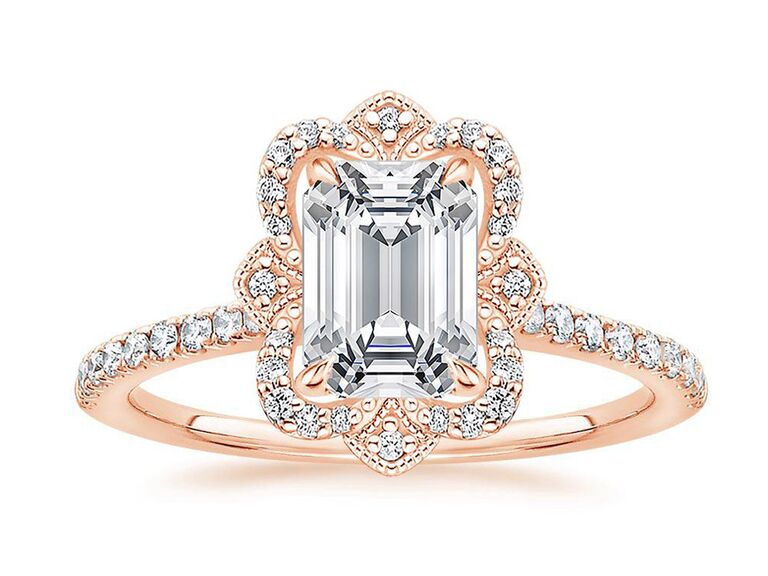 Whimsical and intricately designed, this ring will make you feel like royalty. A scalloped halo of sparkling diamonds dances around an emerald-cut center stone, bringing all the regal vibes.
Kay Jewelers Emerald-Cut Diamond Engagement Ring With Baguettes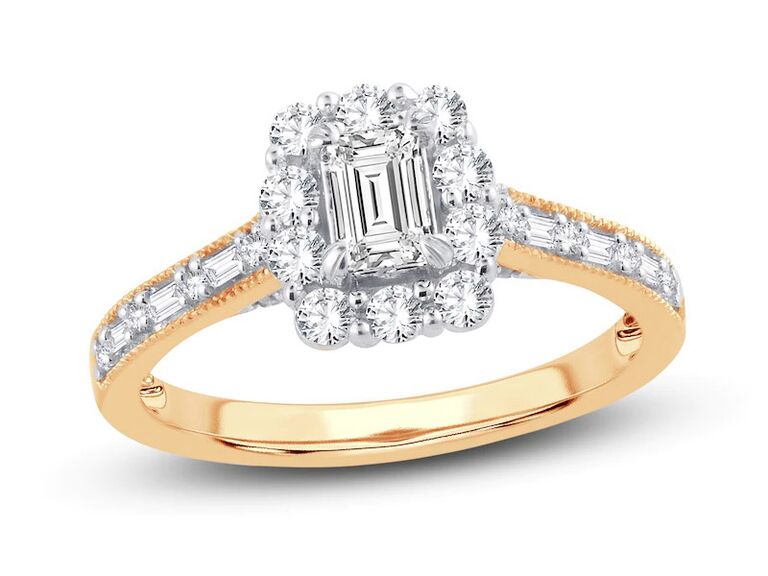 This sparkler features a gorgeous emerald-cut diamond surrounded by a halo of smaller round diamonds, but its appeal doesn't end there. Alternating round diamonds and baguettes run down shank, making it a true standout.
VRAI The Three Stone Emerald Engagement Ring
One word: timeless. This elegant three-stone ring features an emerald-cut center stone flanked by baguette stones.
Viridian Toi Et Moi Diamond Engagement Ring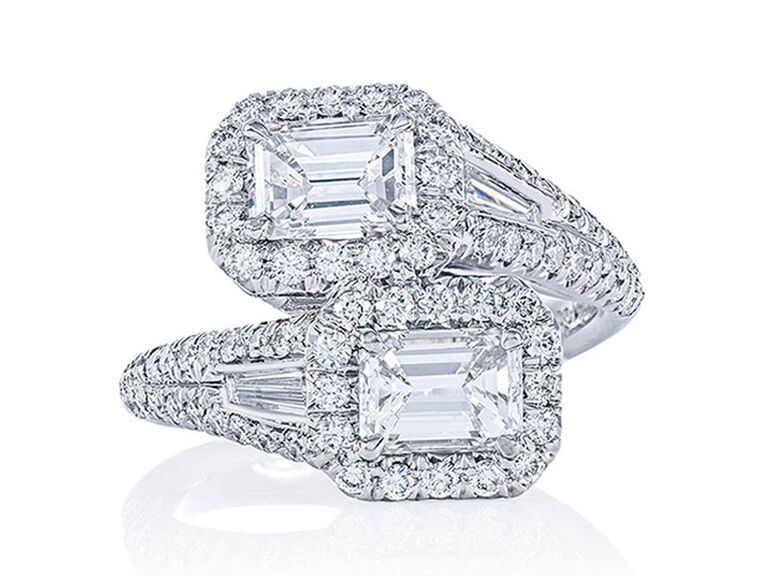 Get in on the Toi et Moi trend. With an emerald-cut diamond and an (actual) emerald pear, this two stone ring in platinum is perfect for the bride who wants something uniquely unique.
Ashley Zhang Lillian Engagement Ring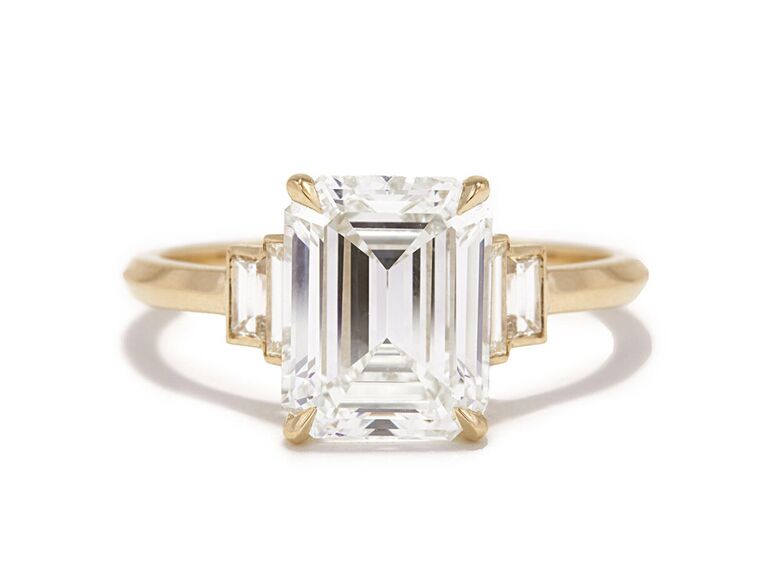 Inspired by the step cuts of an emerald-cut diamond, this stunner features a larger-than-life center stone flanked by two baguettes on either side.
What Is an Emerald-Cut Engagement Ring?
An emerald-cut diamond is a rectangular diamond shape with cut corners. Created in the 1500s when stonecutters originally created the cut for emerald gemstones, this diamond shape peaked in popularity in the 1920s during the Art Deco era. Referred to as step cuts, meaning the facets tend to run parallel to one another, emerald-cut diamonds have a "hall of mirrors-like" effect that is less brilliant than other diamond cuts. Like most diamonds, an emerald-cut diamond will likely have 57 or 58 facets. The elongated shape and shallower depth of an emerald-cut diamond gives an illusion of a larger stone—what's not to love about that?
What to Look For in an Emerald-Cut Engagement Ring
If you're considering an emerald-cut diamond, you may want to keep in mind that due to the nature of the step cut, diamonds with this shape don't have the brilliant sparkle that other popular shapes (think: round brilliant cut, cushion cut and ovals) do—emerald cuts tend to have a more subtle luster. However, buying an emerald-cut engagement ring is no different than buying any other type of diamond. You'll want to pay attention to the 4C's: clarity, cut, color and carat weight to find the best stone for you.
Clarity
Due to the nature of their long open facets, emerald-cut diamonds don't conceal imperfections all that well. Ideally, you want to ensure there are no inclusions or blemishes in the stone. A VVS 1 clarity grade or higher is highly recommended.
Color
Color is also more visible in an emerald cut due to its long open facets. An emerald-cut diamond of color grade I or lower will appear yellowish, but the naked eye is less likely to notice a tint starting at color grade G. If having a colorless diamond is at the top of your list, look for a emerald-cut stone with a color grade of G or better.
Cut
Normally cut grades refer to a diamond's proportions and symmetry. When it comes to emerald-cut diamonds and other fancy diamond cuts, however, the GIA and the AGS do not assign traditional cut grades. Instead, they assign polish and symmetry grades. So when you're shopping for an emerald-cut diamond, be sure to look for excellent polish and excellent symmetry grades for your stone.
Carat Weight
The carat weight of your emerald-cut diamond will greatly affect the cost of any diamond. The nice thing about emerald-cut diamonds, however, is that even a smaller carat weight looks pretty impressive.
In addition to the 4C's, you may also want to consider the length, width and depth of your emerald-cut diamond. The length to width ratio is what you want your stone to look like. Essentially, you're just deciding if you want an elongated shape or a stone that looks more square. The classic length to width ratio for an emerald-cut diamond ranges from 1.30 to 1.50.
And finally, don't forget to note the diamond's total depth percentage, as this will affect how much light the stone reflects. Long story short, a depth percentage of 60% to 70% of the stone's width pretty much guarantees a super sparkly rock.
Why Choose an Emerald-Cut Engagement Ring
There are lots of reasons to love an emerald-cut engagement ring. The shallower cut and large surface area of the emerald-cut diamond not only gives you more bling for you buck, it also makes an impressive statement at pretty much any carat weight. Another plus? The elongated shape and sleek profile of an emerald-cut diamond tend to make the wearer's fingers look longer and leaner. Bottom line: If you're looking for a timeless engagement ring that will flatter your hand and is seriously glam, an emerald-cut sparkler might be the way to go.