The Best Blue Wedding Suits in Every Style and Color
Feeling blue? So are we, but in the best way–check out some of the best blue wedding suits for formal and casual ceremonies alike.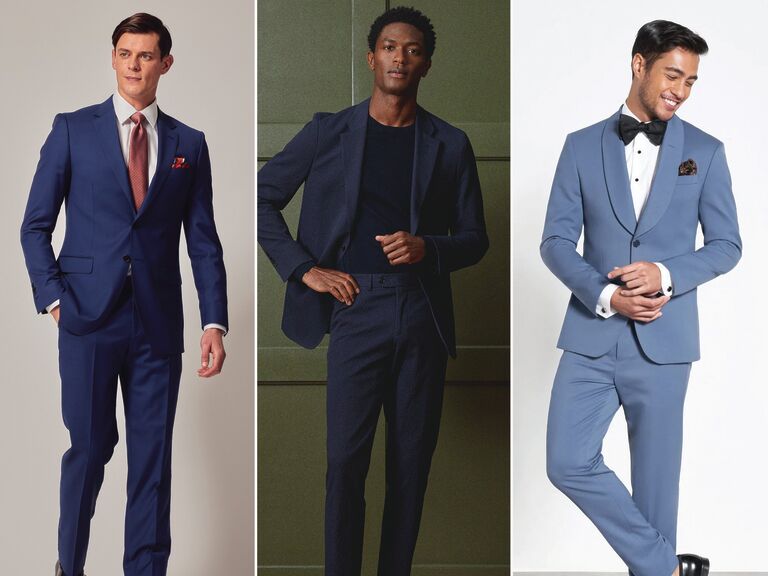 Photos, left to right: Hawes and Curtis, The Black Tux, Todd Snyder
We have included third party products to help you navigate and enjoy life's biggest moments. Purchases made through links on this page may earn us a commission.
Why so blue? Well, because blue suits rule, that's why. Blue wedding suits (and blue tuxedos) are among the most reliable options for anyone, from grooms to guests. It's a great color to walk down the aisle in and just as safe a bet for guests trying to look good without upstaging either member of the couple. It's versatile, available in a wide array of seasonal shades, and pairs well with plenty of other colors (plus most neutrals)--and especially with brown shoes. You can even get a tux in blue for black-tie occasions. Read on for a look at some of our favorite blue suits and the best ways to style them (or any blue suit you wear).
In this article:
Best Navy Blue Suits for Weddings
Todd Snyder Italian Seersucker Cotton Suit
Seersucker is the perfect suit fabric for warmer weather. Todd Snyder makes a killer seersucker suit in a rich navy perfect for outdoor summer weddings.
Dress Code: Formal
Size Range: 36R-46L
Percival Tailored Pique Weave Suit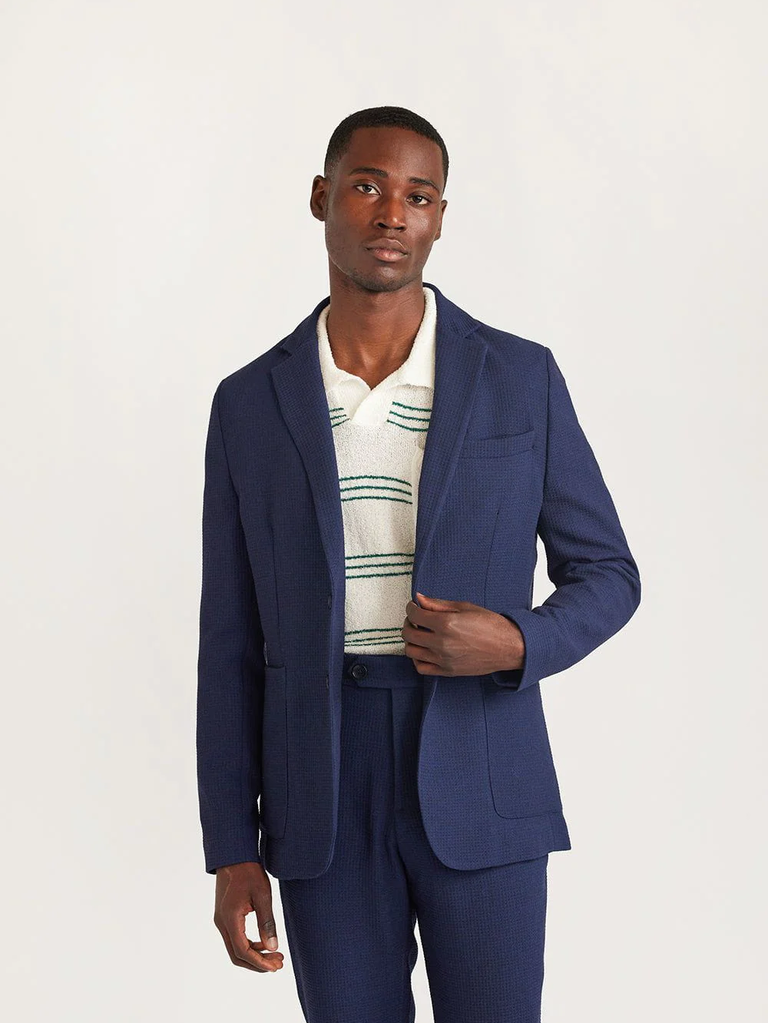 Percival's approach to tailoring is simple and to-the-point. Take their navy waffle-knit suit, for example: it's a no-frills semi-formal suit that will get you through a wedding and a workday alike.
Dress Code: Semi-Formal
Size Range: XS-XXL
Brooks Brothers Traditional Madison Blazer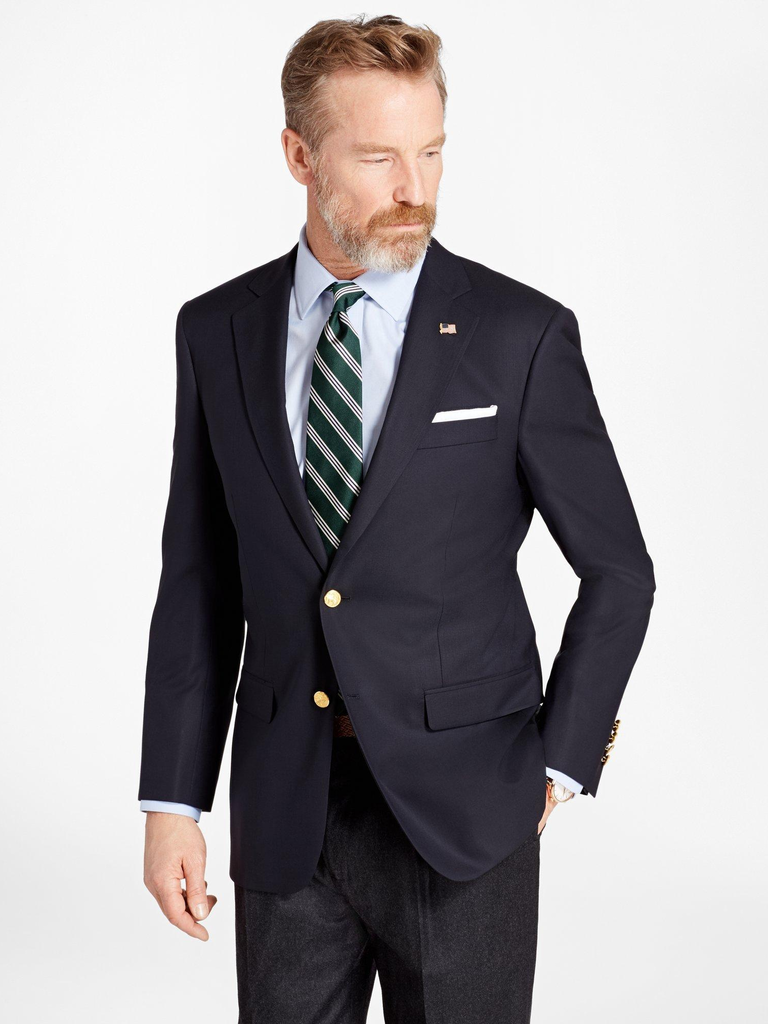 A gold-button navy blazer is the essence of Ivy chic. Pair this one with chinos or other suiting separates for a killer old money aesthetic at your wedding.
Dress Code: Cocktail Attire
Size Range: 38-54
J. Crew Ludlow Linen Suit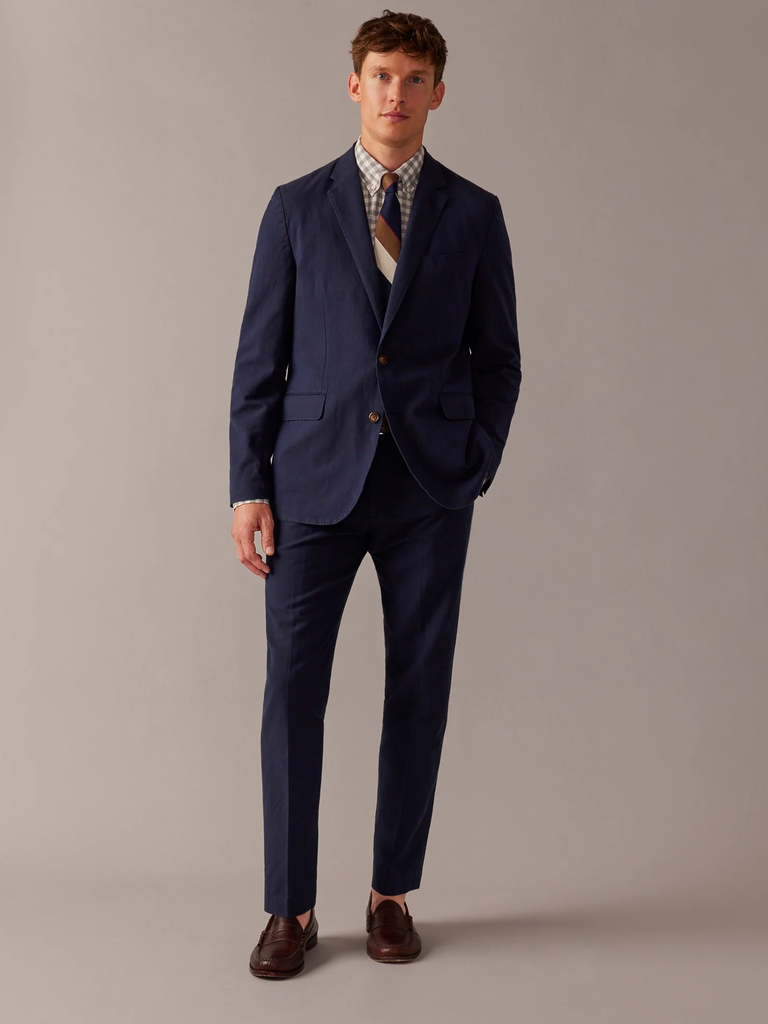 J. Crew's Ludlow suit has become a menswear staple, a slim-fitting suit with smaller lapels perfect for any occasion. The navy linen option comes with a slightly more relaxed fit perfect for spring and summer weddings.
Dress Code: Semi-Formal
Size Range: 34S-50R
Best Royal Blue Suits for Weddings
Spier & MacKay Heather Blue Suit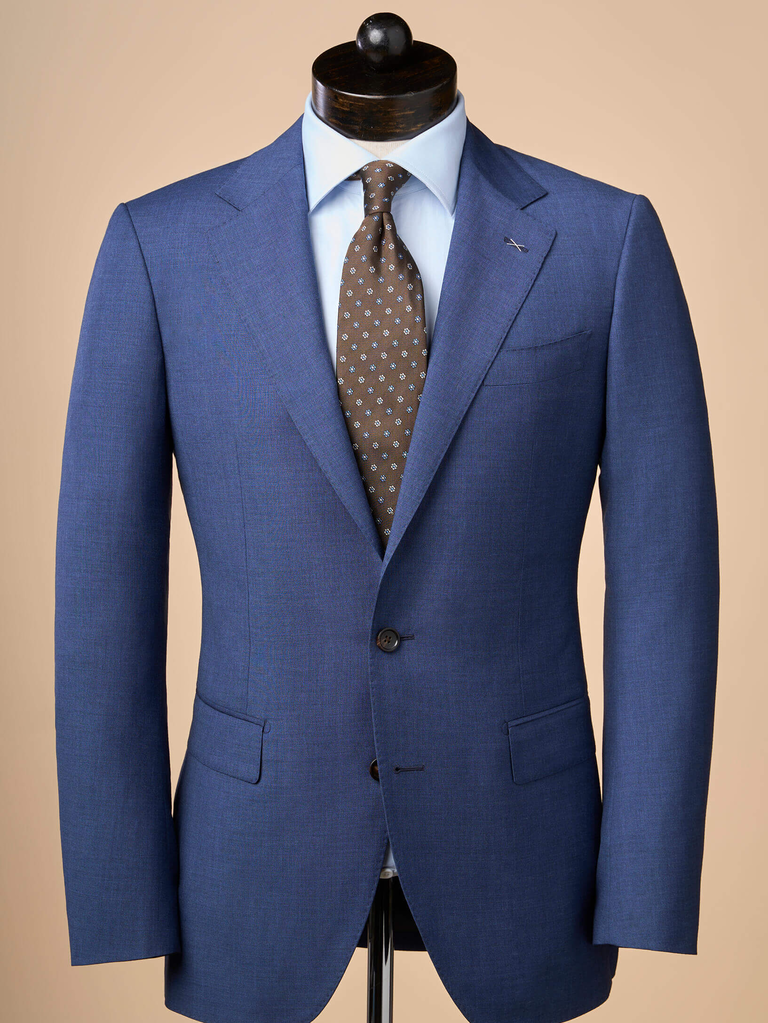 Spier & MacKay brings old-school English tailoring vibes to the suiting world. Their Heather suit will have you looking regal–perhaps even royal.
Dress Code: Formal
Size Range: 34-46L
Indochino Hayle Sharkskin Blue Suit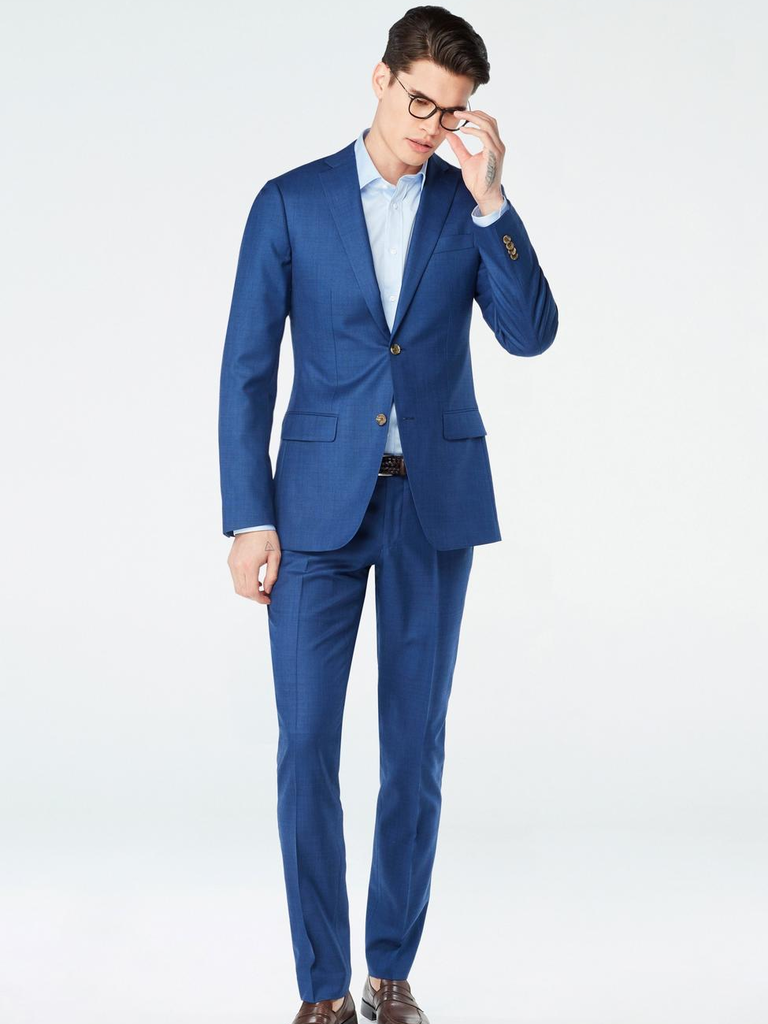 Indochino's made-to-measure suits are some of the most reliable in the world. Their take on a royal blue suit comes in a killer sharkskin and can get you from the wedding to the reception to the afterparty in fine form.
Dress Code: Cocktail Attire
Size Range: Made to Measure
Hawes and Curtis Royal Blue Suit
Want to go for a three-piece look? Hawes and Curtis has you covered with their royal blue jacket, vest, and trousers combination. Bust this one out at a formal event and you'll be turning heads.
Dress Code: Black Tie Optional/Formal
Size Range: 36S-46L
Best Light Blue Suits for Weddings
Suitsupply Light Blue Lazio Suit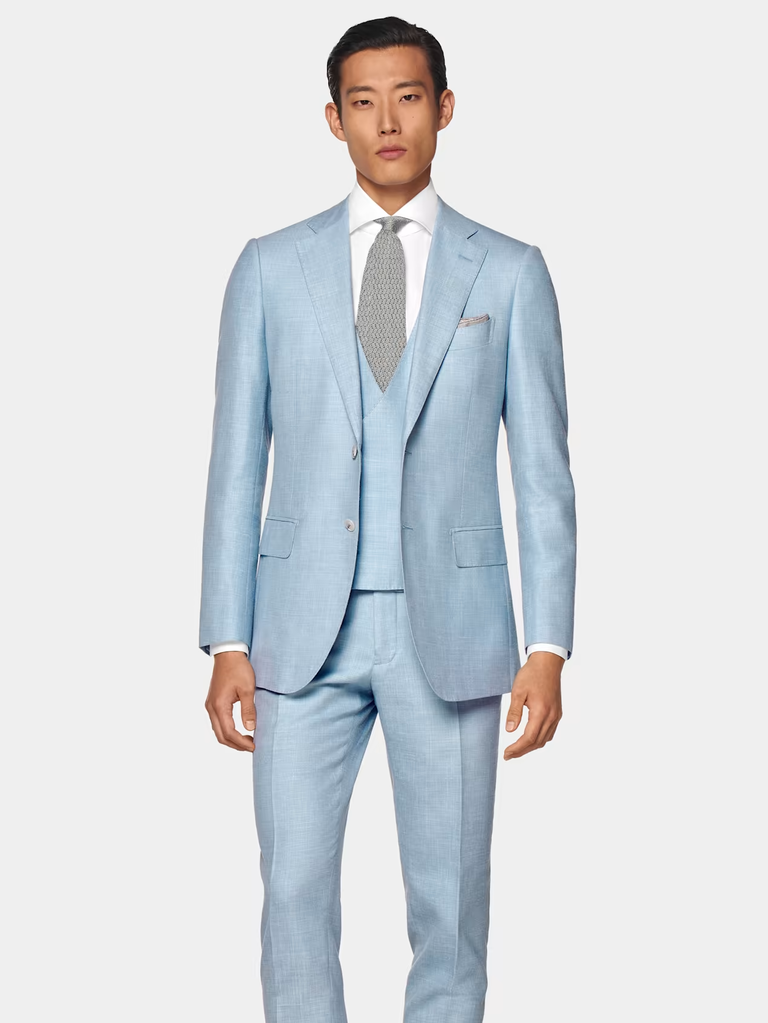 Light blues are perfect for spring and summer weddings, bringing a breezy outdoor vibe to any wedding or event. Suitsupply's Lazio in light blue comes in a three-piece variation meaning it can be dressed up for more formal vibes or dressed down for a semi-casual look.
Dress Code: Formal-Semi-Formal
Size Range: Made to Measure
The Black Tux Light Blue Shawl Tuxedo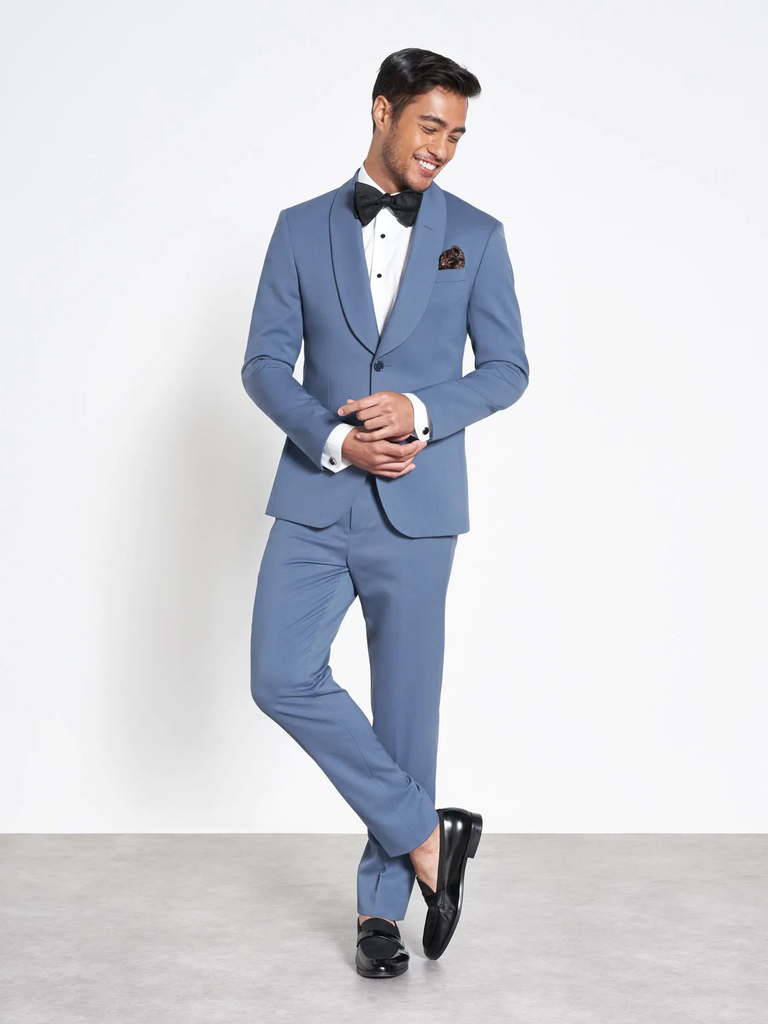 Black tie weddings don't necessitate a black tuxedo! A blue tuxedo is an excellent variation on this time-honored menswear garment, coming in a beautiful shade of light blue and with a shawl collar for a cool vintage look.
Dress Code: Black Tie
Size Range: 34XS-56XL
Bonobos Stretch Chambray Suit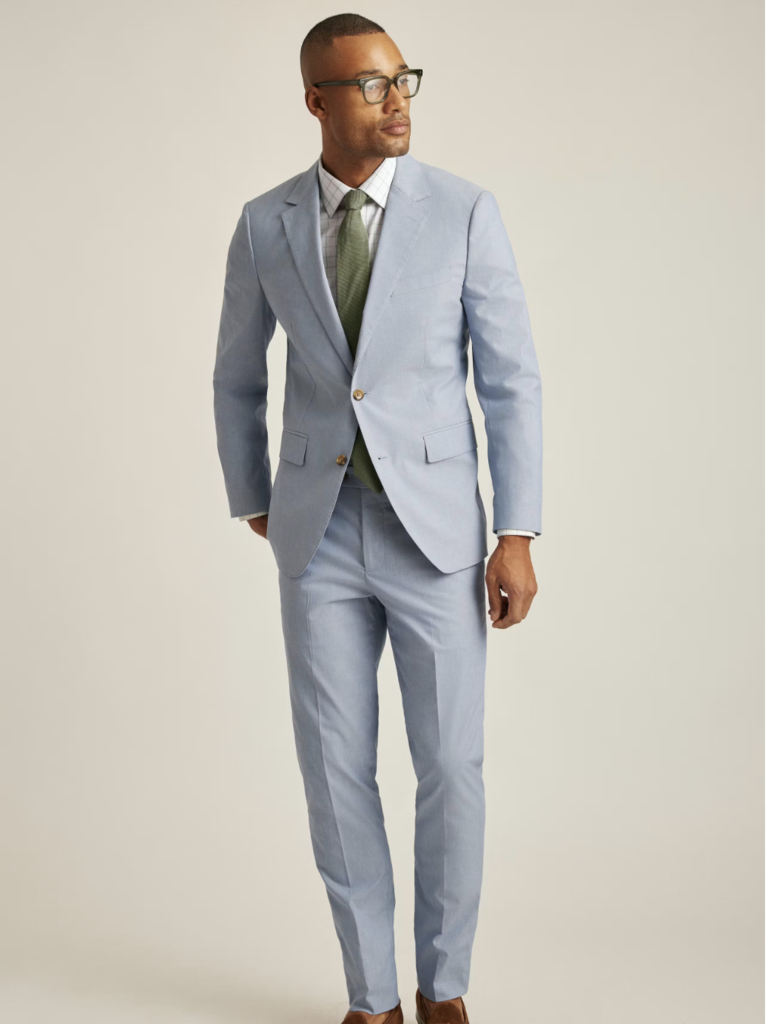 Bonobos's suiting is one of the best-kept secrets in menswear, their simple and sleek cuts providing the range you need for any occasion. Their chambray suit is ideal for outdoor and garden weddings and for mixing up with other suiting separates.
Dress Code: Semi-Formal
Size Range: 36S-48L
Best Dusty Blue Suits for Weddings
Lauren by Ralph Lauren Classic Fit Jacket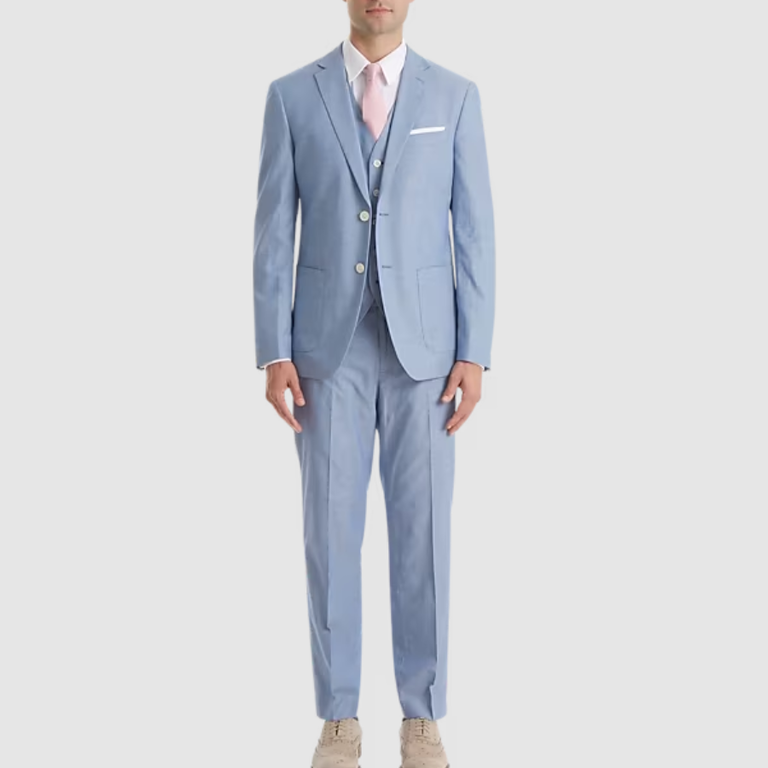 To bring a touch of dusty blue to a suit separates moment, give Lauren by Ralph Lauren's blazer a shot. It would pair great with chinos and a gingham plaid dress shirt.
Dress Code: Semi-Formal/Dressy Casual
Size Range: 36S-58L
Express Extra Slim Dusty Blue Suit
Express's dusty blue suit comes in one of the more stunning shades we've seen, a rich hue just begging to be mixed with other shades of blue. Throw on a navy tie or a light-blue dress shirt to lock in the best wedding look you'll wear all year.
How to Choose the Right Blue Suit for You
Not all blues are created equal. From seasons to fabrics and shades, finding the right blue suit for you involves a number of factors. Here's everything you need to know to select the blue suit of your dreams.
No Shade
Keep in mind what you plan on pairing your blue suit with. It's a versatile color but one for which different shades make for different shoe and accessory pairings. Darker browns, for example, go better with navy suits while lighter ones pair best with lighter blues. You can also factor in something as simple as preference–do you like royal blues more or are you leaning more towards navy or baby blue? There are no wrong answers; just follow your personal taste here.
Tis the Season
When the wedding takes place should factor into your decision as to which hue is best for you. Much of this has to do with shades and fabric weights–you don't want to wear seersucker in the winter or flannel in the summer. Similarly, lighter blues are better for the warmer seasons whereas darker ones are better for the chilly months. Save light and dusky blues for the summer and try to rotate in more deep navy suits in the winter.
Fabric
Here's a factor that has nothing to do with color: make sure your blue suit's fabric is an appropriate weight for the weather in which you're wearing it. This means lighter-weight fabrics like cotton, seersucker, and linen in the spring and summer and wools and flannels in the winter.
Your Blue Wedding Suit Questions Answered
Can you wear a blue suit to a formal wedding?
Yes, though it's going to depend on how you style it. For a formal wedding, wear a proper dress shirt (spread collar, no patterns) and a nice tie with your blue suit. Finish it off with solid dress shoes and maybe an accessory or two like a pocket square for a dressed-up final touch.
What color tie goes with a blue suit?
Blues aren't totally neutral but they have a good bit of range. Ultimately it comes down to the shade of the blue. Blacks, greys, and browns are reliable options. Certain pastels can work on lighter shades of blue as do floral print ties.
What color shirt goes with a blue suit for a wedding?
The best shirting option for a blue suit is a white dress shirt. In more casual settings you can get away with plaids and patterns but on more formal occasions, stick with white.
What color shoes go with a blue suit for my wedding?
Black and brown go equally well, though the shade of the brown should correspond to the shade of your suit (lighter browns for lighter blues, darker browns for darker blues).
Should I rent or buy a blue wedding suit?
Up to you! However, you will have far more chances to wear a blue suit in your day-to-day life than a tuxedo, so they're worth the investment. If you'd rather rent, there are excellent suiting services available.