The Best Kitchen Appliances To Add To Your Wedding Registry
The best kitchen appliances to add to your wedding registry, chosen by the pros at The Knot for our 2019 Registry Awards.
You know the saying—a chef is only as good as the tools they use. OK, so maybe that's not officially a saying, but it should be because it's totally true. Having the best kitchen appliances at-the-ready as you're cooking will only make your life easier (and more delicious). And there's truly no better time to wishlist them all then when you're registering for your wedding. Not sure where to start? No worries—we're rounding up a slew of the best kitchen appliances perfect for your home, right this way.
In this article:
Best Mixers
If there's one kitchen appliance that's synonymous with wedding registries, it's the stand mixer. In fact, you'll rarely find a kitchen in 2019 that isn't stocked with a mixer of some sort. From inexpensive favorites and handy options (literally) to the OG version of them all, we've chosen only the best stand mixers and best hand mixers for you. You're welcome.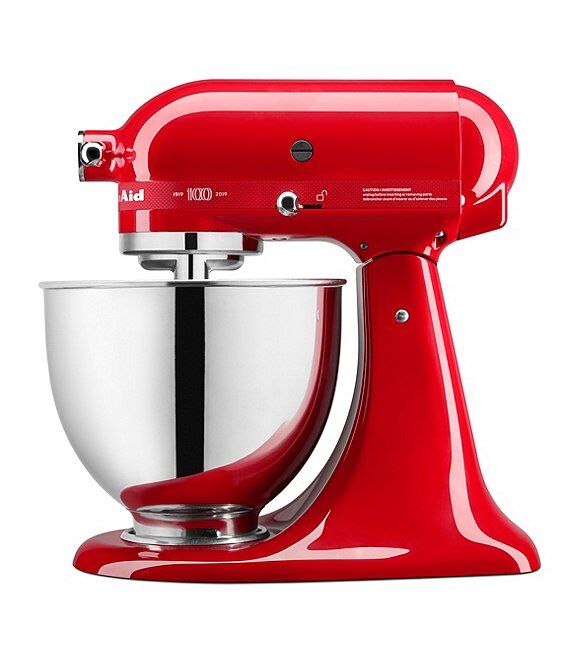 Editor's Pick: KitchenAid 100 Year Limited Edition Queen of Hearts 5-qt Tilt-Head Stand Mixer, $299, KitchenAid.com
You guys, no roundup of the best stand mixers would be complete without a KitchenAid. You know that, we know that, everyone knows that. They've been a registry mainstay for decades, and for good reason—not only are they gorgeous to look at, but they're exceptionally made. Everything from the tilt-head design to the included attachments and stainless steel bowl make for a truly iconic cooking experience and a keepsake appliance you'll have for decades to come. KitchenAid is actually celebrating their 100th anniversary this year—to commemorate it, they've launched this eye-catching all-red style called the Queen of Hearts. We love the saturated, firey shade so much we just had to name it our editor's pick for best stand mixer. But what if red isn't your color? Don't sweat it—with over 60 others to choose from, you're bound to find the right hue for you. Add this mixer to your wishlist with our Universal Registry tool.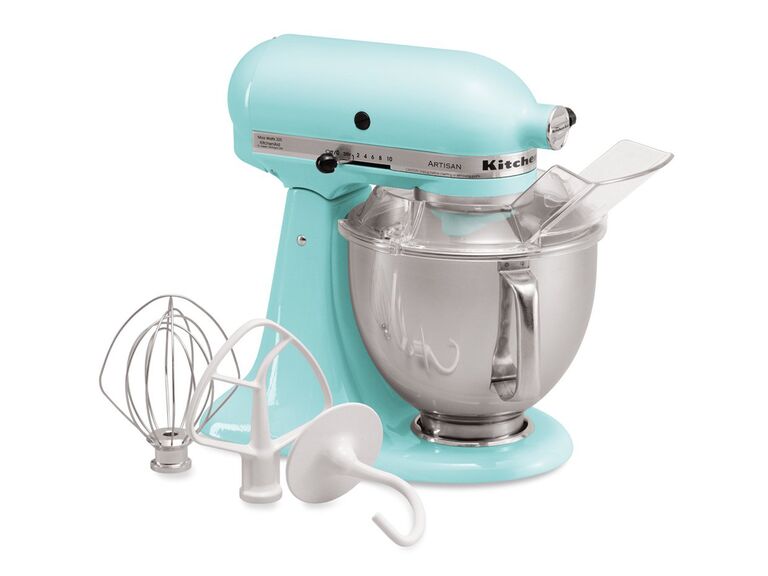 Couple's Pick: KitchenAid Artisan Series 5-qt. Tilt-Head Stand Mixer in Ice, $280, Amazon.com
We always knew our couples were the smartest out there, so it makes sense that they also chose the KitchenAid machine as their pick for the best stand mixer. The only change here? You guys are loving the cheery teal shade "Ice." And we've gotta admit, you have pretty good taste. There's not a kitchen out there that can't benefit from a little pop of color and this serene aqua shade has us dreaming of summer and the ocean. Just click "add to registry"—it's going to look great on your counter.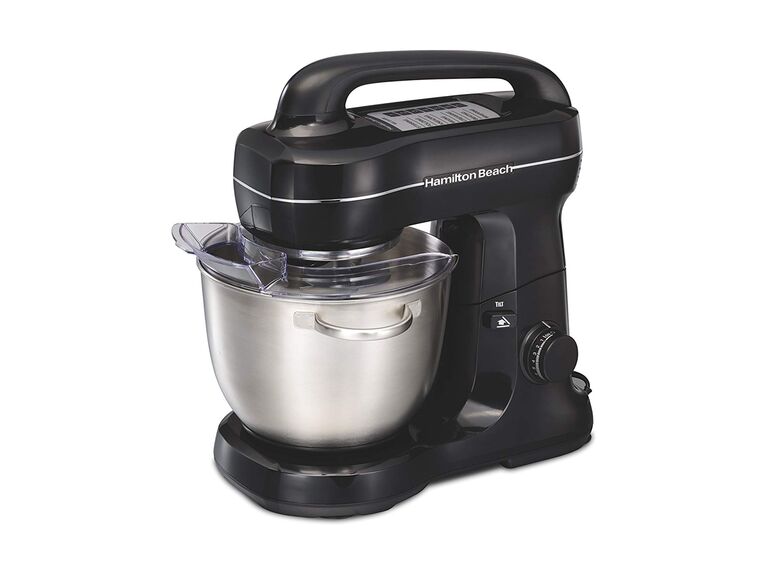 Best Budget Stand Mixer: Hamilton Beach 4-qt. Stand Mixer, $100, Amazon.com
Just starting your home together and not totally sure just how much you'll actually use a mixer? Then this is the best stand mixer for you. The $100 price point makes it a guilt-free investment, and it still boasts a ton of the same enticing features as its more expensive counterparts, like seven speeds that allow you go from a slow churn to a seriously fast whip. The set comes with a whisk, flat beater and dough hook (pizza here you come!), plus a splatter shield, so you're less likely to spew flour all over your kitchen while baking.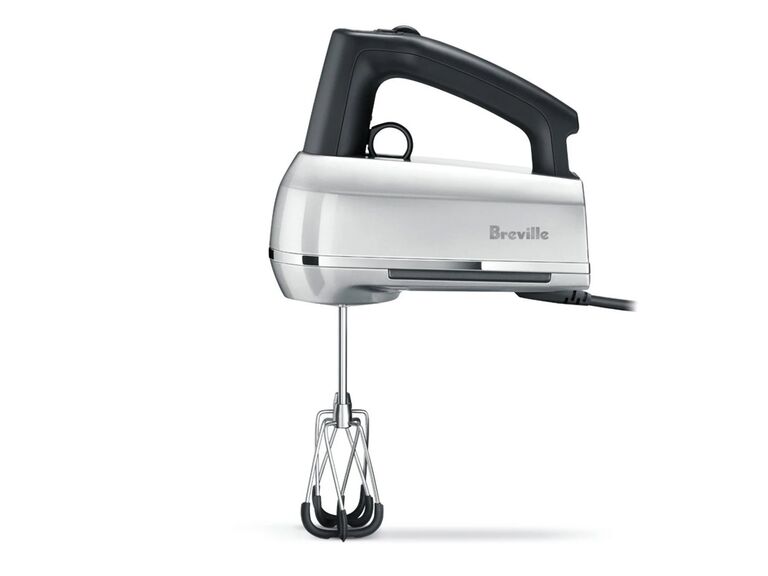 Best Do-It-All Hand Mixer: Breville Handy Mix Scraper, $130, Wayfair.com
Maybe you live in an apartment that's tight on storage space, or maybe you just prefer to be a bit more hands-on with your cooking—either way, you're going to want to get your hands on our do-it-all pick for best hand mixer. This Breville gadget is sleek and smart—it can detect which of the many attachments you've put on (ranging from scraper beaters and dough hooks to whisks) and will automatically adjust to whichever of its nine mixing speeds will earn you the best results. Plus, everything stores in a handy clip-on plastic compartment, so you'll never have to go searching for the accessories you need.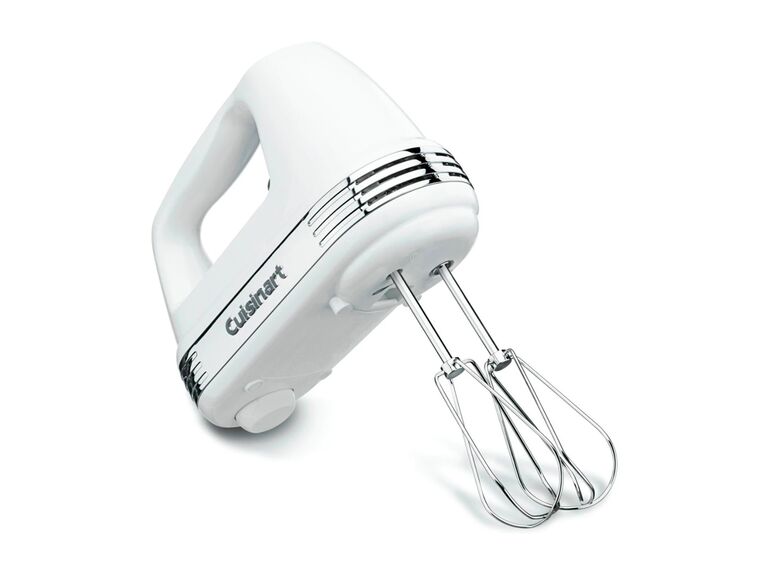 Best Basic Hand Mixer: Cuisinart Power Advantage Plus 9 Speed Hand Mixer, $60, Wayfair.com
You probably recognize this next appliance from your mother or grandmother's cabinets growing up. This Cuisinart pick for best hand mixer is a simple classic, with all the basic features you need to whip up everything from mashed potatoes to fluffy pie filling. With nine speeds, three different types of attachments (beaters, dough hooks and whisks) and a pouring shield, it will quickly become your right-hand man in the kitchen.
Best Blenders and Food Processors
You're probably starting a slew of healthy habits leading up to your wedding—after all, everyone wants to feel their best walking down the aisle. Whether your idea of self-care is morning fruit smoothies or a greenery-packed pesto on top of a bowl of pasta (we feel you on that one), our picks for best blenders and best food processors can help you along the way.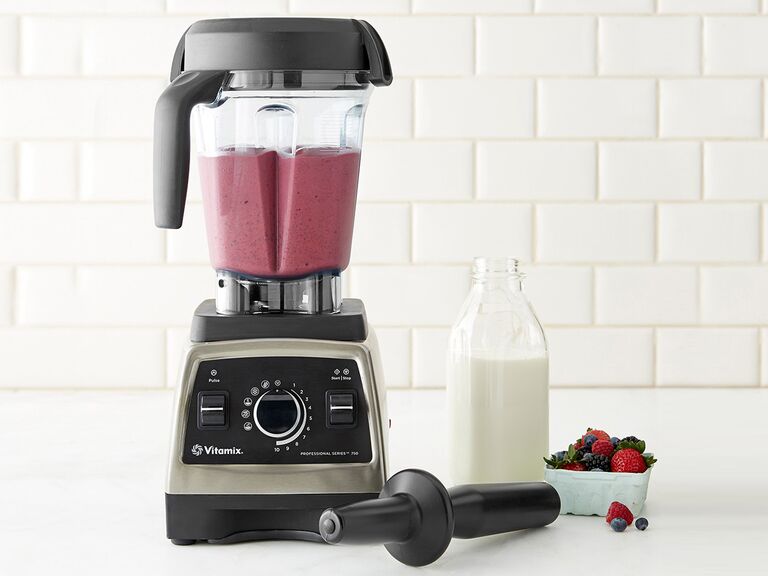 Editor's Pick: Vitamix Professional Series 750 Blender, $550, Williams-Sonoma.com
Invest in this workhorse from Vitamix and you're pretty much buying yourself a second set of hands in the kitchen. An editor's pick for best blender, the powerhouse machine (which packs a whopping 2.2-peak horsepower motor) can go from mixing up ice cream and frozen drinks to cooking hot soup (yes, we mean cooking the soup) and sauce in just minutes. Our team loves how smoothly it blends even the toughest ingredients, and the 60-second self-clean feature makes life so much easier. Plus, with five pre-programmed settings and an entire cookbook's worth of recipes you can crank out using it, it's pretty much dummy-proof.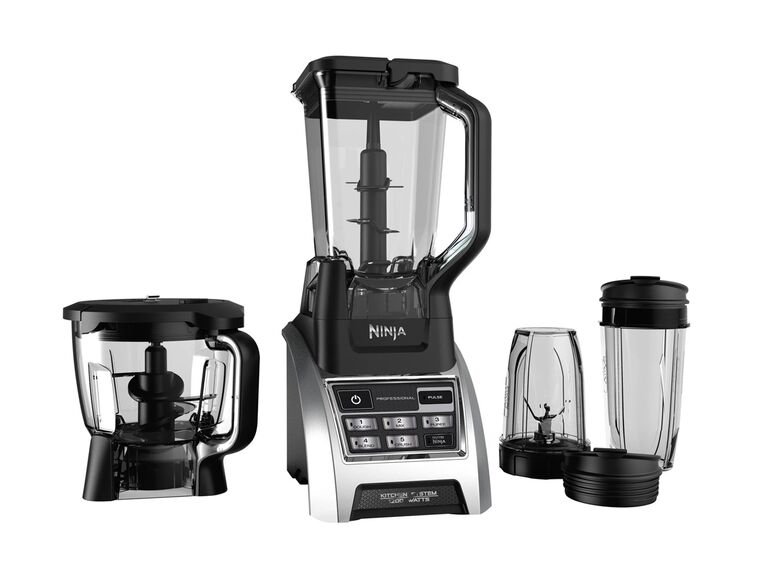 Couple's Pick: Ninja Professional 1000W Kitchen System, $80, Target.com
The Ninja brand name is pretty synonymous with blenders at this point, so it makes sense that our couples chose one of their (very legit) designs as their pick for best blender. The system gives you every capability you could dream of—you can knead dough and make cookies, or blend whole fruits and veggies into a nutritious drink. It sports three speeds that allow you to achieve perfect results with just the push of a button.Best Food Processor: Cuisinart Elemental 13 Cup Food Processor, $200, SurLaTable.com
If you prefer salsa over smoothies and green chimichurri to green juices, then our pick for best food processor is for you. Prep work is no sweat with this Cuisinart gadget, which comes with bowls suited for both 13 cup and 4.5 cup capacities. Its assortment of blades and discs allow it to easily slice and dice anything you throw inside, from cubed apples for applesauce to shredded cucumbers for that perfect tzatziki dip. Pack it all away neatly in the accompanying accessory storage case and stash it out of sight until your next use.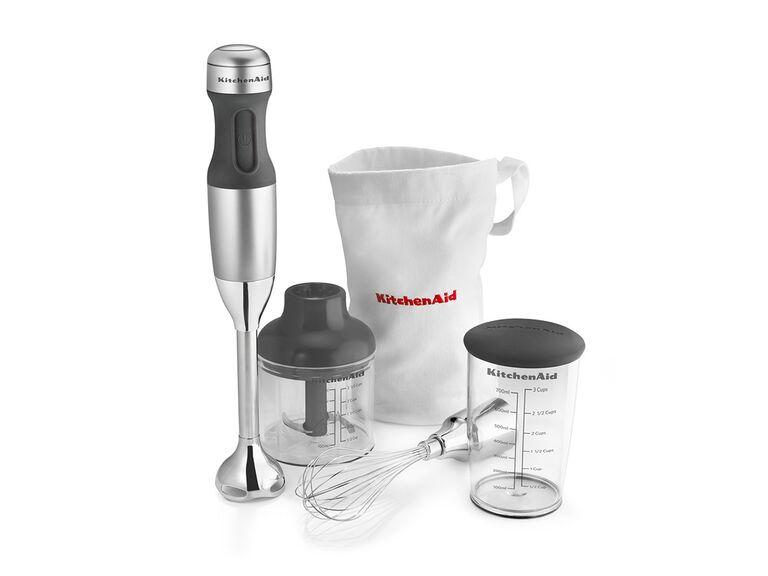 Best Hand Blender: KitchenAid 3-Speed Hand Blender, $50, Amazon.com
When it comes to pureeing soups and sauces, pretty much nothing can beat the ease of a hand blender. If you find yourself stirring up a lot of Sunday sauce each week, do yourselves a favor and invest in this KitchenAid contraption. Simply put the blender end directly into your soup or sauce pot and emulsify your recipe until it's smooth and delicious. It can also go to work on whipped cream or even nuts and veggies, thanks to the addition of whisk and blending jar accessories.
Best Blender and Mixer Attachments
Open up a world of (cooking) possibilities by pairing your stand mixer with one of these genius accessories that allow you to get even more bang for your buck when it comes to your kitchen appliance investment. Oh, did we mention there's a way to churn out at-home ice cream? Yeah. You're going to want to keep reading.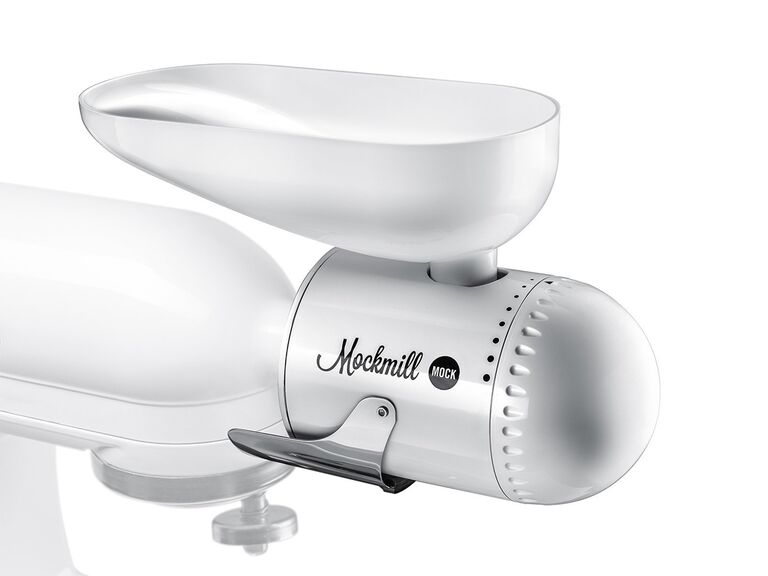 Best Stand Mixer Attachment for Bread: Mockmill Stone Milling Attachment, $199, Amazon.com
If homemade bread is your thing, then you've probably thought once or twice about milling your own grains. Sure it sounds old-school, but this attachment from Mockmill will help you grind your own whole-grain flour, as well as any legumes or spices. Another bonus: if you're a gluten-free household, you can DIY your own alternative flours and seriously cut down on your grocery bill.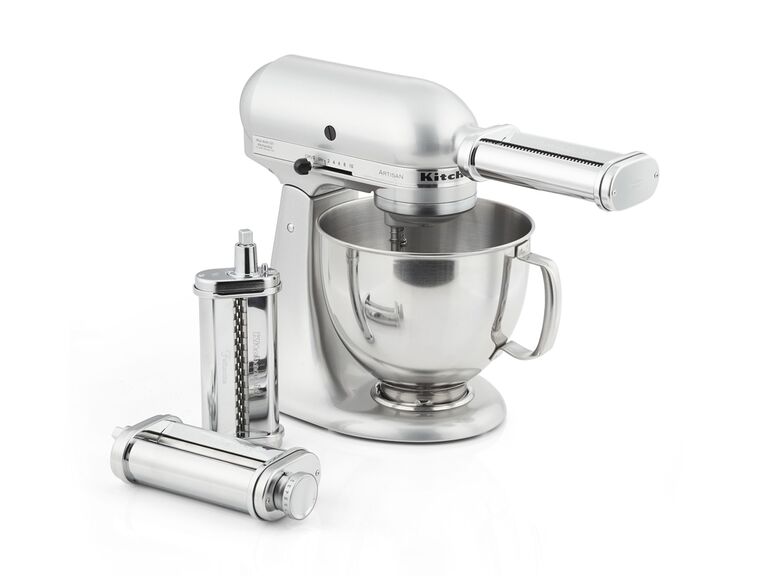 Best Stand Mixer Attachment for Pasta: KitchenAid 3-Piece Pasta Roller and Cutter Set, $199, CrateAndBarrel.com
Everyone knows that fresh pasta tastes better, but not many people have the time (or patience) to crank it out themselves. Luckily, this KitchenAid winner for best stand mixer attachment makes achieving those perfect noodles just a little bit easier. The stainless steel rollers are powered by your stand mixer, meaning you get the delicious payoff of homemade tagliatelle or fettuccine without the arm workout.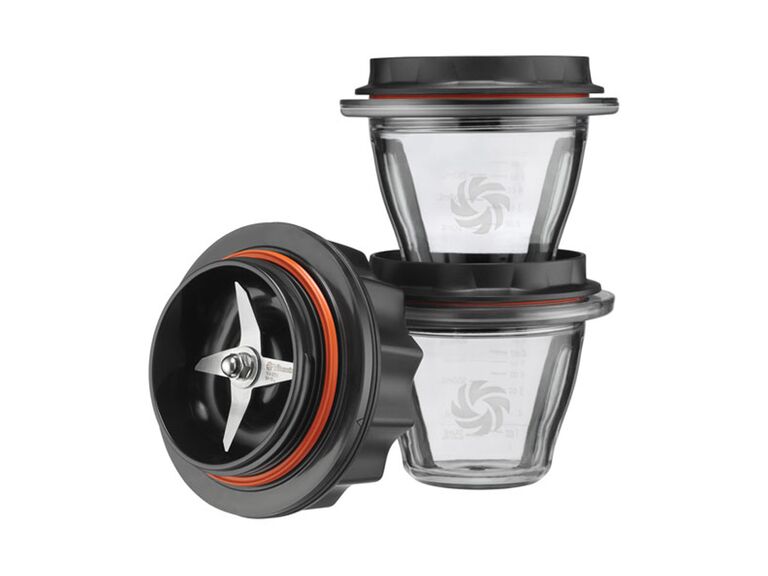 Best Blender Attachment for Small Portions: Vitamix Blending Bowl Starter Kit, $100, Amazon.com
Prep and store all in one spot with these handy petite bowls from Vitamix. They're great for whipping up single-serving batches of hummus, salsa or salad dressing. We even love the idea of using them to create acai bowls on-the-go. Plus, they boast the same blades as a full-sized Vitamix, so you know they're just as legit.
Best Toasters and Toaster Ovens
Let's get real for a second—is there any better smell in the world than toast in the morning? We think not. And boy, do we have the best toaster for that. But we've also taken it one step further and rounded you up a selection of the best toaster ovens too—models you can cook everything from steak to cake in, and models that virtually do it all with just the push of a button. Wait until you see our editor's pick—it's going to blow your mind.
Editor's Choice: June Smart Oven, $599, JuneOven.com
The biggest selling point for this sleek and stylish smart oven isn't all its fancy tech-friendly features—although those are pretty amazing, too. It's that it can replace up to seven other appliances, such as an air fryer, dehydrator, slow cooker, toaster and more, saving you time, money and space. But back to those futuristic "smart" features—each June oven is controlled by an app on your phone, where you can adjust the cook time or temperature, select from pre-programmed settings or browse hundreds of recipes. Too lazy to figure out the best way to cook something yourself? June's internal camera will automatically recognize your food and set itself to the appropriate temperature and cook time. W-i-l-d. Add this oven to your wishlist with our Universal Registry tool.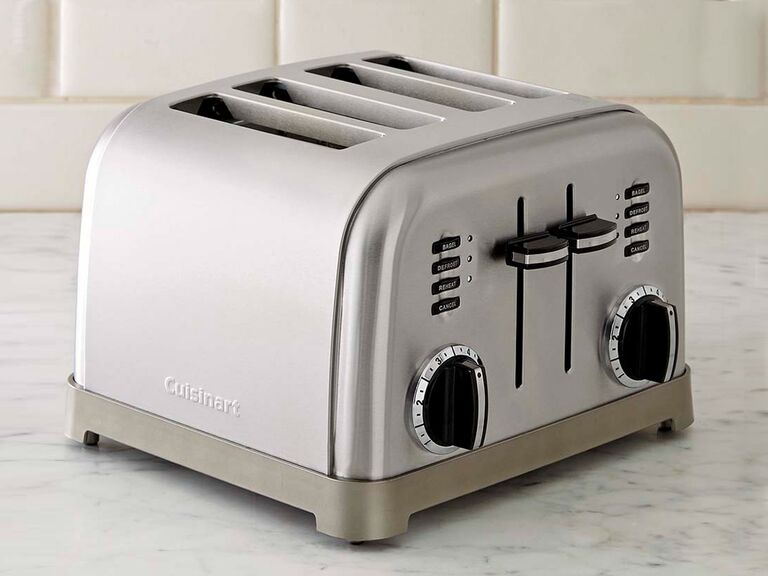 Couple's Choice: Cuisinart 4-Slice Classic Toaster, $70, Williams-Sonoma.com
Our couples pick for best toaster goes to this sleek and simple Cuisinart machine. The polished exterior will look super modern on your counter, and the variety of browning settings means your bagels or bread will come out perfectly toasty. You can customize the settings on each side, so if your honey likes their english muffin a little bit crispier than you, that's totally ok.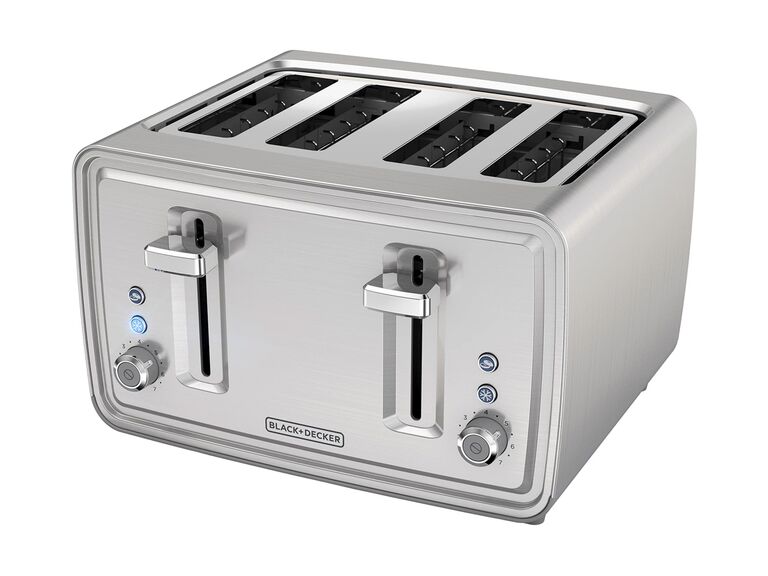 Best Budget Toaster: Black + Decker 4-Slice Toaster, $55, Wayfair.com
If you're looking to add a budget-friendly machine to your registry so you can splurge elsewhere, then this Black + Decker version is the best toaster for you. Coming in just above $30, it still has all the features you'd want in a toaster, including seven browning settings, four extra-wide slots (no smooshing bagels here!) and a pull-out crumb tray for easy cleanup. Bonus: the sleek stainless steel exterior makes it look much more expensive than it actually is.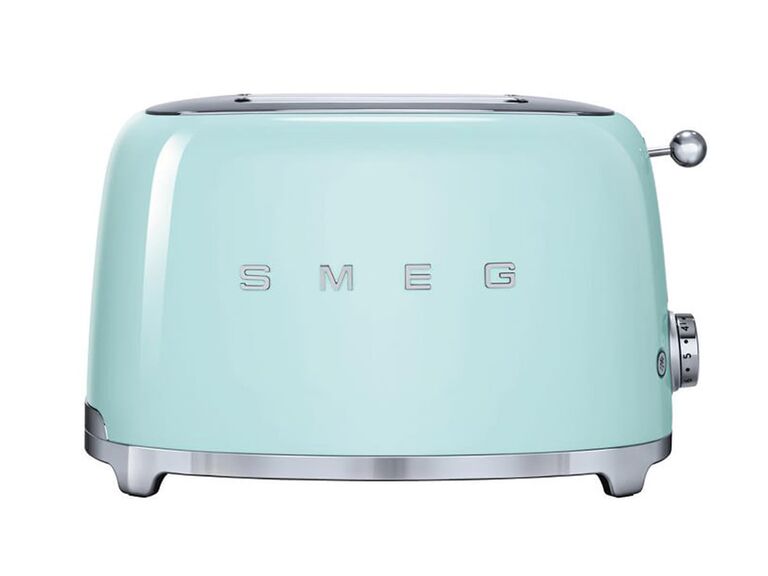 Best Toaster Oven for Display: SMEG 2 Slice Toaster, $160, WestElm.com
If you're one of those couples that tends to keep your toaster on your countertop or out in the open, then you're probably especially concerned about aesthetics. Enter SMEG. Their retro-inspired appliances are adorable, especially this charming vintage teal toaster. The color and design is from a bygone era, but the tech is all 21st century.
Best Griddles, Irons and Presses
If you love a good steak or want to cook brunch for a crowd, then you're going to want to register for one of our best griddle, iron and press picks. Think of them as basically an extension of your stovetop—they'll make the perfect surface for crispy bacon and pancakes and help you execute a juicy cheeseburger or melty panini. Select the best one for you with help from our reviews, below.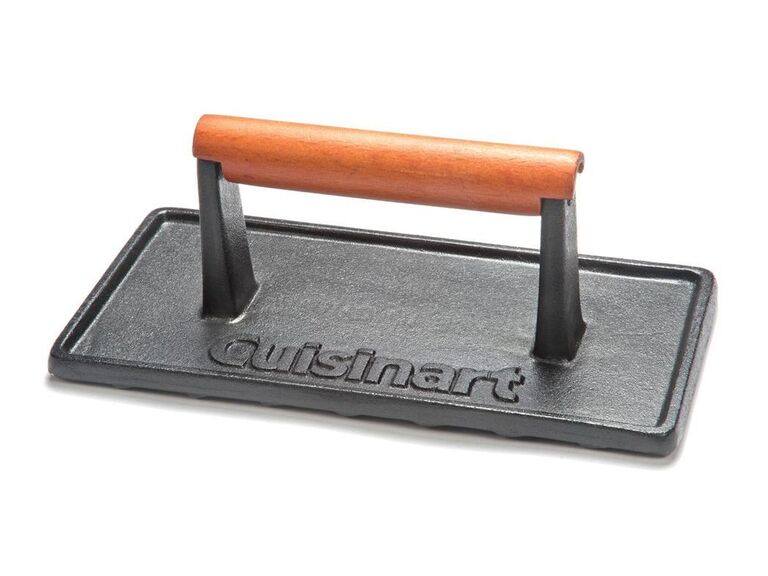 Editor's Pick: Cuisinart Cast Iron Grill Press, $16, Amazon.com
Don't judge this best grill press pick on appearances alone. It may look simple, but it can deliver big time on a crispy, crunchy cook. Weighing in at nearly three pounds, the cast iron piece gently presses anything you're cooking up—from a steak to grilled cheese—to remove excess fats and ensure all parts get an even, charred cook.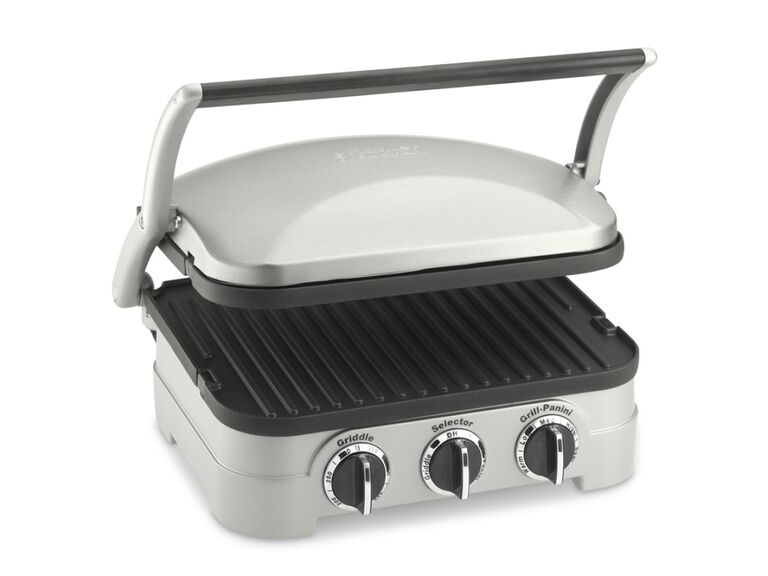 Couple's Pick: Cuisinart Griddler Grill, $80, Williams-Sonoma.com
This best griddle select from our couples is a true do-it-all workhorse. Thanks to its interchangeable nonstick plates and hinge close (use it open or closed!), you can whip up everything from sandwiches and fried eggs to turkey burgers and chicken kabobs. The small footprint makes it ideal for an apartment or home where a full-sized outdoor grill just isn't an option. But don't worry—you wouldn't even miss it if you had this on your registry.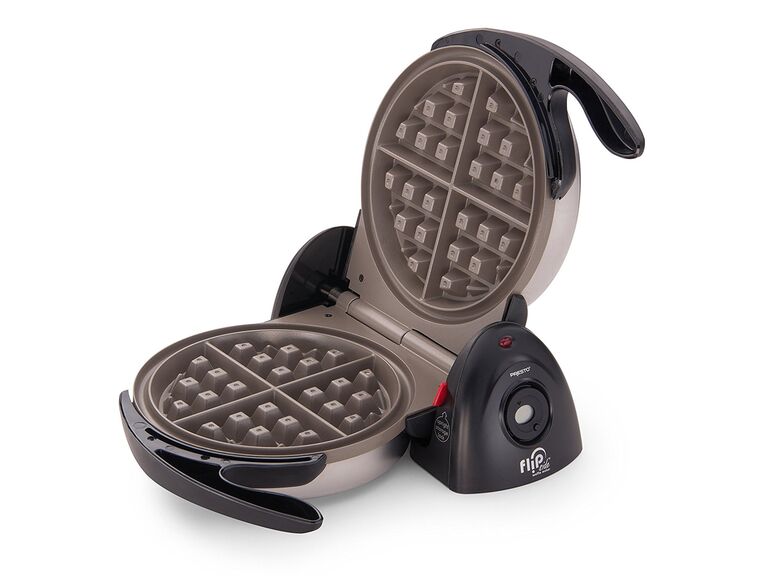 Best Waffle Maker: Presto Ceramic FlipSide Belgian Waffle Maker, $40, Amazon.com
The start of any marriage comes with a lot of aspirations and dreams of the future. Like buying a home, regular Friday night date nights and being the kind of couple that has waffles every Sunday. Guarantee at least one of those goals comes true by adding our pick for the best waffle maker to your registry. This Presto model boasts stainless steel plates for the perfect shade of brown, plus an extra-thick grid that results in grooves ideal for pooling maple syrup. Use the plastic handle to flip the maker over once you've poured the batter in to ensure an even cook, and store it standing up to save space.
Best Griddle: Presto 22" Electric Griddle, $52, Wayfair.com
Our pick for best electric griddle is one that's been a mainstay in family homes for years. You've probably seen your Dad flipping pancakes at one on the weekend, or maybe your Mom cooking up a family-sized batch of burgers. The 22" surface gives plenty of room for meals big and small, and a grease trap helps to keep the whole process clean. The best part? Just wipe it with a moist towel after you're done and be on your way.
Best Slow Cookers and Pressure Cookers
The perks of slow cookers go way beyond potlucks and Super Bowl Sunday. If you're not already a fan, just know this—a slow cooker can be a lifesaver for any busy couple still looking to get dinner on the table before 10 p.m. (aka probably you guys). These set-it-and-forget-it picks for best slow cooker and best pressure cooker will have dinner (or breakfast, or dessert) ready with just the press of a few buttons, leaving you more time for the important stuff. Like binging that new Netflix crime doc…
Editor's Pick: All-Clad Gourmet Slow Cooker with All-in-Browning, $280, Williams-Sonoma.com
Allow us to count the many reasons why we chose this All-Clad appliance for best slow cooker. First off, we're not above judging an appliance by its exterior, and this cooker is gorgeous. The copper and stainless steel exterior (with sleek handles and a clear glass top) make this looker a machine that will stand out on your counter or at your neighborhood dinner party. Add to that the fact that it features an easy-to-use digital display panel, four pre-set cooking programs (including slow cook, brown, steam and rice) and a 20-hour timer and keep-warm feature, and you've pretty much hit the slow cooker jackpot. It's a worthy registry investment that will last you years.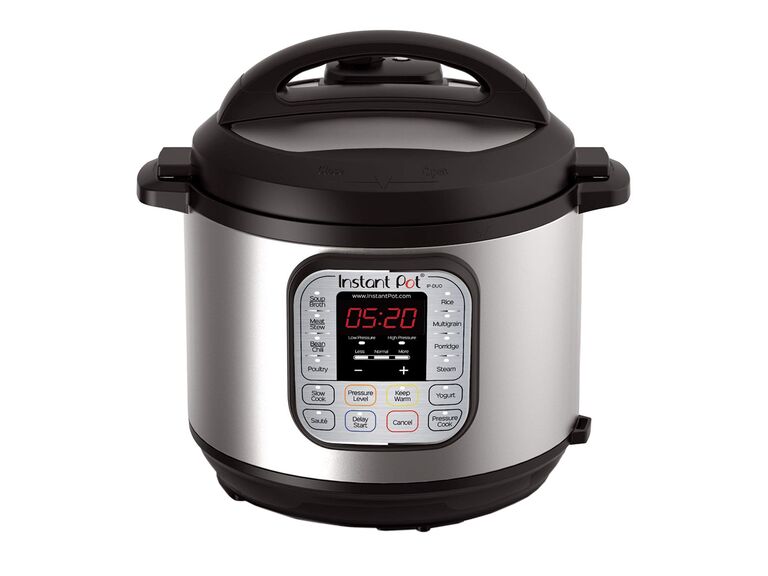 Couple's Pick: Instant Pot 7-in-1 Multi-Use Programmable Cooker, $70, Amazon.com
You've probably heard of an Instant Pot. After all, it is a viral Pinterest sensation, and this is 2019. But maybe you've been waiting for a trusted friend to tell you all the hype is worth it. Enter: our couples. They chose the Instant Pot as their best slow cooker for its seemingly endless capabilities. It can simmer and saute, slow cook and pressure cook, keep warm and steam. Plus, thanks to all the enthusiasm around it, there are thousands of recipes on the web to help you cook up whatever you're craving. So go ahead, add it to your registry. Millions of people can't be wrong.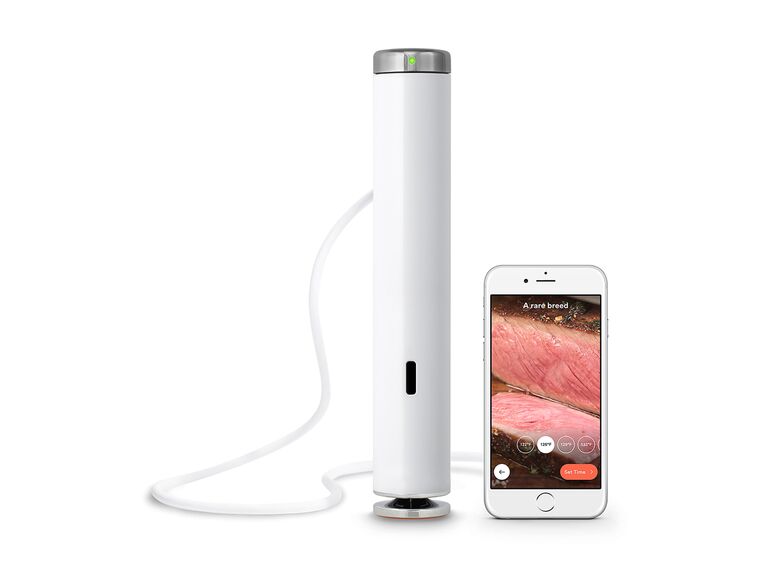 Best Sous Vide: ChefSteps Joule Sous Vide, $199, Amazon.com
If you haven't heard of the sous vide cooking method, your culinary life is about to get a very chef-worthy upgrade. Here's the deal—sous vide is essentially a practice where you cook using warm, circulating water. It's beloved by pros because it turns out a very precise cook, every time. While it may sound complicated, our pick for the best sous vide makes it so, so easy. With the Joule, you can control the cook using an app—simply select what you're making (like a steak, salmon or even creme brulee) and the Joule app will suggest the proper cook time for your desired doneness. Then, just set it and forget it—it's seriously that easy. Now do you see why no best kitchen appliance category would be complete without this handy guy?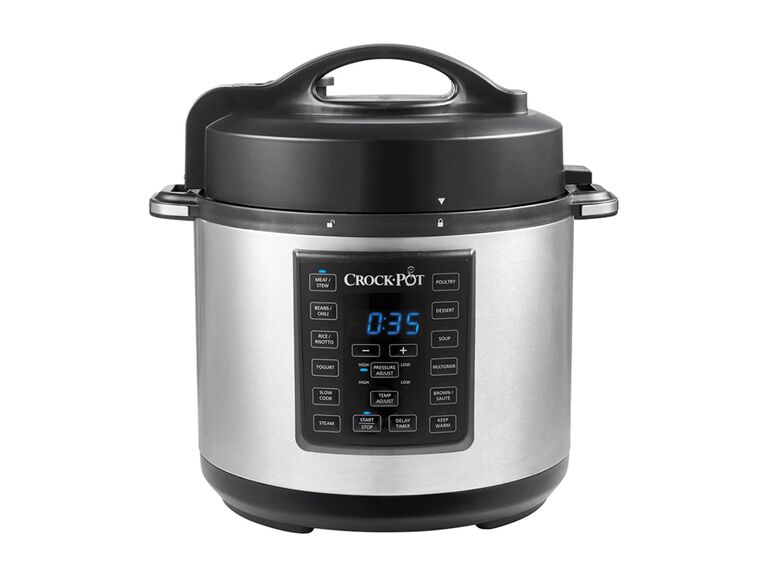 Best Budget Slow Cooker: Crock Pot Express Crock Multi-Cooker, $69, Amazon.com
Crock Pot has been in the game a long time. Like, long enough to be beloved by your mother, too. And it turns out, the OG of the slow cooker game is also surprisingly budget friendly, making it a great addition to your registry. Their express crock makes dinner time easier (and faster) than ever, boasting eight pre-determined settings that let you cook up to 70% faster than traditional methods. That's a lot of free time you just got back!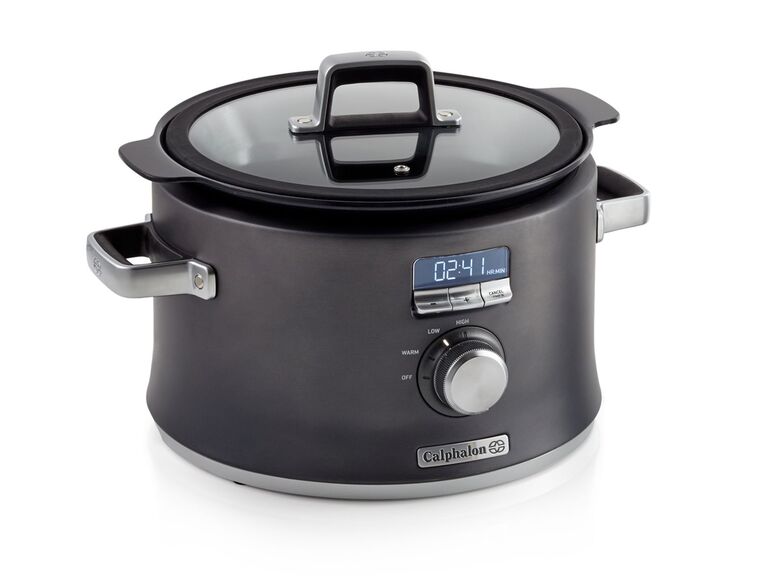 Best Double-Duty Slow Cooker: Calphalon Digital Saute Slow Cooker, $100, CrateAndBarrel.com
Typically if you're cooking any meat in a slow cooker, you're going to want to brown it on the stove first to get a nice sear and seal in all that juicy flavor before popping it in your cooker. Which can kind of be a pain, even if it does result in a more delicious meal. Enter this Calphalon pick for best double-duty slow cooker. The removable interior can be put right on the stove top to quickly sear your meats before transferring into the pot to cook low and slow. Less dishes and a faster dinner? We'll take it.
Best Kitchen Smart Gadgets
Smart tech is reaching every room of the home these days, including your kitchen. Given that, we just couldn't finish up our best kitchen appliance awards category without including a few of our favorite genius tech products. These selects for best kitchen smart gadgets will wow you with their simplicity and clever capabilities and honestly, just make your life a whole lot easier (/cleaner/greener/etc.).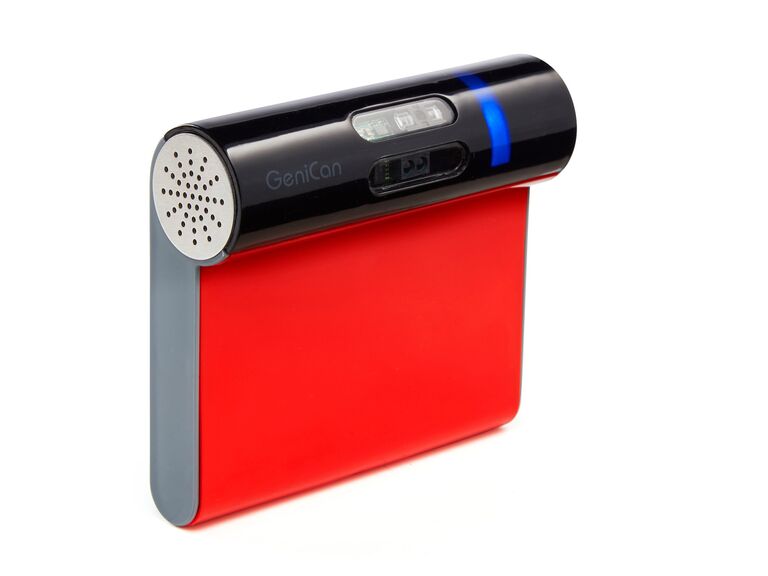 Editor's Pick: GeniCan, $150, GeniCan.com
Who knew garbage could be…cool? Apparently, the people at GeniCan did, because they came up with the genius idea for this seriously smart smart gadget. Hang the panel next to or in your garbage can, then scan the barcode of any item you're throwing out to add it to your shopping list within the GeniCan app. The device is also voice prompted, in case you're tossing something without a barcode on it. With a device this smart, you're pretty much guaranteed not to unexpectedly run out of milk again, so you'll have to find something else for your "honey do" list. Add this gadget to your wishlist with our Universal Registry tool.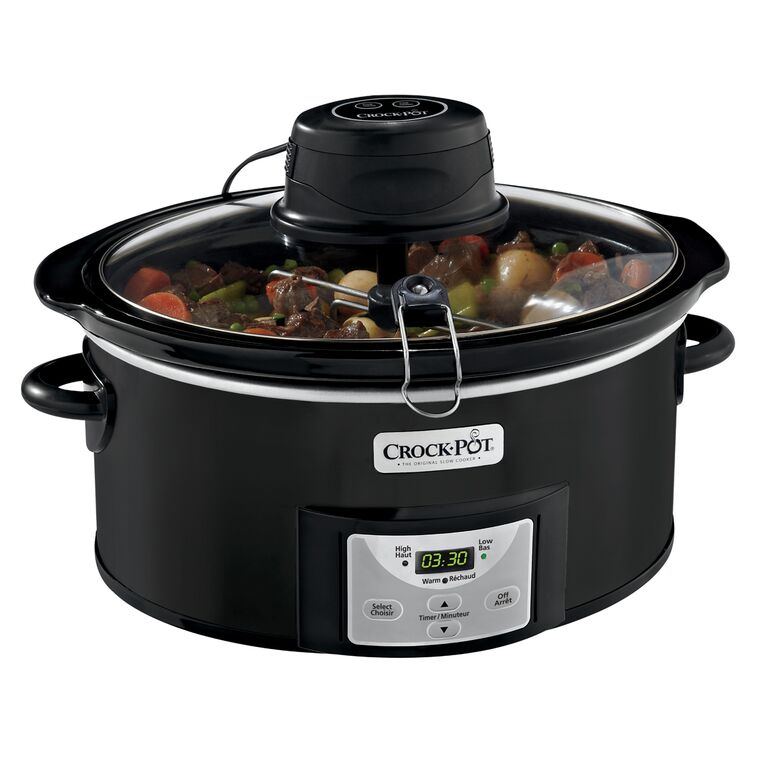 Couple's Pick: Crock Pot Digital Slow Cooker with iStir System, $46, Amazon.com
We know what you're thinking—another slow cooker? But this one makes our best kitchen smart gadget category for a reason. Thanks to its iStir system, the cooker will manually stir your food for you every half hour for five minutes at a time, ensuring your stew, sauce or soup is perfectly (and evenly) cooked.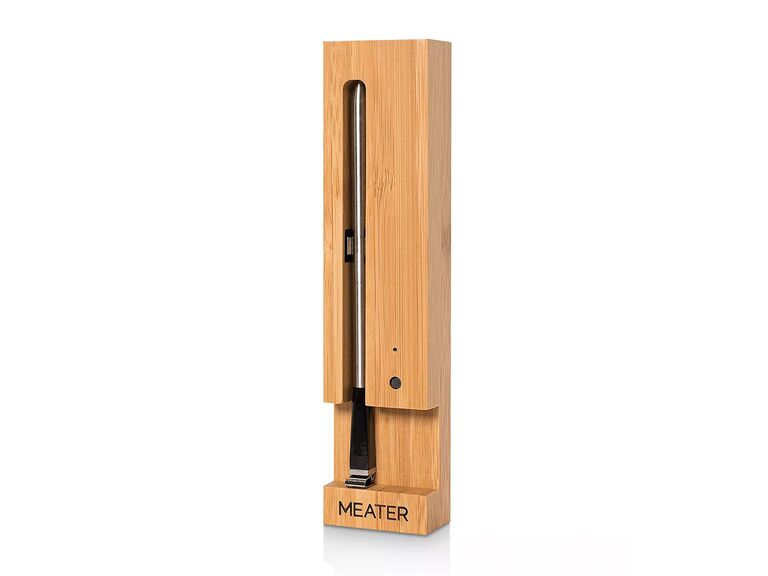 Best Kitchen Smart Gadget for Meat Lovers: Meater Smart Meat Thermometer, $70, Bloomingdales.com
If you think having a smart meat thermometer is a bit extra, we're here to tell you that no, it's not. At least, not when it's as good as Meater. Boasting a stainless steel, Bluetooth-enabled body, 33 ft range and dedicated smart phone app, Meater will take all the guesswork out of your grilling and cooking. Simply insert the probe into raw meat, select the protein type and cooking temperature in the app and follow its instructions for the perfect medium rare.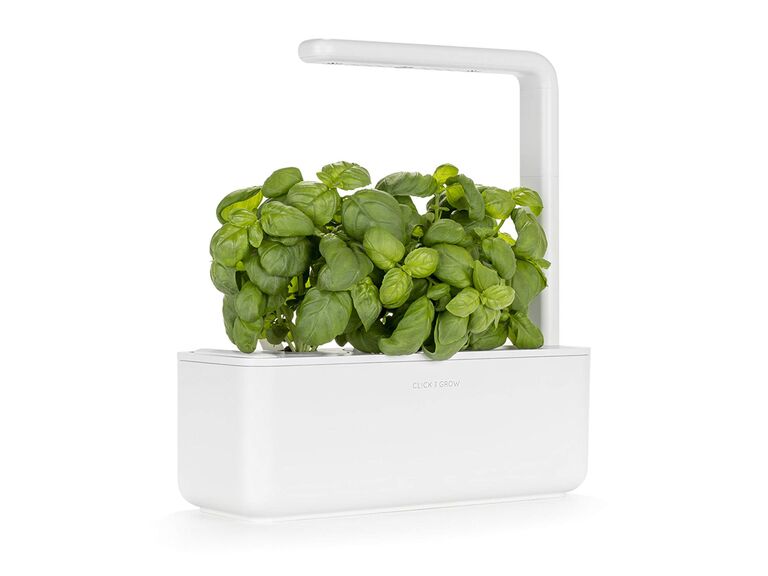 Best Kitchen Smart Gadget for Gardeners: Click and Grow Smart Garden 3 Indoor Gardening Kit, $100, Amazon.com
If time, space or weather isn't letting you flex your green thumb as much as you'd like, then you need to add a Click and Grow Smart Garden to your registry ASAP. It's earned a place on our best kitchen appliances list for so many reasons—the sleek shape, the easy subscription service, the grow-anywhere technology. With it, you can grow fresh herbs, fruits, veggies and flowers indoors all year long. Simply set up the garden using your choice of pods (they have 40+ options) and the machine will do the rest, watering your plants from a reservoir below and providing timed "daylight" for your sprouts to ensure they grow tall and strong.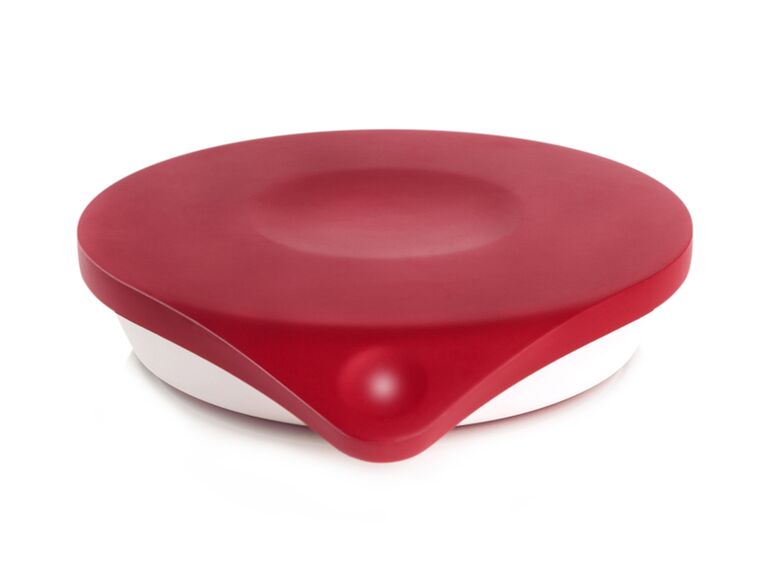 Best Kitchen Smart Gadget for Bakers: Drop Kitchen Connected Scale, $80, SurLaTable.com
Whether you're baking up a batch of your famous chocolate chip cookies or cooking up turkey burgers for a crowd, you're going to want to wishlist this smart scale. Say "kitchen scale" and you probably automatically think of a calorie counter trying to measure out portions, right? Wrong. With Drop Kitchen's smart scale, you essentially have a cooking instructor in the palm of your hand. Use the scale to complete precise measurements, or pair it with the accompanying app to seamlessly adjust the ingredients in any recipe, make serving size modifications (like if you're cooking a recipe developed for two for a crowd of eight) and access hundreds of tasty recipes.
Kitchen Appliance Cash Fund Ideas
One of the best things about getting married in 2019 is the ability to register for anything (and we mean anything!) you want. Here at The Knot, we want to make that as easy for you as possible, which is why we offer Cash Funds. They're a simple way to add the things you really want to your registry and allow your guests to contribute any amount they desire towards your goals. Into cooking? Here are some of our favorite cash fund ideas to get you going:
Editor's Pick: A wood fire pizza oven cash fund
Why not go big when it comes to adding the best kitchen appliances to your registry? We love the idea of starting a wood fire pizza oven cash fund on your registry. First off, who doesn't like Neapolitan-style pizza? Second, who doesn't like Neopolitian-style pizza? Ok, in all seriousness, if a pizza oven is something you have been dreaming of, now is the time to make that wish a reality—and your guests can help you get there! Start your pizza oven cash fund here—and then get working on that pizza party invite list. There are a lot of people who are going to want a slice.
Couple's Pick: A home appliance refresh cash fund
Score all the stainless steel appliances your little heart desires by creating a cash fund for a home appliance refresh, like hundreds of our couples have chosen to do. You can use your guests' generous gifts for a new dishwasher or maybe that fancy smart fridge you've had your eye on. Sound like a plan? Start your home appliance refresh cash fund here.