The Complete Guide to Planning a Destination Wedding in Costa Rica
Pack your marriage certificate for this eco-friendly wedding destination.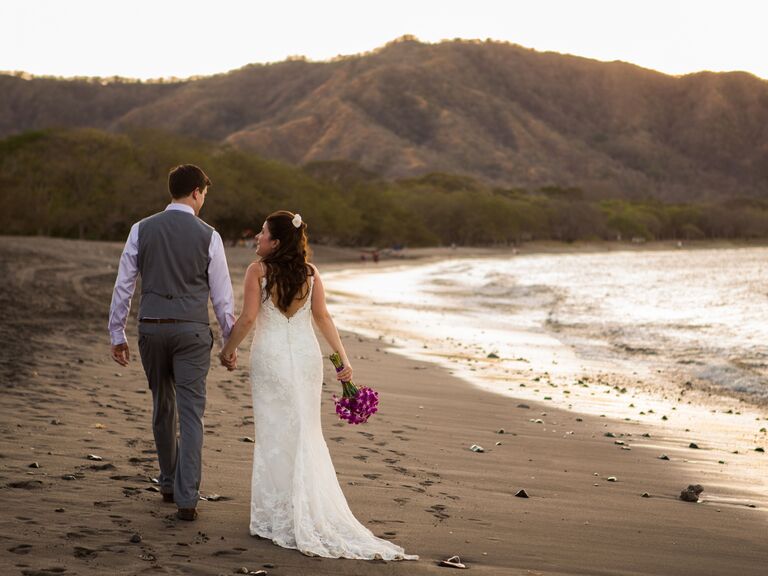 For adventurous types and the sustainably-minded, a Costa Rica destination wedding is one without regrets. Your guests will love exploring all that this country in Central America has to offer.
Eco-friendly tourism, farm-to-table experiences and exciting outdoor activities set this wedding destination apart from others. Couples and loved ones can spend their days exploring cloud rainforests, and end their evenings by reclining on oceanfront loungers. The country is renowned for its astounding biodiversity, considering where it's based on the planet.
Planning a destination wedding, however, comes with its own set of challenges, especially if you aren't on the ground in that country. We spoke to wedding planners Susan la Reau of Susan La Reau Events and Ise Chaves of Red Velvet Weddings to get all the background you need to successfully throw a Costa Rica event getaway.
Why Couples and Guests Love Costa Rica
Costa Rica is on a number of couple's bucket lists for good reasons—its dedication to eco-tourism and environmentally conscious travel set it apart from other spots around the world. While the gorgeous jungle and beach backdrops will have you and your wedding party snapping a bunch of pictures, the country is even more than just its beautiful scenery.
There's also so much to do that your guests won't get bored. The country's well-managed and welcoming tourism infrastructure has everything from thrilling zip line outings to catamaran tours with dolphins. Loved ones can enjoy a vacation and your vows if saying yes to a Costa Rica destination wedding. "Imagine doing all [those activities] with your favorite people and having a wedding in between?" says La Reau. "People will talk about it forever!"
The Best Places to Get Married in Costa Rica
When Chaves meets with new clients, she often starts with one question: "Do you see yourself in a green forest, white sand beach or a lush jungle near the water? All are possible in Costa Rica!" Whether you're looking for lush wedding photos near a volcano or want the destination backdrop of untainted sand beaches, you'll be able to find the perfect spot.
The planning professional also reminds everyone to keep an eye out for the less exciting part of picking your location: its proximity to international airports. With that being said, here are a few of the most popular locations to get hitched due to its amenities. Every inch of this country is home to gorgeous landscapes perfect for a wedding.
Guanacaste: This northern province of Costa Rica is home to beautiful beaches, a coastal jungle and memorable views. Head to the Peninsula Papagayo which is great for couples interested in hosting an all-inclusive wedding at one of their many luxury resorts. Most offer oceanfront views of the soft-blue waters of the Pacific Coast along with wedding packages that remove the stress. It's also close to the Liberia International Airport, so your guests can easily find their way to your ceremony.
The beach town of Tamarindo, though a bit farther away from the airport, is another great option. Couples will enjoy local resorts' intimate private villas surrounded by world-class beaches, surf and epic wildlife.
Manuel Antonio Beach and National Park: There's nothing quite like getting married in a national park. With rainforests, beaches and wildlife, Manuel Antonio is one of the highest-sought destinations in Costa Rica. Couples and guests can spend their days snorkeling in the coral reefs or hiking nature trails. "It's where the jungle meets the ocean, where the sloths and monkeys will be hanging out all day long," says La Reau. These white sand beaches will leave a lasting impression on you and all of your guests.
Alajuela Province: Closer to Nicaragua to the north is a province that serves as home to numerous wellness retreats and eco-friendly boutique lodges. Unspoiled surroundings and lush, biodiverse experiences are just the beginning in Alajuela. The province is also home to multiple volcanoes including Tenorio National Park, a tourism haven. Couples can easily find luxury options that work well for the wedding day; plus, fun alternatives for those in-between events.
Arenal Volcano: Skip the beach wedding and instead enjoy the unique backdrop of the Arenal Volcano and the beautiful waterfalls and rainforests that make this area so alluring. Arenal Volcano is one of the country's most popular natural landmarks. Couples and guests can easily stay in boutique hotels or luxury all-inclusive resorts near this volcano—some even offer hot springs on site.
San José: If you're interested in saying your vows in a big city full of culture and nightlife, San José won't disappoint. As the capital of Costa Rica, this city has everything you could ever want: great museums, beautiful parks, exciting nightlife and landmarks you'll want to visit. Although the metropolis doesn't offer the same beachfront or nature views as some other locations, it's great for urban couples who enjoy a city environment.
Costa Rica Wedding Legal Requirements
Legal Weddings vs. Symbolic Weddings
For those interested in hosting a destination wedding, you can choose to hold a legal or symbolic wedding. Legal weddings will require extra cash for fees. Spending time on the paperwork and understanding the marriage legalities of Costa Rica are musts for couples who want a legal wedding in the country.
Many to-be-weds decide to simply hold a symbolic wedding ceremony and skip most procedures. Instead, they marry in a courthouse near home, then head to Costa Rica without having to be concerned about red tape. If you're interested in getting married in a church in Costa Rica, some require additional prerequisites like premarital classes.
Required Legal Documents
If you do choose to move forward with a legal wedding in Costa Rica, here's what to do. "You will simply need to provide a copy of your passports, and the officiant here will take care of all the paperwork before the wedding," La Reau explains.
Additional paperwork may include a sworn and notarized statement that you aren't legally married anywhere else. Couples may also have to share divorce papers from a past marriage. Many work with a lawyer to ensure that everything moves along smoothly.
Legal Marriage Timeline
Once you've tied the knot in front of at least two witnesses who aren't family, your officiant will pass over a copy of the signed marriage statement to be submitted to the Civil Registry of Costa Rica. "Once registered, which normally takes five to eight days, an Official Wedding Certificate is issued," Chaves says. "[It will be] officially translated to English, authenticated with Apostille by the Costa Rican Foreign Affairs Ministry and forwarded to you by registered mail."
Marriages in Costa Rica are recognized in all parts of the world. From there, La Reau notes, "You will get a symbolic certificate right after the ceremony and about six weeks after the wedding, you'll get the legal certificate in the mail so you can take it to town hall and be officially married. Then, you can change your name and take care of insurance needs."
Legal Marriage Cost
Expect to pay a bit more for a legal wedding than you would for a symbolic wedding. Officiants may cost close to $700 to $1000 for a legal ceremony, according to La Reau. However, it's expansive in scope. "That includes all the legal paperwork, the ceremony performance and the shipping of the marriage certificate to the client," says the expert.
Costa Rica Wedding Planning Tips
Now that you've got all of the legal details out of the way, it's time to ensure your dream wedding takes place without complications. Couples will want to finesse and finalize any transportation for guests, while keeping track of the weather, venue coordination and rentals.
How to Get There
Costa Rica has two international airports, one in San Jose, and one in Liberia. Flights from the US hover around $400 for economy class. Couples can hire private bus shuttles, or loved ones can reserve a taxi to reach their final destination. Public transportation is available in specific regions, which requires extra research from travelers.
Costa Rica Weather
Couples who want the gorgeous sunset wedding should set a date between mid-November and the end of April. "Costa Rica has two seasons: there's summer and then there's rainy season, which is in May to the beginning of November," says La Reau. "Flights and accommodations are more affordable during the rainy season, but you may need to budget for a tent. Aavoid September and October, which are the months where it may rain all day long."
Choosing your Venue and Vendors
When it comes to picking a Costa Rica wedding venue and vendors, there may be some overlap. "Costa Rica is a small country and most of the planners here will offer the same vendors. You may even get the same exact team sometimes," says Chaves.
Couples are encouraged to hire a wedding planner who can recommend the best pro team locally. "Your wedding planner will be the person you see the most on your wedding day, along with the photographer and videographer. Even more than your future spouse," laughs Chaves.
And, of course, La Reau says to start planning early. "Vendors in Costa Rica are great, but sometimes they take the 'pura vida' lifestyle too seriously. Responses can be slower than you expect," La Reau explains. Check The Knot Marketplace to help find Costa Rica destination wedding planners, venues and vendors.
Budgeting Tips
While weddings in Costa Rica will probably be less than their equivalent in the US, don't expect to be getting luxury without the price tag. "There's a misconception about Costa Rica being cheap. You can still have a wedding for about 30% less than possible costs in the US, but it's not the cheapest country in Latin America," La Reau explains.
If you're interested in stretching your budget, La Reau notes that you may have to sacrifice some of the quality for a cheaper price tag. Costa Rica has a wide variety of gorgeous locations and venues. No matter your budget, there are wonderful options available at every price point, especially if you're willing to be flexible with the location and season.