5 Easy Ways to Save Money on Your Honeymoon
Your trip of a lifetime doesn't have to drain your savings.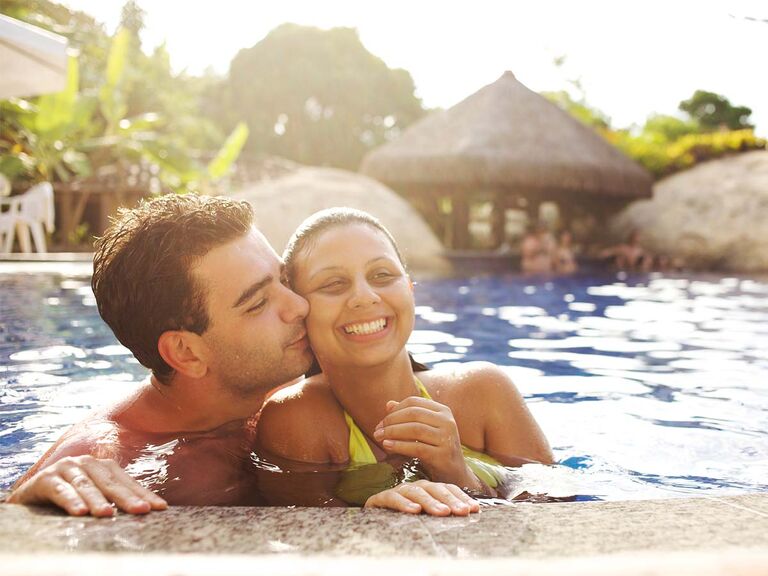 Courtesy
You'll take many vacations in your lifetime, but there is only one trip of a lifetime: your honeymoon. After you've said "I do" (making your relationship status legally binding), it's time to celebrate your life as newlyweds and set off for the best honeymoon destinations. There is no lack of inspiration to be found around the world: from snorkeling at a beach resort in Riviera Maya, Mexico, to booking a flight to Europe to explore Portugal, Spain, Greece, Croatia, and more world-class spots.
The only issue, of course, is paying for the whole shebang. When you tally the cost of airfare, hotels, excursions (like horseback riding, kayaking and so on), as well as food and drinks, your trip can get expensive, fast. However, there are ways to have a romantic honeymoon that you will tell your grandchildren about that isn't over-the-top pricey. The key is starting early. Like, right now!
If you are thinking about taking this getaway in 2022, now is the time to start booking. Even if you're typically a procrastinator, there are several benefits to planning way ahead. Not only does it give you ample time to research to find the best deals on cheap honeymoon ideas, but it also gives you far more savings opportunities than planning last-minute, explains Lauren Anastasio, a certified financial planner at SoFi. "Whether you're looking at flight selection, destination, desired hotel or resort or restaurant venues for dinner reservations, you'll have more options to choose from and have the greatest opportunity for cost savings in advance," she explains.
More importantly, planning in advance also allows honeymooners to be budget-friendly and better understand where they want to spend their money. "If you start planning early and identify some areas you may want to splurge on, you have more time to save up for those desired honeymoon activities than if you make a decision at the last minute," she explains. "The longer you have a budget in mind and do your best to plan accordingly, the more likely you are to be able to stick to it and the fewer surprise expenses you'll have along the way."
Here, a guide on finding affordable honeymoon destinations and why you should book ASAP:
Pick your destination now.
Do you dream of beautiful beaches in the Caribbean or Hawaii? Standing in awe of ancient temples in Bali or Thailand? Or exploring one national park after another in California on an epic road trip? Whatever romantic getaway spots have captured your heart and attention, starting researching them now, suggests Jen Avey, the vice president of marketing for Destination Weddings Travel Group.
"The sooner you narrow down your top location and resort choices, the better equipped you'll be down the line to compare packages and make your ultimate decision," she says.
Before the stress of wedding planning gets to both of you, Avey says now is a good time to sit with your future spouse and define what kind of honeymoon you both envision. Is it tropical? Or in a European city? Is it adventure-seeking with zip-lining and skydiving? Or is it calm, like white-sand beaches in Cancun? Once you are on the same page, Avey suggests creating a spreadsheet that includes your resort names, pros and cons, customer review red flags, and so on. "That will help you compare each package and ultimately narrow down to your top choice," she says.
Set up your honeymoon fund ASAP.
Since many couples are getting married later in life, they already have the necessities of a home. So, the tradition of asking for a toaster or a china set is on its way out. What's in? A honeymoon fund, where you ask your guests and loved ones to celebrate your marriage by contributing to your honeymoon cost. Sites like The Knot Cash Registry, Traveler's Joy, and others, allow you to "register" for activities like whale watching, day passes to golf courses, couples massages, scuba diving excursions, guided tours of hiking trails, and so on.
But who says you have to wait until your wedding day? Set up your fund as soon as you get engaged, Anastasio suggests. "By planning far in advance, you're able to include cash funds for your honeymoon on your registry, so loved ones can make a contribution towards your honeymoon savings as an engagement gift, shower gift, or even for the big day," she continues. "While some loved ones may give you a monetary gift either way, by having a destination or honeymoon-specific registry items, you're letting your guests know what's most important to you. They may be more inclined to contribute to your water activities honeymoon fund than write you a check, and if you'd rather have that than an air fryer, don't be shy about prioritizing your registry accordingly."
Tell everyone you're getting married.
There's no way around it: once you throw in the word "wedding" in the USA, prices of products and services tend to rise. However, the opposite is true when you throw around the word 'honeymoon.' It's one of the most effective wedding-related travel tips: tell everyone you are booking your honeymoon. You'll likely get plenty of perks for free.
"Telling everyone you speak with from the airline rep to the concierge at the hotel that it's your honeymoon and it can really pay off in terms of upgrades and other perks that result in cost savings," Anastasio says. "By doing this far in advance, you may be able to snag upgrades or benefits that could be limited. A hotel wants you to have a memorable experience, but there are only so many complimentary room upgrades they may be able to accommodate." (Think: a beachfront hotel suite with palm trees swaying in the wind. Or a bottle of bubbly upon arrival, as you admire the natural beauty of Waikiki.)
The best honeymoon destinations know how to cater to couples, so you just have to clue them in on your big celebration. "Start spreading the word to give yourself the best chances for an upgrade to first class or comped meals," she adds.
Ask about early booking bonuses.
Oftentimes, hotels and resorts will offer what they call 'Early Booking Bonuses,' which means the earlier you book, the better the rate you'll receive, Avey explains. This is key for 2022 honeymooners to know since it means booking their stay now could mean huge savings.
"We recommend starting your research as soon as possible to help narrow down your top choices ahead of time, and then keeping an eye out for promotions and special sales that your favorite resorts may be running so you can be ready to snag it," she continues. "Early booking promotions may also include special perks such as room upgrades, spa credits and more, so it's really to your advantage to start looking for these deals now."
Maximize your miles.
This same tactic is effective if you are going to use your miles to save money. Especially if your vendors allow you to book on a credit card, make sure you use one that offers travel rewards. This way, when you pay off in full at the end of the month, you early miles or points toward airfare or hotels. This is one of the best cheap honeymoon ideas for many couples since it's nearly like getting rewarded for planning a wedding. As with everything, though, there's a catch: hotels and airlines will often only allow a certain number of reservations to be made with points, so your chances of obtaining the dates/flights you want are greater far in advance, Anastasio says.
"Taking this approach also allows you to book the absolute cheapest reservation that the hotel or airline will offer," she explains. "So if you have your heart set on a luxury hotel, book the cheapest room possible when it first becomes available. If you wait and someone else snags it, you'll either have to stay elsewhere or blow up your budget."