20 Simple Ways to Save Money on Your Honeymoon
Read these tips and tricks for traveling on a budget.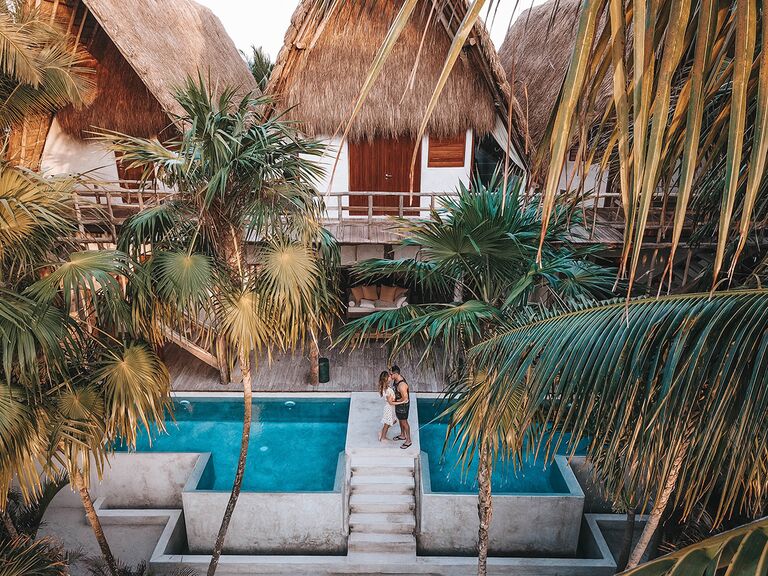 Roberto Nickson/Unsplash

It's hard to think about planning your honeymoon while planning a wedding, and that includes figuring out how to pay for it. Ultimately, the secret to getting the most out of your honeymoon without breaking the bank is to be really good about planning ahead and doing your research. Remember, you can avoid paying full price almost the entire time, since even some early booking discounts apply to peak times. Here are 20 honeymoon budget tips to help you save without sacrificing on the quality and romance of your newlywed trip.
1. Set Your Priorities
First, figure out your honeymoon priorities: What are you most excited about? Which aspects of this vacation are non-negotiable for you, and what can you live without? If dreamy accommodations are the most important to you, consider staying somewhere local (or at least domestic) so you can allocate your budget to enjoying luxe rooms and the spa rather than roundtrip international flights. If exploring a faraway place is what you've always wanted, focus your funds less on the hotel (especially if you know you'll barely be there) so you have more in your pocket to afford really experiencing the destination.
2. Work With a Travel Agent
For one-stop, stress-free planning, a travel agent can't be beat. They know how to save you money with air/hotel or fly/drive/hotel packages (thanks to their high business volume). It's their job to be in the know about last-minute or ongoing sales, and they can offer the wisdom gained from years of travel experience. For savings at sea, call an agency that specializes in booking cruises. And let the travel agent know your priorities so they can figure out exactly what to cut and keep from your itinerary.
3. Use Your Registry
Some travel agencies and tour operators offer registry services by which they collect, track and apply contributions from your wedding guests toward your honeymoon expenses. But the easiest way to ask guests to chip in on the honeymoon is to create a cash registry using The Knot Newlywed Fund, which makes it incredibly easy for guests to contribute set dollar amounts to either a general honeymoon fund or specific honeymoon-related activities, experiences and expenses (it's up to you).
4. Go During a Destination's Off-Season
Choose a honeymoon location or cruise itinerary with an off-season (or shoulder-season—aka the period right before and after peak season) that coincides with your travel dates. You'll almost always notice drastic price breaks along with way fewer crowds—yes, please! And best of all, off-season isn't always synonymous with bad weather. For example, many islands in the Caribbean have ideal temperatures year-round, but rates skyrocket from January to April due to high demand from winter-weary East Coast travelers. In other locales, off-season means high temps, bitter cold or potential hurricanes, so many hotels and activities in the area shut down completely until more hospitable weather returns. It depends on the place, so definitely do a little research to find out about your dream spot.
5. Choose Cheaper Locales
Many variables can make a glorious destination a total steal, including favorable exchange rates (in Mexico, Vietnam and Croatia, for instance) or being just under-the-radar enough. Other surprises such as severe weather (tsunamis in the Pacific, hurricane damage in the Caribbean, earthquakes in Turkey) can sadly force hotels and resorts to close their doors for anywhere from a few months to a few years—but if you do your homework, you might be able to take advantage of lower rates once a property is back on its feet, but still coaxing back their usual crowds.
6. Stay Within Driving Distance
In general, the shorter the flight, the cheaper the airfare—that's one big reason West Coasters head south to Mexico and East Coasters flock to the Caribbean. But here's another idea: Save the airfare and use the extra money to upgrade to a nicer hotel and room at a spot within driving distance.
7. Don't Procrastinate
Booking early guarantees that all the inexpensive rooms won't be sold out. On cruises, which announce their itineraries 10 to 14 months in advance, it also means savings of more than to 50 percent. On the flip side, if a ship is under-booked, you may snag a last-minute deal up to eight weeks before sailing (although you may have a limited choice of cabins).
8. Consider Alternative Airports
As in, sacrifice convenience for savings: Try flying into or out of a smaller or farther airport at one or both ends of your trip to reduce airfare. But always call your hotel to make sure the round-trip cost of a taxi or car service from the farther airport won't wipe out your savings.
9. Think Beyond Flying
Instead of flying a major airline, consider getting to your destination via train, bus or car. Turn a long drive into a road-trip adventure by planning some sightseeing stops along the way. And once you're there, get around like locals by relying on public trainsportation instead of cabs or ride apps. You don't have to take it everywhere, but replacing a few long, pricey cab rides with a subway or bus ride can definitely save you.
10. Cash in Frequent Flier Miles
That credit card you've been using to pay for your wedding is now ready for airline tickets, hotel rooms, car rentals and upgrades. (In fact, seat upgrades have a better "exchange rate" than ticket purchases and are invaluable splurges on long flights.) Ask about partnerships, allow plenty of time for membership rewards or points to be transferred, and remember that blackout dates may curtail your plans.
11. Purchase an Air Pass
Many foreign airlines (including those that service Europe, Southeast Asia, South America, Australia and the South Pacific) sell tickets that allow you to city- or country-hop within a specific region within a limited time frame for far less than if you'd arranged each leg of the trip separately.
12. Consider an All-Inclusive Hotel, Cruise or Tour
The best part about all-inclusives? There are no surprises and no limits: You can live like royalty for one flat fee. Most all-inclusive rates include the room, all meals, drinks, activities, entertainment, tips, taxes and airport transfers (adventure tours also include guides and equipment). Just remember that packages vary. Ask lots of questions and make sure most of what's included appeals to you (otherwise, why spend the money?).
13. Consider a Bed-and-Breakfast
True, some lack privacy, but not all. Most are packed with romantic nooks and luxe amenities. Prices are usually favorable—especially during the week—and breakfast is obviously included.
14. Eat at Home (at Least Some Nights)
Eating out can really add up. If you're staying somewhere with a kitchen, consider cooking for yourselves and eating at home a few times. You could also plan to eat in for two meals a day then splurge on one. On the flip side, eating out at a casual, local restaurant instead of dining at a hotel restaurant could save you money too.
15. Search a Hotel's Website (or Call It Directly)
In order to get the most up-to-date and accurate sense of prices, go directly to the hotel's website or call the front desk to get the scoop on sales, find out which rooms are best and get an accurate idea of how much it will cost to get to the hotel from the airport. And don't accept the first room rate quoted, especially during low season. Inquire about weekend rates (which are common at city hotels), extended stay discounts and seasonal promotions. Ask: Is this absolutely the lowest rate you can offer me? What would I need to do to get a better rate?
16. Ask About Packages
Not only will you get lots of extras when you sign up for a package (which may have a romance, honeymoon or spa theme), but package rates may include tax, tips and airport transfers, which can save you a lot over the regular room-only rates.
17. Book the Cheapest Room
Book the least expensive room you can in the swankiest hotel you can afford. Choosing a room that faces the garden or pool instead of the ocean is no big deal if you plan to be on the beach or out of your room enjoying posh amenities most of the time anyway.
18. Pull Your Resources
Get to know the benefits of all your credit cards, dining cards and club memberships. For example, your auto insurance or credit card may already cover Collision Damage and Liability on car rentals. You may also be covered for other travel snafus or discover optional coverage you'll need to activate before you leave, such as travel insurance, which can protect your trip deposits and reimburse you for pricey medical expenses if something happens on your trip. It's a relatively small price to pay for peace of mind.
19. Play the Honeymoon Card
When you're asking about a rate or making a reservation, don't be shy about letting the person knows it's for your honeymoon. At the very least, you may get a better table or a free bottle of champagne. At best—especially during the off-season—you may get a room upgrade or meals comped.
20. Take a Minimoon Now and a Honeymoon later
You might simply not be in a good place to afford the honeymoon you've always wanted right now, and that's totally okay. Instead of blowing the rest of your savings on a huge trip now, take a short celebratory getaway after your wedding (whether it's booking the luxe honeymoon suite for your wedding night or taking a three-day weekend trip), then save up to take a real newlywed vacation for your first anniversary.