What Your Guests Are Really Thinking
Just got engaged? Congratulations! But before you plan anything, read these common wedding guest complaints to protect yourself from these planning mistakes.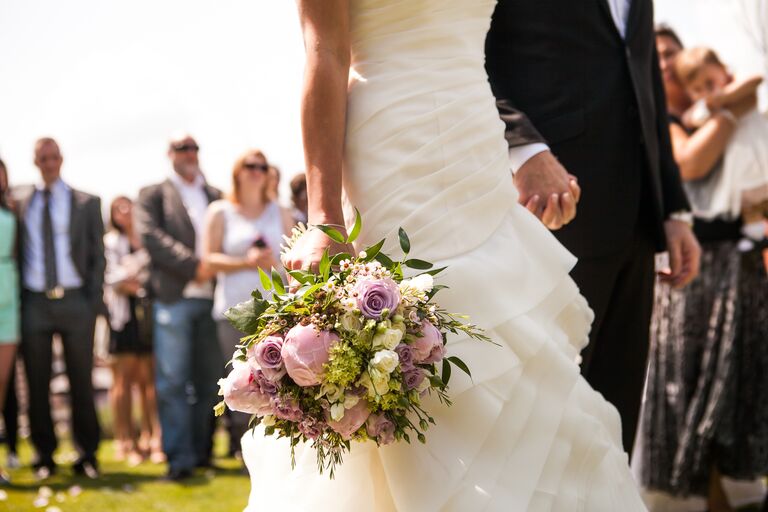 Shutterstock

Yes, your wedding is all about you and yourgroom—but you also have to remember that you're hosting a party! If your guestsaren't comfortable, your wedding could be remembered for all the wrong reasons.We polled dozens of frequent wedding guests to find out what they disliked aboutthe events they've attended.
Guest Complaint #1: Your timing stinks.
Huge time gaps between the ceremony and the reception (you know, the ones where the ceremony starts at noon, but the party isn't until 7 p.m.) are annoying because you're often leaving us in the middle of nowhere, with absolutely nothing to do. We don't want to kill time at a restaurant because we're hoping you'll feed us well at your reception. Same reason we're not going to hit a bar! And there's only so much lingering we can do at a coffee shop or a bookstore...in our dressy clothes! We'd much rather head straight to the party after the "I dos."
Guest Complaint #2: You picked a bad day.
We've had weddings on every holiday, from Mother's Day to Super Bowl Sunday (yes, that counts as a holiday). We love you, but we'd rather be with our moms or watching the game on those days. And please don't take our holiday weekends too. Yes, we know you can save if you get hitched on the Sunday before Memorial Day or Labor Day, but maybe we like to take our vacations then too. If nothing else, don't get married on a random Tuesday night. That means we have to take off at least two days from work just to go! We want to celebrate your new life, but we have our lives going on too.
Guest Complaint #3: The food isn't great.
Why would you bother spending thousands on your flowers if your food is going to taste just okay? We want a delicious meal way more than we want pretty centerpieces. If it's not as good as something we'd have at a restaurant, we're going to be disappointed. Even if the food is tasty, don't make us go hungry. We don't need an eight-course meal, but we don't want to have to push through other guests just to get to the tiny hors d'oeuvres you're calling dinner.
Guest Complaint #4: You're boring us.
The ceremony may be the most important part of the day to you, but the reception is what we're really looking forward to. When it takes forever to get dinner to our tables, each of the five speeches is 25 minutes long and you play a string of songs that are all inside jokes with the same group of friends, there isn't much time for getting our groove on. Uh, and if the band's so bad that no one's dancing—including you and your groom—we just think, Why are we even here? Showing us a really good time is the very least you can do to thank us for giving up our free day, traveling and getting you an expensive gift.
Guest Complaint #5: We can't believe you sat us here.
We want to have fun at your wedding, believe us, but it's pretty tricky when you seat us right in front of giant speakers. We won't be able to talk to anyone at our tables or enjoy our dinner if you're blowing out our eardrums. Before you book your venue, make sure there's enough space for tables without having to make us sit in the DJ's lap. And don't make us suffer in the heat. If you're having a summer wedding, do it somewhere with air conditioning! It's not fair to expect us to dress up only to sweat in our fancy clothes. Also, if you want to be outdoors, don't make us rough it: Walking around in the mud, swatting bugs or using porta-potties is even less fun in formal attire. And please give us plenty of places to sit. Cocktail hours with stations and passed hors d'oeuvres are great, but it's tough to balance our plates, drinks and purses while standing—in heels no less! We don't need anything formal—scattered chairs will do the trick.
Guest Complaint #6: You're making us pay?!
Treat your guests like guests; don't make us bring our wallets when we want to get a drink! When you have over 300 guests and a cash bar, we wish that you would've just cut the list and paid for our drinks instead. We know alcohol is pricey, but how are we supposed to feel when we paid for flights, a rental car, a hotel room and a gift, and then you make us pay at the bar?
Guest Complaint #7: You didn't give us a plus-one.
Nothing reminds us of our dating status like a wedding. While we're incredibly happy for you, no need to rub it in our faces with even more reminders. The garter and bouquet tosses are like saying, "Hey, look at them. They're single!" Could you blame us if we hide in the bathroom as soon as the DJ announces it? And, come on, even if they did honestly predict we'd be the next to marry, do we really want some cheesy guy slipping garters up our legs? Of course, we'd prefer to be invited with a date, but we get why you may not be able to give us that, especially if we'll know lots of other people there. But if everyone we know is making out with their significant others all night, we're going to be upset that you couldn't include one extra person to make us feel a little more comfortable.
Guest Complaint #8: You didn't say thank you.
It's frustrating when we fly all the way out to your wedding and you don't take the time to thank us for making the trip. Even if we haven't come a long way, just make an effort to thank us for coming anyway—we don't have to go, you know! We get that it's hard to talk to every guest at the wedding, but that's why, at the very least we should get a thank-you card from you when you get back from your honeymoon!
Guest Complaint #9: You put us to work.
We know we'll have to help out with some tasks when we agree to be in the bridal party, but it's insulting when you consider manning the guest book table an honor. We'd much rather be a regular guest than have some silly duty like that. If you really do need some help, give us a heads up about what you want us to do. Don't spring flower girl babysitting duties on us minutes before the reception.
What Guests Don't Mind
They're willing to cut you some slack; here's what won't bother them:
Nixing the receiving line
Guests know that saying hello to every single guest all at once is no fun for you. Do table visits at your leisure during the reception instead.
A few toasts and special dances
As much as guests want to hit the dance floor, some events that break up the monotony help keep things interesting.
Skipping the favors
If you're considering giving each guest a knickknack with your names and wedding date engraved on it, just don't give anything at all.
If you can only chat for a minute
Your guests want you to have a good time too (really!). They understand if a few moments are all you can devote to each person and still have enough time to be a dancing queen.
If you have a limited bar
As great as a full bar with many cocktail options is, guests know that it's a splurge for your burget. They really won't mind that much if you just serve beer and wine.