The Best Engagement Rings You Can Buy on Etsy Right Now
From dazzling moissanite to vintage gemstones.
We have included third party products to help you navigate and enjoy life's biggest moments. Purchases made through links on this page may earn us a commission.
You might associate Etsy with one-of-a-kind gifts and hand-crafted artisan goods—but you can also use the marketplace to find wedding jewelry too. Yep, it's true: Etsy engagement rings exist, and they're perfect for those with vintage style and a preference for unique accessories. Whether you're shopping for a colorful gem or an alternative center stone, there are hundreds of options on Etsy. (You can even find traditional diamonds and diamond-alternatives for those with classic taste too.)
Not sure where to start when buying an engagement ring on Etsy? Don't stress. Here, we break down everything you need to know about Etsy engagement rings. First, we share how to source a real ring from a reliable seller—an important step given the significance of an engagement ring purchase. Then, to ease your shopping experience, we've rounded up the best Etsy engagement rings for every style and budget. Browse sapphires, emeralds, black diamonds, moissanite stones and more right here. And if you stumble across the perfect Etsy engagement ring, you can buy it without hesitation.
Is Etsy a Good Place to Buy an Engagement Ring?
Buying an engagement ring from Etsy requires some research before purchasing. Etsy is a good place to buy an engagement ring, especially if you're looking for something unique or vintage-inspired—you might even be able to find a rare antique piece. Since Etsy is a marketplace, though, it's important to vet the seller and product before purchasing an expensive piece of jewelry. Since an engagement ring is an investment, it's crucial to ensure that you're getting exactly what you pay for. First, read reviews for the store and its products. This is a good way to verify that the seller offers legitimate jewels. Also check to see how many sales the store has made, which is listed on the vendor's store page. The more sales, the better; this will help you confirm that the seller is trusted among buyers.
After reading reviews, check the shop's return and exchange policies. It's important to understand what your options are in case the engagement ring isn't what you wanted. While most Etsy vendors offer flexible return and exchange plans, verify all policies before payment.
When buying an engagement ring on Etsy, ask the vendor to supply a certificate of diamond or gemstone authenticity to confirm that you are purchasing a real stone. You can also ask if they offer diamond appraisals to verify the value too. Some stores might also offer videos of the ring or a CAD (a computer generated design of the ring's makeup) so you can see what you're buying in 3-D. Any form of validation can help you confirm that you're purchasing a legitimate engagement ring or wedding band. If this information isn't listed in the product's description, message the vendor directly from their Etsy page to ask specific questions.
Once you've researched the product and the seller, you'll be prepared to purchase an Etsy engagement ring. To help you get started, we rounded up 30 Etsy engagement rings for women and men. Browse designs that fit a variety of styles and budgets below—and if you find the perfect ring, snag it on the spot.
In this article:
Vintage Engagement Rings on Etsy
Etsy is a great place to find antique engagement rings. As with most collector's items, you should first read the description to confirm if the piece is actually vintage, or if it's vintage-inspired. If you're shopping for a unique treasure for your S.O., shop the best vintage engagement rings on Etsy here.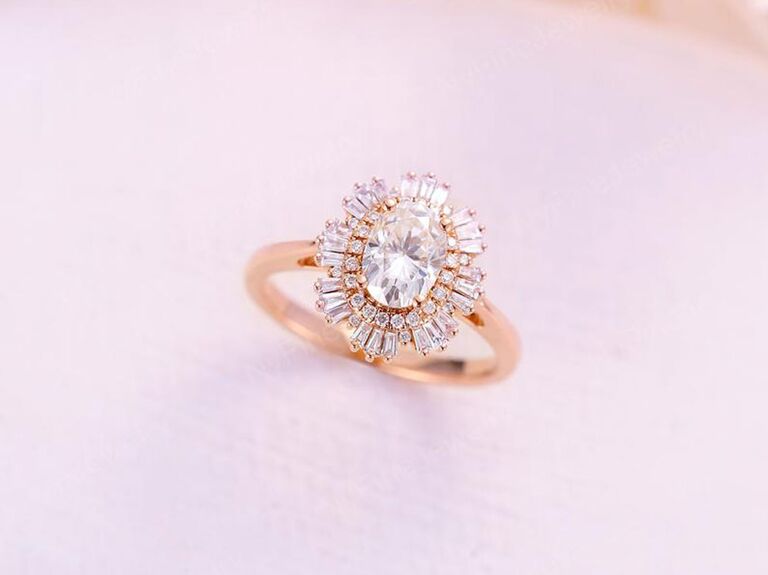 A sunburst halo is synonymous with vintage style. This antique-inspired Etsy engagement ring has a moissanite oval center stone set in a statement sunburst halo of smaller moissanite gems, set on a rose gold band. To customize the ring, you can swap the center stone for a variety of other gems, like opal, onyx or a salt and pepper diamond. This Etsy vendor offers free shipping and a one-year warranty, as well as a flexible return policy.
NY Fine Jewelry vintage-inspired moissanite engagement ring with halo in Rose Gold, from $564, Etsy.com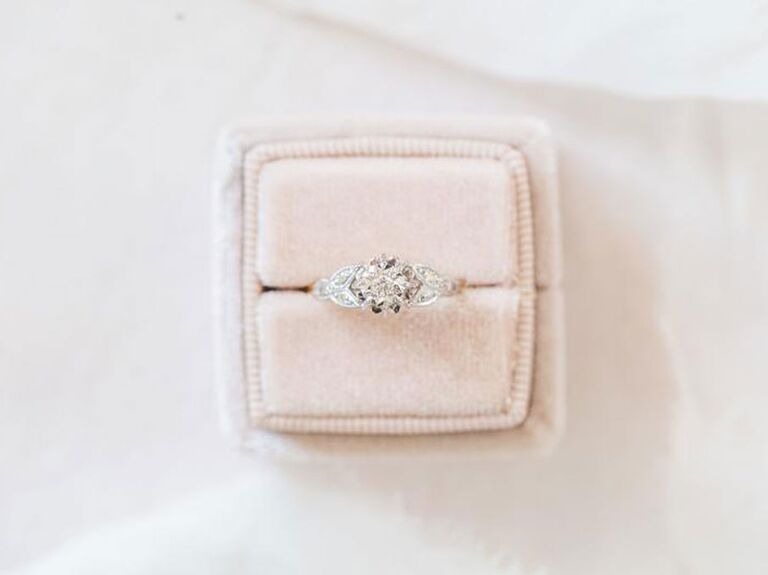 Transport your S.O. back to the 1920's with this art deco engagement ring sourced from England. This one-of-a-kind ring has a starburst-style setting and a trio of diamond clusters on either side, set on a yellow gold band. Since it's a vintage item, this Etsy engagement ring is only available in size 6.5, but can be resized by a trusted jeweler.
Miss Foxine vintage diamond engagement ring in 18k Gold, $790, Etsy.com
This vintage engagement ring is seriously regal. With a unique old European cut, this geometric engagement ring has a cluster of small diamonds on both sides of the center stone. A diamond appraisal is available upon request, and the store has a 30-day return policy and 100% satisfaction guarantee.
Ivy and Rose Vintage old European-cut diamond engagement ring in Platinum, from $985, Etsy.com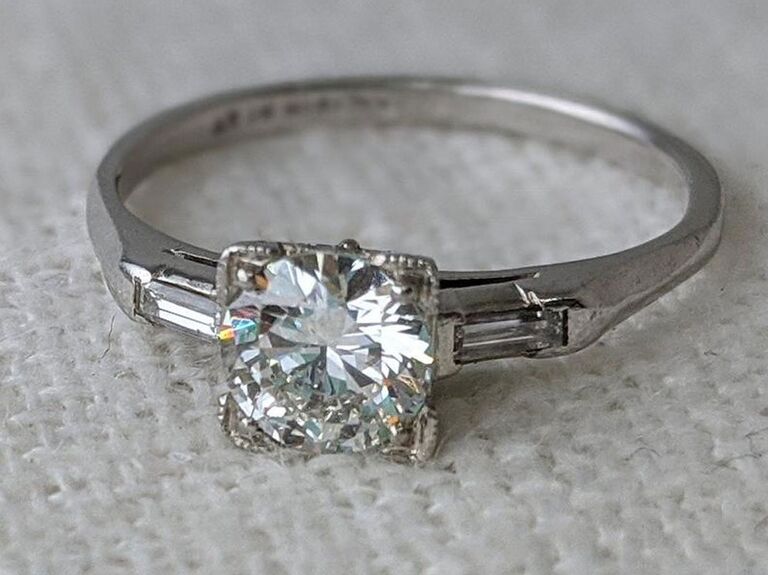 Honor the Golden Era with this 1950's antique engagement ring. This vendor offers vintage engagement rings on Etsy, which are verified by a GIA Graduate Gemologist. The current ring size is just shy of 6.25, but can be resized by a local jeweler.
Second Chapter Vintage mid-century diamond and baguette engagement ring, $3,925, Etsy.com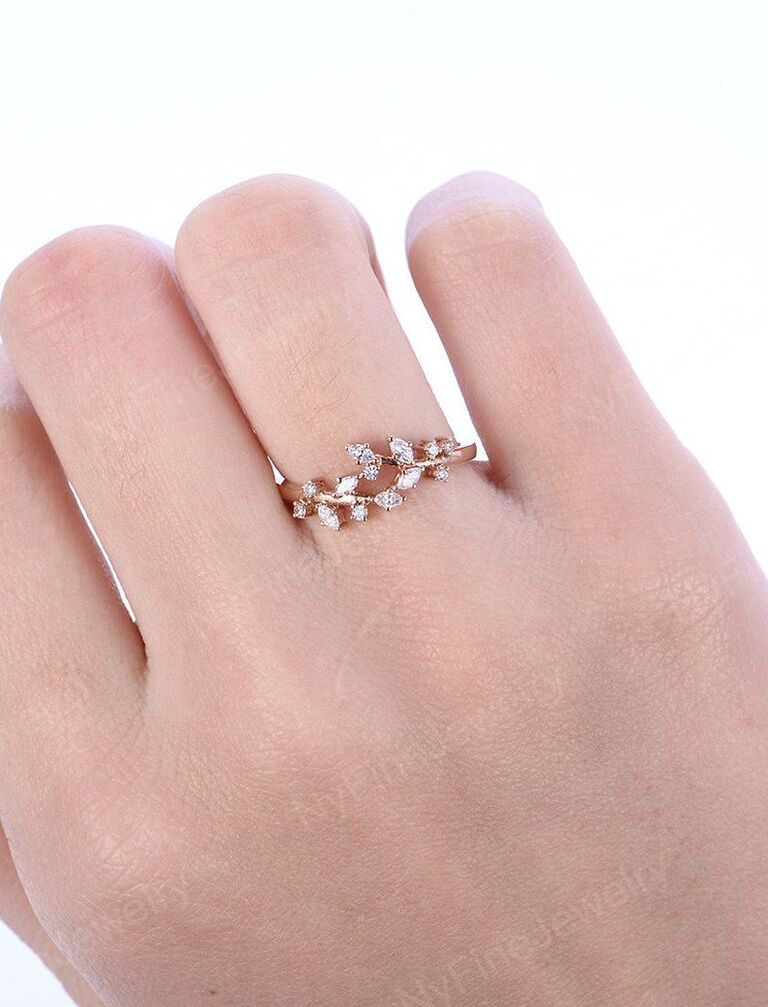 Antique engagement rings on Etsy don't all have large center stones. For something more subdued, consider this vintage-style cluster ring. Marquise-cut diamonds give a leaf-inspired effect on the rose gold band, which also includes round-cut diamonds too. The vendor can verify diamonds with a CAD image, and they also offer flexible return policies with a one-year warranty.
NY Fine Jewelry vintage-inspired leaf cluster engagement ring, from $723, Etsy.com
Moissanite Engagement Rings on Etsy
Moissanite is a great diamond alternative for those looking for a conflict-free or lab-created engagement ring. While it looks like a diamond to the naked eye, moissanite is actually composed of silicon carbide—but since the gem is extremely rare, most moissanite rings on the market are lab-created. Here's the good news: There are plenty of moissanite engagement rings on Etsy. If this is your preferred stone, your search ends here with our favorite Etsy moissanite engagement rings.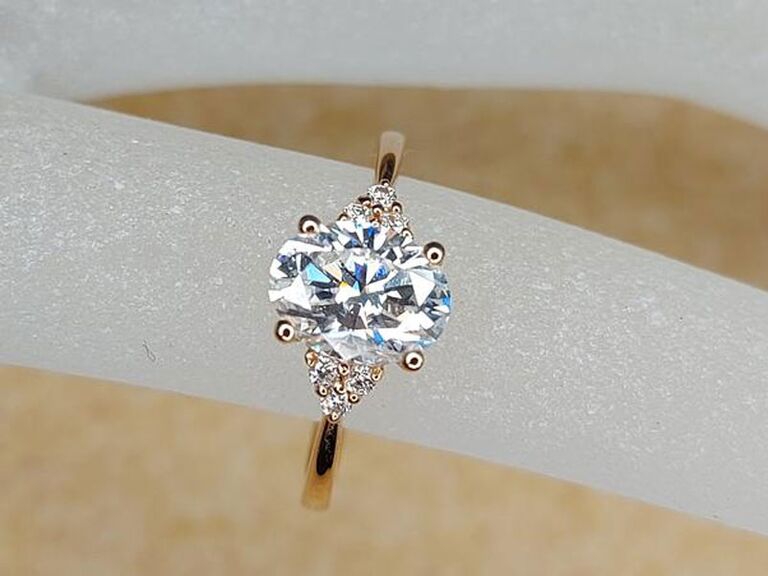 A Victorian-style moissanite engagement ring perfectly combines the past and the present. This vintage-inspired center stone is flanked by a trio of smaller diamonds on both sides for maximum sparkle. While it's shown in 14K yellow gold, you can customize the band color based on your preference. This Etsy vendor offers an HD video of the ring for you to view before purchasing, as well as a certificate of authenticity. They also send the engagement ring in an unmarked velvet box to make your proposal as easy as can be—you just have to ask the question.
Forever For Love vintage-style moissanite engagement ring in 14K Yellow Gold, from $659, Etsy.com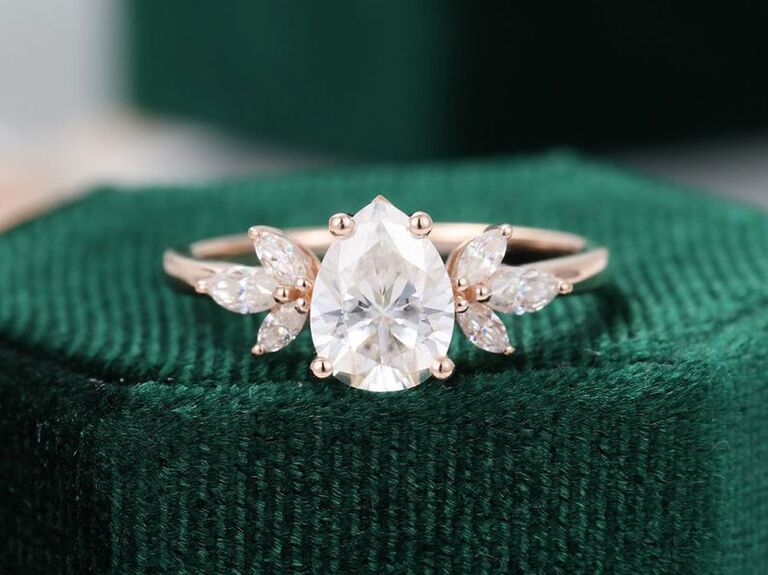 Each jewelry piece from this Etsy store is handmade, and can be customized with an engraved message on the band. The pear-shaped moissanite center stone is nestled in between two clusters of marquise-cut diamonds, which create a floral vibe.
Molly Jewelry US pear-cut moissanite engagement ring, from $711, Etsy.com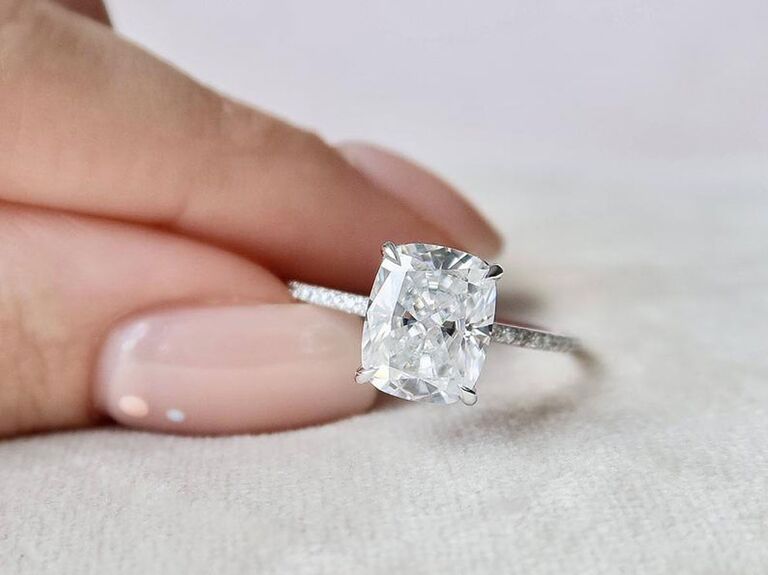 Go big with an engagement ring from Etsy that's equivalent to 4.5 carats. This dazzling option features a cushion-cut center stone, which will offer a subtle sparkle. The design also features a hidden halo of smaller diamonds around the gallery and on the band which will catch and reflect light from any angle.
Keyzar cushion-cut moissanite engagement ring, from $3,025, Etsy.com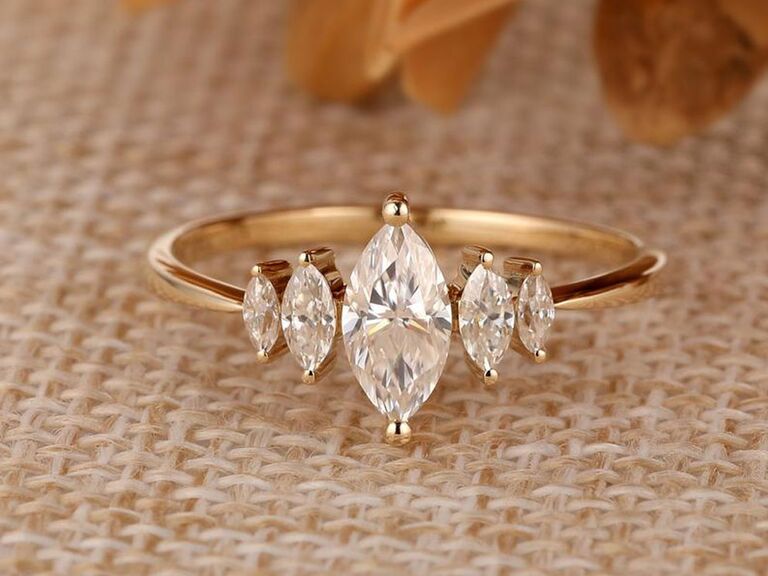 Some Etsy engagement rings can be ordered with matching wedding bands to ensure both pieces fit perfectly together. You can get a wedding band with this ring if desired—or purchase the engagement ring alone. The art deco design includes five marquise-cut moissanite stones, with the biggest in the center.
Perfect Lover Ring art deco-style marquise-cut engagement ring, from $470, Etsy.com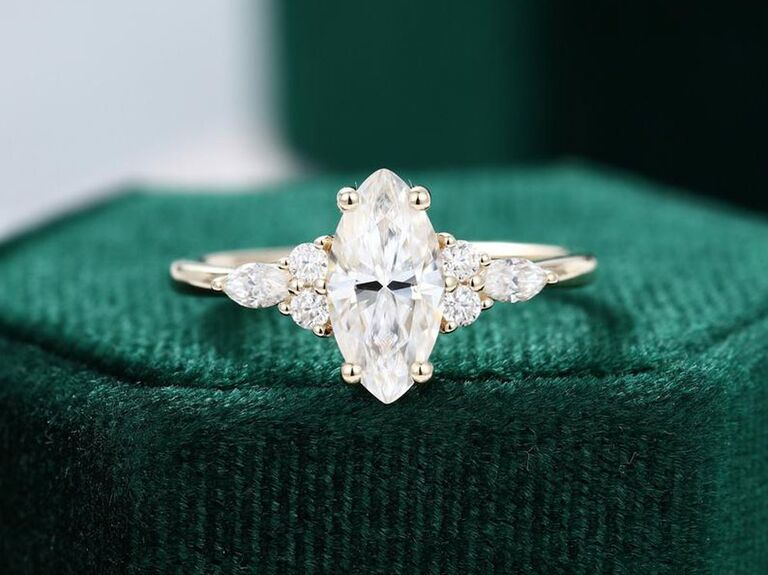 More diamonds doesn't necessarily make a ring look too over-the-top. This vintage-inspired Etsy engagement ring has seven diamonds, but it still looks dainty. Set on a yellow gold band, it features a marquise-cut center stone flanked by two small round-cut diamonds and an east-west set marquise stone on both sides.
Molly Jewelry US marquise-cut moissanite engagement ring, from $711, Etsy.com
Rose Gold Engagement Rings on Etsy
Rose gold engagement rings have hints of romanticism and whimsy. While they're made with a yellow gold base, the material is altered with a copper alloy that can be light or dark pink, depending on its concentration. If you have a penchant for pink, you'll love a ring with rosy hues. Browse our favorite rose gold engagement rings on Etsy right here.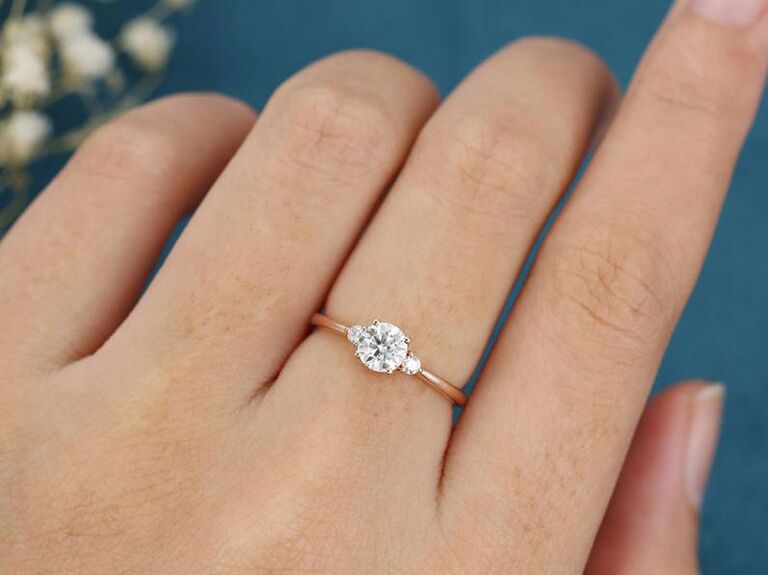 Sometimes, less can be more. This simple Etsy engagement ring includes a round-cut moissanite center stone set between two small diamonds on a rose gold band. For someone who doesn't like a lot of extra details when it comes to jewelry, this ring could be a perfect choice. The Etsy vendor also offers a CAD image to verify stone quality.
FYM Jewelry Design Forever One moissanite engagement ring in Rose Gold, from $470, Etsy.com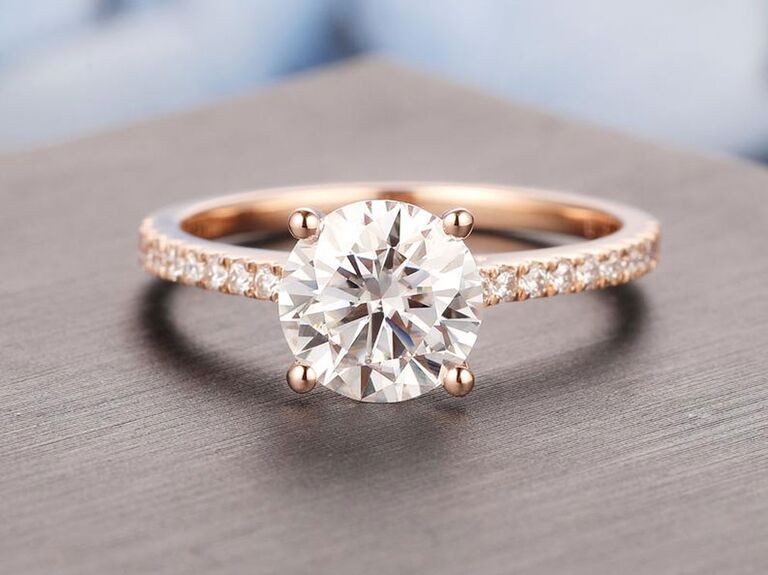 It doesn't get more classic than a round-cut engagement ring. If you (or your S.O.) want a timeless ring with a bit of drama, consider a round-cut solitaire gemstone on a rose gold band to up the wow-factor. This ring sits on a pavé band for added sparkle.
Pandrid Design round-cut moissanite engagement ring on pavé band in Rose Gold, from $288, Etsy.com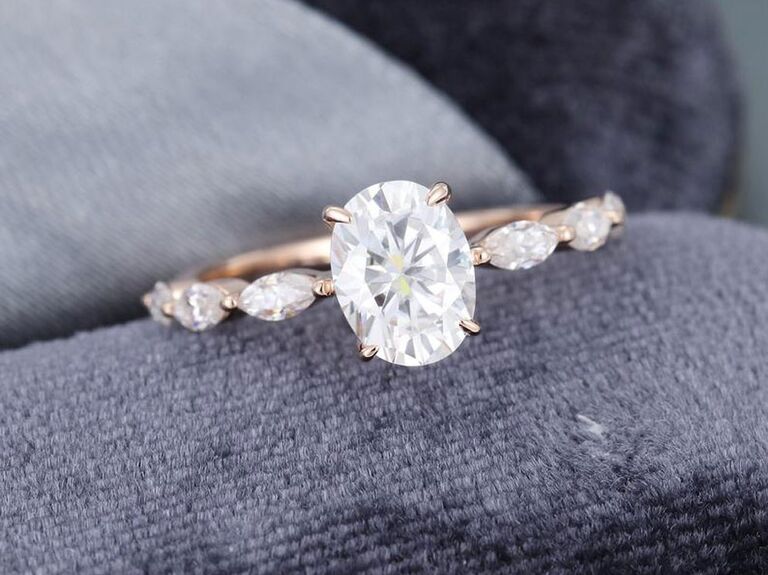 Take your partner's breath away with this unique rose gold Etsy engagement ring. The oval moissanite center stone sits on a rose gold band embellished with six east-west marquise side stones. Bonus: It comes with a velvet ring box, allowing you to mark one more to-do off your proposal checklist.
Cool Ring Jewelry oval-cut moissanite engagement ring in Rose Gold, from $734, Etsy.com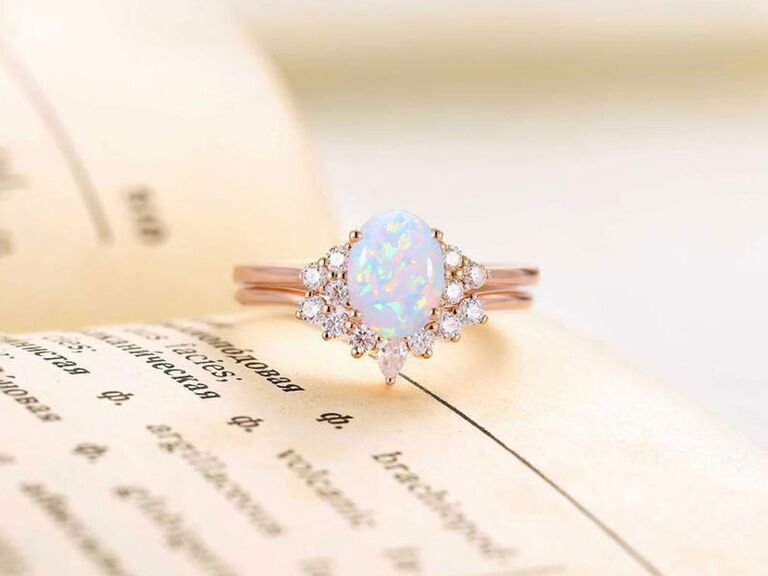 Your life just got so much easier thanks to this matching wedding jewelry set. Since this engagement ring features such a unique stone, a matching wedding band is a major perk. This opal rose gold Etsy engagement ring will be a serious conversation starter. The ethereal center stone is flanked by a trio of smaller diamonds on both sides. The ring will get a megawatt upgrade with its matching curved wedding band, which features six round-cut diamonds and a marquise-cut stone to give a subtle sunburst effect.
Moore Gemstones lab opal engagement ring and wedding band set in Rose Gold, from $632, Etsy.com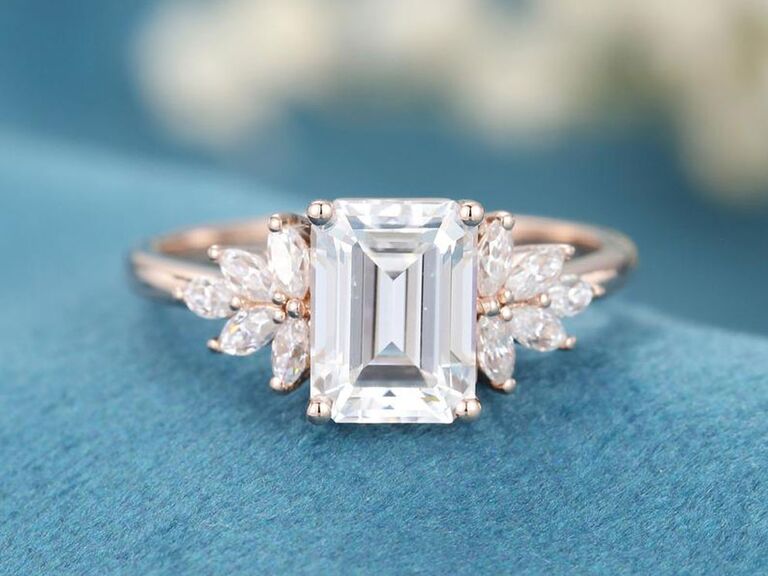 It's hard not to swoon over a sleek emerald-cut moissanite stone. This timeless style gets an antique twist with marquise-cut side stones. Set on a rose gold band, this Etsy engagement ring will elicit an enthusiastic "Yes!"
FYM Jewelry Design Forever One emerald-cut moissanite engagement ring with marquise-cut side stones, from $884, Etsy.com
Gemstone Engagement Rings on Etsy
Diamonds aren't for everyone. Gemstones like emeralds, rubies and sapphires make for stunning engagement rings. Go beyond the traditional engagement ring style with a colorful gemstone—your sparkler will surely stand out in a crowd. Browse a few show-stopping Etsy gemstone engagement rings here.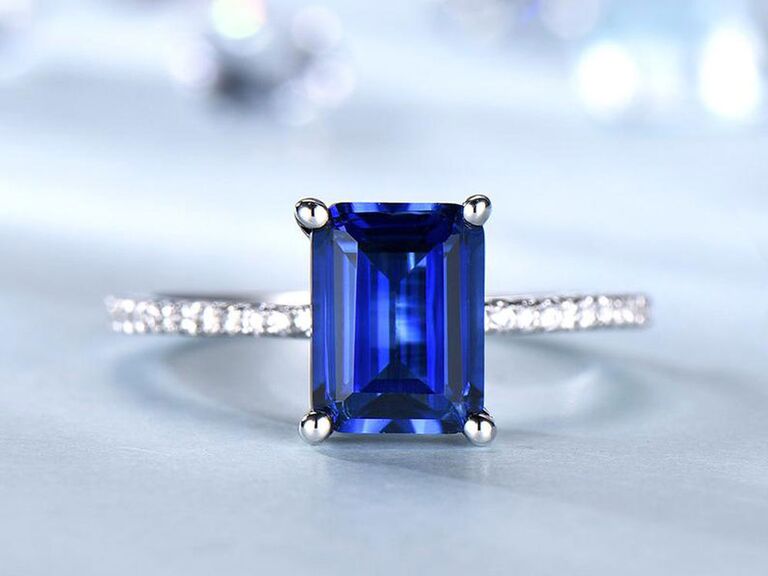 Of all the sapphire engagement rings on Etsy, this is one of our favorites. With a crisp emerald cut, this lab-created blue stone is set on a pavé band. If sapphire isn't your top choice, you can substitute it with another gemstone.
SLoveDO emerald-cut blue sapphire engagement ring, from $520, Etsy.com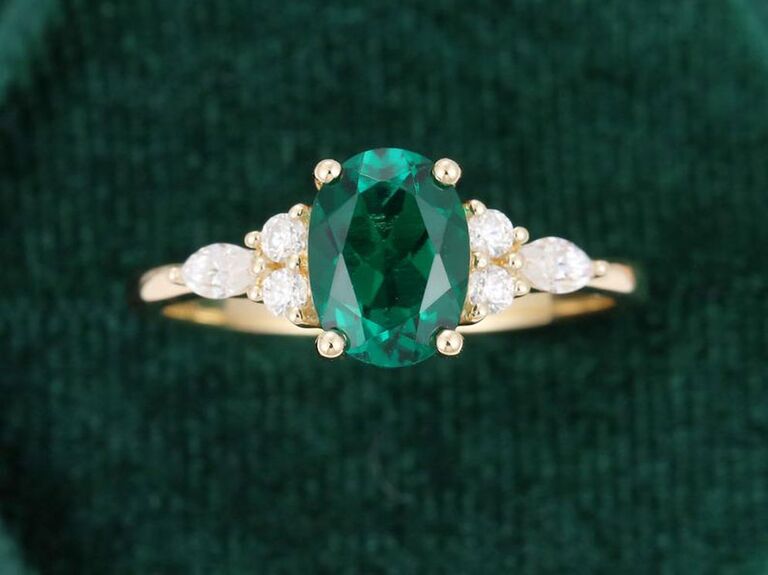 Feeling green? There are plenty of emerald engagement rings on Etsy if that's your dream shade. This oval-cut emerald center stone is chic AF, and we particularly like the addition of diamond side stones too. Choose the color of the band to best fit your taste, and get it engraved for just $3 if you want.
Molly Jewelry US oval-cut emerald engagement right with diamond side clusters, from $532, Etsy.com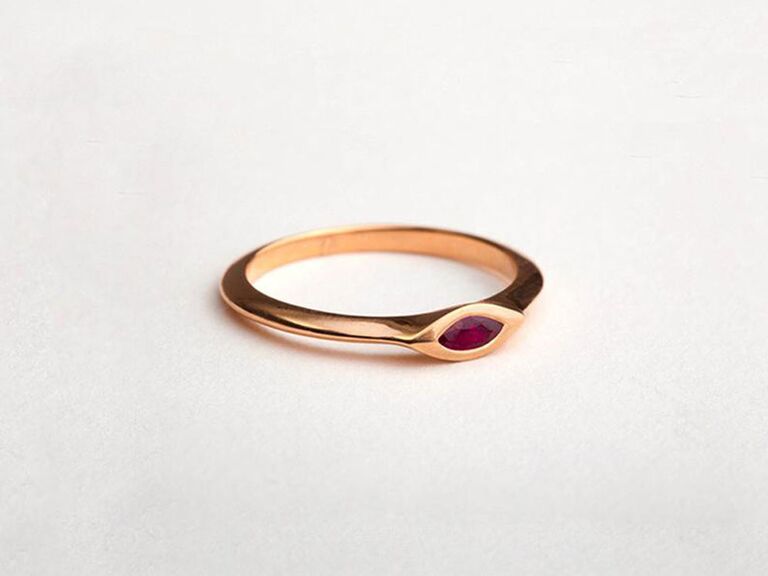 This dainty engagement ring is a great selection for minimalists. The bezel-set ruby offers a barely-there pop of bold color against the sleek gold setting. Pair it with a simple gold wedding band to keep your stack subdued, or get a ruby-encrusted ring if you want to go all out.
Berman Designers marquise-cut ruby engagement ring in 18K Rose Gold, from $689, Etsy.com
Channel Princess Diana (and Kate Middleton) with this sapphire engagement ring. While it isn't an exact replica, it has a similar vibe as the iconic royal sparkler with its oval-cut center stone and diamond band.
Eidel Precious peacock sapphire engagement ring in Yellow Gold, from $3,300, Etsy.com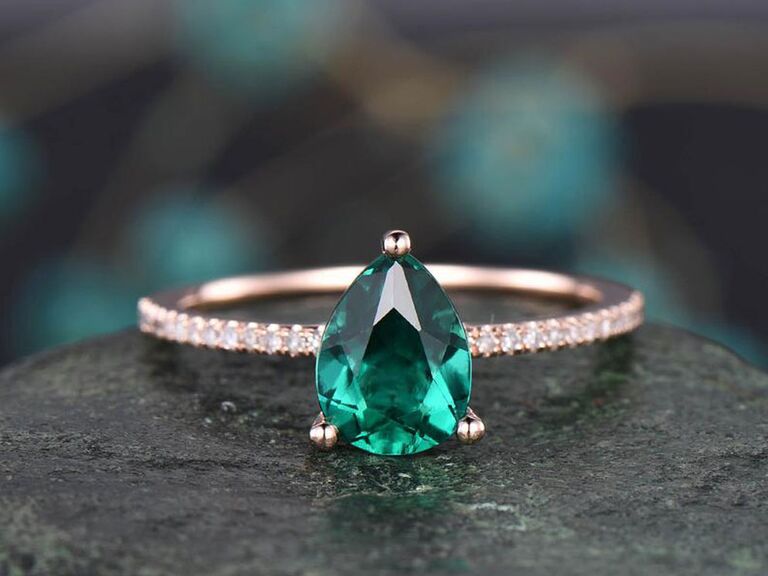 Yet another emerald engagement ring on Etsy, this teardrop stone is simply unforgettable. Set on a pavé rose gold band with a hidden halo, the green lab-created gem pops against its rosy setting. As with all Etsy engagement rings, message the seller to verify diamond and gemstone quality before making a purchase. We have a feeling your S.O. will fall head over heels with a ring like this (especially because it's the it-stone of 2021).
Will Work teardrop emerald engagement ring in 14K Rose Gold, from $581, Etsy.com
Unique Engagement Rings on Etsy
Etsy is a great place to shop for non-traditional engagement rings. With plenty of unique vendors and small, family-owned shops, you can find alternative engagement rings that defy the trends. From pearl to morganite center stones, we've done the shopping for you. Find the best unique engagement rings on Etsy below.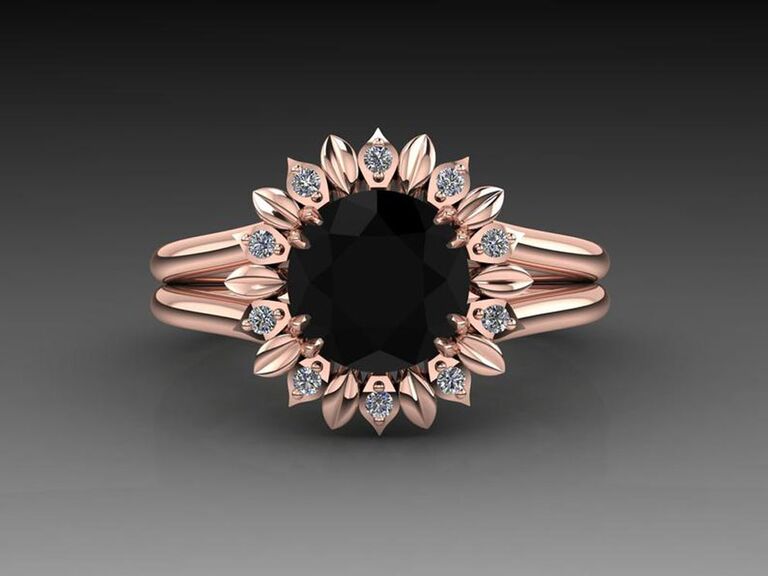 If you're all about deep, moody jewels, you'll be happy to know that you can shop black diamond engagement rings on Etsy. This sunflower-inspired engagement ring is unlike any other we've seen. This engagement ring puts the focus on a black diamond set within a rose gold split shank band—and while the center stone steals the show, the floral halo is also stunning.
Armante Design sunflower black diamond engagement ring with flower halo in Rose Gold, $1,385, Etsy.com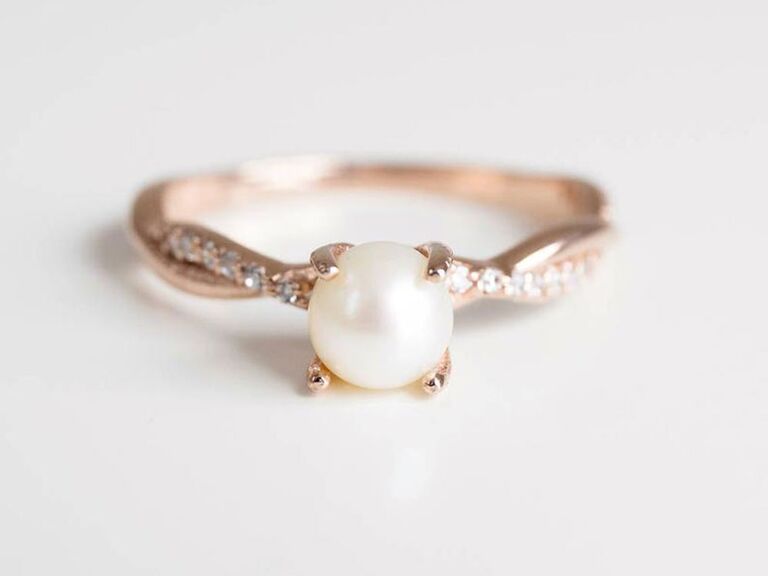 If you loved Emma Stone's unique pearl engagement ring, you can find a similar style on Etsy. An Akoya pearl sits on a twisted rose gold band, which is accented with diamond pavé. If diamonds and gemstones aren't for you, a pearl engagement ring could be a great alternative.
Ida Jewelry Design pearl engagement ring in Rose Gold, $425, Etsy.com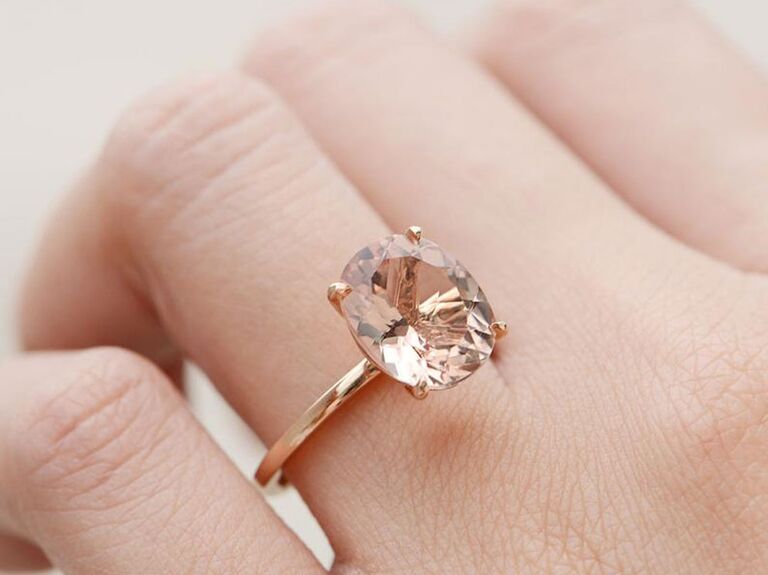 Morganite is another trending center stone, and you can absolutely find one on Etsy. This simple design brings all the attention to the oval-cut center stone, which is equivalent to 4 carats. Get it on a silver or yellow gold band for a traditional look, or choose rose gold for as much pink as possible.
Lomantic oval-cut morganite engagement ring in 14K Rose Gold, from $899, Etsy.com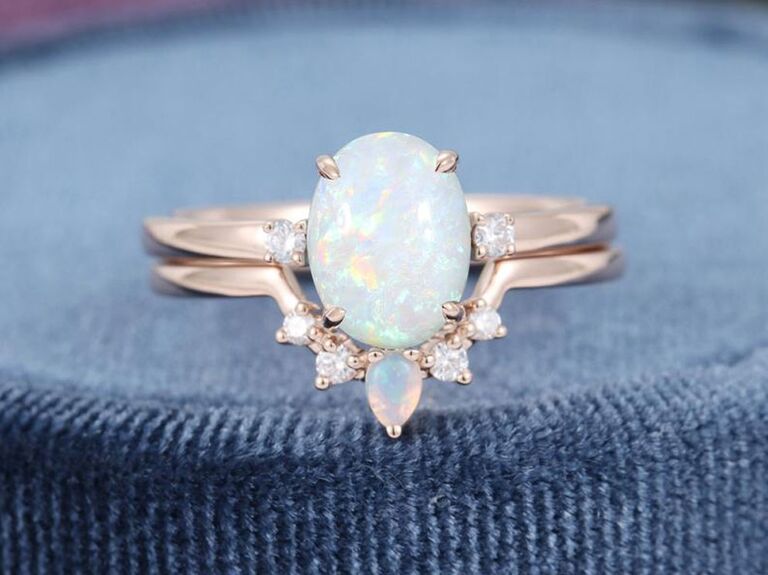 Select an opal or moonstone engagement ring for someone who has boho-glam taste. Since the shape is so rare, this comes in a set with a matching wedding band (which means less shopping stress for you). The attention to detail will get plenty of compliments.
Garden Ring vintage-style opal engagement ring and wedding band set in Rose Gold, from $876, Etsy.com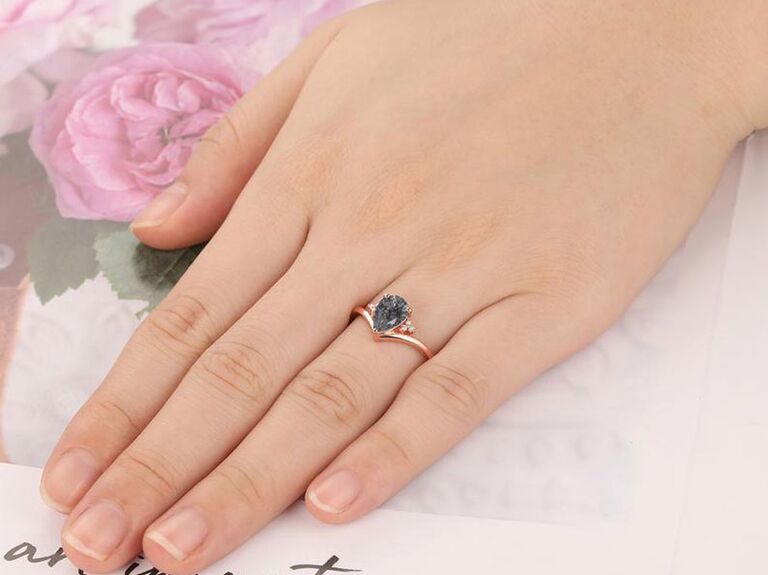 A black engagement ring is a no-brainer for someone who's anything but predictable. This black rutilated quartz center stone sits on an angular rose gold band. Small clusters of diamonds add a small bridal touch to this edgy engagement ring.
Many Rings pear-cut black rutilated quartz ring in Rose Gold, from $580, Etsy.com
Men's Engagement Rings on Etsy
Yes, men's engagement rings are a thing, and you can find plenty of styles on Etsy. Whether you're looking for a classic gold band or something a little more out-of-the-box (like a ring made from whiskey barrel wood), you'll love these men's engagement rings on Etsy.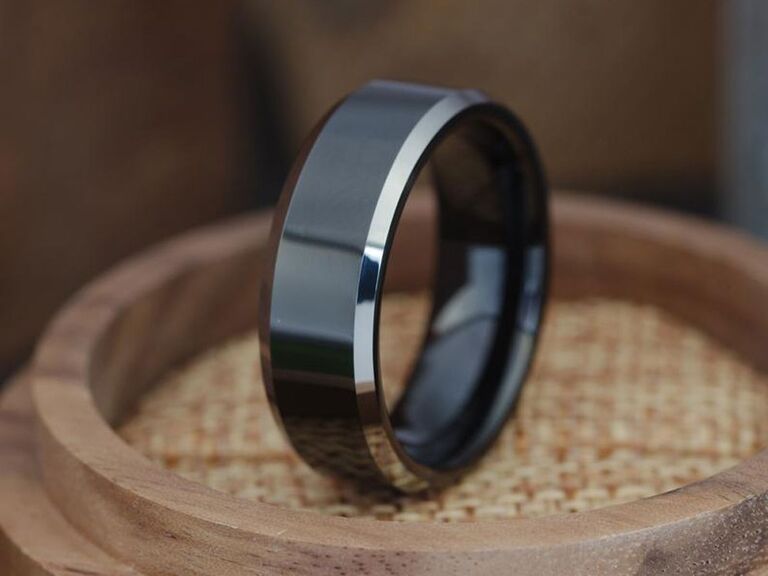 Tungsten is one of the strongest ring materials, meaning it's durable and unlikely to show wear and tear over time. This sleek men's engagement ring has a metallic black finish, making it a great choice for someone who wants wedding jewelry with an edge. This Etsy engagement ring comes with free shipping and a lifetime warranty, and the brand will also send you a ring sizer before purchase to help you get the correct measurements.
Gentlemen's Bands men's tungsten engagement ring in Black Silver, $250, Etsy.com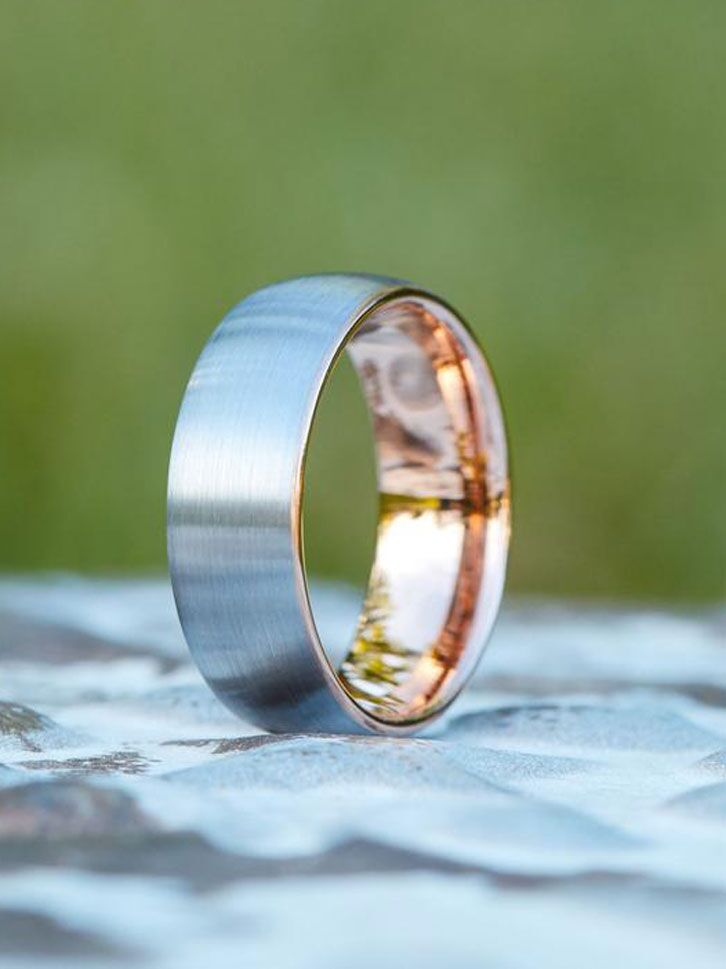 With a silver exterior and rose gold interior, this two-tone men's engagement ring is as cool as can be. This vendor will also send a sizing tool for shopping ease if you don't know your exact ring size. Get in engraved for an extra sentimental touch.
Cavalier Jewelers men's tungsten engagement ring in Rose Gold, from $167, Etsy.com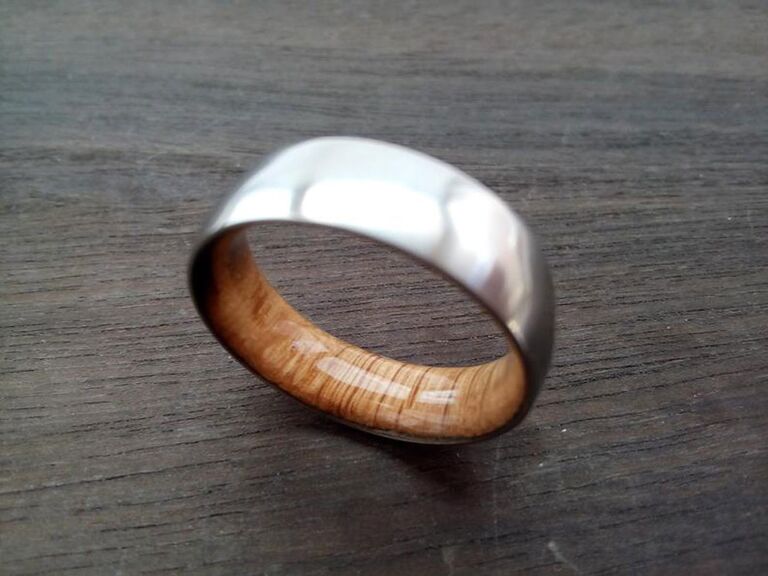 How about an engagement ring with a unique backstory? This wedding band on Etsy is made from a recycled whiskey wood barrel, making this a perfect choice for a liquor connoisseur. (Psst: You can also add an engraving at no additional cost.)
Wood Life Jewelry men's whiskey barrel wood engagement ring, $182, Etsy.com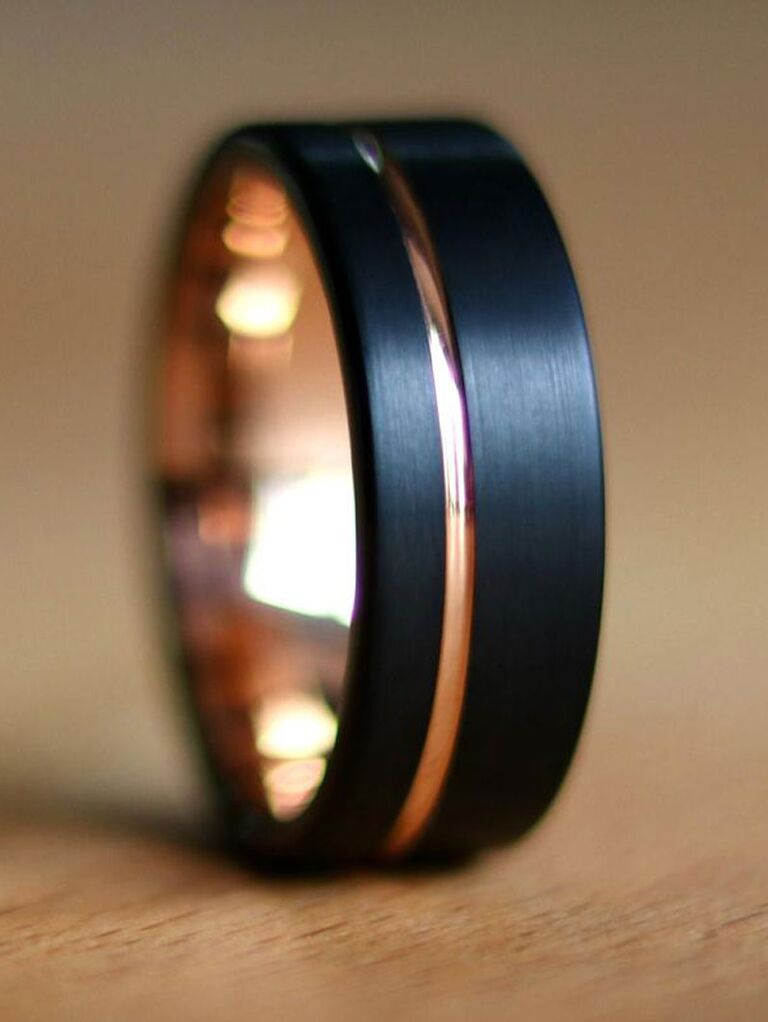 Want something totally unique? Consider a black engagement ring with a hint of rose gold. This dark tungsten band has a sleek rose gold interior, which is visible in a thin circle around the outside. As an added bonus, this Etsy vendor includes a silicone activity ring in every order to help you keep your engagement band in top shape.
Anvil Rings Co. men's tungsten engagement ring in Brushed Black and Rose Gold, $320, Etsy.com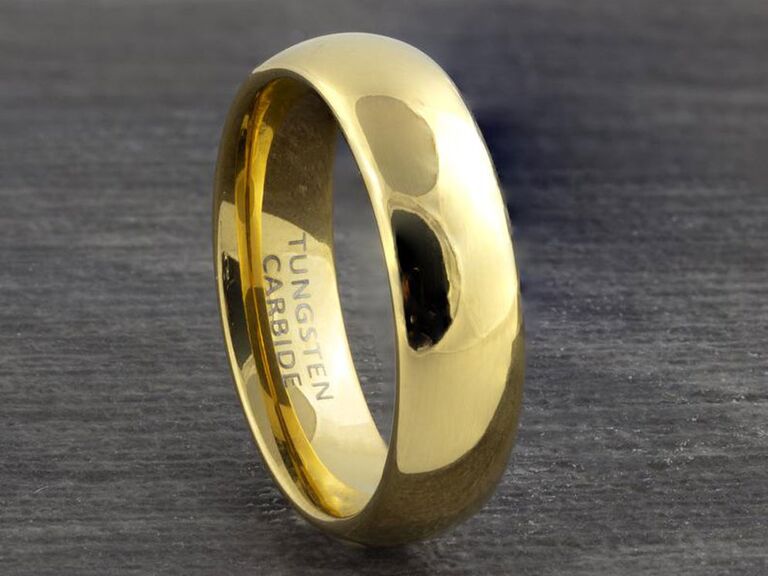 You can't go wrong with a gold wedding band. This timeless men's engagement ring is 6mm wide and is made with a unique comfort-fit to ease prolonged wear. Plus, given the durable tungsten material, it won't scuff as easily as other ring materials.
Vincent Faith men's tungsten engagement ring in Polished Gold, $42, Etsy.com