18 Etsy Wedding Gifts as Unique as the Receiving Couple
These are the best wedding gifts from Etsy according to reviews.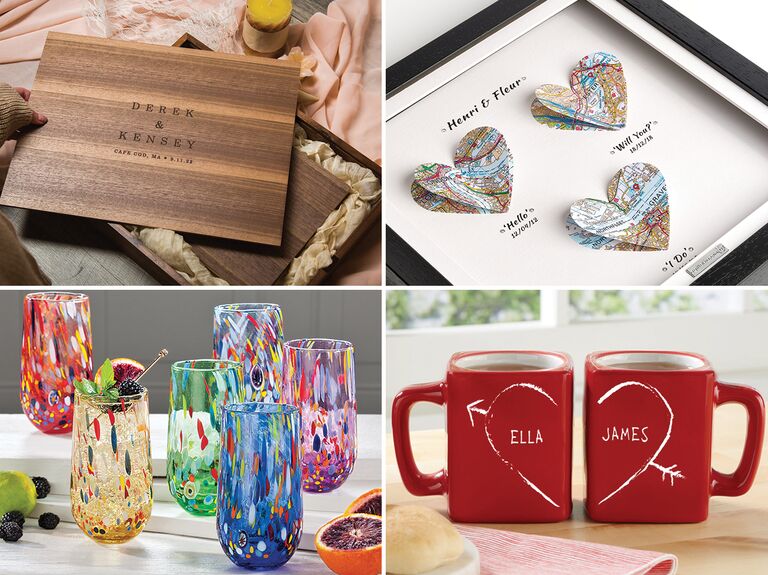 We have included third party products to help you navigate and enjoy life's biggest moments. Purchases made through links on this page may earn us a commission.
While we first recommend you shop from a couple's registry for a wedding gift, it's okay to go off-registry if items in your price range are already snatched up or if you want to give a sentimental or personalized gift that the pair might not have thought of themselves. And that's exactly why we created this list of Etsy wedding gifts. (Though really artsy couples might have some of these types of items on their registry already.) The global online marketplace focuses on handmade or vintage items to give buyers a one-stop shop for unique and creative goods. No need to spend hours browsing the site, though. We researched the best Etsy wedding gifts for you. Keeping in mind ratings and reviews, here are our, Etsy's and buyers' top picks for unique wedding gifts that the newlyweds will cherish forever.
1. Personalized Cutting Board by Personalization Lab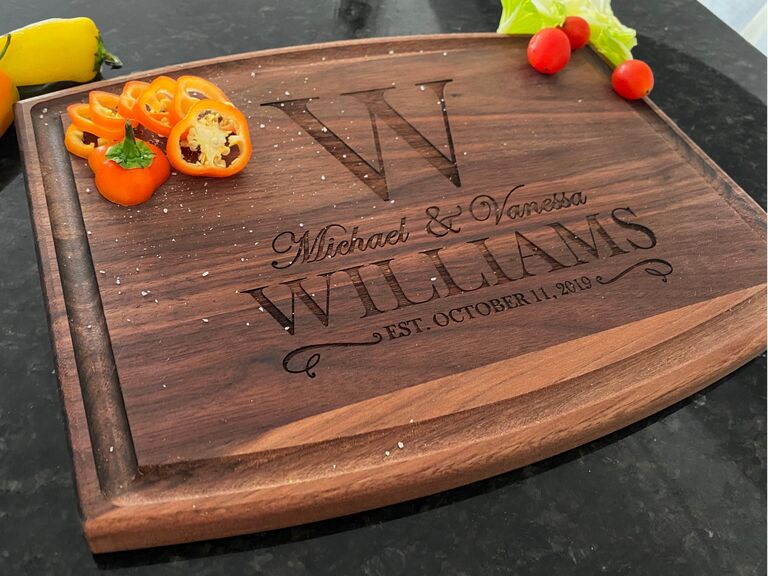 With three sizes, six board shapes and 21 engravable designs, this custom wedding gift from Etsy can really be personalized to the couple. Think: a charcuterie board for the pair that loves to host or an arched plank with juice wells for co-grill masters. Of course, there's also a standard bamboo cutting block with the engraved monogram as the focal point if you'd like something more simple. No matter which you choose, trust you'll be getting an heirloom piece. This gift idea isn't just our top choice, it's also Etsy's. Plus, it's made by a Star Seller. (This means they consistently earn five-star reviews, ship orders on time and reply quickly to messages.)
2. Personalized Coffee Mug Set by Let's Make Memories US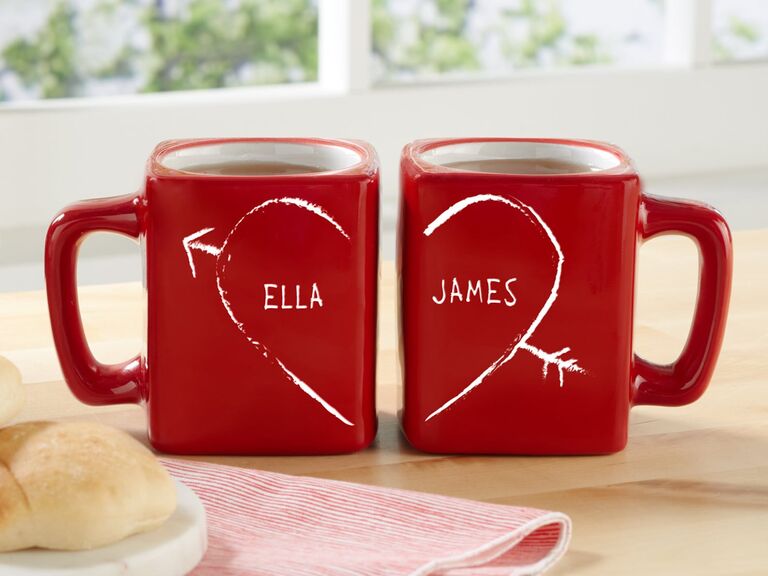 If the Keurig, French press and espresso machine have already been purchased from the couple's registry, feel free to shop for coffee-related items on your own—like this sweet coffee mug set from Etsy. Each square-shaped, vibrant red mug features half of a heart with one partner's name inside. Too cute! Feel free to add a monthly coffee subscription to the gift, so they can use all their new coffee goodies right away.
3. Custom Cast Iron Skillet by Legacy Machine Design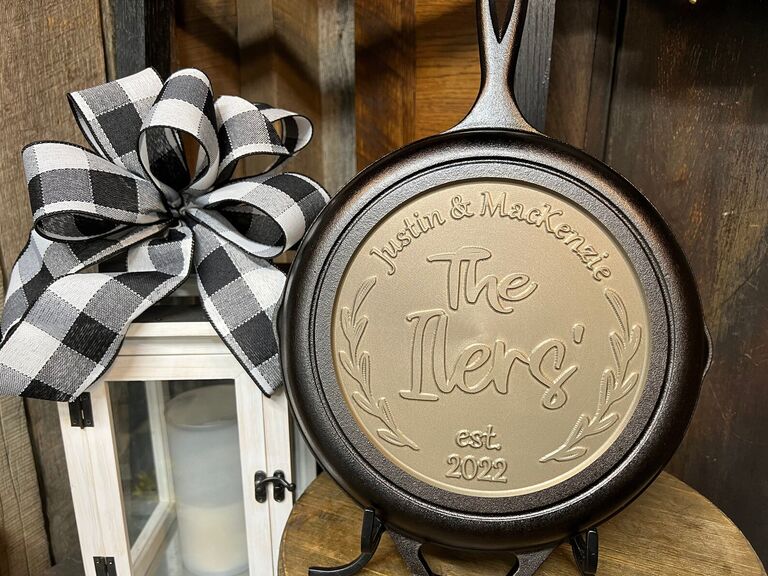 A cast iron skillet is a classic wedding registry item. The pan's heating properties are unmatched, so the couple can char, sear, roast or saute with ease. Make the kitchen staple heirloom-worthy with a custom base. This cast iron skillet comes in five sizes and can be customized with the couple's names and wedding date. Don't worry, despite the personalization, it's cooking-ready thanks to its bronze finish.
4. Personalized Doormat by Wood By Stu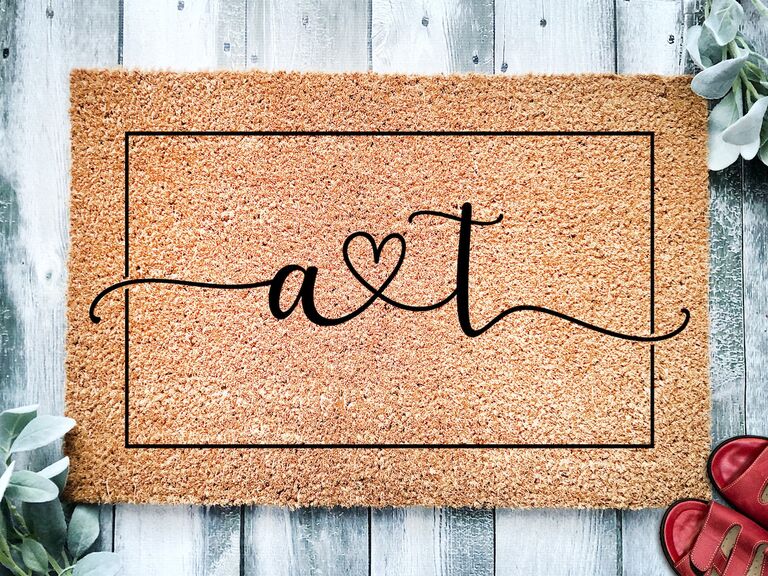 Is the couple moving into a new place shortly after the wedding? Make their house feel like a home with one of our favorite personalized wedding gifts from Etsy: this doormat. It features each of their initials joined by a heart. It's not just cute, though, it's also durable. The mat is made with coir and UV-cured ink to prevent fading and has a slip-resistant backing. (Looking for a different design? The seller has over 100 doormat options!)
5. Bath Caddy and Bed Tray by Golden Creazione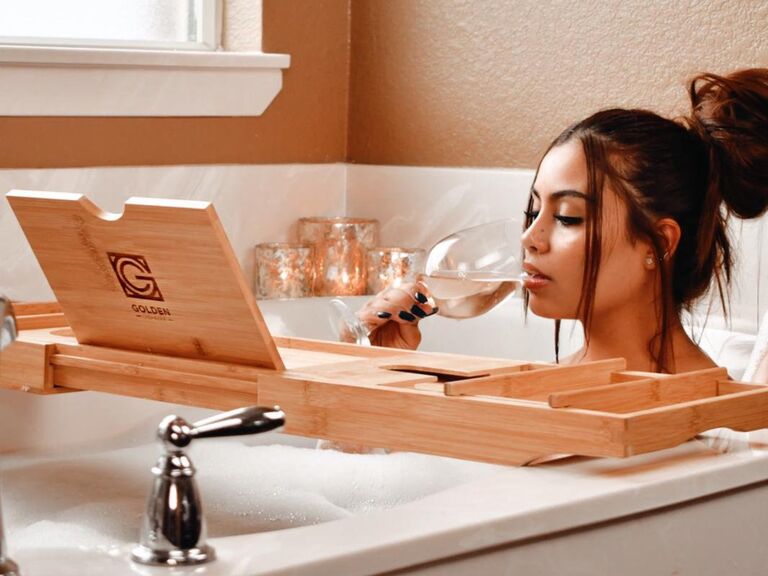 After months of planning, the couple is finally married and ready to relax—and this three-in-one wooden tray will help them do just that. From soaking in the tub, enjoying breakfast in bed or working on the couch, it'll be there for them through it all. Handcrafted from renewable bamboo wood, it has expandable, anti-slip arms to fit across most tubs and adjustable legs to create a tabletop outside of the bathroom. The top of the tray features a wine glass holder, tablet or book slot, a phone stand and a cup or candle holder. It even comes with a free bamboo wood soap holder. They'll probably argue over who gets to use this Etsy wedding present first.
6. Watercolor Wedding Venue Art by Letterfest Gifts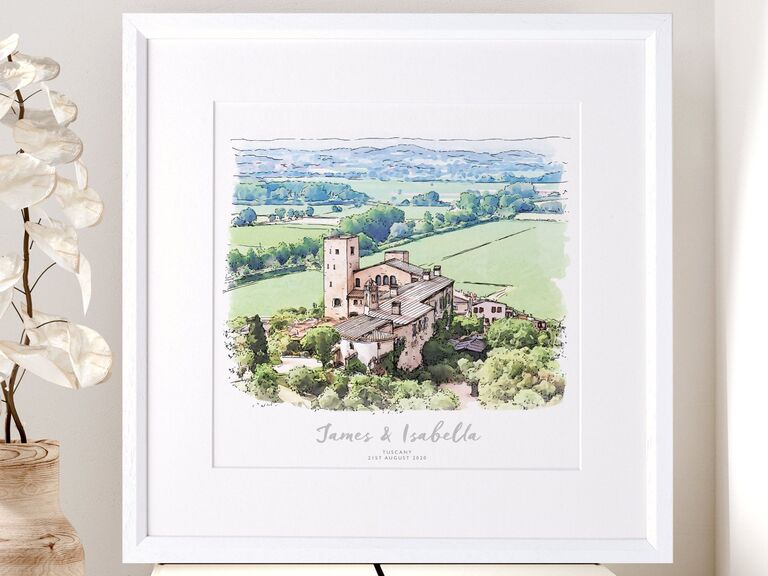 A custom painting or illustration is one of our favorite Etsy wedding gift ideas. This particular option is a watercolor-inspired illustration of the couple's venue, so you don't necessarily need to wait for wedding portraits to order it like you would for a painting of the couple. Simply snap a photo at the event itself or use an image from the venue's site. The picture is used as a reference for a hand-drawn and colored illustration that is then digitally printed and framed (if you'd like). You can even add custom text underneath the art. With five stars and over 10,000 shop reviews, this isn't just our pick, it's also Etsy's and buyers'.
7. Anniversary Wine Box by Artificer Wood Works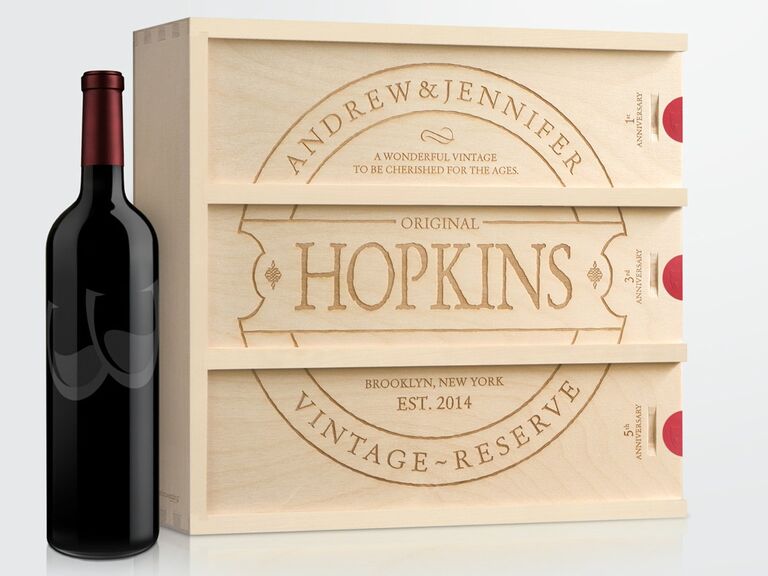 Love, like wine, gets better with age. Help the newlyweds toast for years to come with an anniversary wine box from Etsy. The wooden crate has three bottle compartments and instructions on the lid to open one of them on their first, third and fifth anniversaries (or any years you decide). Until those days, it can serve as unique home decor thanks to the personalized cover engraved with their names, family monogram, wedding location or where they live, anniversary year and a short custom message. You just need to pick out the wine to put inside each slot.
8. Passport Holder and Luggage Tag for Couples by CAL Giftery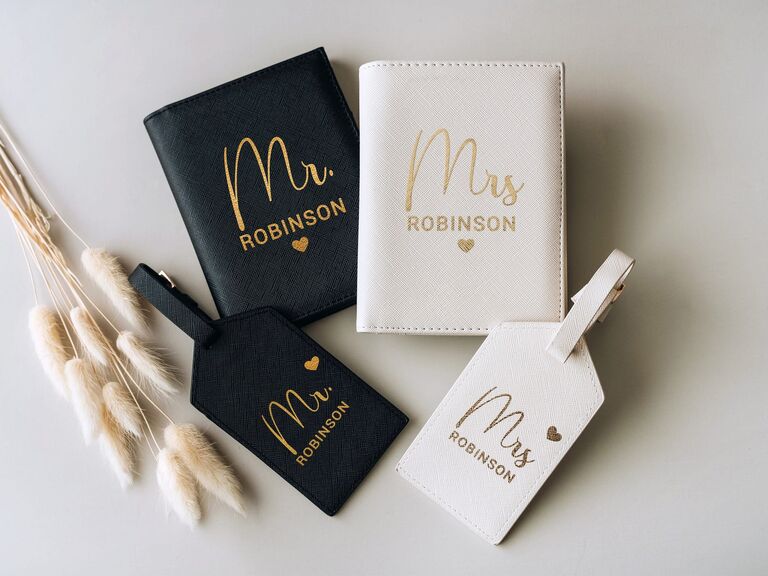 How about an Etsy wedding gift that gets them ready for their honeymoon? Pick up a chic passport cover and matching luggage tag for each member of the couple that's embossed with their name, initials and/or prefix. There are nine faux leather colors to choose from, with either gold, rose gold or silver-toned text. Not sold yet? Read the reviews: "The perfect gift for any newlyweds who love to travel/are jet-setting on their honeymoon," one review says. Another comments: "Came out exactly as expected! Looks expensive, the text is high quality and the color is spot on."
9. Push Pin World Map by Woody Wood UA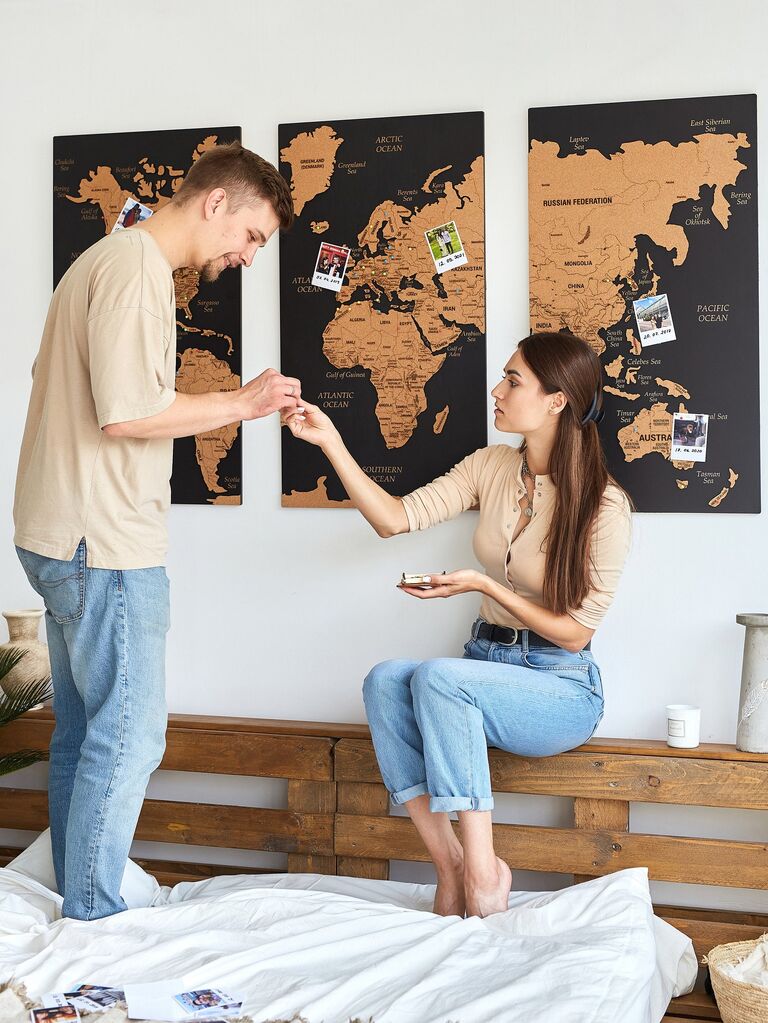 "Pictures don't do this piece justice," one reviewer says. If you're looking for Etsy wedding gifts for couples who love to travel, look no further than this triptych world map. It's not just unique wall art, though, the countries can be made of cork, so the lovebirds can pin every place they've been together, starting with their honeymoon. (This option comes with 150 colorful push pins.) You can even personalize it with a phrase, names or date. We suggest: "Let the adventure begin," with their wedding details underneath.
10. Custom Wedding Ring Holder by Prima Pottery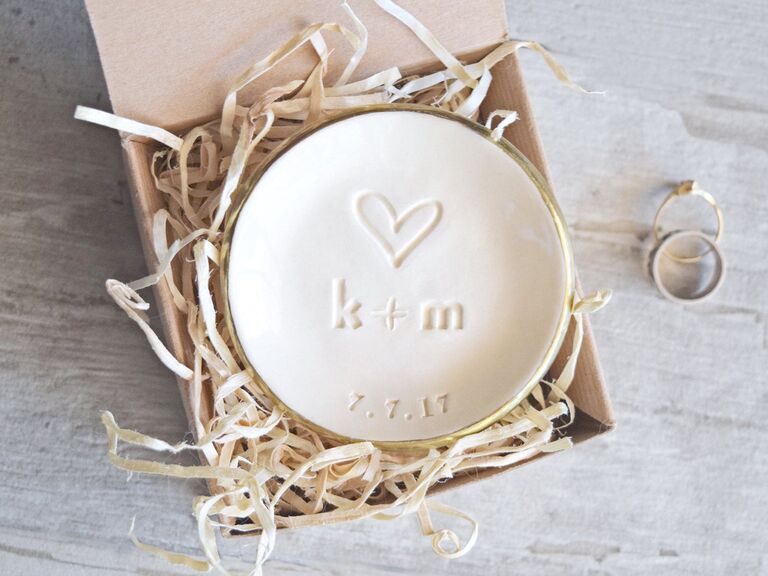 Here's another classic wedding gift for couples you can find on Etsy: a ring dish. This handmade ceramic plate is personalized with the couple's initials, a heart and the date of their nuptials. It can all remain clay-colored or the monogram, heart and rim can be carefully painted with a silver, gold or rose gold metallic finish. We suggest gifting it with some jewelry-cleaning goodies to make a complete wedding band care kit.
11. Turntable Stand by Ocean Beach Pallet Co.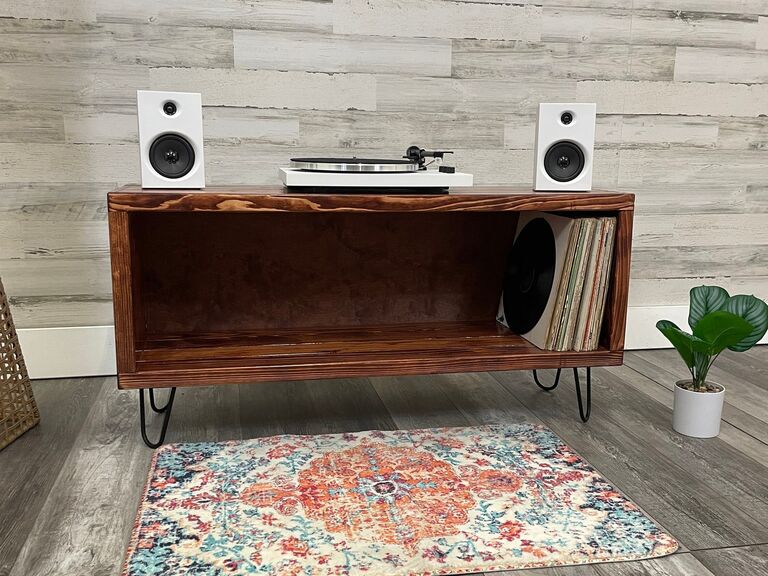 Shopping for a couple that spends their weekends browsing record stores? This Etsy wedding gift will be the perfect spot for them to store all of their treasured finds. Plus, it's wide enough to fit their turntable—no easy feat. The handmade, minimalist media console and vinyl storage can come in 15 lengths, depending on the size of their collection, and nine wood stains to effortlessly fit into their existing interior style. Just make sure they have the room for it in advance—you may want to check in with the couple before you buy.
12. Custom Engraved Marble Wood Coasters by Avadir & Co.
If the couple's registry consists of home furnishings for their new place, they'll appreciate a set of coasters to keep it all in pristine condition. Etsy's Pick for coasters: these white marble and mango wood slabs personalized with the couple's names and wedding year. They can come as circles or hexagons in sets of two, four and eight. Our suggestion? The more the merrier! They can keep some on the coffee table in their living room, one on each of their nightstands and on their home desks.
13. Murano-Style Drinking Glasses by Uno Alla Volta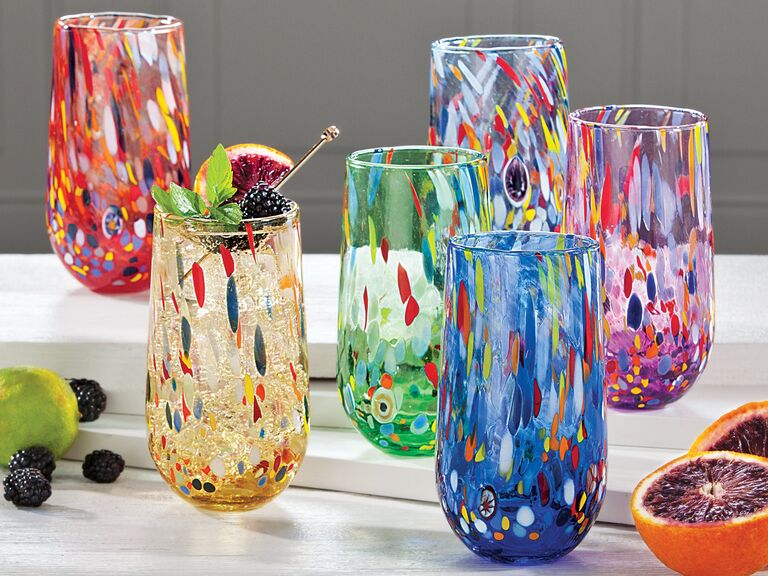 If you're looking for a wedding gift for a nontraditional couple, swap crystal drinkware for these fun Murano-style glasses. They're created in Italy by rolling molten glass in colorful glass chips and millefiori slices (flower-looking glass beads) before hand-blowing the piece into a cup form. No two will ever look the same. This set of six will be the couple's favorite water and cocktail cups.
14. Personalized Mini Bar by My Wonderhaus
Shopping for a pair of mixologists? Make sure they have all the tools they need for cocktails at home with this bartending kit. The barware is stored in a personalized wooden case that can be mounted to the wall and holds wine glasses. Better still, the glass door of the case is outfitted with spring clips to hold a picture. (Perhaps a photo from the wedding day?)
15. Custom Fire Ring by Joseph's Fire Pit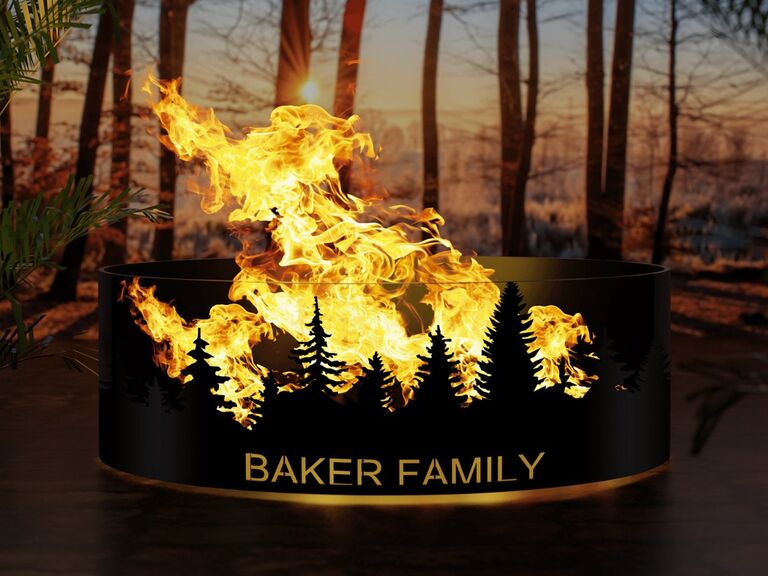 There are some big-ticket items on Etsy to shop if you're looking for an above-and-beyond wedding gift. Like this custom outdoor firepit. The seller lets you completely design a heavy-duty, 12-gauge steel fire ring or you can choose from one of the existing nature scenes—like this evergreen forest design—and simply add the couple's names. They'll definitely invite you over for s'mores to test it out.
16. Porcelain Tea Set by Gracie China Shop US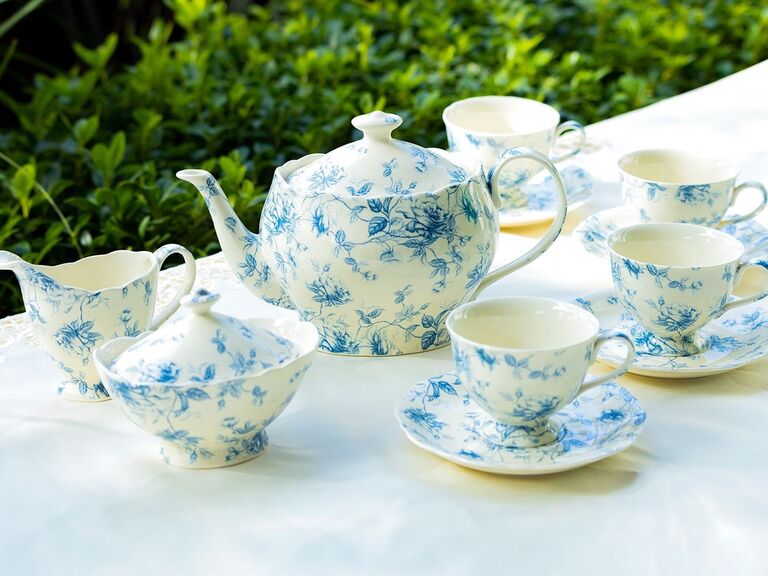 Could their love story be its own Bridgerton novel? Fine china is a traditional wedding gift, but if you're looking for something the couple would use more often, shop for adorable tea sets. This Etsy seller has dozens of porcelain tea sets any vintage-loving couple will swoon over. We personally love this blue rose toile design, which lends itself subtly to the "something blue" wedding tradition. Each set comes with a teapot, sugar bowl, creamer, four teacups and four saucers. (Psst, there are matching dessert plates.)
17. 3D Heart Map Art by A Gift of Happiness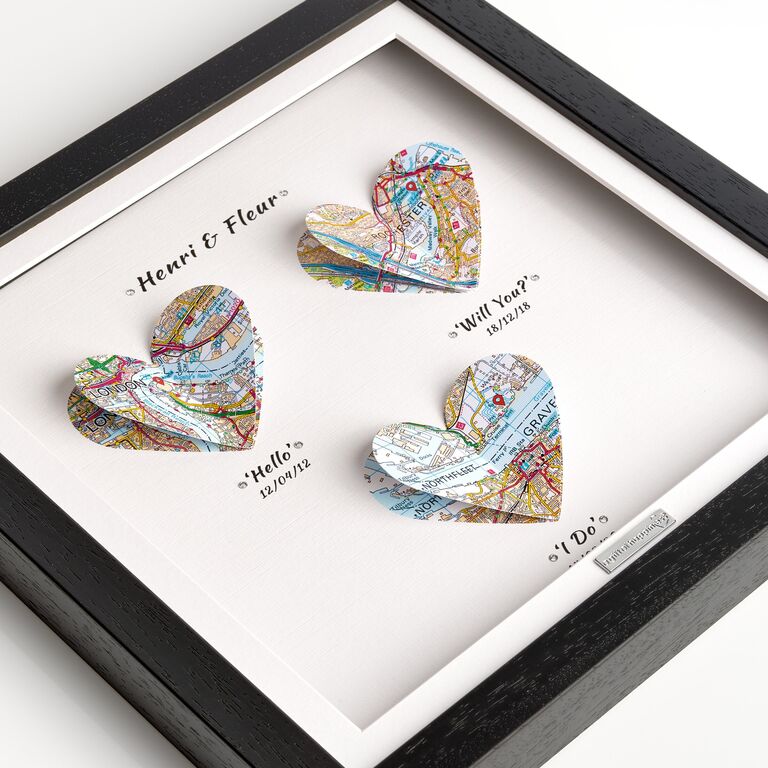 While Etsy's unique wedding gift offerings are endless, we always come back to their creative art selection for couples. If you've been friends with the couple ever since they met and were even there for their engagement, this is a cute gift idea. It features three maps cut into hearts pinpointing the locations they said: "Hello," "Will you?" and "I do." You can also add a fourth heart to showcase their first home. It comes framed with crystal embellishments.
18. Personalized Wedding Memory Box by Muujee Weddings
This personalized Etsy wedding gift is a bestseller for a reason. From their invitation suite to boutonnieres and even their honeymoon plane tickets, there will be lots of small mementos the couple will want to hold on to from their wedding. Make sure they have a safe place to store it all with this sleek wooden box. It's made from walnut wood and comes in five cube-shaped sizes and two rectangular options. (We say the bigger the better, so they can add in more memories throughout the years.) The lid can be personalized on both sides with their names, wedding date and a custom note. Want to make it really sentimental? Follow the lead of this reviewer: "I used this as a gift to my best friend on her wedding day. It was filled with letters from her people, photos from her engagement session and her invitation suite. She LOVED it. And it will look great in her home for years to come!"