How to Pick the Perfect Wine Anniversary Gift for Any Year of Marriage
Here's what makes a bottle of wine anniversary-worthy.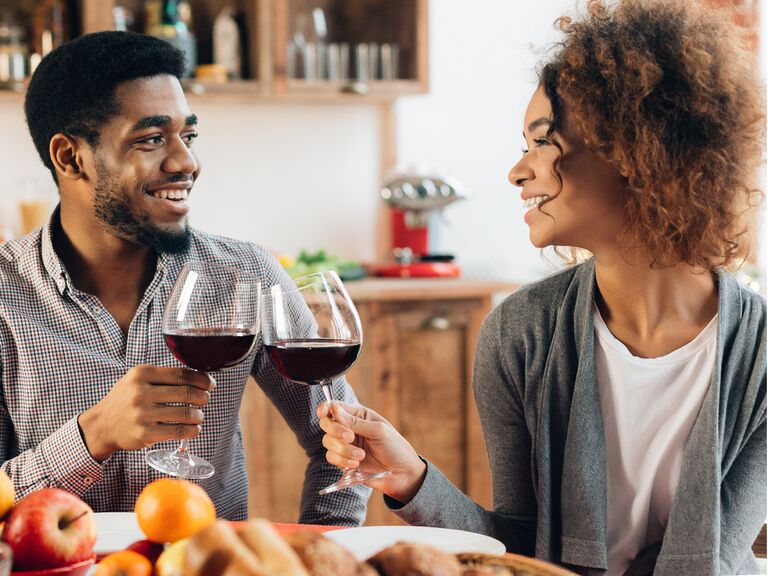 Prostock-studio / Shutterstock
We have included third party products to help you navigate and enjoy life's biggest moments. Purchases made through links on this page may earn us a commission.
There are lots of ways to celebrate an anniversary, but one ritual that's really stood the test of time is toasting the milestone with a good bottle of vino. Giving wine as an anniversary gift will allow you and your spouse (or the couple) to do just that. But what makes clinking glasses such a special way to commemorate a marriage? It all comes down to the wine you pick out. There's actually a lot to consider when it comes to choosing the right bottle, including the type of wine, the year it was produced and its origin. Need some help getting started? We connected with Master of Wine and Head of Wine at Wine Access, Vanessa Conlin, about exactly what makes the best wine for a wedding anniversary.
In this article: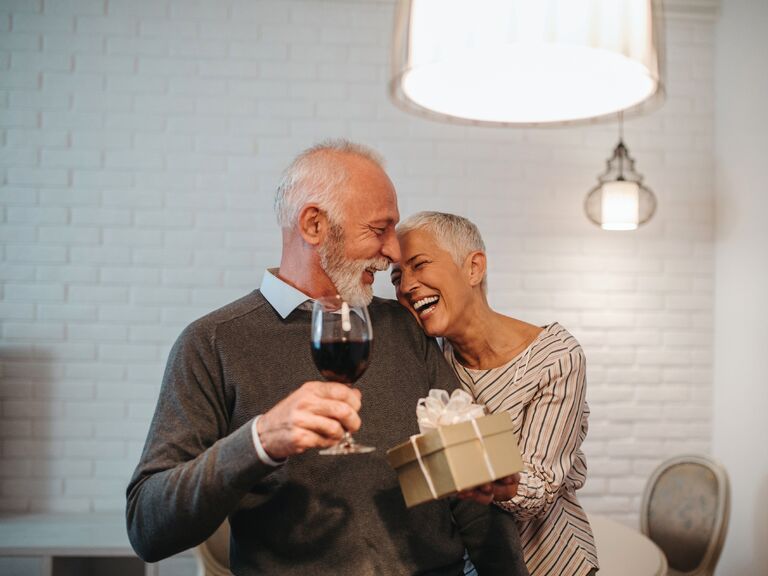 Choosing a Meaningful Anniversary Wine
When it comes to anniversary gifts, it really is the thought that counts, whether you're shopping for your other half or a couple. But what's the difference between a wine that says "happy anniversary!" and any old bottle of vino? We've got the answers.
Pay attention to the year.
According to Conlin, the best place to start is with the year. "Assuming the gift is for your significant other, the vintage would be the first starting point since presumably, the wine would be either the anniversary year or another significant year," says the Master of Wine. She continues, "If the gift is meant for another couple (not for your significant other), finding a vintage that is significant in their relationship is a great starting point."
If you're set on buying a bottle of wine from the wedding year, Conlin suggests looking for these sooner rather than later. "Waiting to buy the wine and trying to locate that vintage in the market later means that many bottles will have already been purchased," she explains. Plus, "prices of 'library' or 'back-vintage' wines become more expensive than buying them on release." Of course, if you didn't think that far ahead, don't worry! While it may still be possible to find a meaningful vintage, there are some other options too.
Consider the origin.
Another thoughtful way to honor the relationship is by selecting a bottle with a meaningful origin. Conlin suggests choosing a wine from a region they've enjoyed in the past. Are you able to source something from where you or the lovebirds tied the knot? How about the honeymoon destination? It could even just be somewhere your spouse or the couple loves to travel. Do some research into a location of significance and find out if there are any good local wines. Conlin gives the example of gifting a nice Barolo to someone who likes traveling to Italy.
Look to the couple's tastes.
While there's certainly a lot to consider, it's important to keep in mind that a meaningful vintage and origin aren't the be-all and end-all of wine wedding anniversary gifts. What's most important is selecting something the recipient(s) will enjoy. "If a vintage wine is not available that makes sense as a gift, use what you know of the tastes of the couple to guide the decision," says Conlin. It could be as simple as paying attention to their order the next time you eat out together. According to Conlin, if they enjoy dessert, Port or Sauternes are both good wines for an anniversary gift.
Anniversary Wine Gifting Tips
Before we dive headfirst into wine anniversary gift ideas, there are a few more things to consider. For starters, should your vino of choice be ready to drink right away, or is it okay to pick something that still has to mature? According to Conlin, that depends on the couple.
"Many city-dwellers do not have space for a cellar or a wine fridge, so a wine that does not require cellaring would be suitable," she explains. If you're not sure whether or not the couple has somewhere to store and age wine, it's probably best to buy something that's ready to uncork right away. On the flipside, if you know they like saving wine for a later date, "select a wine that will reward patience in the cellar."
Another great suggestion from Conlin is to read a vintage chart to determine whether or not your choice of wine is predicted to age well. "If you don't have the time or the inclination to do this yourself, you can ask a trusted wine professional at your local independent retailer, or by reading the recommendations of online retailers like Wine Access, where we list our aging recommendations for each wine we offer."
One final piece of advice on finding the best wine for an anniversary gift: money isn't everything. "The best gifts are ones where a great amount of thought has gone into the recipient more than the price," says Conlin. At Wine Access, every bottle is hand-selected and tasted before being added to the site's inventory. That way, the team can make sure that each wine delivers on quality and affordability.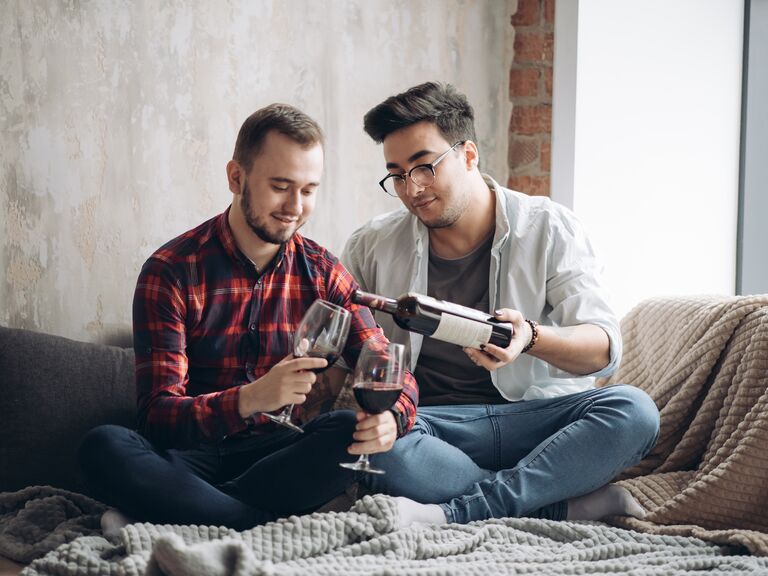 The Best Wines by Anniversary Year
As we mentioned before, buying a wine that was produced the year of the wedding is a meaningful way to honor a marriage. Since some types take longer to age than others, recommendations differ depending on which anniversary is being celebrated. We're sharing our top picks for different milestones to help you find the perfect anniversary wine.
For Newlyweds
If you're still in the early years of your marriage (or shopping for a couple who is), we've got good news. "There are plenty of wines that are best enjoyed in their youth, and appropriate for a newly married couple," says Conlin. For an earlier milestone such as the one-year anniversary, the wine expert suggests opting for a Gewurztraminer or Sauvignon Blanc, as the majority of aromatic white wines are best enjoyed within a few years of bottling. On the flipside, if red is more to their tastes, Conlin recommends a lighter-bodied style (think: Beaujolais or Pinot Noir) or something more fruit-forward (think: Zinfandel or Shiraz).
For Later Milestones
According to Conlin, there are select wines that'll reach maturity around certain milestones. However, she does recommend reaching out to a trusted resource for help where possible, as results can depend on the quality of the producer. Nonetheless, the expert shared some of her top suggestions for the 10th, 25th and 50th marriage milestones:
10th anniversary wine gifts: If you're looking for a 10-year anniversary wine, Conlin recommends a Grand Cru white Burgundy, Sonoma Coast Pinot Noir or Mosel Riesling.
25th anniversary wine gifts: To celebrate 25 years of marriage, the wine pro suggests a great Napa Cabernet Sauvignon, classified growth Bordeaux or vintage Champagne.
50th anniversary wine gifts: For the golden jubilee, Conlin's expert recommendations include fortified wines, such as a vintage Port or Madeira. If you're on a budget, Hunter Valley Semillon is an affordable alternative that can mature for decades, according to the Master of Wine.
Alternative Wine Anniversary Gift Ideas
Finding a wine with all the right credentials can be tricky. Luckily, we've got a few more tricks up our sleeve to help you pick out something memorable. When in doubt, a good bottle of Champagne is pretty much always an ideal wedding anniversary wine gift, whether you're celebrating one, five or 50 years. Conlin puts this down to the drink's association with celebrations and festivities, as well as the fact that it's "one of the most versatile wines in the world" that can be enjoyed by itself or with a wide variety of foods.
Another thing to look out for is rarity, shares the wine expert. "A wine that isn't commonly available to the recipient makes for a great gift, likely a highly allocated Napa Cabernet or older vintage." This is an especially good idea for couples who really know their wine and will appreciate the surprise.
Alternatively, you could surprise the self-proclaimed wine connoisseur(s) with something they have yet to experience. Conlin suggests the national beverage of Japan—Sake—or something from an off-the-beaten-path region, such as the Canary Islands. "For true wine collectors, try a great accessory like a Durand (a combination of a corkscrew and an ah-so) which helps open older bottles with temperamental corks."
Last but not least, if you're worried the couple has very different preferences, consider a subscription gift. "Giving a membership to a wine club is a good way to help them to explore and develop their individual tastes together," says Conlin. There are plenty of businesses offering this service online, including Wine Access.