15 Wedding Gifts Under $200 That'll Knock It Out of the Park
Stop procrastinating and find the perfect present within your budget.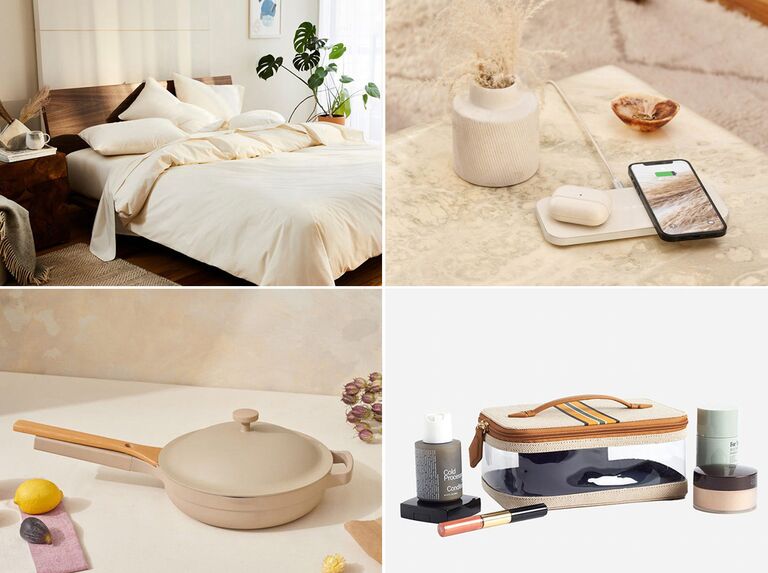 Looking for the best wedding gifts under $200? You've come to the right place. We've rounded up gift ideas that cover homebody couples, outdoorsy couples, always-hosting couples and everyone in between. We definitely recommend consulting the pair's wedding registry before you buy to see if something strikes your fancy (here's how to find their wish list on The Knot). But if you find yourself in a situation where going rogue is the best route (perhaps everything in your budget bracket is already purchased or there's no registry at all), these gifts are surefire wins.
If you still need a bit more guidance before going off-registry, we chatted with Sarah Mastriano—owner and lead planner of A Lovely Universe in Red Bank, NJ—to get her tips and tricks. Mastriano instructs guests-to-be to keep the couple's overall sense of style in mind. (Are they mid-century minimalists or free-spirited maximalists?) Take note of their mutual interests, too, whether it's the newest piece of tech that makes them tick or they'd rather show off a chef-quality cookware set. Mastriano also recommends steering clear of any art or home decor gifts, whether it's "something that is very small, like a set of throwaway mugs that say: 'Mr. and Mrs.' or a huge piece of art that doesn't match the couple's aesthetic at all."
From coveted kitchen goods to great gadgets, we think every item on this list is a quality pick (and, most importantly, will impress the soonlyweds you're shopping for). Read on for the best wedding gifts priced at $200 or less.
1. Paravel Cabana Tote Bag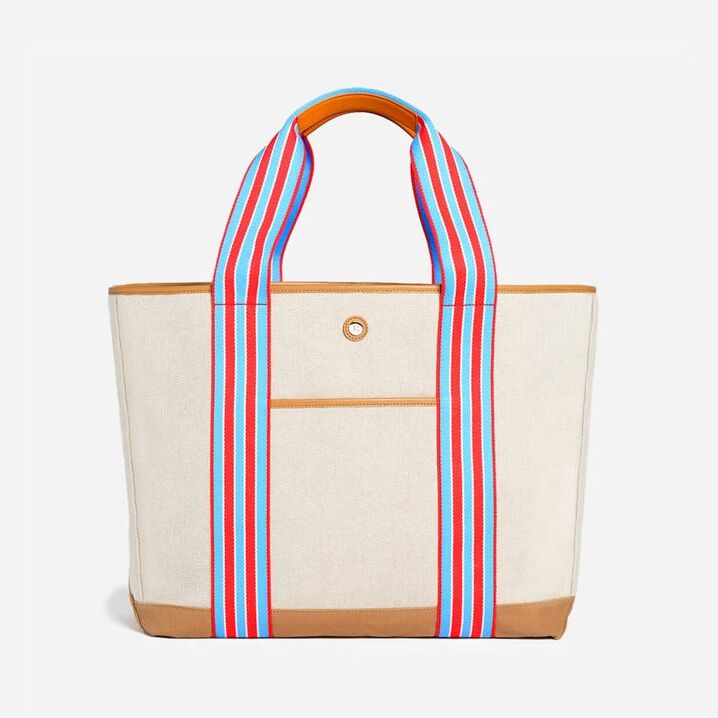 This handy carryall does it all—from toting laptops and books to beach gear and a change of clothes. Available in small, medium and large sizes in a host of attractive color combos, this bag has thoughtful features like a hook-and-eye top enclosure and a sturdy vegan leather base to keep it from slumping over when placed down. And considering it's made from sustainable materials like recycled plastic bottles, eco-conscious newlyweds will especially love this present.
2. Paravel Cabana See-All Vanity Case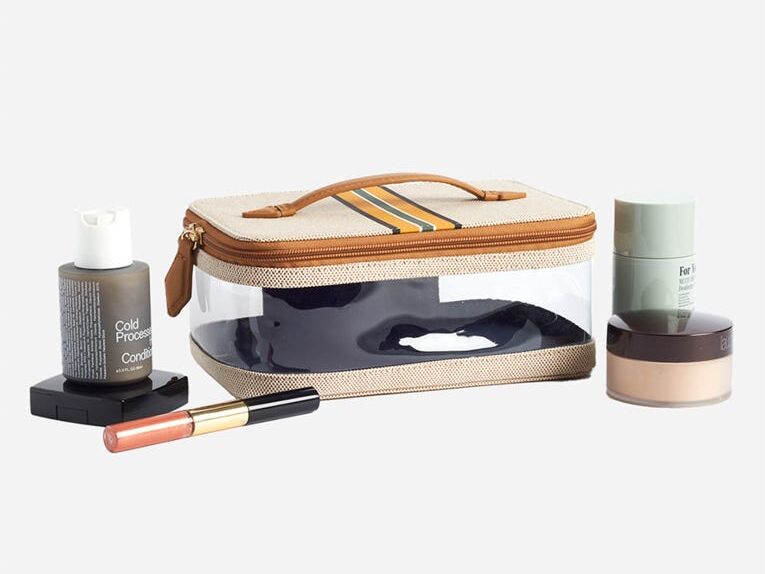 This is another great option from Paravel. For the couple that loves traveling together (or the couple that's planned a far-flung honeymoon), consider gifting them two of these attractive cases in different colorways for them to stash their toiletries, jewelry and sunscreen while jetsetting. A silicone coating helps the user avoid stains, while the vegan leather top handle makes the pouch easy to grab from well-stuffed luggage. Choose from a standard or mini size.
3. Black + Decker 6-Bottle Freestanding Wine Refrigerator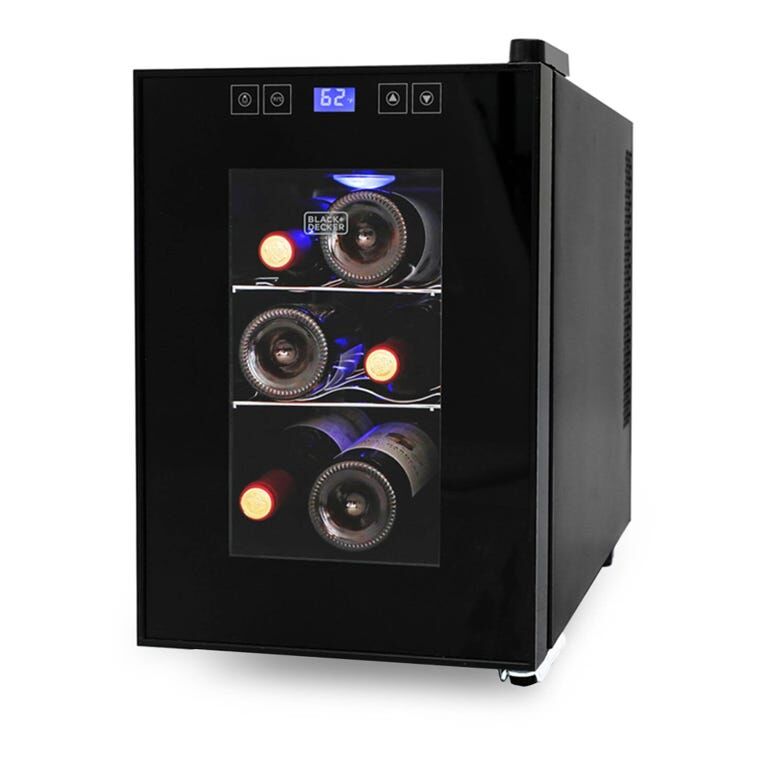 If you're shopping for a wine-loving couple, this freestanding fridge will let them give their beloved bottles the luxury treatment. The temperature can be changed to the optimum temp for chilling reds or whites and the interior light makes it easy to check on their wine stock. Plus, its compact design is totally apartment friendly.
4. Brooklinen Luxe Duvet Cover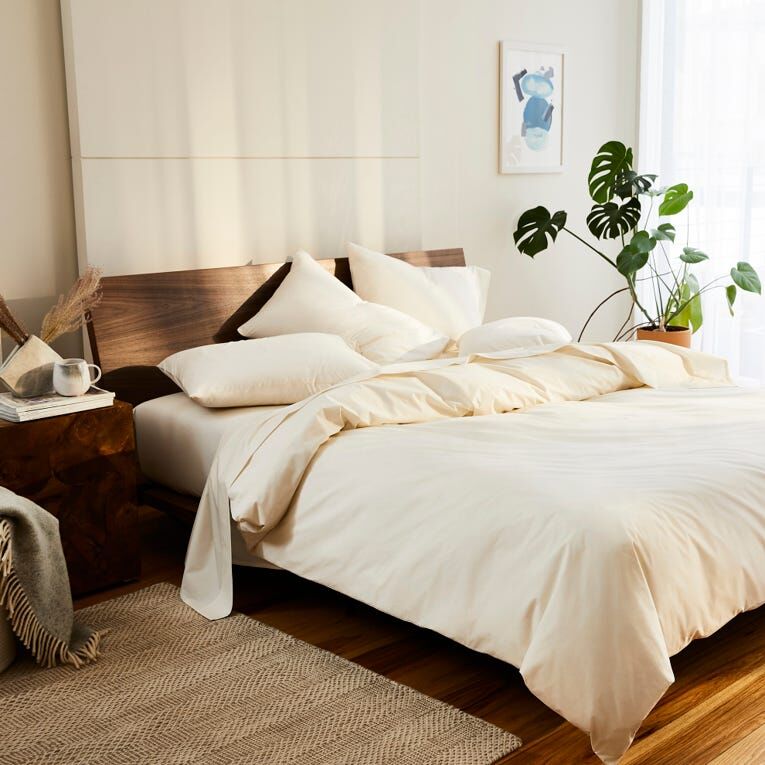 Mastriano is a fan of the high-quality neutral bedding from Brooklinen as a thoughtful and useful under-$200 wedding gift, and we agree. This comfy, ultra-soft duvet cover is crafted from 100% long-staple cotton. Better yet, the simple large buttons and convenient corner ties help the forevermores avoid hassle and bickering on duvet laundry day.
5. Brooklinen Super-Plush 4-Piece Bath Towel Set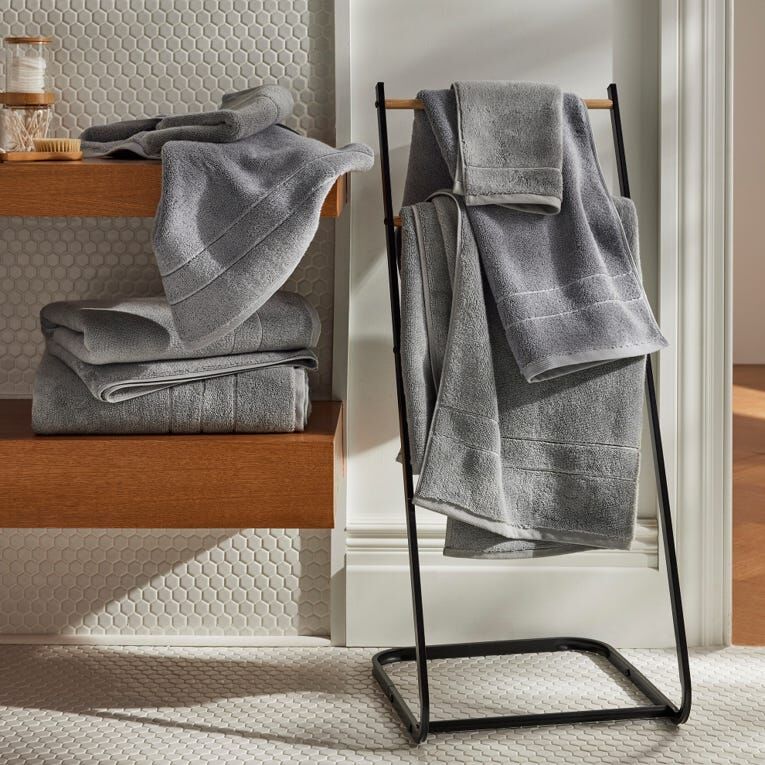 Also from Brooklinen, this set of four wonderfully plush and absorbent towels will add a luxe touch to any bathroom. And, if you have a little extra budget room, consider buying two sets. The couple will be singing your praises every time they can squeeze in an extra week or two before they have to do a laundry load of towels.
6. Our Place Always Pan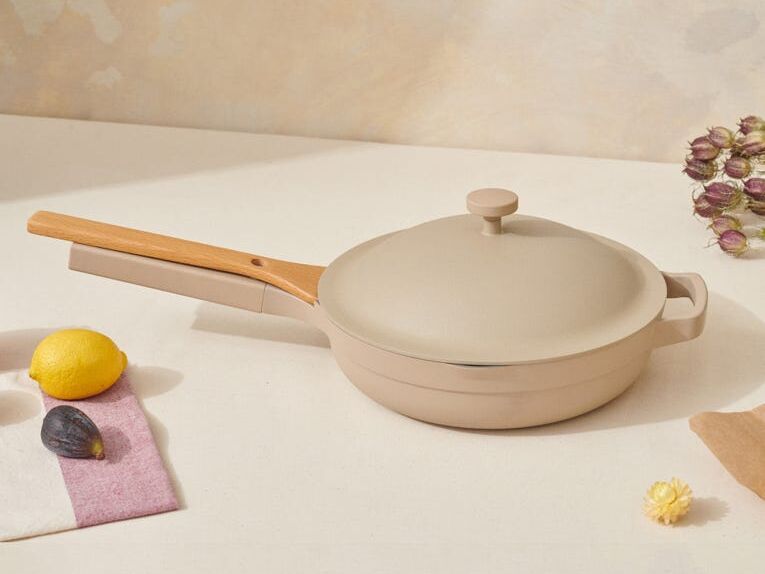 Introduce the happy couple to their new favorite multipurpose pan. Ideal for cooking eggs, sautéeing veggies and so much more, this nonstick wonder comes with the most thoughtful features tailored to home cooks. A beechwood spatula nests perfectly into the integrated spoon rest in the pan's handle, while a stainless steel steamer basket adds even more functionality. Also worth noting: This pan features a non-toxic ceramic coating. Choose from several attractive colors, though our favorite is the neutral Steam (a light beige) option, which blends seamlessly with a variety of interior design styles.
7. Nambé Yaro 3-Piece 4 Qt. Salad Bowl Set With Servers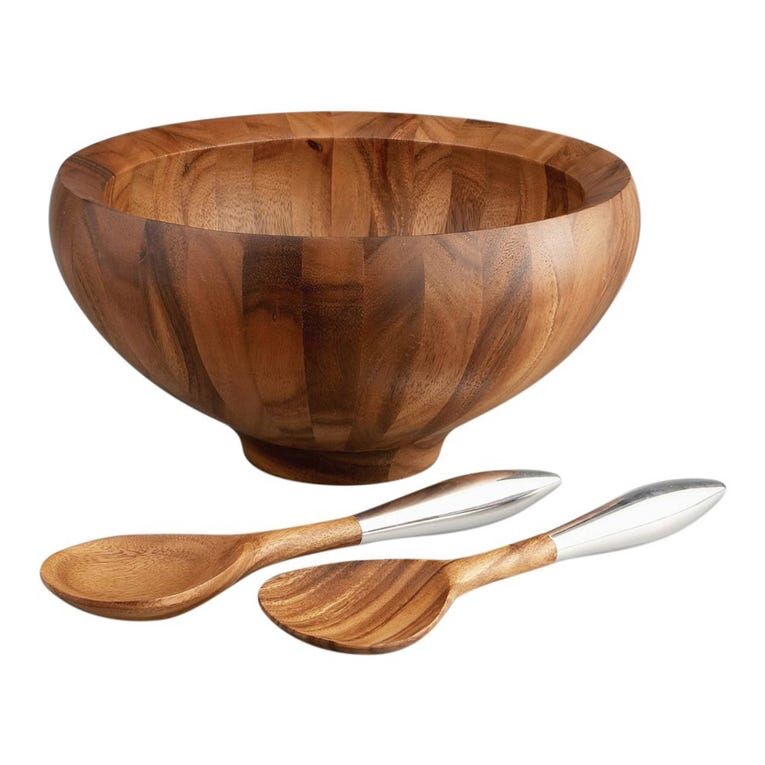 What is happiness if not gathering around the table with loved ones and a wooden bowl brimming with pasta or salad (or: pasta salad)? Treat these special soon-to-be spouses to this gorgeous 2022 The Knot Registry Award winner and instantly elevate their weeknight serving game. The set includes the bowl and two matching servers with alloy handles for a modern touch.
8. Instant Pot 3-in-1 Dual Pod Coffee Maker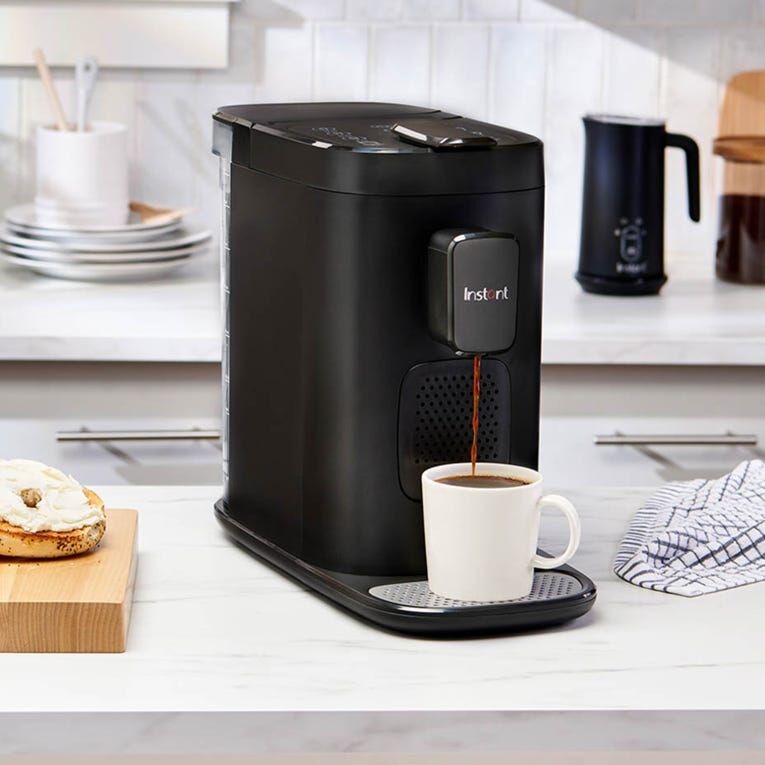 Fan-favorite Instant Pot makes amazing kitchenwares that go beyond just slow cookers. The coffee maker is compatible with both K-Cup pods as well as Nespresso capsules and arrives with a reusable pod that the couple can fill with their go-to coffee grounds. For a personal touch, round out the gift with a bag or two of your favorite beans.
9. SPUR Experiences MLB Tickets
Take 'em out to the ball game! A sports-loving couple can use the voucher towards the price of any available MLB game (or another event of their choice through SPUR Experiences Ticketing). For basketball fans, you can snag NBA Tickets here. Both of these gifts made the cut for the 2022 The Knot Registry Awards, so you can guarantee they'll be a home run.
10. Bose SoundLink® Flex Bluetooth Speaker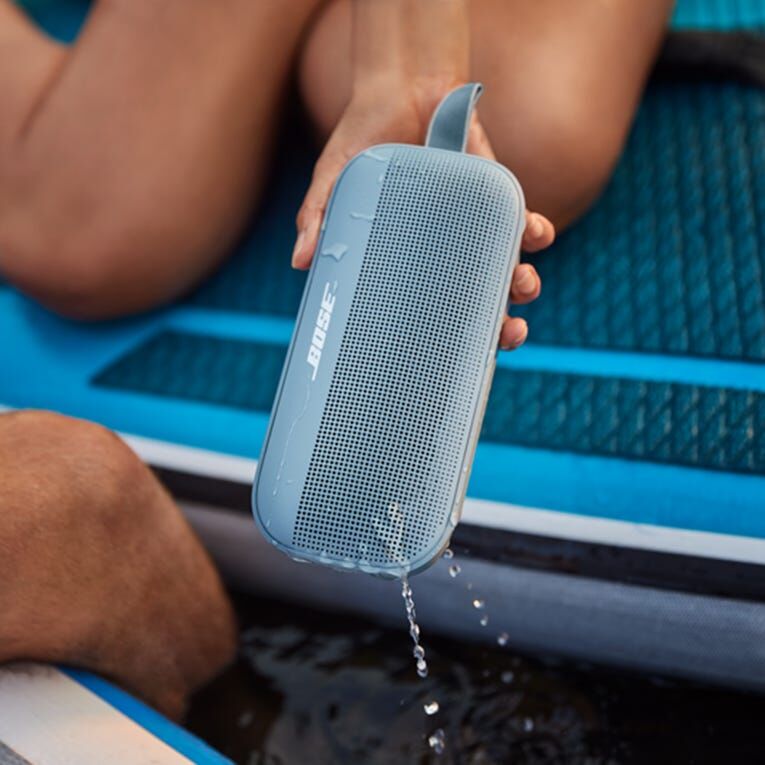 Audiophiles will rejoice upon receiving this superb speaker from industry leader Bose. This Bluetooth speaker—which also made the cut for the 2022 The Knot Registry Awards—is equal parts attractive and functional. It's lightweight, too, so couples can easily take it outside to entertain around the fire pit, head to the lake or beach, or simply tote it around the house to keep their favorite podcast in earshot as they check off some chores.
11. Courant Catch 2: Classics Wireless Charger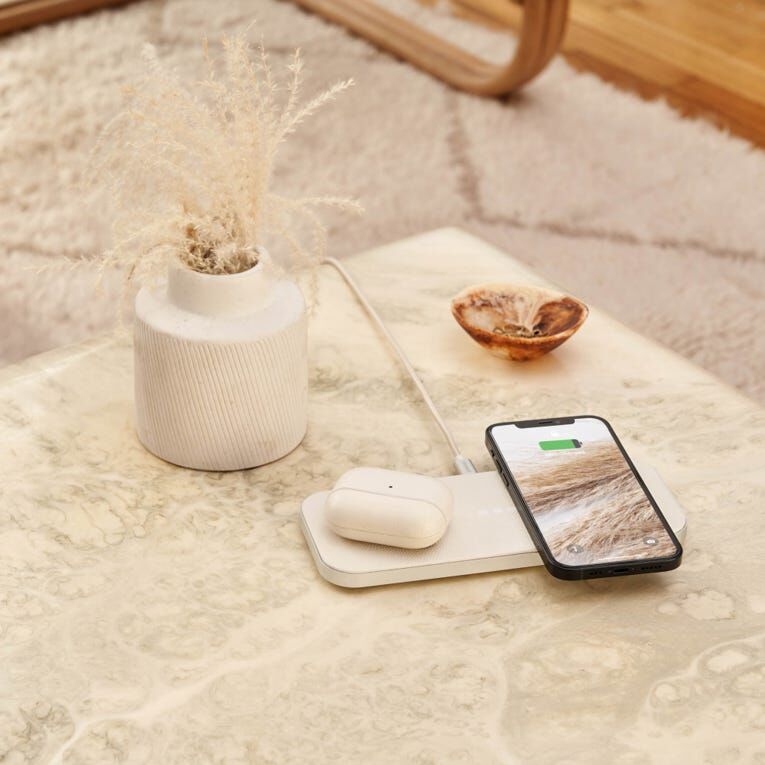 Ah, finally, a sleek way for both halves of a couple to charge their phones at the same time. Made from Italian leather and high-quality aluminum, this charger has a non-slip base and braided nylon cable—the perfect balance of form and function. Choose from an array of rich neutral colors.
12. Vera Wang Love Knots Crystal Champagne Flute, Set of 2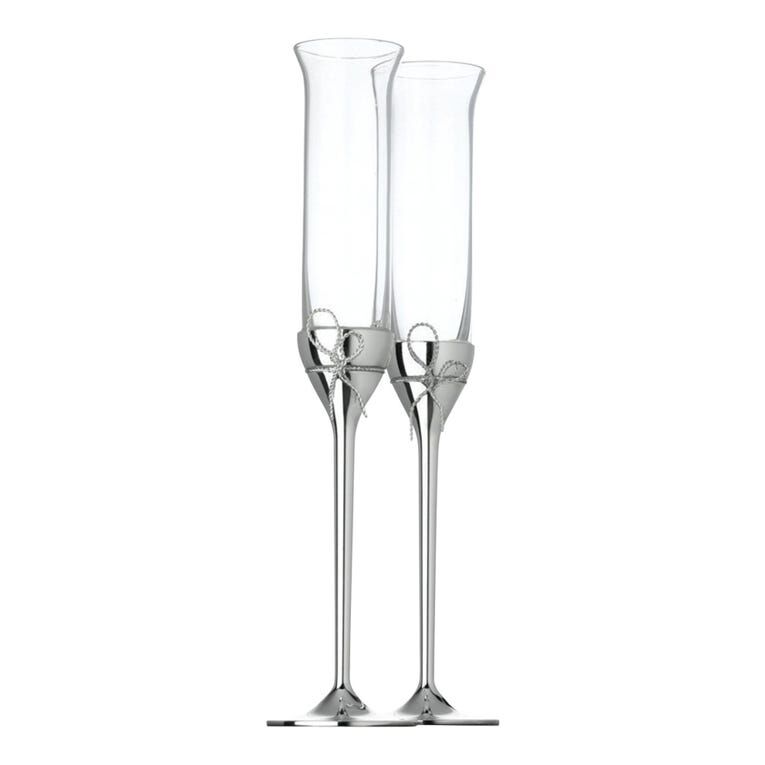 Even after the party is over, the couple can look forward to raising a glass with these gorgeous glasses by Vera Wang, adorned with delicate love knots. Jazz up this offering by throwing in a bottle or two of your favorite sparkling wine. For more love-themed gifts for two, check out our Just Married collection here.
13. Kate Spade New York Rosy Glow Double Invitation Picture Frame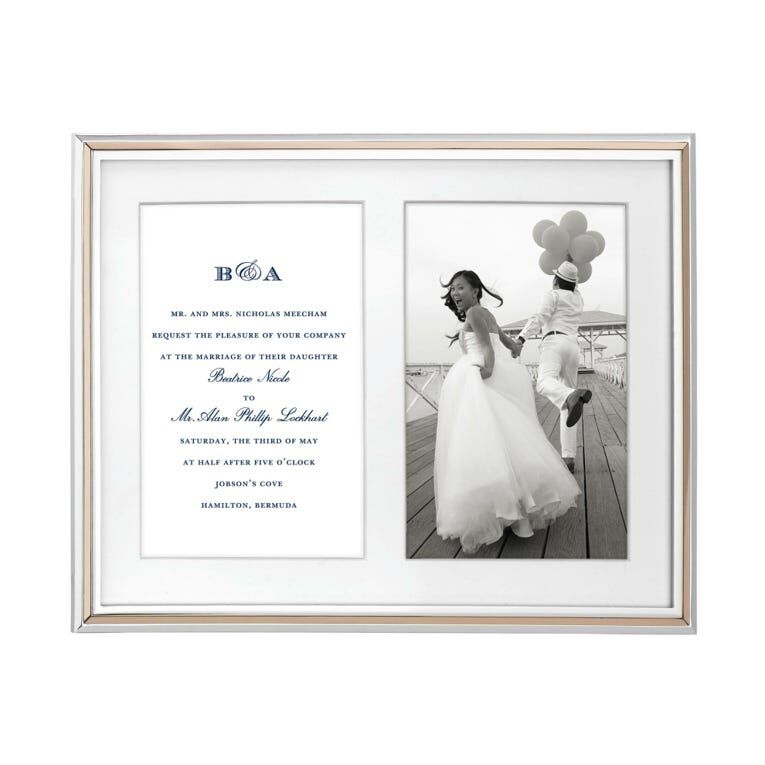 Stumped for a wedding gift under $200? If you saved the couple's wedding invitation, surprise them by framing it alongside a favorite photo of them in this chic pick from Kate Spade (try printing an engagement photo of theirs—check their wedding website!). This silver-plated, rose-gold-edged frame is sure to be a nice addition to their living room or bedroom.
14. PhoneSoap Homesoap UV Phone Sanitizer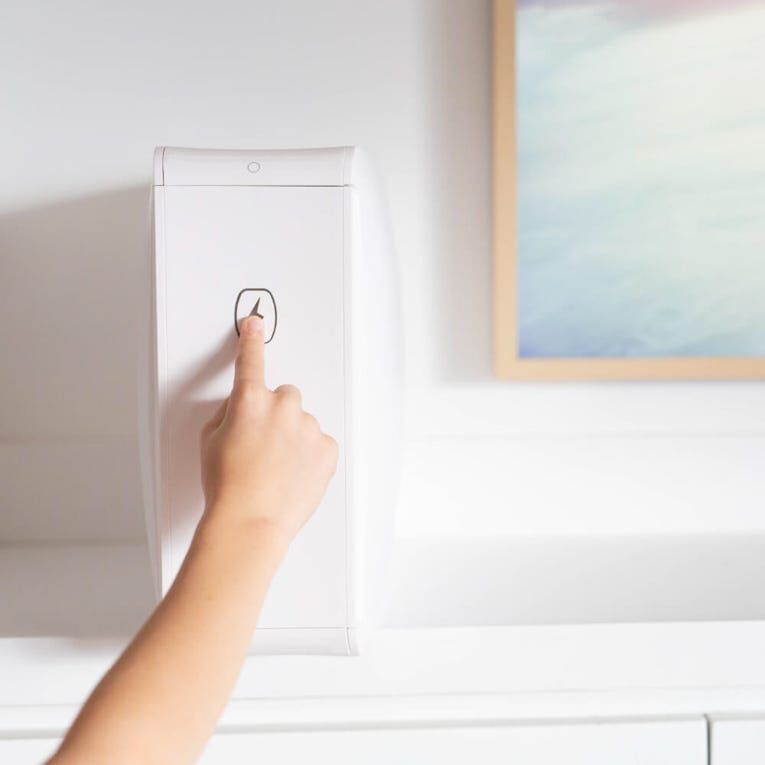 File this under the home appliance the couple didn't know they needed, but soon will start recommending to all their friends. Available in black or white, the roomy Homesoap UV Sanitizer quickly sanitizes phones, tablets, remote controls, keys, wallets, credit cards, jewelry and basically whatever fits inside. It blends right into any decor scheme, too.
15. Drinkpod Wine Lover's Dream Pack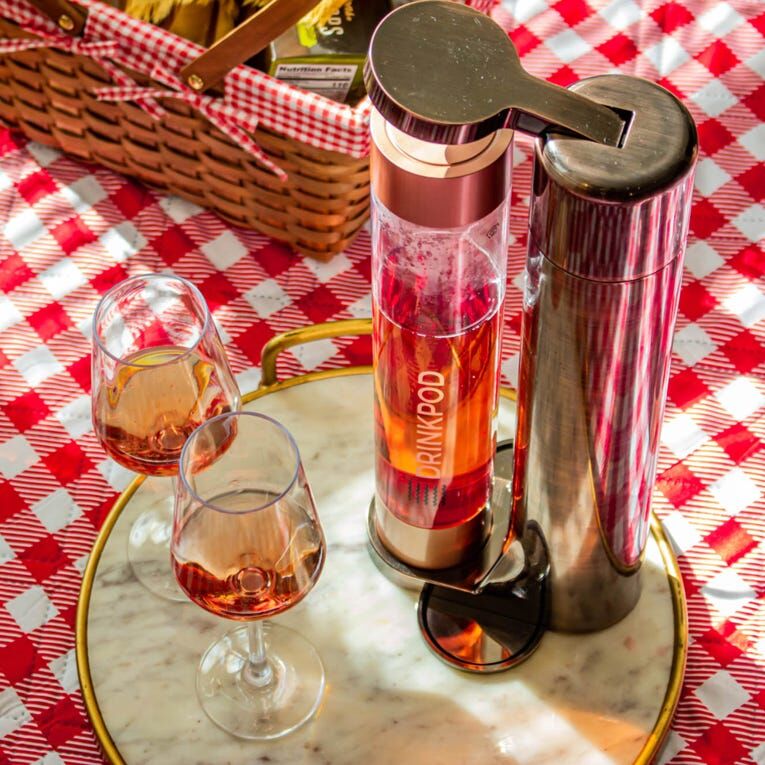 Is there anything more festive than a bubbly beverage? If the spouses-to-be agree, than gift them this handy set that'll add effervesence to any bottle of wine. It includes a carbonator, bottles, a CO2 cylinder, a wine opener, an aerator and a foil cutter, so all the couple has to provide is a bottle and their favorite glasses. It's great for taking on the go, too, so say hello to sparkling summer picnics.