19 Registry Items That'll Upgrade Your WFH Setup
We know you *really* want that ultra-fancy espresso machine for afternoon pick-me-ups.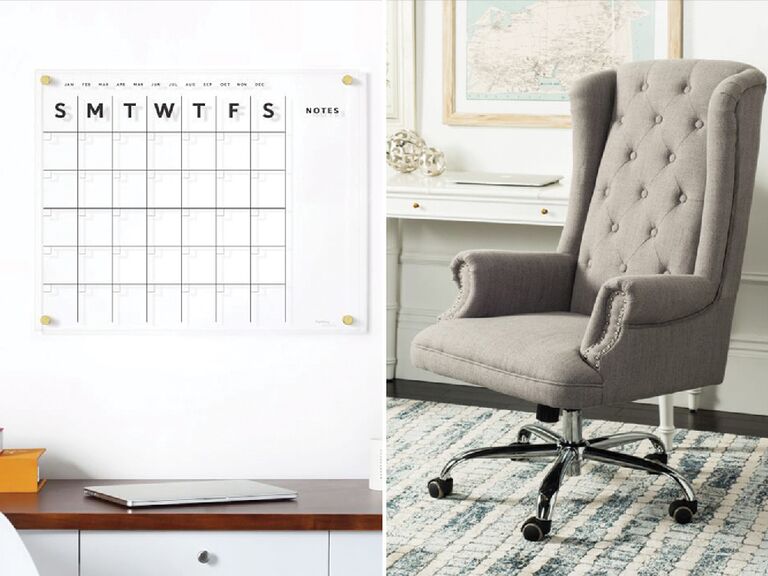 We have included third party products to help you navigate and enjoy life's biggest moments. Purchases made through links on this page may earn us a commission.
With plenty of companies now adopting work-from-home or hybrid remote policies, it's more important than ever to curate a home office you genuinely love. If you're one of many people now working from home, we'll let you in on a secret: You can absolutely dedicate your wedding registry to your work from home office setup. Wedding registries have evolved past their traditional use for equipping newlywed homes with china sets and extra linens. While you certainly can register for these essentials, more couples are asking for unique and personalized presents, like experiences, cash funds, gift cards, and functional items tailored to their lifestyles.
If you aren't working from a traditional office, we highly recommend adding a few essential work from home items to your registry. Considering the amount of time you'll spend in your WFH space, it's crucial to furnish it with the basics… plus a few fun extras that make you excited to get to work every day (like a super-soft blanket to wrap up with in between meetings or a high-tech speaker to blast your WFH playlist).
To get started, first create your registry on The Knot. Then, browse this list of essential work from home gear to find gifts you never knew you needed in your office. (Psst: By registering with The Knot, you can request items directly from The Knot Registry Store or any other online retailer.) Find our favorite selections below to seriously upgrade your WFH office setup.
A Functional Desk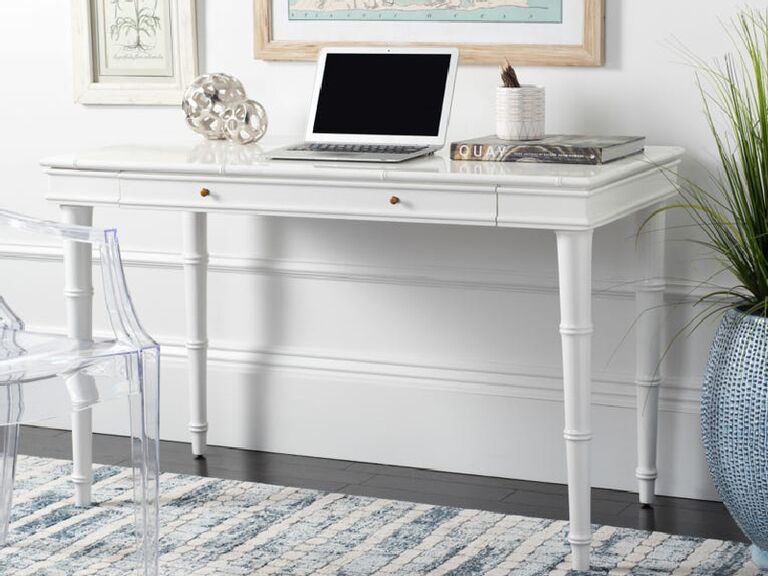 We're all about making your work from home office setup aesthetically pleasing, but one non-negotiable piece of furniture is a functional desk. There's a reason this particular selection is one of The Knot's Registry Award winners. Not only is it nice to look at, it also has a large surface area for those who like to spread out while they work. Plus, the center drawer will easily allow you to store all of your workday essentials nearby, like pens, paper, blue light glasses, and snacks to help you power through long afternoons.
An Insanely-Comfy Office Chair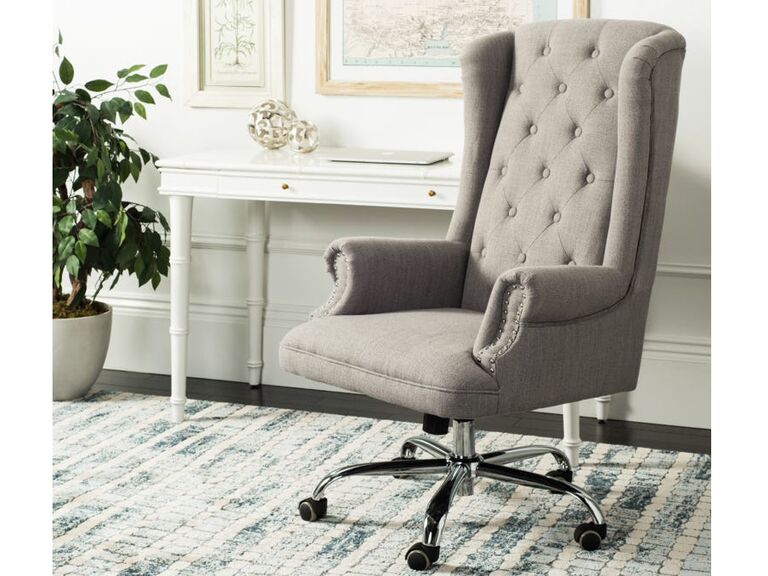 Comfort is key when it comes to working from home. After all, who wants to spend their days sitting on a stiff dining room chair? You (and your back) will thank whoever buys this essential work from home gear off your wedding registry. With an ultra-comfortable chair, you'll actually look forward to setting up shop in your home office.
A Walking Pad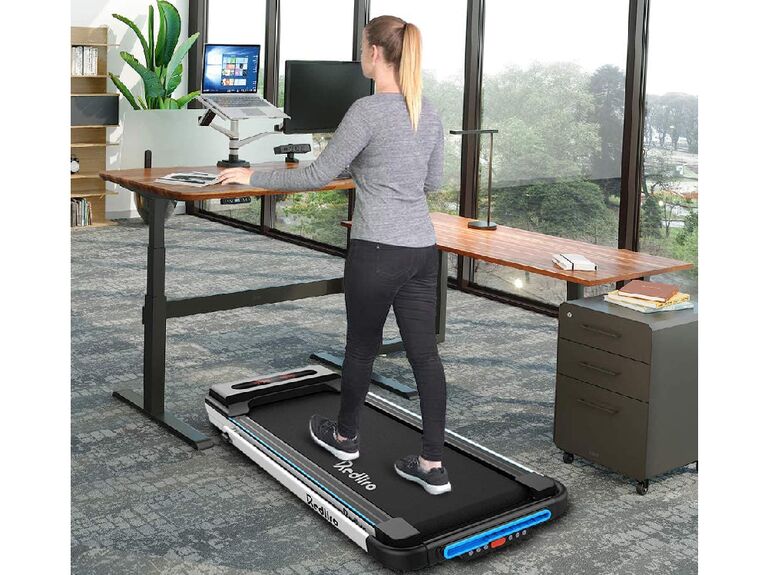 People who want to get their steps in while working from home have found quite a creative hack—and it's going viral on TikTok. Users have taken to the app to share their secret: a portable walking pad, which they place under their desk in lieu of a chair. Many walking pads are made to function with little-to-no extra sound, which means you can take calls or answer emails on the move. It's no secret that mindful movement is a great way to prioritize your wellness, which can become a challenge when you're working from home. This innovative gift is a serious game-changer when it comes to work from home gear.
Noise-Canceling Headphones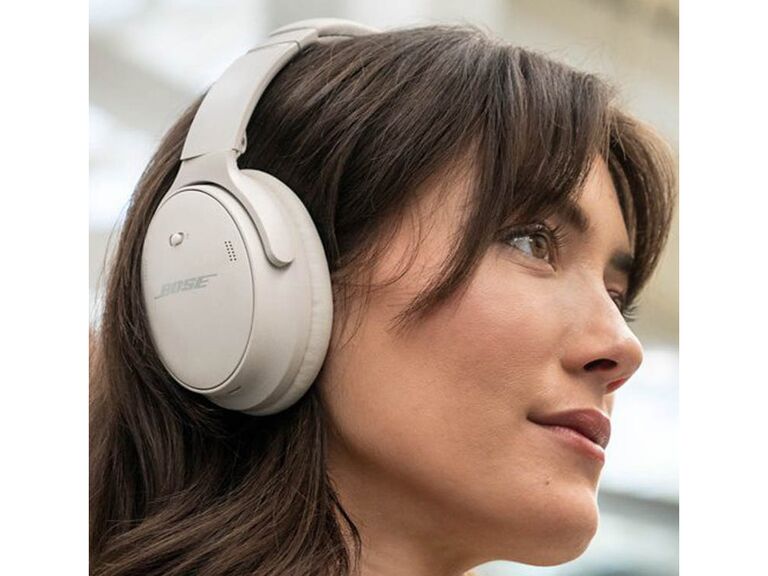 If you and your S.O. both work from home, you've probably listened to each other's calls more than you'd like to admit. When you simply can't hear them say "Let's circle back here," or "Per my last email…" one more time, register for a set of noise-canceling headphones. You'll be incredibly grateful to have peace and quiet, especially in a shared office space.
A Bluetooth Speaker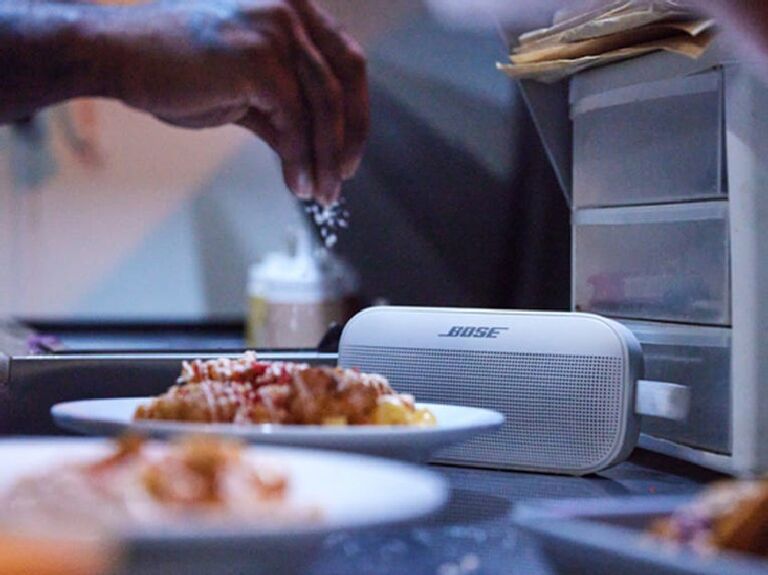 If you prefer not to work in silence, a Bluetooth speaker will allow you to blast a mood-boosting playlist in your office space. Because, let's be real, working from home is a lot better when you have Taylor Swift in the background.
A Decorative Wall Mirror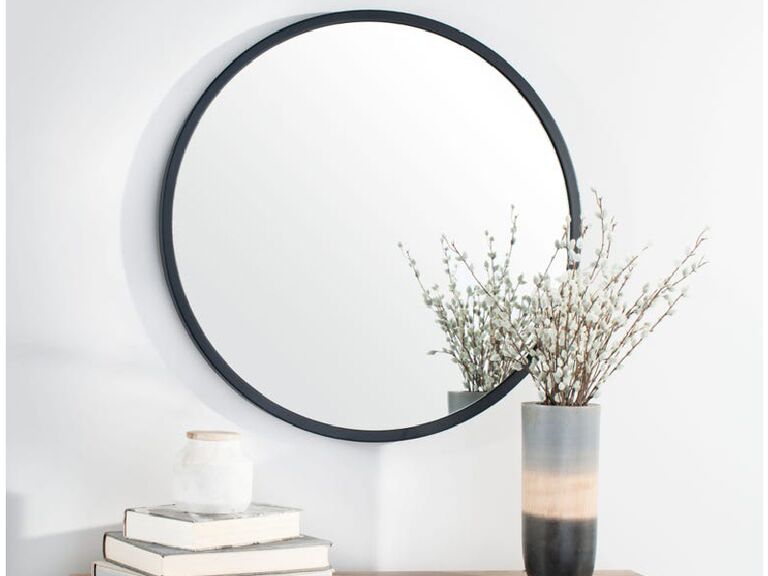 Don't stress about running to the bathroom to check your appearance before Zoom meetings. Instead, hang a sleek wall mirror like this in your work from home office setup to make sure every hair is in place before hopping on a call.
A Fancy Coffee-Maker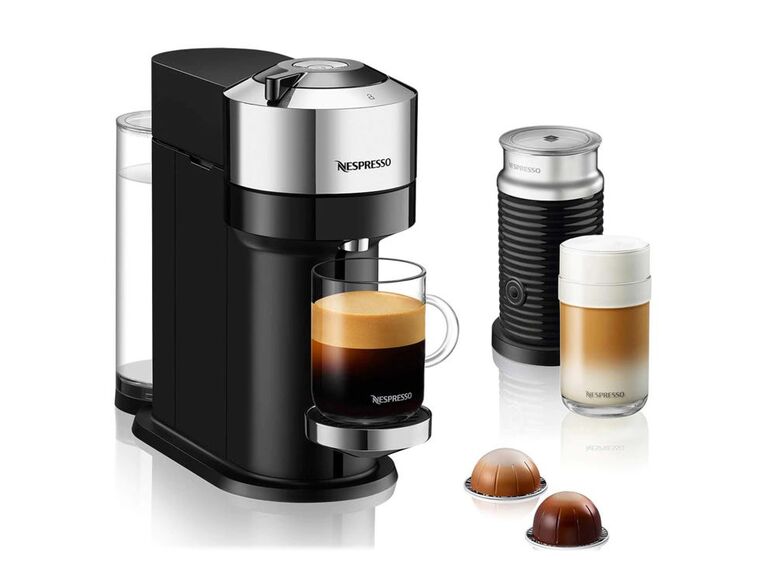 Now that you're working from home, it might be difficult to pop out to Starbucks when you need a midday pick-me-up. To get your caffeine fix, register for a state-of-the-art coffee maker. This machine will fit beautifully on your kitchen counter, allowing you to whip up delicious lattes and cappuccinos that rival those from your local coffee shop.
A Small Air Purifier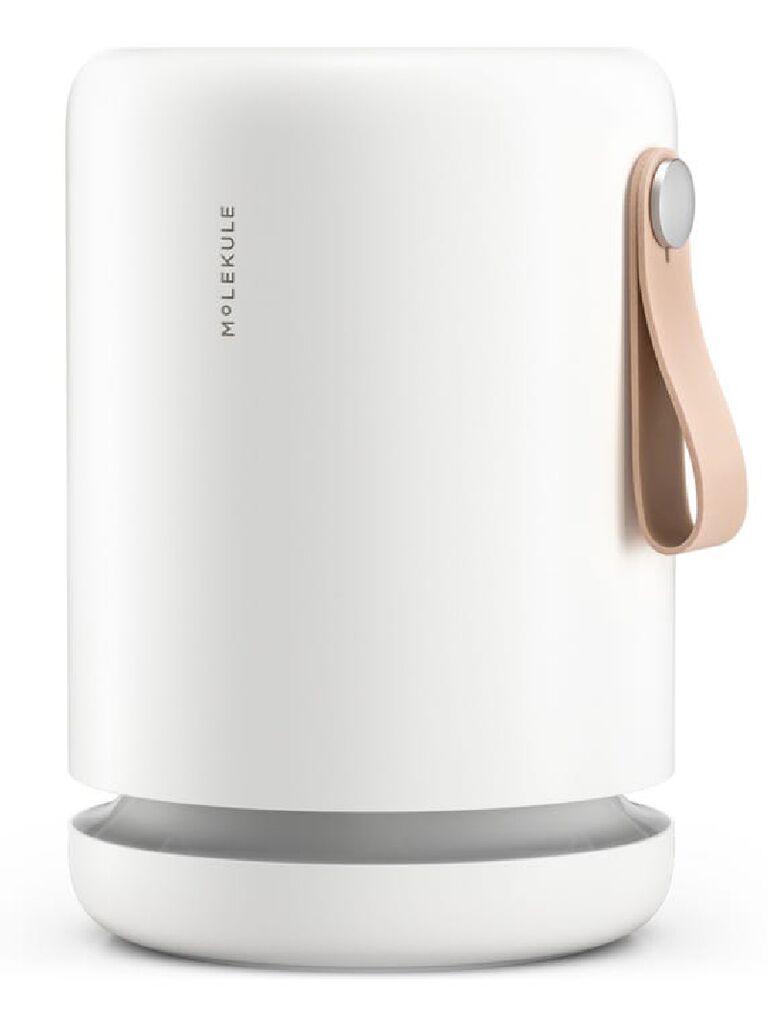 Since you're working from the same room all day, every day, give your air a refresh with a mini purifier. This model features a PECO filter that collects and destroys pollutants such as bacteria, mold and allergens. The best part? You can easily control it from your smartphone. You'll breathe easier knowing how pure the air is.
A Cozy Throw Blanket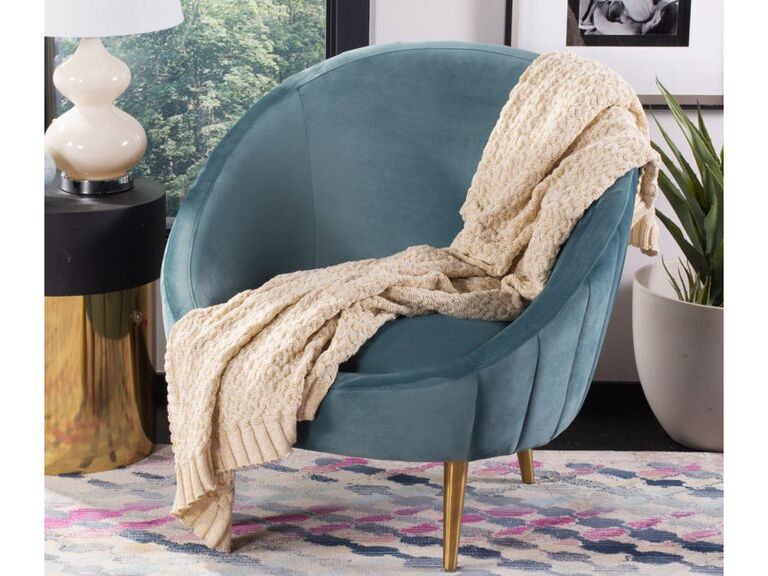 While your home temperature might not be set as low as it was in your old office, keep a few cozy blankets on hand to wrap up with when it gets chilly. This soft knitted throw will look super cute wrapped around your shoulders or draped artfully across the back of your chair.
An Adjustable Laptop Riser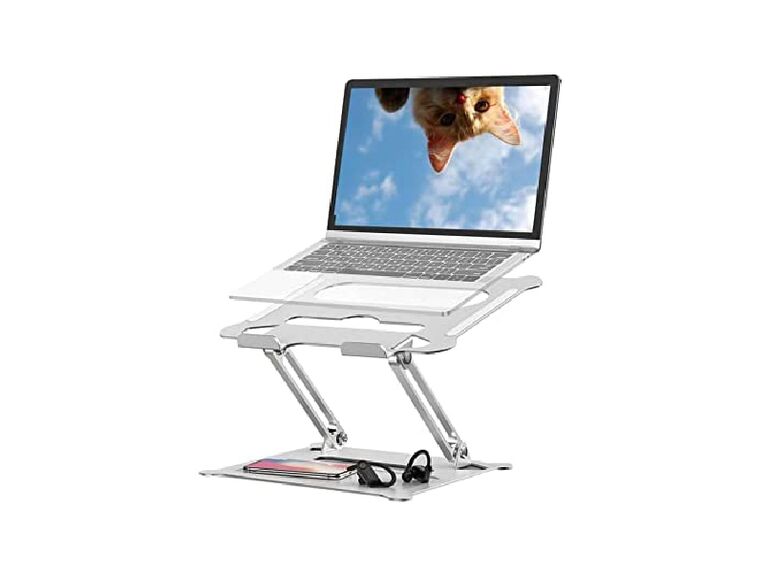 You're probably well aware that spending your days hunched over a laptop causes unnecessary stress on your neck and back, which means this product is essential work from home gear. To make WFH more comfortable on your body, register for an adjustable laptop riser, which will help you move your screen to a comfortable height that eliminates the need to hunch over.
A Desk Lamp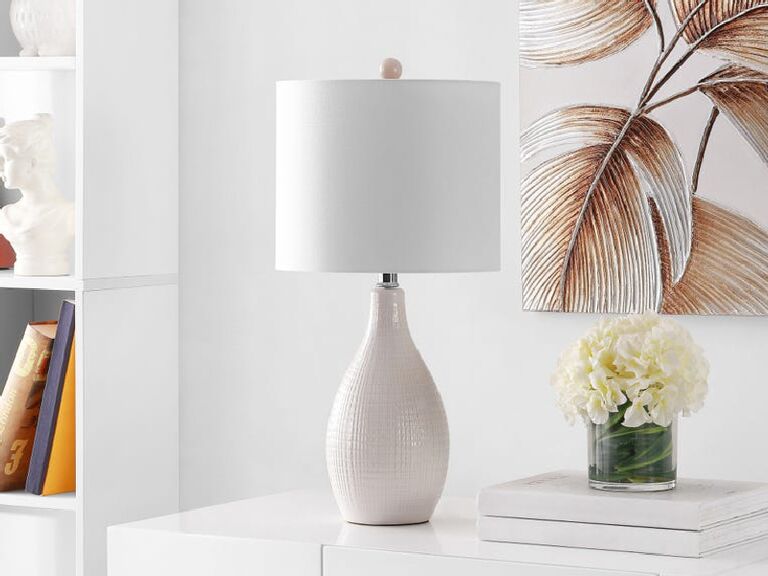 Let's be real: No one misses the intense overhead lighting that's standard in nearly all offices. Create a warm and welcoming WFH environment with a small table lamp like this one.
A Footrest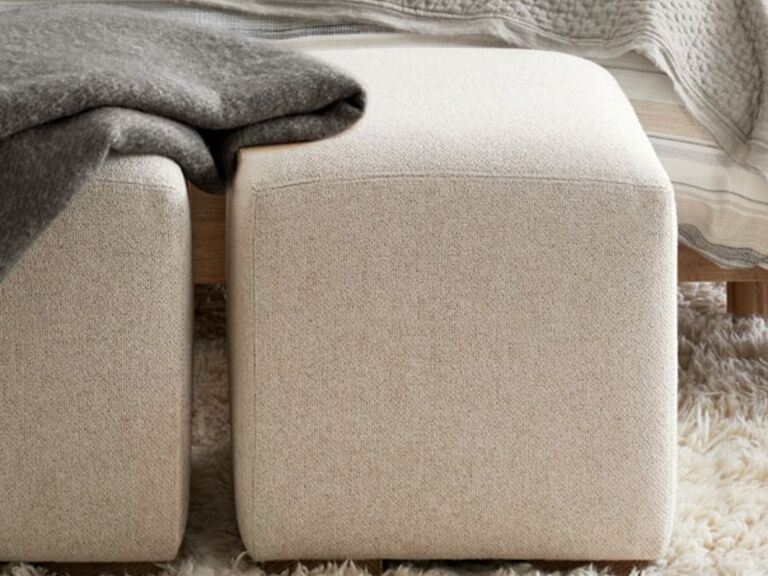 Trust us when we say a footrest is one piece of work from home furniture you never knew you needed. Turn your desk area into a true oasis by placing an ottoman next to your chair—perfect for those days when you just need to answer emails with your feet up.
Acrylic File Organizers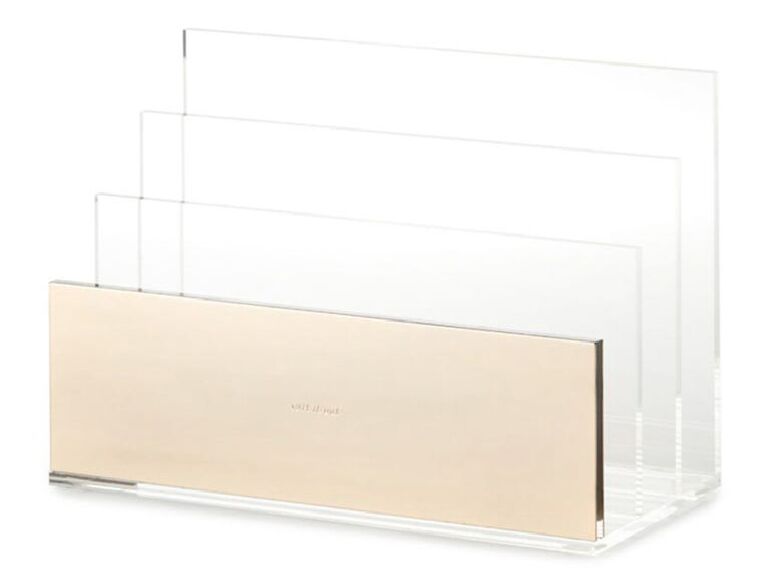 The key to making your work from home office setup enjoyable is to prioritize organization, because no one wants to work from a messy desk. This sleek acrylic file organizer will save you from looking at cluttered piles every time you sit down to work.
A Dry-Erase Wall Calendar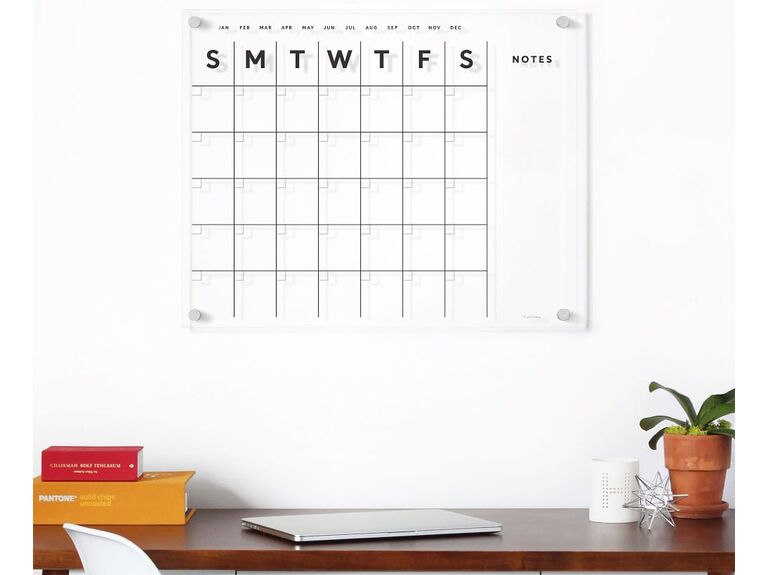 Even if you live vicariously through GCal, being able to visualize important dates is a great way to stay on top of your schedule. This acrylic wall calendar is every minimalist's dream, and it comes with a marker and hanging hardware too.
Organizational File Trays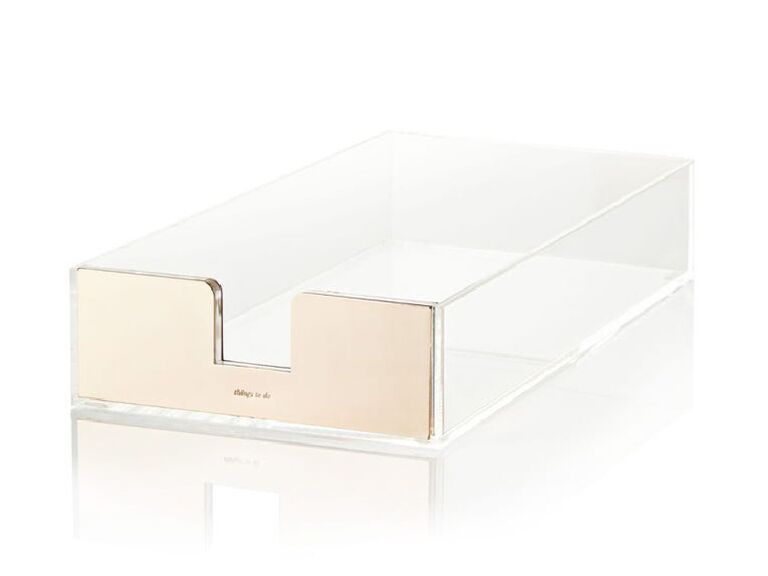 Although you might keep the top of your desk pristine, we're all prone to having messy drawers. Make your space as neat as can be with a luxe tray, which can slide into your desk to keep papers and loose odds and ends under control.
Happy Light Therapy Lamp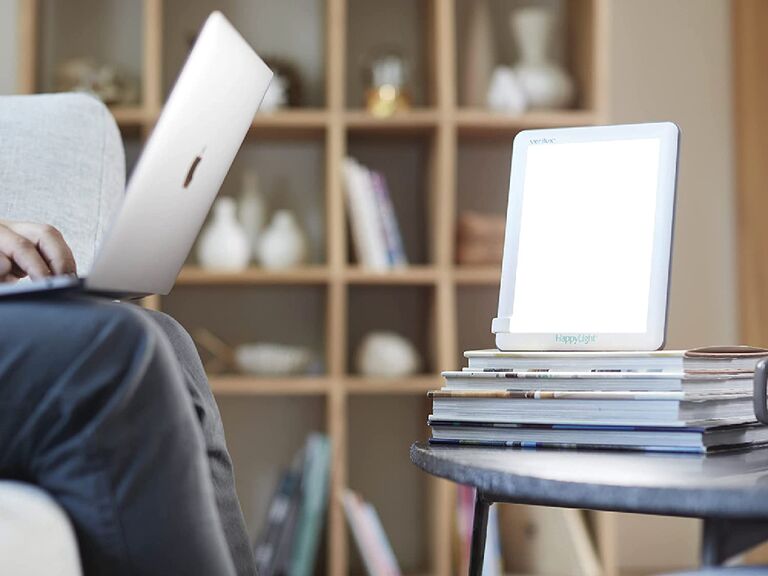 You might find that it's challenging to get your fix of Vitamin D while working from home, especially if your office doesn't get a lot of natural light. As an alternative, try registering for this light therapy lamp. It delivers up to 10,000 lux of effective, safe, and natural light therapy, which can help boost your mood, increase your energy, and enhance your focus. (In other words, a life-changer for everyone in a work from home office setup.)
A Luxe Candle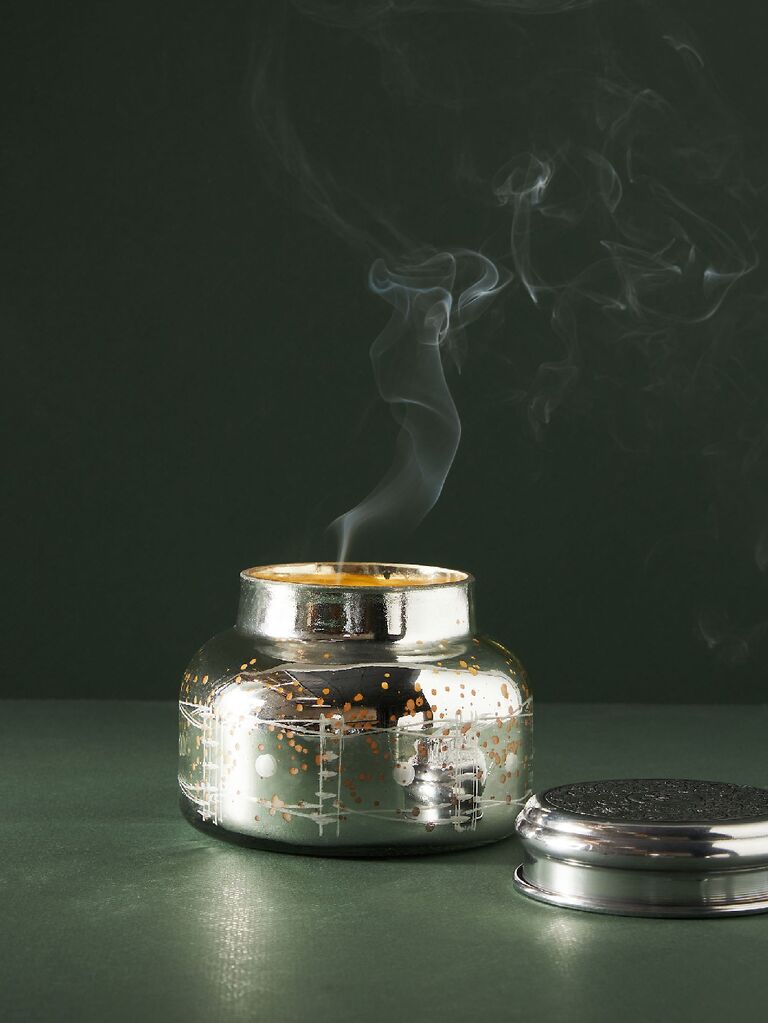 Fact: Working from home is so much better when you have an amazing candle burning in your office. We're obsessed with all of Volcano's candles, but the Capri Blue scent is particularly indulgent. (Psst: If you love the smell of an Anthropologie store, this scent is it.)
Marble Coasters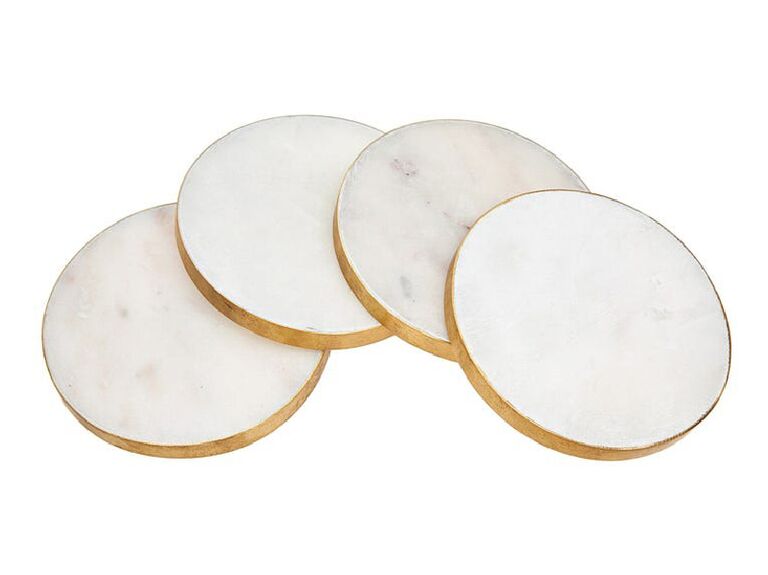 Don't let your afternoon La Croix leave a ring of water on your desk. Keep your workspace condensation-free by setting your drinks on a chic coaster. This marble print will give your WFH space a high-end, luxurious feel.
Gift Cards to Your Favorite Decor Stores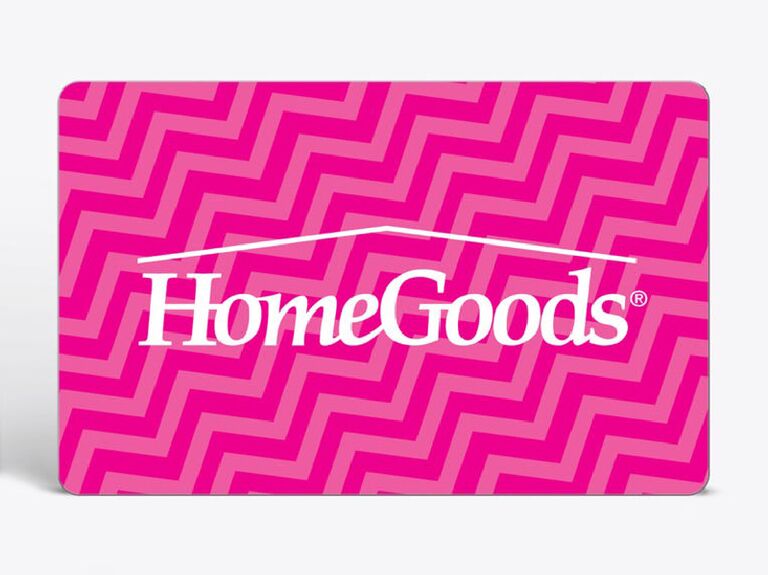 Investing in great work from home furniture is half the battle. Once the essentials are in place, you can truly transform your work from home office setup through decorative accents. We recommend registering for gift cards to your favorite decor stores, like HomeGoods, Lowes or The Container Store. No one knows your interior design style quite like you do, so registering for gift cards offers the flexibility to curate your space with artwork, accessories, and knick-knacks that make you smile every time you get to work.