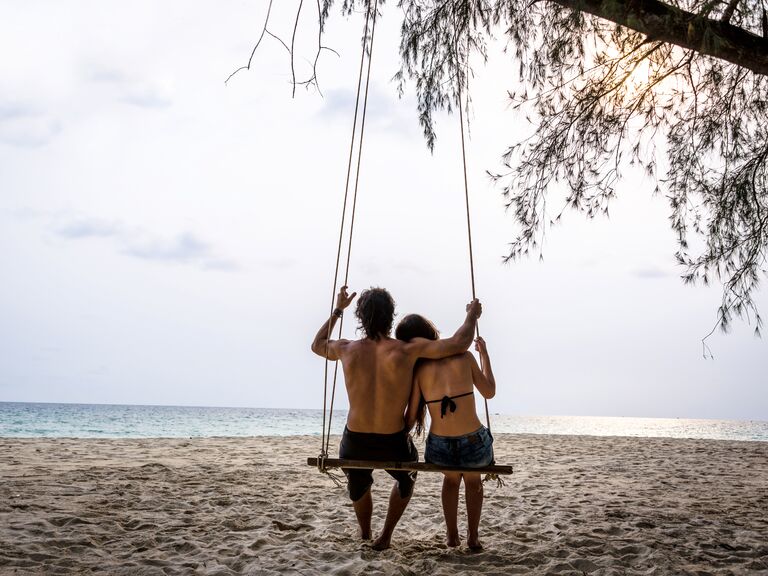 The whole idea of a honeymoon is relaxation, relaxation—and oh, did we say relaxation? (Hello! No more wedding planning.) With that mantra in mind, showing up to paradise on pins and needles just defeats that purpose. To ensure your getaway is as stress-free as possible, check out our insider tips and tricks for getting outta dodge like a pro.
1. Book Now; Pay Later
Preplanning is the name of the game: We recommend getting the major honeymoon details set 6 to 8 months before the wedding. But while you're excitedly planning your dream trip, don't let the price tag for airfare and hotel reservations put a damper on things. As long as the cost is ultimately within your budget, go ahead and book the res instead of stressing and waiting for an unlikely price drop. If you use PayPal credit, you can get 6 months free financing and divide those big-ticket purchases into equal monthly payments so you won't have one huge bill waiting for you when you get home—and back to reality. Same goes for excursions and activities on your trip that tend to fill up fast. Get in touch with your hotel or travel agent and book well ahead of schedule so you don't end up stuck on the sand.
2. Rely on the Experts
While a DIY route may sound spontaneous, going it alone can leave you a little lost. A seasoned travel agent (many specialize in honeymoons) has the knowledge to carefully curate your entire trip to be as scheduled or as off-the-cuff as you'd like. Your hotel concierge is another go-to resource. He or she will know the ins and outs of the local area, can book tickets and tours, and give you intel on what to see and what to skip. Bonus: Most of these services are completely free.
3. Take Advantage of Tech
When it comes to honeymoon travel, your smartphone might just be the most useful item in your carry-on. Before you leave, download apps such as language and translation tools, restaurant reviews and transportation maps to help make your trip as hassle-free as possible. Want to avoid carrying your credit or debit card around as you scope out the resort and surrounding town? Download the PayPal app to instantly (and securely) pay for activities and restaurant bills.
4. Plan How You'll Get Around
There's nothing more overwhelming than arriving to a destination and not knowing how to get to where you need to go. By booking pre- and post-airport transport you'll be delivered safe and sound—and save time worrying about those details once you arrive. Whether you're securing train or ferry tickets or lining up airport transfers online, you can usually check out and pay with PayPal, which is an especially sweet bonus if you've set up a honeymoon registry account. And if you're planning to rent a car in a foreign country, don't forget to apply for driving permits (and to double-check those insurance options in advance).
5. Pre-Pack (Perfectly)
There's no better way to guarantee panic better than packing at the eleventh hour, so start early. To get organized, download our master honeymoon packing checklist to ensure you don't forget any of the important stuff. Packing itself is an art. By knowing a few sneaky ways to save space, you can avoid getting hit with fees for an overweight suitcase and leave room to bring back gotta-have-'em souvenirs. Some simple tricks: Stuff your shoes with toiletries and roll your clothing to fit into every nook and cranny of your bag, which can also help prevent wrinkling. Be sure to carry on enough essentials for one day in the event of lost luggage—plus, you'll definitely want your swimsuit handy if you arrive early and your room isn't ready.
6. Use the "Just Married" Card
You're married (woot!) and the honeymoon is the first chance you get to brag about it—and doing so will often come with perks. Inform your hotel before arriving and you might be surprised to find your standard room magically becomes a deluxe suite. The same goes with restaurant reservations and excursions. Who knows what kind of fun freebies or upgrades you might get! You can thank us when you get back.

The Knot and PayPal have teamed up to bring you Plan Like a Pro, a sponsored series full of insider tips and tricks to help you plan an amazing wedding. To learn more about PayPal's services, check out PayPal.com.