Thoughtful 16-Year Anniversary Gifts for Him, Her and Them
From luxury candles to elegant silver servingware, check out the best traditional and modern 16th anniversary gift ideas for your one and only (or your favorite couple).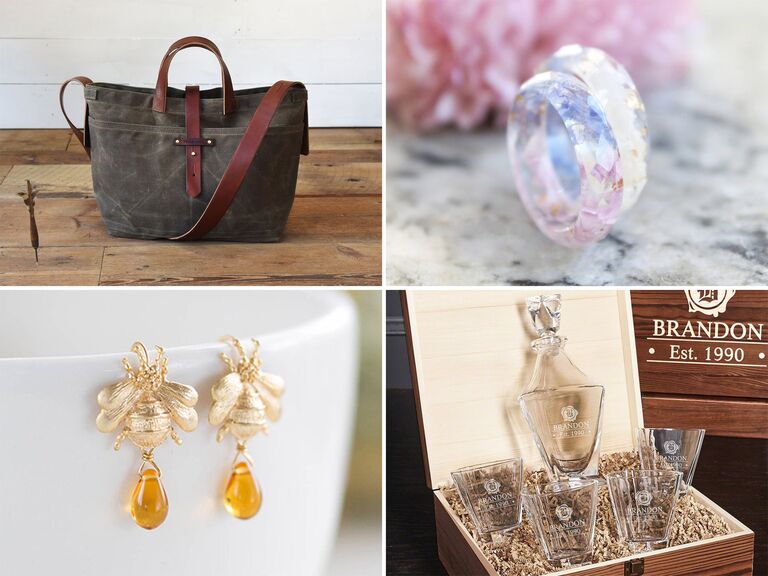 We have included third party products to help you navigate and enjoy life's biggest moments. Purchases made through links on this page may earn us a commission.
Congratulations to you, or your favorite pair, on the 16th wedding anniversary! After 16 years of coming up with the perfect present, you might think your well of brilliant anniversary gift ideas has run dry. We're here to change your mind. Check out these 40 fresh 16-year anniversary gifts—ranging in style, theme and price—and celebrate your husband, wife or the couple with an awesome token of your love.
What is the 16-year anniversary gift?
The traditional 16th anniversary theme is wax (hello, luxe candles), and the modern gift is silver holloware. Don't let the word "holloware" scare you. It just refers to metal—in this case, silver—tableware or servingware that isn't flatware. Basically, bowls, trays and even teapots are all fair game—but you can also take some liberties and give silver accessories or silver-hued decor instead.  
Wedding anniversaries are also associated with gemstones, colors and flowers, giving you even more traditional options to choose from. To celebrate the 16th anniversary, consider something made from peridot, emerald green-hued or inspired by statice (aka sea lavender) blooms.
All that said, you definitely aren't required to keep with tradition for the 16th anniversary. In fact, we've included a whole bunch of alternative ideas in our roundup right ahead. Really, it's all about choosing something special you know your S.O. (or the dynamic duo you're shopping for) will love. 
In this article:
16-Year Anniversary Gift Ideas for Her
If you feel like you've already given your wife a million candles or silver trays don't speak to her, don't fret. Here are some more personalized 16th anniversary gift ideas she'll absolutely adore.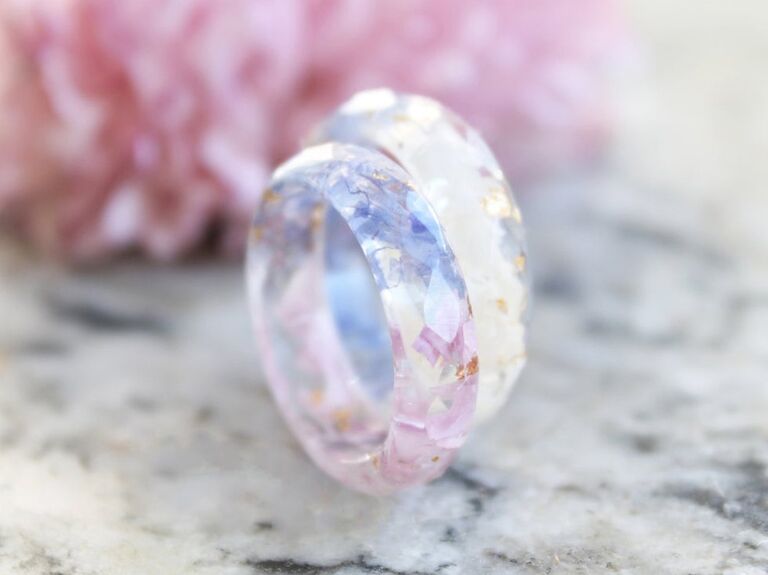 How about honoring a lesser-known anniversary theme, like the 16th wedding anniversary flower? This gorgeous resin ring was made with dried sea lavender petals and gold flakes. It's truly one of a kind. (FYI: The seller makes lots of other statice jewelry, including earrings and necklaces, too.)
LivinLovin two-sided resin ring with pressed petals and gold flakes, $25, Etsy.com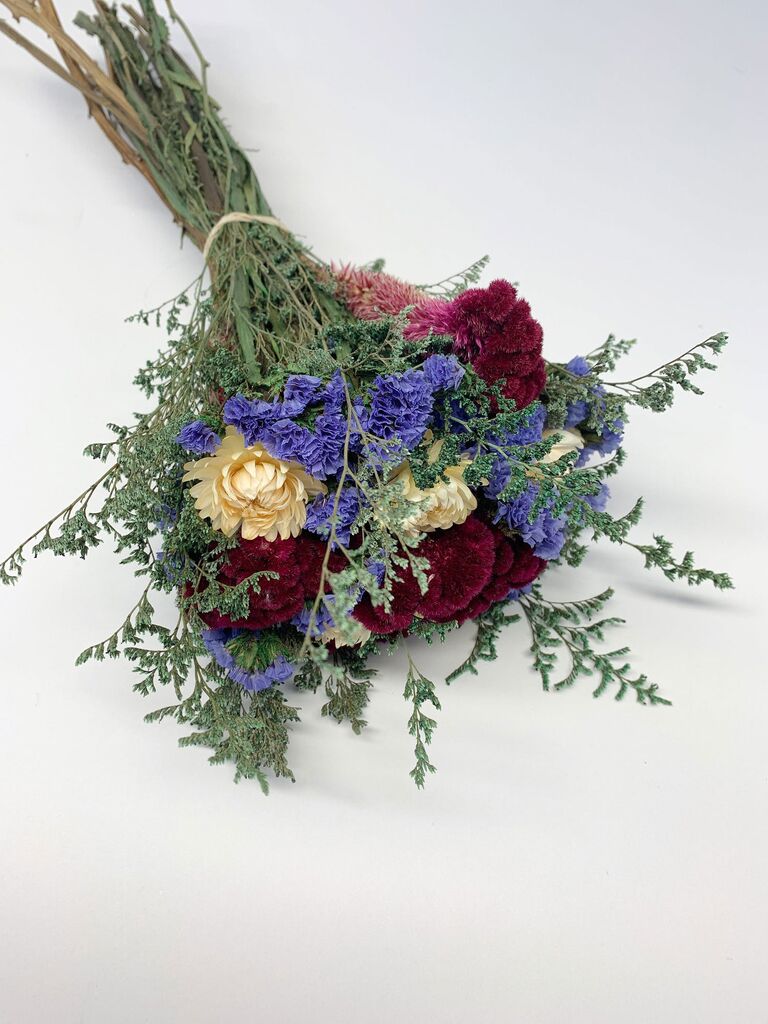 Or, buy her this colorful bouquet with statice, coxcomb, strawflower and caspia. It's extra special because it's dried, which means it'll last way longer than fresh blooms without losing any of the vibrancy or beauty.
Grey Peony Boutique dried bouquet with statice, from $38, Etsy.com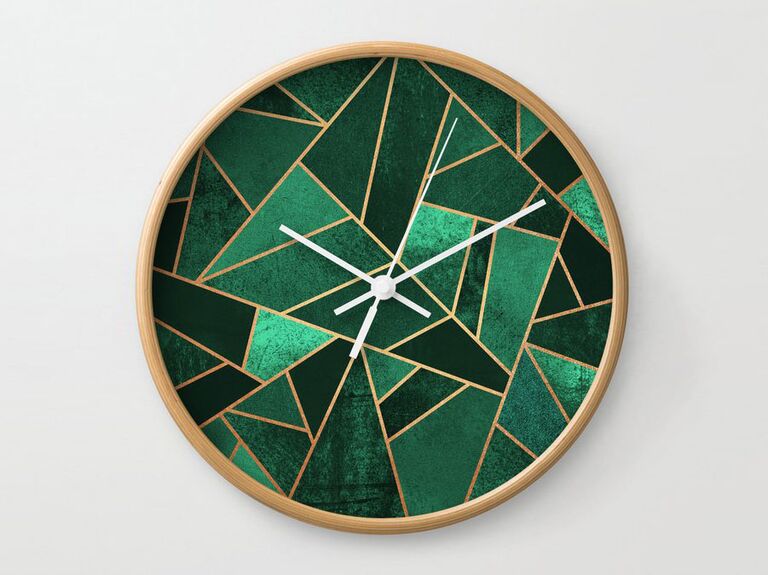 This stunning emerald green clock will upgrade her office—and earn her tons of compliments. It's the perfect way to tell her you still love her, even after all this time. Plus, it's a handy way to incorporate the emerald tones of the 16-year anniversary's traditional color.
Elisabeth Fredriksson emerald and copper wall clock, $32, Society6.com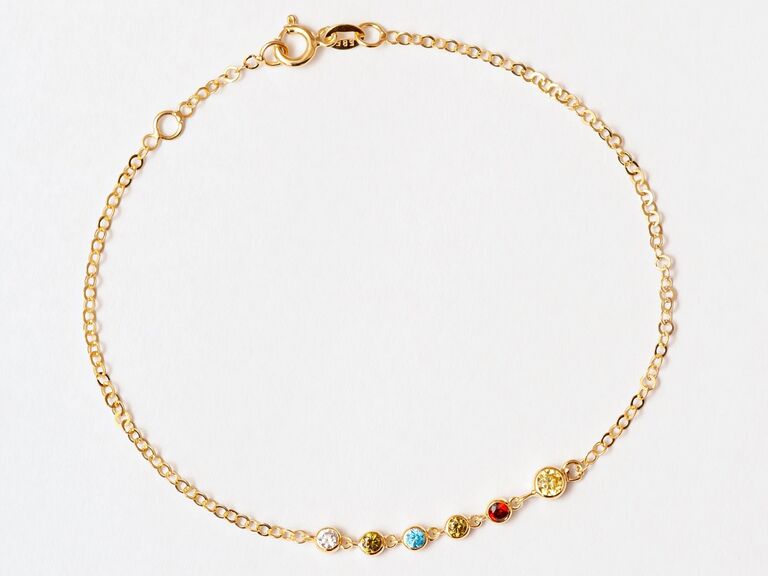 Searching for something really thoughtful? Look no further than this customizable bracelet. Personalize the piece with both your birthstones, plus the 16th anniversary gem, peridot (it's labeled as the August option), as the biggest stone. It's sweet and über sentimental, since it represents your union and the year you gave her the accessory.
Goldstore Jewelry 14k solid gold trio birthstone bracelet, from $131, Etsy.com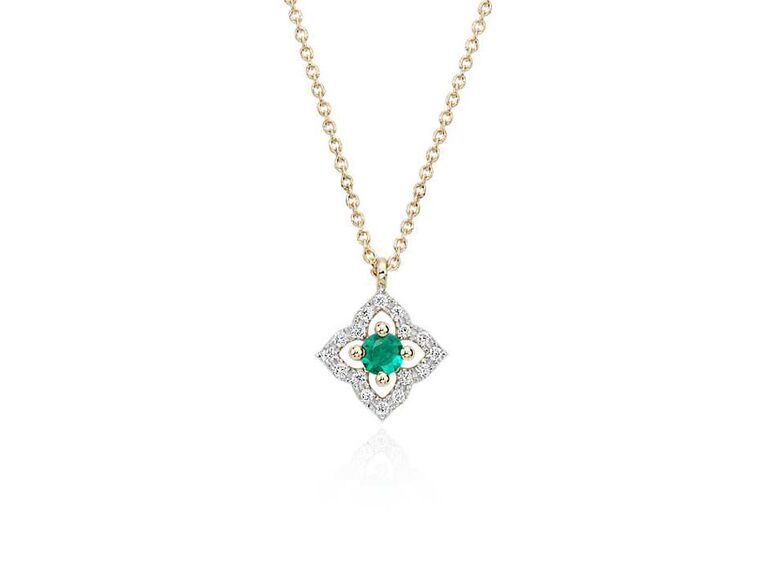 Jewelry is always a good idea. Gift your wife an elegant pendant necklace marked with a regal emerald stone. It'll look beautiful all on its own, as the floral shape is simple yet eye-catching.
Blue Nile petite emerald and diamond floral pendant, $380, BlueNile.com
16-Year Anniversary Gift Ideas for Him
A 16th anniversary gift for him doesn't need to be inspired by wax or silver holloware to be special. See a few unique gift recommendations for him, plus some picks spotlighting this milestone's gem and color.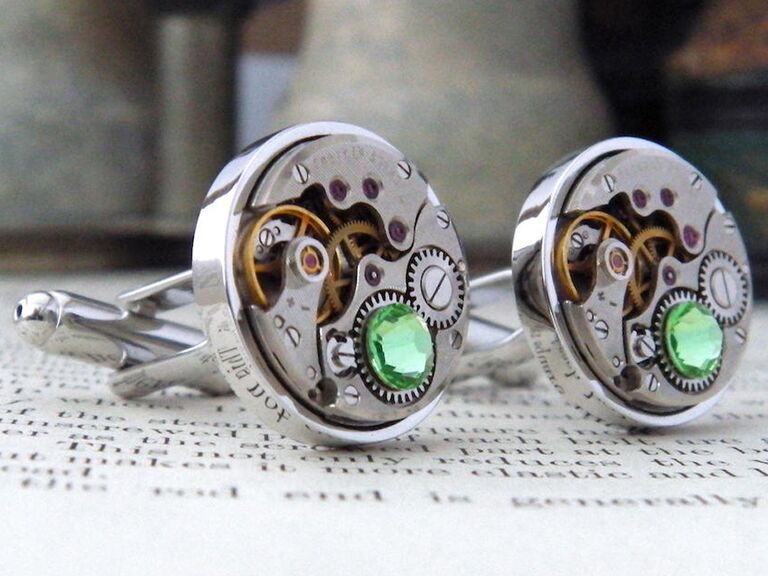 If he loves watches, he'll obsess over these too-cool cuff links. They're made from—you guessed it—vintage watch gears. Plus they contain a peridot-inspired crystal.
Jamlincrow steampunk cufflinks with vintage watch mechanisms & light green "peridot" crystals, $53, Etsy.com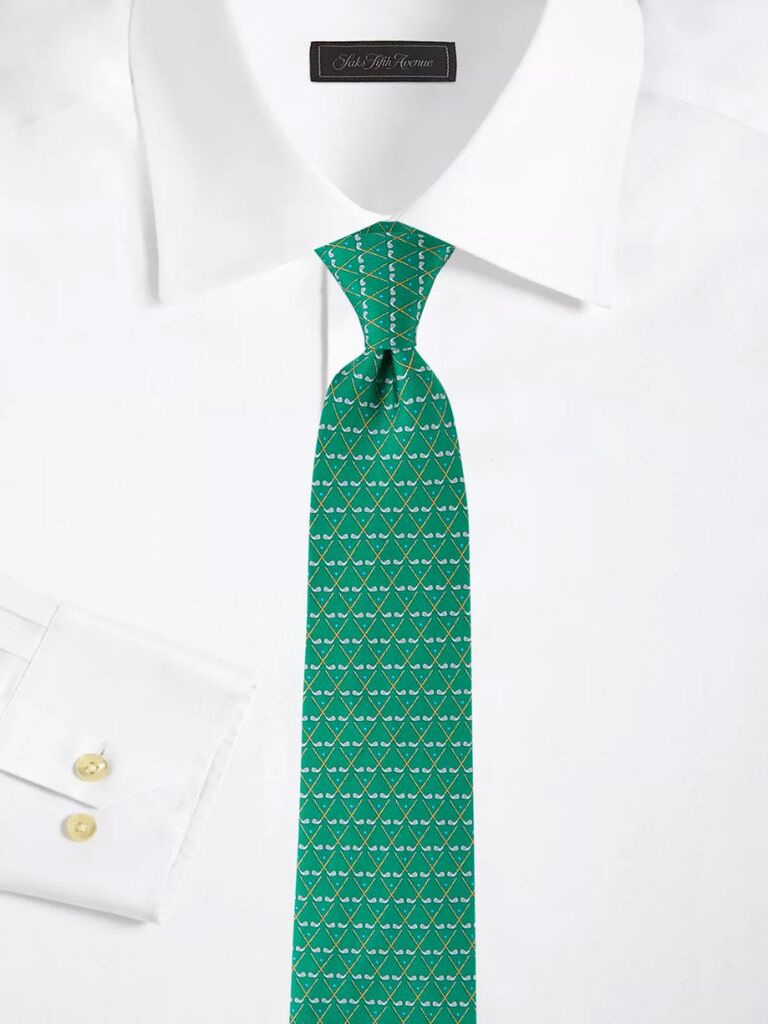 Give him the gift of utter confidence with the help of a power tie. This silk accessory comes in emerald green (with a subtle golf print!) and exudes playful sophistication.
Salvatore Ferragamo Putters silk tie, $190, SaksFifthAvenue.com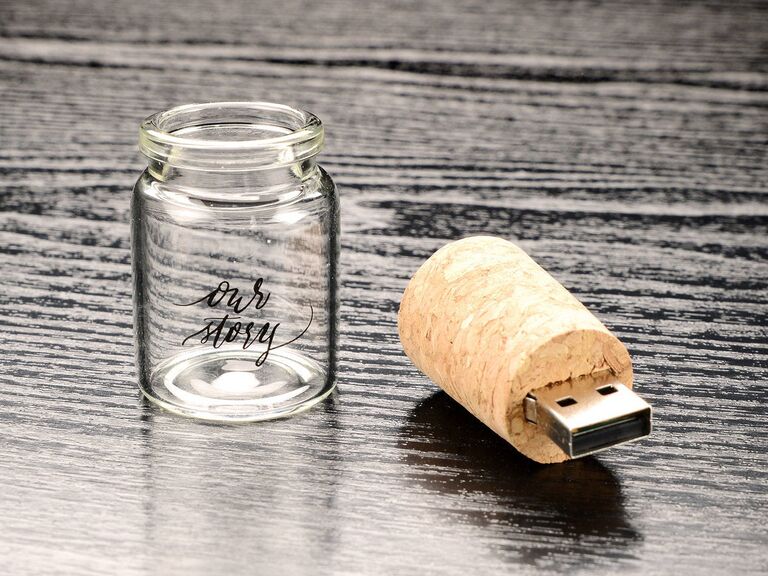 Load this sweetly packaged flash drive (naturally, we recommend the 16GB size) with memories from your relationship.
Same Day Flash message in a bottle laser engraved Our Story USB flash drive, from $10, Etsy.com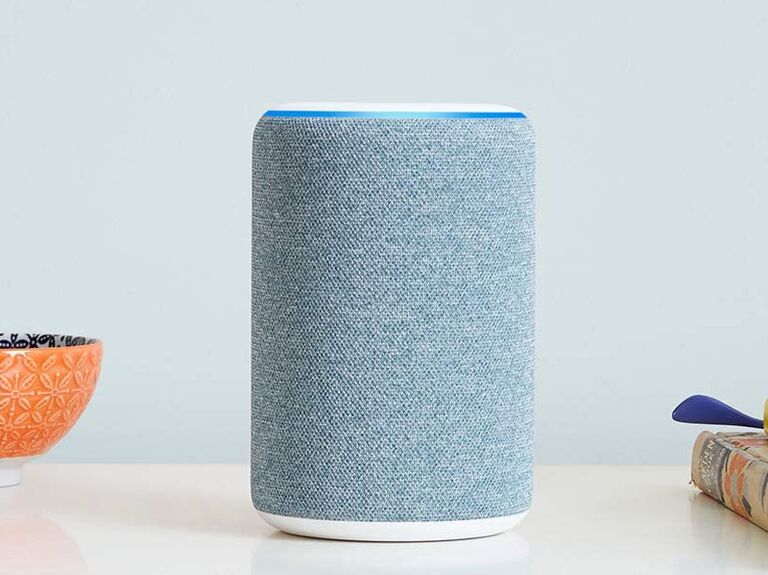 Gift him a smart speaker with Alexa capabilities to help him manage his calendar, catch up on news, play music and tons more. You can even personalize it with the color that suits his tastes—Twilight Blue is one of our favorites.
Amazon Echo 3rd Gen smart speaker with Alexa, $100, Amazon.com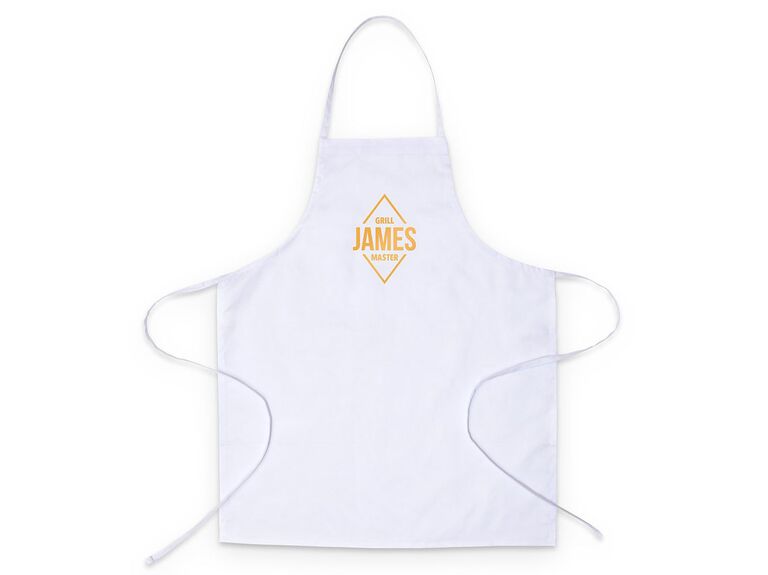 If your husband's a culinary man (or just a messy one), he'll love a customized apron to wear on nights at the stove or by the grill.
The Knot Shop adult's personalized kitchen apron in Diamond Emblem, $14, TheKnotShop.com
16-Year Anniversary Gift Ideas for Them
From cool countertop amenities to a generous supply of wine, we've got a few great ideas for the couple on their 16th wedding anniversary that go beyond traditional options.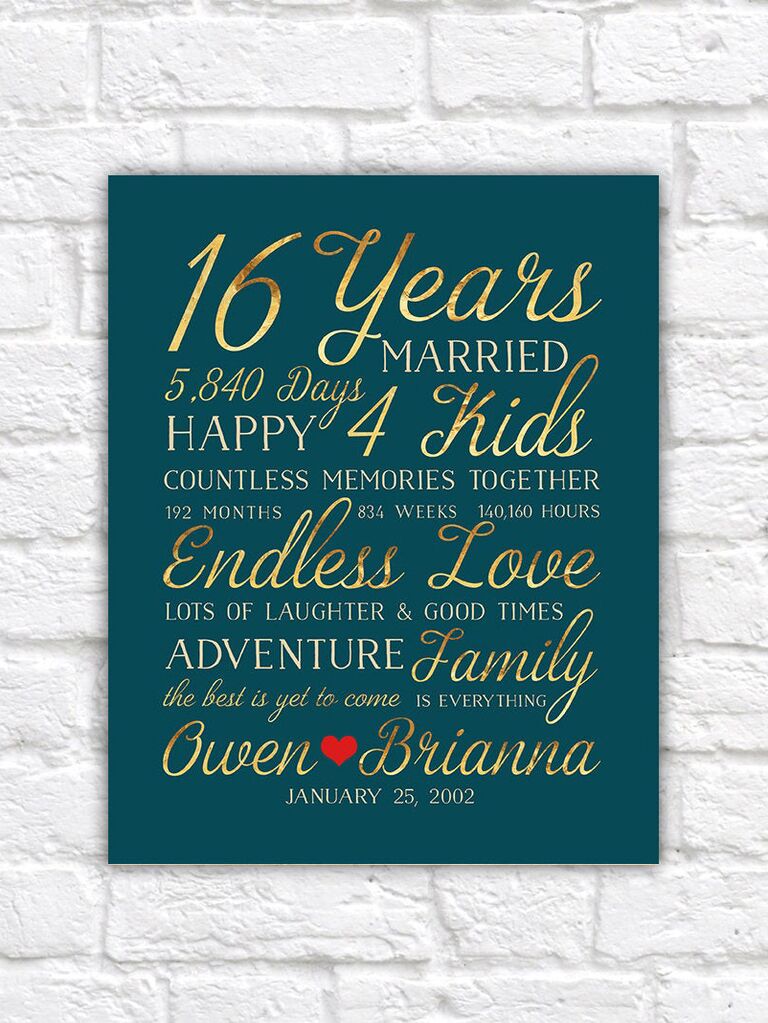 Customize this emerald green print with meaningful stats about their marriage. Then, make it a tradition by giving them a new one every year from now on! That's right—we just gave you a lifetime of anniversary gift ideas.
Wandering Fables 16th wedding anniversary gift type art, from $28, Etsy.com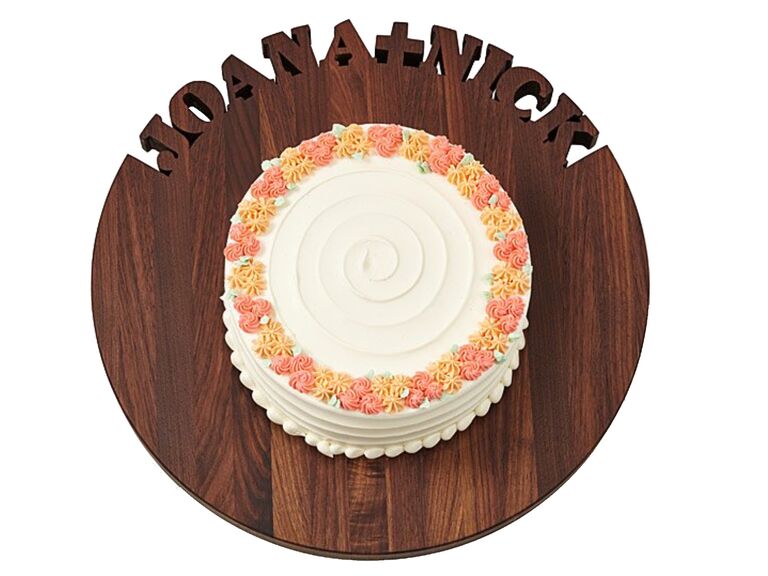 Nothing completes a tabletop quite like a Lazy Susan. Personalize the couple's rotating tray with their last name or first names to make it extra special.
Kim Strassner and Mike Pararas custom Lazy Susan, from $194, UncommonGoods.com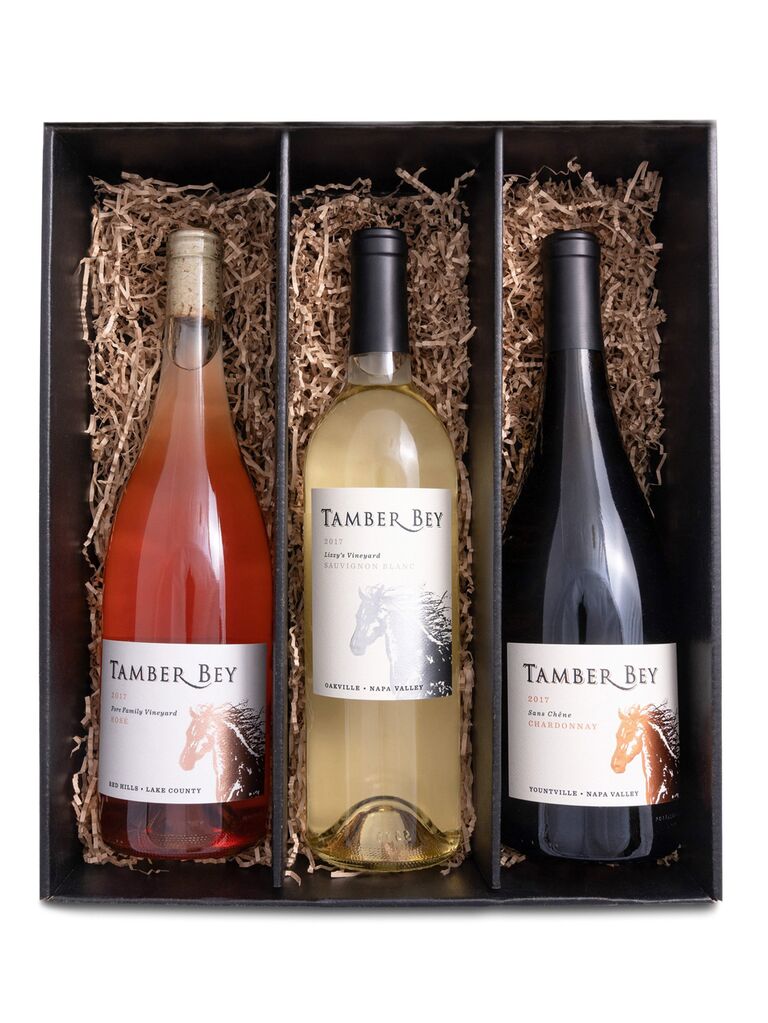 Say cheers by gifting them three fancy bottles of vino. Bonus: This wine supports a horse rescue, which is extra meaningful if they're animal lovers. (And if your loved ones aren't huge wine drinkers, take a look around Gifts for Good to find the perfect gift for them that's also connectected to a cause they support.)
Tamber Bey Vineyard Series trio, $100, GiftsforGood.com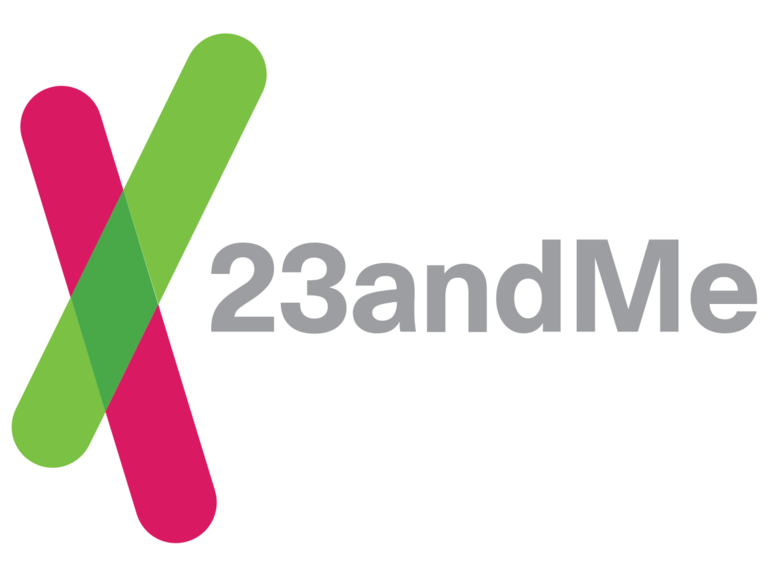 Here's an unexpected anniversary gift for the couple who's constantly fascinated by their family histories. Gift them each a 23andMe ancestry kit to help them uncover their personal heritage, distinctive traits and everything else that makes them unique.
23andMe ancestry kit, from $99, 23andMe.com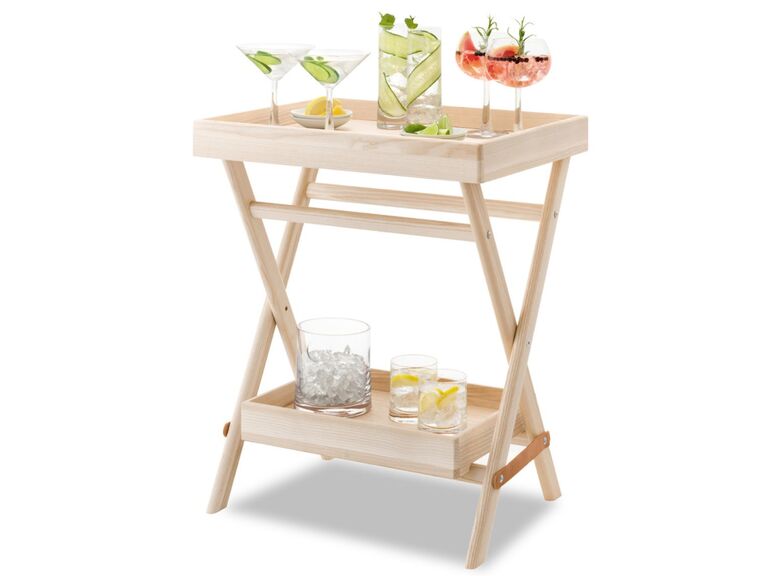 Make entertaining in style easy for the couple with a special serving stand. It even comes with a complete selection of drinkware and bar tools.
LSA 14-piece Gin Grand serving set & ash stand, $399, SaksFifthAvenue.com
Wax Anniversary Gifts for Her
Candles are always a welcome gift idea, but let your imagination take over if a candle seems too safe. For these gift ideas we found everything from literal wax gifts to beeswax-infused products and even bee-themed presents.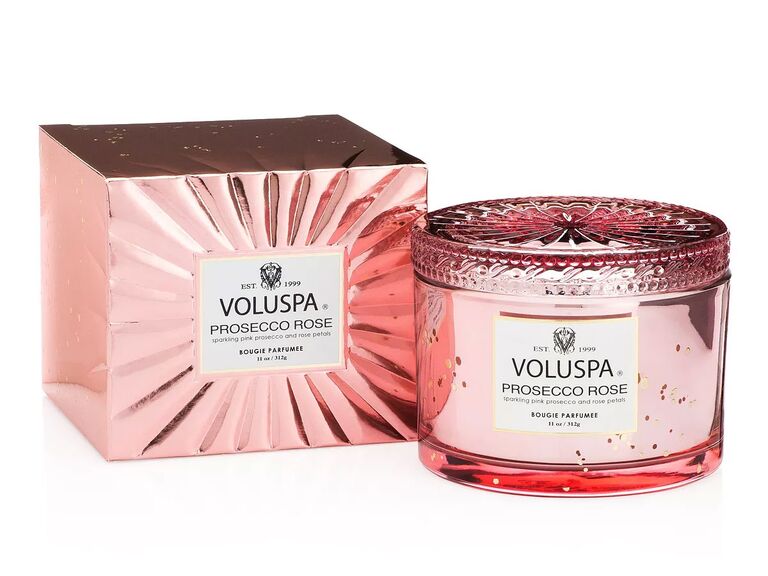 This decadent candle will fill your wife's favorite room with the sweet scent of roses and sparkling prosecco. How fun!
Voluspa Corta Maison Prosecco Rose 11-ounce candle, $32, Bloomingdales.com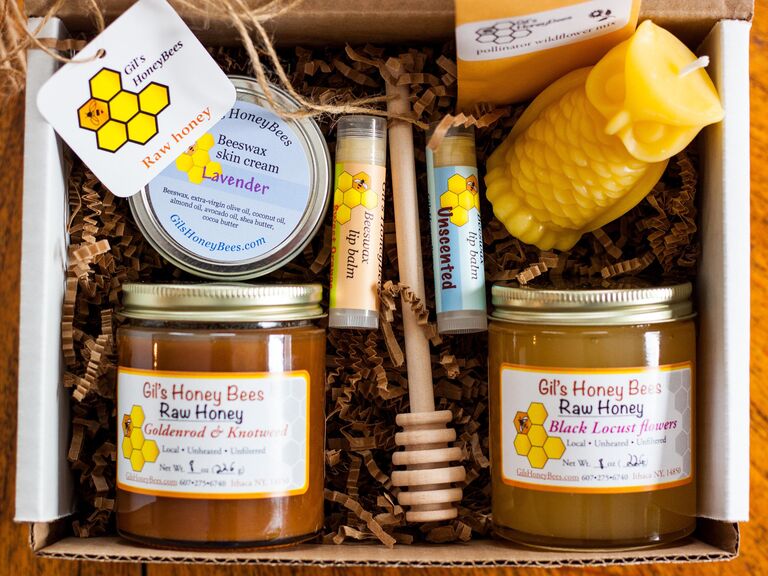 This thematic gift box is filled with lip balm and a candle made from beeswax, plus farm-fresh honey products too. It's a sweet present perfect for your sweetie. Bonus: You can choose the scent of the luxurious skin salve.
Gil's Honey Bees honey beeswax gift set, $48, Etsy.com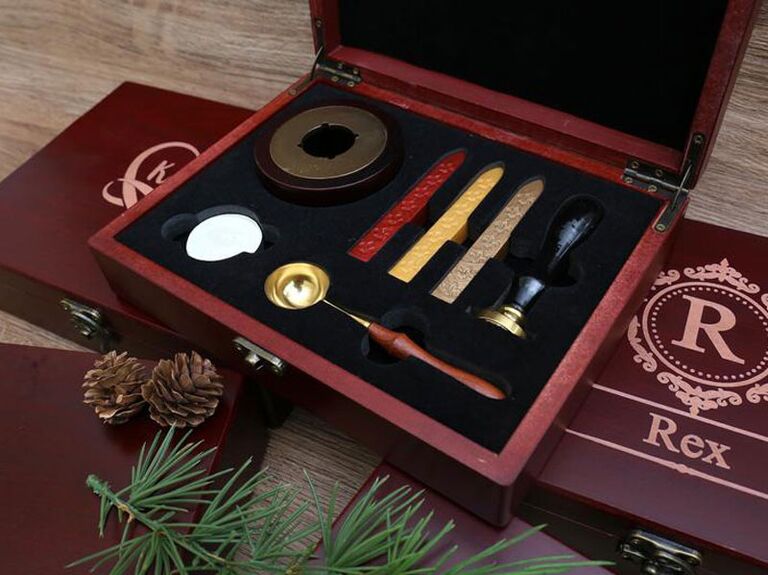 Add a timeless touch to her stationery suite with the help of this sealing wax kit. You can even engrave her name or initials on the box for a 16-year anniversary gift she'll want to show off. 
Emily Craft Supplies custom wax seal and stamp kit, from $15, Etsy.com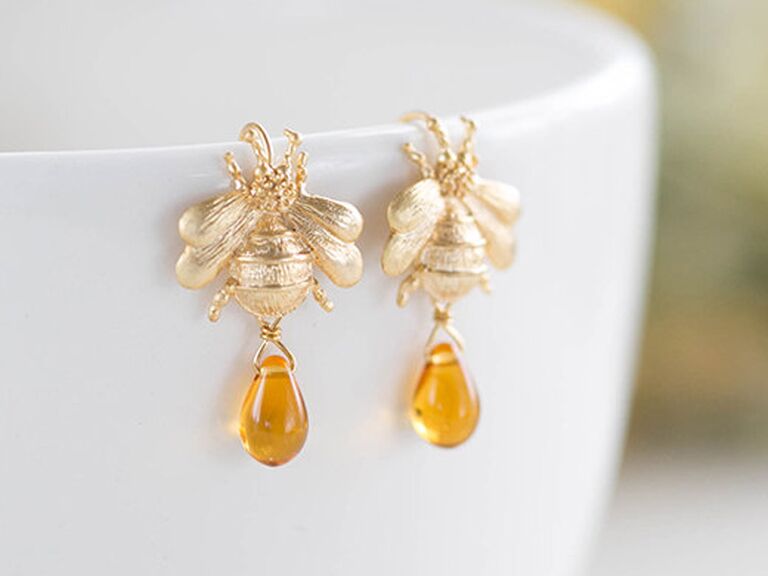 How elegant are these bee earrings? They're a playful nod to the wax anniversary and also have golden (honey-like!) glass drops.
Le Chaim bee gold topaz honey glass drop earrings, $31, Etsy.com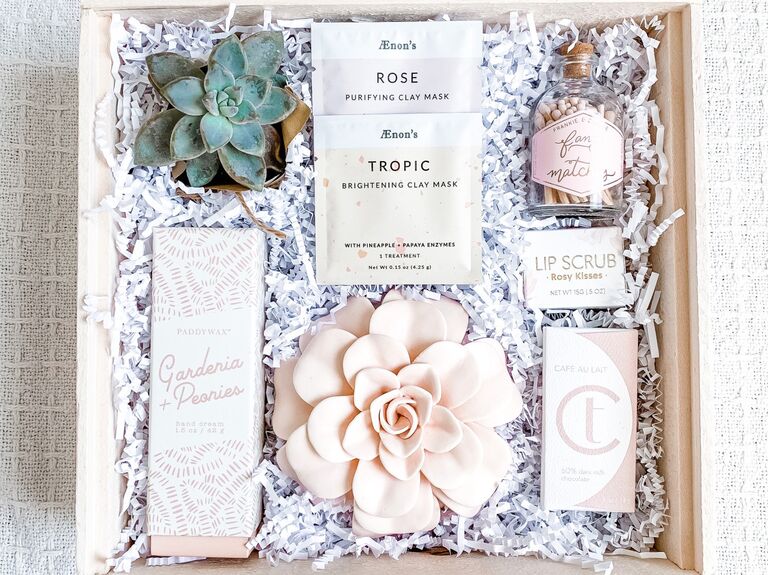 Take the candle gift idea a step further and send your wife a curated gift box stuffed with pampering spa products, a refreshing candle and a cute succulent.
Box + Bow large rosé gift box, $104, BoxandBowShop.com  
Wax Anniversary Gifts for Him
Waxed leather and canvas gifts are a good route to take for your husband, but we also threw in an awesome spicy honey that's on theme by association (so it totally counts).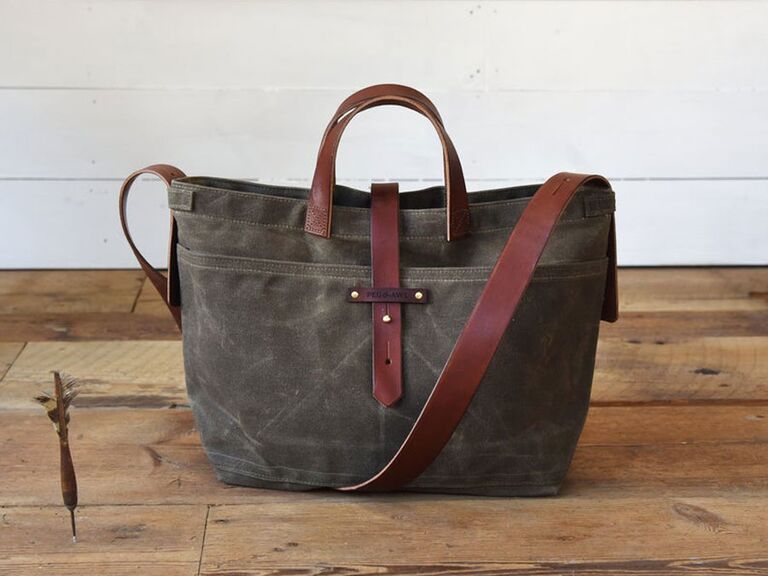 An attractive backpack designed with soft leather and waxed (read: durable) canvas can replace his old briefcase or fit just enough for overnight trips.
Peg and Awl waxed canvas bag, from $250, Etsy.com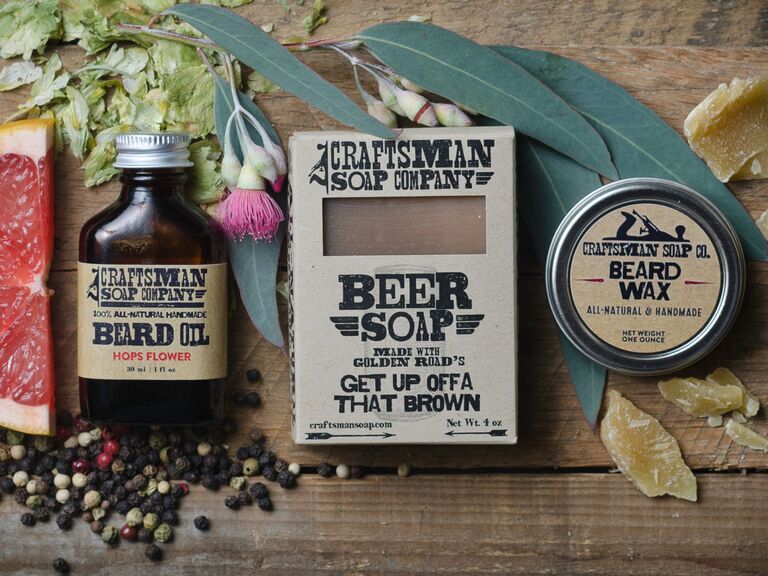 Any man who takes meticulous care of his scruff needs this all-natural facial hair care set that comes with soap, beard oil and beard wax. What really sets the gift set apart are the fun scent options—there are even beer-themed ones.
Craftsman Soap Company deluxe beard kit, $39, Etsy.com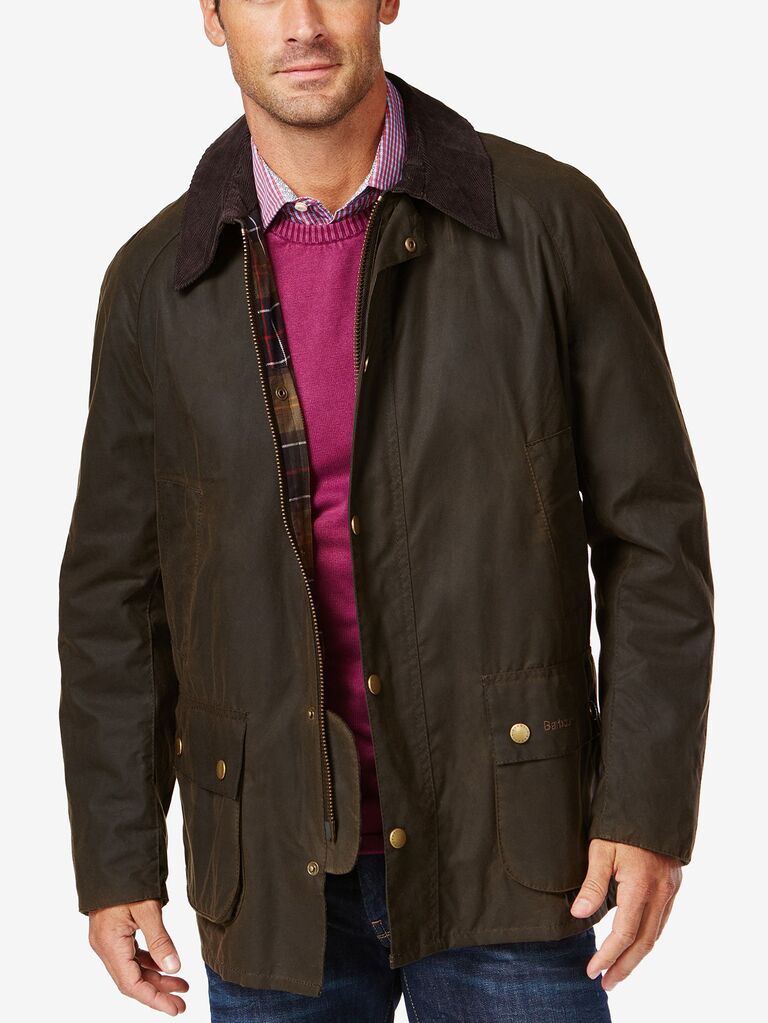 Your husband may already have a heavy winter coat for the coldest days of the year, but this medium-weight jacket is just right for those off-season days he never has the right outerwear for.
Barbour men's Ashby wax jacket, $415, Macys.com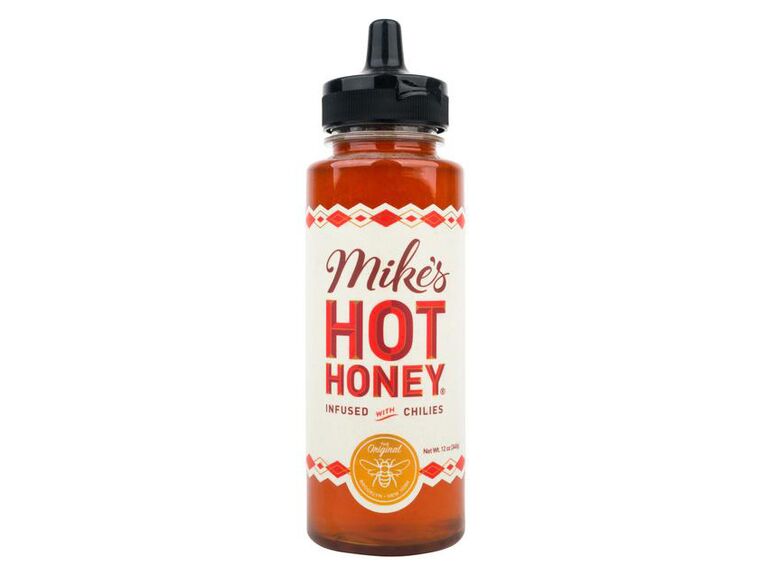 If your husband loves to add some kick to his meals, this specialty small-batch condiment is exactly what he needs to liven up cocktails, pizza or even cheese plates.
Mike's Hot Honey 12 ounces of hot honey, $12, Mouth.com
Upgrade his at-home bar with this engraved whiskey decanter and glasses set. When he's not using it, he can keep his new glassware safe in the monogrammed wooden box.
Home Wet Bar wax seal engraved Bishop whiskey decanter and glasses, $170, Etsy.com
Wax Anniversary Gifts for Them
What's the ultimate wax anniversary gift? Tickets to a famous wax museum, of course. We've got those, plus more of the best traditional 16th anniversary gift ideas for them, below.
This cute, custom candle smells like champagne (how celebratory) and features a map of a special place (like their wedding location) plus their names and anniversary date. Aww!
Sandrine Froehle anniversary map candle, $45, UncommonGoods.com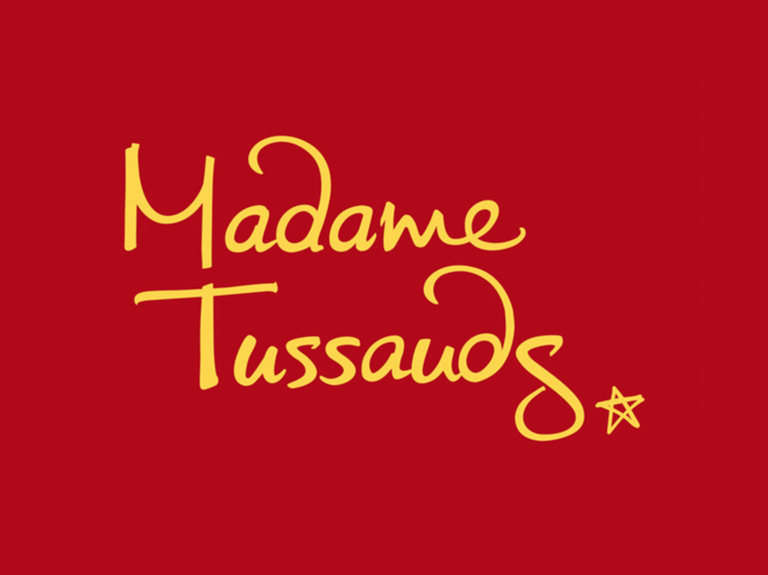 Take the wax anniversary theme all the way with a pair of tickets to Madame Tussauds wax museum.  
Madame Tussauds museum tickets, from $32, MadameTussauds.com
Okay, so it's not exactly wax, but a trip to the spa is also on theme by association. Treat the couple to a much-deserved couples treatment of their choice by presenting them with a versatile gift card.
Spa Week gift card, price varies, SpaWeek.com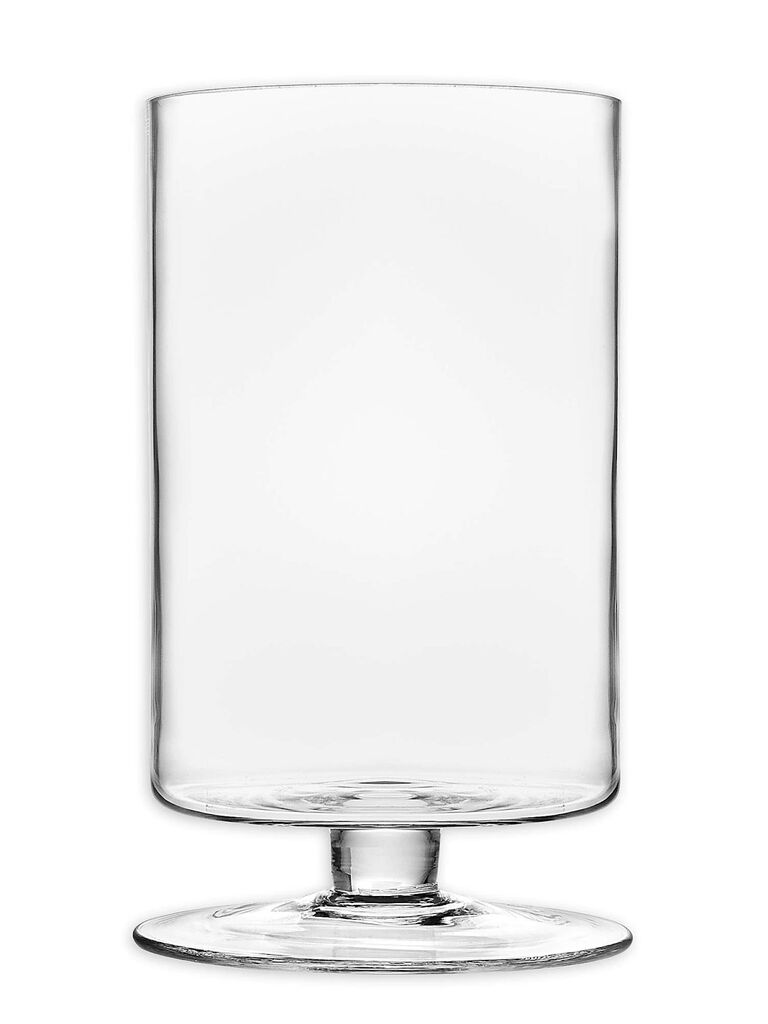 Instead of a candle, consider going in the direction of candle accessories. This elegant glass hurricane candle holder will dress up any space, indoors or outdoors.
Olivia and Oliver small hurricane candle holder, from $30, BedBathandBeyond.com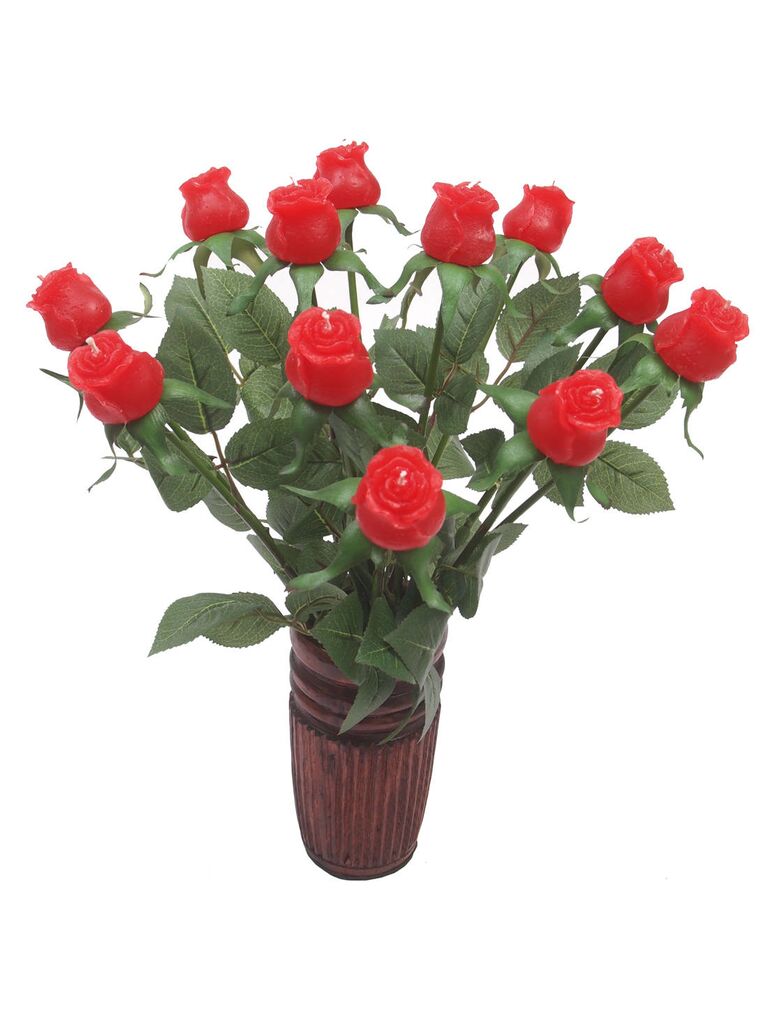 This vibrant bouquet of red roses made entirely of wax will inspire some serious "oohs" and "ahhs" from the couple.
Just Paper Roses 16th wax wedding anniversary gift, $108, Etsy.com
Silver Holloware Anniversary Gifts
The modern 16th anniversary gift might not sound familiar, but you'll actually love all the possibilities. Again, silver holloware refers specifically to silver tableware, but we think silver jewelry and accessories still make the cut.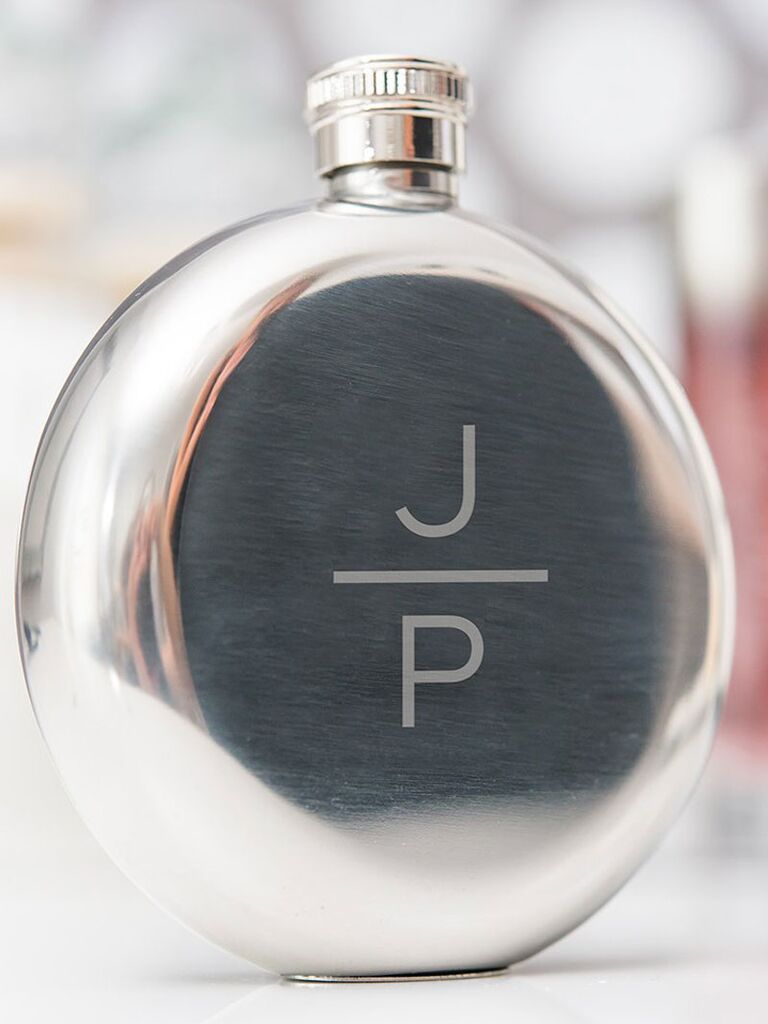 A flask is a classic gift, and this silver monogrammed piece feels like an heirloom in the making.
The Knot Shop personalized silver stainless steel round hip flask in Stacked Monogram Engraving, $18, TheKnotShop.com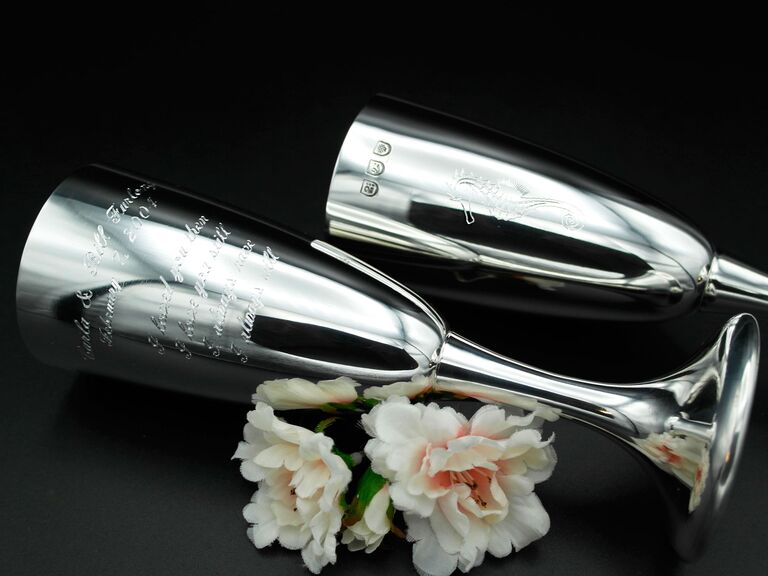 Toast to 16 years with personalized champagne flutes perfect for pulling out on special occasions, including the silver holloware anniversary.
The Copper Mint custom engraved silver flutes, from $102, Etsy.com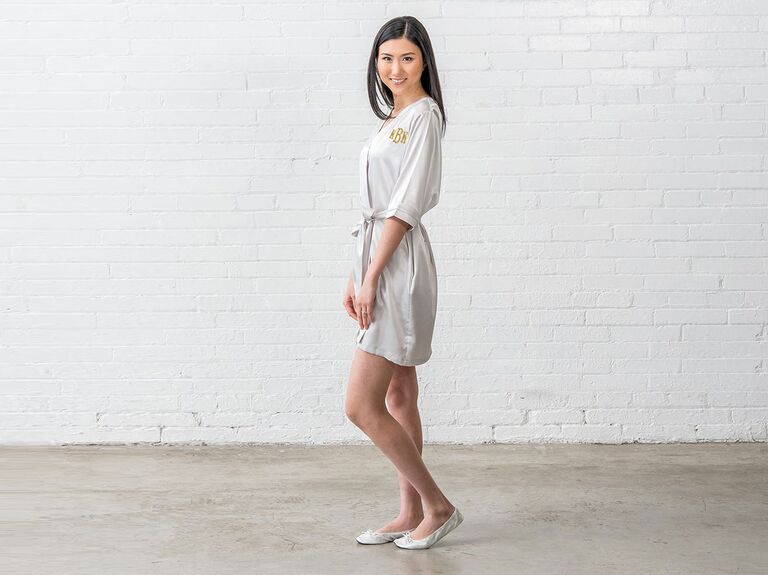 No, this isn't silver holloware, but the color is still thematic. Plus, we have a hard time believing your S.O. won't be happy to receive a luxurious satin robe—especially this personalized one.
The Knot Shop women's personalized embroidered satin robe with pockets in Silver, from $15, TheKnotShop.com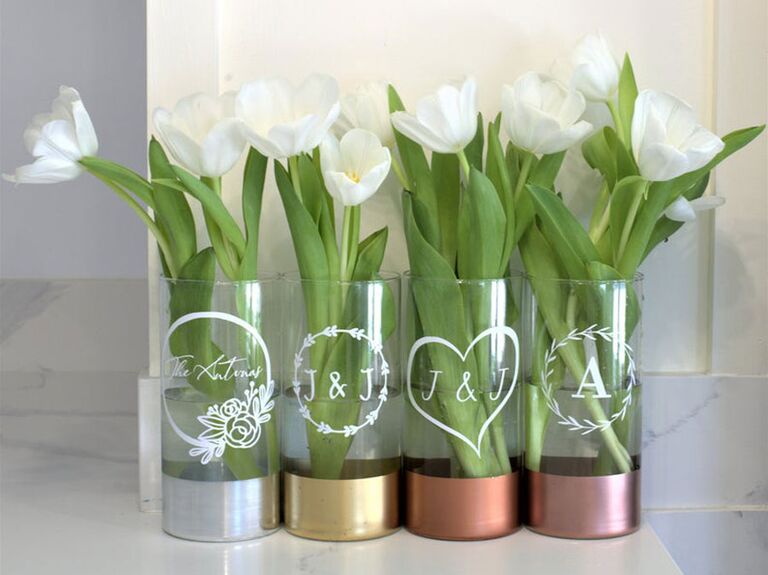 Monogram a silver and glass vase your loved ones can showcase on the dining room table or in the living room. We love the thematic silver color, but you can also get it in gold, copper and rose gold. Bonus points if you bring them flowers to fill it with.
Fleur Studios Co personalized silver vase, from $9, Etsy.com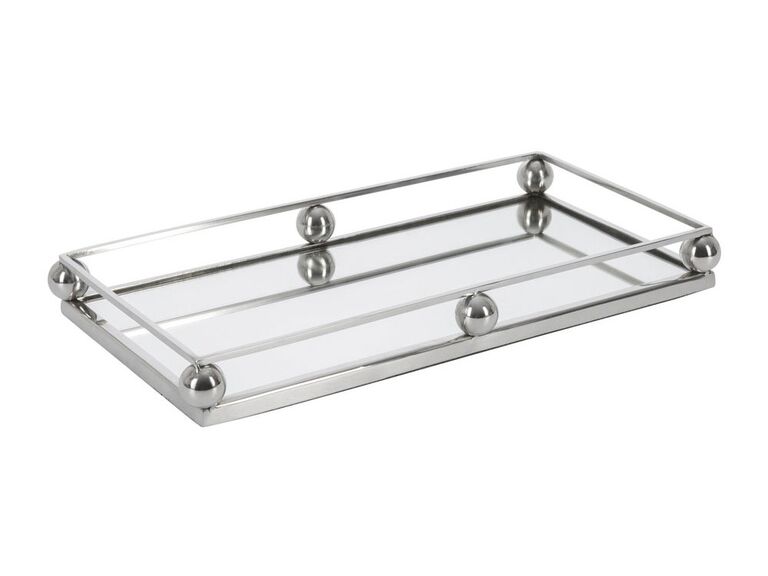 Couples who entertain should never be short on serving trays. Here's a chic silver-colored piece with a shining mirrored finish that'll seriously impress them and guests.
A by Amara silver mirrored tray, $111, Amara.com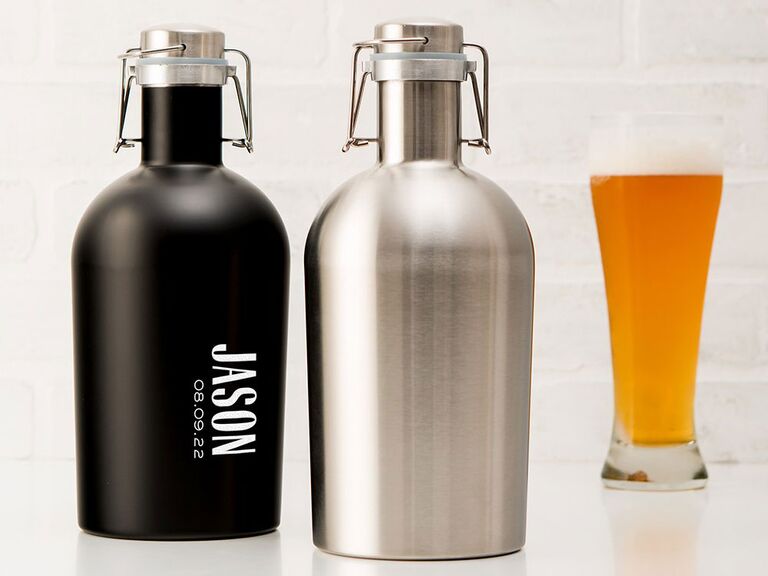 This smart silver growler will let them take their favorite beer home from the brewery or to any event.
The Knot Shop stainless steel flip-top growler, $27, TheKnotShop.com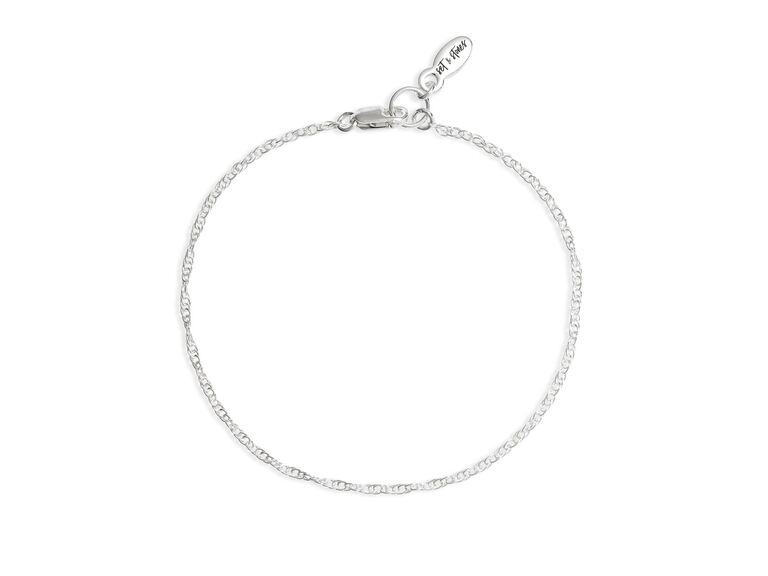 Give the most delicate bracelet to your favorite person. This one is simple yet classic, perfect for layering with other bracelets.
Set & Stones Piper chain bracelet, $63, Nordstrom.com
A good pitcher is part of every full set of servingware and there's nothing more classic than a gleaming silver pitcher sitting on a sideboard.
Godinger Revere 2.5-quart water pitcher, $80, Macys.com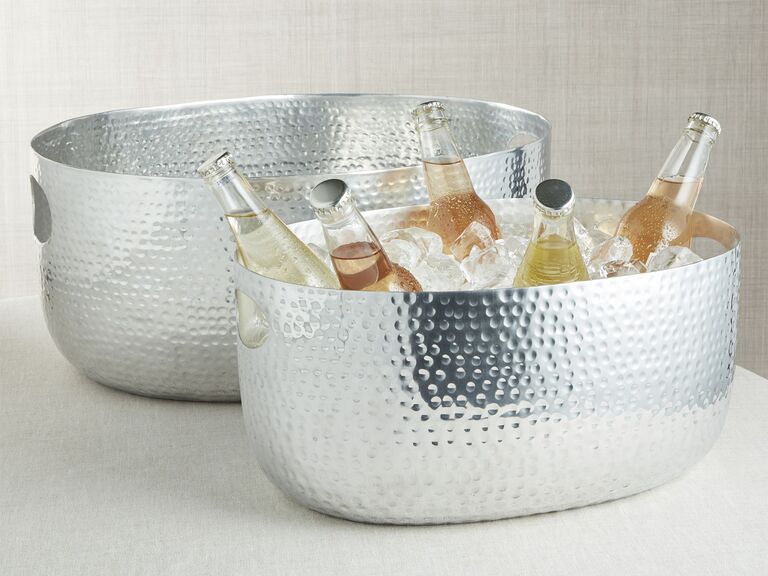 Keep soft drinks and top-shelf bottles ice cold with a stylish, hand-hammered beverage tub, the perfect silver holloware for parties any time of year.
Crate & Barrel Bash silver beverage tub, from $70, CrateandBarrel.com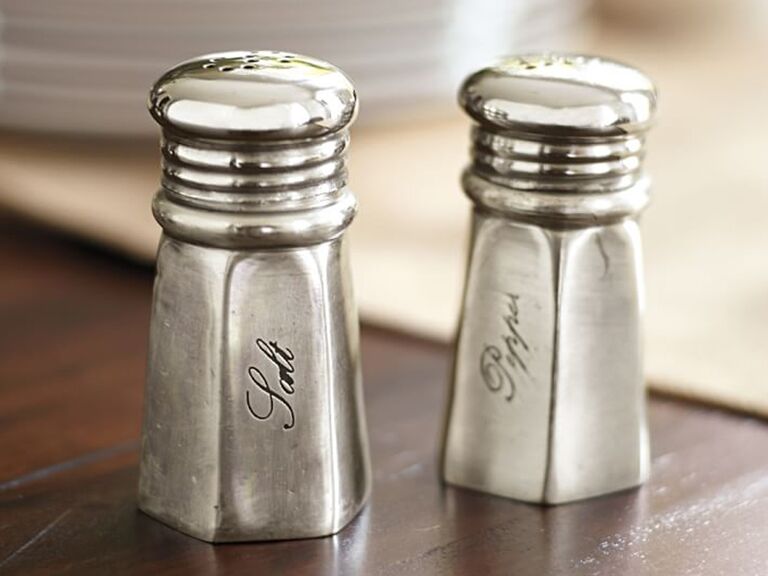 Do you need fancy salt and pepper shakers? No. Will they seriously upgrade your kitchen or dining room table? Yes. So treat yourselves! (And honestly, they look way more expensive than they actually are.)
Pottery Barn antique silver Sentiment salt & pepper shakers, $30, PotteryBarn.com
For more of the best anniversary gift ideas for all the major milestones, check out our comprehensive guide to anniversary gifts by year.