16-Year Anniversary Gifts Guaranteed to Make Them Smile
Celebrate 16 sweet years of marriage with these traditional and modern anniversary gifts.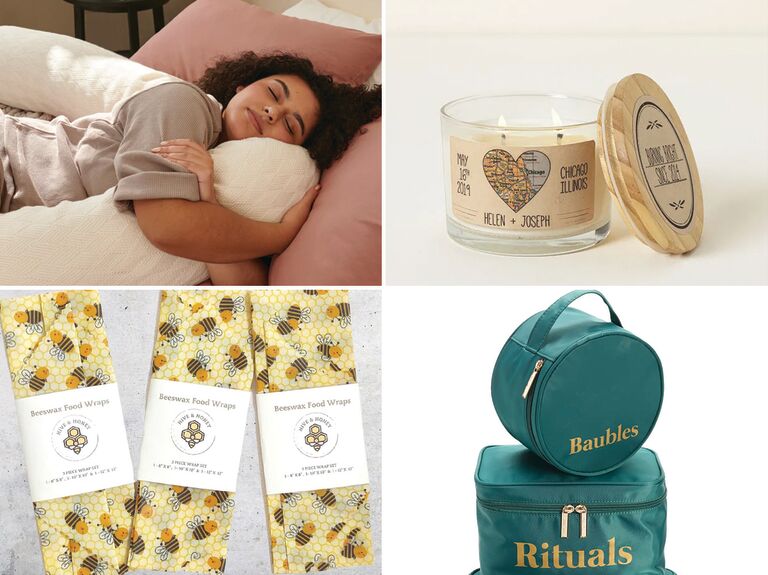 Photo, clockwise: Bearaby, Uncommon Goods, Nordstrom, hiveandhoneyfarm
We have included third party products to help you navigate and enjoy life's biggest moments. Purchases made through links on this page may earn us a commission.
It's time to celebrate! You or your favorite couple have reached 16 years of marriage—a romantic milestone that's certainly worthy of recognition. Picking out a thoughtful 16-year anniversary gift is the perfect way to honor the occasion and show your spouse (or married friends) some love. Whether you want a gift that fits the 16th anniversary's traditional and modern themes or something completely fresh and new, we're here to help. Our list covers a multitude of options, including gifts for your husband, wife or the happy couple.
In this article:
Traditional 16-Year Anniversary Gifts
Wax is the traditional 16-year anniversary gift, which we'll admit doesn't sound very romantic until you consider the concept behind it. Like a candle that burns long into the night, it speaks of the warmth, passion and light two people bring to each other in a happy marriage. If you're still a little unsure about incorporating this unusual material into your gift, just wait 'til you see the great ideas we've come up with. From waxed jackets to beeswax-infused beauty products, our round-up includes plenty of sure-to-please presents (and a few candles, of course).
Anniversary Map Candle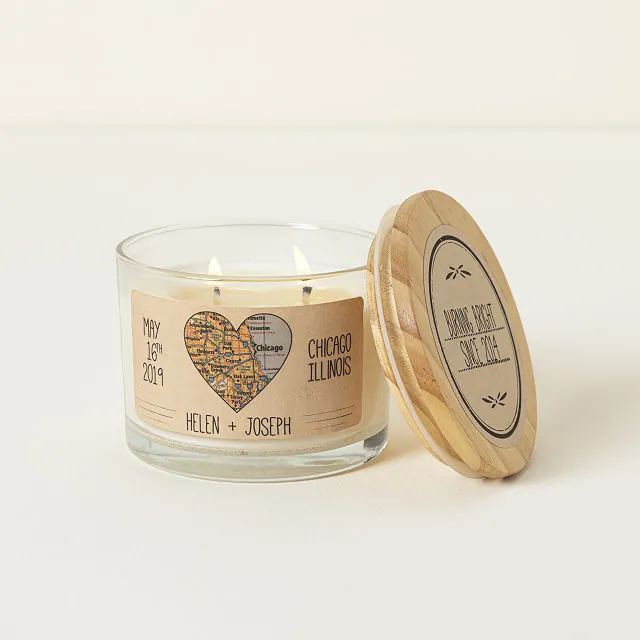 If a personalized gift is what you're after, it's hard to go wrong with something thoughtful from Uncommon Goods. This champagne-scented candle is a stand-out choice for the wax anniversary, and is sure to get your spouse in a celebratory mood. Have your names and date added to a custom label on the lid, alongside a sweet message: "Burning bright since [your wedding year]." It's a 16-year anniversary gift guaranteed to melt their heart.
Silver Glass Jar Candle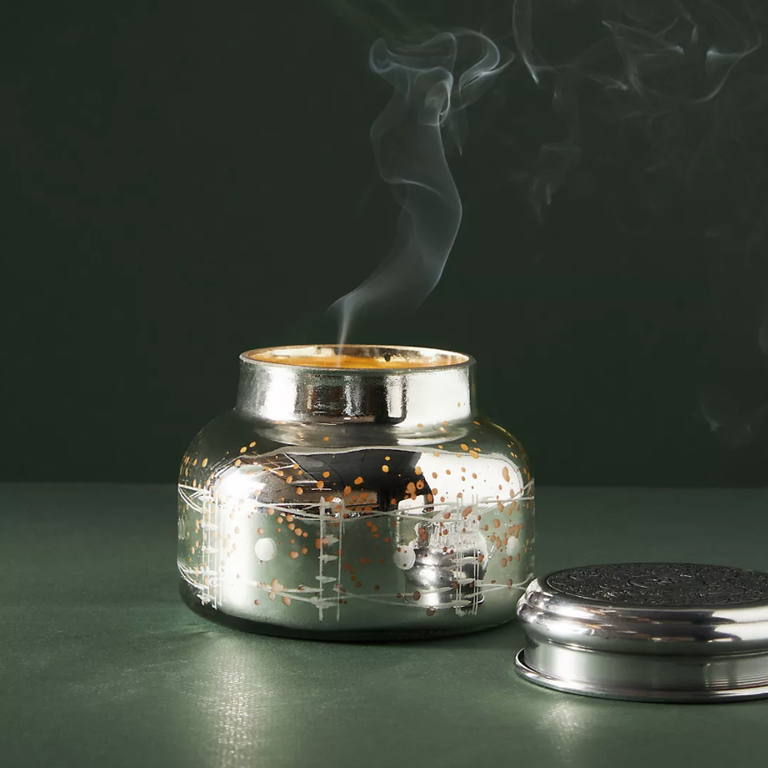 If your spouse has ever walked into an Anthropologie store and commented on how good it smells, you're in luck with this gorgeous gift. With notes of tropical fruits, lemons and limes, the Capri Blue Volcano candle has all the allure of the store's instantly recognizable scent. It's a 16th anniversary gift that'll go down well with the most dedicated fan of the brand and anyone who loves to fill their home with zesty aromas.
Men's Waxed Jacket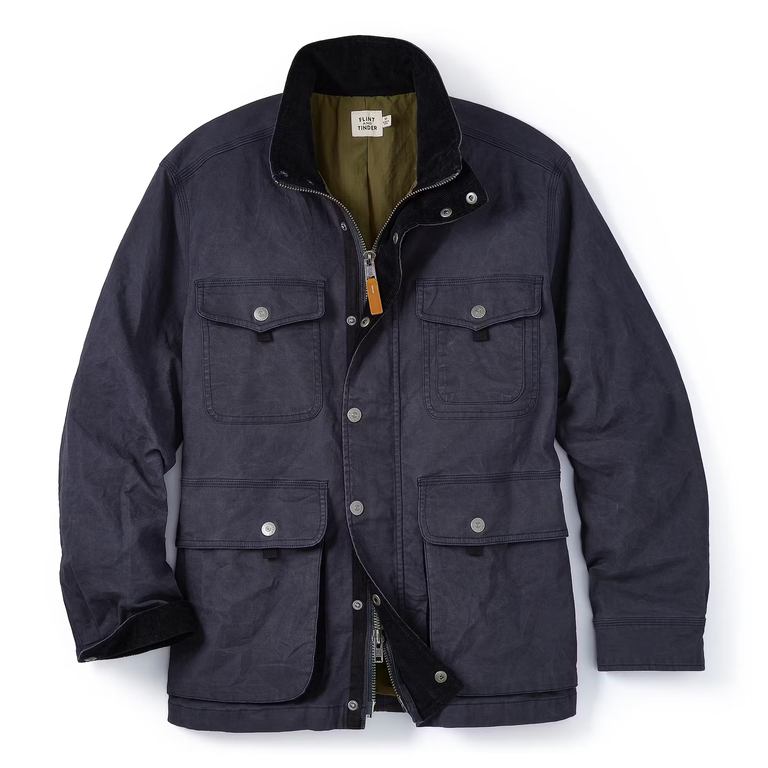 Traditional 16-year anniversary gifts aren't limited to just candles, which is great news if your spouse prefers a more practical present. This waxed corduroy jacket will quickly become their go-to outerwear, thanks to its versatile and timeless design. It has four snap pockets on the outside, as well as a small one in the interior so they can safely stash their valuables while on the move. It comes in navy or olive green and is available in sizes S-XXL.
Destination Candle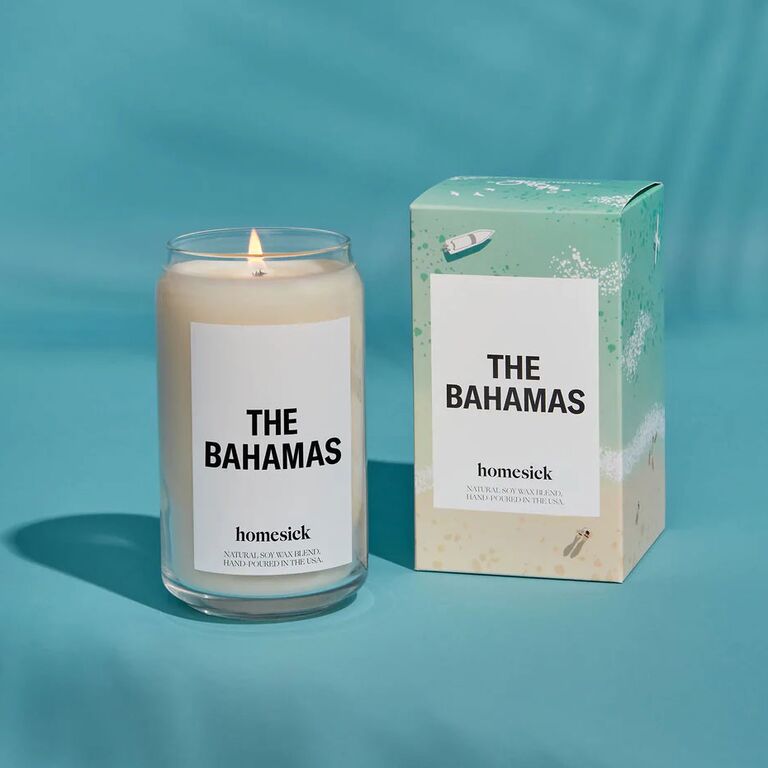 Scent is strongly associated with memory and is one of the best ways to take you back to a special time in your life. This anniversary, gift your partner a candle designed to smell like a specific location where you both shared an important moment, like your engagement or wedding day. The unique aroma will evoke many happy memories, whether you honeymooned in the Bahamas (juicy pineapple and coconut) or eloped in Alaska (spruce, glaciers and moss). Choose from a wide variety of cities, states and countries for a super thoughtful wax anniversary gift you can enjoy together.
Waxed Backpack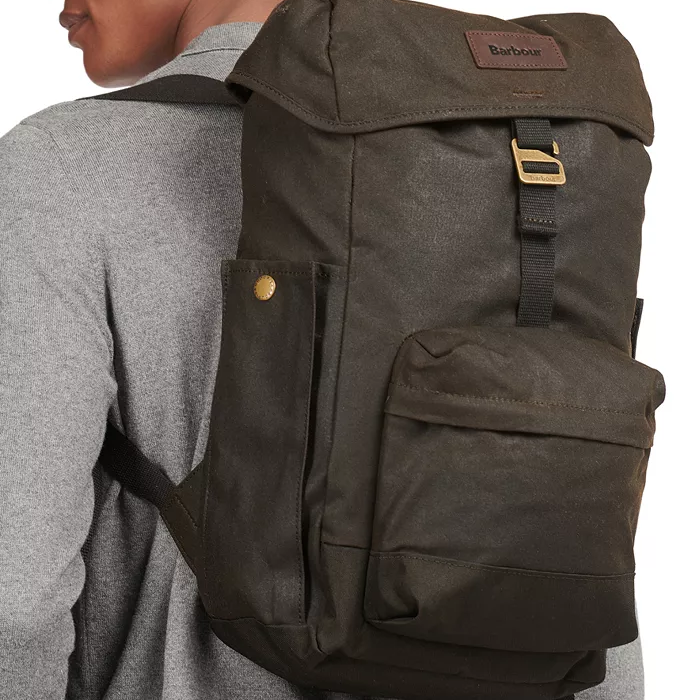 We love to wax lyrical about practical presents, especially when they look as good as this Barbour backpack. Whether your spouse has to travel for work or play, this waxed cotton bag will be their go-to for weekends away. It features a drawcord opening with a hook fastening flap, a zipped outer pocket and two side pockets for all their essentials. To make this gift really shine, hide a little surprise inside, like tickets to see their favorite band or an overnight stay somewhere you both love.
Wine-Scented Candles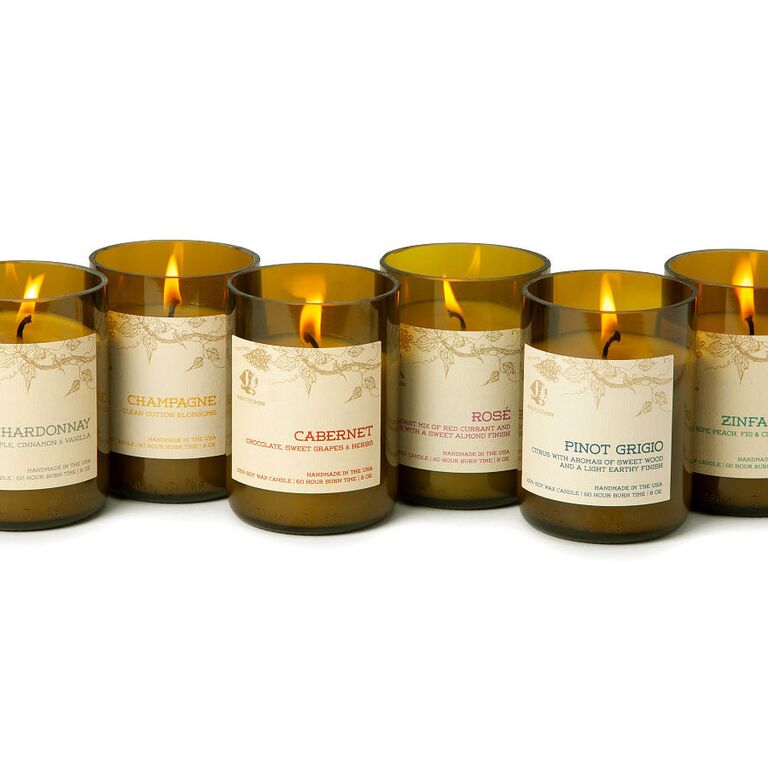 What's more romantic than a candlelit dinner with a bottle of wine? Whether your partner loves reds, whites or champagne, there's an eco-friendly candle to match their favorite vino. Discarded wine bottles are cleaned, cut by hand and filled with long-lasting soy wax. Each scent is a nod to the different wine varieties: cabernet, champagne, chardonnay, rosé and pinot grigio. Pair it with a bottle of anniversary-worthy wine to get your 16th wedding anniversary celebration underway.
Beeswax Pampering Kit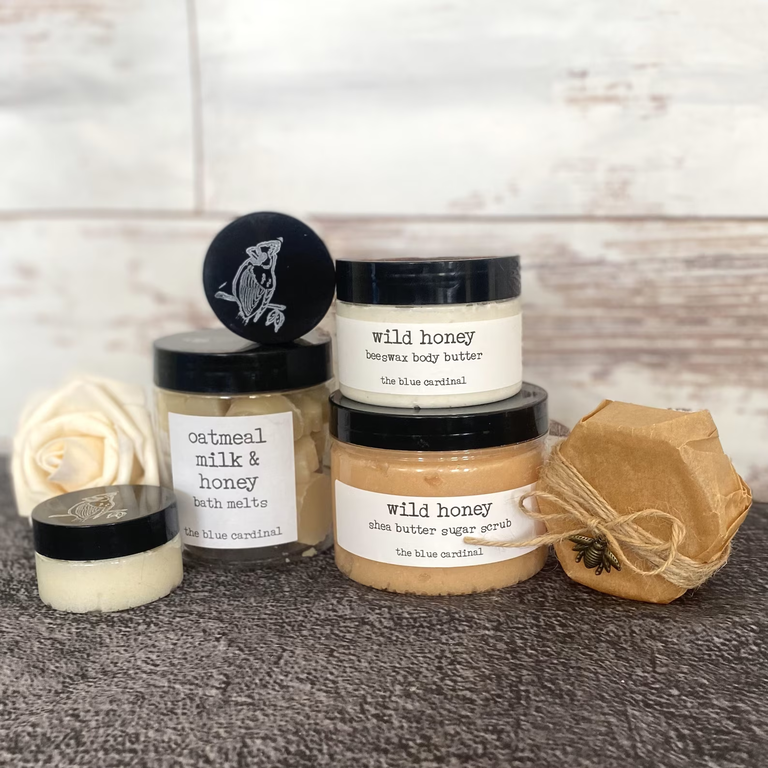 If your spouse is always on the go, encourage them to take some time to relax and recharge. This gorgeous beeswax body care set has everything they need to indulge in some serious self-care, from a wild honey sugar scrub to beeswax body butter. Choose from six different bundle options for an on-theme anniversary gift they'll be buzzed about.
Women's Padded Waxed Jacket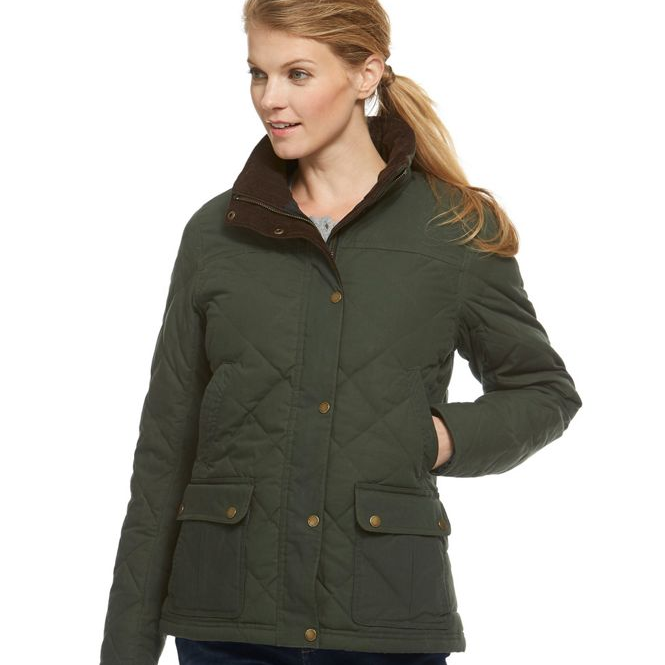 A waxed jacket is a wardrobe classic anyone can rock, making it a fool-proof gift for a fashionable spouse. Even if your S.O. doesn't bother to keep up with the latest trends, they'll love the practicality of this everyday outerwear from L.L. Bean. It's made from waxed cotton padded with soft, lightweight down and features two snap-flap pockets for storing small essentials like gloves or keys. The best part? It's waterproof, wind-resistant and highly durable, so your partner can keep dry and look great on their next romantic hike with you.
Candle Making Kit
If your partner loves to make and do, this DIY candle kit is a fun way to celebrate your 16th wedding anniversary. It has everything they need to mold their own handmade candle, including air-dry pottery clay, soy wax, fragrance oil, a paintbrush and more. Choose from five sweet and fruity scents (like peony rose or basil and citrus) to make one large statement candle or two regular-sized ones. When they've put the finishing touches on their unique creation, they can display their handiwork on the kitchen table, nightstand or bookshelf.
Beeswax Food Wraps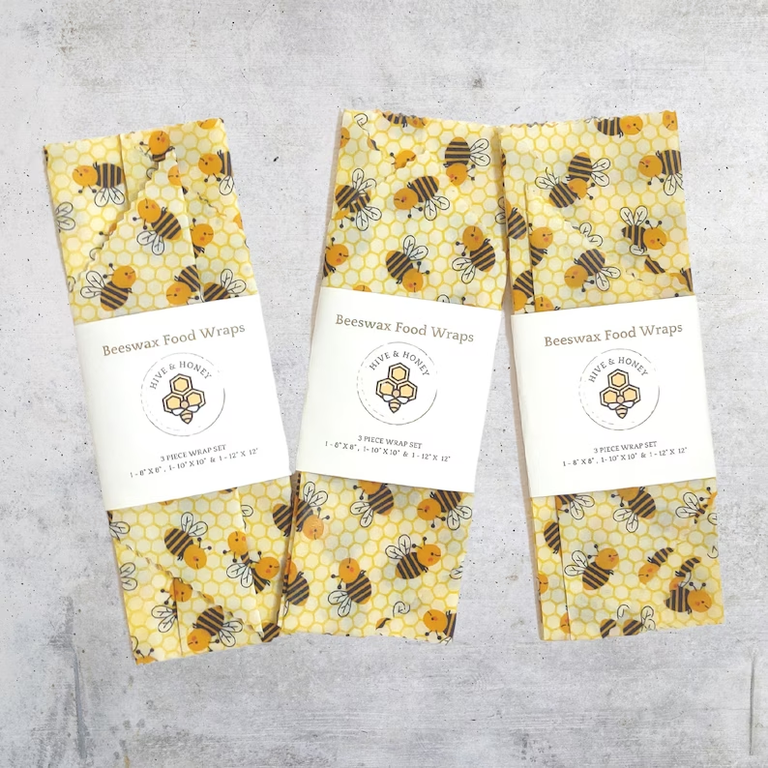 A thoughtful anniversary gift doesn't always have to be lavish—it can be as simple as showing your partner you share their values. If you've got an eco-conscious spouse, these beeswax food wraps honor the traditional 16-year anniversary theme without costing the earth. Not only are they a natural, organic alternative to aluminum or plastic food wrap, but they're also reusable, compostable and hand washable. They're ideal for packed lunches and romantic picnics in the park.
Modern 16-Year Anniversary Gifts
If wax anniversary gifts aren't setting your world on fire, look to the modern anniversary theme instead. Silver holloware is the modern 16-year anniversary gift, a practical (and often pretty) material that symbolizes the longevity of a successful marriage. But what exactly is it? While the word holloware might sound a little mysterious, it actually just refers to any serveware that isn't flatware (think: everyday items like bowls, trays and teapots). Traditionally, these gifts were made out of sterling silver, but today it's more popular to choose silver-toned items made from stainless steel or other tarnish-resistant materials. If you've set your sights on something slick and silver, keep scrolling to find the perfect 16th anniversary gift for him, her or them.
Personalized Serving Platter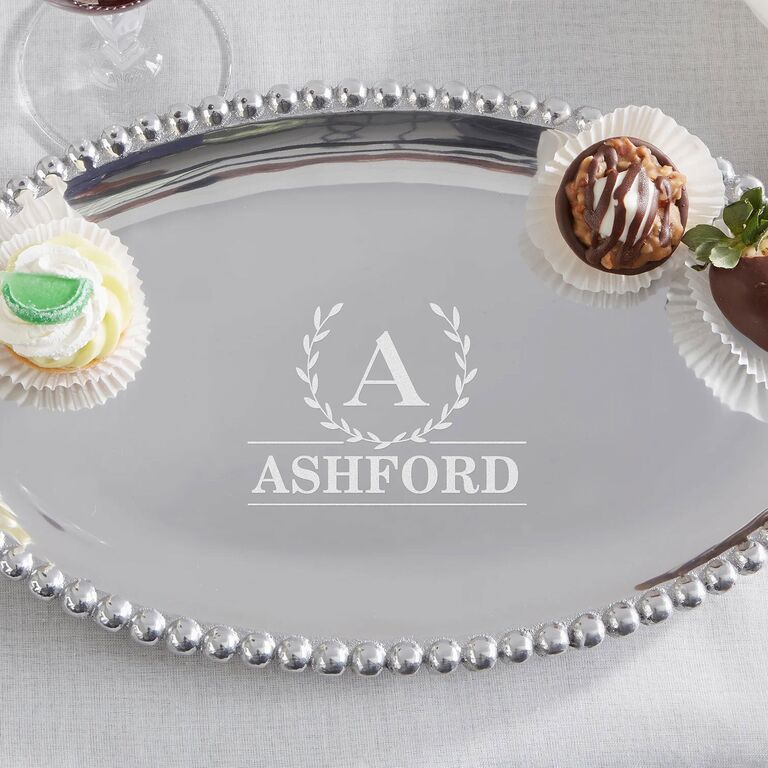 Couples who entertain on the reg should never be short on serving trays—and this one will really impress guests at their next dinner party. This polished silver tray is handcrafted from recycled sandcastle aluminum and is guaranteed to make an impact once the hors d'oeuvres come out. Have it personalized with their initials, name or a thoughtful message for a 16-year anniversary gift they'll be happy to show off.
Monogrammed Wine Cooler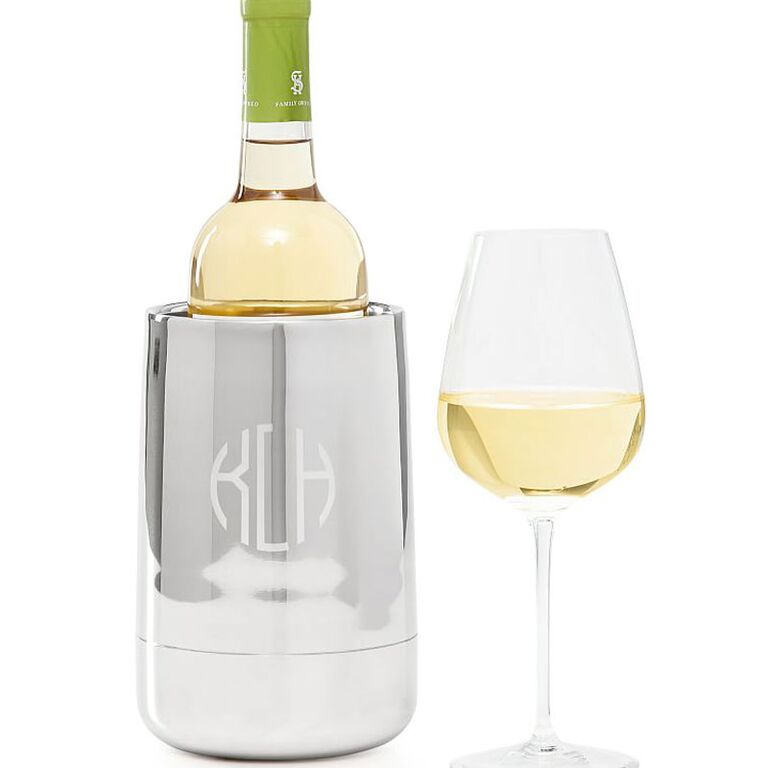 After 16 years of marriage, you and your partner are probably ready to pop some bubbly! Make it a memorable moment with this elegant silver wine cooler from Mark & Graham. It's made from nickel-plated stainless steel and can be laser-engraved with your monogram for a personal touch. Our prediction? You'll love it so much that you'll want to use it for all the special occasions to come.
Silver Floral Trivet Tray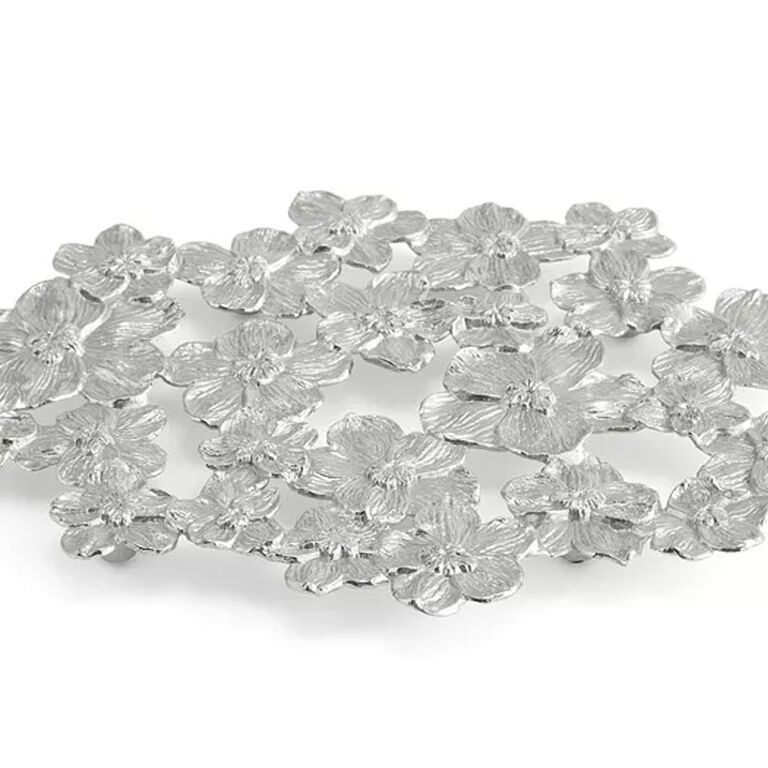 If your partner has ever burned the countertop with a hot dish straight from the oven, this beautiful metal trivet will spare your kitchen surfaces (and their blushes). Designed by Michael Aram, its stunning details are modeled off delicate orchid blooms that overlap. It's a practical 16th anniversary gift you'll get lots of use out of, even if it's almost too pretty to be covered with a hot plate.
Whistling Kettle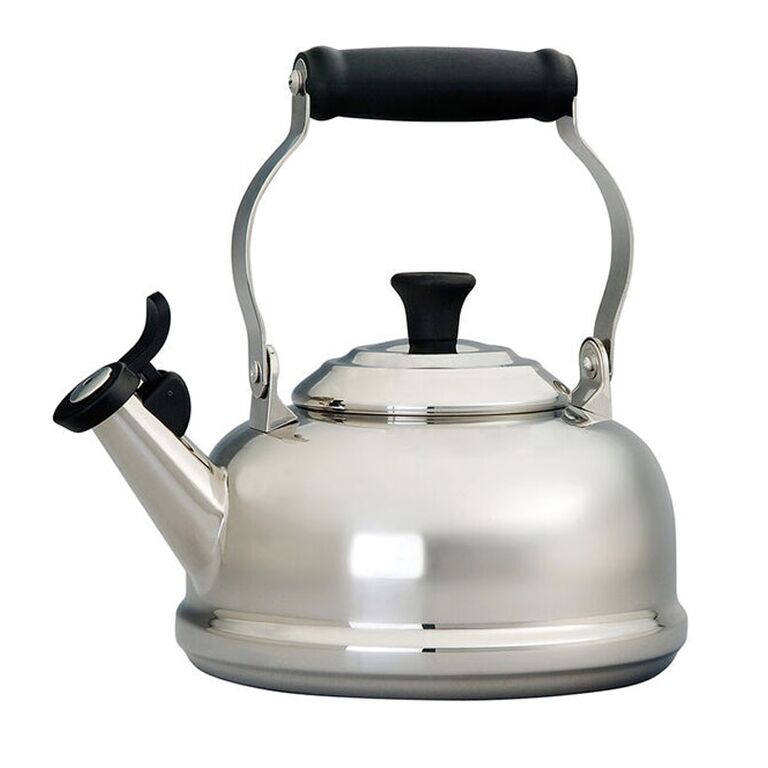 Shopping for silver holloware anniversary gifts needn't be a chore, especially when you see what Le Creuset has to offer. This stainless steel tea kettle is the perfect nod to the modern gifting theme while also being effortlessly stylish and practical. If your partner loves their morning brew, it'll add a charming touch to their daily ritual. Once the water has reached boiling point, the kettle will alert them with a single-tone whistle sound. Bonus: It can be used on any heat source, from gas and electric hobs to halogen and induction stovetops.
Olive Oil Dispenser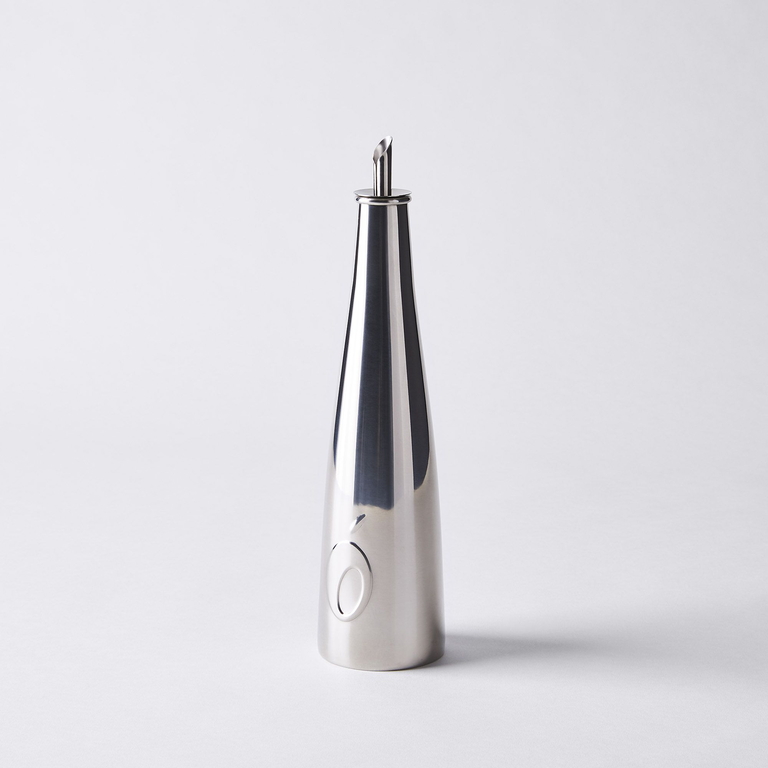 Anniversaries are a great time to gift your spouse something they wouldn't normally buy themselves but will certainly love, like this silver olive oil dispenser. The handy pour cap measures the flow of oil as it's poured, so they'll never waste a drop. Whether they keep it by the stove while cooking or display it on the table during dinner time, it'll add a slick touch to any kitchen. If you really want to impress the foodie in your life, splash out on an olive oil sommelier class (or opt for a virtual private tasting session from the comfort of home) so they can fill this dispenser with something really delicious.
Boat-Shaped Bowl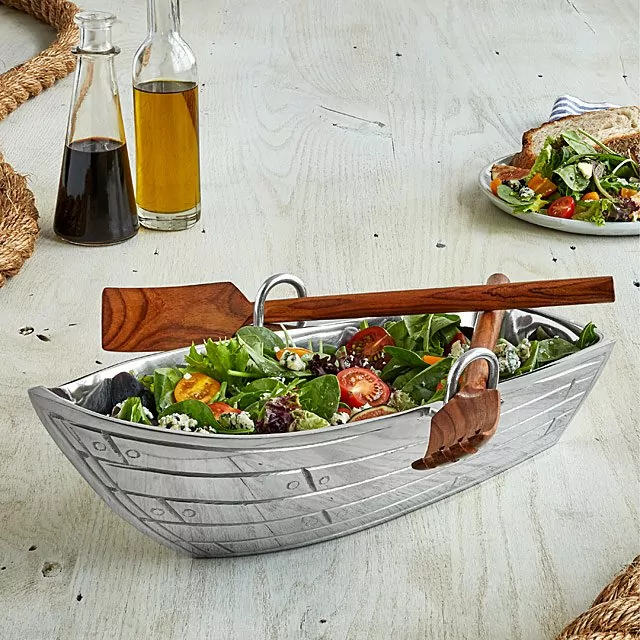 Make waves at the table with some fun nautical-inspired serveware. If your partner loves the sea, this vessel-shaped bowl will definitely float their boat. It's made from silver-plated aluminum and comes with two wooden utensils designed to look like oars. We bet this 16th anniversary gift will attract many compliments the next time someone asks to pass the salad.
Tiered Serving Bowls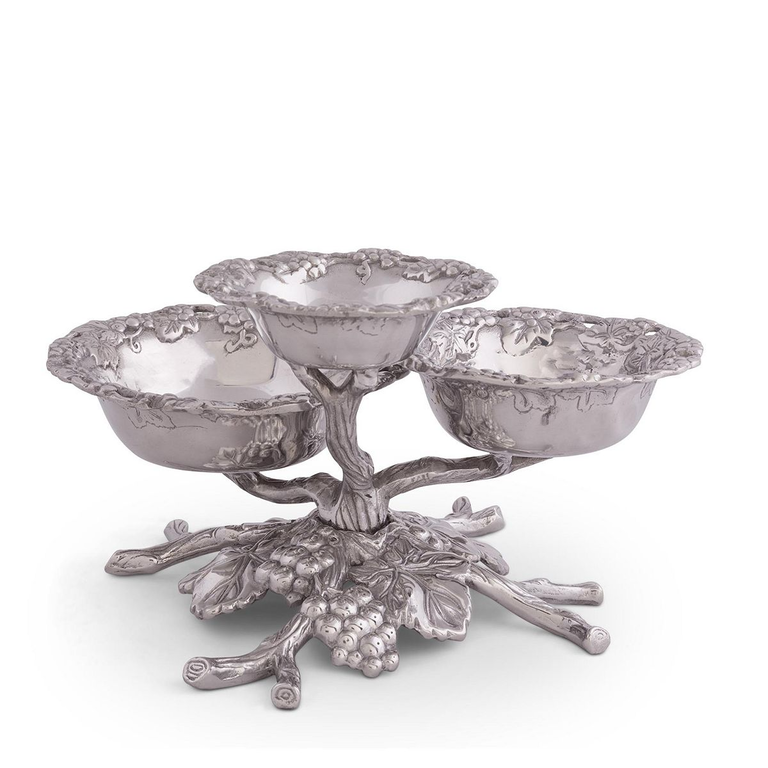 When we think of silver holloware our minds go straight to vintage designs. This three-tiered silver bowl looks like something straight out of a medieval banquet, making it a savvy choice for anyone who appreciates antique designs. It's made from durable aluminum and features pretty grape motifs around the rims and stem. Whether they use it to serve fruit, nuts or candy, it'll bring a refined touch to the simplest of meals.
Salt and Pepper Shakers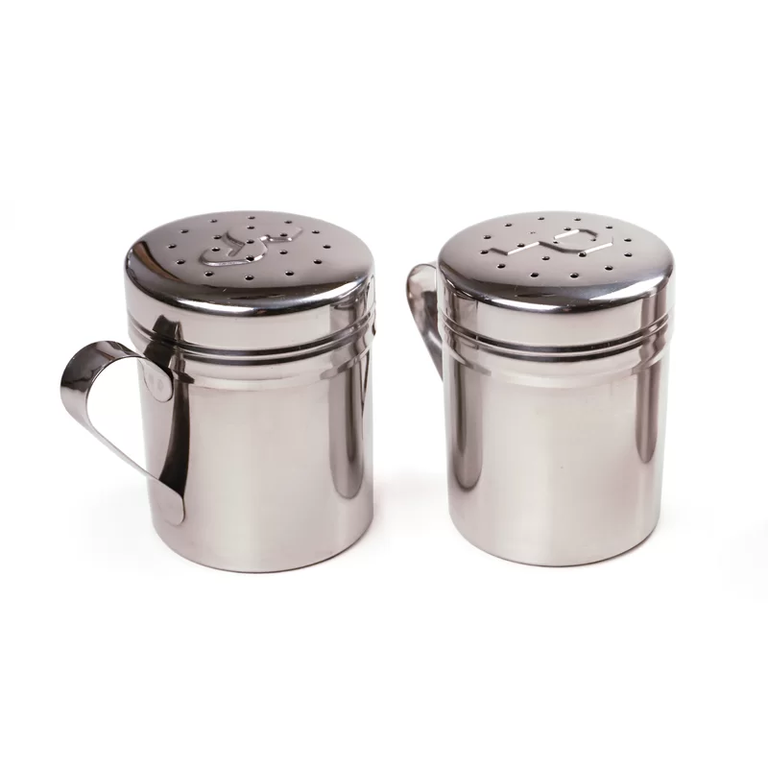 Shopping for silver holloware on a budget? No problem. These salt and pepper shakers incorporate the modern anniversary theme without breaking the bank. They're made from heavy-duty stainless steel in a simple design that reminds us of a retro diner. The wide handles are easy to pick up, while the screw-on top allows for easy filling every time. Top tip: If your spouse likes to bake, they can also use them to dust their sweet treats with cocoa powder or icing sugar.
Mini Silver Pitcher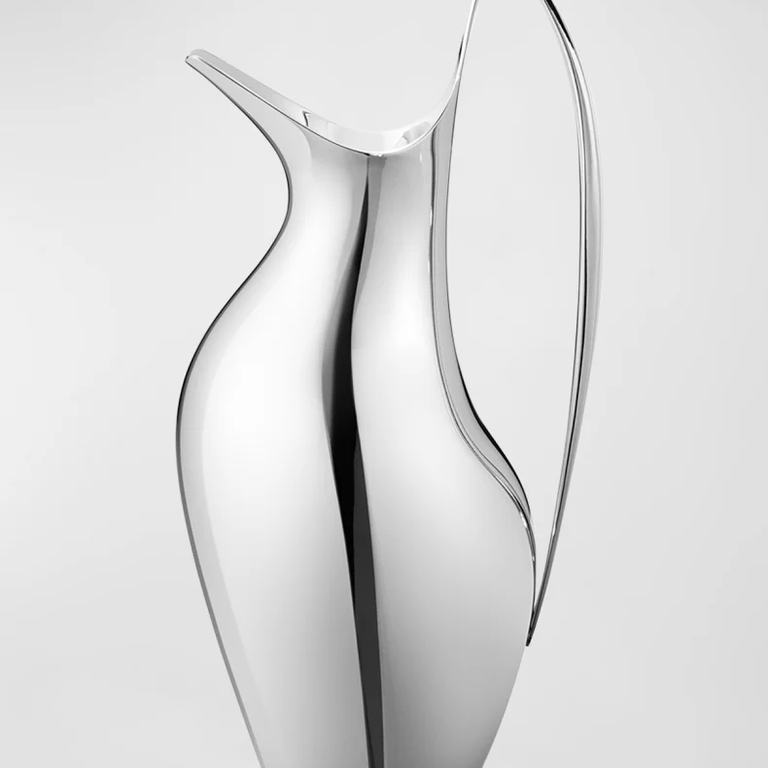 Turn your spouse's morning coffee ritual into an elegant occasion with this miniature silver pitcher from Neiman Marcus. It's made from polished stainless steel and is ideal for serving milk or cream. The sleek fluid lines create a design that feels modern yet timeless, making it a winning 16th anniversary gift in our book. Your partner will be looking for any excuse to take a leisurely coffee break so they can show off their new silverware.
Silver Cocktail Shaker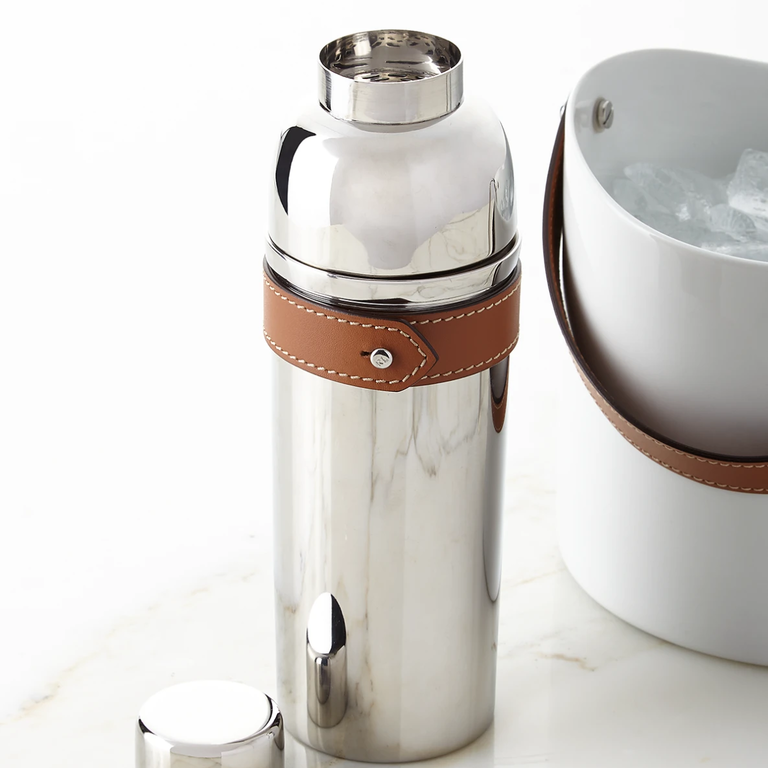 If your partner fancies themselves a mixologist, this silver cocktail shaker will make them feel like a pro. Made from stainless steel, it has a removable leather trim for added sophistication (and easy washing!). They'll have lots of fun using it to make their favorite signature drinks, from an old-fashioned or cosmo to margaritas and whiskey sours, (and maybe even a special 16th anniversary cocktail in honor of the occasion).
Unique 16-Year Anniversary Gifts
In addition to the traditional and modern gifting themes, every wedding anniversary has a specific gemstone, color and flower associated with it. The 16-year anniversary stone is peridot, a pretty green gem that symbolizes love, prosperity and protection, while the milestone's colors are silver and emerald green. Silver reflects success, while emerald evokes harmony—two key ingredients of a long and joyful marriage. Finally, the milestone's official flower is statice. Also known as sea lavender, these delicate blooms come in many vibrant hues and represent remembrance, encouraging couples to relive some of their most precious moments together. If you're thinking of parting with tradition and skipping the themed gifts altogether, that's ok too. We've included some great alternatives that embrace comfort, creativity (and even cookies!).
Personalized Reading Valet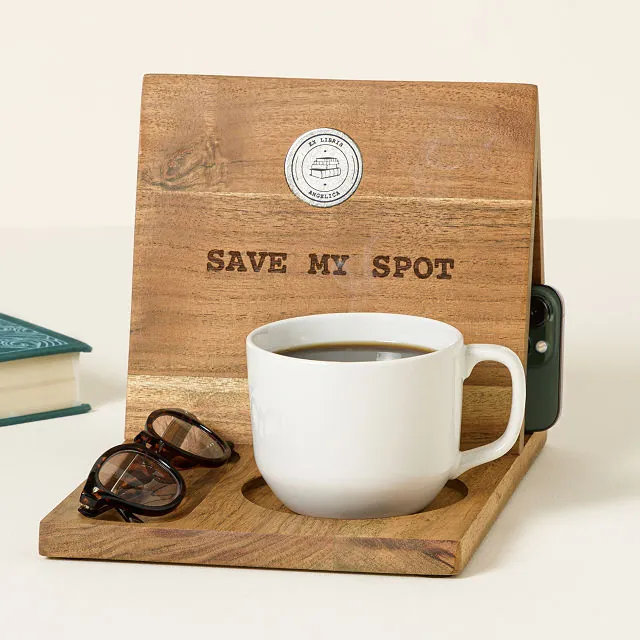 If you're married to a book lover, this wooden valet is a thoughtful gift they'll be thrilled with. Not only will it save their place in their favorite read, but it can also hold their glasses, drink and phone. "Save My Spot" appears on the front, while the message "To Be Continued" is engraved on the back. Choose a personalized monogram stamp to make this gift even more special.
Cotton Bathrobe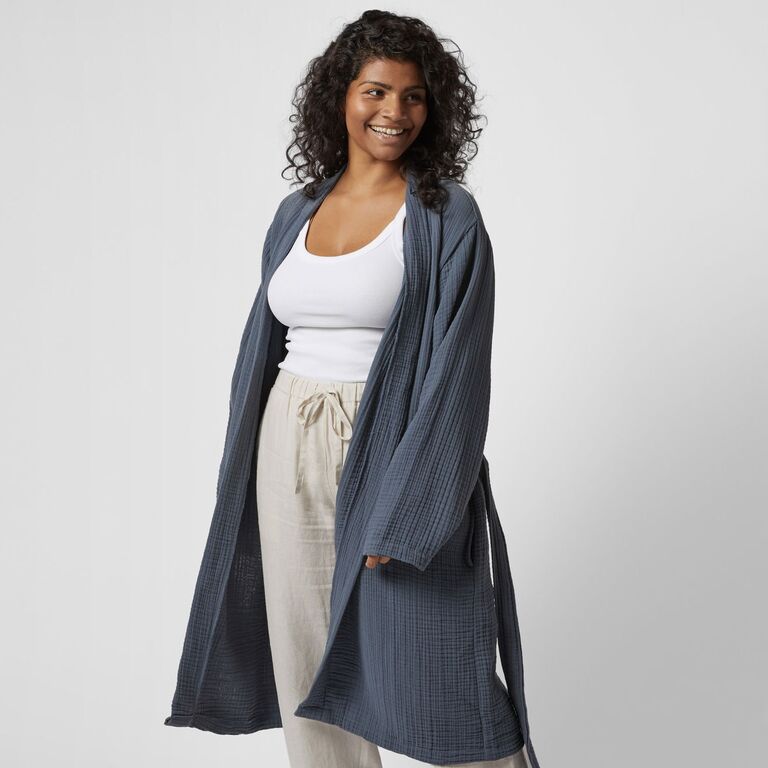 Add a touch of luxury to their laid-back days with a gorgeous bathrobe from Parachute. It's made from 100% Turkish cotton and is bound to be a hit with anyone who loves to lounge. It features two hidden side pockets and a tie waist to keep them snug after a morning swim or steamy shower. Just don't be surprised if your spouse starts taking more baths so that they can slip this on afterward.
Peridot Pendant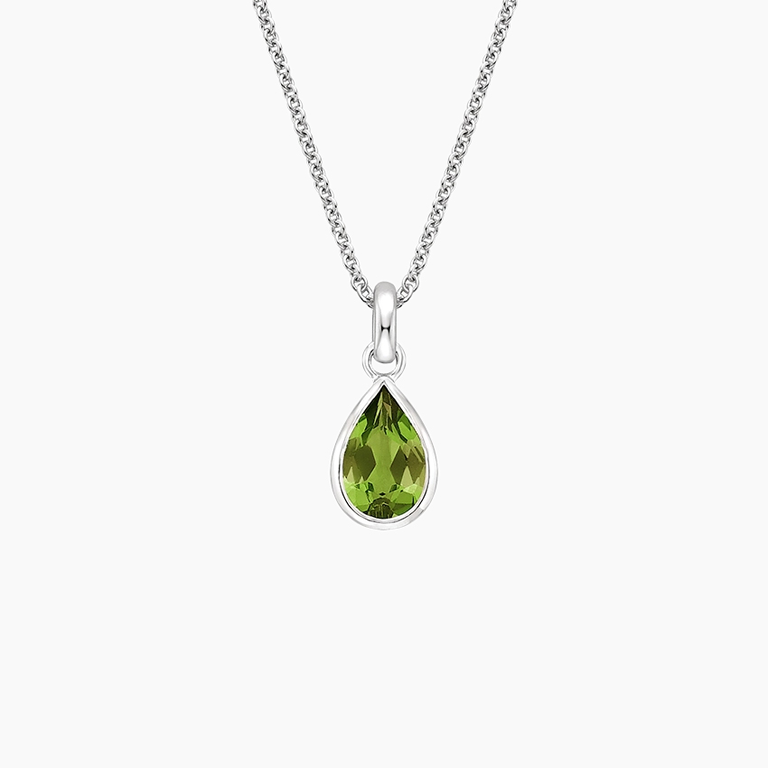 Combine two of the 16th anniversary themes into one special gift with this silver-tone peridot necklace. Elegant yet understated, this pear-shaped green gemstone will make a welcome addition to your partner's jewelry collection. Considering the stone is a symbol of love and devotion, there's no doubt your spouse will be reminded of you every time they wear it. (P.S.: The pendant is reversible, so they can have fun styling it in two different ways).
Personalized Blanket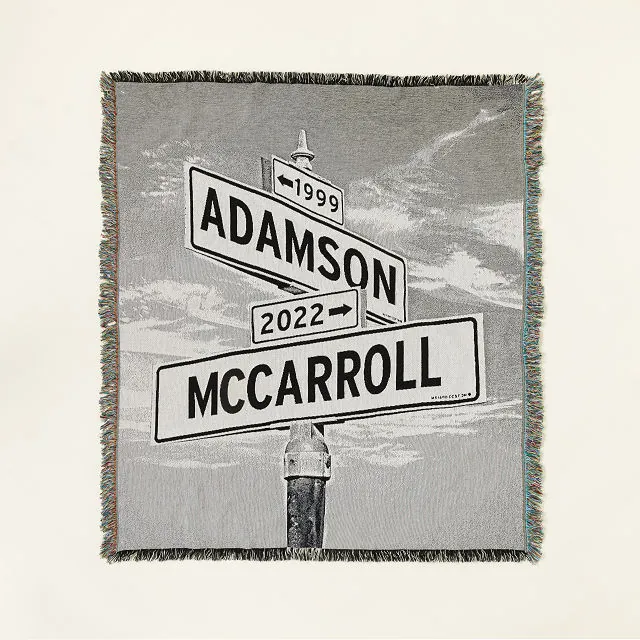 This personalized blanket will take you and your spouse back to when your paths crossed for the first time. It features a striking photo of two signposts intersecting woven in cotton and recycled yarn. Add your names and the date you two met for a sweet 16-year anniversary gift made from cuddles on the sofa.
Statice Petal Resin Ring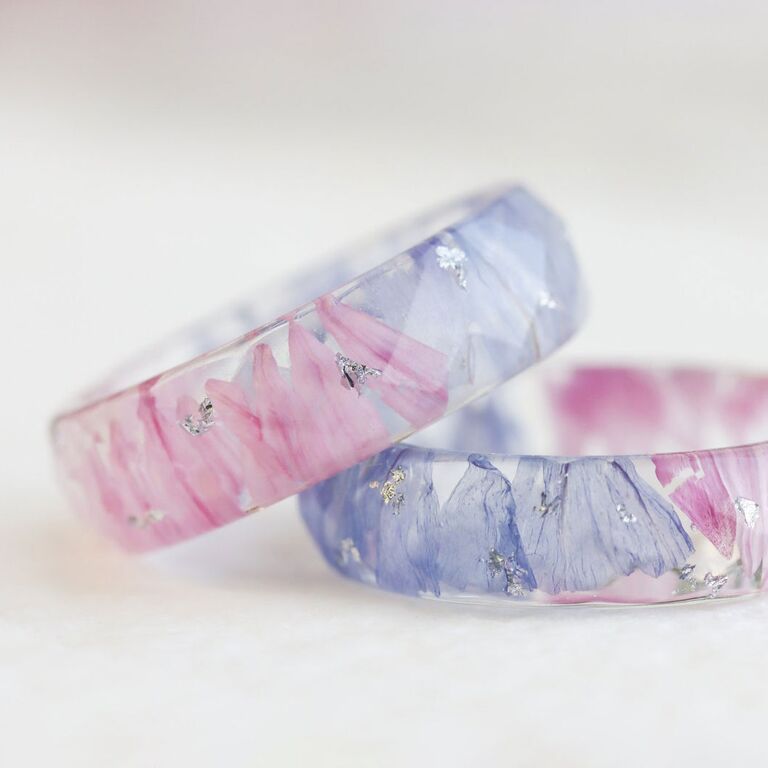 Want to honor the 16th anniversary flower without opting for fresh blooms? This pretty resin ring is made from pink and purple dried statice petals (the milestone's flower) and is a unique piece of jewelry they'll treasure for the next 16 years. The metallic flakes sprinkled throughout add a magical touch to this bright, summery accessory.
Soft Body Pillow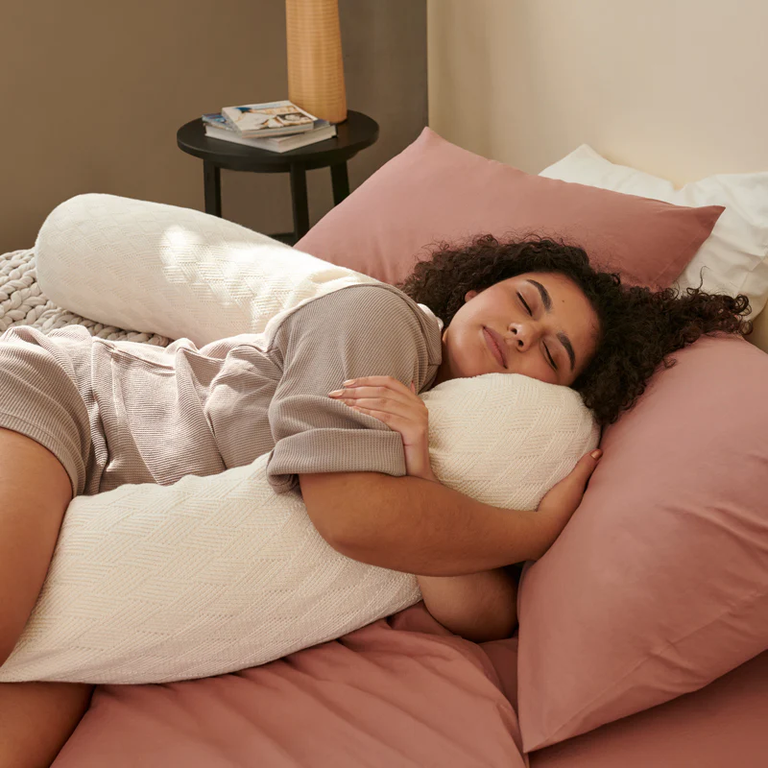 While we're big fans of Bearaby's weighted blankets, we're super excited about their new body pillow. Soft, squishy and breathable, it's designed to soothe stiff joints and support the body while sleeping. It's an excellent gift for side sleepers and is guaranteed to be a hit for anyone suffering from back pain or chronic stress. We bet your spouse will want to cuddle it all night long (and you, of course!).
Leather Pocket Notebook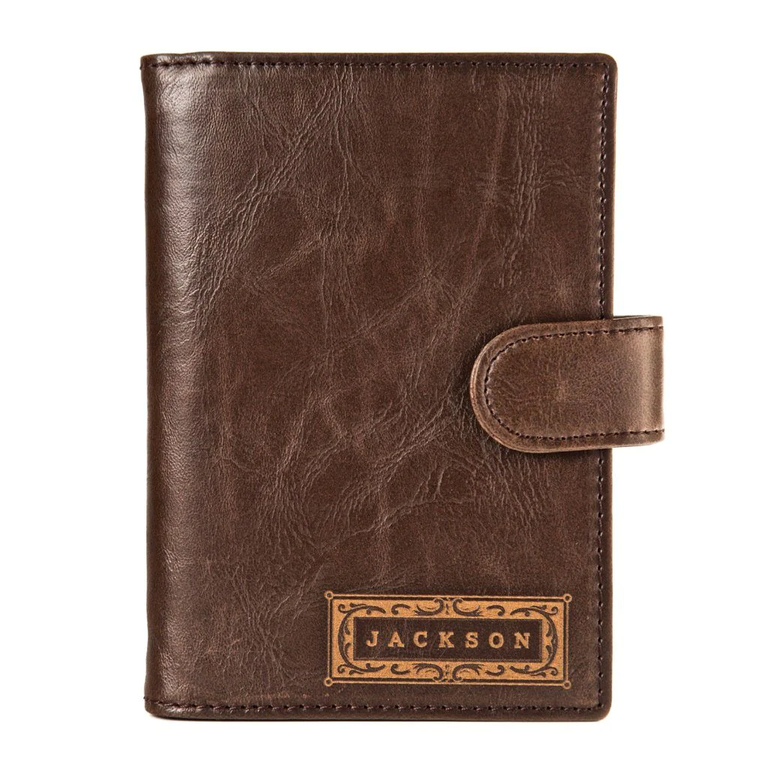 It's hard to beat a personalized leather notebook, especially if your spouse favors a pen-and-paper approach to note-taking. This pocket-sized design comes in a beautiful leather case they can carry around with them wherever they go. It also has a handy interior pocket and two card slots for storing cash or business cards. Add their name and a romantic message inside to remind them just how much you love them.
Travel Packing Cubes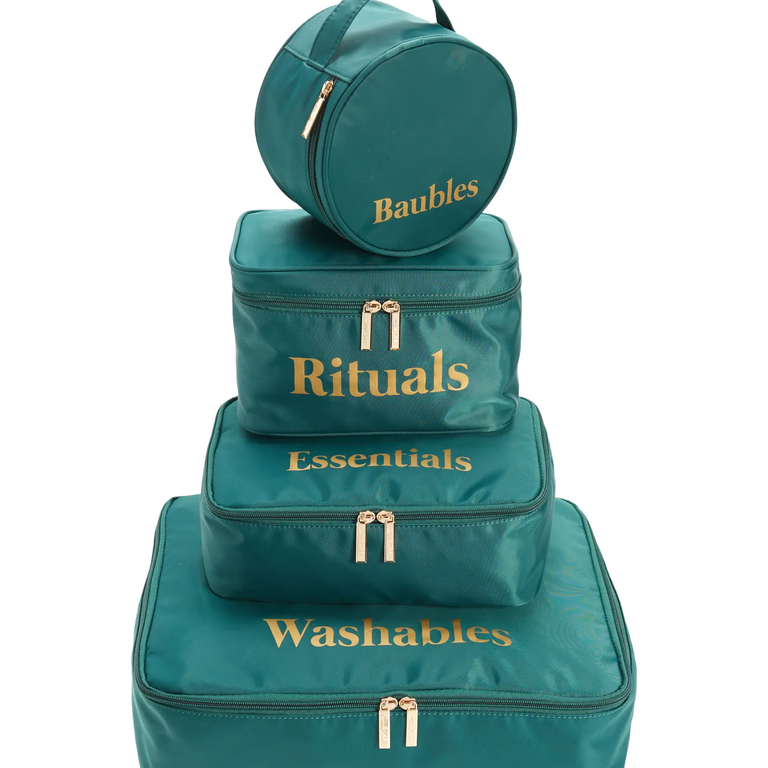 Packing for a trip can sometimes be stressful, even if it's for a long-awaited romantic vacation. If your spouse often gets frazzled deciding what to bring with them, these super-handy packing cubes will be a lifesaver. They're made from water-resistant fabric (so no more messy leaks!) and come in a set of four labeled: Washables, Essentials, Rituals and Baubles. If that's not enough to convince you, they're available in four colors, including emerald, the 16th anniversary color.
Succulent Grow Kit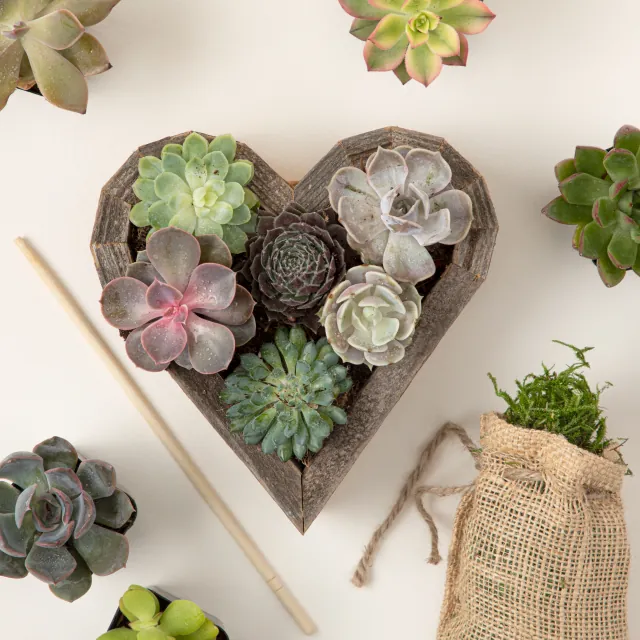 If your spouse has always wanted to try gardening but doesn't have the space, this succulent grow kit offers the perfect solution. It comes with a heart-shaped wooden frame (aw!), six miniature succulents, soil and preserved moss. All they have to do is arrange these low-maintenance plants in the frame and water them occasionally to keep them fresh.
Cookie Baking Set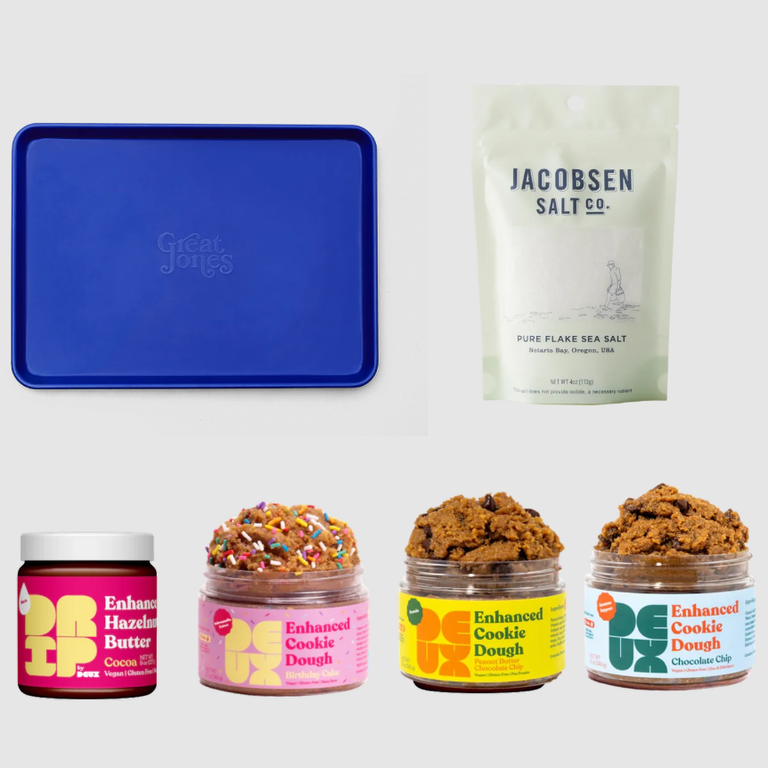 A creative and edible anniversary gift is always a good idea, especially if it ties in with your spouse's favorite hobby. This cookie-making set is an excellent present for the talented baker in your life and includes all the essentials for mixing up their favorite treats, including a baking tray, four cookie dough samples and flakey sea salt for the perfect finishing touch. Best of all, the mixes are vegan and gluten-free, so they're a great pick for anyone with dietary restrictions.