How to Share Your Honeymoon on Social Media (Without Killing the Mood)
Document the trip of a lifetime without driving your friends, family and new spouse crazy.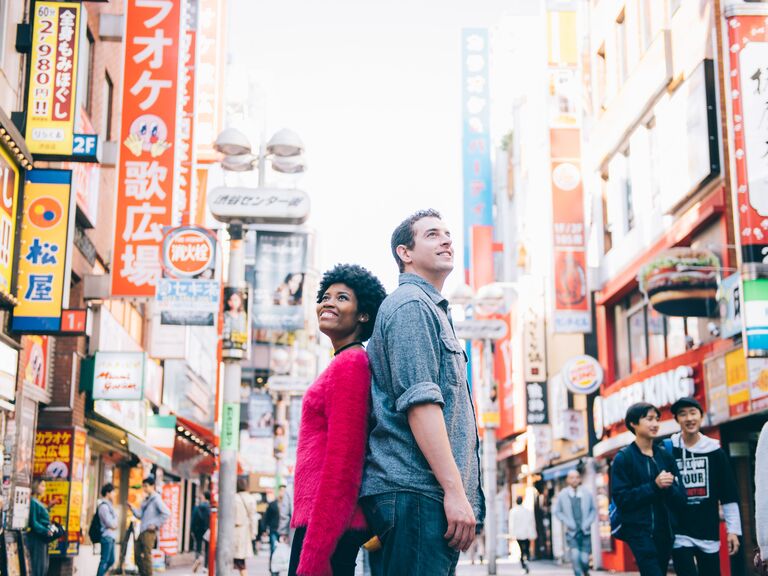 Daniel in Tokyo for Flytographer
We have included third party products to help you navigate and enjoy life's biggest moments. Purchases made through links on this page may earn us a commission.
Your honeymoon's right around the corner, and with it a slew of memories to be made. If you're set on documenting the momentous occasion publically—be it to update curious friends and family members or simply beautify your Instagram feed—there are a few things to consider beforehand. Here, our guide to sharing your honeymoon on social media, from how to prepare to what and when to post.
What You Need
Hoping to take some amazing photos? Go into your honeymoon with the right gear. Now's the time to buy—or even better, register for—what you don't have and pack what you do. You'll need something to take snapshots with, whether that's a fancy digital camera or a selfie stick. Consider where you're vacationing and plan accordingly. Adventurous honeymooners should use hardy devices (like a waterproof camera for ocean excursions) and protective equipment (like a camera strap to prevent your tech from falling down a mountain). You may also need extra memory cards for bonus photo storage. And even if you're just going to use your smartphone, it's worth investing in a sturdy case, a good screen protector, and making sure your photo backup is working properly, just in case.  
You don't have to DIY your photos, though. Instead of investing in your own tech, consider investing in a service to take snapshots for you. That's right—you can hire a honeymoon photographer through Flytographer and choose from a few different packages and prices. The site lists professionals in hundreds of worldwide destinations. Choose one and the company's concierge team will help you organize all the logistics, and they'll know the best spots to take gorgeous, memorable photos. That way you're free to kick back and leave the snapshots to the experts. (You'll still have to post them yourselves, though.)
What to Document
Really, this one's up to you. Photograph and write about whatever strikes your fancy—you'll want a personal, comprehensive record of your travels to look back on for years to come regardless of what you post on social media. Landscape shots are never a bad idea; neither are couple's pics. You might also want to review your accommodations or share the delicious food you savored. Feel free to capture landmarks and other things that really define your destination. But don't be afraid to capture smaller details and unique angles too. When in doubt, document! Not everything will (or should) make it online, but you don't want to regret snapping something just because it wasn't what you consider "Insta-worthy."
Again, a service can make these decisions easier, especially from a social media perspective. If you hire a Flytographer, for example, they'll offer artistic direction, which can really set your pics apart.
When to Document
Talk to your partner and come to an agreement. Are they okay with stopping for photos whenever, wherever? Or would they rather live in the moment and save crafting Instagram captions for later? Some newlyweds prefer to limit their social media usage to certain hours or days and go device-free the rest of the time. (If that sounds like you, a Flytographer session is great because you're only tied to posing for the duration of your appointment.) Others have no problem keeping their phones glued to their hands (and if traveling internationally, getting a large data plan so they can post to their heart's content).
What to Post
Keep your followers in mind as well. Are your besties and relatives dying to see your honeymoon photos and keep track of where you are? It's always easier to post on social than text 20 people the same image. But as much as they love you, they probably don't need their feeds overly saturated with boasts about the amazing this, that and the other thing you experienced. Nor do they need to see dozens of nearly-identical couple's portraits. Use your discretion. Also, don't forget safety—certain information, like your hotel room number, is best kept private.
In the end, it's about reading your audience. It's also about clearing personal posts with your partner—maybe they'd rather keep that silly photo of them napping on the beach private, or that ultra-romantic and extra-special dinner between the two of you.
Need inspiration for what kinds of posts your followers could like? Creativity, beauty and humor are always appreciated. That could mean capturing your wedding band-adorned hands against an ultra-blue ocean backdrop, documenting the breathtaking sunrises or sunsets your location's known for, or even making light of downpours with soggy rain selfies. Natural, genuine social media posts never fail.
When to Post
You and your partner have taken awesome photos you're both happy with, you've picked the perfect ones to share, and now it's finally time to post—well almost. First, make sure you're updating social media as tactfully as you've approached the rest of the process. In most cases, it's best to wait to post until you have some downtime, rather than right in the moment you're 'gramming about. (Of course, there are exceptions—posting an Instagram Story in real time is less disruptive than adding a grid image, complete with hashtags and a witty caption, to your profile.)
Try posting while you're bored in transit, like when your partner's asleep by your side on the plane. Or go online when your spouse is in the restroom—seriously, creativity is key. That being said, even seemingly mundane moments, like a cab ride, are great opportunities to bond. Think carefully before you give your attention to your phone. One final tip? Save data by waiting to log on until you've got a sturdy internet connection. No one wants to come home from their honeymoon to a big ol' cell phone bill.