9 Things You Didn't Know About Jim Bob and Michelle Duggar's Wedding and Honeymoon
by Ivy Jacobson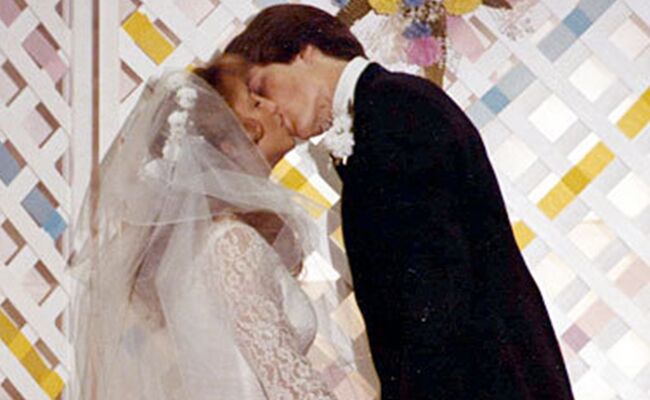 Even though Jill Duggar and Derick Dillard got married last month, the Duggar family has another special wedding moment to celebrate coming up!
Jim Bob and Michelle Duggar's 30th wedding anniversary is July 21, 1984, so in anticipation of the special date, Michelle shared memories of her wedding and honeymoon on her blog. Keep scrolling for nine facts you might not have known about their nuptials:
1. Because Jim Bob and Michelle's church was in the process of being built, they had to marry in a gymnasium that was temporarily being used for church services.
2. Actually, they didn't even marry in a room of the gymnasium — it was in one of the gymnasium's hallways, and that's where they chose to renew their vows 25 years later.
3. Michelle had no real flowers at her ceremony and carried a fake flower bouquet down the aisle.
4. She also made her own wedding cake and had a friend decorate it for her.
5. Buy a new dress? Nope! Michelle wore Jim Bob's mother's wedding dress instead.
6. Even though 200 people were in attendance, the menu for their reception was wedding cake, nuts and punch.
7. Jim Bob and Michelle's children can't see their parents' wedding since there was no videographer — but there is a cassette tape recording!
8. They didn't go far on their honeymoon and chose to stay in cabins in Arkansas's Mount Nebo and Lake Fort Smith.
9. Unfortunately, the photos of the cabins didn't quite match up to what they looked like in reality (who wants cobwebs on your honeymoon?), and after Jim Bob's car was giving them trouble, they decided to call their trip quits and spend the rest of their honeymoon fixing up their new home.
via: DCL via TLC
Want more? Right here!
> See oics of Jill Duggar's wedding manicure party and bridal bouquet!