How to Anticipate Your Wedding Party's Last-Minute Questions
Help them help you by having answers to these last-minute queries.
by The Knot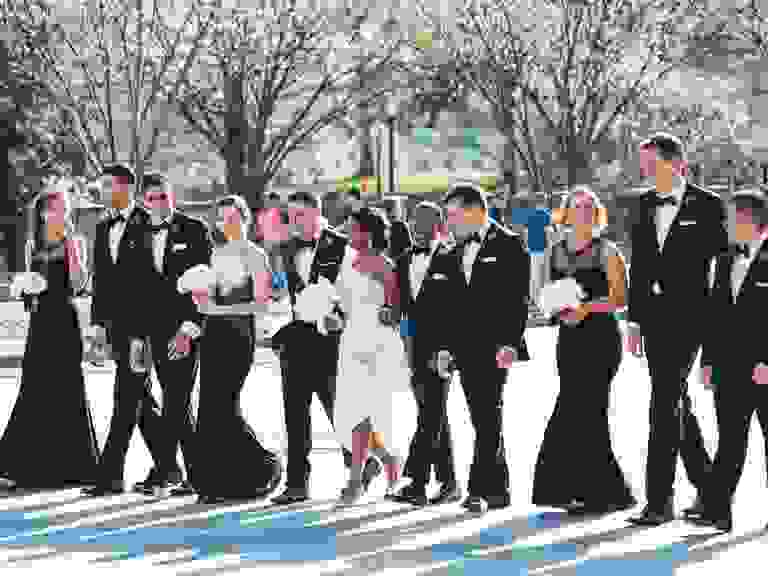 As your wedding day gets closer, the number of details you and your wedding party need to keep track of starts to add up—it's like the less time you have, the more there is to do. So it's natural for your crew to hit you with a few last-minute questions about timing, expectations and duties (but hopefully they're just double-checking—not learning everything for the first time!). Here's exactly how to handle—and even get in front of—five common questions your wedding party might have at the eleventh hour.
1. Is it bad I haven't gotten my dress/suit/tux altered yet?
Depending on how much time is left between now and your date, it's probably fine—but help them avoid this with a friendly reminder to head to the tailor as soon as they can.
If you're a week or more out, your attendant should be able to have it professionally altered. Suggest a tailor near them, or even better, get a friend or another attendant on the case to push them to get it done. But if it's the rehearsal dinner, true alterations probably aren't happening. In that case, put a (responsible) wedding party member, family member or friend on the case. Have them track down someone who can help pin and tape any hems that need obvious attention.
2. When and where are we meeting?
Communication is the name of the game—always. Our advice? Use The Knot Wedding Planner app to make a day-of timeline you can share directly with your entire wedding party. Instead of bugging you with, "What time should we meet at the chapel for rehearsal?", they can see up-to-date wedding logistics on their phones. That said, it never hurts to confirm timing and location details the day before they need to be somewhere.
3. Has anyone seen seen my (insert accessory here)?
Oh, boy. Maybe it's a missing bow tie or a pair of heels, but with a group of people that big it's highly likely there'll be a wardrobe malfunction or forgotten accessory somewhere along the way. While there are only so many lists your wedding party can take, a checklist of everything they need for your wedding day—from phone chargers to tie clips—will be worth having. Trust us—no one wants to forget the proper undergarments for a blush bridesmaid dress at the hotel.
4. My plus-one can't make it—can I bring someone else?
If this were any other guest asking, we'd encourage you to say "no" if you need to—wedding invitations aren't like theater tickets. But in this case, it's a nice gesture to allow your attendant to bring someone else, even if it's a date you weren't originally expecting. Your squad are your VIPs who've gone above and beyond for you for months—they deserve to bring a plus-one if it'll make them happy and comfortable.
5. Why is hair and makeup so early? Can I push mine back a little?
Most hair or makeup artists recommended allotting plenty of time between everyone's beauty appointments to ensure things run on schedule the morning of. If someone is complaining about the early start time, that's kinda their problem. If they want to skip professional hair and makeup, and you're okay with that, they're welcome to roll in later and do their own beauty routine. Otherwise, be honest and tell them even though it'll be an early morning, it'll be worth the wakeup call: a pro glam squad, an epic playlist, getting-ready photos, mimosas, bagels and bonding time. Sounds pretty good to us.