15 Printable Wedding Games That'll Entertain Guests of All Ages
Everyone loves Mad Libs.
We have included third party products to help you navigate and enjoy life's biggest moments. Purchases made through links on this page may earn us a commission.
For kids with a sugar rush, the table of guests who don't know each other well or the couple whose feet are throbbing from being on the dance floor, printable wedding games are heaven-sent. Not only do these cute printables look amazing sitting on top of your table settings, but they're also affordable and fun for all ages. So whether you want to offer a fun icebreaker for guests or keep little ones busy with kid-friendly entertainment, shop our roundup of 15 tried-and-true options that won't disappoint.
1. "Name That Cake" Printable Card Game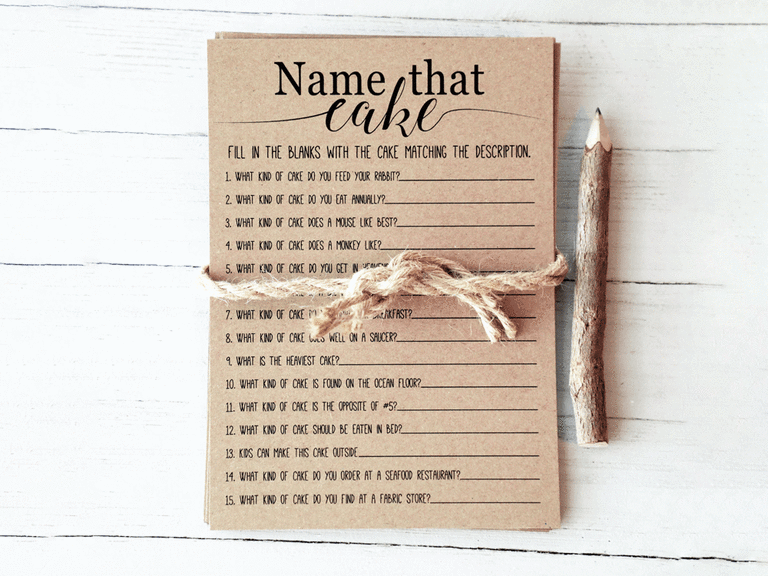 These "Name That Cake" game cards will be a hit at your reception. Your guests fill in the blanks with the cake that best matches the description, for example, "What kind of cake do you feed a rabbit?" It's a simple but fun game that's perfect for children and adults. The printable PDFs come in white or kraft paper backgrounds, with two different sizing options available for instant download, so you don't have to worry about shipping costs. Bonus: If you want to change the text or wording of the game, simply make a note to the seller before you check out.
2. "Bride or Groom? (He Said She Said)" Printable Wedding Game
Want to know how well your guests know you and your partner? Then try this fun and quick game that'll entertain everyone. This instant download has gold sparkles decorating the borders—the seller recommends printing these cards on stock or kraft paper for a "more polished look."
3. "Kissing Menu" Printable Couples Game
If you're sticking to a traditional wedding reception timeline, it can be hard to find time to interact with your guests. Luckily, there's a wedding game you can use to get the party started. A "Kissing Menu" is a list of fun tasks you create for your guests to complete so they can see the happy couple kiss. You can ask guests to give a heartwarming speech or request that they serenade you with a love song. This white template with pink bouquet accents allows you to include up to 15 lines of text.
4. Printable Wedding Word Search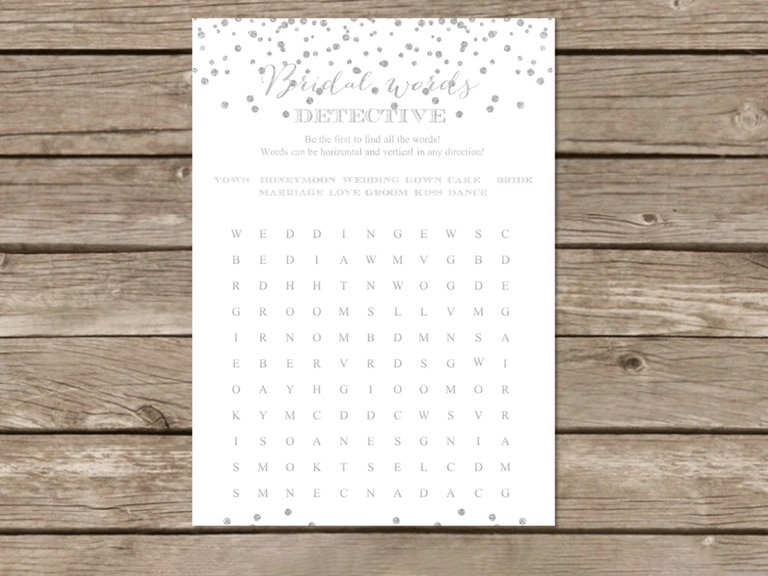 Need something to occupy the kids during the reception? Then try out this wedding-themed word search game. It's a digital file you can easily print at home or at a professional printing shop. The game has 11 searchable words and is showcased on a white background with silver confetti accents.
5. Downloadable Wedding Kids Activity Book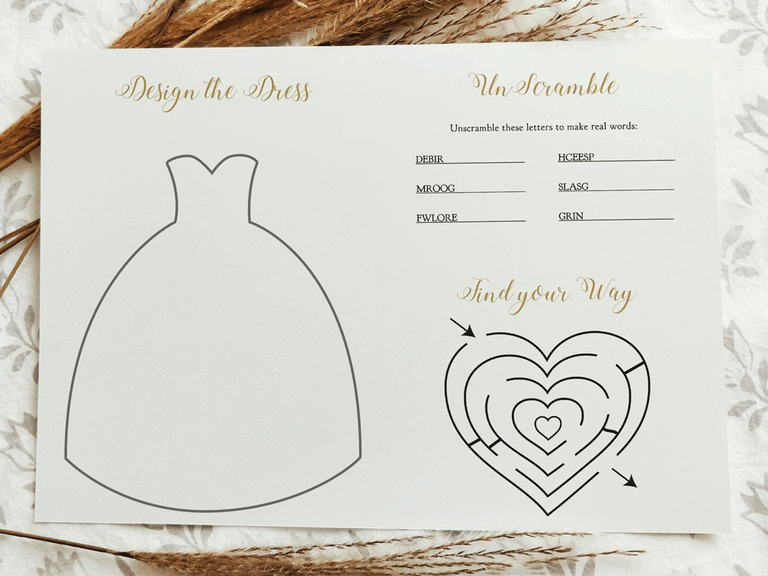 If you don't think one wedding word search will keep the kids settled, give each kid an activity book. This activity book has 10 pages of printable wedding games, like "Decorate the Cake" and "Tic-Tac-Toe." All you have to do is add coloring utensils.
6. Custom Wedding Crossword Puzzle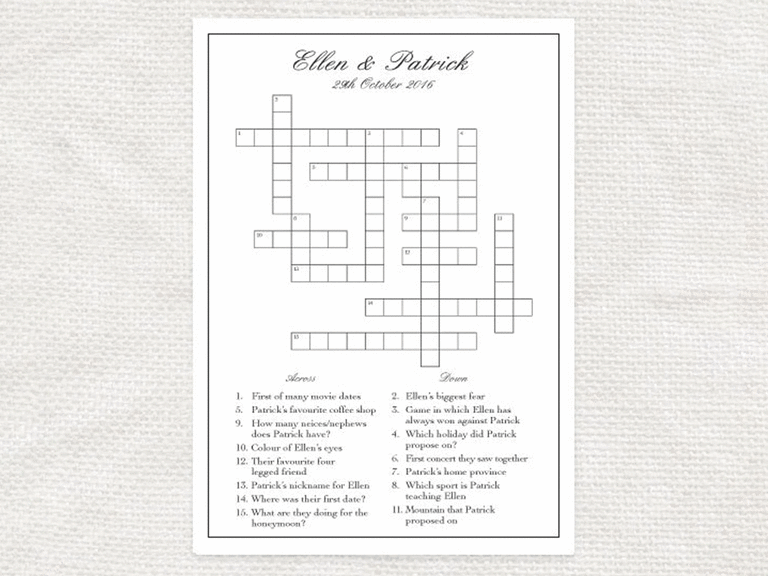 This printable wedding reception game is a great option because it's fully customizable. Create 14 of your own questions with accompanying answers, then choose from several fonts and over 20 colors, like teal and olive, to make your crossword unique to your wedding. You can also add the crossword to a wedding program or print it separately.
7. Wedding Traditions Game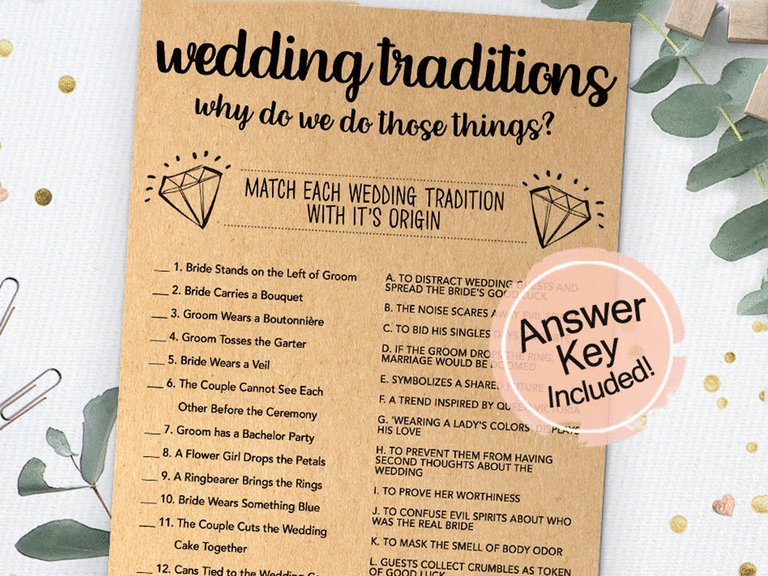 Wedding traditions and superstitions are fun to learn about, so why not test your guests' knowledge with a wedding traditions game? Match the wedding tradition to the description and keep an answer key (it's included with your purchase) on each table so guests can check their answers. This game is designed on kraft paper but can be printed with a white background instead to better fit your wedding theme. Bonus: The seller includes a simple guide with instructions for how to print your files.
8. "Over or Under" Printable Card Game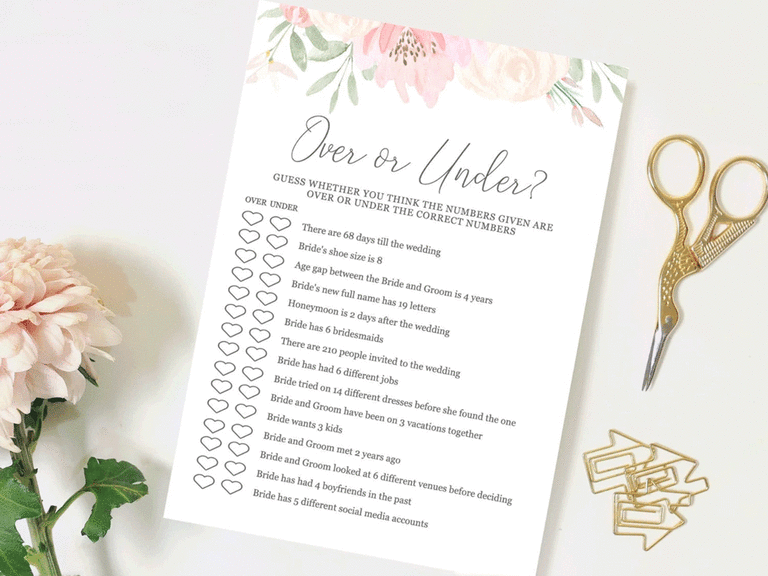 This "Over or Under" wedding game features a white background with a pink bouquet decorating the border. If you want to change the card's design, you can choose colors that fit your wedding theme or even add photos to the back of the card. The best part is that all of the text is editable, including the names and wedding titles, so your card is personal to you and your partner.
9. The Wedding Shoe Game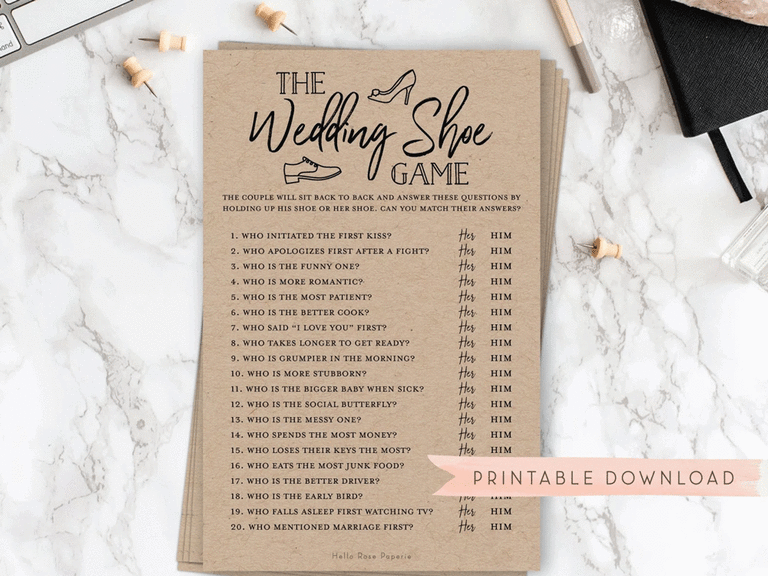 The wedding shoe game is one of the most popular wedding reception games of all time. This printable download allows you to choose from 24 text color options, like peach and gold, plus you can personalize the game with your own questions.
10. Wedding Guest Bingo Game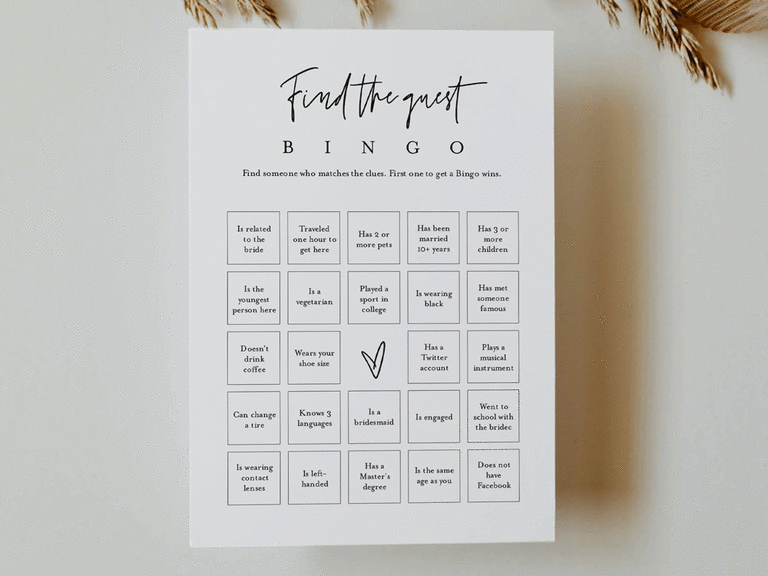 This game is one of the best ways for your guests to get to know one another. Each bingo square corresponds to a specific trait or description, so guests will have to socialize to find someone with each quality in order to win. With this game, you can edit all the text (including font style and color), change the background color and add your own photos to the template.
11. "Who Knows the Couple Best?" Printable Wedding Game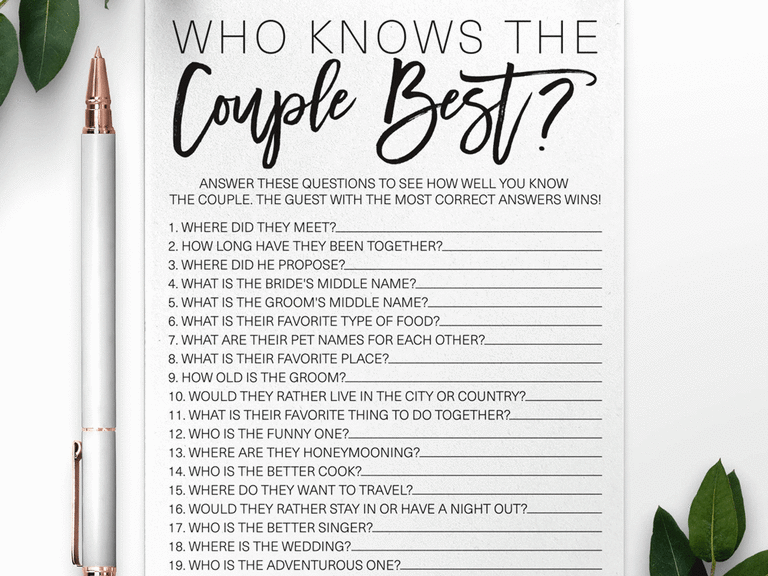 Customize this game with deep questions to see how well your loved ones know you or as a way for them to learn more about you and your partner. The rules are simple: Guests fill in the blanks with the correct answer, and whoever has the most correct answers wins. Set aside extra party favors or another surprise to congratulate the winners.
12. "Disney Love Quotes" Printable Couples Game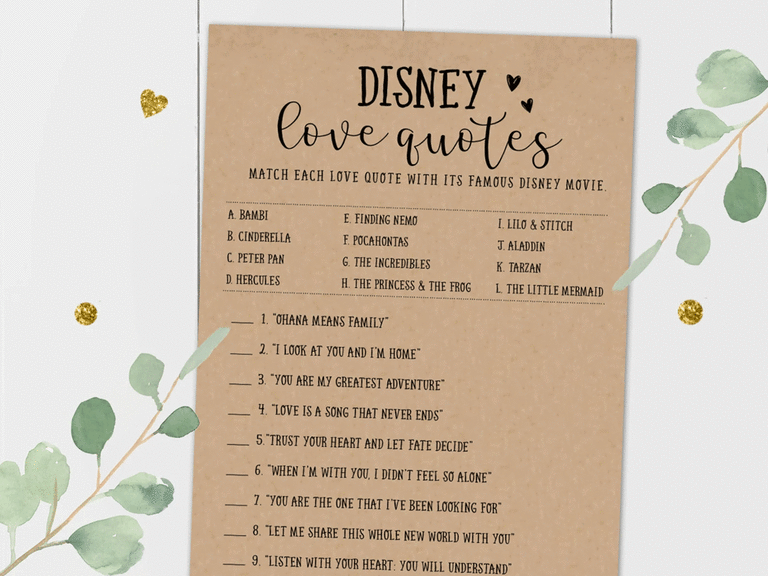 Are you having a Disney-themed wedding? Then add on to the fairytale with this game, where guests match famous Disney love quotes to the corresponding movies. The PDF file is in black and white, but you can print the game on any paper you want to complement your wedding colors.
13. "I Spy" Wedding Game Template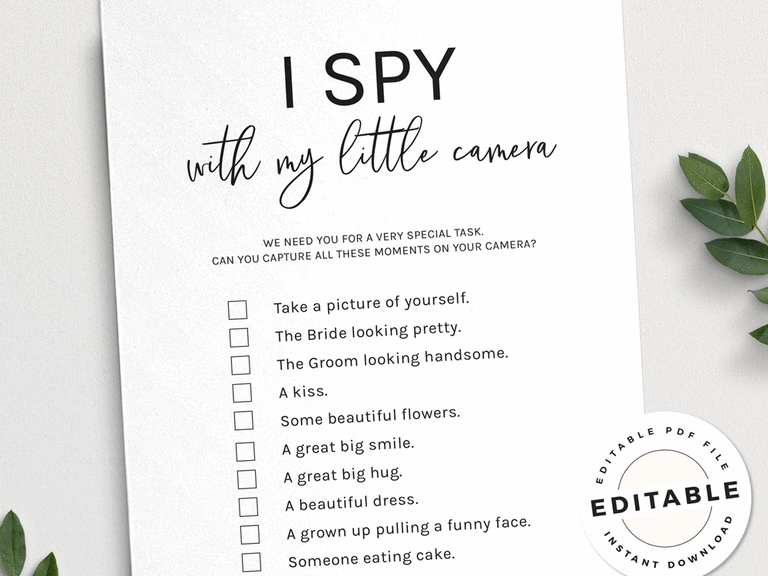 Entertain guests of all ages by having an "I Spy" game for each person (or every table) at your reception. This is a different take on the normal "I Spy" game, since each guest must spot and take a picture of each scenario on the list, which you can personalize, to win. To make the game even more unique, provide disposable or Polaroid cameras so guests can play the game without being on their phones—the bonus is that you'll get some great photos to put in your wedding photo album.
14. Printable A to Z Wedding Words Game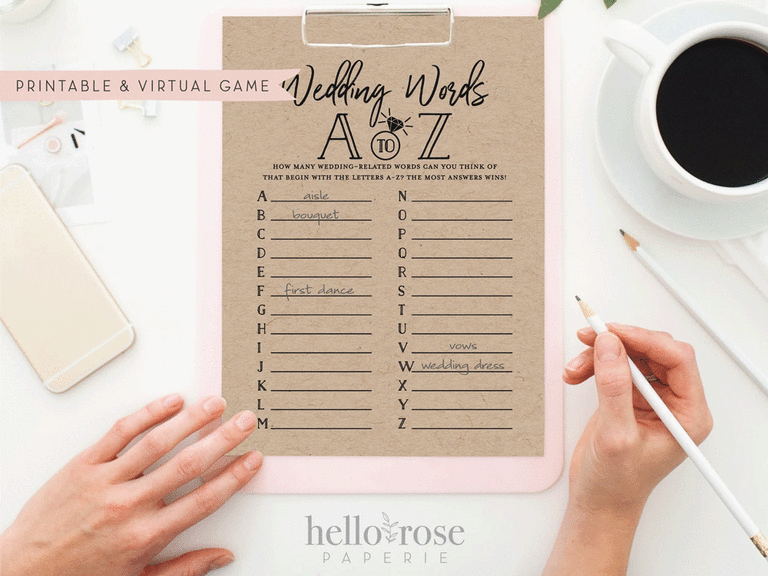 Another way to keep kids amused during the reception is with this wedding words game. Kids are tasked with filling in as many wedding-related words as they can. You can edit the text to add helpful hints and change the text color or background to make the cards more eye-popping.
15. Marriage Advice Cards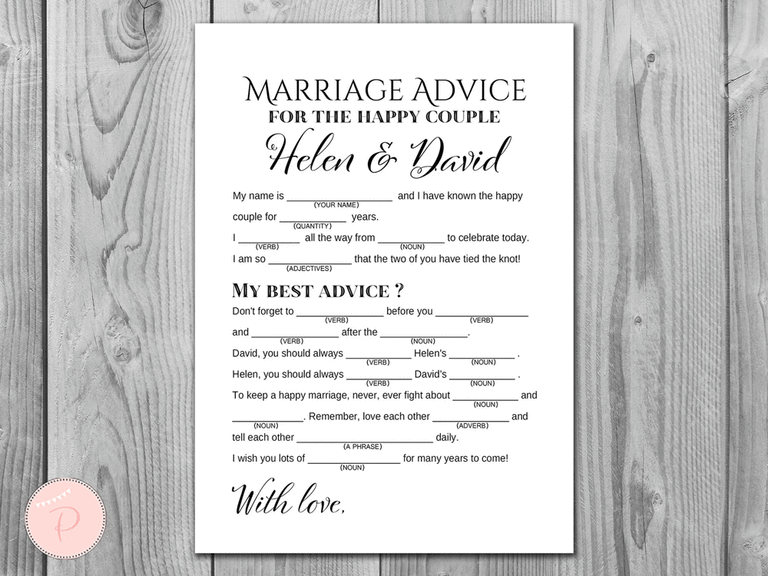 Receiving marriage advice from your loved ones doesn't always have to be serious, so put a quirky spin on it by having this game at your reception. You can print this Mad Libs wedding game as it comes or change the word template so it's special to your celebration. Trust us, your guests will love making these and you won't be able to stop laughing at their responses.