13 Wedding Venues in Southern California That Will Take Your Breath Away
These sunny SoCal wedding venues are fun, flirty and fresh.

If you've been dreaming about the perfect place to hold your wedding ceremony, look no further than these beautiful wedding venues in Southern California. There's so much to love about SoCal from the Santa Monica Pier to the many golf courses of Palm Springs, to the family-friendly fun of Disneyland, Knott's Berry Farm, and Universal Studios Hollywood. But the fun touristy spots aren't the only things that make SoCal one of the best places to have a destination wedding.
Southern California is home to so many hidden gems. Whether you're looking for a quick, no-fuss, yet beautiful elopement destination like the Albertson Chapel in Los Angeles, or a historical site like the rustic Leo Carrillo Ranch in Carlsbad, the Golden State really has a unique wedding venue for every couple and every wedding style. Not to mention, the weather is nearly perfect all year round—your wedding photos are guaranteed to be amazing no matter which amazing Southern California wedding venue you select.
To get you started on your wedding planning journey, we've rounded up the best wedding venues in Southern California. But after you dig into the 13 unique wedding venues in Southern California listed below, take a gander at even more amazing wedding locations on The Knot Vendor Marketplace. Get ready for a SoCal wedding that's absolutely stunning.
The Pavilion in Los Angeles, California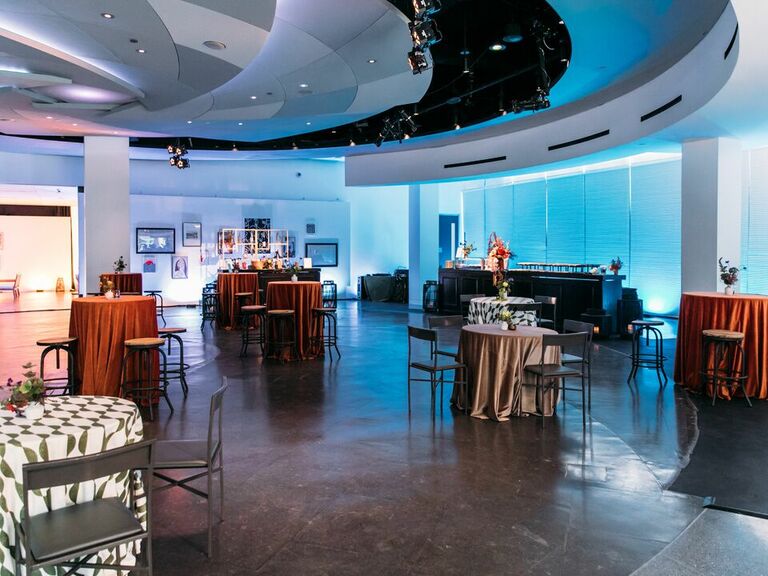 Searching for a modern wedding venue in Los Angeles? The Pavilion in Los Angeles, California, is a chic, industrial space that's the perfect blank slate for any wedding. This unique wedding venue in Southern California boasts 13,000 square feet of indoor event space and 2,000 square feet of outdoor event space that can accommodate up to 495 guests. If you're a fan of minimalism then this is the best wedding venue in Southern California for your celebration.
Villa del Sol d'Oro in Sierra Madrea, California
Want a Europoean-inspired wedding venue in Southern California? Look no further than Villa del Sol d'Oro in Sierra Madre, California. Translated, the SoCal wedding venue's name aptly means "villa of the golden sun." And that's exactly what this unique wedding venue in Southern California is. This Southern California wedding venue can accommodate up to 200 guests and is located at Alverno Heights Academy, a private catholic girls school.
Morgan Estate in Temecula, California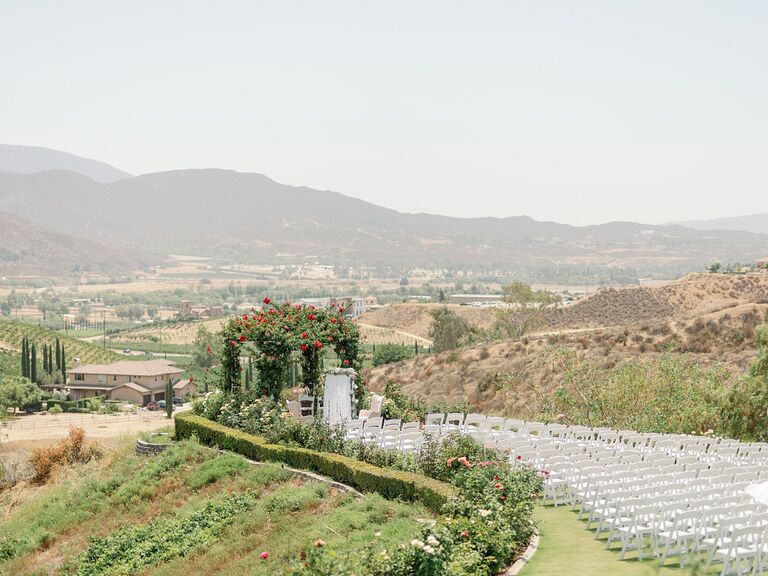 Calling all wine lovers! Take a look at this renowned wedding venue located in Temecula Valley Wine Country on 20 acres of sprawling land. Morgan Estate in Temecula, California, is a family-owned Riverside County venue that came about in 2012 when the Morgan family's only daughter, Laura, got married, and they decided they wanted to create an all-inclusive destination that would take the stress out of wedding planning. The Southern California wedding venue includes a 3,000-square-foot covered pavilion, a 1,000-square-foot getting-ready suite and can accommodate up to 200 guests.
Cal-A-Vie Health Spa in Vista, California
A health spa may not be the wedding ceremony site you had in mind, but Cal-A-Vie Health Spa is worth a look. Located in Vista, CA, this wedding venue promises a one-of-a-kind experience for you and your wedding guests. Wedding planning can get really stressful, so Cal-A-Vie wants to take care of everything for you with its all-inclusive 3-day destination wedding experience. You and up to 120 guests will have private access to the resorts facilities, unlimited fitness classes and group activities of your choice, and daily spa treatments. Plus, you can choose to have the ceremony at the French chapel or the Parish House, which were both imported from France, the 5,000 square foot manicured lawn, or the windmill.
Camarillo Ranch in Camarillo, California
Camarillo Ranch in Ventura county is "where rustic charm meets Victorian elegance." This 19th century ranch is an important part of the community, and actually has a romantic history. The estate was a romantic gesture built by Adolfo Camarillo for his wife, Isabella. The event space can host up to 1,000 guests and has is used for weddings, retreats, private parties, and other social events. It offers destination-style wedding packages, and you have the choice between two outdoor wedding venues, as well as the Red Barn, which is a big banquet hall, and the Victorian mansion.
The Vineyards in Simi Valley, California
The Vineyards, located in Simi Valley, is considered to be a true hidden gem in Ventura County. This award-winning wedding venue has several indoor and outdoor spaces to choose from, all of which, are unique and absolutely gorgeous. The Star View Room and Deck is set under a starlight ceiling, perfect for a nighttime ceremony or reception. The Sunset View room accommodates up for 100 guests, and has great views of the mountains. The Water Wall ceremony site is the largest of them all, and features cascading waterfall backdrops and cafe bistro lighting. Regardless of which event space you choose to use, your guests will remember your wedding day for years to come. That's just how special this venue is.
NOOR in Pasadena, California
If outdoor venues aren't your thing, NOOR in Pasadena may be the right spot for you. This family-run boutique venue is versatile and can accommodate both larger and smaller parties. The Sofia Ballroom, the largest space of them all, is an Art Nouveau-inspired banquet hall that can fit up to 600 guests. If your dream wedding includes saying "I do" under the stars, NOOR even has an outdoor courtyard known as the NOOR Terrace. It's perfect for those looking for a more intimate setting.
La Casa del Camino in Laguna Beach, California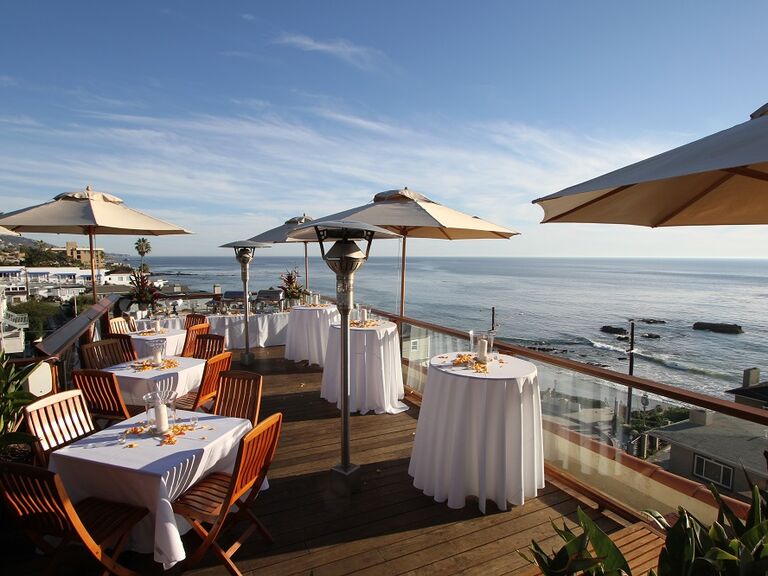 No list of Southern California wedding venues would be complete without at least one beach venue. If you've always dreamed of having a beach wedding, La Casa del Camino in Laguna Beach is where you want to be. Laguna Beach is the epitome of SoCal's cool and laid-back vibe. At La Casa del Camino, you can relax, enjoy the beach, explore the town, and then celebrate your love with your friends and family in a beautiful setting.The venue has eight reception and banquet spaces, and a one of a kind rooftop space with amazing views of the Pacific ocean.
Villa Sancti Di Bella Vista in Malibu, California
If you're looking for something luxurious, look no further than Villa Sancti Di Bella Vista in Malibu, CA. This private estate features amazing views of the ocean, a dance pavilion, a pool, a rose garden, a vineyard, a waterfall courtyard, seven fountains, and more. It's an award-winning venue that's meant to make guests feel as if they're on a European getaway. This Tuscan estate is very in demand and slots get filled fairly quick. If this is the venue for you, be sure to book your wedding date as soon as you can.
Rolling Hills Country Club in Rolling Hills Estates, California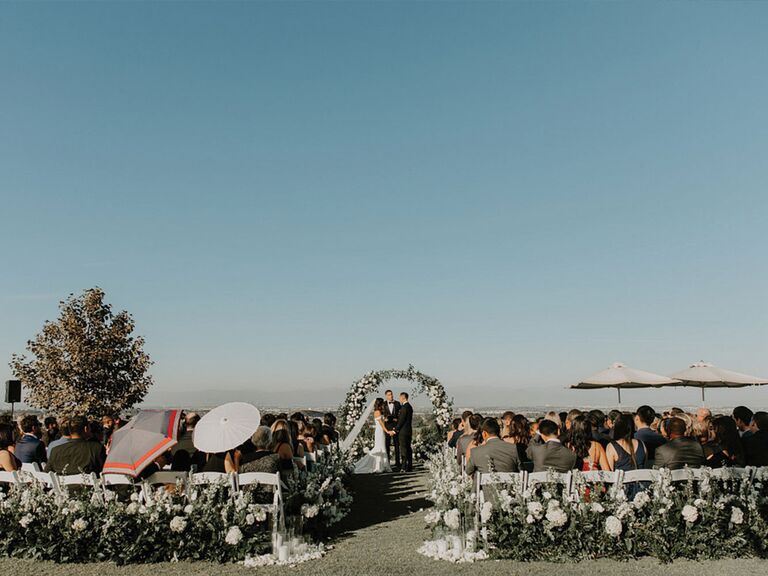 Classy, sophisticated, and elegant is what you'll get when you book a wedding at the Rolling Hills Country Club on the Palos Verdes Peninsula. This private club features a number of distinct indoor and outdoor event spaces such as the Skyline Ballroom and the Atrium room. The best part is, you'll get an amazing panoramic view of the Los Angeles cityscape.
Bel-Air Bay Club in Malibu, California
Bel-Air Bay Club is considered to be one of the best wedding venues Los Angeles has to offer. This private Mediterranean-style mansion in Malibu overlooks the Southern California coastline, and offers both indoor and outdoor event spaces to exchange your vows. Just imagine yourself surrounded by palm trees saying "I do" as the sun sets in the background. What a way to start your marriage. The venue itself has a rich history. It was built in the 1920s as part of a project conceived by Alphonzo Bell, one of the primary developers of Los Angeles.
The Retreat in Corona, California
The Retreat by Wedgwood Weddings is a Tuscan-style private estate located in Riverside county. The venue sits in the hills above Corona, CA, and is private, gated, and aims to have a "prestigious clubhouse vibe." If you're looking to make the most out of The Retreat, be sure to book your wedding day for the springtime. That's when the world-famous California poppies bloom. The estate has an outdoor reception terrance you can use to get a good view of the wildflower valley.
Arrowhead Pine Rose Weddings in Lake Arrowhead, California
If you want to wow your guests with a wedding venue they've never seen before, you may want to consider Arrowhead Pine Rose Weddings located in the heart of the San Bernardino National Forest. The venue provides couples with a "rustic natural forest wedding" experience, where you'll have your ceremony in a custom log and branch gazebo situated within a wooden amphitheater. You'll dance and celebrate with friends and family underneath the stars. The site even offers lodging for you and your guests at the Pine Rose Cabins for the night of the event. If you and your partner love nature, this is definitely worth looking into.
Hannah Nowack contributed to the reporting of this story.