How To Keep Pokémon Go From Ruining Your Wedding: The Essential Guide
How to deal when the new augmented reality game doesn't exactly, um, augment your wedding day.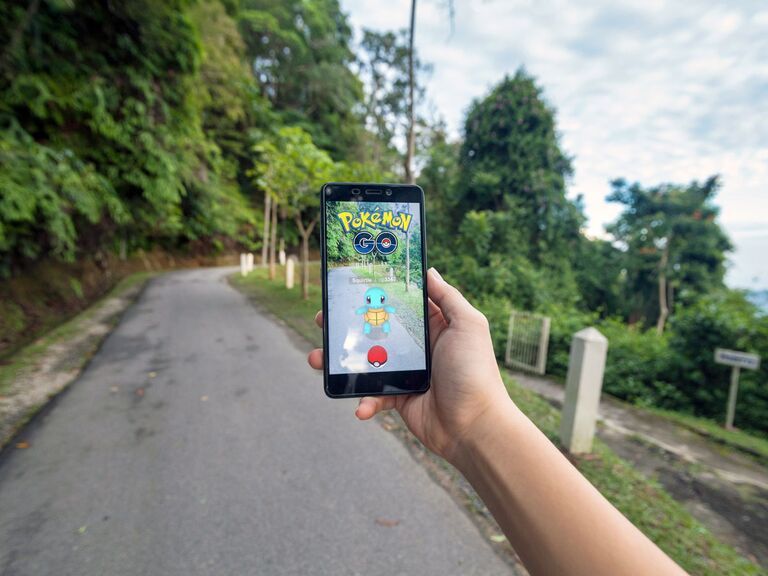 iStock
Whether you like it or not, wedding etiquette has gradually been evolving since the dawn of the smartphone. And if you thought it would be difficult to keep your wedding guests off their phones before, if your loved ones play Pokémon Go, it's darn near impossible to wrench them away now. (They've just gotta catch 'em all, in case you haven't heard.)
We know it sounds crazy, but with the unbelievable rise in popularity of Pokémon Go—the augmented reality game that uses players' GPS location to let them catch Pokémon creatures in real time—comes an entirely new set of issues regarding cell phone wedding etiquette. (And, no, we never thought "Pokémon Go" and "wedding etiquette" would appear in the same sentence). So, if you'd rather your guests catch a glimpse of your first kiss as newlyweds instead of a rogue Bulbasaur, read on for a few graceful ways to avoid the Pokémon hype at your wedding.
Set Up Signs
We've seen it happen—a couple tries to marry in a public space, but their ceremony gets ambushed by people playing Pokémon Go. Of course, if you plan to have your wedding at a public park or beach, you need to prepare for the presence of other people nearby.
That said, people should know to be respectful and avoid what's clearly a wedding, but this game seriously has people going all out for Pokémon and we're talking all out: Civilians were so busy playing Pokémon Go that none of them noticed Justin Bieber standing right next to them in Central Park.
Clearly, in this exceptional case, it might be a gamble to rely on the consideration of strangers. Consider placing a sign that reads something like, "Please be considerate of our special event and refrain from passing through this area. Thank you!" If people still disregard your request and play on your wedding plot, politely ask them in person if they'll respect your wedding and play elsewhere.
Have an Unplugged Wedding
The most effective way to ensure your guests don't stay chained to their screens—and leap after that Ivysaur settled on the dessert table—is to have an unplugged wedding. To let people know you want them to be fully present at your celebration, post a sign at the site, write a reminder on your ceremony programs or include it on your wedding website (which, we know, seems a bit hypocritical, but it's a great way to spread the word).
Designate Lookouts
But not every couple actually wants to bar their guests from going online (how else would everyone use their creative wedding hashtag?)—they just don't want Pokémon Go to take over. So if a majority of guests are choosing to hunt creatures rather than join in on the dance floor or take photos of the cake cutting, have a trusted and tactful family or bridal party member quietly ask the guest in question to hold off gaming. However, most people know that it's an honor to be included in someone's special day and that excessive cell phone use is always unacceptable.
Let It Go
Elizabeth Corps, a bride in the UK, found out her wedding venue had turned into a Pokémon Go battle gym (a place in the game where people can train and catch creatures). The moment they arrived to the site, everyone who played started battling over monsters. But despite the animated wedding crashers stealing her spotlight, Corpse decided to laugh it off. The recent bride told The Mirror, "It was hard keeping my new husband off Pokémon Go and I don't know if he's caught them all yet but he's definitely caught me."
See more Instagram photos of Pokémon crashing the wedding circuit right here: