21 Questions to Ask a Wedding Decorator, According to The Knot Ones to Watch
An expert weighs in on wedding decor queries to note.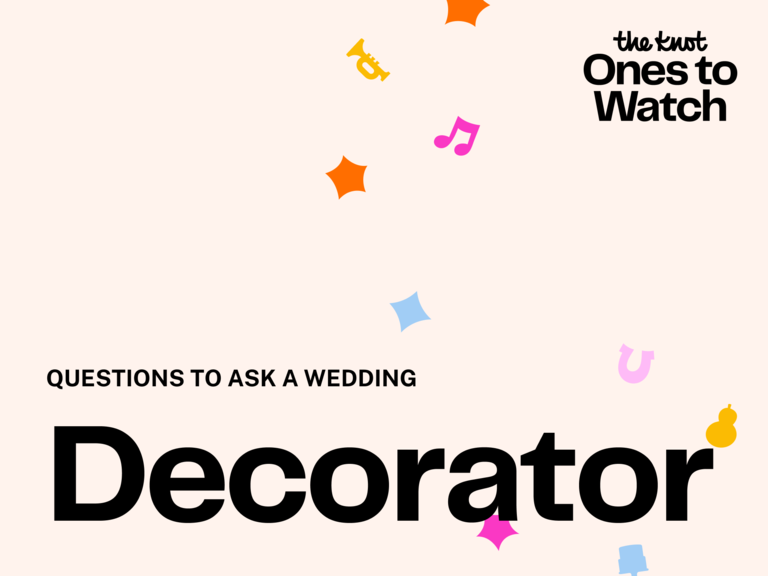 Before we address questions to ask a wedding decorator, we should set the record straight on what a wedding decorator is. In short, they're a vendor hired solely to focus on wedding venue design and decorations. Some wedding planners are also event designers, but many just focus on the logistics side of things. Meanwhile, your venue will have a coordinator, but they're primarily focused on details relating to accessing the venue, they don't come up with designs for decorating the interior.
This is where a wedding decorator comes in. Their work complements a floral designer's creations, but a decorator will generally work with materials other than fresh blooms. Think: fabric draping, balloon installations, colorful streamers, custom-painted backdrops, etc. In short, there's a wedding decor company out there to fit every wedding vision and style. But how do you decide who to hire for the job?
Since wedding decor is so highly customizable, it's important that you hire the right company to fit your needs and vision. Identifying the right questions to ask a decorator for a wedding is a crucial preliminary step. Read on for a comprehensive list of the questions you need to ask potential wedding decor companies. Plus, we spoke with an expert to get their take on the matter at hand as yu navigate the wedding planning process.
In this story:
Meet Our Ones to Watch Expert
In order to provide a thorough, in-depth look at the questions you should ask a wedding decorator, we connected with one of The Knot Ones to Watch 2023 honorees to share some of her expert advice as a knowledgeable wedding decorator. Below, the pro dishes on things she wishes couples knew as well as questions to ask your wedding decorator. Read on for our comprehensive list of all the questions to ask the decorator for your wedding.
Wedding Decorator Questions About Background and Business Ethos
Before you get into questions about the specifics of your wedding vision, take a moment to inquire about the business as a whole. Why did they get started? What motives them? What informations their approach to wedding decor? These questions for your wedding decorator will set the foundation for a great working relationship.
1. What excites you about working as a wedding decorator?
Understanding the vendor's why will be illuminating as you embark on a path toward the what of your wedding venue decor. With creative professional, like wedding decor, vendors bring their heart and soul into their work. This question is a great way to build a solid foundation to your working relationship.
2. Does your business prioritize sustainable practices?
Most decor business use a lot of inorganic materials, so it can be wise to ask about their approach to sustainability. Harrison shares that, "we knew there had to be a way to create thoughtful event experiences that are also conscious of their environmental impact. We know there's a lot of waste being produced day in and day out, and we hope to change that with our commitment to sustainability by making conscious decisions to reduce waste, and recycling, reusing and disposing responsibly when we can't. Our streamer rentals are almost entirely waste-free, which is an unheard of thing in the wedding industry when it comes to decor! Our mission has always been the same: save time and money, eliminate stress, let sustainability lead the way, and have fun in the process!"
Wedding Decorator Questions About Inspiration and Personalization
Once you know a bit about the company, it's time to drill down on their artistic approach. You want to get a sense for the kinds of ideas they can come up with and how those will align with your big day.
3. How can you help me design a wedding that is unique and authentic to me and my partner?
The pro you're talking to is clearly talented, but you want to still gain clarity around their ability to customize a design to showcase your love story. "I wish that couples knew they didn't need to conform to traditions they don't have a connection with, and that their big day should be a reflection of who they are as people and as a couple," says Harrison. "Wedding trends are great, but there's no need to settle into one that doesn't make sense for you!"
4. Can I see examples of your work?
Specifically, ask if you can see examples from real weddings, not just styled shoots. You want to see the type of work they've created for clients in the past, not just work they brainstormed in a studio setting.
5. How will your decor enhance the vision of the event? As I spoke about my wedding vision, did it spark any unique ideas for you?
You're going to this pro for their creative expertise so don't be afraid to let go of the reigns and tap into their knowledge. They may have ideas that unlike anything you could've dreamt up. Remember that the answer to this question will also vary slightly depending on if you're booked them yet or not. During the initial inquiry phase, they will offer some ideas, but no one wants to give away a full-fledged proposal for free. So expect to get some thought-starters in the initial phase and then you can work to fully build out those ideas once you've signed a contract.
6. Are there other wedding decor companies you think we should consider to complement your work?
The decor company you're working with may have a very narrow scope, such as balloon installations or draping, that would benefit from additional decor support, such as lighting design or draping. They will be able to recommend additional vendors whose work may go nicely with the vision you have so that the end result is truly spectacular.
7. Do you have specific colors you recommend we focus on?
Your color palette will come to life largely through your decor, so Harrison encourages couples to ask their decorator for advice on selecting colors. A decor expert is a creative with an eye for design and they'll be able to envision how certain shades will work harmoniously in your chosen space.
Wedding Decorator Questions About Budget
Your big and beautiful ideas can't be produced for free, which is the budget talk is important. These queries are a critical component of the questions to you need to ask a decorator for your wedding.
8. At what price do your packages begin?
Understanding how much a wedding decorator or stylist charges and how that'll fit into your wedding budget is key. Many factors, such as scope and scale of your event, will impact your specific quote, but it can be helpful to get a rough ballpark early in the planning process so you can earmark enough of your budget to decor.
9. Will I be renting these items? What, if anything, will I own after the event?
Because there are so many types of decor businesses with varying levels of customization, it's important to understand how your vendor approaches renting versus purchasing. If they're sourcing new items for your wedding, will you be expected to find homes for those items after the wedding?
10. When will my deposit and final balance be due?
This is an important part of the wedding design question checklist. Beyond knowing how much you'll owe, when it comes time to sign the contact make sure to inquire about when and how all payments should be submitted. Your wedding vendor team will include multiple businesses and it's critical that you keep track of all the payments and moving parts.
11. What costs aren't covered in your proposal?
Understanding what isn't included in prices can be just as illuminating as learning what is included. Make sure you're aware of extraneous costs that you'll be responsible for since they're not part of your wedding designer's fee.
Wedding Decorator Questions About Logistics
Make sure you don't skip inquiring about day-of logistics for the wedding. Your day-of wedding decorator point of contact might be different from the person you're working with in the lead-up to the wedding. Err on the side of asking more questions to ensure everyone is on the same page about how things will flow.
12. Are you available for my wedding date? How far in advance do we need to finalize the contract?
Whether or not the vendor is even free on your wedding date is a critical question to ask early on. If they're a vendor that's especially important to you to have, consider reaching out to them prior to finalizing your wedding date so that you can settle on timing that is optimal for all parties involved.
Additionally, vendors won't hold dates for indefinite amounts of time without a contract. If they start to receive other inquiries for the same date you may be at risk of losing priority. So ask early on when you need to finalize everything.
13. What is your communication style? What can we expect from the rest of the process?
Miscommunication can contribute to unmet expectations. As such, ask your wedding decorator how the process will flow and how you can expect to communicate with them. Will there be in-person meetings, phone calls, emails, a venue walkthrough?
14. What kind of preview (such as renderings or layouts) will we be shown once we've decided on plans?
A decor company isn't going to have all your designs ironed out before you even book since you haven't yet committed to their business. But while you're still in the booking stage, you can ask for them to explain what kind of deliverables you can expect. For couples who may have a hard time visualizing the ideas they're creative pros are dreaming up, details proposals and diagrams can be incredibly helpful.
15. Will you bring a wedding set-up and take-down crew?
The last thing you need to be worrying about on your wedding day is who is on hand to set up your decor. And you certainly shouldn't be questioning whether or not your decor is going to be cleaned up at the end of the night.
16. How much time do you typically need for load-in and strike?
Like many of your inquiries, this is something that you need to continually revisit throughout the planning process as the scope of work is finalized. But early on in the process your wedding decorator should be able to give you a rough estimate of how much time they typically request for events of a similar scale.
17. How do you work with wedding planners?
When wedding planners are part of a vendor team, they're the glue holding it all together. Your process, and the flow of communication, will differ if you have a planner who can handle minutiae on your behalf. Ideally, your planner, if you have one, would be present with you for this consultation so they can be integrated into every stage of the wedding design process.
18. Do you travel? Is there a fee for travel?
Even if you aren't having a destination wedding in a far-flung location, it's important to inquire about a vendor's travel policy. They may have a fee for venues outside of the city limits or a certain distance away. These fees would be on top of your main design costs so gaining clarity is beneficial.
19. What is the cut-off date for making changes to our decor plan?
While it's fun to toss around ideas and brainstorm, at a certain point you have to commit to a direction and lock in plans. Especially if some elements of your decor are being custom made, this date could be earlier than you expect. From the onset, ask for an outline of the process timeline so you know what needs to be decided at each stage.
20. What is your cancellation policy?
If COVID-19 taught us anything, it's that plans can be forced to change very suddenly for reasons outside of your control. Ask your wedding decorator about their policy, and any fees, associated with rescheduling, postponing and cancelling.
21. Do you have event liability insurance?
Your venue may require all vendors to have a certain level of insurance. The first step is to find out what is required by the venue. Then go to your wedding decorator to check that their coverage is on par with requirements.