Exclusive: Here's the First Look at Roll With Cole & Charisma's Wedding Photos
It's in the details.
Cole Sydnor and Charisma Jamison of Roll With Cole & Charisma knew from the beginning their love is different—and that was the point. "One message we've always tried to convey to people is love can take any shape and any form," Sydnor says of his relationship in an exclusive interview with The Knot. "It doesn't matter what form that's in. Whether that's white and black, able-bodied and not. As long as that love is there, that's beautiful."
About a decade ago, Sydnor ventured out for a day trip with a group of friends and returned home in a completely different state. "On a summer day in 2011, I went to the James River with some friends—and at one point, dove into the water, and broke my neck. I was instantly rendered quadriplegic," he recalls. "A friend jumped in before I was swept away by the rapids."
After the incident, Sydnor had to adapt to his new lifestyle while relearning fine motor skills, such as brushing his hair and his teeth. From that day on, he had to learn to live with a spinal cord injury and adjust to his new lifestyle. After overcoming the initial hurdles of physical and emotional adjustment, he graduated and started working out at a center known as Sheltering Arms Physical Rehabilitation. For a year and a half, he didn't notice a New York City-born and Richmond-raised rehabilitation technician named Charisma Jamison—until the day she finally caught his eye. Sydnor, of course, did what any millennial would do: he sent her a DM.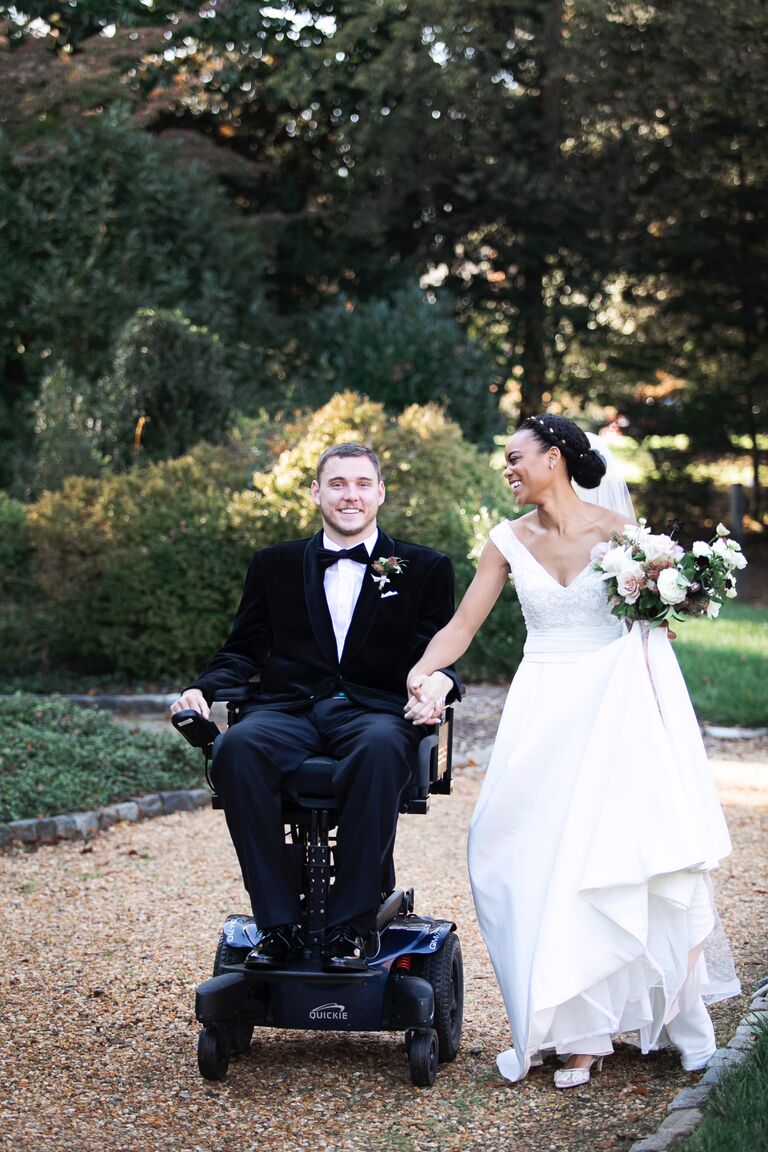 "I had been going into Sheltering Arms for years. She had been working there for a year and a half, before we really noticed each other," adds Sydnor. "As soon as we did, we were off to the races. I was still nervous about dating—since before my injury—so I was wary of how girls would receive me and my disability. I wanted to come into it as a friendship, but that didn't really work. There were too many sparks."

"It was a romance first and a quick romance," Jamison recalls. "We noticed each other in November 2017, and we went on our first date weeks later." About six months later, the couple—at that point, deeply in love— started a YouTube channel called Roll with Cole & Charisma, where they've since documented their interabled relationship journey up to their recent wedding video. The digital destination now has over half a million subscribers, and they just posted their first look at their wedding, along with more exclusive details and photos below. 
Roll With Cole & Charisma's Wedding Photos
In July 2019, Sydnor proposed to Jamison with an original song. Like millions amid COVID-19, the couple pivoted their wedding plans numerous times, moving their nuptials from an indoor location to an outdoor space; in addition, they moved up their date to accommodate loved ones. "We wanted to keep it contained to a big outdoor space to make it easy to socially distance," says Jamison. "We had a small guest list of immediate family and close friends. Just a few. These are family members in our circle whom we see on a regular basis. And—it was at a very beautiful place." 
The couple chose the grounds of the Virginia Museum of History & Culture (VMHC) for their venue, a pivot from their initial indoor location. Their updated guest list only included immediate family and close friends. "We were going to be indoors for our wedding, but we didn't think it's as fitting," Sydnor says. "We actually moved it up a little bit for health reasons from the family. We want everybody to be able to witness it."
As an extension to their minimony, Charisma and Cole hosted a virtual component, so that guests could witness their love from a distance. "We weren't able to invite everyone we wanted," Jamison says. And, for those who attended in person, the couple took extra precautions to ensure health and safety measures to protect their inner circle. 

"One very specific example is we had a guest who couldn't wear a mask, so he wore a face shield," Sydnor explains. "We were also extra careful with seating and making sure seats and tables were spread apart. We all wore masks, except in photos [with our direct family]… In the context of planning, it's been a tricky and interesting thing to navigate because it's unprecedented. 
With the shift to a new outdoor venue in a historic city like Richmond, the accessibility factor wasn't quite there. "Since it wasn't 100 percent accessible, we had to build our own ramp for this one area," says Jamison. "So that Cole can get down to our ceremony. The ramp included our custom C&C logo and wedding date." Laughs Sydnor, "I don't see anyone having custom wheelchair ramps at their wedding!"

The couple also chose a first look to capture the sentimental moments before their ceremony. ("He wanted to let the tears out before," says Jamison.) The pair also had the lyrics from their proposal song adorably sprinkled into all the details of their day--including the lower tier of their wedding cake. "Our first dance was the proposal song. We got the band to learn it for the wedding," adds Sydnor. 
The Couple on Their Interabled Relationship
It was a first for Jamison, whose hadn't dated anyone with a disability prior to her relationship with Sydnor. "I studied disabilities in undergrad and that whole world—so I was immersed, but I never had a romantic relationship with someone with a disability," recalls Jamison. "It was very different—you have to navigate loving someone with a disability, but you still face very normal situations that others face—normal arguments and disagreements. Once I realized that, it wasn't so much different for a relationship. It was very easy to adjust to. It was the fear of the unknown." 
By the second and third date, both Sydnor and Jamison, respectively, knew they had found their life partner. "I knew I wanted to marry Cole the third date," she recalls as Sydnor jokes: "She was searching wheelchair wedding pictures on Pinterest."
"That second date, we had an open conversation about our intentions," he continues. "We said, 'We're not trying to date around and we're looking for someone for life.' We were on the same page from the start, and it was great from the start. From the beginning, I was looking for a wife and this worked out. Subconsciously, I knew she would be my wife."
What It's Like to Be in an Interracial Relationship
As love manifests across many backgrounds, Jamison and Sydnor's love story is also one of that of an interracial couple. "A lot of people look at our relationship and they wonder what it's like living in the capital of confederacy as an interracial couple," says Sydnor. "It doesn't start with race or ability, it starts with love. We always try to reinforce that it's at the core of it all."
"I'm with Cole for love and he's with me for love. If there's no other reason outside of that," adds Jamison. "We really circle back to love. For us, we just started to force ourselves to try not to cane into that—it's so emotionally draining to read comments about if I'd be with Cole if he were Black, or how he settled for me because I'm Black. We force ourselves to ignore it. It's just love."
Sydnor says their relationship dynamics present itself as teachable moments, especially considering their location. "It presents an opportunity to open people's eyes. We get a lot of questions from people who aren't [decidedly] racist but… the questions are, 'Would Cole with her if he's not in a wheelchair?'" he says candidly. "When you break down the question, it does come down to race."
Their Marriage
And now that they're married, the commitment of a lifetime together is a joyous component to their relationship. "I have always been the type that is loyal to people, to a select few," muses Sydnor. "In a marriage, I'm super excited to have the biggest commitment you can make for life. With Charisma, I know I have my best friend and my greatest love with me forever and always."

"Starting a future with someone is what excites me the most," agrees Jamison. "A dog, kids, to build a strong foundation for ourselves."
"I can't wait for kids," Sydnor laughs. Watch their wedding video up top.