18 Rustic Save-the-Dates That'll Make Your Guests Swoon
Rustic is a total vibe, and you'll know it when you see it.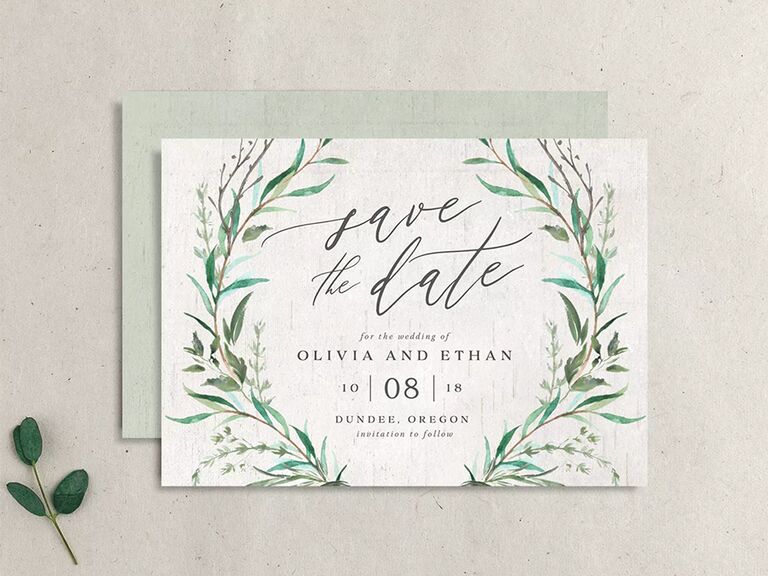 We have included third party products to help you navigate and enjoy life's biggest moments. Purchases made through links on this page may earn us a commission.
Once you lock in the date for your wedding, the next big to-do is sending out your save-the-date cards. You'll figure out all the pretty details as you continue to plan your big day, but if you've always envisioned a rustic vibe for your vows, you'll want to start by choosing a personalized save-the-date to match.
Luckily, throwing a rustic wedding in 2021 doesn't mean you're limited to burlap, wood or mason jar motifs—rather, you have nature in its entirety to pull from. Whether you want to lead with a sketch of your venue in all its pastoral glory, weave in imagery like wreaths and greenery, or send out a simple and chic save-the-date postcard, you're sure to leave your guests with a lot to look forward to.
To help you kick things off, we've rounded up our favorite wedding save-the-date templates for your perusal, many available from The Knot Invitations. Our love for a rustic aesthetic runs deep, so you'll see that we have plenty of thematic cards to make your wedding stationery—and eventually, your wedding invitations—stand out. From personalized photo cards and designs covered in wildflowers to save-the-date magnets, we're confident you'll want to bookmark some of these looks ASAP.
The Knot Country Farm Save-the-Date Cards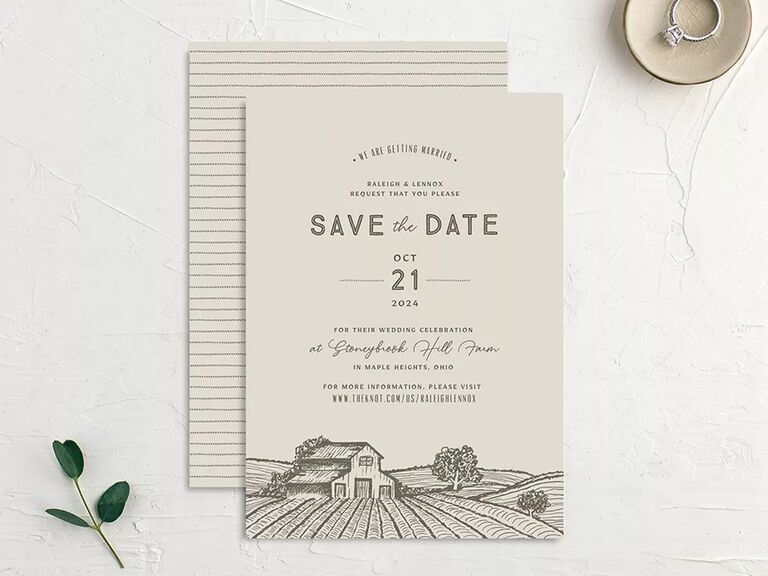 These vintage-inspired save-the-date cards harken back to Dorothy's Kansas, but not in a depressing, "I'll get you my pretty, and your little dog, too" sort of way. Instead, the color-editable country farm scene (complete with a rustic barn and plowed pastures) just looks charming and inviting. Your wedding details are displayed in a mix of bold and classic fonts and are accompanied by a corresponding envelope liner.
Affirmations Designs Long Story Short Printable Save-the-Date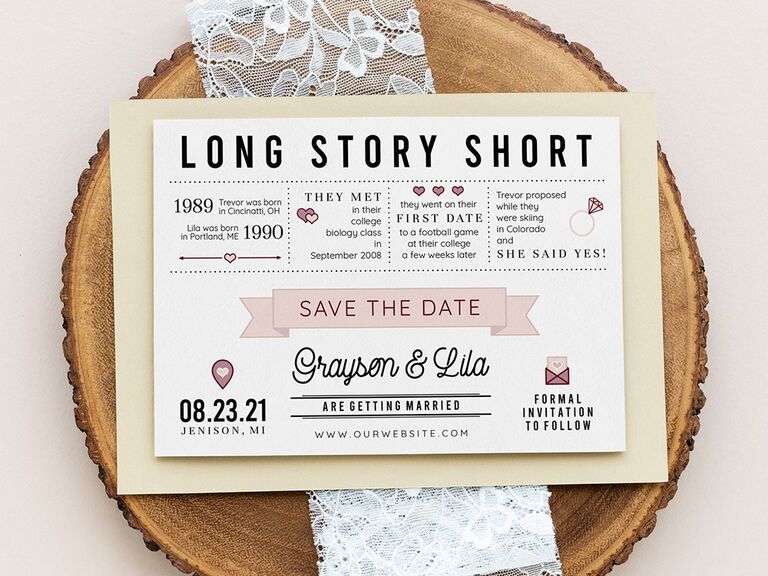 Every wedding day was preceded by an epic love story, and this Etsy printable recounts the highlights of yours. Personalize the timeline with milestone dates—like when you met and when you got engaged—then drop in your names and wedding website for additional details. The cool thing about an editable template is that you can tailor everything to your needs, then print from home or your favorite print shop. Choose the PNG or JPG file download and you can even text or email a picture to all of your friends.
The Knot Botanical Branches Save-the-Date Cards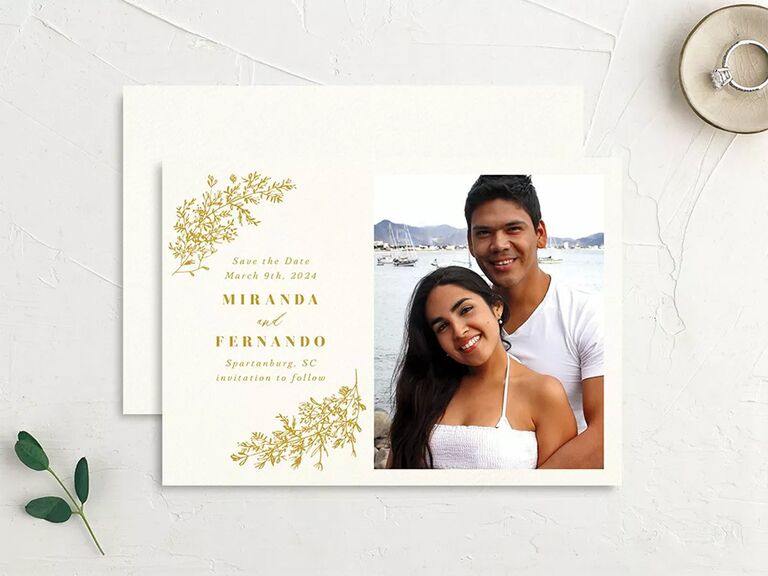 Rustic used to be synonymous with kitsch, but nowadays, the aesthetic is a lot more refined and minimalistic. Case in point? This stunning save-the-date, which features two botanical branches framing your wedding details, a solid back with a modern monogram and a plug for your wedding website (where guests can find tons more information). Choose from green, black, yellow or red color themes to complement your wedding season (that mustard yellow is fab for fall!).
Papier Floral Hoop Save-the-Dates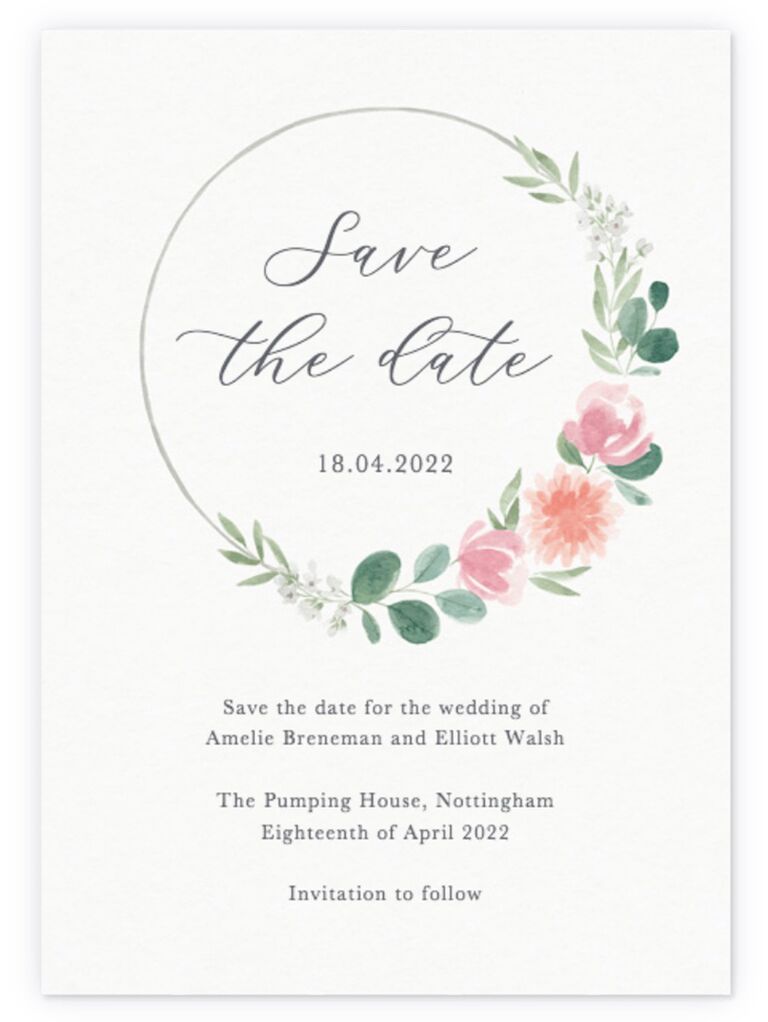 A greenery-focused wedding is a great way to marry romantic and rustic aesthetics into one divine design. Hint at what's to come for your celebration with this elegant save-the-date, which features a hoop bouquet with pops of eucalyptus, pink roses and peach peonies. Honestly, it's hard not to love this floral save-the-date, and we're sure your guests will feel the same way.
The Knot Natural Laurel Save-the-Date Cards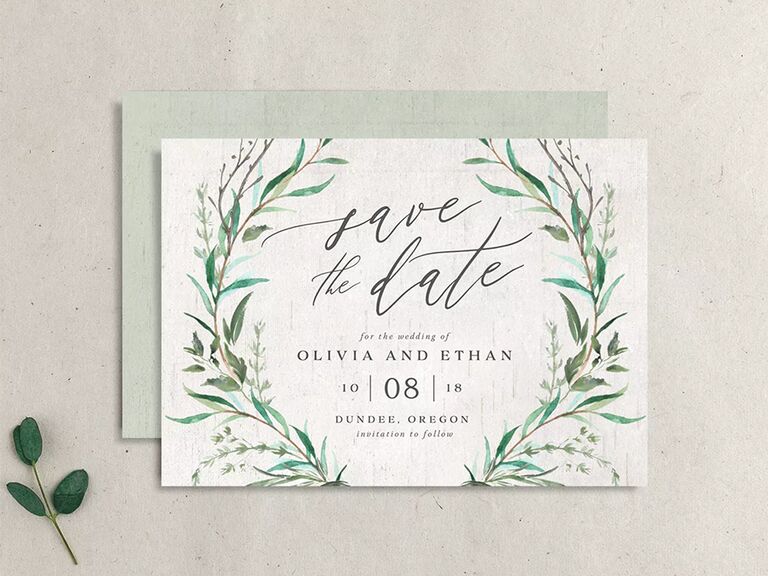 The stars of this whimsical look are without a doubt the watercolor vines, but your wedding specifics in a mix of striking script and typography lend an air of elegance, too. The lightly textured background reminds us of tree bark, while the painterly vines bring to mind a modern fairytale forest.
Kelsey Mucci Birchbark Save-the-Date Cards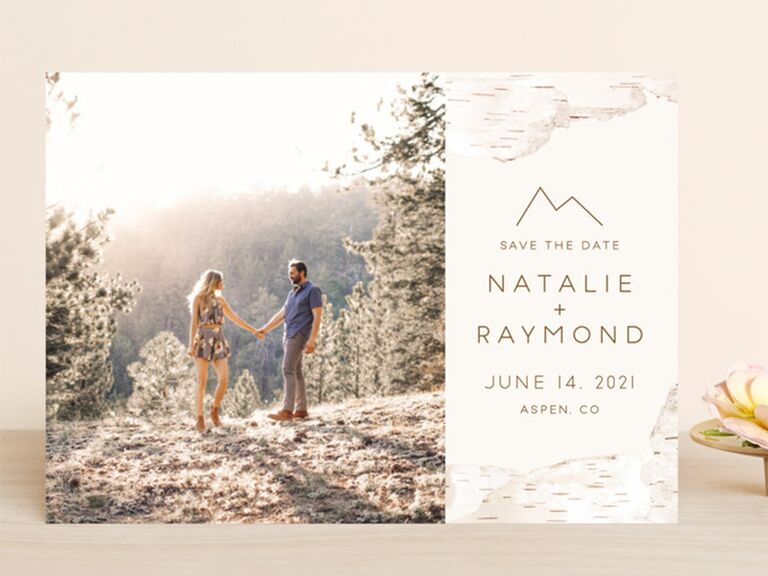 At the very heart of a rustic aesthetic is an embracing of nature, so sending out a save-the-date with a picture of you and your soulmate traversing mountaintops totally tracks. The right rail is where you'll add your names, wedding date and venue—all placed beneath a hand-drawn zigzag meant to represent the new heights your love is soaring to.
The Knot Illustrated Vines Save-the-Date Cards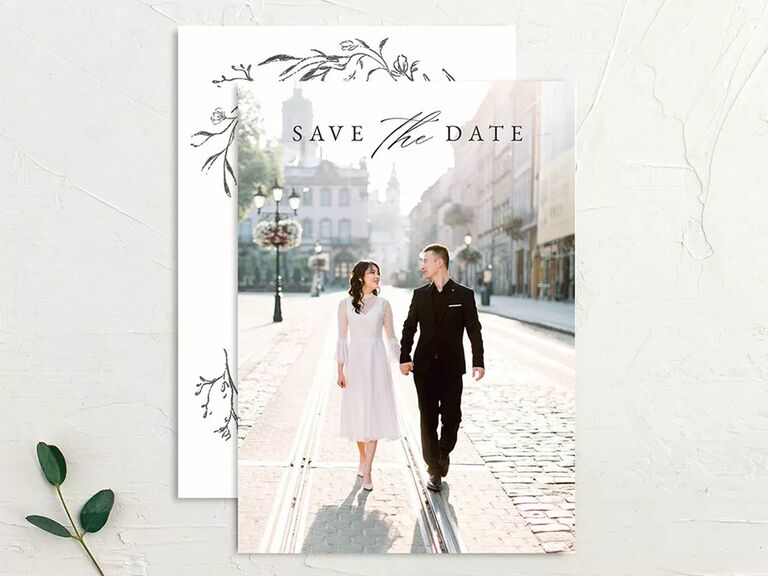 Honestly, if we got this design in the mail we wouldn't know which side to display on our fridge—they're both so good! Spotlight your favorite engagement photo on the front, then personalize the back with your names and wedding day details. You can even use the illustrated vines as inspiration for your day-of floral look.
The Knot Rustic Sunflower Save-the-Date Cards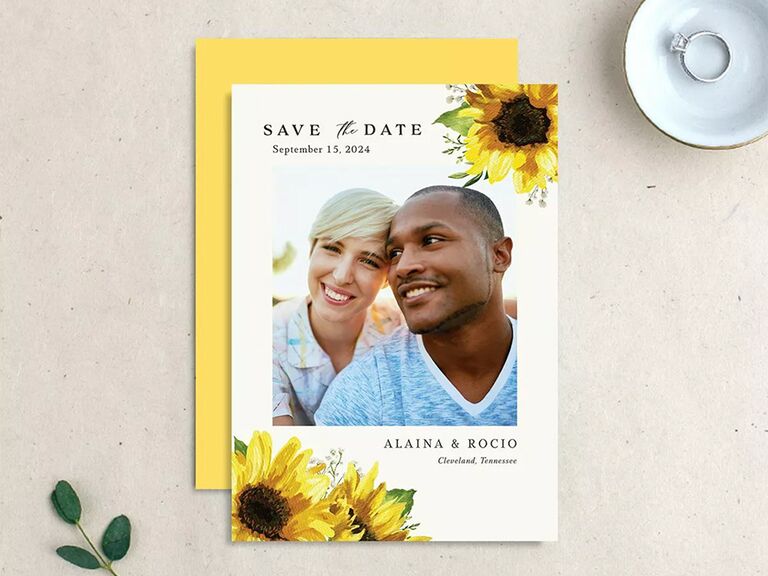 Oh, the sunflower centerpieces we're dreaming about after seeing these bright and cheery save-the-date cards. While this design is vibrant on the front, the text itself is minimal and balanced. A bright yellow backing and envelope ensure that these will stand out in every guest's stack of mail.
Pink House Press Adventurers Save-the-Date Cards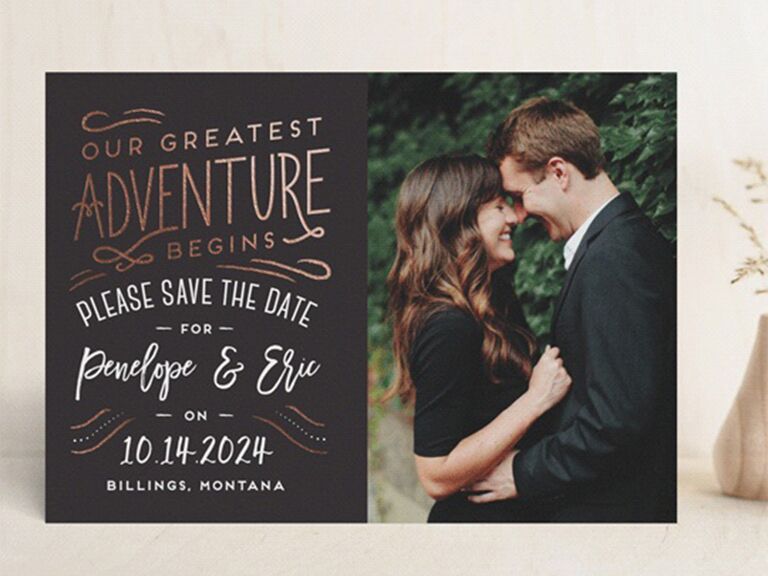 As soon as you incorporate chalkboard textures into your wedding announcements, your guests are sure to pick up on the intended rustic vibes. We love how this save-the-date combines white chalk with metallic foil to invite your loved ones to share in the start of your next great adventure. The winding road illustrations are such a cute touch, too.
The Knot Woodgrain Lace Save-the-Date Cards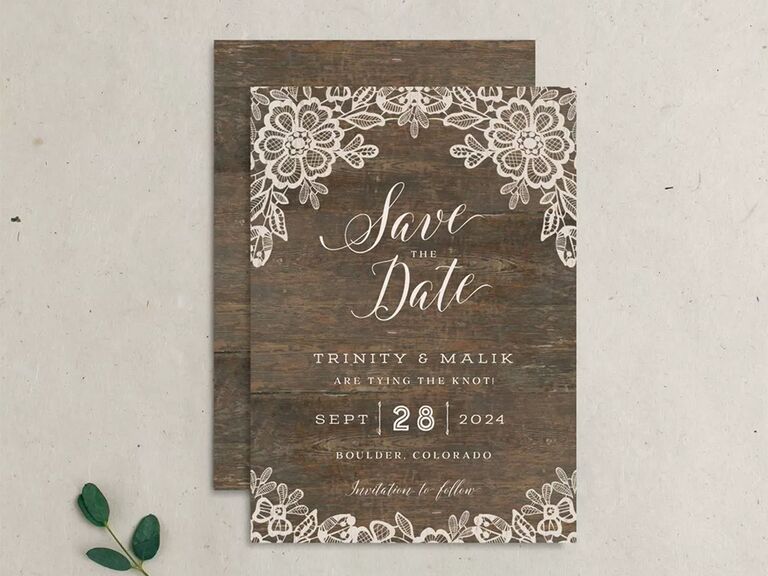 Rustic and vintage aesthetics blend together in these darling save-the-dates, which boast elegant script and contemporary fonts over a chic woodgrain background. Classic floral lace reminiscent of a doily (we see you, grandmillenials!) frames your announcement, while a personalized monogram graces the backside.
Gisela Benitez Foil Rustic Flora Save-the-Date Cards
A single foil-stamped plant punctuates this rustic photo save-the-date card for a modern and minimalistic save-the-date design. Other details on this beauty (including the curved trim and "Save Our Date" stamp) are subtly reminiscent of a passport, making this an ideal choice for a destination wedding.
The Knot Rustic Reflection Save-the-Date Cards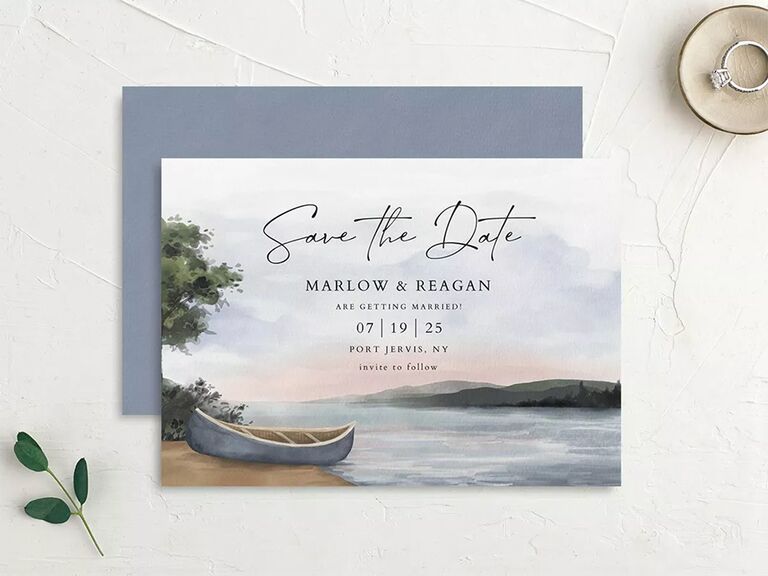 Count us in for color wars, because this picturesque illustrated save-the-date is serving up major sleepaway camp vibes. The landscape orientation is perfect for hinting at the lakeside locale that will host your wedding, as well as the weekend extracurriculars that await all your guests. Cotton candy skies, cozy fireside chats and mesmerizing mirrored water—what more can you ask for?
The Knot Leafy Ampersand Save-the-Date Cards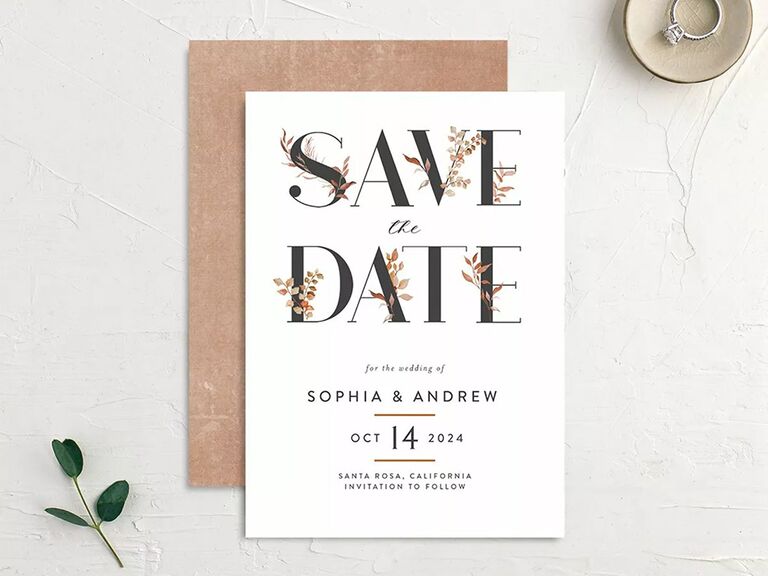 The best thing about rustic decor is that it's nuanced—you can make tiny adjustments to a design like this and completely switch up the vibe to suit your vows. There are eight different color themes to choose from with this pick, so if boho rustic is what you're after, opt for purple or gold. Alternatively, pink and gray are great options for bringing the romance, while green, black, blue and brown lend a more modern vibe.
Simple Te Design Wood Carving Save-the-Date Cards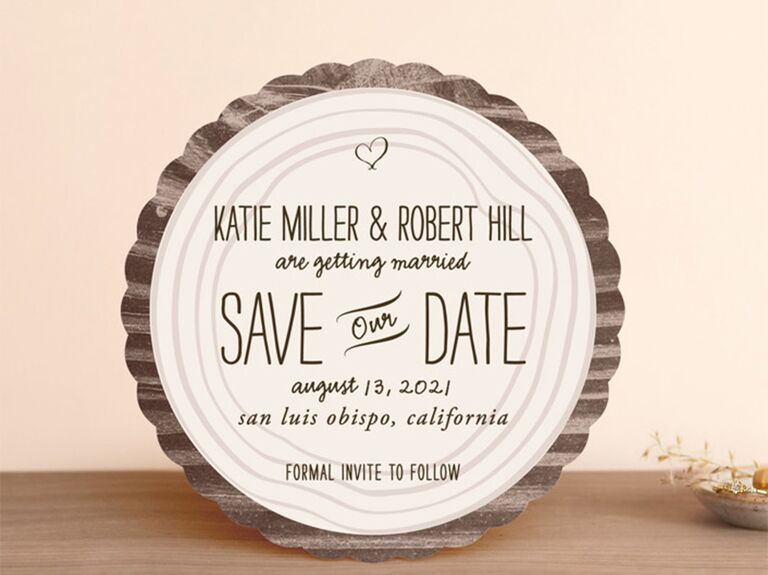 It would be the biggest missed opportunity ever to forgo including a carved wood save-the-date card in our roundup (even faux), so here we are! This rustic wood tree slice provides an ideal platform for all your important wedding day info, making it a charming nod to the age-old tradition of carving your initials into the trunk of a tree. Just remember that oddly-shaped cards require extra postage, so keep that in mind when you go to mail them.
The Knot Rustic Leaves Save-the-Date Cards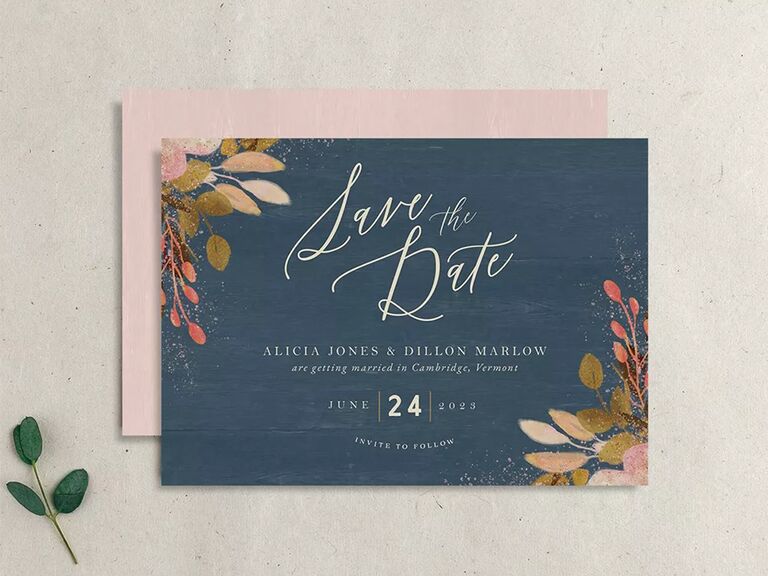 Flowers—especially wild ones—play a pivotal role in rustic design, which is why this navy blue woodgrain template practically glows with rustic charm. The cream wording pops against the rich blue hue, while the effervescent foliage adds a touch of boho appeal.
Liz Yee Foil Rustic Charm Save-the-Date Cards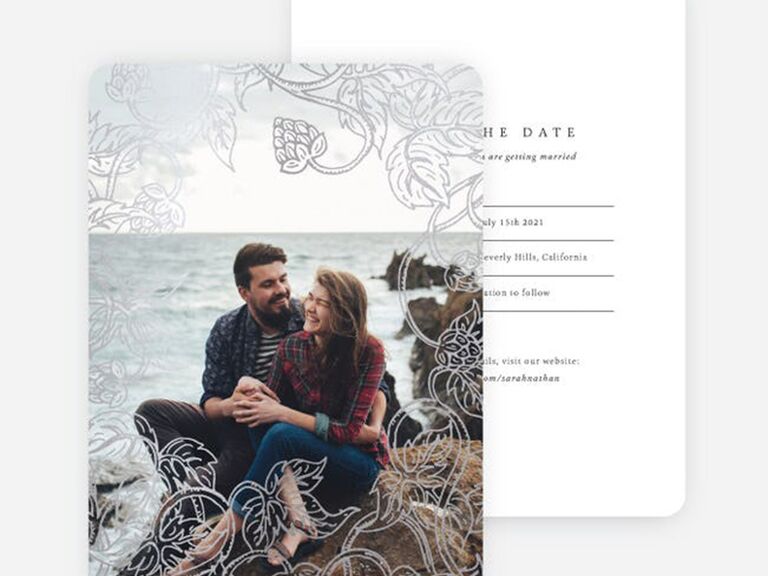 Metallic foil details don't always read rustic, but when they're used to depict intertwining plants around your favorite photo, they pass for sure. The clean layout on the back of this save-the-date gives guests all the important info in a digestible format. We love that you can add matching thank-you cards onto your order at checkout—after all, you'll need them as you get closer to your wedding day.
The Knot Rustic Minimal Save-the-Date Cards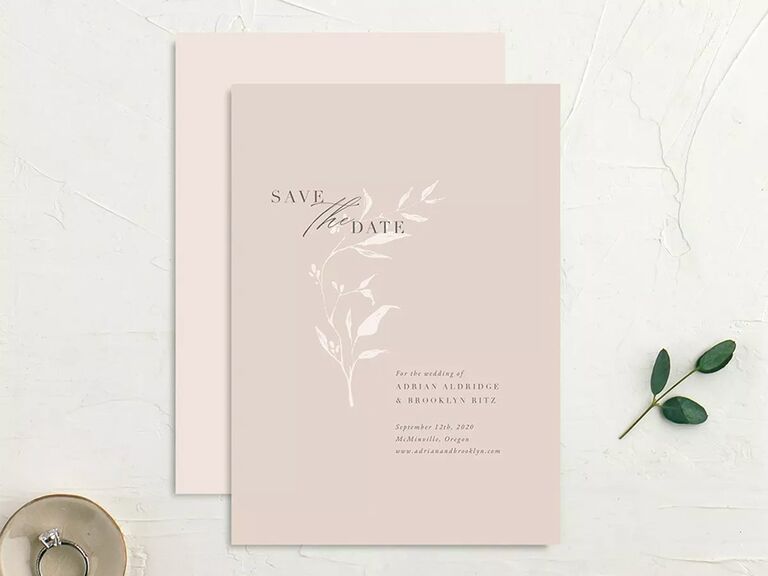 If you want a save-the-date that says rustic, but in a simple, refreshing way, look no further than this stunner. A single illustrated branch draws your invitees' eyes and the "Save the Date" overlap keeps their attention. The slightly textured look of the card stock harmonizes perfectly with the blush and cream colorways it's offered in.
Your Wedding Project Wood Save-the-Date Magnets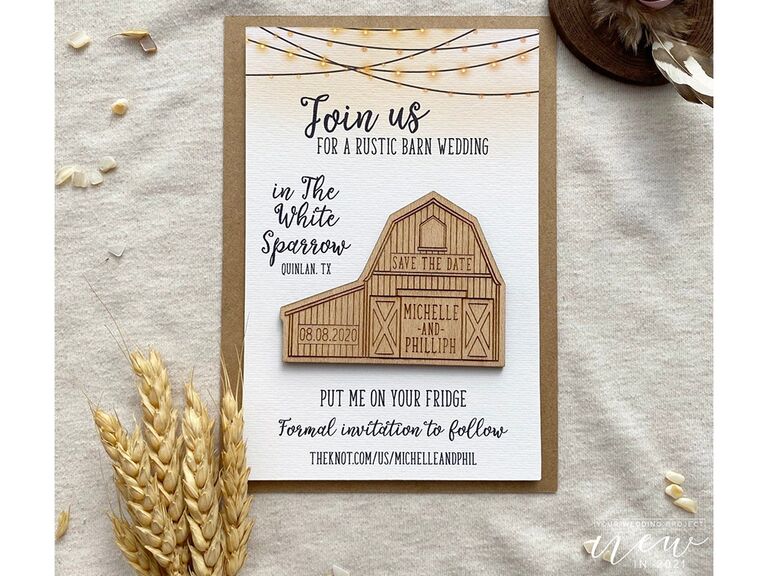 Obsessed doesn't come close to describing how we feel about these wood save-the-date magnets. The designer offers 10 different assembly options, but we're big fans of the whole kit and kaboodle, which includes the magnet, printed cards (featuring string lights and rustic-style writing) and white or kraft paper envelopes. You can even surprise your guests with barn sugar cookies for your wedding favors—they'll be a delicious call back to your stylish first impression.