11 Sentimental Wedding Details From Real Couples
Cue the tears and grab some tissues—these touching add-ons will give you all the feels.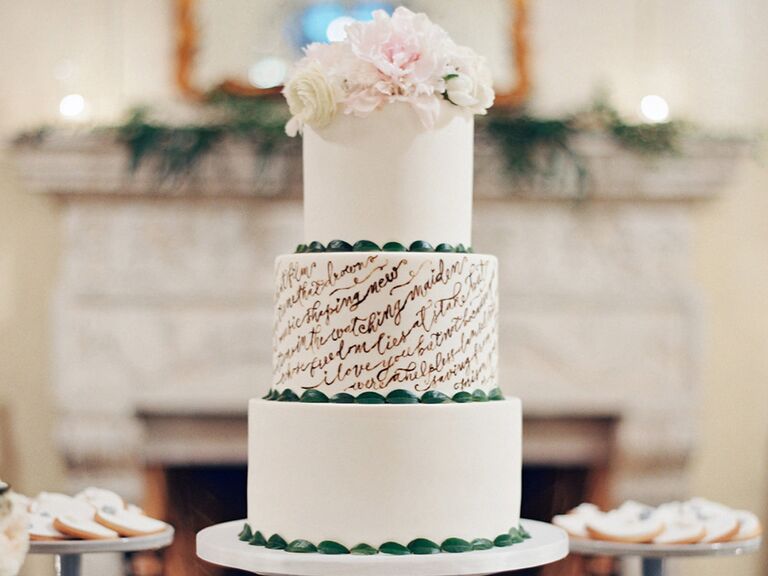 Melanie Gabrielle Photography
We all know the age-old adage of "something old, something new," but these photos prove that something sentimental is just as necessary as "something blue." From throwback cake toppers to surprise tributes, real couples explain the sweet stories behind their own sentimental wedding day details.
Two Vintage Toppers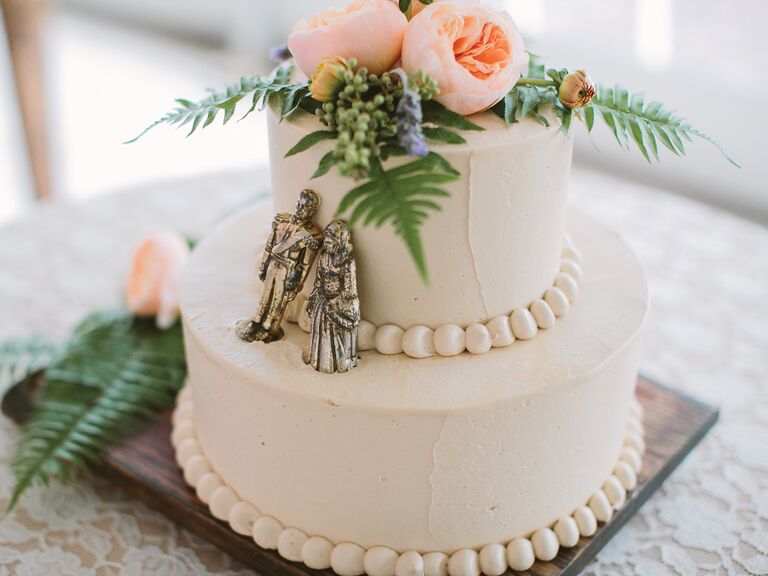 Stephanie and Ryan's chocolate-coffee cake was topped with solid gold chess pieces that the bride's parents purchased during their honeymoon in Greece. "My dad will never let me forget how heavy they were!" Stephanie says. "They weighed too much for the cake, so we eventually set them to the side."
A Personalized Patch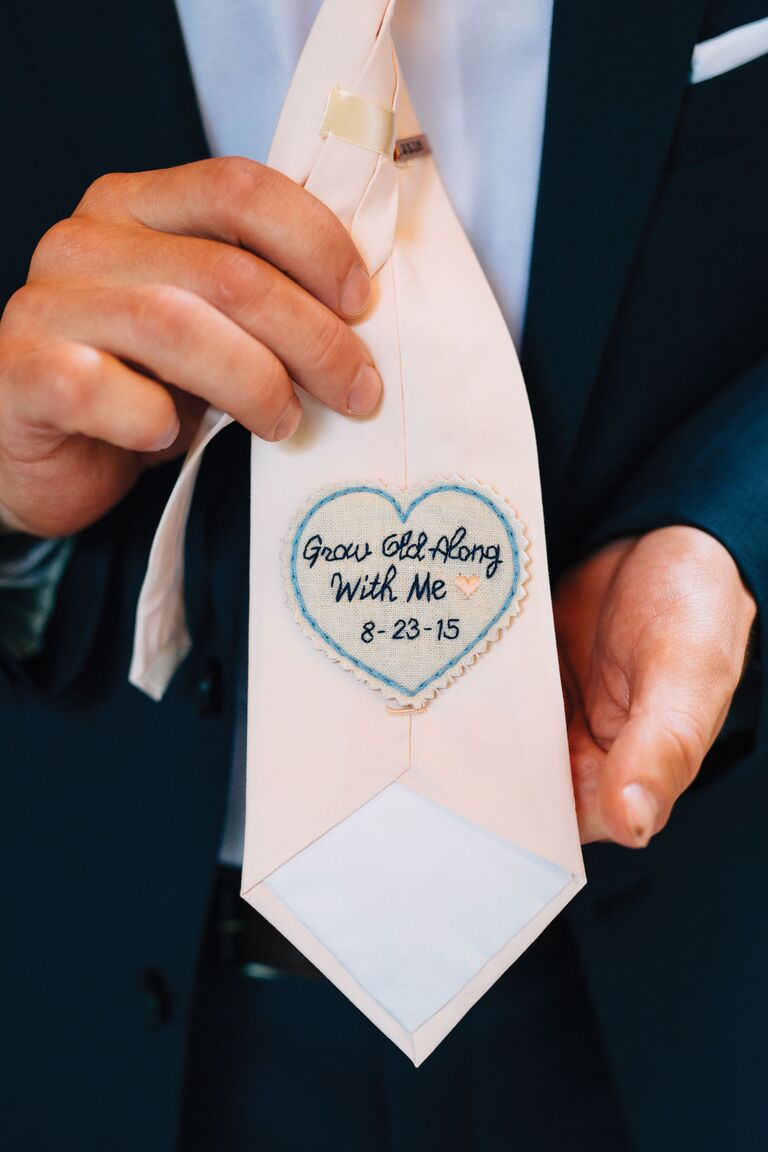 As a surprise for her groom, Carrie ordered custom patches that she then attached to both her gown and Brian's tie. "They read: 'Grow old along with me' and 'The best is yet to be,' since we fell in love with the quote after finding it on a sundial at Brian's parents' house," she says.
A Necklace-Wrapped Arrangement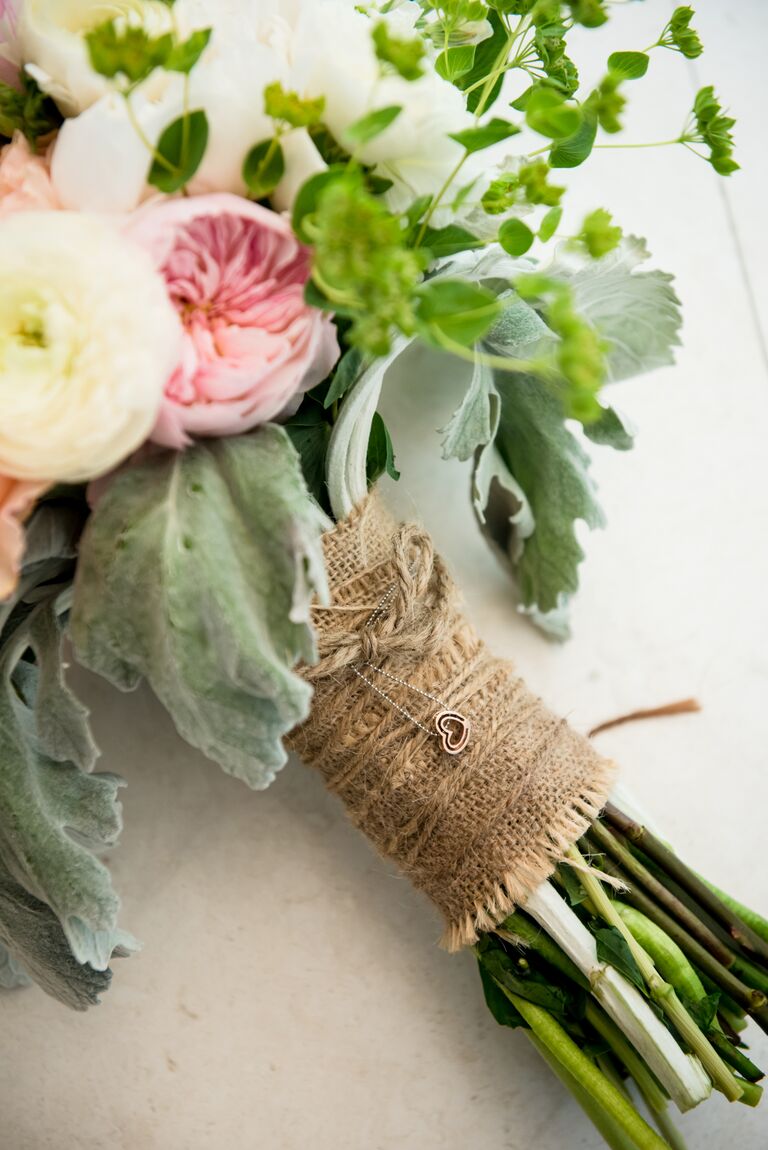 Whitney honored her late best friend by tying her friend's heart-shaped pendant around her burlap-wrapped bouquet. "This way, she was with me during my walk down the aisle," Whitney says.
A Poetic Dessert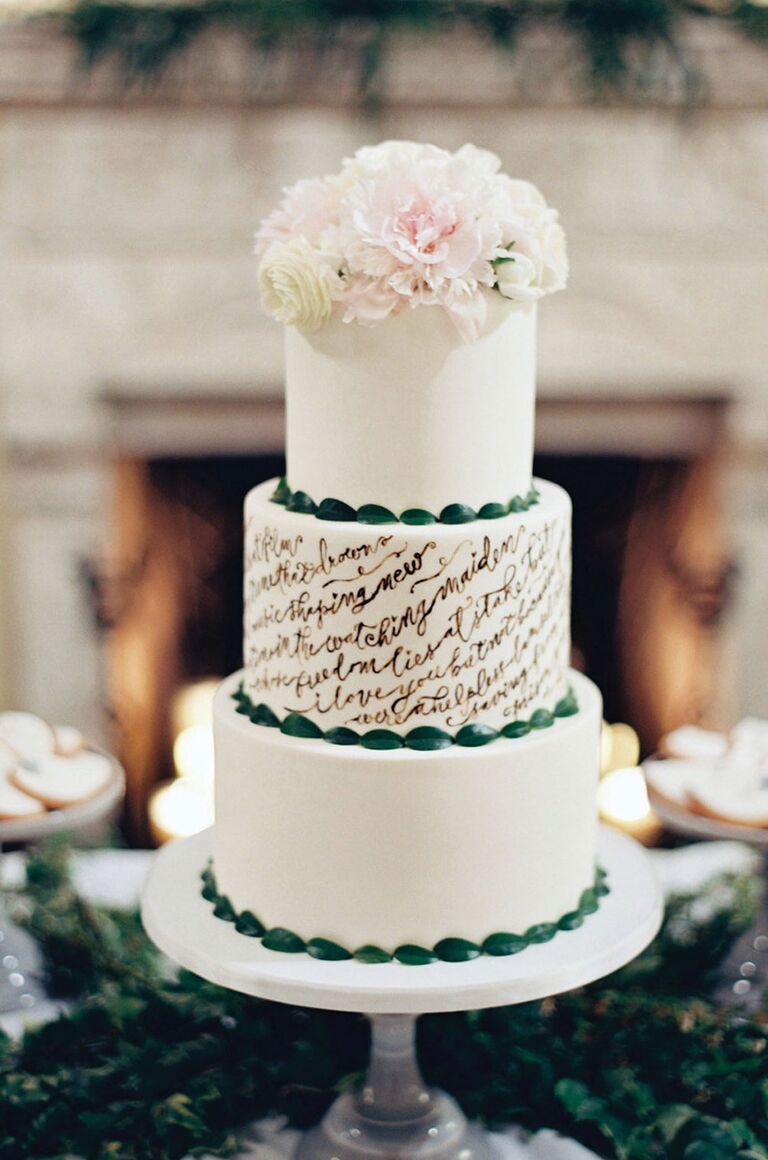 The fondant on Devin and Justin's tiered, red velvet cake featured a supersweet detail written in edible silver paint. "Justin's a poet, so the middle tier included a poem that he wrote just for me," Devin says.
An Original Song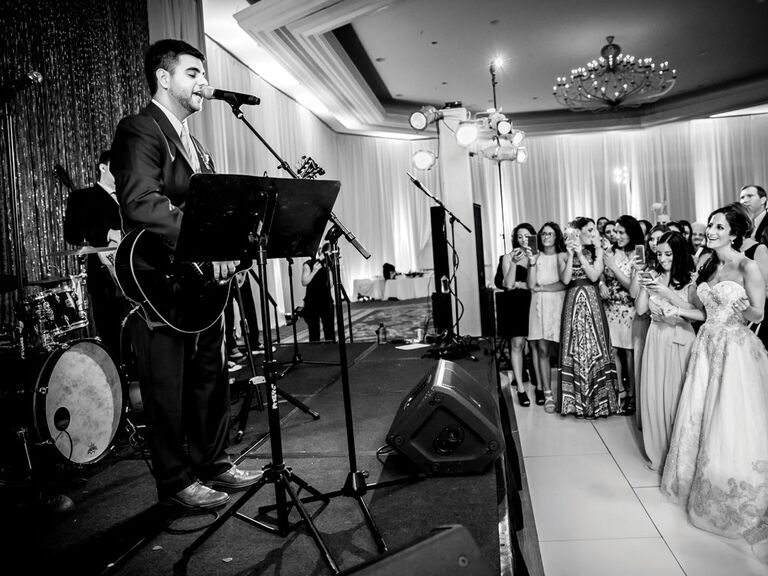 Right at the end of dinner, Musa—the groom—got up on stage, slung the lead singer's guitar over his shoulder, and serenaded Lailia with an original song he wrote for her called "Only Love." He even had the band learn the song ahead of time, and they joined in after the first verse. "I was blown away!" Laila says of the surprise performance.
Two Birds of a Feather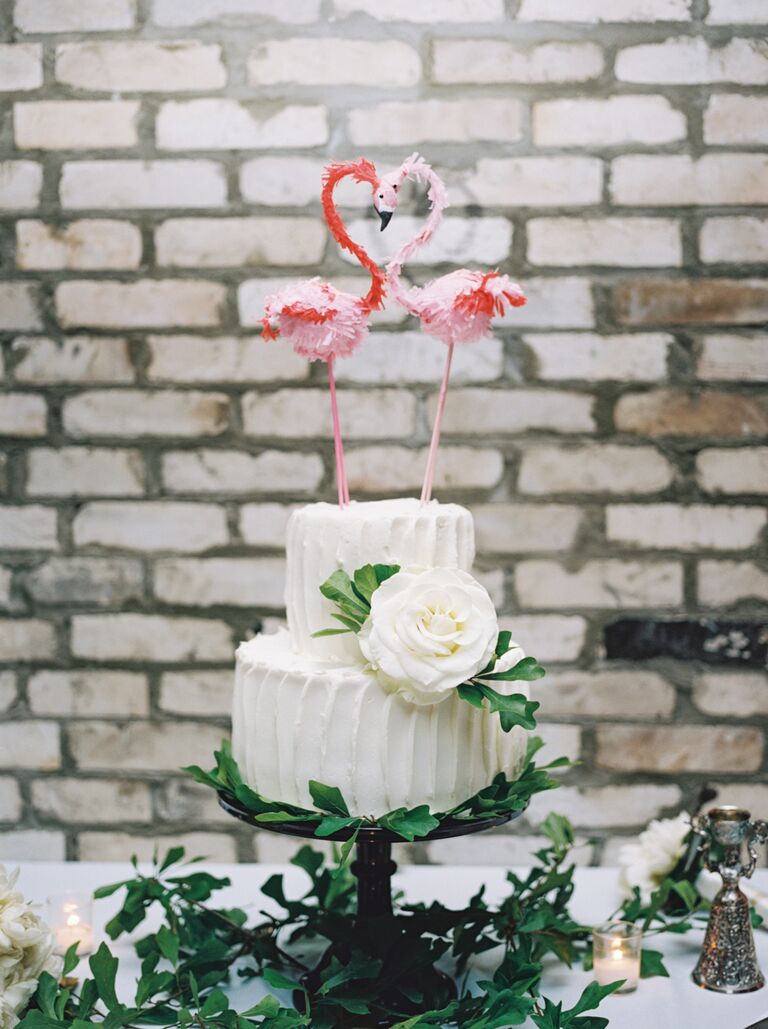 When it came time to pop the question, Dave took a kitschy approach to his surprise proposal. "I came home one night to find our entire yard flocked with plastic pink flamingos and Dave on the porch, ring in hand," Jordan says of a proposal that later inspired a whimsical, flamingo motif on their wedding day.
Iris-Inspired Stationery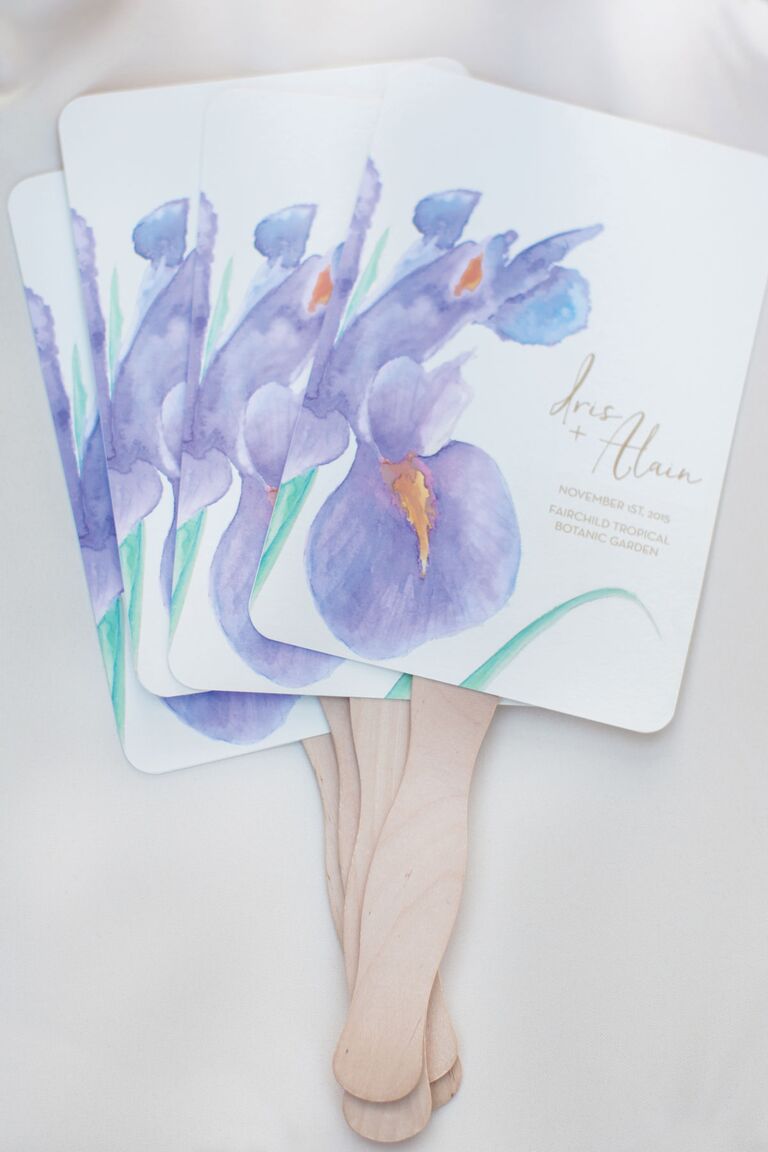 The iris flower, a nod to both the name of the bride and her late mother, played muse to many of the day's feminine details, including these programs hand-painted by the groom. "My father walked me down the aisle, but every detail was inspired by that flower," Iris says.
Pink Paper Airplanes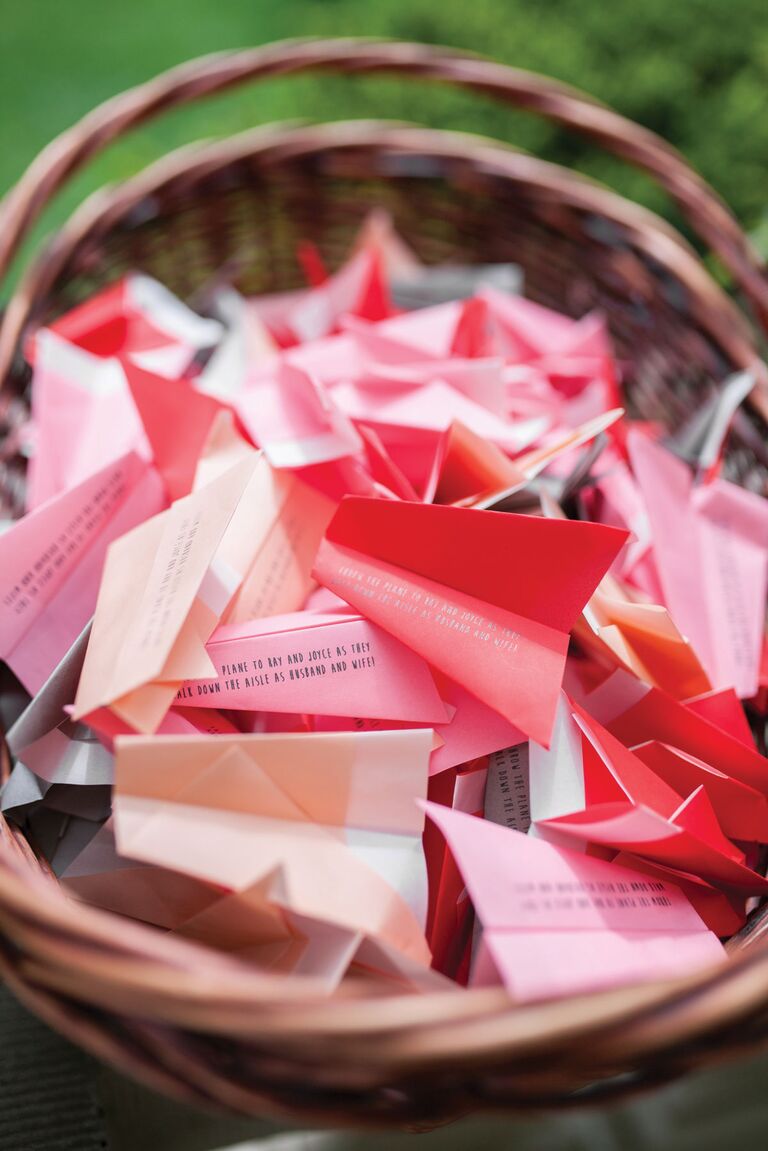 "Ray asked me to be his girlfriend by throwing a paper airplane at me with 'Will you be my girlfriend?' written on it," Joyce says of the sweet love token. Inspired by this memory, the newlyweds had guests throw paper airplanes during their recessional.
A Surprise Tribute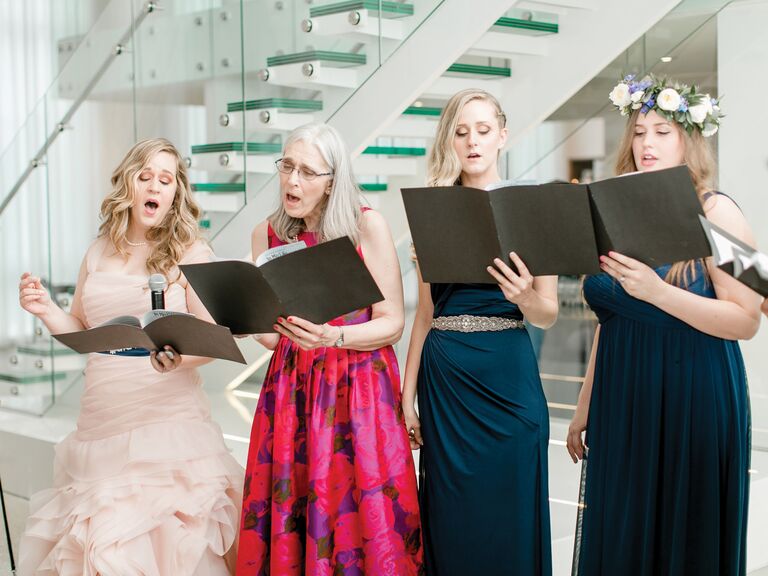 During dinner, Mary surprised Javier by joining her mother and six siblings in an a cappella rendition of "In My Life" by The Beatles. "It was a tribute to Javier's late mother," Mary says. "We worked on it for months—I had to tell a few white lies to make sure it stayed a secret!"
A Forgotten Pin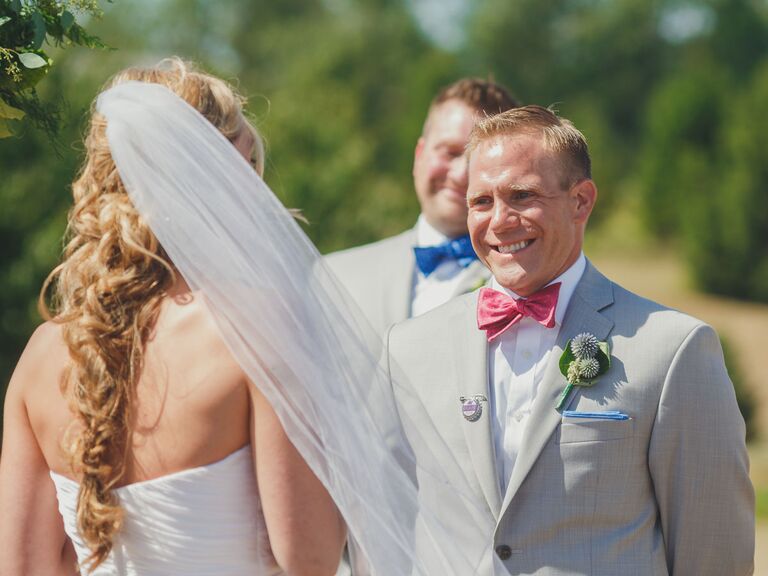 In addition to a thistle boutonniere and bright pink bow tie, Joe accessorized his gray suit with one detail Samantha didn't see coming. "I bought Joe a grape soda pin a few years ago since the Disney movie Up is so special to us," she says. "I forgot about it until I met him at the altar and saw it was pinned to his lapel—that's when the waterworks started."
A Ribbon-Wrapped Bouquet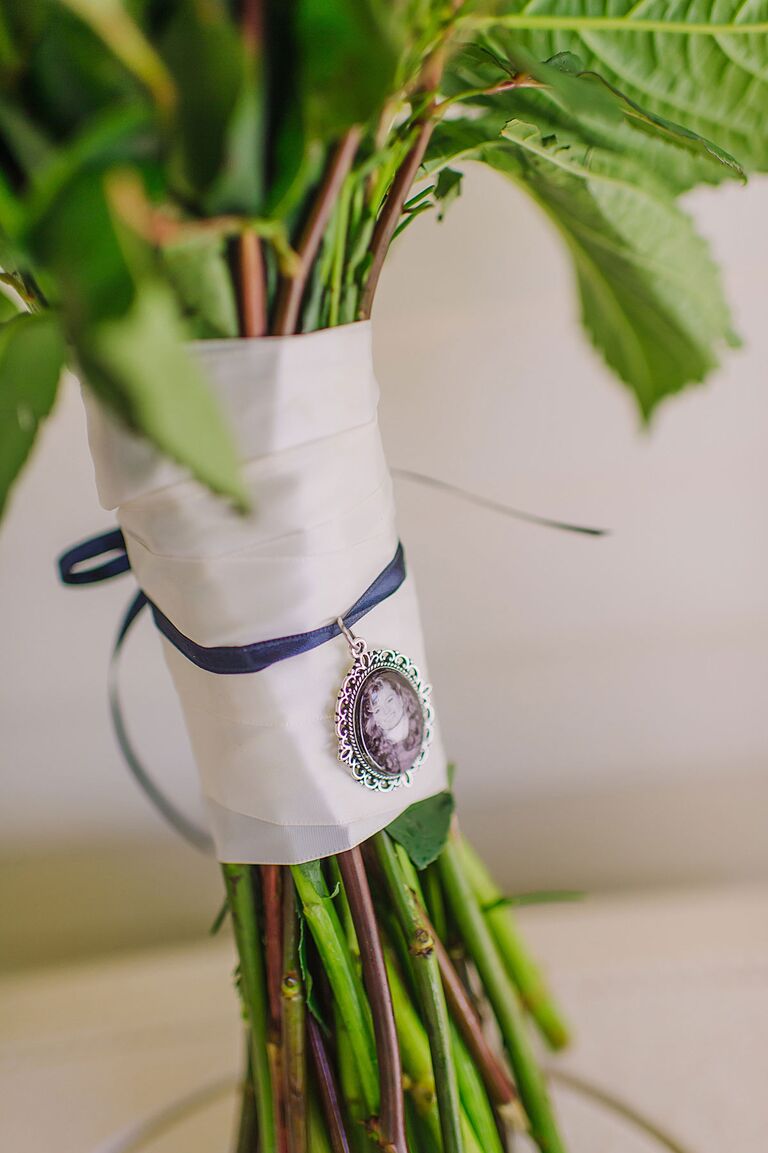 "My mom passed away a few years ago, so my brother walked a large vase full of stargazer lilies down the aisle with him," Kristine says of honoring her late mother with an arrangement and this custom bouquet charm. "Lilies are very special to my family now, since they were her favorite."