17 Unique and Personal Ways to Display Your Wedding Vows
These works of art preserve your words long after the "I dos" are done.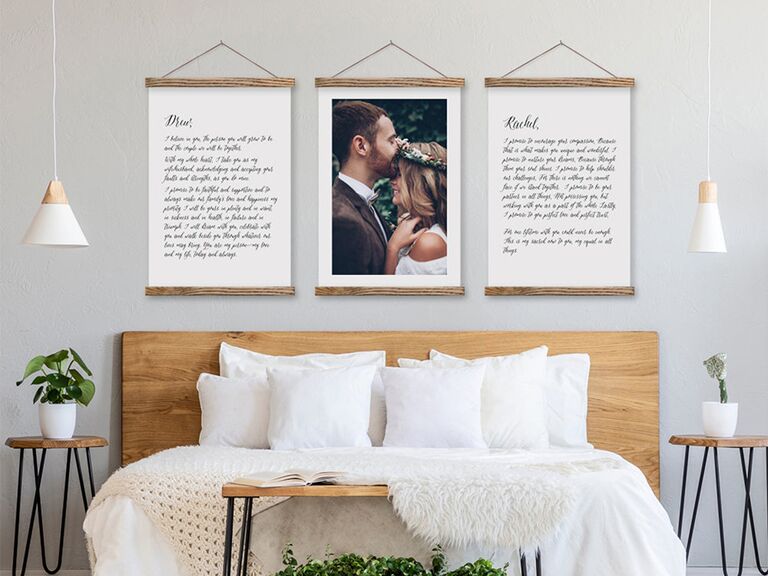 We have included third party products to help you navigate and enjoy life's biggest moments. Purchases made through links on this page may earn us a commission.
Weddings in the 2020s are incredibly personalized—and that includes vows. Whether you wrote your own, found ones that spoke to you as a couple or simply decided to go with traditional vows, chances are that choice feels very deliberate and special. Whatever you decided, wedding vow art is a wonderful way to commemorate the most important part of your ceremony. This unique work of art is sure to become a treasured keepsake in your home today and forever. And just like your vows are a reflection of you and your spouse, you can choose vow art that represents your own style or wedding ceremony.
Ahead, check out 17 of the sweetest pieces of wall art that bring your intimate vows from the wedding ceremony to your home and to all the happily ever after to come.
Sarah Curry Our Vows Photo Art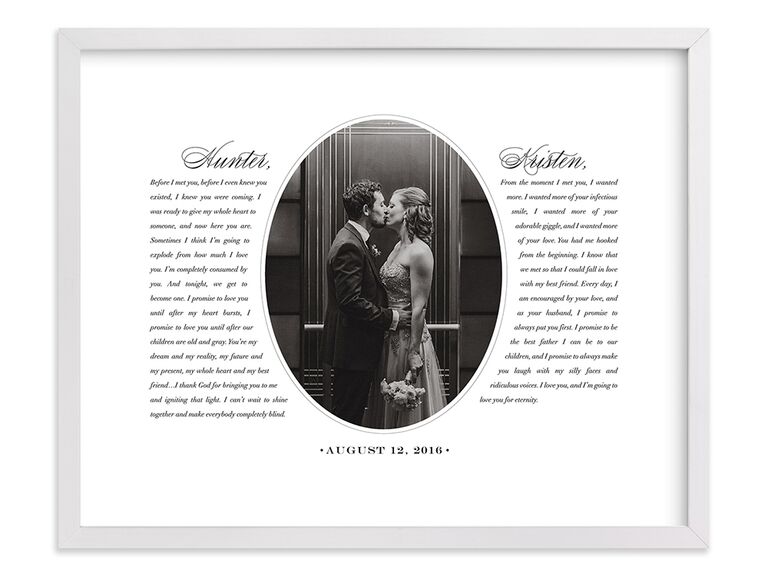 This framed work of art is perfect for a gallery wall. Neutral enough to nestle among your existing art pieces, the design will still take your breath away when you pass by. Include your vows to each other in elegant script on either side of a favorite photo from your wedding. Go with a black-and-white snap for a monochromatic, artful look or a color photo for a more casual vibe.
Our Love Prints Wedding Vows On Canvas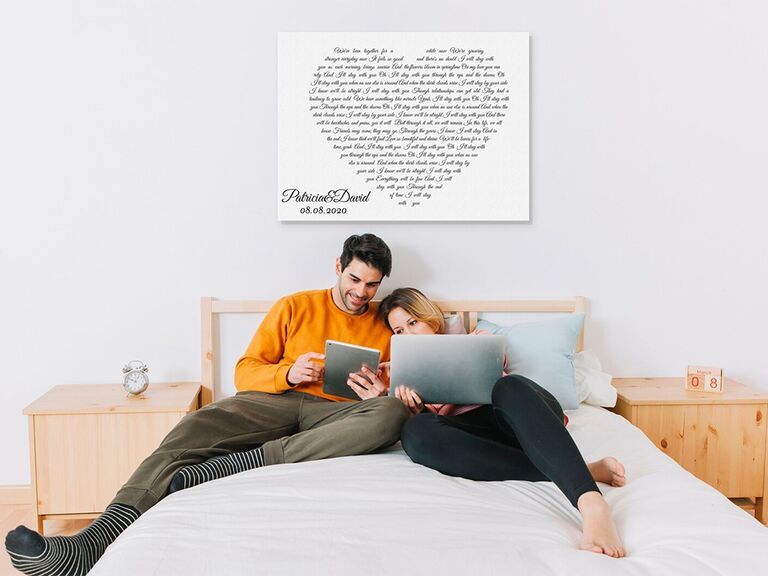 Here, the vows from your wedding day take the shape of a heart. Choose among four display sizes and include your vows, names and wedding date for a look that fills your whole home with love.
Personalization Mall Drawn Together Personalized Wedding Vows Canvas Print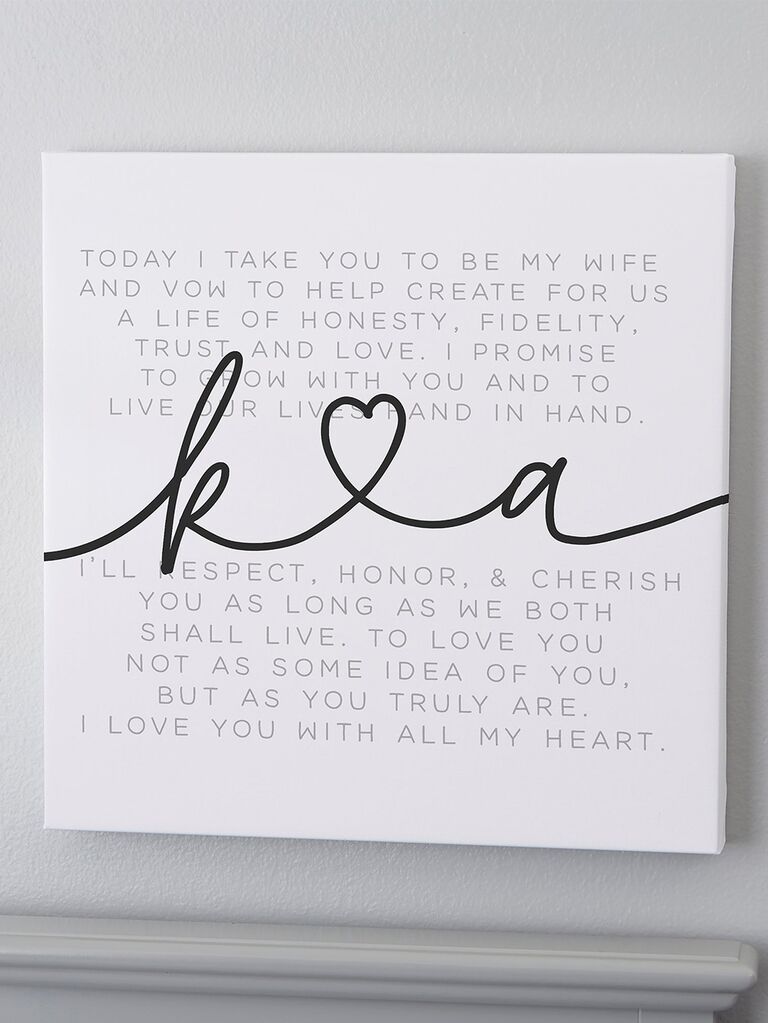 Looking for a lovely first wedding anniversary gift for your partner? We know they'll light up when they see the promises you made to them on your wedding day transformed into a stunning black and white memento. You have the option to purchase it alone or add on a white or black wood easel for mounting.
Devon Design Co. Wedding Vow Keepsake Art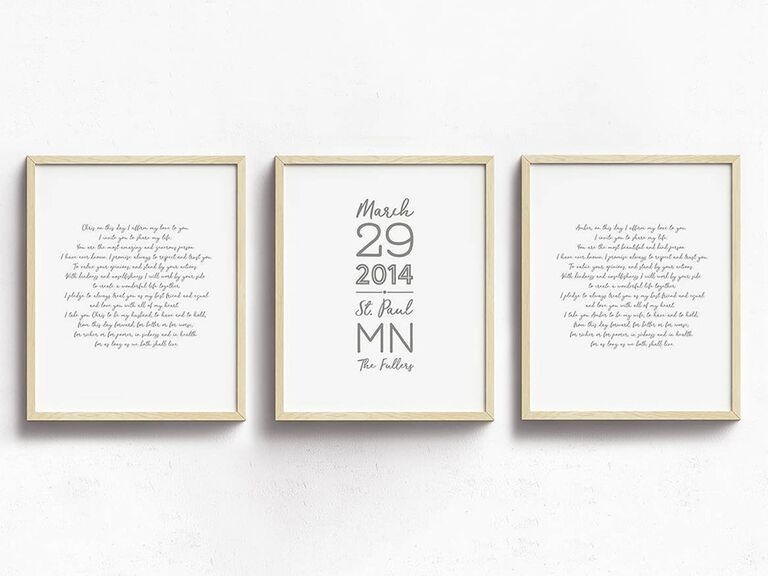 A trio of prints makes excellent wall decor above a bed or mantle or in a hallway. Two of the prints feature your respective vows and flank the third which highlights your wedding date, location and shared last name. It is also a thoughtful gift idea for the newlyweds in your life.
Minted Your Vows As a Letterpress Art Print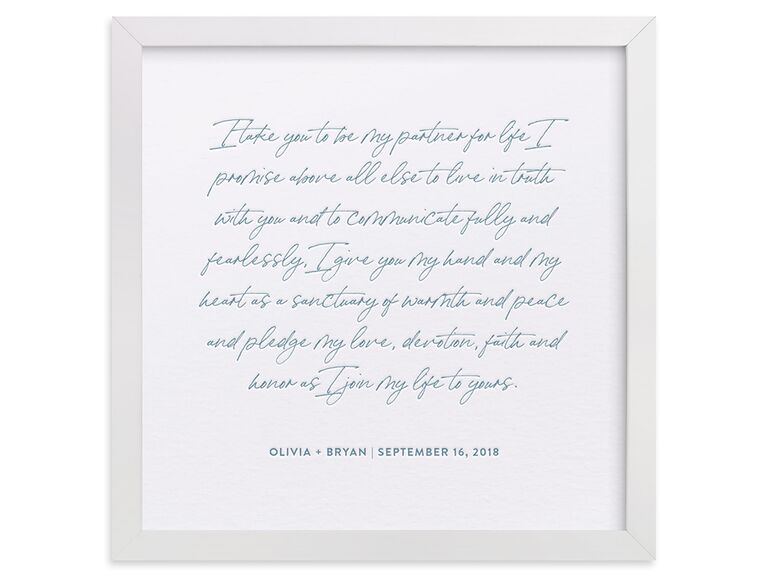 Nothing says luxe like letterpress, so if you're looking for a piece of art that highlights shared vows, then this is it. You have a number of different frame options to choose from—including classic and specialty finishes—and 20 color themes for the accompanying calligraphy.
Inspired Decor Co. Custom Beach Theme Wedding Vow Print On Canvas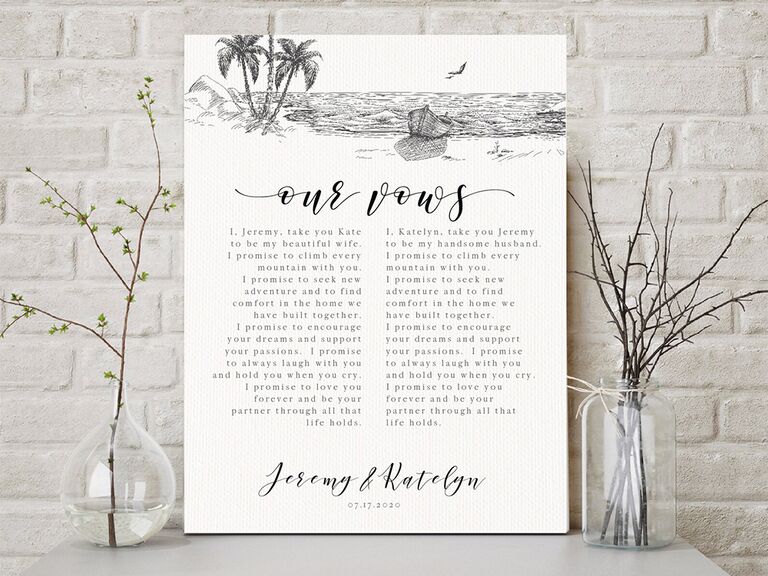 The "our vows" designation in calligraphy provides such an elegant touch, but it's the hand-drawn beach silhouette in black and white that really makes this piece. You have endless possibilities when it comes to the type of wood finish—from whitewash to dark walnut—but if you really want to harken back to your beachy nuptials (be it a destination or local), you can opt for the nautical board with a rope hanger.
Personalization Mall Wedding Vows Personalized Vertical Matted Frame
Printed vows give this matted frame a little something extra. Customize the calligraphy in a font color (from light pink or lilac to sage green or slate blue) that either complements the rest of your home decor or even flashes back to your wedding palette.
Legacy Canvas Co. Framed Wedding Vows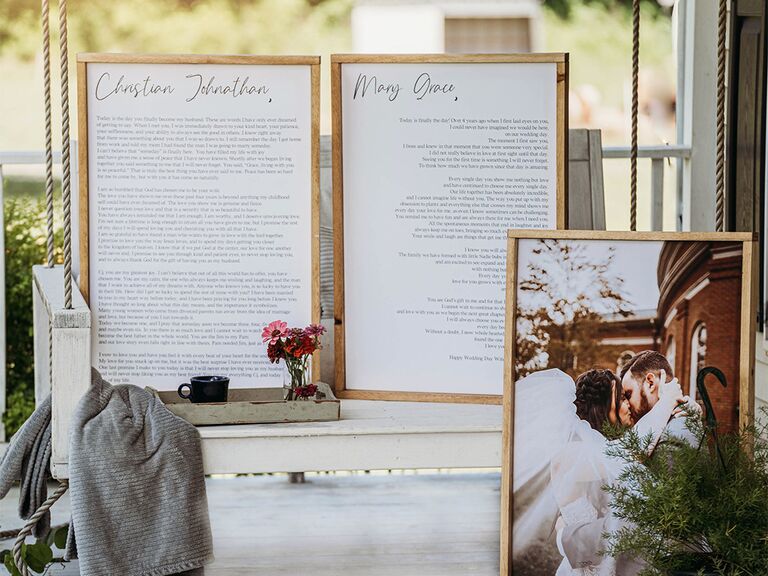 You know that "keys to a happy marriage" advice you got when you were engaged? To never go to bed angry? Well, with these wedding vow keepsakes hanging above your bed, you'll always have a reason to smile and sleep well. The set can include up to three signs: each of your vows (on two separate signs) plus your favorite wedding photo, but you do have the option to bundle the prints that fit best with your home decor.
Shelter Island Paper Engraved Vows On Acrylic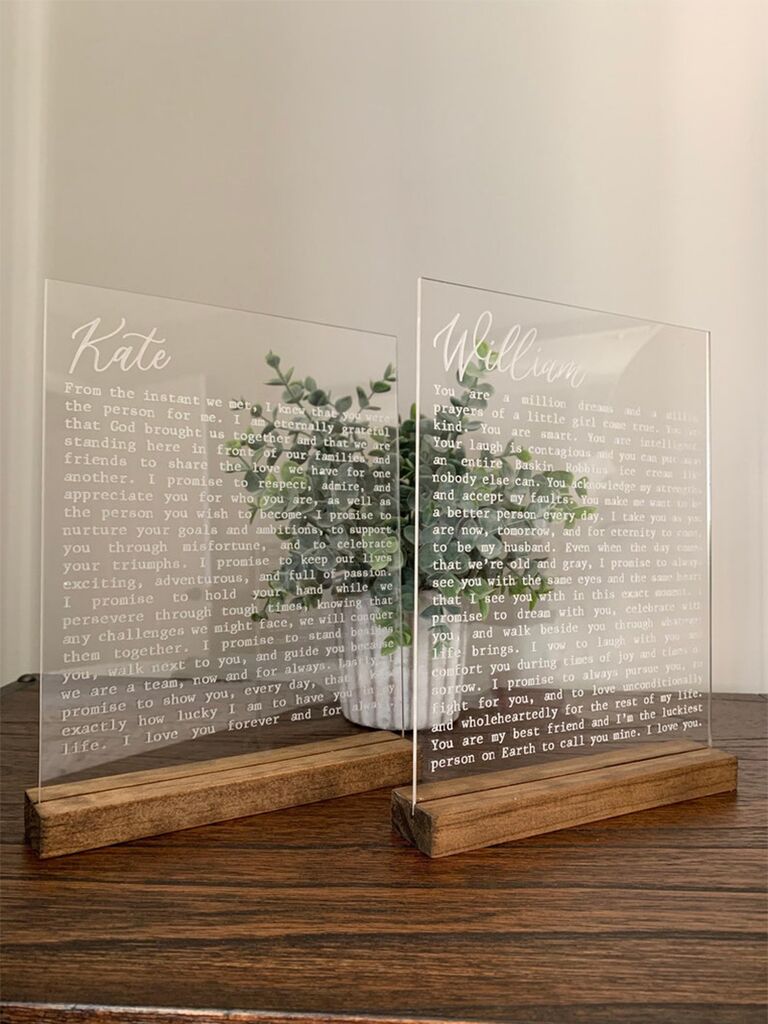 If you're looking for the perfect birthday, holiday or "just because" gift for your partner, having your vows engraved on acrylic is a clear winner. You can have the placard set in a natural or stained wooden stand for an additional cost, or forgo it all together for a clean look they can frame. Small and sweet, it would look lovely perched on a desk or vanity.
withlovekc Traditional Wedding Vows Modern Script Canvas Print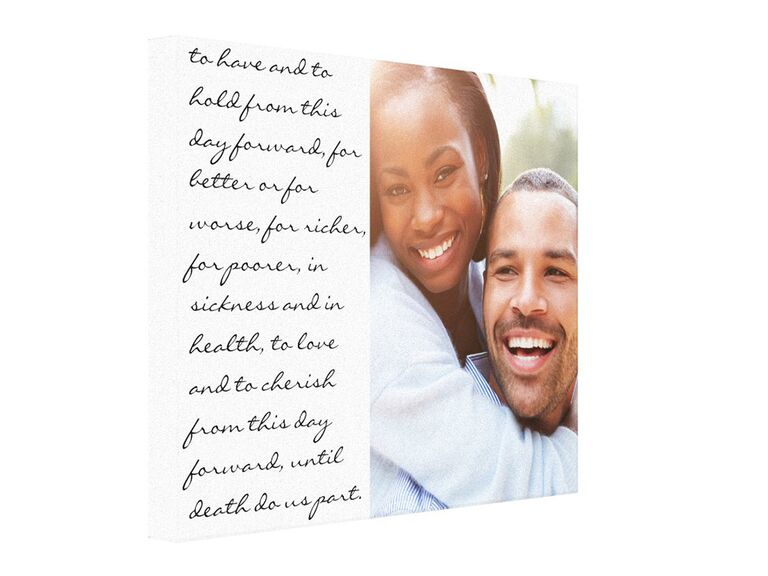 While this canvas shows traditional Christian wedding vows alongside a favorite picture, you can edit it to include whatever vows you used. If you want to get more creative, you can include lines from a wedding reading or a loving message to your spouse as a wedding anniversary gift.
Hanger Frames Wedding Vows and Photo Canvas Gift Set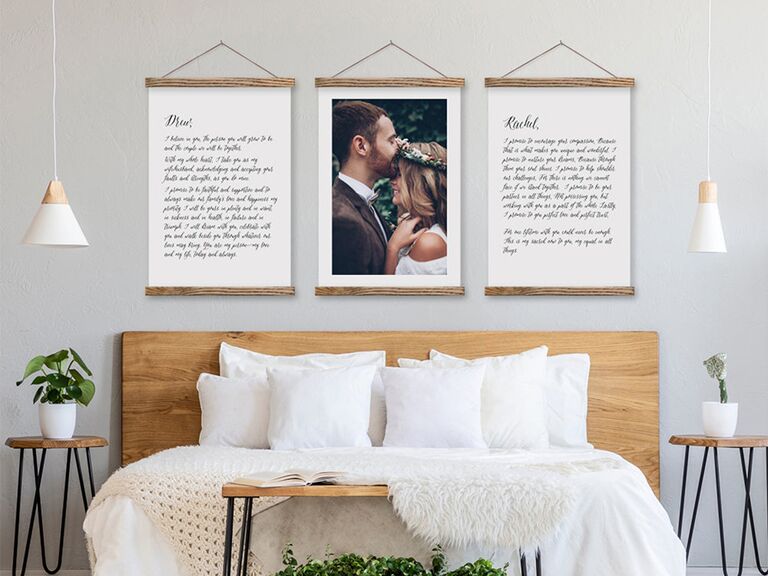 Sometimes you can preserve your wedding vows a little less traditionally. Carry over the feel of your rustic wedding with these hanging frames. Neutral enough to go with any wall color or style, it's also an excellent gift for a new home that is still being decorated. You can also match the wood stain to your furniture.
Personalization Mall Wedding Vows Personalized Canvas Print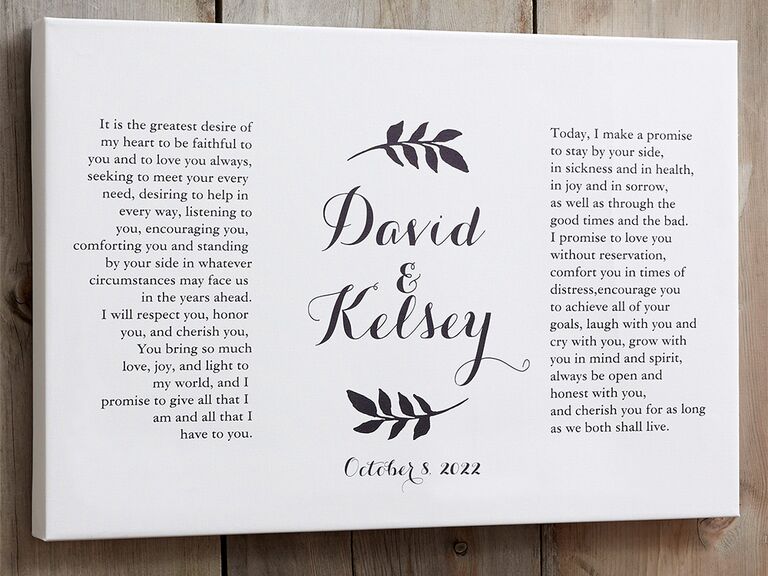 Whether you had a rustic, romantic wedding or decorate your house to fit the farmhouse modern aesthetic, this oversized canvas is a beautiful option for your wedding vow wall art. Personalize with your names—framed by sprigs of greenery—and wedding date, plus up to 23 lines of text. Archival inks and a UV-protected printing method keep your words from fading.
Phrosne Ras Minimalist Quote Keepsake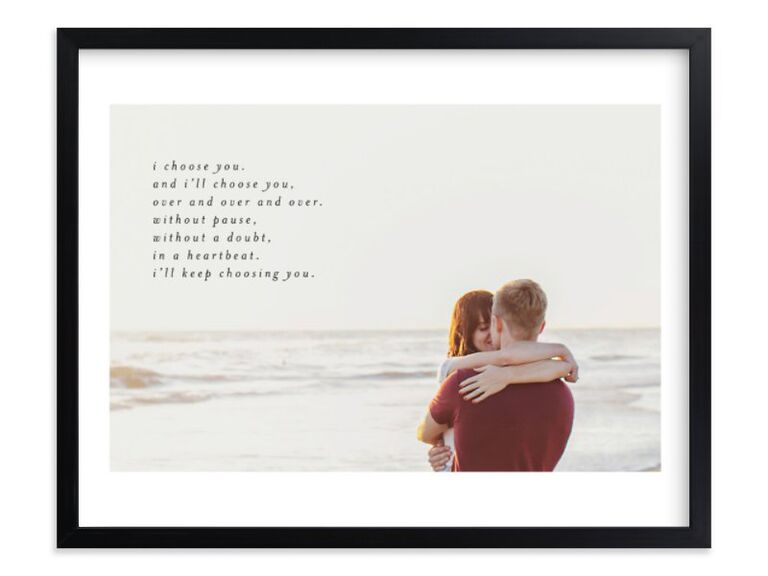 If you have a wedding photo with a lot of negative space, you have the perfect palette to display some (or all) of your vows. Once you upload the photo, you can adjust the quote to fit perfectly over the sky, grass or other empty space.
Gladfolk Modern Vows Art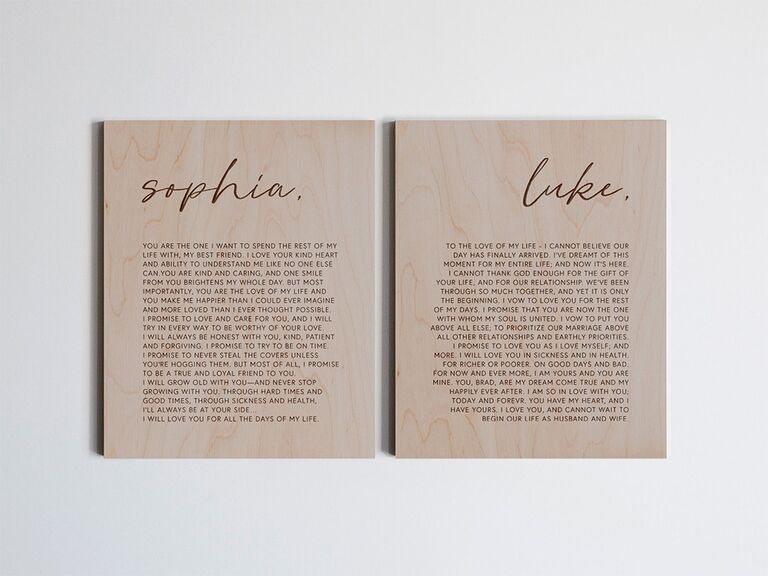 A perfect gift for a fifth anniversary (that's the wood one), this vow art comes with your vows in modern font on light maple. Your one-of-a-kind set of engraved heirloom artwork will preserve and honor your wedding words forever. Simply send them in a note to the Etsy seller at checkout or copy to get started.
Miss Design Berry Wedding Vow Art Watercolor States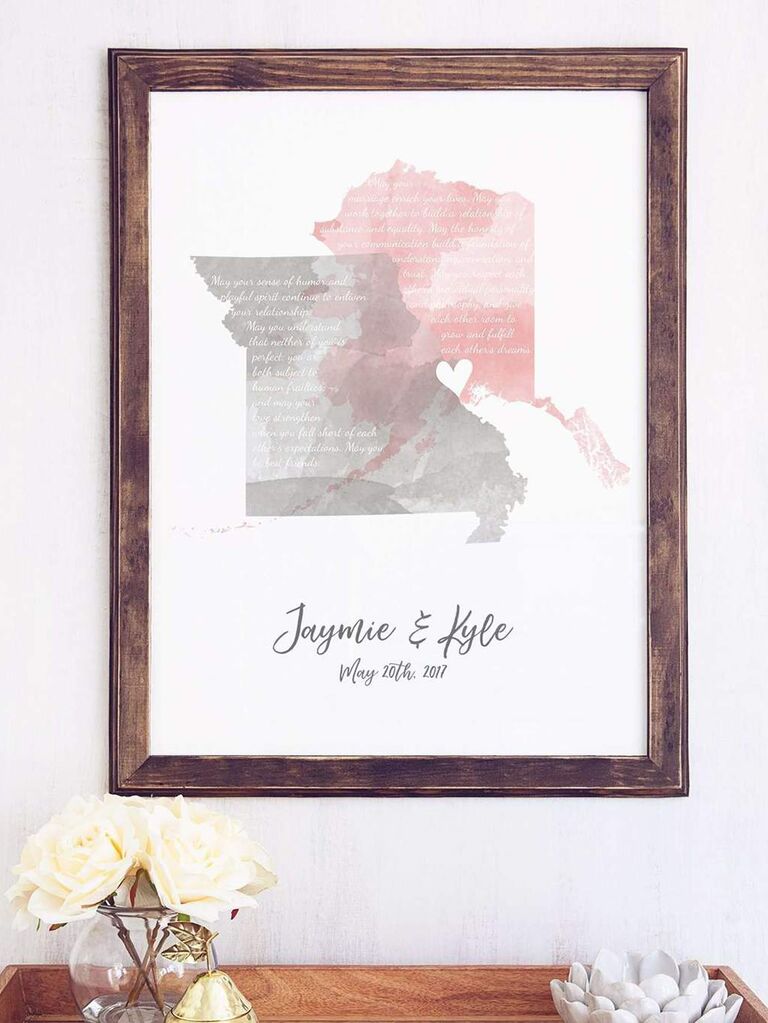 Watercolor meets personal vows meets home state pride—you get it all with this artful print. Each state (or country, if you prefer) is carefully inscribed with your respective wedding vows in the color of your choice. Once you've paid, you'll schedule a 15-minute consultation with a designer to go over all aspects of your print. An emailed proof, plus three rounds of revisions, ensures you and your bride or groom are nothing but happy with the final result.
Pretty and Shine Wedding Song Vows Calligraphy Handmade Cotton Paper Print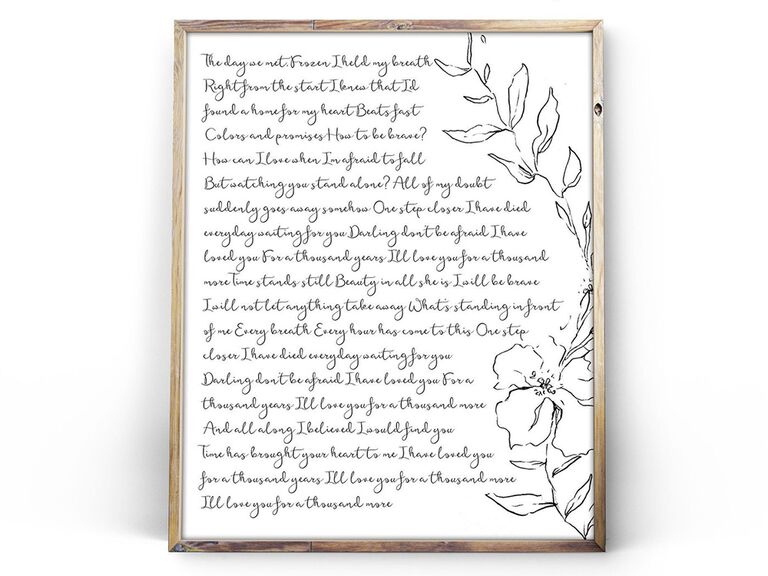 For another thoughtful gift idea, pay tribute to the traditional second-anniversary gift of cotton and have your wedding vows or lyrics from your first dance printed on cotton paper. It's a love letter they can treasure forever and will look lovely hung by a bed or framed on a bookshelf.
philoSophie's Personalized Canvas Print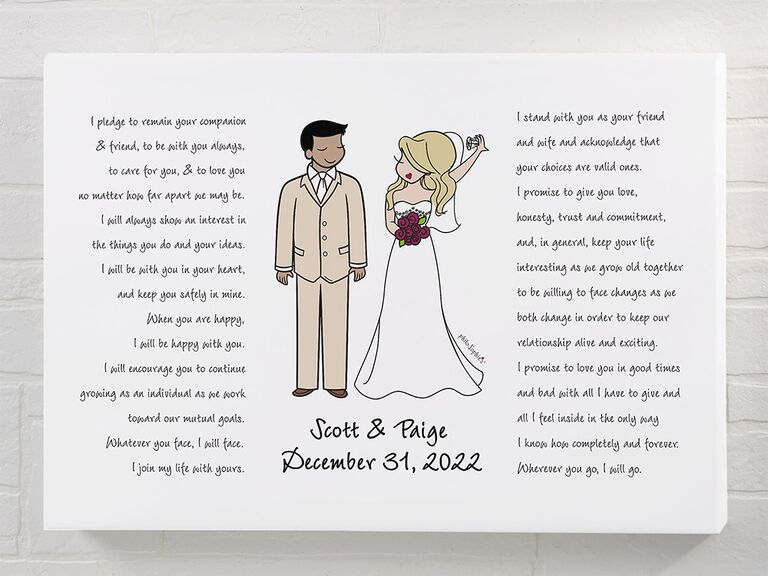 Quirky but still totally sweet, this unique spin on wedding vow art turns the two of you into cartoon characters. Not only can you customize your names and wedding date, but you can also choose the illustrated characters' hair color and style, skin tone, suit color and flower colors. It might not be an exact rendering of your wedding day aesthetic, but it gets pretty darn close!