50 Seasonal Summer Wedding Ideas You'll Definitely Want to Steal
Bookmark this page for inspo.
There's a reason summer is one of the most popular seasons to get married. If you're planning to say "I do" between June and August, there's plenty of inspiration for your big day. In fact, it might even feel overwhelming at first to narrow down the best summer wedding ideas—but that's where we come in. To help you plan an unforgettable summer wedding, we've rounded up 50 of our all-time favorite ideas you'll definitely want to steal. In this comprehensive guide, you'll find summer wedding color and theme inspiration, style suggestions, food recommendations, and plenty of trendy ideas that'll leave a lasting impression on guests. To get your creative ideas flowing, browse through all of these wedding ideas for summer to narrow down your vision. Then, work with your team of pro vendors to make your summer wedding vision a reality.
In this article:
Wedding Color & Theme Ideas for Summer
The first step of planning your summer wedding is picking a color palette or theme. Start by checking out our favorite styles and wedding color ideas for summer here.
Muted Hues of Pink
Bring the warm, romantic vibes of summertime golden hour to life through your wedding color scheme. Use muted tones of blush, rose and orange shades as your base, and tie it together with accents of cream, ivory or metallic gold for an elevated feel.
Simple Pastels
Keep things light and bright with a playful pastel wedding color palette. We love how these pastel pink napkins pop against bright yellow table linens. To prevent your summer wedding color scheme from feeling too busy, stick with two or three colorful pastel shades, and use neutrals for additional accents.
Tropical Brights
Whether you're literally (or figuratively) escaping to the tropics for your big day, you'd be remiss not to consider a bold color scheme. Summer is the ideal time to experiment with deep, rich shades of green, pink, orange and red.
Pops of Blue
Not sure how to incorporate "something blue" into your wedding day? Start with your color scheme. Beachy hues of teal, turquoise and sky blue will give your wedding day an elegant coastal feel.
Ombré Brights
Instead of trying to match multiple colors in your palette, you can get creative with ombré gradients of your favorite shade. This modern wedding color idea will give your big day a sleek, cohesive feel. Plus, ombré decorations (like this statement floral arch) will make your wedding one to remember.
Nautical Prep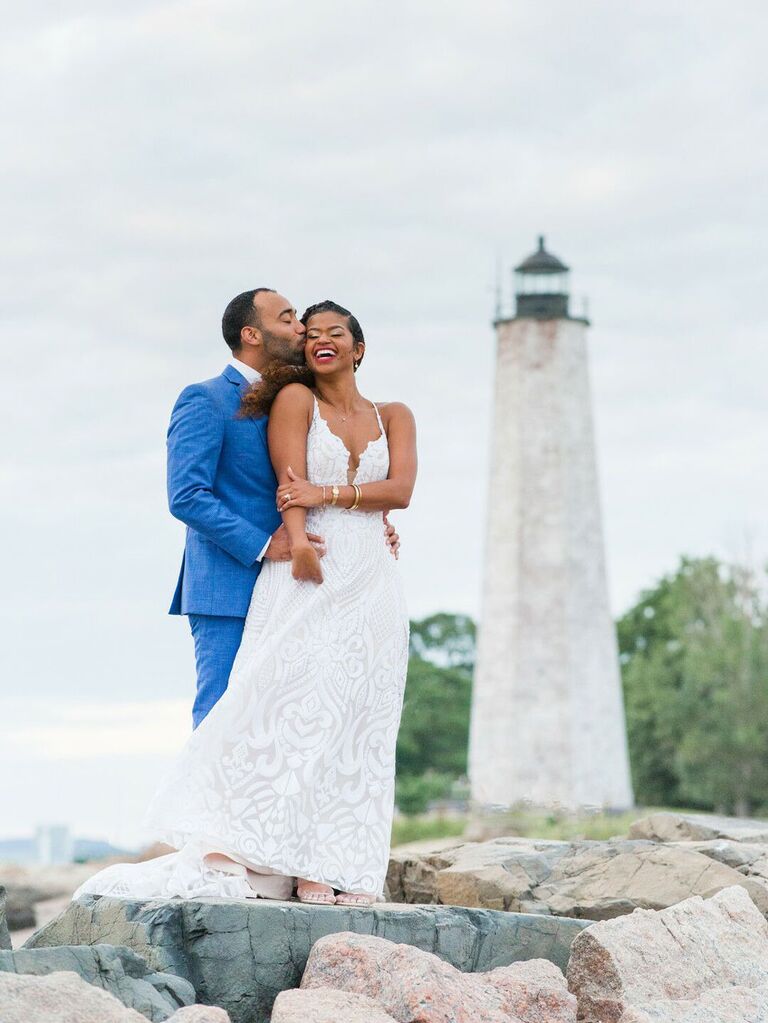 Bring your maritime dreams to life with a nautical prep summer wedding theme. Emulate the essence of New England with shades of blue and white, stripes, accents of rope and twine and nautical motifs of anchors and sea life.
Beach Wedding Chic
If you've always dreamed of a beach-themed wedding, summer is the ideal season for you to say "I do." Whether you're heading to a local waterfront or you're whisking loved ones away to a tropical destination, a beach wedding theme is all about light colors, neutral accents and breezy fabrics.
Retro Tropics
Vintage brights are one of the biggest wedding color trends of summer 2021, and you can definitely bring them to your summertime nuptials. To achieve a summery vintage theme, opt for muted hues of red, green and yellow, and look for stationery and signage products that have retro fonts and designs. Guests will feel like they've been transported to a swanky resort circa 1975.
Outdoor & Backyard Summer Wedding Ideas
Once you've narrowed down a theme, you're ready to start focusing on smaller details that'll make a huge impact. Here are our favorite outdoor and backyard summer wedding ideas.
Minimal Aisle Decor
Don't worry about going over-the-top with summer wedding decor, especially if your venue is particularly breathtaking. In fact, we recommend letting the views speak for themselves. We love how this couple opted for minimal ceremony aisle decorations as to not distract from the sweeping views surrounding the venue.
Pool Party
Up for a swim? If your venue has a pool (or body of water you have access to), invite guests to cool off and take a splash. This summer wedding idea is particularly fitting for a welcome party or a day-after brunch. If swimsuits are requested, though, don't forget to tell guests on your wedding website and your formal invitations.
Camp-Inspired Seating
Camping aficionados may prefer to give a nod to their favorite pastime with tent-inspired seating. This outdoor wedding idea is a great way to encourage guests to sit back, relax and mingle with each other at your reception. Plus, nothing screams "summer" like a good old-fashioned campfire circle.
Angular Ceremony Arch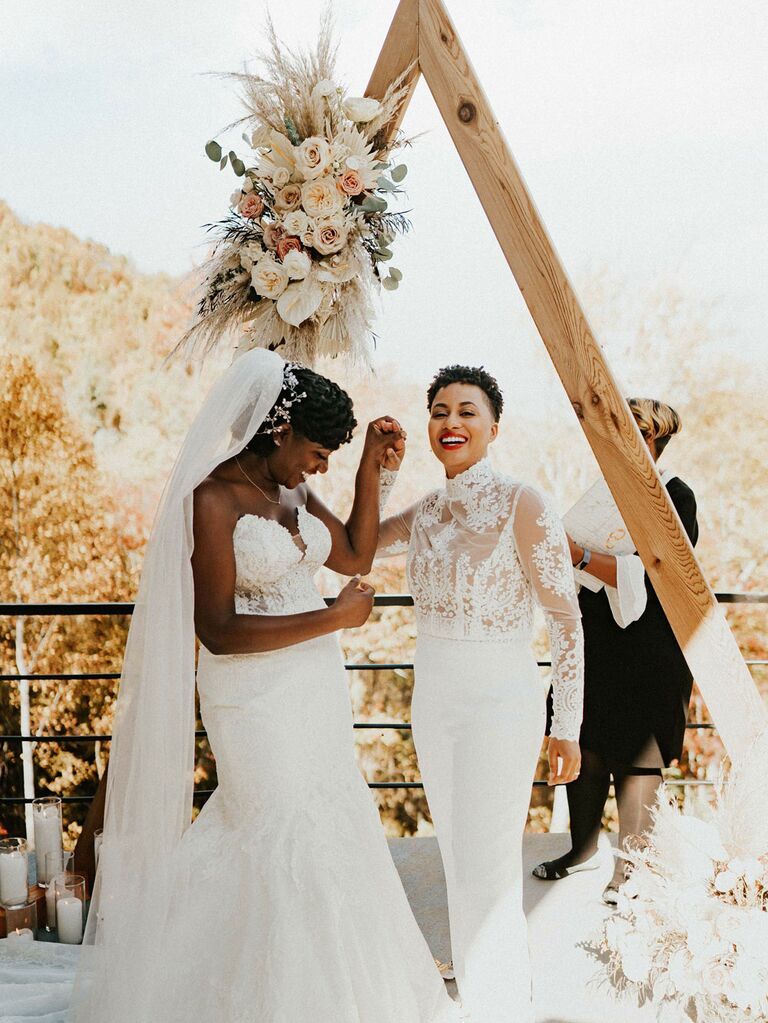 Looking for a unique way to spice up your altar? Consider investing in a statement arch. This angular shape will draw everyone's attention to you and your S.O. as you stand underneath. Plus, you can definitely repurpose it at your wedding reception to get the most bang for your buck.
Lawn Games
No backyard summer party is complete without a few lawn games. If you're hosting your wedding guests outdoors or in your own backyard, give them a few summery games to play in between events, like cornhole, giant Jenga or ladder toss.
Tent With String Lights
A tent is a great investment, especially for an outdoor summer wedding. Not only will it help protect against the elements, like hot temperatures or an unexpected rain shower, tents can be easily decorated to fit your theme. Regardless of your style, consider decorating the interior of your wedding tent with romantic string lights—they're an easy (and affordable) way to set the mood and cast a cozy, welcoming glow over your space.
Lantern Walkway
Keep guests on the right path by creating a lantern walkway from the ceremony venue to the reception space. Just imagine how stunning the lights will look as golden hour sets in—the effort of creating a path will be worth it.
Statement Draping
Get creative with your venue decor, especially if you'll be celebrating outdoors. We love how this couple accented their reception space with ethereal drapes and string lights across towering trees.
Waterfront Ceremony
What's not to love about an outdoor ceremony situated right on the water's edge? Located in a pocket of trees along a serene lake, this whimsical summer wedding venue offers stunning views and scenery. To emulate this aesthetic, look for venues that have waterfront views for your summer soirée.
Versatile Wedding Favors
One of the best summer wedding ideas revolves around your favors. While not mandatory, guests will certainly appreciate a small goody bag to keep—especially if it's filled with essentials for a hot summer's day. We recommend investing in useful wedding favors like sunscreen, fans, sunglasses, parasols or even DIY bottles of bug spray. Not only will these keep guests comfortable in warm weather, you can be assured that your money won't go to waste.
Nautical Entertainment
Wedding entertainment isn't limited to live music and time spent on the dance floor. To give your guests an evening to remember, consider hiring additional activities to keep them busy in between cocktail hour, reception speeches, dinner and dancing. This couple took their summer wedding to the next level by hiring maritime performers dressed as mermaids for a sunset boat cruise. Let your wedding venue and theme guide your entertainment selections.
Sparkler Exit
What better way to close your outdoor summer wedding than with a pyrotechnic sendoff? Give guests plenty of sparklers to hold as you and your S.O. depart into your getaway car at the end of the evening. Or, if you're feeling bold, go all out with a colorful fireworks display. Either will serve as the perfect way to complete your summer wedding.
Summer Wedding Flower Ideas
Summertime is the prime season for bright, romantic blooms, which means you have plenty of options for your big day. Browse our favorite summer wedding bouquet and flower ideas, and work with your florist to bring your bloom vision to life.
Cottagecore Wildflowers
If clusters of baby's breath and greenery make you want to frolic in the nearest meadow, you're not alone. This no-fuss cottagecore-style floral arrangement is one of our favorite flower ideas for a summer wedding. Small pops of color brighten up the arrangement, while sprigs of trailing greens add hints of romance and whimsy.
Bright Yellow Blooms
Make your bouquet brighter than the hot summer sun with vibrant yellow flowers. We love how this bride's cheerful bouquet matches the floral ceremony arch too, which makes the event design feel thoughtful and intentional.
Monochrome Bouquet
Monochrome weddings are one of the biggest wedding trends this year, and it's all thanks to Netflix's smash hit Bridgerton. If you dream of having a wedding that's Lady Whistledown-approved, consider using a monochrome color palette. We love this all-white bridal bouquet, which looks as elegant as can be with a simple white wedding dress.
Pastel Centerpieces
Emulate cotton candy-colored summer skies with pastel florals. These blush, lilac and ivory centerpieces remind us of a romantic beach sunset, and the rose gold accents add a playful pop of metallic sheen that makes this tablescape simply unforgettable.
Whimsical Statement Installations
Give guests something to marvel at with a statement floral installation. We love how these floral arrangements frame the altar, making it a focal point of the ceremony venue. To get the most out of your flower investments, work with your florist to transfer any statement pieces from the ceremony to the reception site so you can enjoy them all night long.
Handheld Sunflowers
Nothing embodies the essence of summer quite like a bouquet of fresh sunflowers. In fact, if you love this seasonal bloom, check out our comprehensive guide of sunflower wedding ideas to brighten your big day.
Tropical Blooms
If soft colors aren't for you, go bold with a bright arrangement of tropical summer flowers. Protea, calla lilies, gingers, orchids and anthurium are all in season during the summer, and they'll give your bouquet a tropical burst of rich color and texture. Add a few leafy greens in your arrangements too, like monstera leaves, fanned palms or Ruscus stems to bring the tropics to your wedding.
Botanical Seating Chart
Think outside the box when it comes to your floral arrangements. This couple opted to use summery sprigs of blooms as escort cards, giving guests a creative (and aesthetically pleasing) way to find their seats.
Flowering Sweetheart Table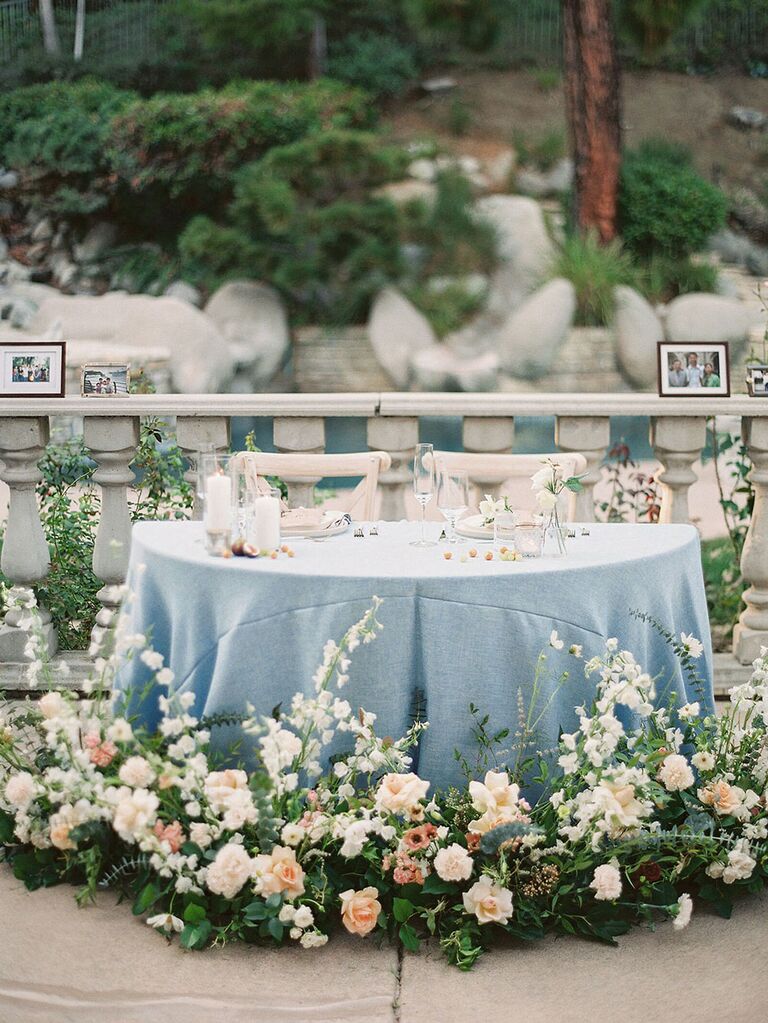 All eyes will be on you and your S.O. when you sit at the sweetheart table, so don't forget to give it a few intentional decorations. We love how this couple surrounded their spot with lush clusters of summery flowers. To recreate this look, consider using fresh, airy blooms like roses, peonies, hydrangeas, dahlias or poppies.
Dried Florals
If you're planning a boho summer wedding, dried florals are a must. Accent your venue with feathered pampas grass, neutral blooms and wispy greens to give your day chic desert vibes.
Custom Greenery Wall
How about a wall of greens for your venue? This creative flower idea will serve as a photo backdrop all night long, especially if you personalize it with a custom last name sign.
Summer Wedding Fashion Ideas
Choosing what to wear is an important part of planning your summer wedding. We break down what you need to know about fabrics, colors and silhouettes right here, along with our favorite ideas to steal.
Floral Accessories
Florals for summer will never go out of style. If you're looking for a unique way to accent your wedding suit, consider floral accessories (like a tie or bow tie, pocket square, socks or button-down shirt). Small flower motifs will give your wedding outfit a fun, summery look.
Monochrome Wedding Party
Go for an all-white wedding if you want to break the mold. We love the look of these white wedding party outfits, which complement this casual seaside setting.
Plunging Back Wedding Dress
If you're looking for summer wedding dress ideas, consider experimenting with off-the-shoulder, cold-shoulder or cutout details. Given the warmer temperatures, summer is the perfect time of year to opt for daring silhouettes. This bride wore a sleek cold-shoulder dress with a low open back, which was perfectly styled for her outdoor summer wedding
Colorful Suit Jacket
Don't feel confined to dark colors for your wedding suit. Summer is a great occasion to experiment with bright formalwear shades, like navy, light blue, maroon or forest green.
Champagne Bridesmaid Dresses
Not sure what color is best for your bridesmaids? Try something sultry, like champagne. This off-white hue will complement just about any summer wedding theme or color palette, and it'll help differentiate their outfits from yours. Check out our roundup of affordable bridesmaid dresses here to get started.
Muted Neutrals
Make a serious fashion statement with a neutral suit. If you're hosting a boho or rustic wedding, a brown or tan outfit will seamlessly complement the earthy tones associated with these themes.
Airy Fabrics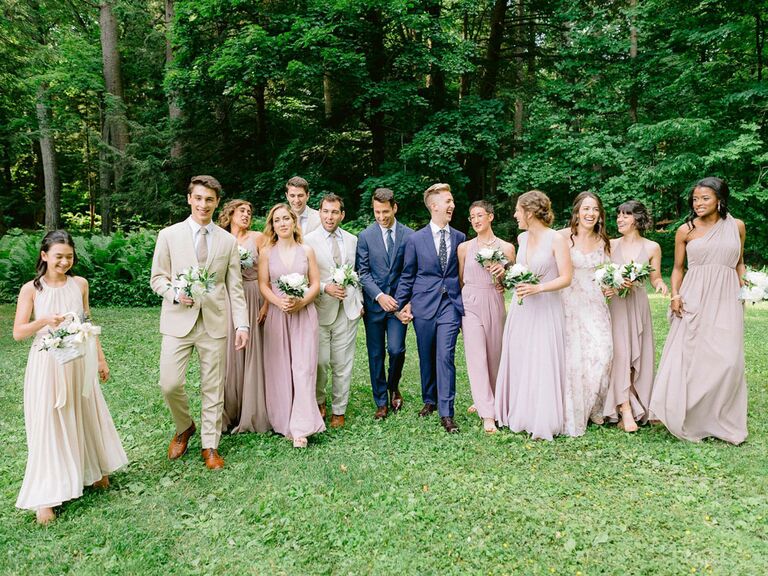 Comfort is key when it comes to summer wedding attire. Not only should your wedding dress code fit the climate for your wedding date, your outfits should also feel seasonally appropriate. (After all, you don't want to feel uncomfortable while saying your vows or dancing at the reception.) Keep your looks cool and stylish by selecting light, airy fabrics like chiffon, silk, cotton, Merino wool or linen. Breathable materials will help you and your wedding party feel comfortable without sacrificing style.
Corresponding Colors
Who says you and your spouse can't match on your big day? Corresponding ivory outfits, as seen here, are a chic way to stand out together.
Summer Wedding Food Ideas
Food is a key element of any party—especially your wedding. Start planning your seasonal menue with these summer wedding food ideas.
Açai Treats
Guests will be delighted to enjoy fresh açai bowls at your beachy destination wedding. With a variety of tropical toppings like berries, granola, coconut flakes and cocoa nibs, your loved ones will be transported to a tropical oasis regardless of your coordinates.
Champagne Tower
There's nothing quite like a cold glass of champagne on a hot summer day. Give guests the ultimate treat with a tower of bubbly beverages at your wedding reception.
Fresh Fruit Tarts
If you're looking for alternative dessert ideas, you can't go wrong with fresh fruit in the summer. Fruit tarts are a light alternative to heavier desserts like cake or chocolate, and they're easy for guests to grab and enjoy on the go.
Blue Wedding Cake
How about this for something blue? Give your summer wedding cake a beachy feel with a blue color palette—it'll look almost too pretty to eat.
Seasonal Signature Cocktails
Custom beverages are an easy way to give your big day a personal touch. We recommend experimenting with summery concoctions like Aperol spritzes, frozen wine or popsicle slushies, mojitos, or fruity sangria, but the sky's the limit. Work with your wedding planner or bar staff to create a few unique drink options that represent you and your S.O.
Lemonade Stand
Not every guest will want to make a beeline for the bar, so prepare to have a few non-alcoholic drink options too. We love the idea of having a lemonade stand at your outdoor summer wedding. Try infusing your refreshments with summery flavors too, like lavender or mint.
Ombré Cake
Give your wedding cake a summery makeover with colorful ombré flower accents. These cascading blooms capture all the colors of a warm summer sunset, making the cake feel appropriately designed for the season.
Fresh Seafood
Seafood lovers, this one's for you. Summer is the best time of the year to serve a nautical menu full of fresh catches like fish, crab, lobster, oysters or even octopus. Just be sure to have a few milder options too for guests who aren't as adventurous with their culinary preferences.
Family-Style Backyard BBQ
Summer is synonymous with casual backyard cookouts. If you're hosting a relaxed outdoor summer wedding, fire up a few grills and invite guests to indulge in their favorite comfort foods like burgers, hot dogs, barbeque and mac and cheese.
S'mores Pit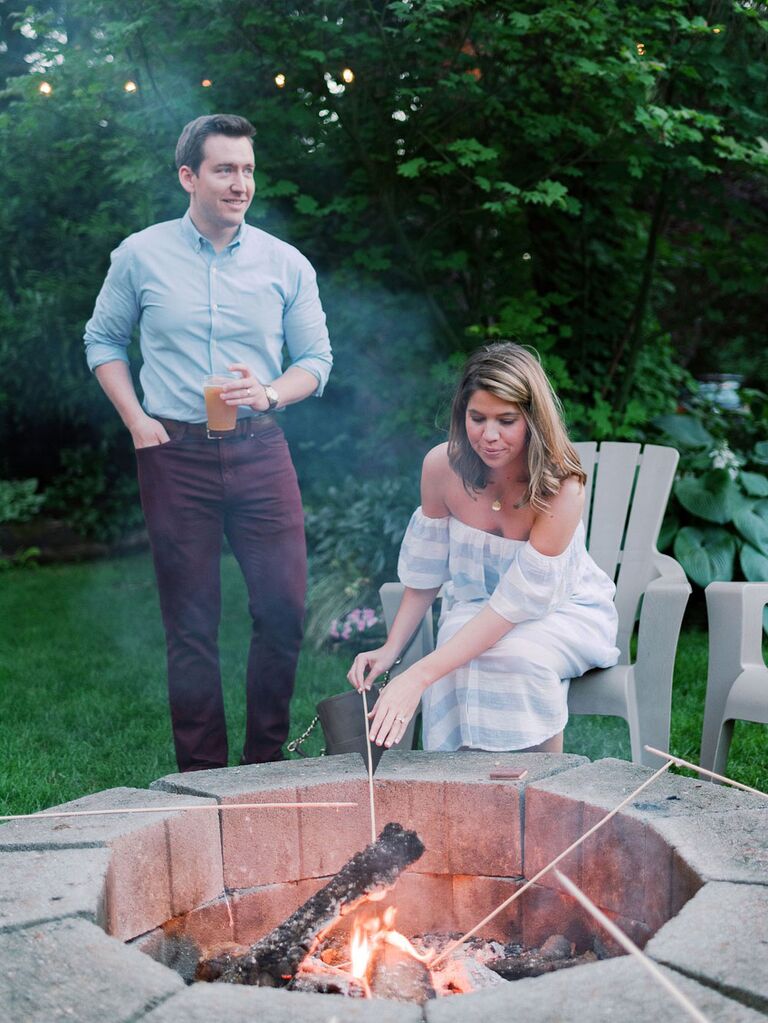 As any grillmaster knows, no summer barbeque is complete without a few roasted marshmallows. Give guests a sweet nightcap with a S'mores pit or build-your-own S'mores bar. This summer treat is always a crowd-pleaser, and it'll leave your guests raving about your excellent planning skills.
Wedding Cake With Fresh Greenery
Searching for even more summer wedding cake ideas? Go green with fresh fern accents instead of florals. This casual, no-fuss design tactic is especially fitting for a country wedding or a rustic soirée.