"The Bachelor" Alum Jamie Otis Got "Married at First Sight" (and Told Us All About It!)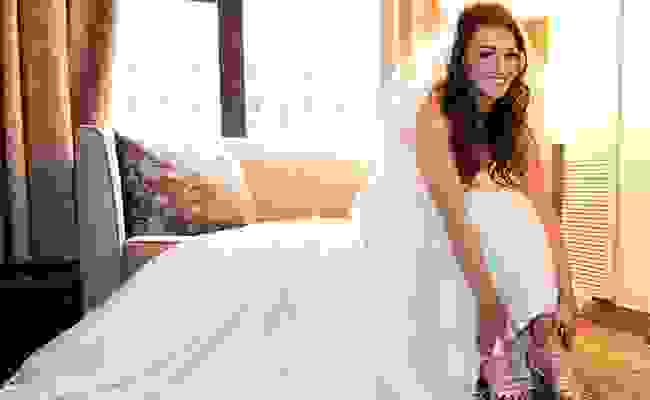 Married at First Sight

New York City resident and 27-year-old labor and delivery nurse Jamie Otis isn't used to pursuing love in traditional ways — she is a Bachelor Pad and The Bachelor alum, after all (Ben Flajnik's season, if you're trying to place her). But Jamie's latest venture into finding her perfect match makes The Bachelor's ever nerve-wracking rose ceremony seem like a breeze, since she married her husband the moment she met him on a new show, Married at First Sight.
The show, a social experiment to the most extreme degree, follows the stories of six people who got legally married to their match the instant they first met, never even seeing a photo of the other!
So how were the three matches chosen? Four specialists — sexologist, Logan Levkoff, MD; spiritualist, Greg Epstein; psychologist, Joseph Cilona, MD; and sociologist, Pepper Schwartz, MD — created what they think are three perfect couples, based on scientific matchmaking.
"It wasn't the expert's level of professionalism or education that made me feel I could trust them," Jamie told The Knot. "It was the honest conversations we had — especially sociologist Dr. Pepper Schwartz, who I instantly felt a connection with. When she came to my home we just sat down and talked about everything in life. She promised me they weren't just throwing people together for the show's sake. The experts weren't certain they would be able to find me — or anyone — a match, so when they called and told me they found someone for me, I was in complete shock!"
But having a "traditional" wedding — the kind where you at least know your groom beforehand — didn't matter so much to Jamie.
"The truth is, I never envisioned a traditional wedding for myself," Jamie admits. "I didn't have a father growing up, so I always knew I'd have to find someone else to walk me down the aisle. My mom is difficult to reach and I wasn't sure she would even be able to make my wedding. That being said, nothing about my life is traditional, so why worry about having a traditional wedding?"
Some of Jamie's friends tried to talk her out of marrying a stranger, but she didn't listen to them, saying, "It definitely takes having an open mind to be a part of something like this."
Jamie's three sisters served as her bridesmaids and her little brother walked her down the aisle when she got married in NYC at the Westin Grand Central hotel. She didn't have too much of a hand in planning her wedding, trying to "stay sane" leading up to her wedding day, which happened just a few weeks after the specialists found her future husband.
"I knew nothing about him before we met at the altar — not even his name!" Jamie says. "Initially, the whole thing was very awkward. I was in absolute shock for the entire reception. I would try to sneak into the bathroom to pull myself together, but I'd always end up running into a group of my husband's guests."
Until the show premieres tonight, we can only guess what happens to Jamie and her husband after their honeymoon and adjusting to newlywed life together.
"It was a genuinely intimate, personal and real experience. It's been a life changing journey," Jamie said.
Married at First Sight premieres July 8 at 9 p.m. on FYI.
Watch Jamie in the trailer here: