Planning a Wedding in 3 Months (or Even Less!) Is Doable, No Cap
Short timelines are having a moment—here's how to make a last-minute wedding happen.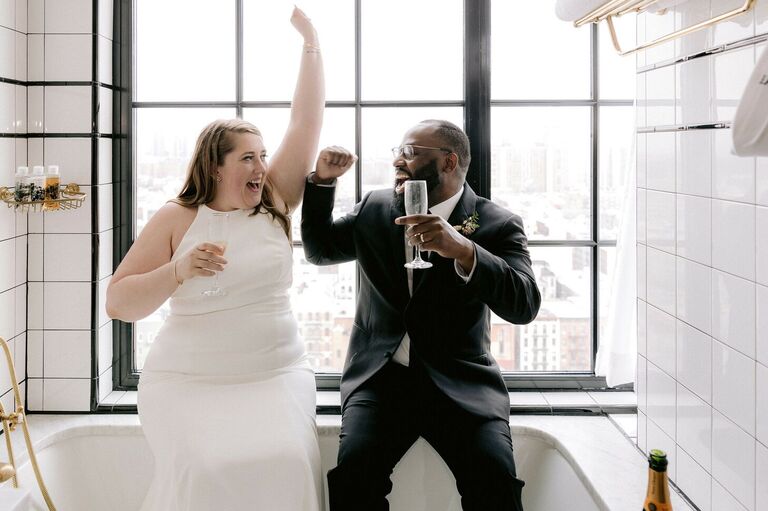 Photo: Jenny Fu Studio
Planning a wedding in 3 months may sound stressful, but there are actually quite a few benefits to a short engagement. There's no time to agonize over decisions, and, perhaps best of all, you won't have to wait to start married life. In fact, according to The Knot Real Wedding Study, 5% of marriers plan their wedding in 3 months or less. Couples plan last-minute weddings for a variety of reasons, whether it's because of work or family issues, military deployments or they just want to do the thing ASAP! If you're considering planning a wedding in 90 days or less, know that it's absolutely possible—as long as you're flexible and able to make quick choices.
"You won't have time to go back and forth with details," says wedding planner Lindsay Parrott-Masiewicz of P3 Events in Las Vegas (a city where last-minute nuptials happen all the time!). "You're going to have to book vendors and make deposits quickly, but deal with the smaller details later."
Ready to get started? Don't stress—we've got you covered. Here's everything you need to know to plan your wedding in 3 months (or even less!), from a printable wedding timeline to an easy-to-follow checklist. You'll also want to sign up for The Knot's free Wedding Checklist Tool to stay on track.
In this article:
Can You Plan a Wedding in 3 Months?
In short, yes! You can absolutely plan a wedding in 3 months—or even much less than that. In fact, Parrott-Masiewicz, who's been in the events industry for over 13 years, has planned many last-minute weddings with a week's notice, and even put together an event in just 3 days! And it turns out that there are a few expert-approved secrets to planning a wedding with such a short timeline:
Be strict with your guest list: It's easier to plan a last-minute wedding with a smaller guest list—you'll have a wider range of venues available to you.
Hire a planner: Wedding planners will not only ensure that everything goes smoothly, they can use their connections to find you the perfect vendors (sometimes at a discount!). "You won't have to do all that vetting," Parrott-Masiewicz says. "We won't refer a client to someone we don't know well or trust. We know they're going to show up for you."
Consider weekday weddings: "If you go in wanting the cutest date possible, you're not going to get the venue you want," Parrott-Masiewicz says. Instead, consider a weekday wedding—Parrott-Masiewicz says that Tuesdays through Thursdays are increasingly popular for last-minute weddings.
Prioritize venue and photographer: These two vendors should be the first you hire, says Parrott-Masiewicz. And don't agonize over the decisions: If you generally like the vendor and they're within budget, book them right away.
Don't wait too long for initial responses: If you're on a tight timeline, you don't have time to wait for responses to emails and phone calls when you're initially reaching out to vendors. If a vendor doesn't get back to you in 36 hours or less, it's time to move on. "It's okay to be annoying and follow up," says Parrott-Masiewicz. "But if you have to chase someone to pay them, they're not the vendor for you."
Printable 3-Month Wedding Checklist
When it comes to wedding planning, sometimes it's easier to put pen to paper. That's why we've created an easy-to-follow (and printable!) 3-month wedding checklist.
How to Plan a Wedding in 3 Months
Ready to start planning a wedding in 3 months? If you're not sure where to begin, we've got you covered. This step-by-step checklist will ensure you get everything done. Note that there aren't as many tasks on this checklist as there are in our 12-month planning timeline, and that's because we're only focusing on the most important to-dos. That's one of the best parts of planning a wedding with a short timeline—you only need to do what's essential and not stress about the rest!
3 Months Out
1. Find a Wedding Venue
Securing a wedding venue may be the most important step you'll take during the planning process—especially if you're planning a wedding in 3 months or less! Once you've booked your venue, you've officially set a date and can hire your other vendors. All-inclusive venues that provide services such as catering can make things even easier—check out The Knot Vendor Marketplace to browse venues, read reviews and check availability.
2. Set a Date
Parrott-Masiewicz recommends being flexible with your wedding date, and open to weekdays and off-peak times of year. You'll have more vendor options available to you, and may even score discounts.
3. Set a Budget
While it's important to set a budget and try your best to stick to it, planning a wedding in 90 days will likely require some wiggle room here as well, due to rush fees and other unexpected last-minute expenses. "Be realistic with your budget," says Parrott-Masiewicz. "It's easier to plan a wedding in 3 months when you have a flexible budget, especially if you're doing it during our busy season."
4. Create Your Guest List
When it comes to planning a wedding on a tight timeline, be deliberate about creating your guest list. With a smaller guest list, you'll have more venue and vendor options, and can focus on your most important VIPs attending.
5. Hire a Planner
Yes, a wedding planner is an added expense, but it's one that's entirely worth it—especially if you're working with a tight timeline. They'll hook you up with the best vendors, potentially score discounts and make sure you stay on track.
6. Ask Your Wedding Party
If you're having a wedding party, you'll want to enlist them ASAP so they can start handling their duties right away. You may also choose to keep things simple and not have a wedding party at all—totally fine.
7. Create Your Vendor Team
Lean on your venue and planner to help build out the rest of your vendor team. The Knot Vendor Marketplace is a great place to start, and you can also utilize recommended vendor lists from your venue to find pros who are already familiar with the space.
8. Book Hotel Room Blocks
Hosting out-of-towners? Now's the time to make sure they have a place to stay. And when it comes to booking hotel room blocks, the sooner the better—hotels book up quite far in advance.
9. Shop for Attire
When planning a wedding in 3 months or less, you might not have time to have the full salon experience (wedding dresses typically take 6 to 8 months to produce)—or you'll have to pay major rush fees. Fortunately, there are plenty of off-the-rack wedding dresses, suits, tuxes and other attire that you'll have in hand immediately. Just make sure you have enough time for alterations.
10. Set Up Registry
Your loved ones will want to buy you gifts, no matter how tight the wedding timeline. Setting up a wedding registry online is super quick and easy.
11. Communicate With Your Guests
You may not have time to send out printed save-the-dates, but that's okay! Set up a wedding website and send the link to your guests via email so they can start making arrangements.
12. Purchase Wedding Rings
Take some time for a little retail therapy, namely buying those wedding rings.
13. Plan Your Honeymoon
If you're going on your honeymoon immediately after your wedding, you'll want to start planning right away. However, it might be worth waiting a bit after the wedding so you can focus on the event, take a breath and then plan your big trip once the dust has settled.
14. Decide If You'll Have Prewedding Events
You'll want to talk about prewedding events, such as showers and bach parties, with your wedding party and other loved ones who may be tasked with planning. While showers typically take place a couple of months before the big day, most bach parties occur within a month of the wedding, so it's entirely possible to have one with a short planning timeline. Some couples even have their bach parties after the wedding!
15. Figure Out Rehearsal Dinner Plan
Hosting a rehearsal dinner isn't a must, but it's a nice way to welcome guests to your wedding weekend. If you can delegate rehearsal dinner planning to loved ones, we highly recommend it—one less task on your plate!
2 Months Out
16. Send Wedding Invitations
You'll want to send your wedding invitations sooner rather than later, especially if you're not sending save the dates. Guests should RSVP at least three weeks before the event to give you a final headcount and share with vendors.
17. Write Vows
If you're writing your own vows, now's the time to start. Your officiant can provide assistance here, or you might skip the personalized vows to save time.
18. Order Favors and Gifts
Favors aren't mandatory, but we do recommend giving thank-you gifts to wedding party members and close family who helped out with the big day. Personalized gifts take time so order sooner rather than later.
1 Month Out
19. Secure Your Marriage License
Make sure you're up to speed on your jurisdiction's marriage license requirements and laws. Without a license, you're not officially married so this should be a big priority.
20. Start Seating Chart
Once you've collected your RSVPs, create your seating chart. Whether you're having escort cards or a seating chart, those take time to create so table assignments need to be completed ASAP.
2 Weeks Out
21. Schedule Final Calls With Vendors
You're likely having regular check-ins with your vendors, but final calls will ensure that everyone is on the same page.
The Week Before
22. Share Final Head Count
Your venue, caterer and other vendors will need to know how many guests you're expecting.
23. Confirm With Vendors
You or your planner should create a wedding-day timeline to make sure that everyone is where they need to be. Share this with your vendors and confirm receipt.
The Day Before
24. Organize Gratuities
On your wedding day, you'll want to show your appreciation for your vendors' hard work in the form of tips. Organize cash in envelopes, and task your planner, wedding party member or other loved one with handing them out.
25. Give Gifts to Loved Ones
Thank your crew for their support—don't forget to include handwritten notes with each gift.
26. Bring Any Special Items to Venue
If you're including family heirlooms, DIY projects or other important items in your wedding day, be sure they're transported to the venue.
27. Rehearse Ceremony and Have Rehearsal Dinner
Make sure everyone knows when to walk down the aisle and where to stand or sit. Then, celebrate at the rehearsal dinner!
The Day Of
28. Showtime!
You did it!