How to Be a Great Bridesmaid During COVID-19
Your friends will appreciate it more than you know.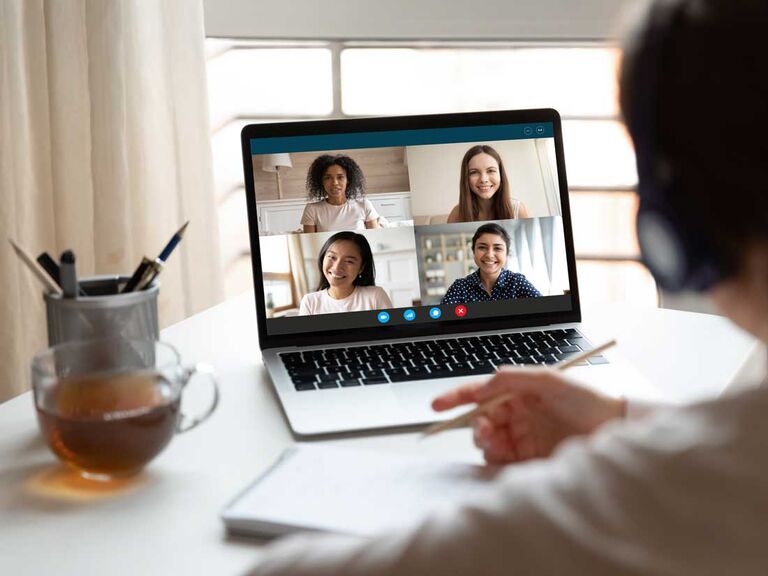 fizkes/Shutterstock.com
As the coronavirus pandemic continues to impact weddings around the world, everyone involved is affected—including wedding party members. Regardless of your role in a wedding, you might be wondering how to be a good bridesmaid (or groomsman) to your friends who are postponing and re-planning their weddings. Generally, being a bridesmaid comes with certain responsibilities, like helping with prewedding tasks, attending parties and being on hand to help on the big day. But given the unprecedented nature of the pandemic, traditional etiquette has taken a confusing (and undefined) turn.
As a bridesmaid, it's important to remember that it's not your job to fix the couple's wedding; however, you can offer your help and support during a time they may need it most. COVID-19 has affected everyone in different ways, so it's important to understand that it's not required for you to put your personal life aside for someone else's wedding. But, since you have a close relationship with the to-be-weds, your support will mean the world to them. Use your best judgement to evaluate how to be a good bridesmaid as it implies how you can best support the couple during this time. To help, we've highlighted a few ways to show that you care. From picking up small tasks to simply being someone they can talk to, here's how to be a good bridesmaid during COVID-19.
Let Them Know You Care
Thoughtful gestures can go a long way. Something as simple as a heartfelt message or card in the mail will brighten their day and lift their spirits. To go a step farther, consider sending a small gift, like their favorite bottle of wine or a virtual UberEats gift card for their next date night. Even a bouquet of fresh flowers will make them smile and show that you're supporting them from a distance.
Remember that you have a role in the wedding party for a reason. Your relationship with the couple is more important than a party, and one of the best ways to be a good bridesmaid is to show empathy and love during a difficult time. Even the smallest acts of kindness will go a long way, and your friends will appreciate it more than you know.
Check In On the Couple
Even after your initial outreach, periodically check in on the couple to show you're still thinking of them. If you aren't in constant contact on a regular basis, reach out every few weeks to say hello and offer your help. In doing so, though, remember to find a balance between checking in and bombarding them with questions or suggestions. Instead of asking if they have a new plan every few days, simply reach out to check in, ask how they're doing and see if there's anything new you can assist with. Understand that constantly texting or calling them can feel overwhelming, so find the balance between the two. A check-in text every few weeks will show your support without inundating them.
Express Flexibility
Rescheduling a wedding will affect everyone involved, meaning the couple, the wedding party, guests and vendors. Given the enormity of event execution, there's a chance the new plans may not perfectly fit into everyone's personal schedules. If you're wondering how to be a good bridesmaid amid coronavirus, one of the best things to do is be flexible and empathetic. Maintain open and honest communication, especially if future plans might conflict with other obligations you already have. Each situation should be handled on a case-by-case basis, and there may not be clear direction on how to handle rescheduling conflicts. While some factors are out of your control, you can help ease the process by being as flexible and understanding as possible.
Be Available to Help
One of the best things you can do as a bridesmaid is offer help to the couple or be available if (or when) they need you. Rescheduling a wedding during a pandemic isn't something they anticipated, and they're likely feeling overwhelmed with everything they have to do. Take it upon yourself to reach out and offer your help if you have the ability. Even if there isn't anything you can do right away, they'll appreciate knowing that they can rely on you if they do need help in the future.
Bridesmaid duties can include helping plan events like the bridal shower or bachelorette party, or assisting with smaller, menial tasks like finding outfit accessories, stuffing invitations or keeping records of gifts. Although you won't have these duties in a traditional sense, let the couple konw you're willing to help as plans change.
Find Tasks You Can Complete
Perhaps the couple is feeling the stress of postponing a wedding, and they aren't sure where to start or what you can help with. Take this opportunity to do some thinking for them and research a few small ways you can relieve some of the burden. Offer to craft an email to answer guest questions, or look up ways they can fix wedding favors printed with their original date. Research fun games to play for a virtual bridal shower, organize a drive-by ceremony with friends, or even scour Pinterest for ideas to pivot wedding colors for different seasons. These are all variations of traditional bridesmaid duties, and you likely would have been handling some of these tasks without a pandemic anyway.
With some creative thinking, there are ways to be a good bridesmaid even if you can't physically be with the couple. Remember that this is voluntary—you aren't expected to put wedding tasks above your personal needs, but doing so is a thoughtful way to support your friends during a difficult time.