8 Things You Should Never Do at a Wedding
Wedding guests should totally help themselves to reception décor, right? Wrong.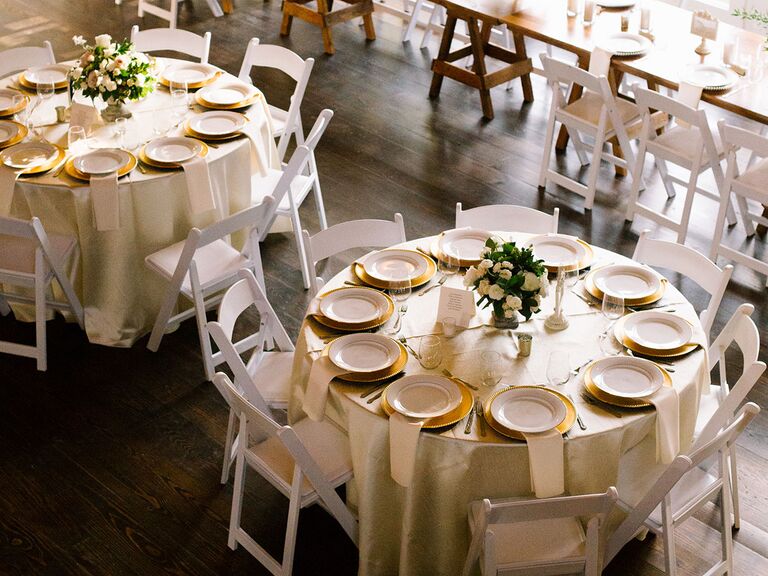 JOPHOTO
It's hard to keep track of all the proper wedding guest etiquette to follow. What seems obvious to one person—like turning your phone off or on "silent" during the ceremony—might completely escape another (we all have the one selfie-addicted friend). When in doubt, refer to this list of eight common guest faux pas—and avoid them at all costs. Because who doesn't want to be a well-behaved wedding guest?
1. Save Picture Taking for the Party
Unless the couple specifies otherwise, tuck your phone somewhere discreet and make sure it's either off or muted for the ceremony. Not only does the couple want you to be fully present during their vows, they also want their photographer and videographer to get the best shots possible—that's why they hired them. Guests who insist on snapping photos themselves often get in the way of the pros' work, both in the moment and also in the resulting pictures (no one wants a wedding album full of photos of guests on their cell phones).
"This advice is also important leading up to the ceremony," says Amber Harrison, style and etiquette expert for Wedding Paper Divas. "Friendships have been ruined because overly excited bridesmaids post a photo of the bride in her dress before the ceremony and it was seen by the groom—before the wedding." You don't want to be that friend.
2. Don't Bring a Date You Know the Couple Won't Like
If you're given a plus-one, you're technically at liberty to bring whomever you want, but tread carefully. "[Don't] bring a guest who might make the couple, or other important wedding guests, uncomfortable," Harrison says. "Do your part to avoid any awkward social situations that might upstage their day." In other words, think twice before you bring the bride's ex-boyfriend from college.
3. Don't Wear White
You've heard this one before and you'll hear it again: Avoid white and similar hues that might appear white in photos, like blush, cream or pale beige. It's bad form and completely avoidable. Let the bride stun the crowd in white—you can hold off for one day.
4. Hands Off the Décor
Love those marble coasters or copper vases? Ask the couple where they found them—don't take them home with you! This isn't a yard sale. "Unless they've invited you to take home a centerpiece or piece of décor, the couple has most likely made arrangements to return these details to their florist or rental company," Harrison says.
5. You Must RSVP
This isn't one of those wedding etiquette rules or traditions simply in place for tradition's sake. Your RSVP will affect the final head count, which will determine pretty much every other detail —the catering, ceremony and reception rentals, seating chart, the cake, favors and more. Reply "yes" or "no" as soon as possible. "If you RSVP after the deadline, seating charts and catering may have already been arranged, causing stress and frustration for the couple and their vendors," Harrison says. "A good rule of thumb is to return the RSVP card immediately or, if there's no specified deadline, within at least four weeks of receiving it."
6. Stay in Your Assigned Seat
The couple will have spent hours creating just the right seating chart for a reason. Sit in the seat or at the table you've been assigned to, as trading seats can be interpreted as insulting—and it's really not necessary. Not seated near the person you wanted to be? Catch up with them during cocktail hour or after dinner.
7. No Spontaneous Toasts
"[Reception timelines] are usually planned in painstaking detail in advance, so unless you've been invited to speak, doing an impromptu speech not only sets the timing off, it can be uncomfortable for the couple and sometimes the other guests too," Harrison says. Even those asked to give a toast should run their speech by the couple to avoid unwanted surprises, which means your spur-of-the-moment addition definitely won't be a good idea.
8. Don't Get Wasted
The allure of the open bar is undeniable, but please keep it together. Getting inappropriately drunk is never a good look for anyone, so know your limit and be respectful of the couple's day. "If the event is super long, pace yourself by alternating between a glass of alcohol and then a glass of water," Harrison says.
Shop gorgeous wedding invitations and paper goods on Wedding Paper Divas.