The Best Practical Wedding Registry Ideas for Games, Pets and Beyond
The best practical wedding registry ideas to your wish list, chosen by the pros at The Knot for our 2019 Registry Awards.
Photo c/o iStock

You've added all the official must-haves to your wedding registry, thanks to our lists for best bedding, best kitchen appliances, best smart home items and more. But what about all the other little things that make up a life together? Maybe you have a fur baby you both adore, or a fitness habit that's your favorite part of any weekend together. Well, with The Knot, you can also ask for that stuff to. We'll prove it to ya—here's our list for the best practical wedding registry ideas for your wish list. Oh, and they're fun too.
In this article:

Best Pet Items
Spoil your fur child by adding one or two things for them to your wedding registry. After all, their pawrents getting married is a big moment for them, too!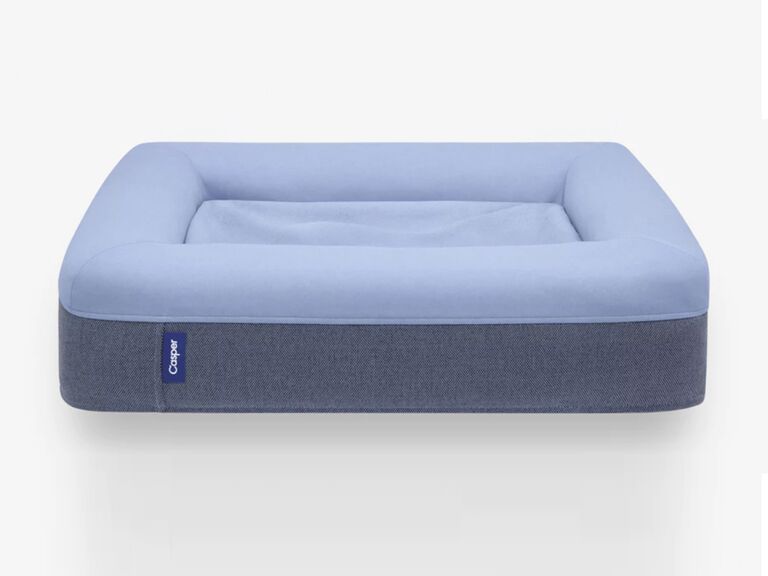 Editor's Pick: Casper Dog Bed, from $125, Casper.com
Give your pet a posh perch next to your best with the human-worthy Casper dog bed. Made with the same technology as their crazy-popular mattress but with pup upgrades in mind (think: extra durable exterior material and foam bolsters around the edges to help fido feel safe). Add this dog bed to your wishlist with our Universal Registry tool.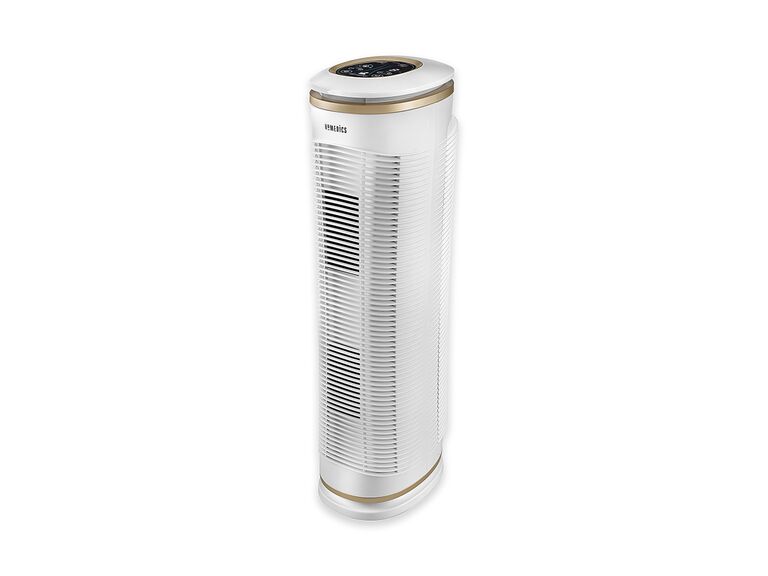 Couple's Pick: HoMedics TotalClean PetPlus Air Purifier, from $200, BedBathAndBeyond.com

Tackle any allergens your beloved pet leaves behind with the HoMedics air purifier. The interior HEPA filter will remove 99.97% of airborne contaminants like allergens, pollen, smoke and dust. It also tackles smell, which is perfect if you're currently potty-training a pup, have a litter box near by and more.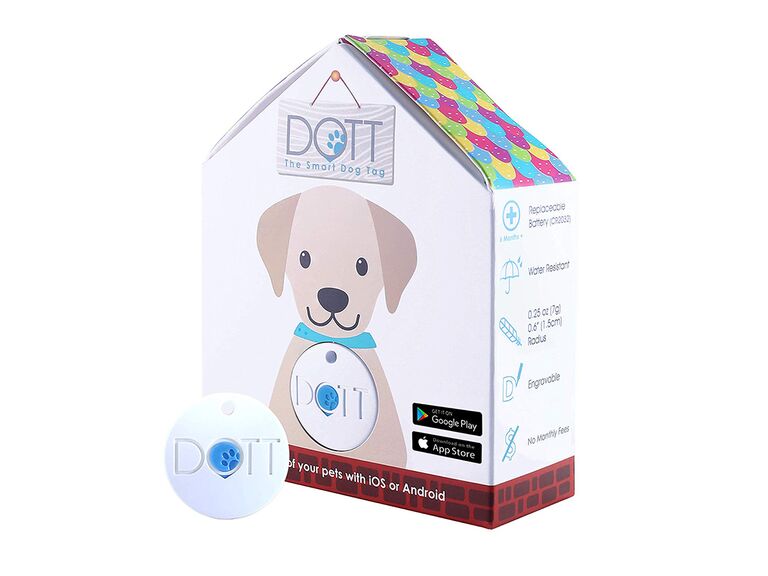 Best Pet Smart Tag: DOTT Smart Dog Tag, $40, Amazon.com
Talk about a practical wedding registry idea! This smart tag is a must-have for any concerned pet parent out there and the peace of mind it will give you makes it worthy of our list alone. Not only does DOTT track your pet's walks, potty breaks, medication and more, but it acts as an emergency tracking system if they go missing. Activate the "find pet" feature to track your dog or cat's signal and alert the network of users within the app to help you bring your pet home safely.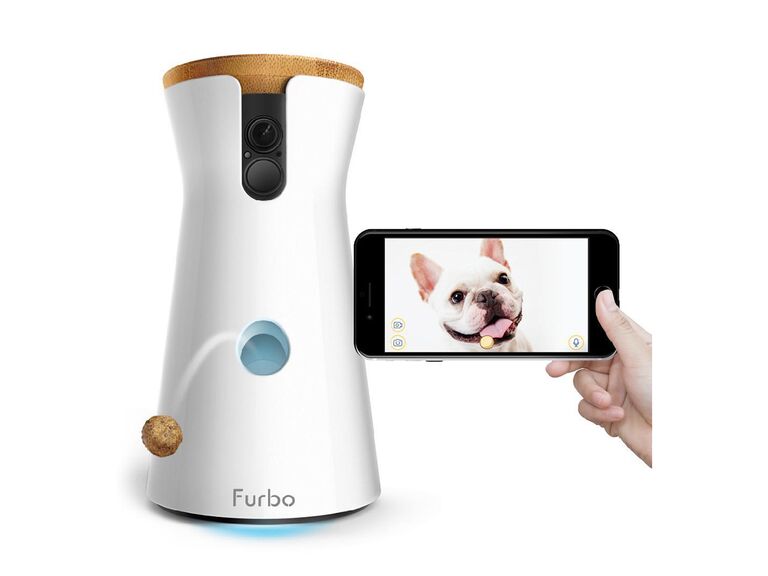 Best Pet Camera: Furbo Dog Camera, $199, ShopUs.Furbo.com
If you want to peek in on your pet while you're away at work, then Furbo is for you. This practical wedding registry idea is perfect for owners who need a little help keeping an eye on their pup when they can't. Furbo has a "dog nanny," which will record your dog throughout the day and give you a brief summary of their activities.You can also speak to your dog via two-away audio and even toss them treats out the front. Add this camera to your wishlist with our Universal Registry tool.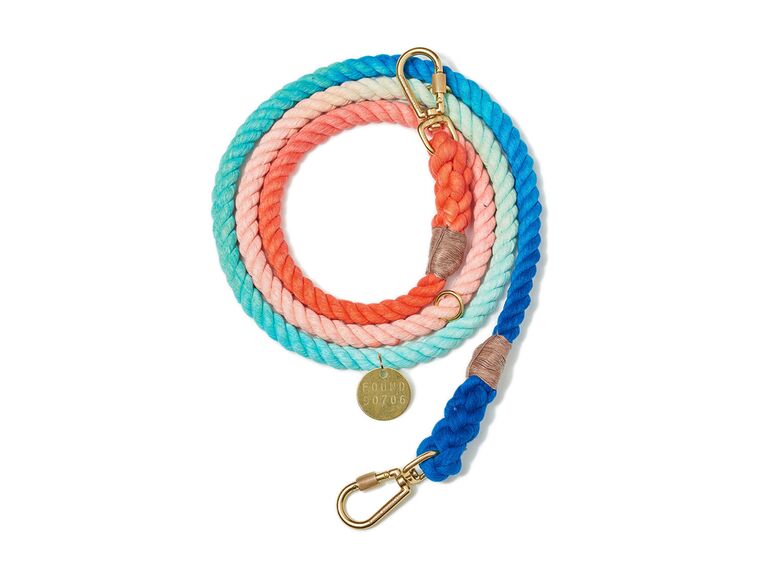 Best Stylish Pet Gear: Found My Animal Cotton Rope Dog Leash, from $64, FoundMyAnimal.com
We love Found My Animal products for a few reasons. First off, they're totally cute. Their rope leashes and collars come in a variety of bright and cheery colors that will make your pup the most stylish in the neighborhood. Past that though, Found My Animal does so much good for the rescue community, supporting local animal rescue organizations and helping puppers find forever homes. Add this leash to your wishlist with our Universal Registry tool.
Best Music Items
Pump out tunes for a party or practice your first dance in your living room with these speaker systems. They're the perfect practical wedding registry idea if you're a duo who loves music or loves to entertain. Want to add our favorites to your wedding registry? Well let's get to it!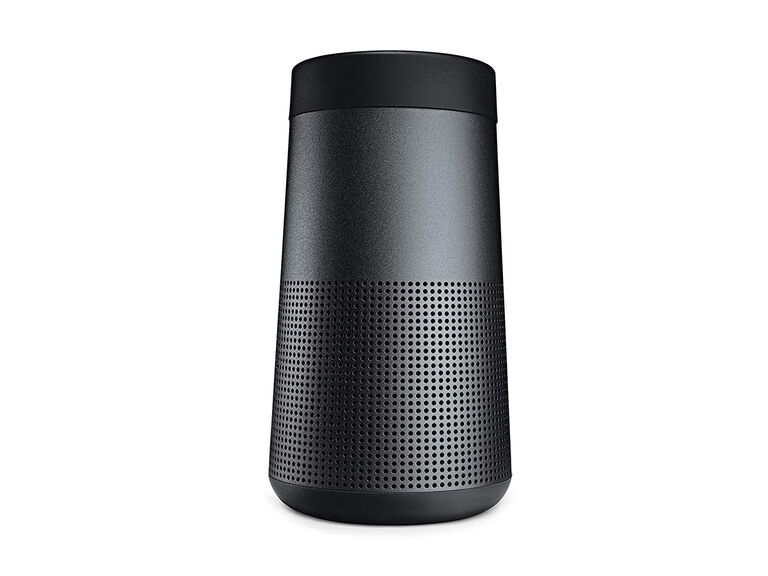 Editor's Pick: Bose SoundLink Revolve Portable Bluetooth 360 Speaker, $199, Amazon.com
At first glance, it seems pretty unbelievable that a speaker this small could pump out 360-degree sound robust enough to fill your backyard or the whole lower level of your home. But it does that—and so much more. Bose's speaker stays juiced for 12 hours, is Bluetooth-enabled and waterproof, so you can place it next to your tub, sink or pool worry-free.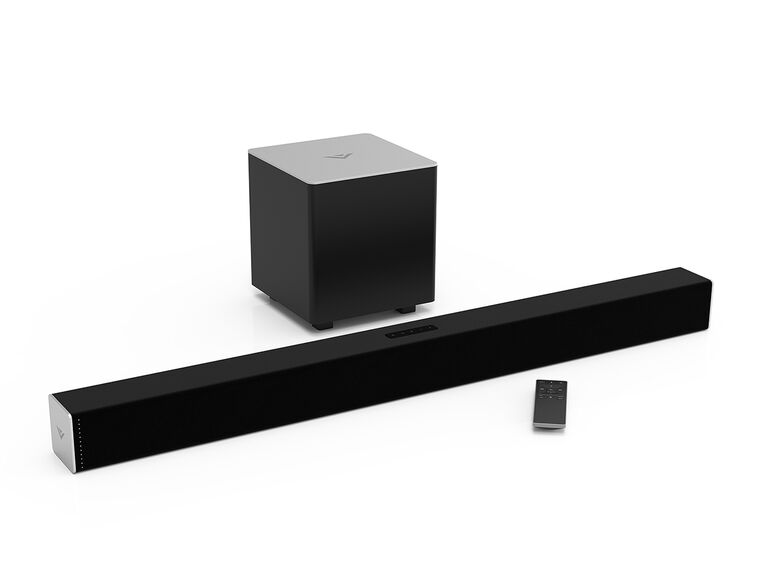 Couple's Pick: VIZIO 38-Inch Sound Bar with Wireless Subwoofer, $150, Amazon.com
Our couples love this multi-part speaker set featuring a spansive sound bar and subwoofer (which adds rich bass and dimension to your sound). You can use these VIZIO speakers to play music via Bluetooth or hook it up to your television to get the most out of your favorite movies and shows.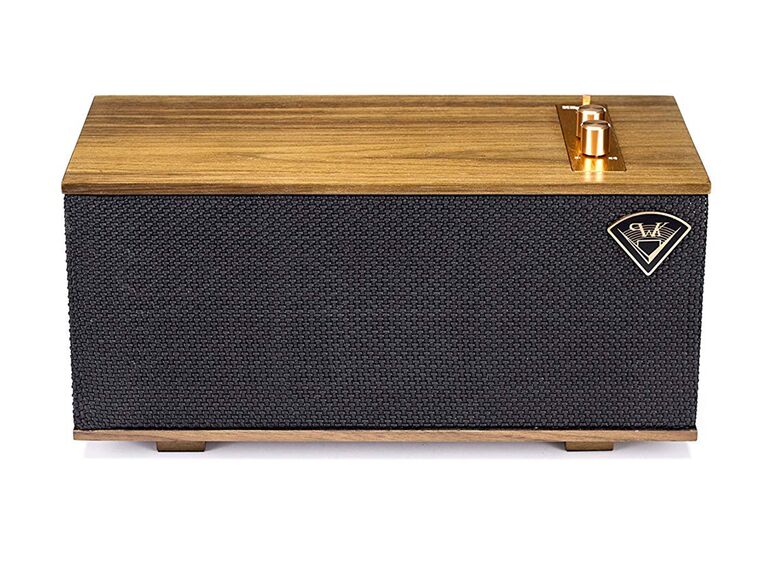 Best Retro-Inspired Speaker: Klipsch Heritage The One Powered Audio System, $250, Amazon.com
This gorgeous speaker pairs the modern with the classic. Think Bluetooth wireless technology, a rechargeable battery and professional stereo sound paired with a vintage-inspired walnut and knit exterior. We promise—this is one gadget you won't want to hide away.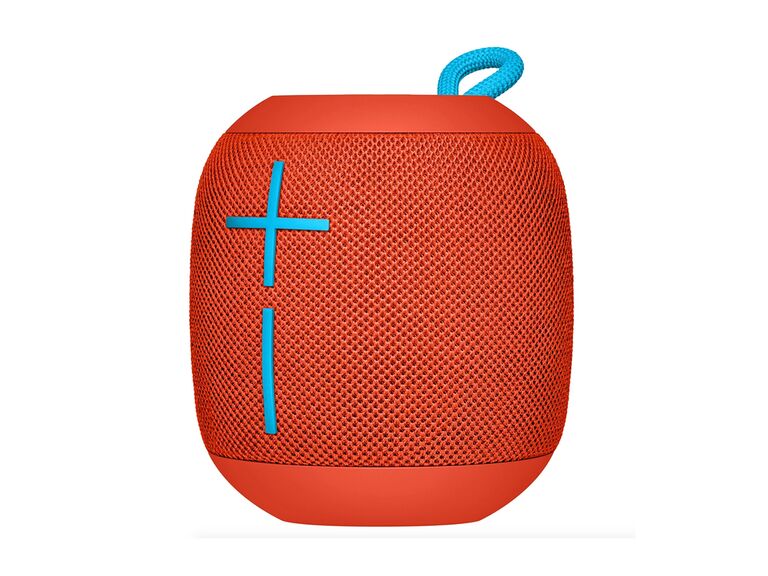 Best Travel Speaker: Ultimate Ears WONDERBOOM Waterproof Bluetooth Speaker, $70, Amazon.com
If the idea of bringing a speaker with you to get ready for your wedding or rock out on your honeymoon sounds like fun, then you're going to love this tiny-but-mighty speaker from Ultimate Ears. Available in tons of bright color combos, it pumps out great 360-degree sound and is totally waterproof so you can have some no-fuss fun.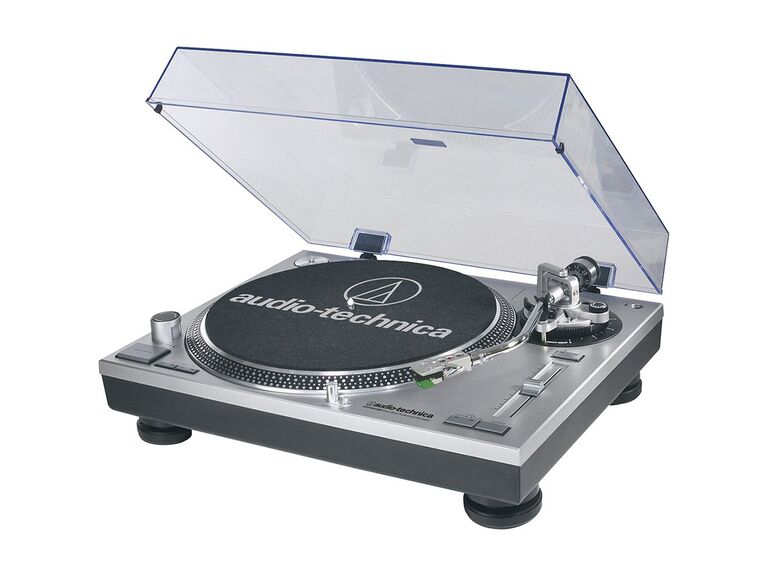 Best Record Player: Audio-Technica AT-LP120 USB Direct-Drive Professional Turntable, $299, Amazon.com
Do you have a record collection that basically needs its own shelving unit? Then this turntable is for you. It delivers seriously pro-worthy sound and is Mac and PC compatible, allowing you to digitize your favorite LPs. How cool is that?
Best Games
Sometimes you've got to take date night back-to-basics with a good old-fashioned game night together. We love the idea of registering for a few special new boards or sets that you can pull out on a lazy Saturday night and remember when you said "I Do."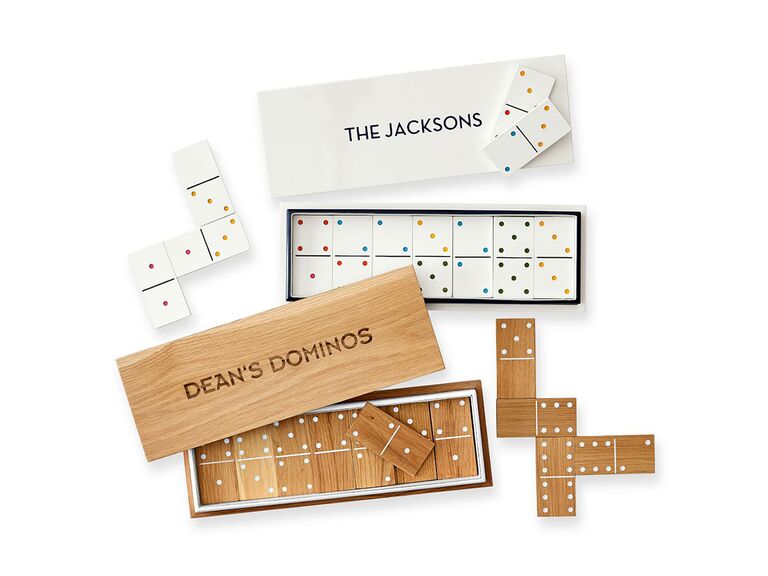 Editor's Pick: Mark and Graham Jumbo Domino Set, $90, MarkAndGraham.com
There's something so classic about dominos, but we love how this Mark and Graham set brings some fun to the table. With oversized iles in a clean crisp wood or colorful white, the set would look great on display—especially considering it comes in an adorable personalized box. Add this game to your wishlist with our Universal Registry tool.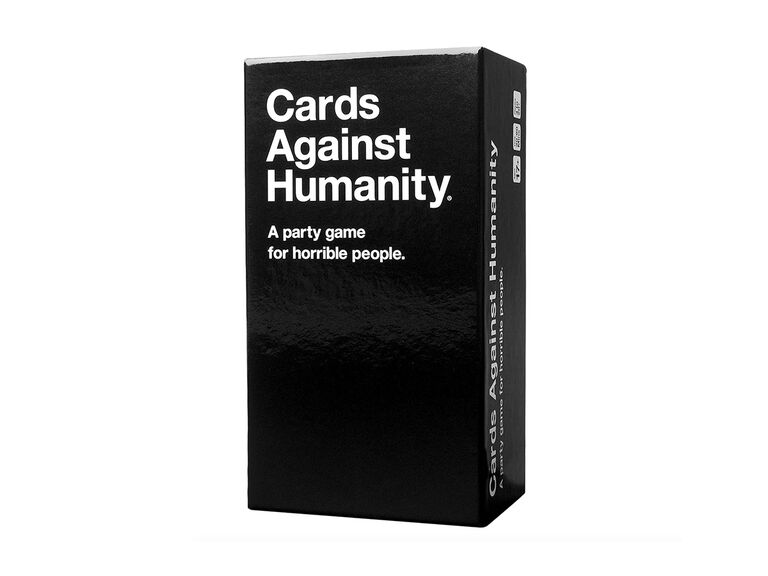 Couple's Pick: Cards Against Humanity Game Set, $25, Amazon.com
Our couple's clearly have an amazing sense of humor—and we're into it! They love the Cards Against Humanity game, which boasts over 600 cards of sassy, inappropriate, hilarious humour. We recommend rounding up your wedding party for a night of drinks and laughs as a way to bond before the big day.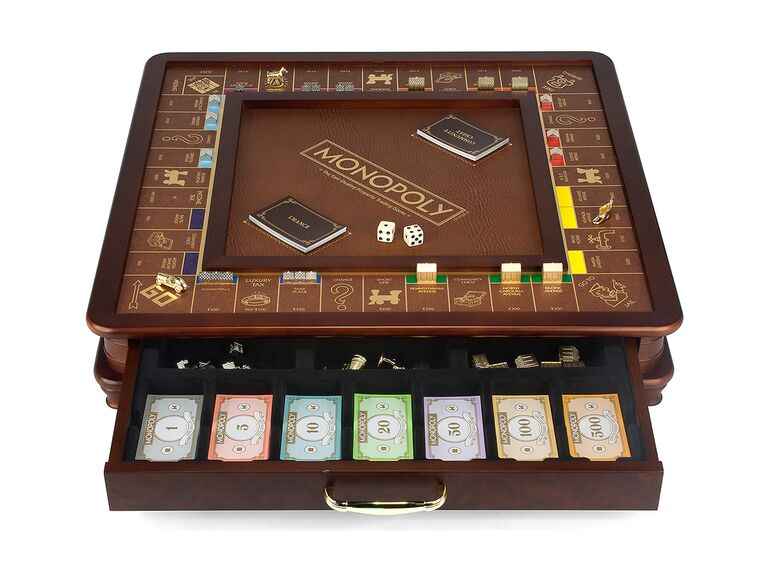 Best Luxury Game Board: Monopoly Luxury Edition Game Board, $220, BedBathAndBeyond.com
When you add this high-end Monopoly board to your wedding registry, you're not just getting a gift—you're getting an heirloom for years to come. This set, made from faux leather and wood, would look great displayed on a coffee table or in a game room when not in use.
Best Game for Display: Jonathan Adler Brass Tic-Tac-Toe Set, $195, JonathanAdler.com
We're guessing you're probably not tic-tac-toe obsessives, but if you are design fans then you're going to love this next award winner from Jonathan Adler. The modern design house churns out lots of cheeky, playful decor and this marble and brass set definitely suits that vibe. Use it to add a touch of fun to your coffee table decor. Add this game to your wishlist with our Universal Registry tool.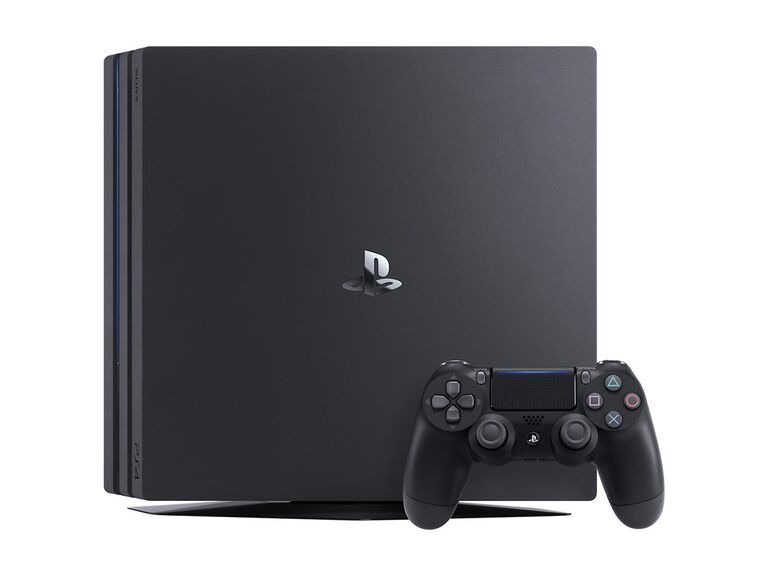 Best Tech for Gamers: Sony PlayStation 4, $298, Amazon.com
If the two of you have bonded over Call of Duty or Marvel games, then why not register for the latest tech to help continue your epic (friendly) showdowns? The newest PlayStation model is the slimmest yet, and doubles to allow you to also watch TV, listen to music and more.
Best Fitness Gear
You know the saying—a couple who sweats together stays together. Upgrade your gym days or home workout zone with a few practical wedding registry ideas that will have you feeling strong and healthy for your wedding day and beyond.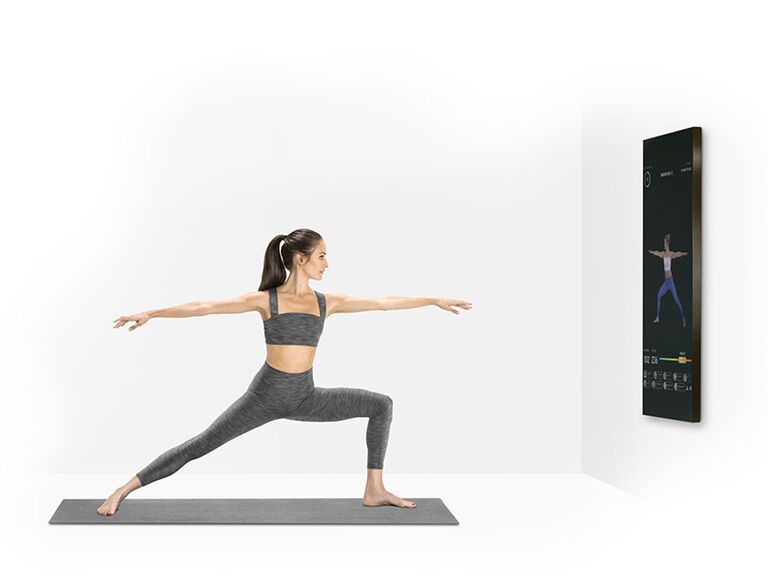 Editor's Pick: Mirror, $1,495, Mirror.co
Do you dream of never having to leave your home to hit up the best workout classes out there? Enter Mirror. When it's turned off, it's just a stylish, slim-framed mirror. But turn it on and you suddenly have thousands of workout classes at your fingertips. Instructors will lead you step-by-step through everything from boxing to pilates and yoga, and you can search their comprehensive library based on your skill level, desired length, available equipment and more. It's truly something you have to see to believe. Add Mirror to your wishlist with our Universal Registry tool.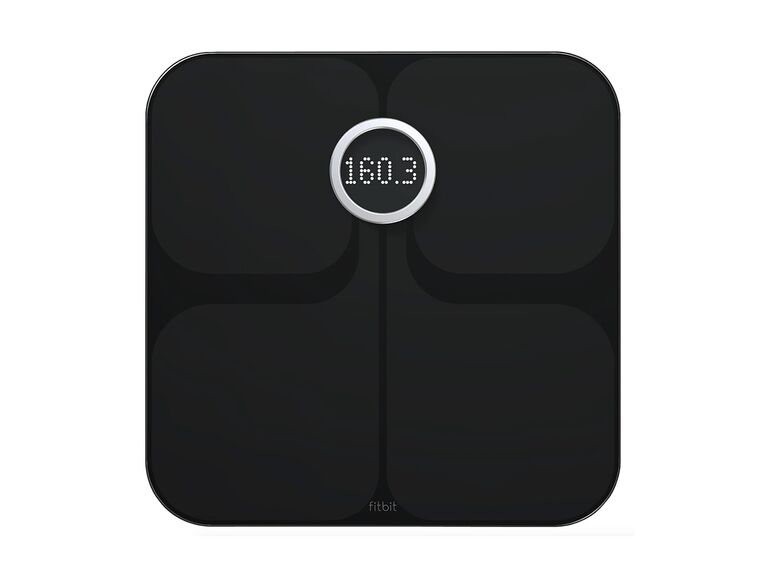 Couple's Pick: Fitbit Aria Wi-Fi Smart Scale, $130, Amazon.com
If you're anything like a lot of our couples, you two are probably serious #goalseakers. Which means you'd probably also love this smart scale from fit-brand Fitbit. It will sync automatically with your Fitbit portfolio, allowing you to seamlessly keep track of your progress and goals.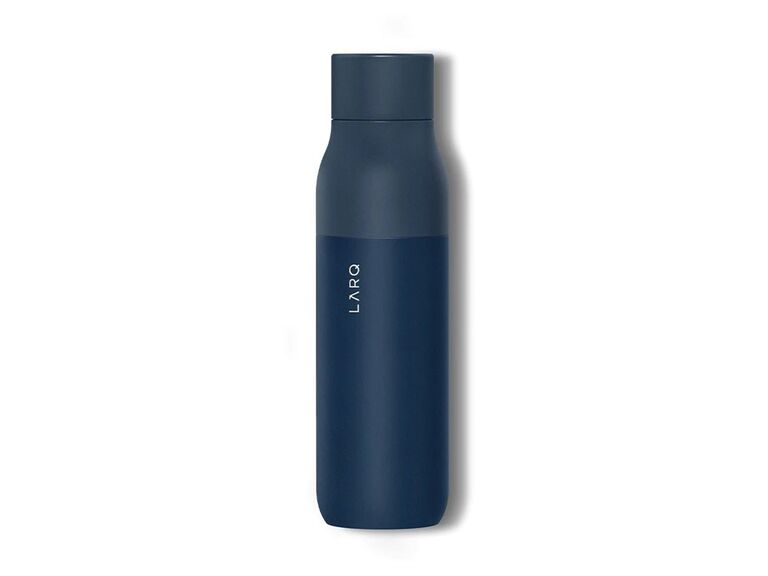 Best Fitness Water Bottle: LARQ Bottle, $95, LiveLarq.com
Hikers and outdoorsy duos will really benefit from adding a few LARQ bottles to their wedding registry. The reason? It's the first self-cleaning water bottle, purifying your liquid using an ingenious UV-C LED light to eliminate 99.99% of bio-contaminants. Translation: you can sip worry-free while you're out and about, even if you can't find a spot to buy filtered water. Add this water bottle to your wishlist with our Universal Registry tool.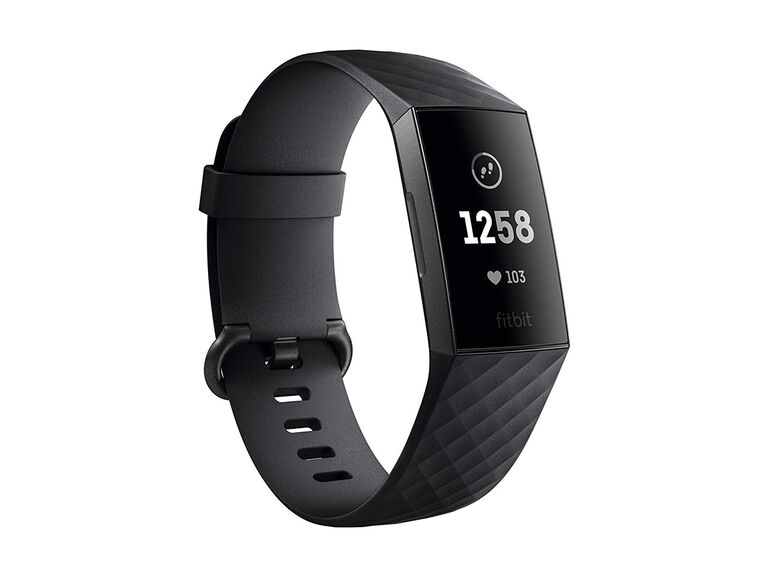 Best Fitness Tracker: Fitbit Charge 3 Fitness Activity Tracker, $140, Amazon.com
The Fitbit name has pretty much become synonymous with fitness tracking at this point. Their latest model comes with 15+ different exercise modes and tracks everything from the user's resting and active heart rate to calorie burn and sleep schedules.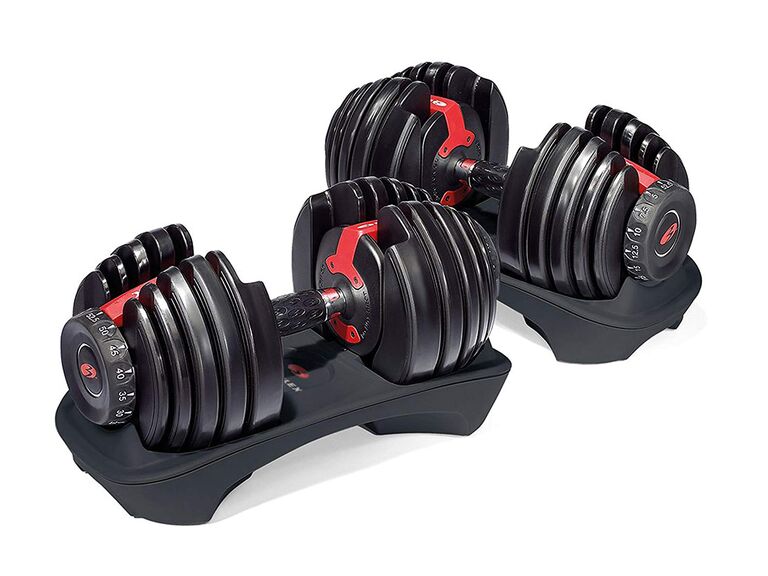 Best Weight Set: Bowflex SelectTech Adjustable Dumbbells, $299, Amazon.com
This duo of dumbbells is perfect for a pair that has different weight-lifting abilities but doesn't want to have to buy a ton of weights to accommodate each other. Each dumbbell adjusts from 5 to 52.5 pounds, ensuring that you can do everything from HITT training to pilates with ease (ok, well maybe not ease—it is a workout, after all).
Lifestyle Cash Fund Ideas
One of the best things about getting married in 2019 is the ability to register for anything (and we mean anything!) you want. Here at The Knot, we want to make that as easy for you as possible, which is why we offer Cash Funds. They're a simple way to add the things you really want to your registry and allow your guests to contribute any amount they desire towards your goals. Want to make the most of newlywed life together? Here are some of our favorite cash fund ideas to get you started:
Editor's Pick: A cash fund for couple's rock climbing lessons
We love the fun bonding that happens when you try out something new and exciting with your partner. Capture that vibe with a cash fund geared towards rock climbing lessons post-wedding. Who knows, you may love it so much that it becomes your new "thing" together!
Couple's Pick: A pet adoption cash fund
More and more of our couples are using their wedding registry as their opportunity to add a four-legged friend to their new family. Looking for a sweet kitten or pup to join your crew? Start your own cash fund to cover pet adoption fees here.

The Knot Gifts Back: VOW
Give back on your big day! The Knot Gifts Back is a seamless way to support a charitable organization every time you receive a wedding gift—at no cost to you or your guests. Once you select your choice of 100+ participating organizations, The Knot will donate a percentage of the purchase price of every gift bought off your participating registry to that organization.
Did you know The Knot Gifts Back supports VOW and their mission to end child marriage? Every year, 12 million girls are married before they reach age 18. That is more than one girl every 3 seconds. By mobilizing financial support for local organizations working in communities to end child marriage, VOW makes sure that every girl everywhere can thrive and live up to her full potential.