21 Tropical Wedding Invitations That Promise Paradise
In the words of the Beach Boys: "Aruba, Jamaica, ooh I wanna take ya'."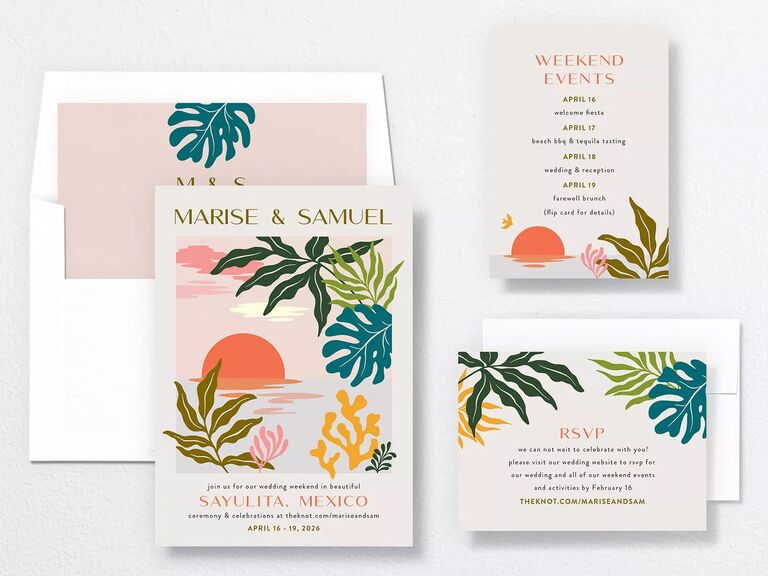 We have included third party products to help you navigate and enjoy life's biggest moments. Purchases made through links on this page may earn us a commission.
One of the most exciting parts of wedding planning is receiving those first few affirmative responses. And we can confidently say that if you're sending out tropical wedding invitations (whether they're for an island destination affair or summer soiree), you're bound to have RSVPs coming in hot. Guests will be immediately transported to paradise when they open tropical wedding invites bedecked with bold colors, monstera leaves, palm trees and sandy beach silhouettes. They'll conjure vacation vibes and happy moods.
This stylish stationery brings what we all love about lush tropical locales to life. Below, check out our favorite idyllic tropical wedding invitations—from modern choices showcasing candy-hued sunset colors to vintage-inspired options dotted with hibiscus blooms—shoppable at The Knot Invitations and a handful of other favorite stationers.
1. The Knot Tropical Glamour Wedding Invitations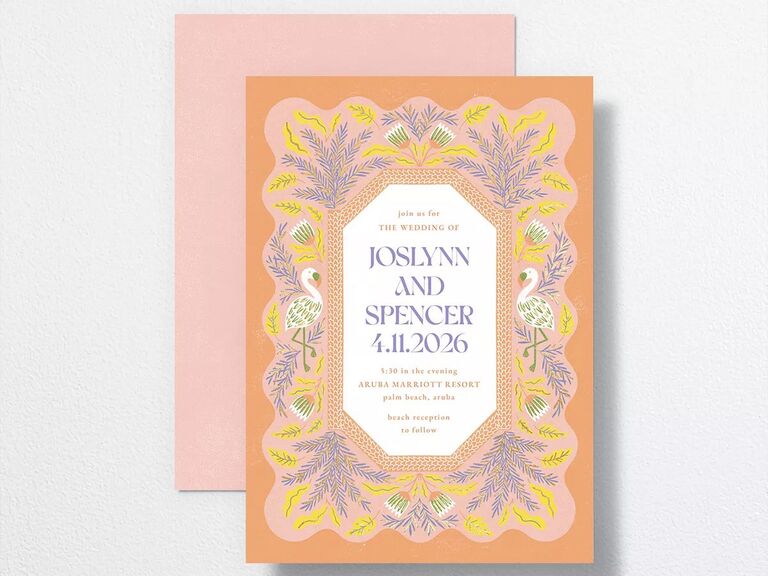 You can do palm fronds and flamingos on your invites and people will totally get where you're coming from. But opting for a punchy color palette and seemingly hand-sketched flora and fauna instead strikes a more sophisticated chord. Our favorite features of these vintage tropical wedding invitations include the touches of gold foil in the leaves and flamingo wings as well as the scalloped border that frames it all. With that in mind, a vintage stamp featuring a tropical bird might be the perfect finishing touch for this ticket to paradise.
2. The Knot Vibrant Rio Wedding Invitations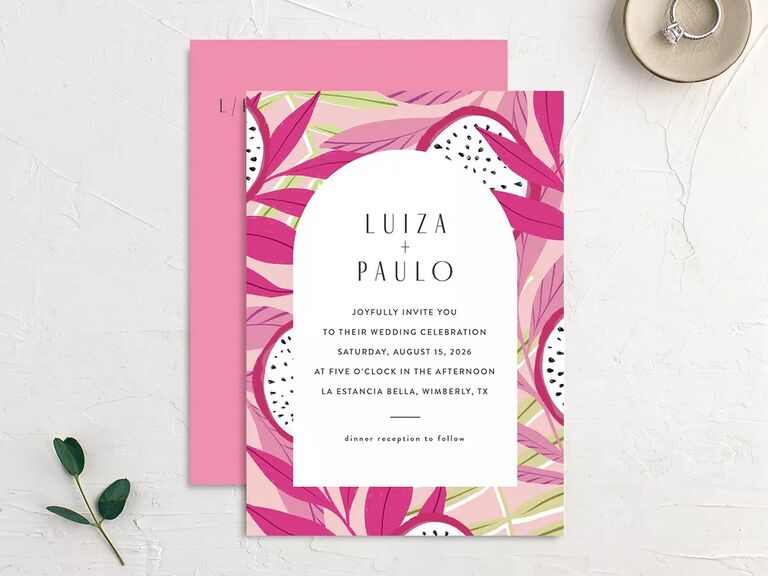 Anybody else craving a tropical smoothie after looking at these dragon fruit-decorated tropical-themed wedding invitations? Your names, wedding date, timing and venue stand out in black and all-caps, while a subtle "dinner reception to follow" sits below a distinguishing dash. All are captured in an elegant arched central panel. And if you can promise dragon fruit lychee mimosas at cocktail hour, you might just be able to snag those final RSVPs.
3. The Knot Elegant Oasis Wedding Invitations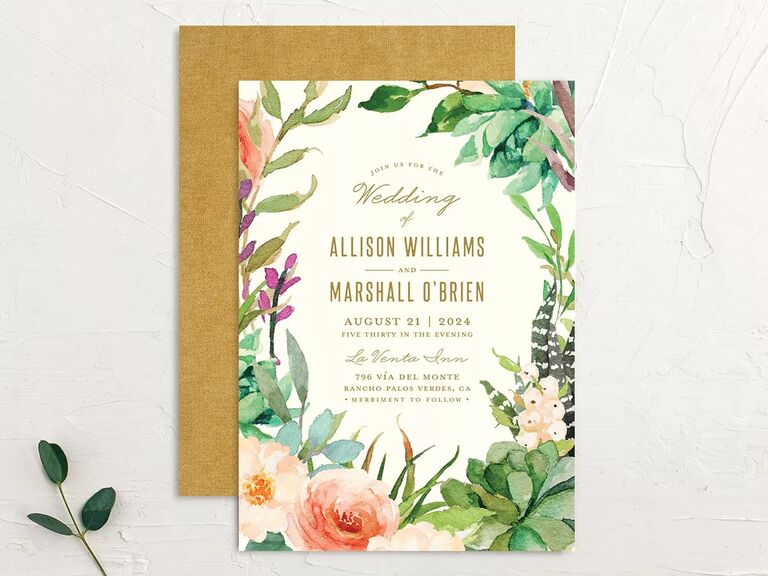 These elegant tropical wedding invitations let succulents, desert-dwelling greenery and frothy pink blooms border all of your big day details (which look like they're floating in a balmy sky). Even with an eye-catching cascade of florals, which you'll obviously want to recreate at your wedding altar, your event specifics are as clear as day. Plus, the stunning gold font printed on the front and the gold textured reverse make a great case for gold as your accent color.
4. Phrosne Ras Fresh Tropical Wedding Invitations
Handwritten wedding invitations are full of charm, but hand-painted wedding invitations have a ton of character, too. We're swooning over the painterly palms in these tropical leaf wedding invitations, which are offered in three gorgeous color themes. Not only is the greenery framing your day-of details inspiring, it's also quite elevated when you consider the finesse that gold foil embellishments add.
5. The Knot Flores Tropicais Wedding Invitations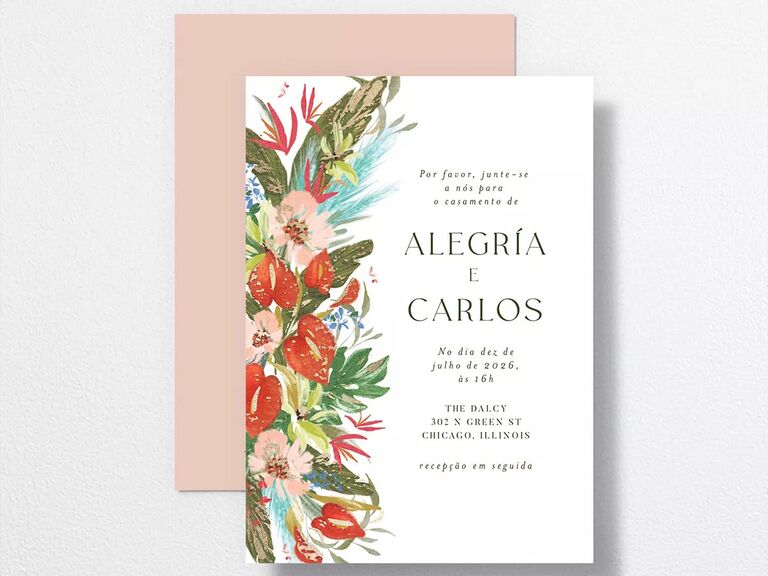 When guests slip these tropical floral wedding invitations out of their envelopes, they'll be intoxicated with the allure of the tropics on the spot. Seriously. We take one look at the incredibly detailed arrangement of botanicals—punched up with colorful grasses and flamingo flower plants—and we're already imagining the bursts of blooms on your big day. You can edit the wording accordingly to capture your day-of details, but if your crowd includes some native Spanish speakers, this is a fitting bid for their attendance as is.
6. The Knot Impressionist Paradise Wedding Invitations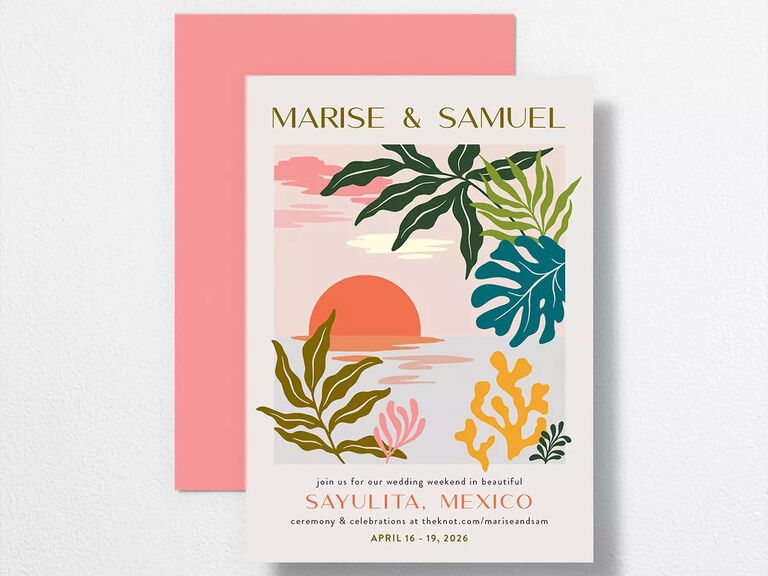 When it comes to tropical destination wedding invitations, you'll definitely want to lead with your picturesque locale. This invite puts your tropical scene on display in a Matisse-like fashion, with palm leaves, seaweed and coral in the foreground and a setting sun in the background. Your names up top and an abbreviated explanation of the wedding weekend to come keep things short and sweet, so your guests-to-be can get back to admiring the stunning graphic.
7. Morgan Ramberg Destination Bound Wedding Invitations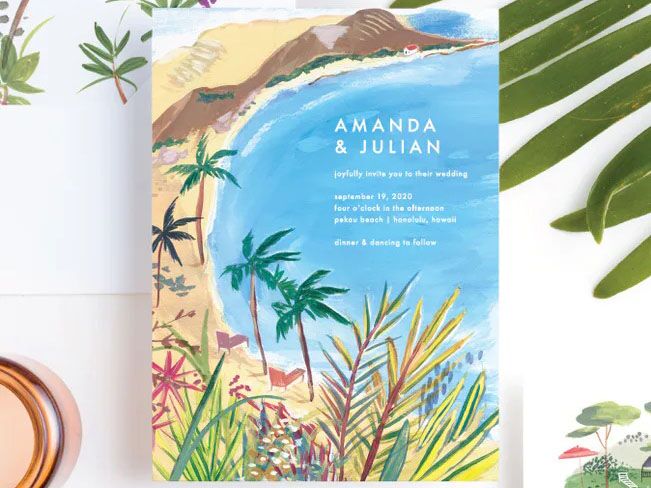 Obviously your guests will be coming to your wedding to celebrate your love, but if it means getting some sun and feet-in-the-sand time, too, then who wouldn't want to say yes? Your important wedding info is written in white over an azure sea, while a stretch of beach acts as a frame on the left side. We can just smell the sea spray looking at this idyllic image.
8. The Knot Tropical Lilies Wedding Invitations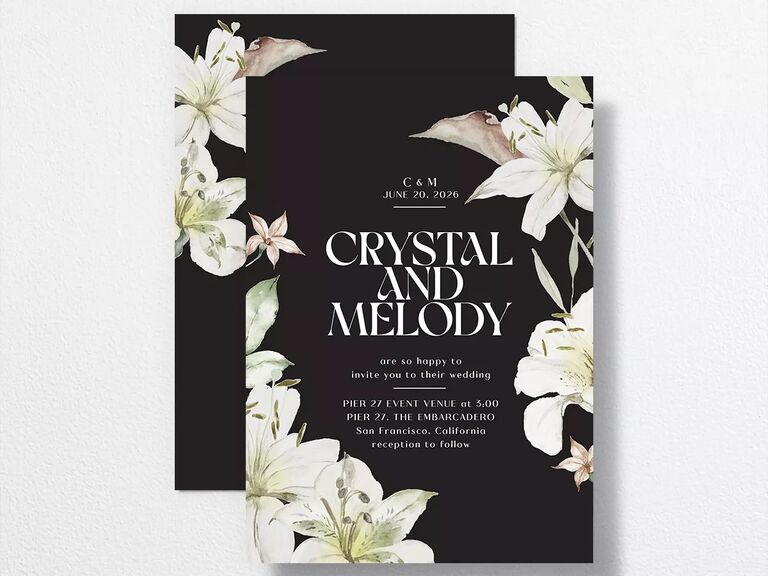 We wouldn't typically think of pairing a tropical wedding with a black wedding invitation—since they're often colorful and bright celebrations—but this romantic pick is a perfect fit. Full-bloom lilies flank the main event card, with your names spelled out in a retro and font at the center and your wedding particulars at the top and bottom. And the black and white beauty continues in the additional enclosure and response cards.
9. Cartalia Luxury Tropicana Wedding Invitations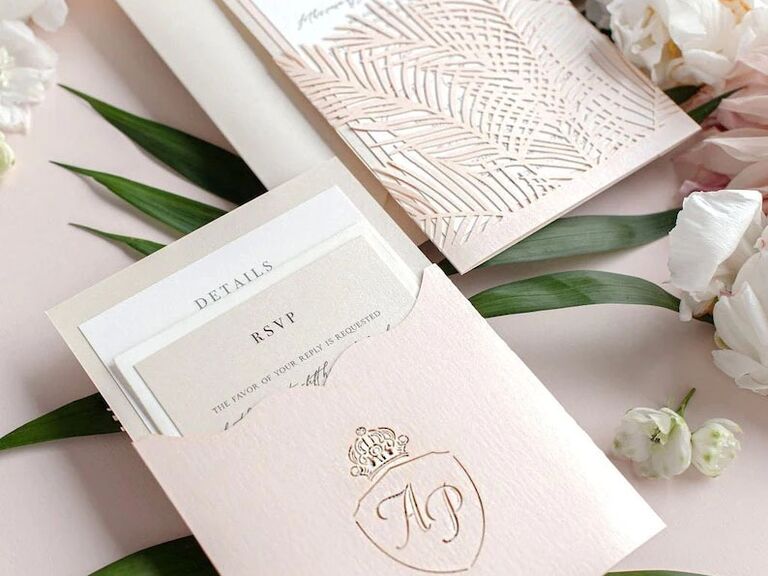 If your wedding is more on the formal side, go luxe with your stationery choice. We tropi-cannot get enough of these Etsy tropical wedding invitations, which feature a beautiful ensemble in a pearly peach, champagne and ivory color palette. All of the layered components nestle into a multidimensional pocket with laser-cut palm fronds on the front and a custom laser-cut monogram on the back. Come time for those wedding morning flatlays, you'll be so happy you sprung for something so beautiful.
10. The Knot Eclectic Monstera Wedding Invitations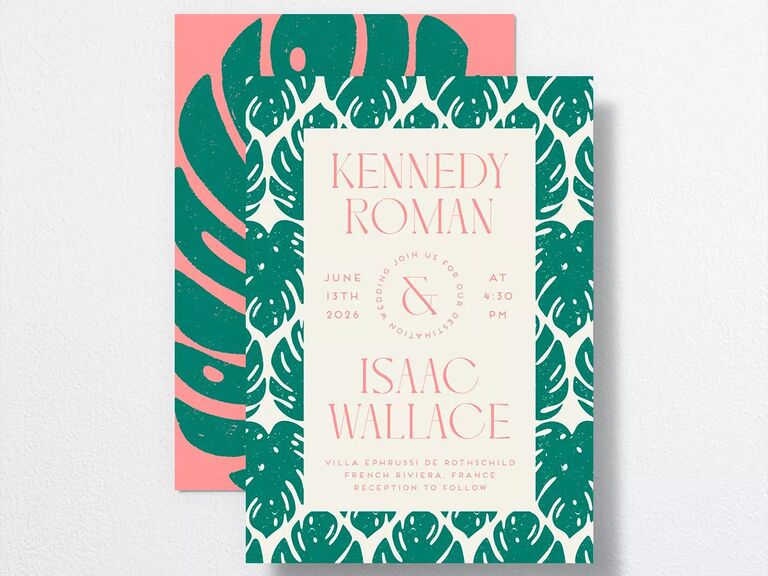 These flamboyant tropical wedding invitations go full foliage. A large text box layered atop rows of geometric monstera leaves relays all of your wedding whos, whens and wheres, while a full-bleed leaf spans across the reverse. If you didn't already have plans for monstera leaf fan favors at your ceremony or custom monstera-printed menus at the reception, consider these your inspiration.
11. Kaydi Bishop Palm All-in-One Wedding Invitations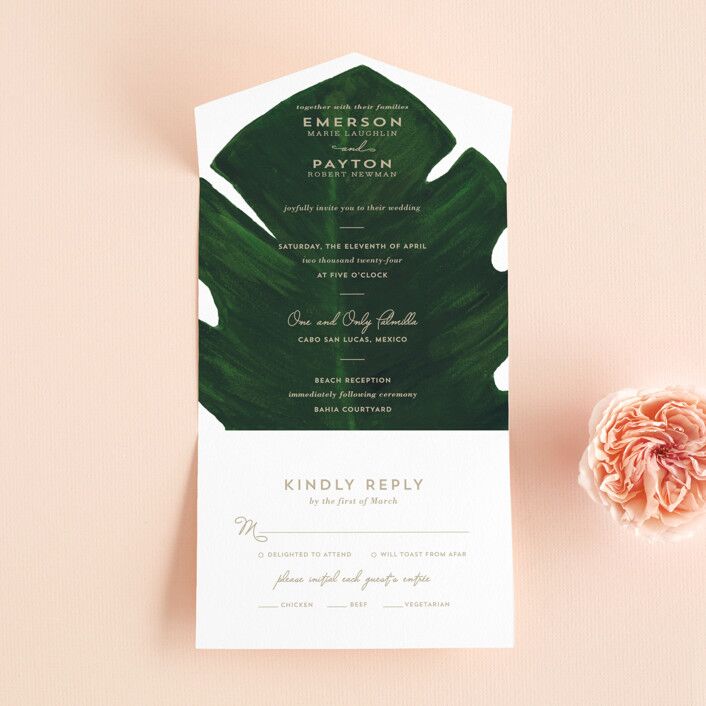 If you can't paint an actual palm leaf with your day-of details to send to your loved ones, these Minted tropical wedding invitations are the next best thing. Simply fold, seal with the included stickers and head to the post office—no envelopes required. Each card also includes a perforated RSVP postcard that's addressed and ready for your guests to drop in the mail.
12. The Knot Tropical Shapes Wedding Invitations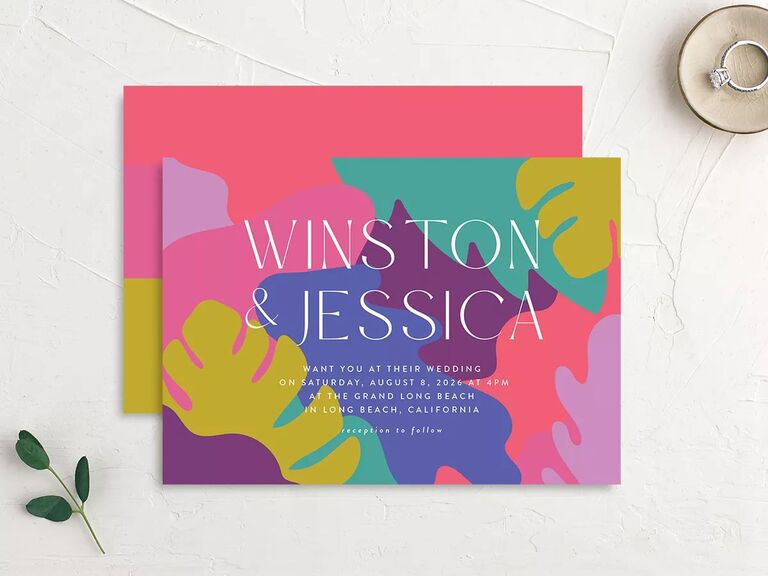 Whether you're getting married in the summer or at a far-flung tropical getaway, you'll put everyone in the mood to party with these playful modern tropical wedding invitations. The color-drenched design (available in five dynamic palettes) is vivid and artistic, and the wording beneath your names cuts to the chase in the best way possible. You and your partner want your family and friends present and accounted for on your wedding day—these invitations say it outright.
13. The Knot Lavish Palm Wedding Invitations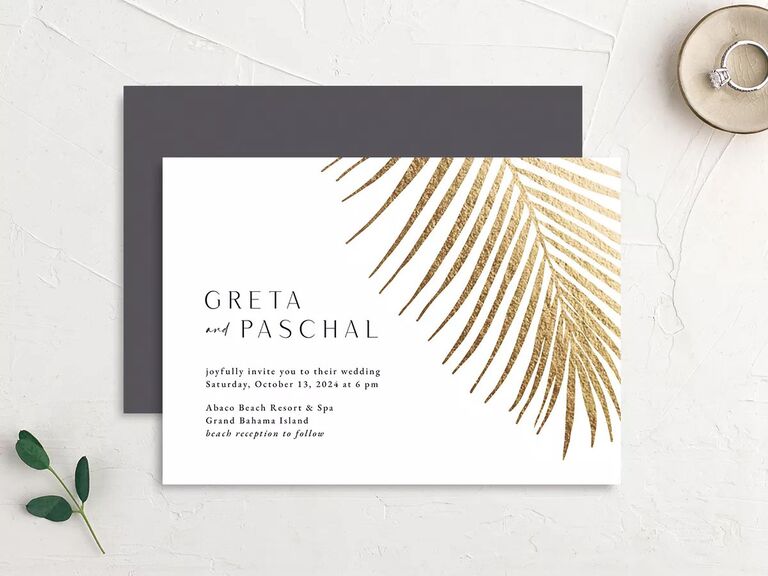 Nothing gives chic Caribbean wedding vibes like a flourish of palm leaves in striking gold foil. Everything else is simple on these tropical island wedding invitations, which elegantly display your names and event specifics on the left side. As for colorways, we love the lighter hues for a daytime celebration, the brighter shades for a reception at dusk and the deeper colors for a formal evening soiree.
14. Morgan Ramberg Tropical Print Wedding Invitations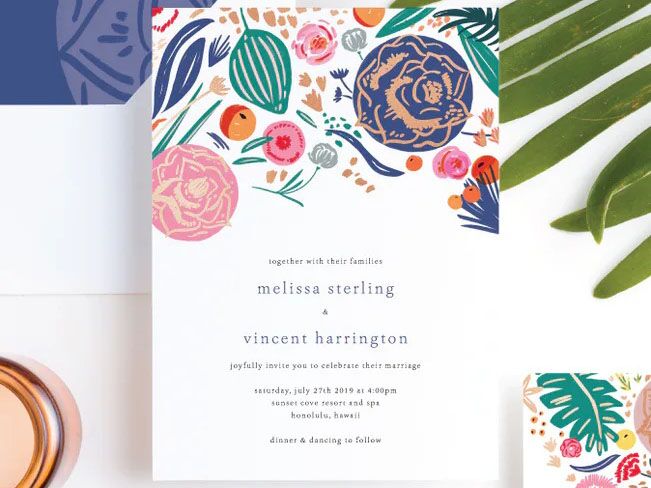 It's the abstract flowers that are doing it for us in these unique tropical wedding invitations, but your event details look just as pretty as the illustrated blooms typed out in periwinkle blue and charcoal gray simple sans. They're the perfect combination of fun and modern and deliver tropical vibes without being too on the nose. The best part? More florals on the back!
15. The Knot Tropical Monstera Wedding Invitations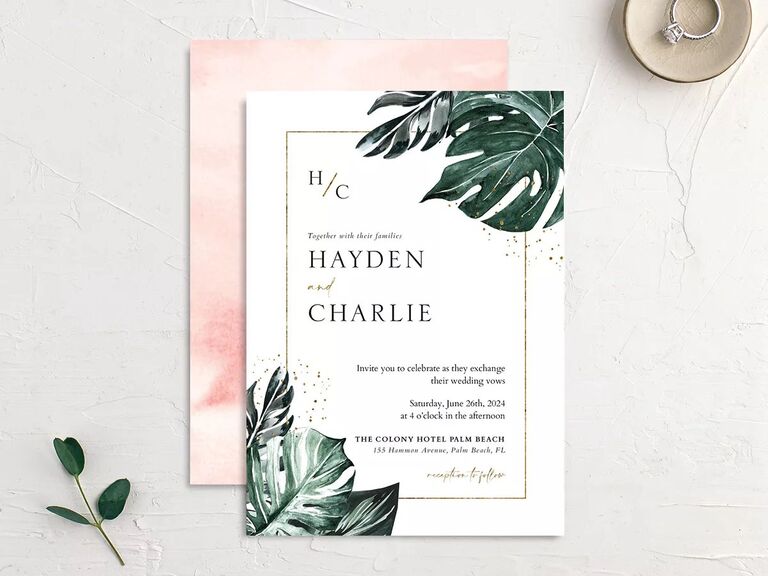 Monstera leaves have a magnetism about them and these painted ones—adorning a classic white card with black and gold accents—don't disappoint. Featuring an intentional dotting of gold-hued foil, this tropical-themed invite is equal parts festive and formal. The clean and polished front indicates an elevated affair, while the ethereal, watercolor back hints to a sunkissed ceremony and sunset-colored reception.
16. Fig and Cotton Party in Paradise Wedding Invitations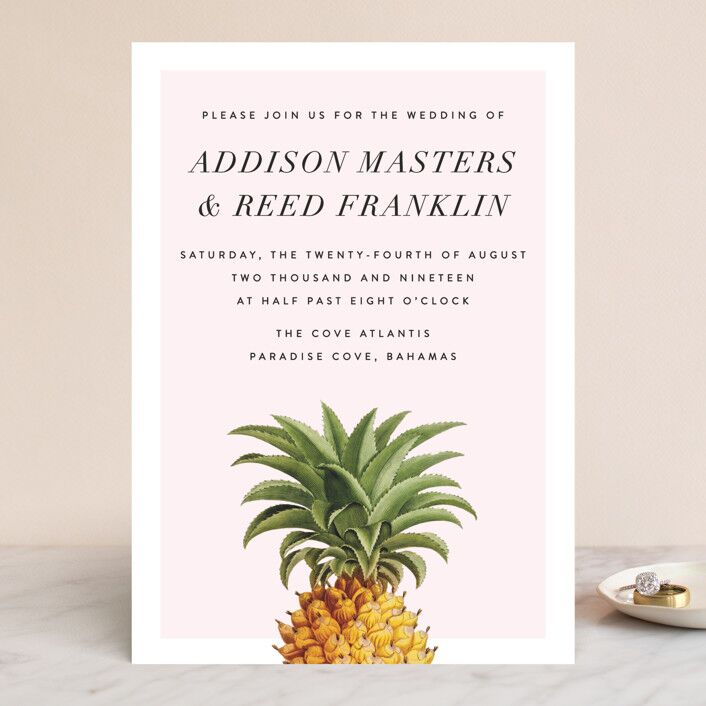 Sending all of your MVPs a piña colada with an attached tag inviting them to paradise might not be possible (if it is, then we'll gladly add ourselves to your mailing list), but you can get pretty close with this fruity stationery. A sweet pineapple sits beneath all of your wedding specifics in a simple modern typeface to give just the right dose of tropical. And with three blissful color themes on offer, these invites are suitable for any elegant island affair.
17. The Knot Vintage Island Wedding Invitations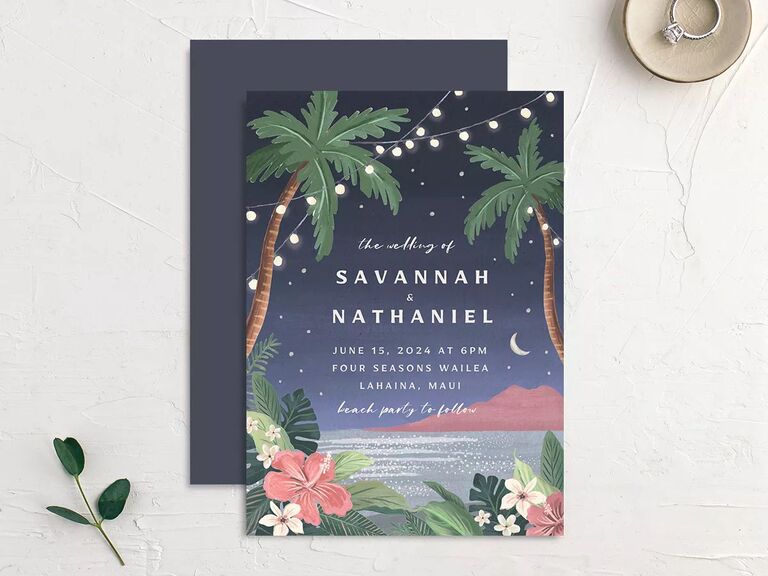 How inviting are these tropical beach wedding invitations? The almost '60s or '70s-style island scene—boasting palm trees, atmospheric string lights and a sunset reflection sparkling on the water—paints a perfect picture of your upcoming nuptials. It's magic, especially the blue design color option that swaps the sunset for a twilight moon and stars.
18. The Knot Tropical Oval Wedding Invitations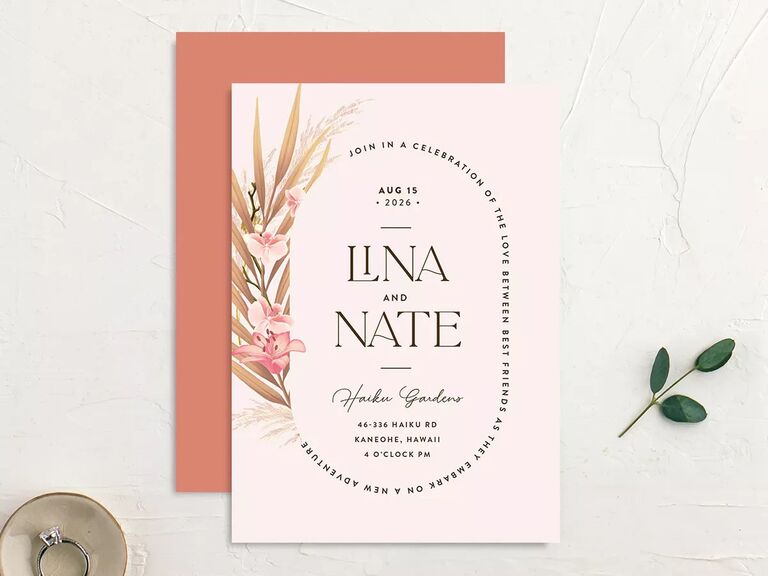 Sometimes tropical is just a state of mind. You can send your guests on a prewedding trip with this boho-style wedding invitation that asks your all-important question in a creative and whimsical way. A dramatic hibiscus and orchid arrangement completes the oval shape at its center, and the geometric effect is carried through in the separate response cards.
19. White Lace Design Beach Wedding Invitations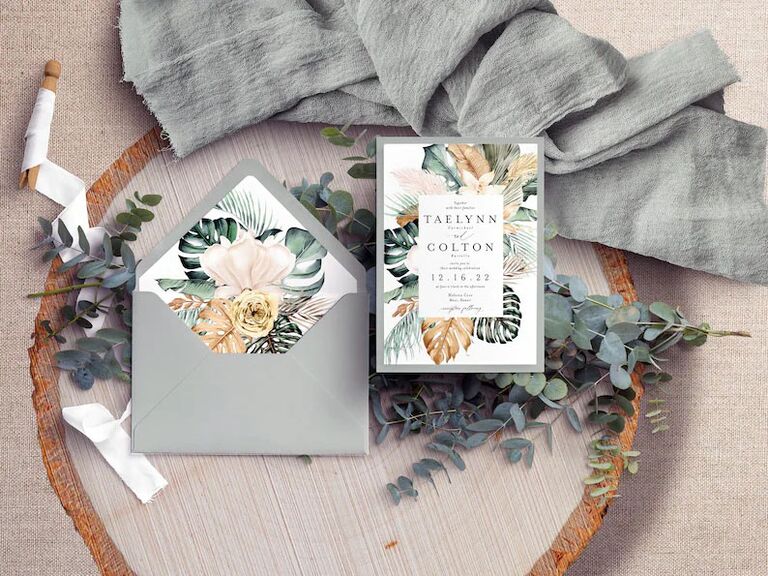 We love the soft color palette of these beachy tropical invites. The beiges and greens add dimension and feel super elegant and muted compared to the technicolor hues you might think of with a tropical island affair. Monstera mingles with soft blooms to add some romance to this gorgeous invite, but that's not even the best part: The envelope liners and colored envelopes are both included!
20. The Knot Sparkling Tropics Wedding Invitations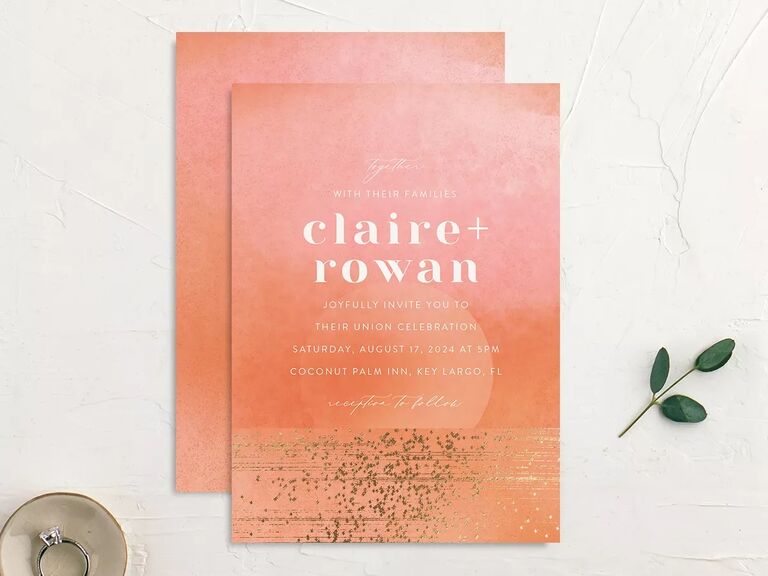 All sunsets are pretty, but a tropical sunset just hits differently. The speckled foil adds a mesmerizing touch to this invitation, beckoning guests-to-be to follow its warm glow. Luckily for them, it's leading them right to your wedding. And they'll have all the important details at their fingertips once they direct their eyes just a few degrees north.
21. The Knot Modern Palm Wedding Invitations
Tropical wedding invitation or an exclusive summons to the Season One hotel from "White Lotus?" We're loving the edgy color themes and the panache of palms that would surround your names and the basics of your nuptials on these gorgeous invites designed by Reyna Noriega. They're sleek and fashionable—and we can totally see Jennifer Coolidge's character wearing the print on a flowy caftan.