These 25 Watercolor Wedding Invitations Are a [Brush]Stroke of Genius
These watercolor invitations will add an artistic touch to any ceremony.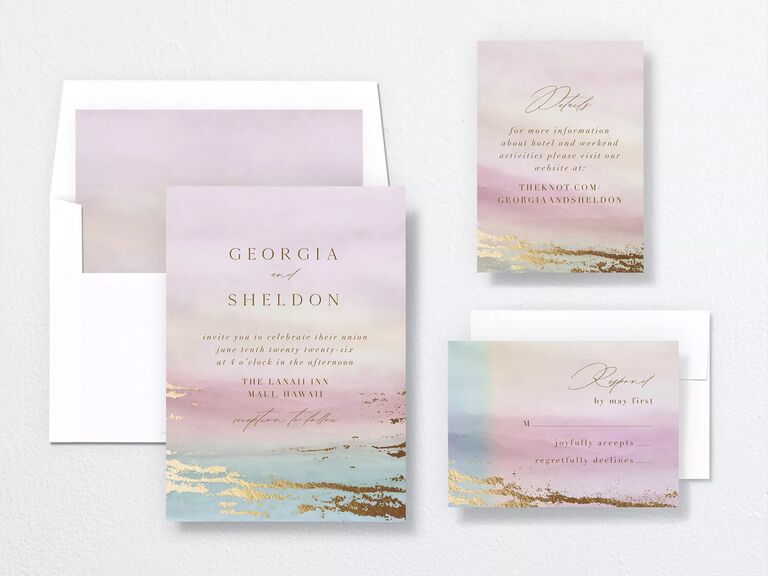 We have included third party products to help you navigate and enjoy life's biggest moments. Purchases made through links on this page may earn us a commission.
Watercolor wedding invitations are an evergreen choice: they're timeless, beautiful and—most importantly—suitable for every type of wedding. Whether you're saying your "I do"s at the beach or exchanging vows atop a mountain, you can never go wrong with a watercolor wedding invite inspired by your wedding colors, day-of details or heart-stirring locale. Some designs go all out with a sweeping wash of color, while others feature more discreet watercolor elements for a bespoke feel. Whatever vision you have for your wedding day, though, there is watercolor stationery to match.
Read on for some of our favorite watercolor wedding invitations, available to shop at The Knot Invitations and a few other much-loved paperies. And if you're looking for truly custom watercolor wedding invitations or original artwork (like a venue sketch/watercolor illustration or custom family crest that you can add to your stationery or day-of details), you might also want to check out our talented vendor community. These artists are watercolor pros and they'd be thrilled to bring your unique visions to life. But for now, find artist-worthy watercolor wedding invitations below.
1. The Knot Watercolor Wash Wedding Invitations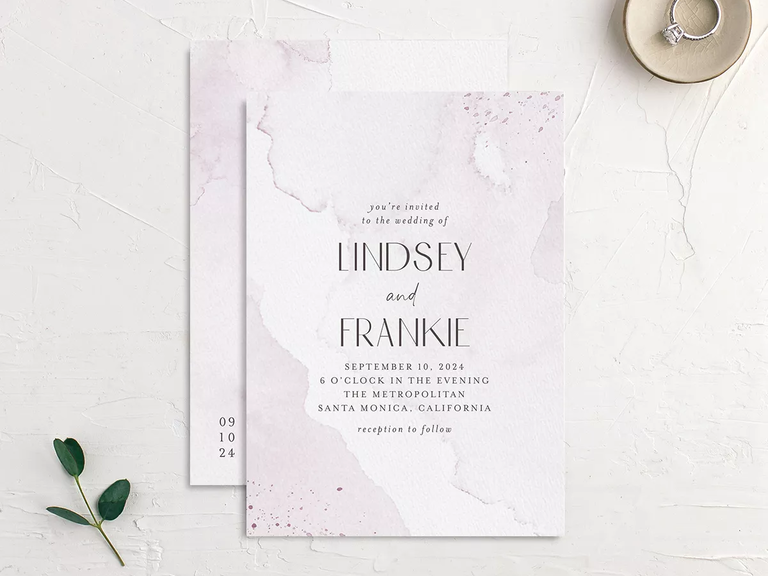 A beautiful invitation doesn't really need much—besides your names, the wedding date, venue and time. But if you still want to keep things simple without going stark white, you can opt for an abstract watercolor wash in an earthy neutral or pale pastel. The modern, clean typography looks really dapper atop the textured background on this invite and your wedding date stamped in a 2x3 grid on the back is bound to be burned in every guest's mind from now till the wedding.
2. The Knot Watercolor Crest Wedding Invitations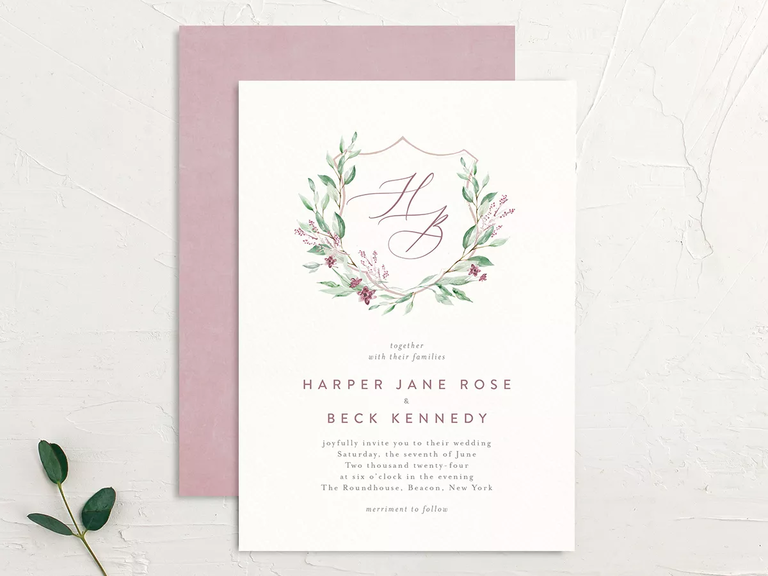 A family crest is the perfect emblem to honor your union and the longevity of your marriage to come. And there's nothing quite like seeing it for the first time on your wedding invitation—because you've been anxiously awaiting this day and now it's almost here! Your in-script initials are encapsulated in the crest in these watercolor floral wedding invitations, while flowers and greenery climb up the sides (you'll have to talk to your florist about emulating the look in your ceremony flowers or garlands). The details of the wedding day are outlined on the bottom half of the card, with a delightful "merriment to follow" sign off.
3. The Knot Romantic Watercolor Wedding Invitations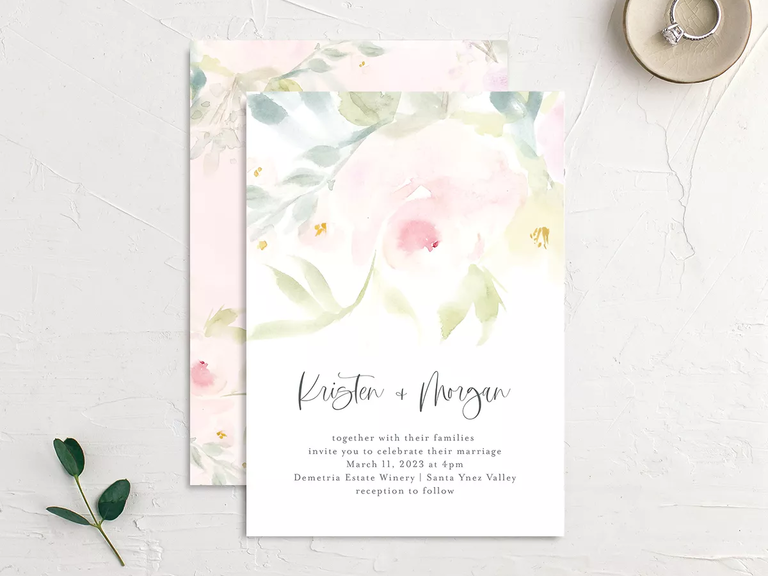 When an invitation is only offered in one design color (in this case, pink), you know it has to be good. And this watercolor masterpiece doesn't disappoint. It's almost like the script and serif fonts want you to run through the event specifics quickly just to get back to adoring the luminous florals. The back side of the invitation features your first initials and newly-shared last initial (largest, in the center) surrounded by gorgeous watercolor blooms.
4. Chocomocacino Kirsch Wedding Invitations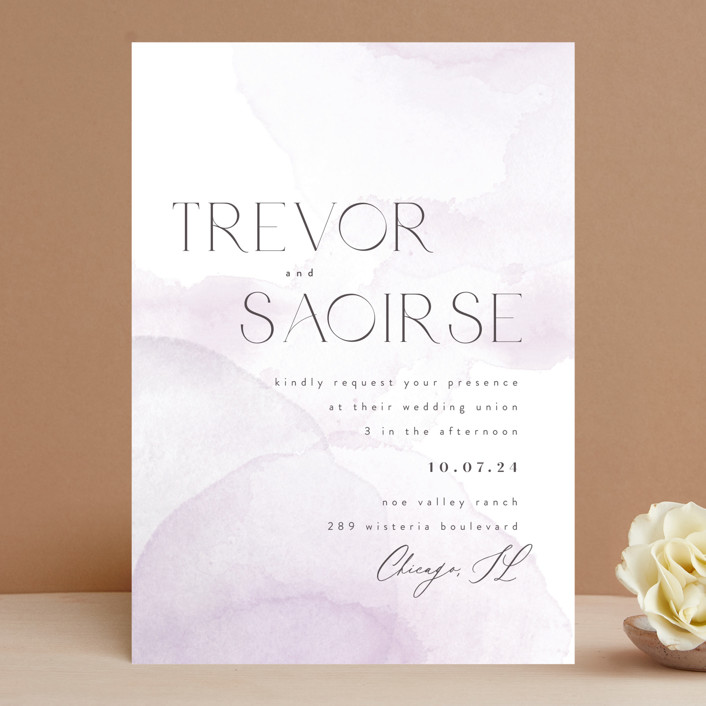 Yes, watercolor is a very sophisticated art medium, but it's also incredibly nostalgic. Perhaps you and your soon-to-be spouse met in your elementary school art class or you shared a memorable date at the paint-and-sip studio down the street from your first apartment together. If art-making is part of your love story, let it seep [literally] into your personalized event stationery, too. This free-form style on these Minted watercolor wedding invitations is the watercolor we all know and love.
5. The Knot Watercolor Blooms Wedding Invitations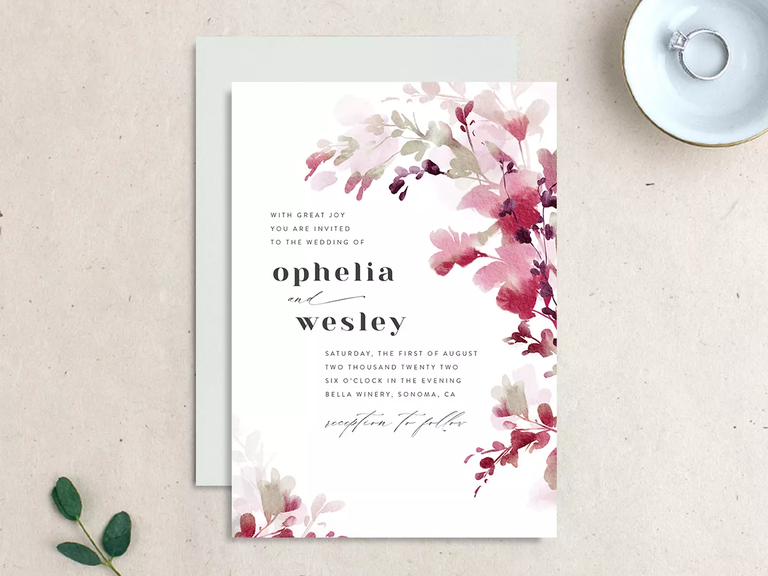 Okay, obviously we know a paper invitation can't move, but the way the watercolor florals oscillate between lighter and darker hues, it creates an almost wind-like effect. You feel it too, right? Well, we can bet that your guests will have the same ephemeral reaction once they open and slide this sublime invite out of a perfectly-coordinating envelope. With six colorways on offer, including beautiful burgundy watercolor wedding invitations, you can find the right shade to match any seasonal soiree—each more romantic than the last.
6. The Knot Cordillera Wedding Invitations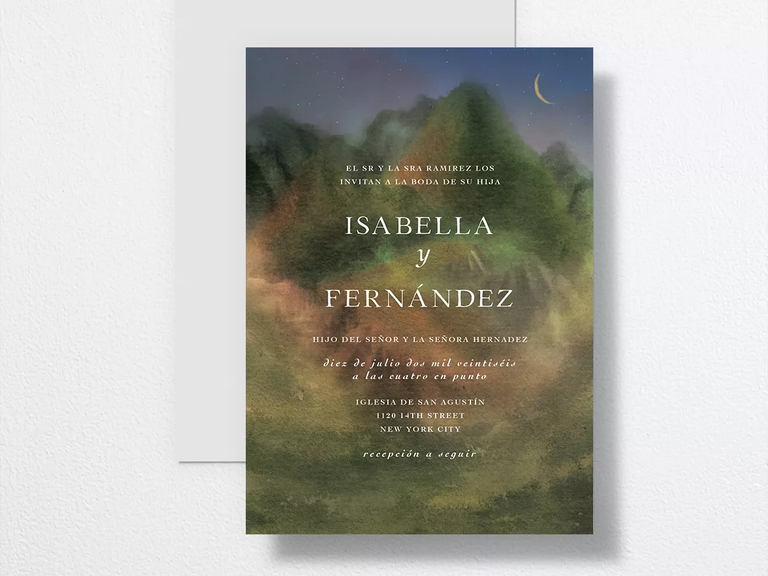 A mountain wedding knows no bounds, so when you're planning one, why not take your invitation to new heights with a misty watercolor illustration as its base? Whether you're looking forward to intimate nuptials in Sierra Nevada or planning an epic outdoor event in Patagonia, the lure of these watercolor mountain wedding invitations will absolutely pique (or should we say peak?) their interest. The blue colorway with the little slice of yellow moon is next level.
7. Hooray Creative Cosmos Wedding Invitations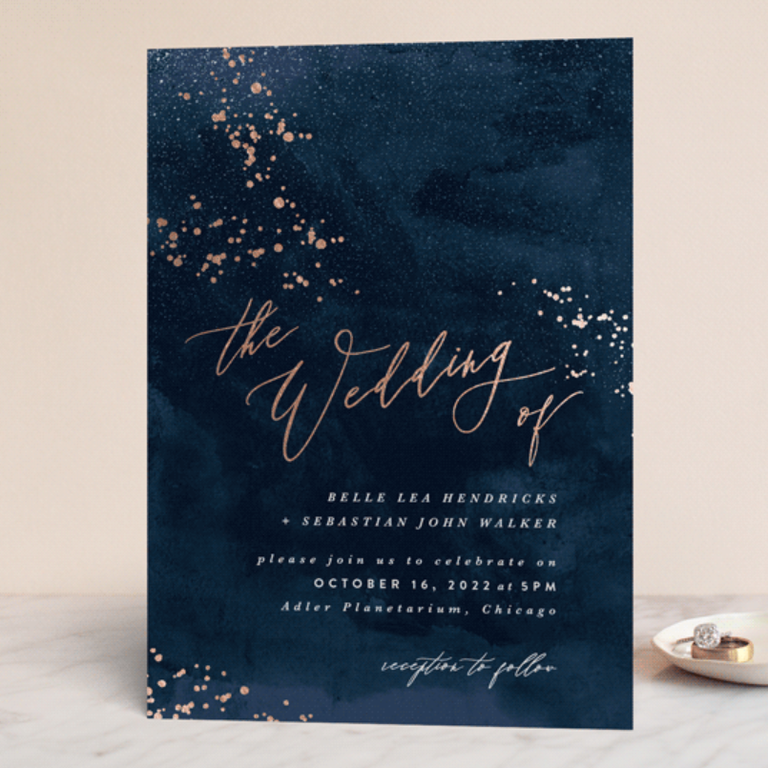 Just as watercolor can be light and airy, it can also be deep and moody. All of the jewel tones this custom invitation suite is offered in befit celestial-themed nuptials, but the navy watercolor wedding invitations can also work for destination weddings (aquamarine and ocean) and late-night ceremonies that turn into blissful mornings-after. And eight different foil colors means that you can curate a perfectly styled look.
8. The Knot Romantic Greenery Wedding Invitations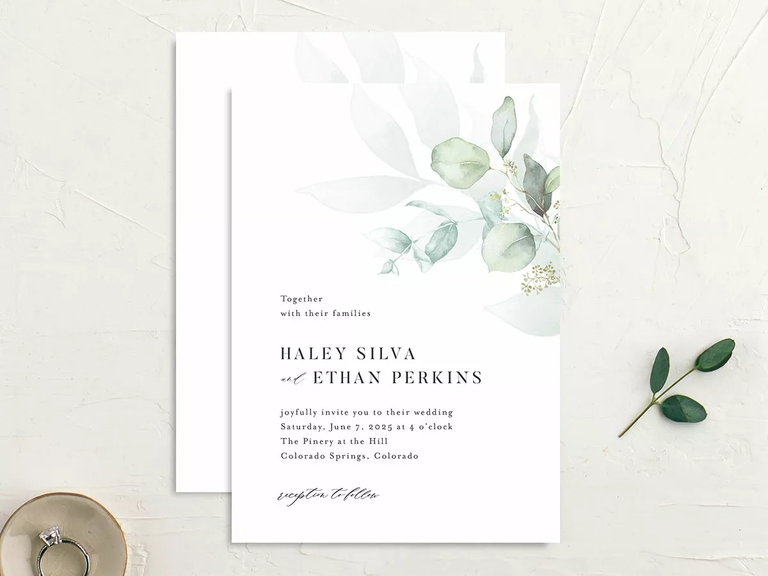 The perfect pop of color does exist and it's happening right here with these green watercolor wedding invitations. Your wedding details stand out in romantic serif and script fonts against a clean white backdrop, while the watercolor botanicals in the upper right-hand side add some life and vibrancy to the template. The same motif from the watercolor greenery wedding invitations is replicated in the envelope liner and, when every element of the suite is stacked, it's a beautifully-modern moment.
9. The Knot Painted Mountains Wedding Invitations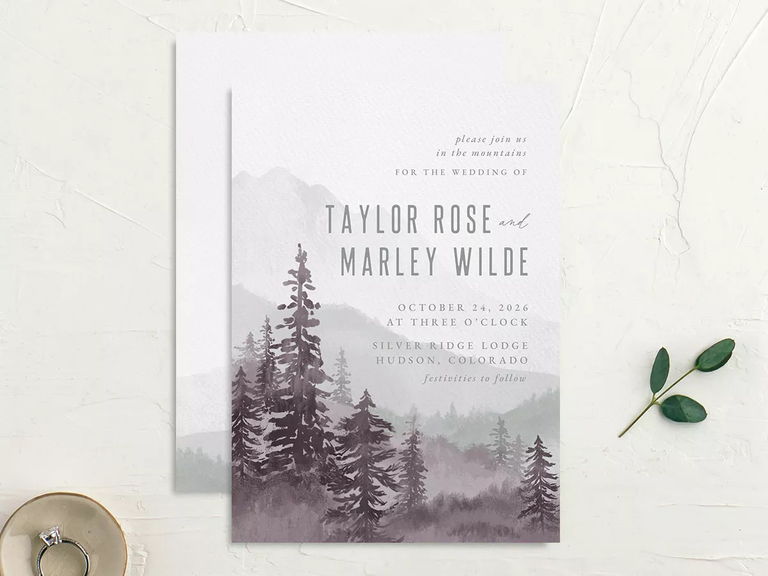 Purple mountains majesty, right here! That is, if you choose the purple design color. This assortment of painted watercolor mountains and trees will beckon your guests to your big day and possibly make them rethink their lifestyle (if they happen to be city mice). Don't overlook the textured paper, either—it's a supremely elegant touch.
10. The Knot Modern Wave Wedding Invitations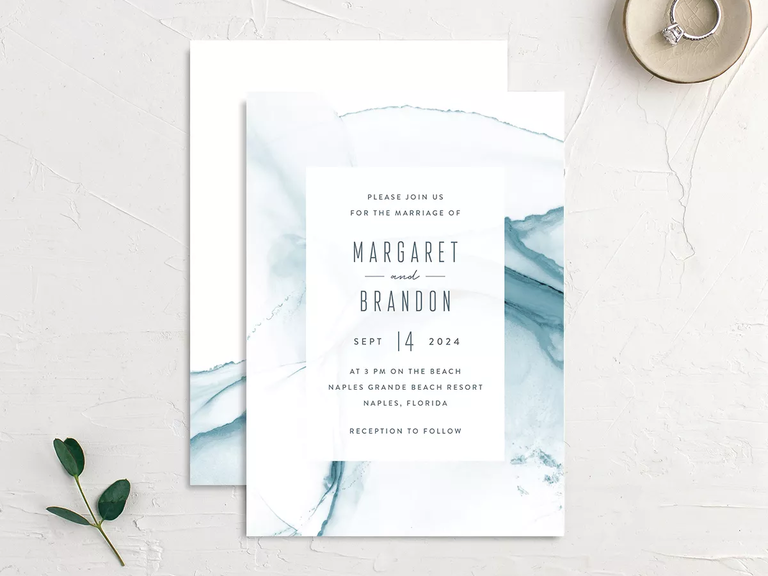 Watercolor works in mysterious ways: Take these blue watercolor wedding invitations, for example. At first glance, we're catching very obvious beach wedding vibes, but as the blue, gray and white tonality ebbs and flows, we can also see how it resembles agate stones and/or geodes. If you'll be incorporating crystals into your celestial wedding day, then you might want to weigh your watercolor options some more.
11. Nikole Gramm Infused Watercolors Wedding Invitations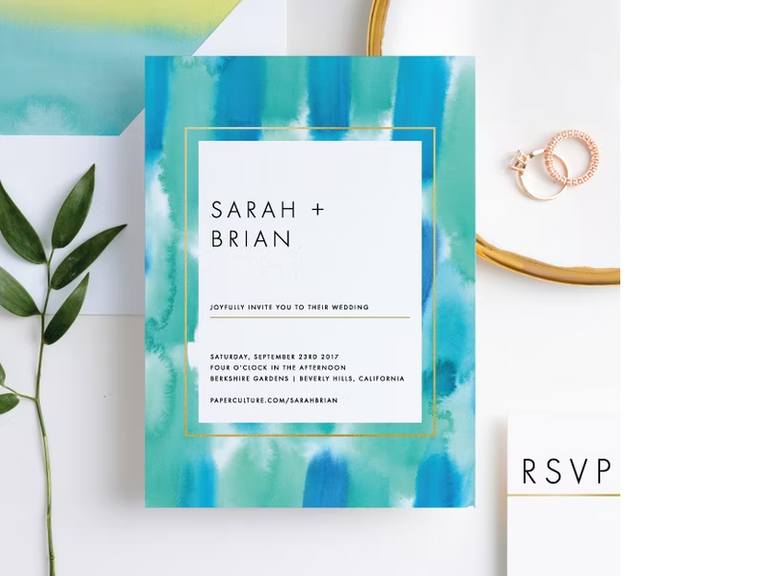 Watercolor detailing is truly chameleon-like, so it'll fit the bill whether you're having a spring or summer wedding. We're obsessed with the interplay of richly saturated blues and seafoam greens on these watercolor beach wedding invitations—and love that you can do a flat print or real foil applique around the text block border. Go casual with flat printing for a low-key beachside celebration or spring for foil for a more formal destination affair.
12. The Knot Elegant Ethereal Wedding Invitations
Both versions of this ethereal watercolor wedding invitation designed by Christine Llewellyn Ohemengare are so dreamy, we really can't pick a favorite. The front features your wedding day details in white modern typeface with a script "reception to follow" footer, while the back kind of inverts the colors in a softer watercolor wash with your initials and website at the bottom. The coordinating response cards bring both the lighter and darker washes together and the look is ah-mazing.
13. The Knot Delicate Lilac Wedding Invitations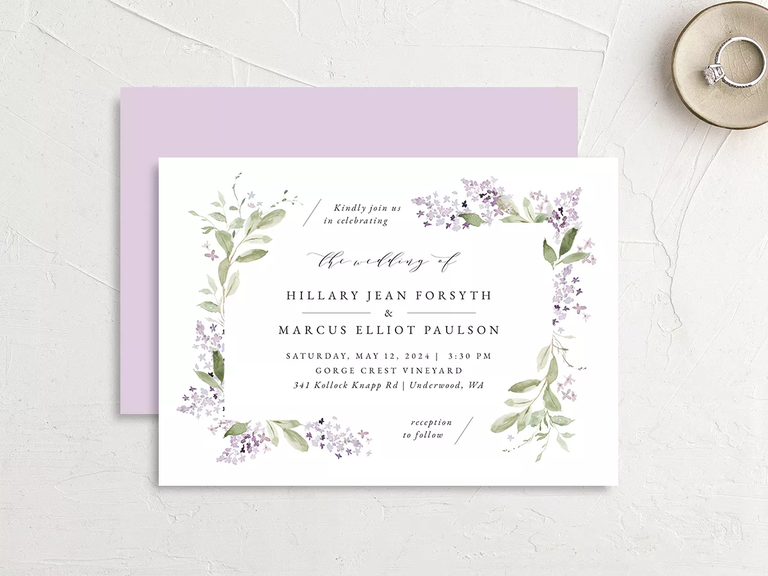 It's giving "Bridgerton" garden wedding. We're totally taken with these watercolor lilacs that border your event specifics in the most styled, articulate way. And it hits differently when it's done in a horizontal orientation, too. We can't think of prettier purple watercolor wedding invitations.
14. Simona Cavallaro Watercolor Ribbons Wedding Invitations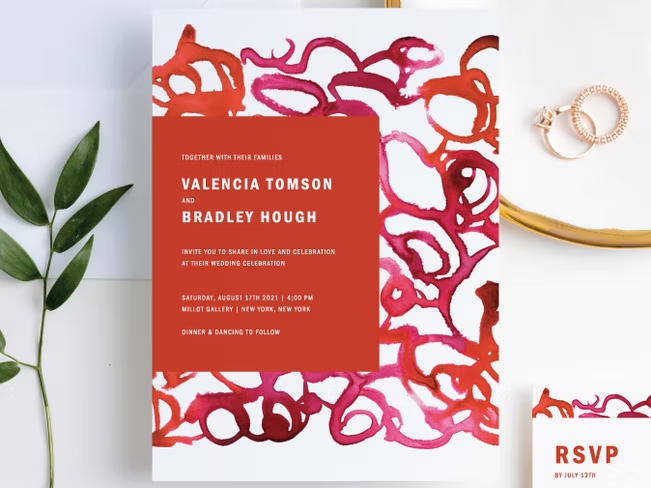 Your day is all about love, so watercolor ribbons in a red gradient are right on target. The front of this invitation features all of your pertinent party details in a solid-colored box off to the side, while the back is a continuation of the ribbon of love (symbolizing a marriage that goes on forever and ever). It's difficult to find more modern or unique watercolor painted wedding invitations.
15. The Knot Hydrangea Garden Wedding Invitations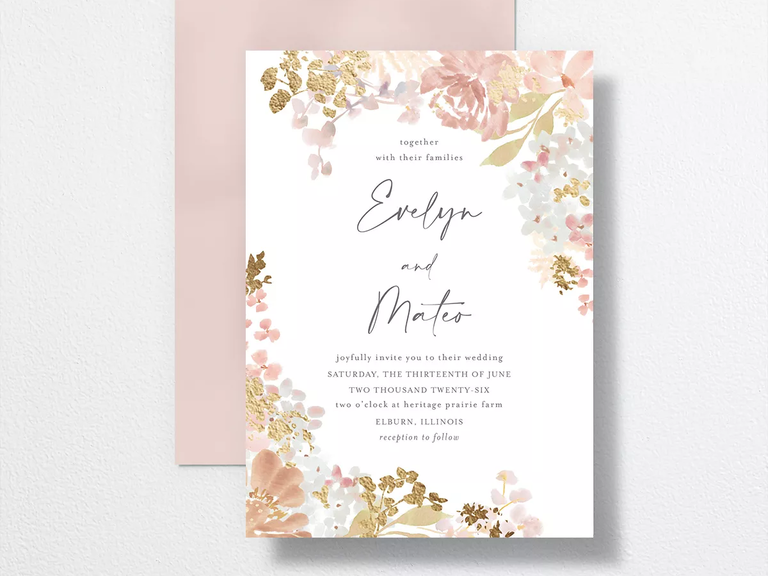 Pressed flowers? No. But you can achieve a similar look with watercolor hydrangeas and your choice of foil and your guests will still be impressed with these watercolor calligraphy wedding invitations. Your names in script are the main focal point, effortlessly followed by your event date, time, place and locale in a mix of all-caps and all-lowercase typefaces. It's a hard act to follow for your wedding day florals, but we think they'll rise to the occasion.
16. The Knot Cottage Wildflowers Wedding Invitations
The cottagecore trend is alive and well in this adorably chic invitation, which features fine watercolor-like detailing. And even though the fancy wildflower and bird border is super eye-catching, your wedding information is still what shines. While most of the color themes skew spring, like the beautiful blue, the brown design makes for fashionable fall watercolor wedding invitations, just the same.
17. Fat Rabbit Designs Watercolor Venue Wedding Invitations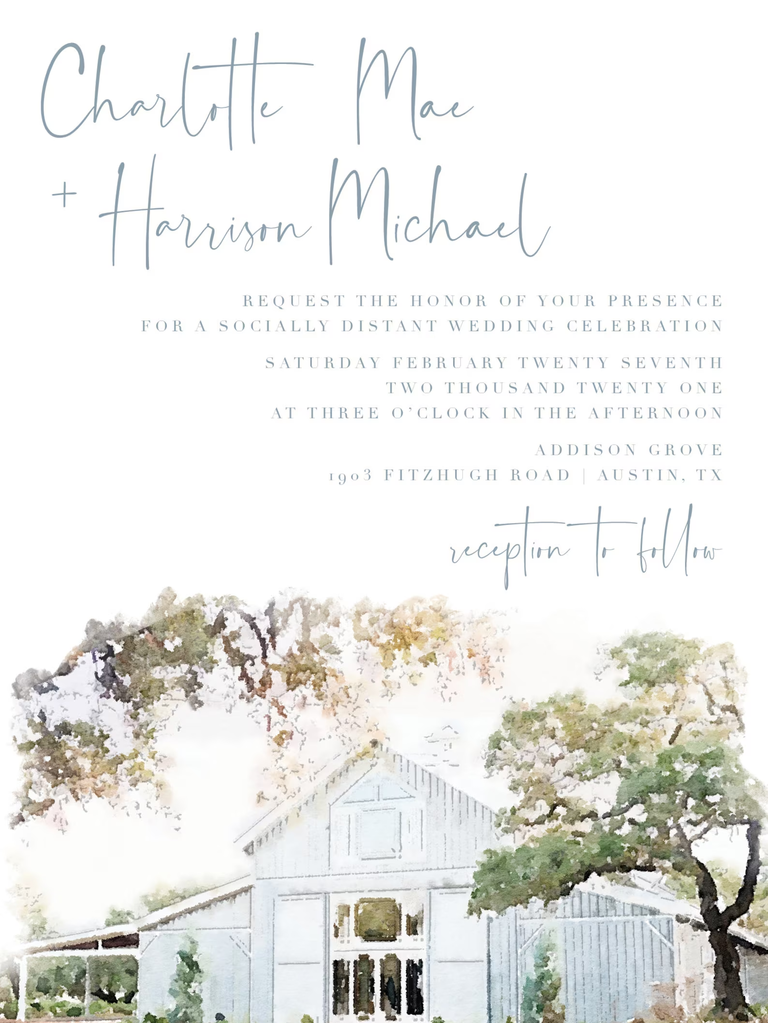 For an extra-special invite, the impact of watercolor can be realized in a custom wedding venue illustration (a digital rendering, to be exact). If you're head over heels for the place you've booked for your wedding, you can purchase this bespoke invitation and turn a photo of your venue into a statement watercolor illustration. These watercolor venue wedding invitations also feature a dreamy pairing of fonts and an overall minimalist look, so the custom digital painting can really shine.
18. The Knot Ethereal Floral Wedding Invitations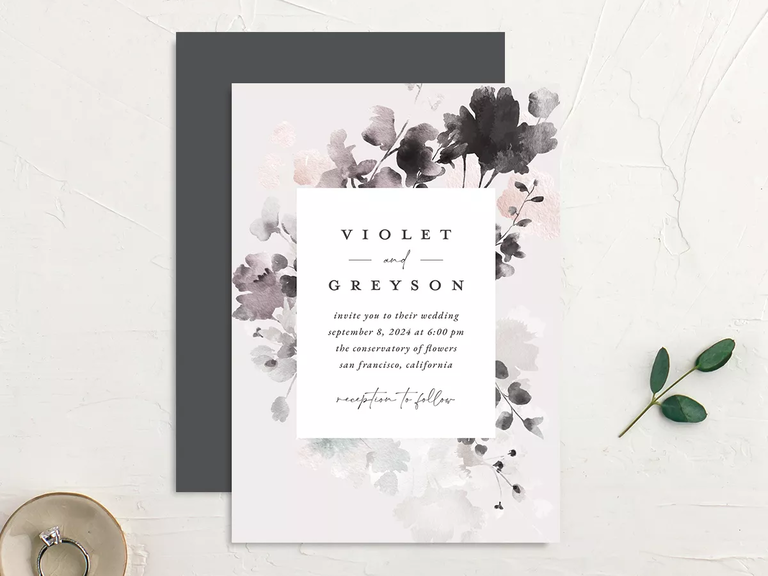 We have so many wildly stylish watercolor invites available at The Knot Invitations, but this one really hits the mark. No matter which color theme you choose—from pastels like purple, pink or blue to bohemian hues like gold or gray—the watercolor works its magic, breathing life into the flowers. It's very editorial and highbrow, hence our heart eyes. Watercolor, but make it fashion.
19. The Knot Ethereal Wave Wedding Invitations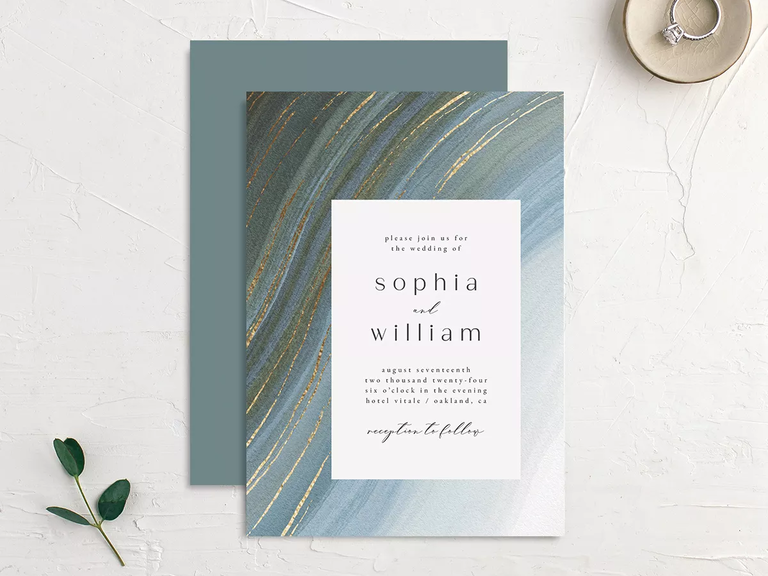 Add foil to any watercolor wedding invitation and, we promise, it'll bring an elegance and refinement that'll match the most elevated of celebrations. This option features a dusty palette that can be embellished with your favorite metallic foiling—be it gold, rose gold or silver—all to support a white text box with your need-to-know wedding info. If this one steals your heart, then we have to talk about an inspired escort card display and tableware.
20. Gibb + Co Studio Custom Watercolor Map Wedding Invitations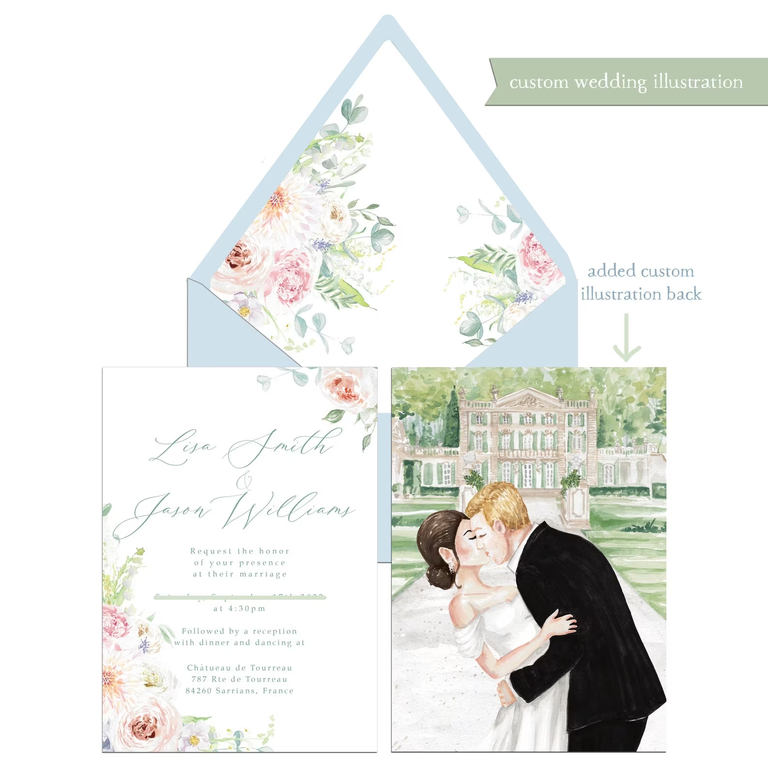 For an even more customized option, you can commission hand-painted artwork from an experienced illustrator. All artwork on these Etsy watercolor wedding invitations is hand-painted by the artisan using watercolor paint on cold-press watercolor paper. Though the artwork comes via a digital file only, you can take it to a local print shop and work with someone to create an original wedding invitation set.
21. The Knot Countryside Crest Wedding Invitations
We're so in love with the Regency-era vibes of this watercolor crest wedding invitations. They feature your last initial framed by florals and ribbon and your details relayed in delicate watercolor-like script. We can just see your elegant mansion wedding unfold.
22. The Knot Scattered Blossoms Wedding Invitations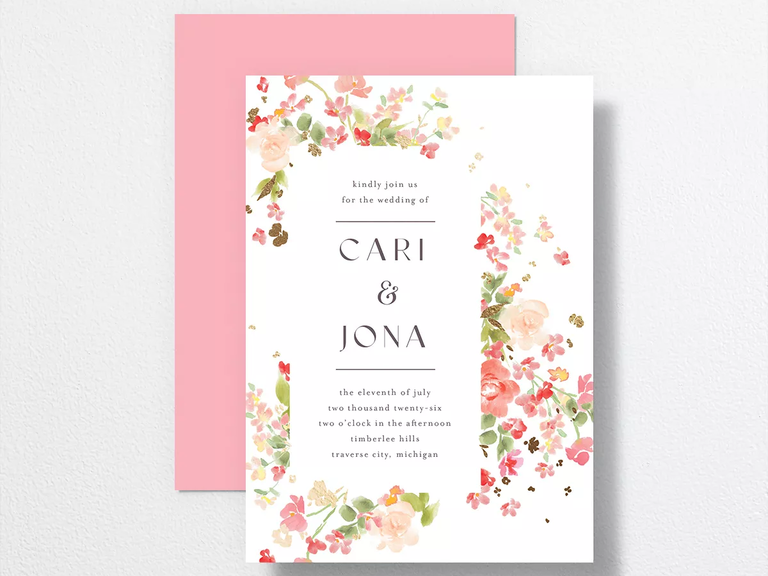 The cascading watercolor blooms on these pink watercolor wedding invitations evoke such softness and spring energy. Your details are set apart in a white rectangle of negative space that sits slightly to the left for a modern composition, while the colorful petals make a statement in the background. Three different foil options add a welcome kiss of sparkle.
23. The Knot Monochrome Blooms Wedding Invitations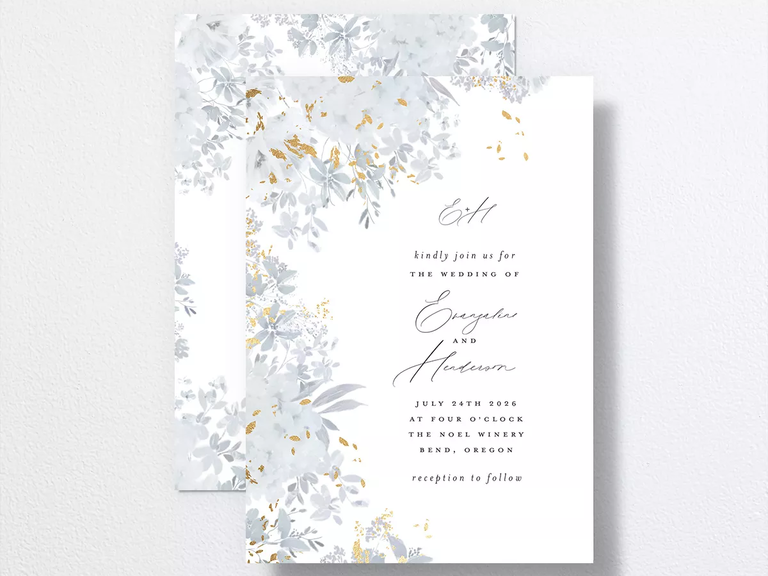 Watercolor flowers, but make it minimalist. Aside from the stunning frame of hand-painted blooms, your names are the star of this invitation in swirling script, with your details easily legible in classic serif fonts. Our favorite part? The foil petals, which delicately drop from the branches to create a sense of spring breezes.
24. The Knot Pastel Arch Wedding Invitations
More watercolor florals on these rustic watercolor wedding invitations? Don't mind if we do. The simple arch of wildflowers is a sweet and classic way to frame your day-of details, but its vertical placement along the side of the invite gives a modern design touch. Every colorway is super dreamy, but we can't resist the sherbet orange for early autumn nuptials.
25. The Knot Ethereal Sunset Wedding Invitations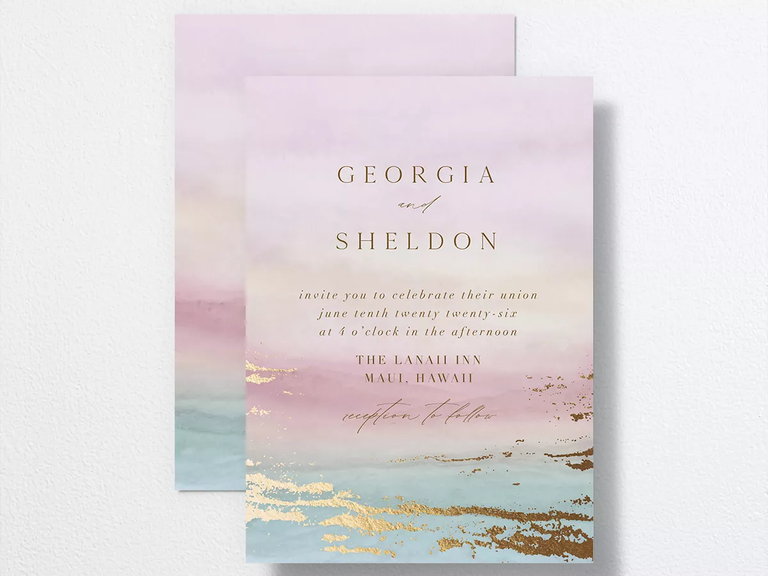 From our new spring invitations collection come these sunset-like watercolor invitations. Romantic washes of color blend together to create a pastel palette, while free-form swaths of sparkling foil are reminiscent of sunbeams. Between the romantic fonts and beautiful palettes, these invites are truly heavenly.