Everything You Need to Know About Getting Married in Washington, DC
Look to The Knot for local details about getting married in Washington, DC, from choosing your wedding venue to getting your marriage license.
by The Knot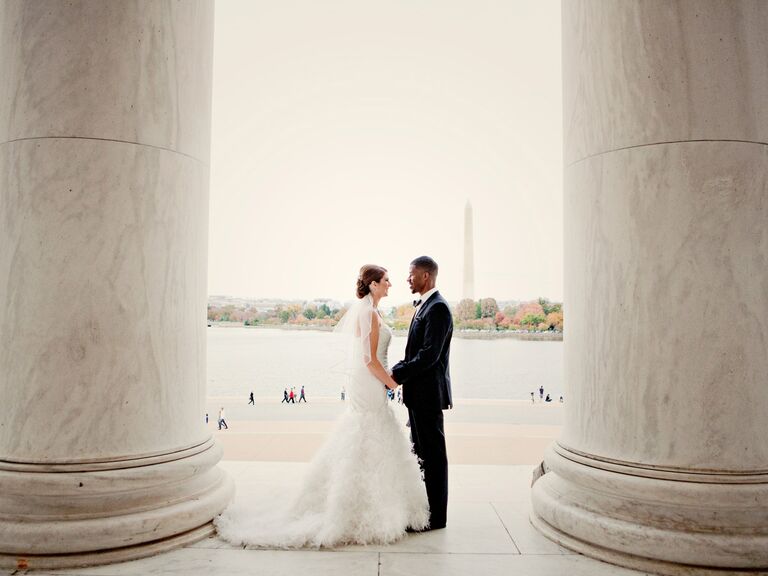 Ultimate Guide to Getting Married in Washington, DC
DC is a city of contrasts. It's easy to try to box this city in, but when you get beneath the diplomatically impressive surface, the District defies all stereotypes. It's home to all different types of people, not just politicians. Many people wouldn't think that the seat of American federal government would be the same place that has hosted a thriving punk scene, for example, but they'd be wrong. It's these very contrasts and hidden depths that makes getting married in DC such an exciting prospect. Whether you'll be visiting the city for the first time for your Washington, DC wedding or you've been living in the District your whole life, you'll find new and exciting ways to enjoy a city that's far less stuffy than it's made to seem on the nightly news. Follow your wedding checklist to make sure everything is done on time.
Top Wedding Trends in Washington, DC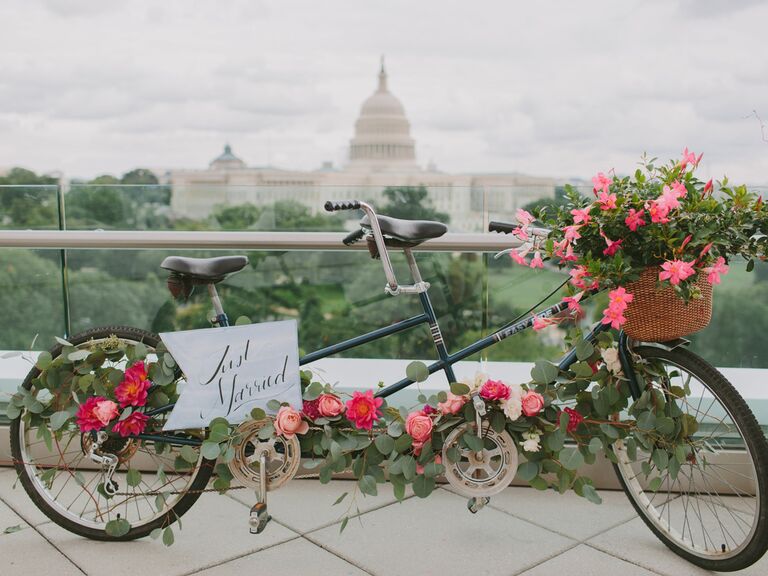 Tori Watson Photography at CHARLIE PALMER ROOFTOP
DC weddings tend to be semi formal in style; according to The Knot 2015 Real Weddings Study, 66 percent of weddings in the District were semiformal. The same year, only 16 percent of couples getting married in DC chose to have a black-tie wedding, while 15 percent chose a casual wedding. As for where Washington, DC weddings took place in 2015, the split between indoor weddings (54 percent) and outdoor weddings (44 percent) wasn't significantly different.
If you want to get married inside, there are many different types of indoor DC wedding venues. According to our survey, couples who married indoors in the District mostly chose religious institutions for their ceremony, though historical buildings were in second place. Couples favoring outdoor wedding venues in DC didn't gravitate toward a single option but spread out fairly evenly between public gardens, parks, beaches and vineyards. Yachts are also an option in the DC area, though this was the venue of choice for only one percent of our survey respondents.
There are probably as many options for wedding venues in DC as there are cultural traditions observed by couples who marry here. While the District is highly ethnically diverse, there are some local traditions you can incorporate into your ceremony regardless of you and your fiance's ethnic background.
Taking your wedding portraits near some of DC's wonderful historic monuments and statues can help give your wedding a local flavor. If you're getting married during the peak bloom season of mid-late March, you can take pictures underneath the city's many beautiful cherry trees. Many event venues in DC are in close proximity to major landmarks such as the National Mall and the Tidal Basin, which is where the bulk of the city's cherry trees are planted.
DC Marriage Rates and Wedding Costs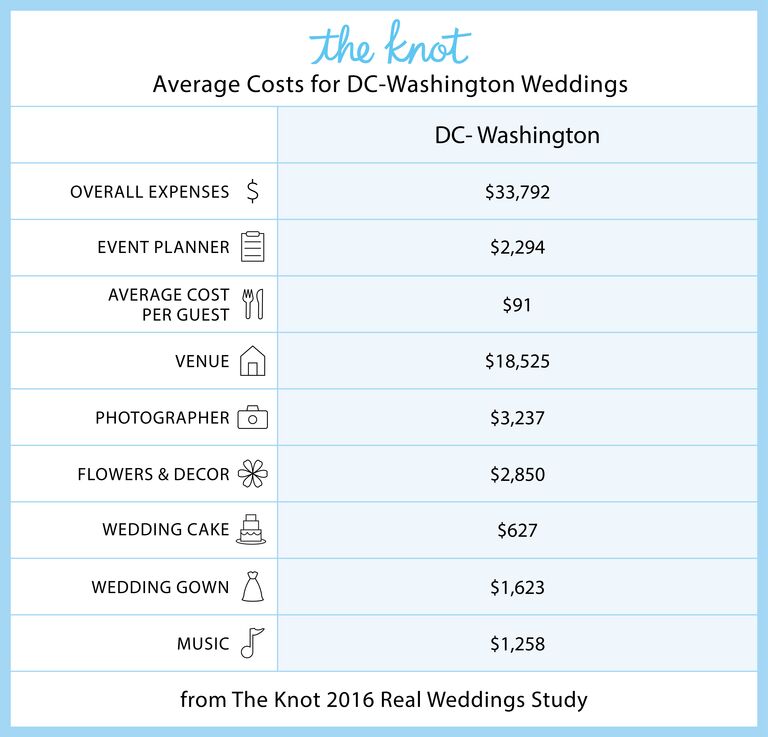 Planning a wedding can be a lot of fun, but affording it is another story entirely. No matter which type of Washington, DC, wedding venue you choose or what type of theme fits your personalities, make sure you've created a budget and that you're sticking with it. The Knot Budgeter can help keep you on track! But before you take that important step, here's a little background info on how many couples are tying the knot in DC, plus what you can expect to pay for common wedding costs, as reported by The Knot 2015 Real Weddings Study.

DC Marriage Stats
So how many couples are actually getting married in Washington, DC? Turns out that marriage rates in DC are above average with 11.8 per 1,000 people, compared to the national marriage rate of 6.8 out of 1,000 people. And as our 2015 Real Weddings Study showed, the average cost for a DC wedding (excluding the cost of the engagement ring and honeymoon) was $30,508. That's higher than the total US average of $26,770.
Budget Breakdown: How Couples Spent Their Money Getting Married in DC
Your wedding budget may be higher or lower than that DC average, but either way, it's probably helpful for you to know which wedding budget categories tended to be the largest and where you can cut your budget in order to save some cash on your own wedding. Above are average costs for some of the more common wedding categories.
Top Cities to Get Married in Washington DC/Northern VA/Suburban MD
Though there's an array of resources in the Maryland/Virginia border area around the District, DC wedding venues are the most popular choice for those in the area. Read more about them:
Make It Legal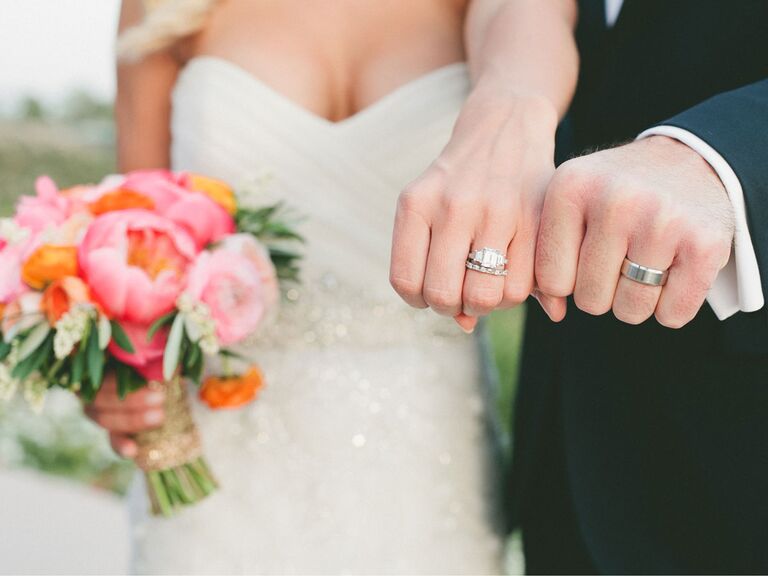 It's important to plan all aspects of your DC wedding, including the legal logistics. If you want to enjoy all the benefits that come along with being legally married, there are some things you're going to have to do, including getting a DC marriage license. There are other things to think about, too. If you haven't already given it thought, now's a good time to consider whether you, your fiance or both of you will change any part of your names after your marriage. Name changes can be a big deal, so consider this as part of your wedding planning process.
Getting a DC Marriage License: The Basics
For that name change to mean anything, though, you're going to have to make sure your marriage is legal. That means you've got to get a DC marriage license. The District's rules for obtaining a marriage license are actually pretty straightforward. While many states require both members of the couple to be present to apply for the license, only one of you has to show up to apply for a DC marriage license. In fact, the two of you can actually appoint someone else to go do it for you! Whoever ends up doing it, whether it both of you, one of you, or a third party, here's what's required:
A completed license application
$45 for the license fee and certificate copy
Show valid photo ID/proof of age (e.g., driver's license or passport) for each member of the couple
Home and work phone numbers for both members of the couple
You'll apply at the Washington, DC marriage bureau. The DC marriage license application requires that you give the following information:
Full name, address, social security number and date of birth for each member of the couple
Information about any previous marriages, including city, state and county of wedding and reason for the marriage's end
The full name (first and last) of the wedding officiant
If you get everything squared away correctly, you'll receive your license the same day. Your DC marriage license never expires, so you can apply well in advance of your actual wedding.
Other Legal Considerations for Getting Married in DC
As you'll notice, you need to know who your DC wedding officiant is going to be before you apply for a DC marriage license. The District of Columbia actually refers to wedding officiants as "celebrants," but we'll use the word "officiant" here. Your DC wedding officiant can be pretty much anyone so long as that person is 18 and follows the proper steps. All DC wedding officiants must apply for authorization to perform weddings in the District. Only some need to pay fees on top of that.
The people falling under these categories need to pay a fee in addition to applying for authorization; fees for all are less than $50 but may vary by type:
An authorized representative of a religion such as a rabbi or priest
A temporary officiant (i.e., a friend or family member who doesn't belong to another category on the list)
A "civil celebrant"
The people falling under these categories don't need to pay any special fees in addition to applying for authorization:
Members of the couple being married
The Mayor of Washington, DC
Members of the DC Council
Any active or retired judge who served or is serving in an official capacity in the United States
Clerks and Deputy Clerks of the Court
In case you were wondering, some religious traditions don't use a wedding officiant and instead allow the couple to perform their own ceremony. This explains why the couple are allowed to marry themselves in DC.
If you live in DC, you will use your completed marriage license to apply for a legal name change. You'll file an application with the DC superior court and present both your marriage license and original birth certificate as part of the process. After your application is accepted, you can go to the Social Security Administration Office to complete the process. The entire process can take a couple of months.
After that, it's your job to change your name everywhere - with the DMV, payroll at work, your bank account, credit card company, passport, the works. If that seems like a lot of effort after you spent all that time planning and enjoying your DC wedding, let us help. Use the name change service HitchSwitch to get someone else to do all the admin for you.
It's All About Timing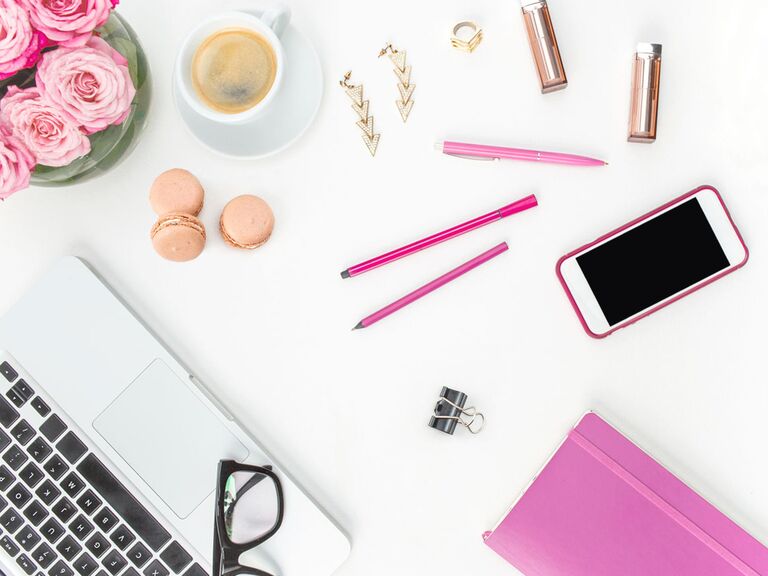 Now that you know more about the financial and legal logistics of getting married in DC, it's time to consider what time of year is best for you and your fiance to tie the knot. The season-of-choice breakdown for DC couples in 2015 was nearly identical to the overall national average, according to our survey.
Fall is the most popular time of year for DC weddings; 39 percent of couples in DC married during this season, which is the same as the national average percentage. Summer is the next most popular season for getting married in DC, with 30 percent of 2015 marriages in the District occurring during this sunny season. Spring was in third place with 26 percent, and winter was last at just 5 percent.
The Four Seasons in Washington, DC
DC's somewhat unpredictable winter weather may be the reason why such a small proportion of couples in the area choose to get married during this season, when temperatures typically hover somewhere in the 30s. Snow is a frequent occurrence, with the possibility of disruptive winter storms being not entirely out of the question. The District's seasons are, on the whole, much more predictable and less harsh, which may be why they're so much more popular for getting married in DC.
Spring is generally a little bit chillier than fall; the average temperatures for these seasons is 56.5 and 60, respectively. Both carry natural appeal for the DC area too, with the spring display of flowers and bright leaves of fall. Summer is the standout season as far as warm temperatures are concerned; the seasonal temperature average is about 78 degrees, though much hotter temperatures are possible. Summer also brings high humidity to DC, another thing to consider when wedding planning.
Washington, DC, Wedding Dates to Avoid
As the political center of the federal government, Washington, DC can get pretty hectic at times. There's usually something going on, but some events and holidays are particularly notorious for drawing crowds, raising prices and generally making it difficult to get around town. There are some national holiday dates that are generally not great if you want to avoid scheduling conflicts and peak travel. We cover these dates in our guide to dates to avoid. But there are some local dates to consider for getting married in DC. If you want your DC wedding to go as smoothly as possible, consider scheduling around these annual events, which can draw crowds varying from protesters to partygoers:
Presidential Inauguration ceremony (January 20, 2017)
Congressional Session (January - December)
National Cherry Blossom Festival (March 20 - April 16, 2017)
Memorial Day (May 29, 2017)
Smithsonian Folklife Festival (June and July)
Independence Day (July 4)
Navy-Air Force Half Marathon (September 17, 2017)
Marine Corps Marathon (October 22, 2017)
Great Guest Experiences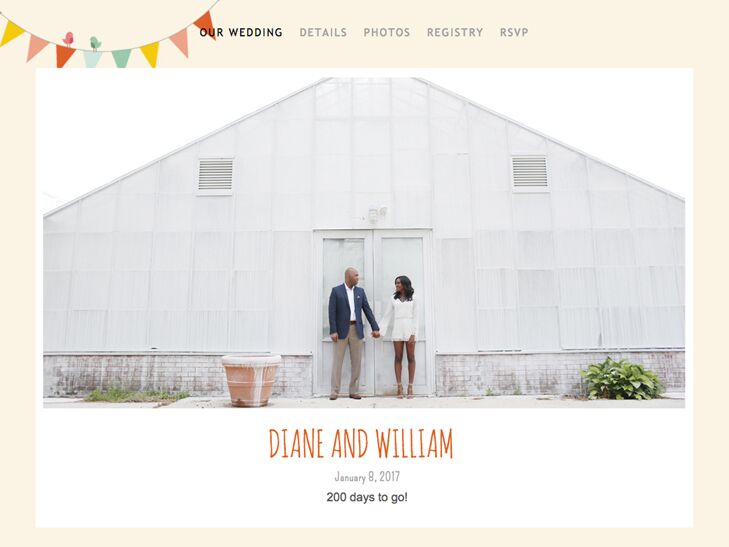 Alison Conklin Photography
Chances are that at least some of your guests will be traveling a long distance to attend your DC wedding. Even if your guests are local, though, you'll want to make sure they have a good time. Of course, you can't be responsible for everyone else's happiness on one of the most important days of your life, so planning ahead is a good idea. You can build your own wedding website using our free site builder and fill it full of useful information for your guests. From suggestions for Washington, DC hotels to venue directions and even a schedule of events for each day of your wedding celebration, the more information you include on your site, the fewer questions you'll have to answer. You can also use our guest list tool to help keep of who's coming and to make sure you send out those all-important thank-you cards after the wedding.
Finding Your Way: DC Travel Info
It's a particularly good idea to include travel info on your wedding website. Even if you don't end up building a site, getting good transportation information you can distribute to your guests will help make everyone's lives easier. Luckily, travelling around DC is pretty easy. This is a city that sees tons of visitors each year, and it has a solid transportation infrastructure system. The city's underground mass transit system, the Metro, runs within the city and to its suburbs. It also connects visitors who fly into National airport with the city proper. DC is also well connected to the northeastern United States' rail network through Amtrak and commuter rail services.
Dulles International and Baltimore-Washington International Thurgood Marshall airports handle international flights for the DMV area, meaning your guests from all far-flung corners of the world should be able to attend your DC wedding, perhaps even on a direct flight. Those who plan to drive in can take Interstates 66 and 95 or connect to I-495 (also known as the Capital Beltway). This is an important city, so getting here isn't hard. Still, you should provide clear information for your guests, particularly with respect to your ceremony and reception venues and any other event venues in DC that are part of your wedding celebration.
Around Town: What to See and Do in Washington, DC
There's no shortage of sights to take in and things to learn in DC, and not all of them relate to American history or politics. This may be a good thing if you have relatives with conflicting points of view attending your Washington, DC wedding. You can even use these ideas as inspirations as for a group outing before or after your wedding:
Tour the Library of Congress
Visit one or more of the Smithsonian Institution's 19 museums and galleries
Take a guided tour of the White House
Eat at Ben's Chili Bowl
Sightsee on the National Mall
Take pictures at the Washington National Cathedral
Immerse yourself in beauty at the United States Botanic Garden
Go Local: Food and Favors
Wedding Photojournalism by Rodney Bailey
Great food and fun wedding favors are another way to make your wedding special and memorable for you and your guests. When it comes to your DC wedding, you can choose a few different ways to make the District a factor in the event.
DC Flavors: Unique Regional Foods for Your Wedding
Because it borders both Maryland and Virginia, DC has a blend of mid-Atlantic and Southern culture. Food items such as fresh-caught crab or fried chicken are plentiful as a result. DC's dining scene also reflects the city's diversity with a host of different delicious ethnic dishes. There are a few patriotic tasty treats on offer, too, like a particularly delicious apple pie from Blue Duck Tavern or the Senate Bean Soup from the Senate Dining Room. Half-smoke sausages from Ben's Chili Bowl are another local favorite.
Do Your Guests a Favor: DC-Inspired Take-Home Treats
What better way to cap off a wonderful wedding than with a nice little treat for your guests? These wedding favors will help your guests remember your wedding and its DC setting with a smile:
A customized wedding map that includes major landmarks around the city in addition to your DC wedding venues
Cupcakes from Georgetown Cupcake
Candies or cookies printed with or shaped like national monuments in DC
A custom-designed campaign-style poster or buttons featuring you and your fiance
Anything with cherry blossoms, from soaps to a small photo book
Mini apple pies tied up with red, white and blue ribbon
Check out The Knot Shop for other personalized favors.
Washington, DC, City Guide
Though the DC suburbs have plenty to offer when it comes to housing and employment, the District itself is by far the most popular place to get married in the area. This will make it easy to locate local wedding professionals, from DC wedding photographers to Washington, DC hotels that offer room blocks. The links below connect you to our vendor marketplace so you can start planning today.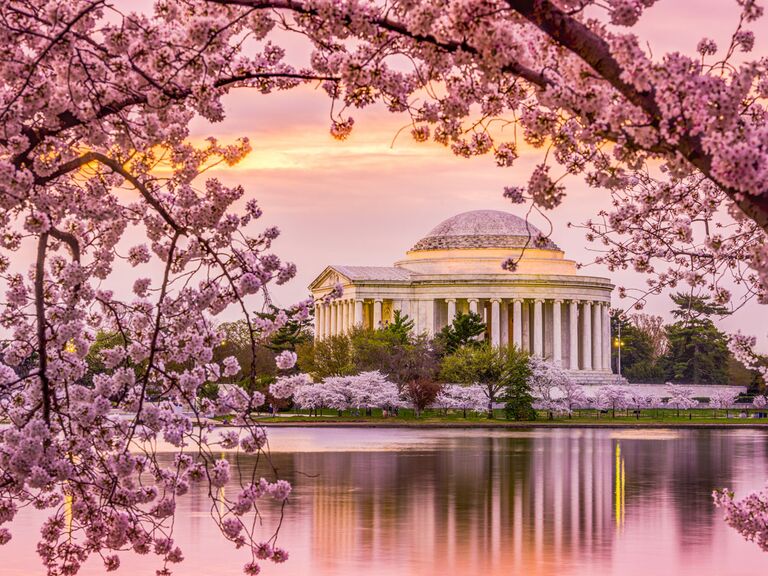 Washington, DC
Check out more Washington, DC, wedding inspiration here.

Don't forget to download The Knot Wedding Planner app—it's a must-have for on-the-go planning.
Download for iOS: Wedding Planner App by The Knot

Download for Android: The Knot Wedding Planner
Disclosure: This post contains affiliate links, some of which may be sponsored by paying vendors.