31 Fall Wedding Ideas That Are Better Than Pumpkin Spice
Get your Pinterest board ready.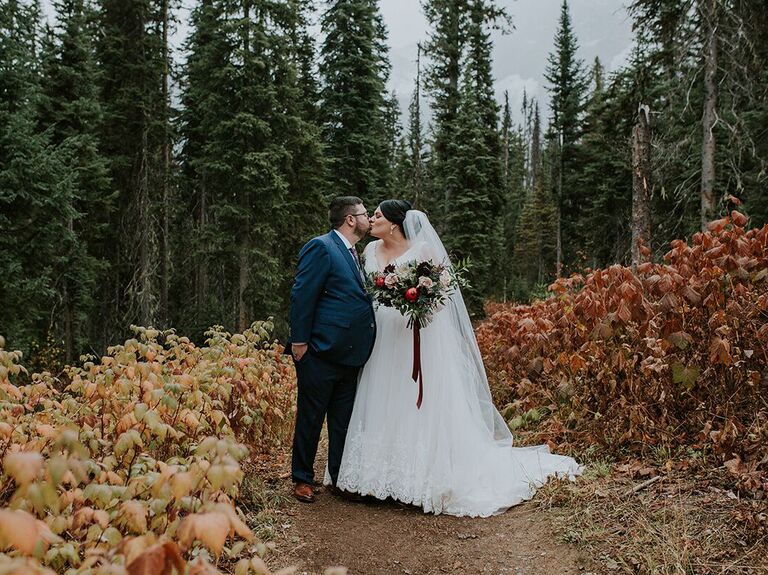 JANINE DEANNA PHOTOGRAPHY
Every season offers something special to couples. Spring has bright blooms, summer has magical golden hours, and winter boasts dreamy snow-filled photoshoots. But autumn has a little bit of everything: jewel-tone colors, cooler weather and fun holidays. If you've settled on an autumn wedding and you're looking for fall wedding ideas, we're here to help. We rounded up everything from venues to florals to decor to help you get inspired. Whether you're looking for rustic fall wedding ideas, country wedding ideas for the fall or seasonal holiday ideas (check out the Halloween-inspired decor below), we have something for every kind of couple. These fall wedding ideas will have you itching to grab a pumpkin spice latté and get started on planning ASAP.
If you're looking for outdoor fall wedding ideas because of COVID, we have plenty of those below. Follow our guide on how to throw a wedding amid the pandemic safely and stock up on PPE for guests. If you need additional tips, check out our guide for stylish wedding masks, our lineup of hand sanitizer ideas and our roundup of social distancing signs. Don't forget the hot apple cider!
Barn Venue
The colder weather and pretty foliage lend themselves perfectly to a rustic wedding theme. Consider hosting your nuptials at a barn for the ultimate fall outdoor wedding venue. Whether you're hosting a casual barbecue or a formal dinner, the barn will serve as a picturesque backdrop.
'70s Pastel Color Scheme
Pastels work for any season because they look beautiful any time of the year. While they're typically used for warm-weather weddings, these retro hues look equally stunning against fall foliage.
Ombré Florals
Because both light and dark colors work in the fall, work the full spectrum of colors into your floral arrangements. Collaborate with your florist to create a jaw-dropping installation like this one.
Wooden Centerpieces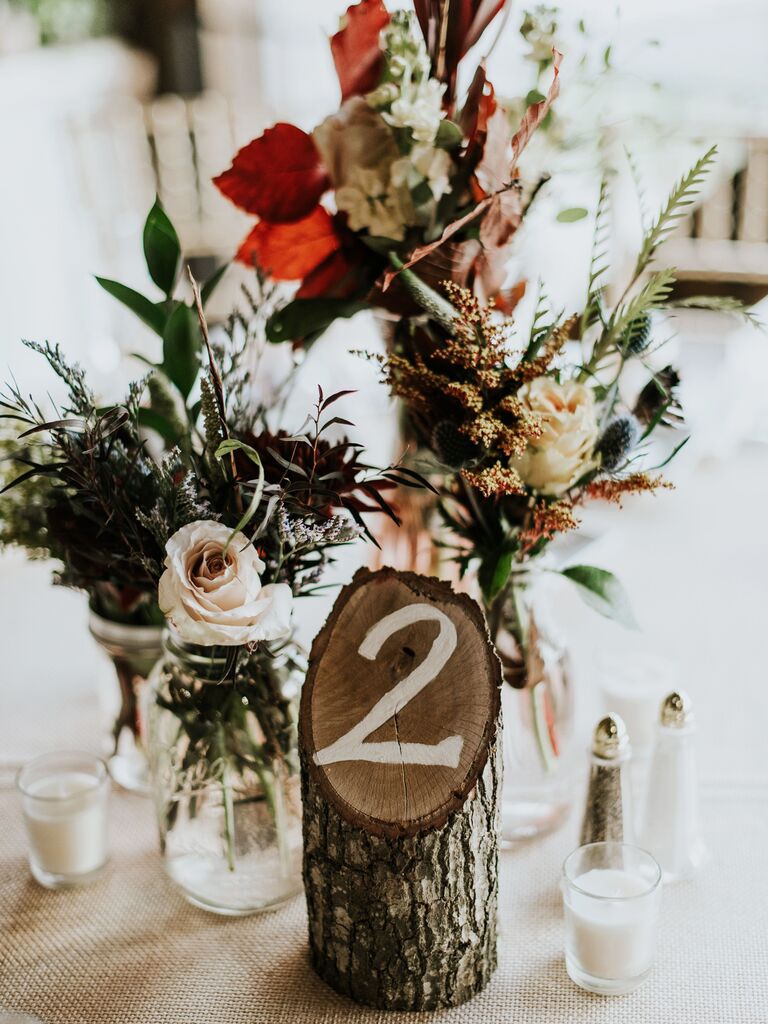 Bring a rustic feel to your tables with wooden stump centerpieces. Accent them with mason jars for a charming tablescape.
Scenic Stationery
If your venue looks absolutely stunning in the fall, get your guests excited by sending them pictures on your save-the-dates and wedding invitations.
Cozy Blankets
If you're looking for outdoor fall wedding ideas, this is an absolute must. Hand out cozy blankets to your guests so they can comfortably watch you exchange vows.
Jewel-Tone Color Scheme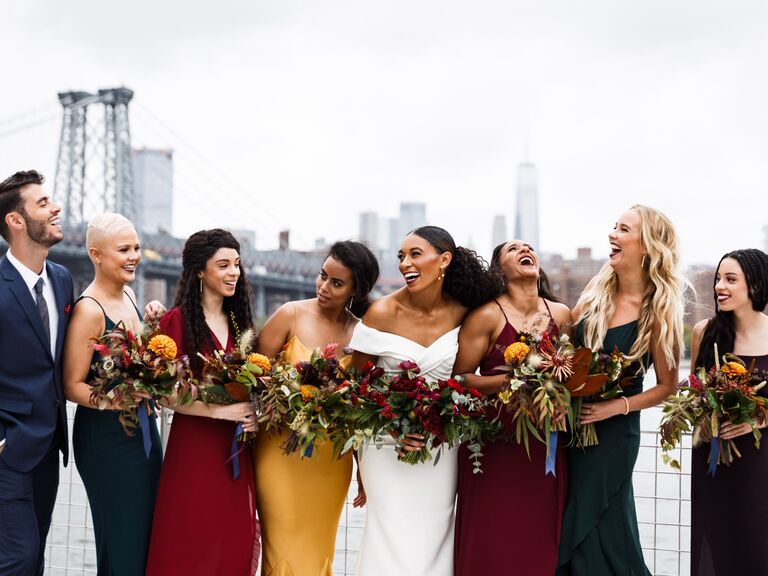 Jewel tones look picture-perfect in the fall. Have your wedding party rock mismatched attire to complement your gorgeous surroundings.
Bold Centerpieces
You can (and should) consider having bright color palettes for your fall wedding. Case in point: these jaw-dropping red James Storie red aranthera orchid centerpieces.
Black, White and Gold Color Scheme
Black, white and gold is a color palette that can work for any season. Take a cue from this couple by playing up black as the main hue to lean into season.
Dried Florals
Accent the colorful foliage with neutral-color dried florals (pampas grass is a must). They'll add a boho vibe that's effortlessly cool.
Wooden Benches
If you're searching for rustic wedding ideas, consider wooden benches for guest seating. They will draw your guests' attention to gorgeous surroundings.
String Lights and Furniture
Create a cozy space for cocktail hour with plush furniture and twinkle lights. Your guests will score the perfect Instagram shot with this chic decor.
Neutral Color Palette
While fall weddings normally bring to mind dark and moody palettes, an airy neutral color scheme will look stunning in pictures and showcase the pretty autumn foliage.
Dark and Moody Tablescape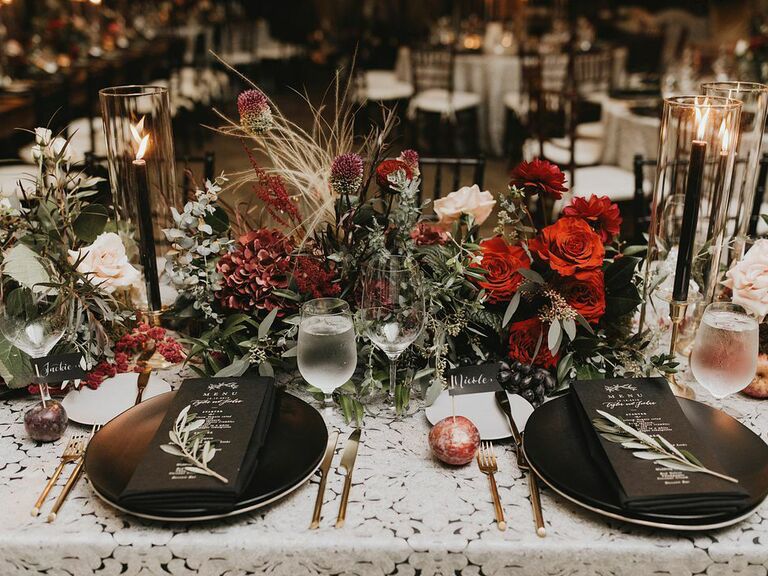 For a dramatic and festive vibe, bring darker hues into your tablescape designs. Black plates are a simple way to make a bold statement.
Bouquet With Fruit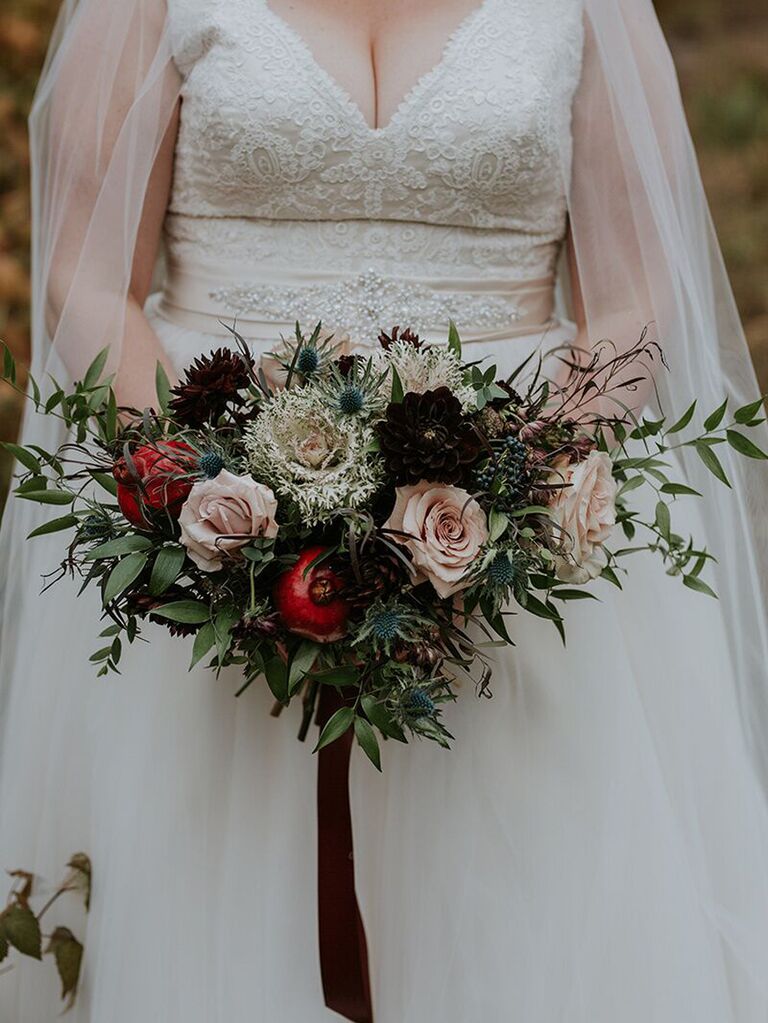 Incorporating berries and seasonal fruits (such as pomegranates) into your wedding flowers is a lovely way to pay homage to the beautiful time of year.
Naked Cake With Dark Accents
If you're aiming for an eclectic wedding vibe, consider a naked wedding cake with dark accents. It's an unexpected twist on the dark wedding cake trend.
Macrame Accents
We love macrame accents for fall weddings because they're the perfect combination of cozy and chic. Consider table runners, escort card displays or photo backdrops.
Sparkling String Lights
Light up the beautiful foliage around you with sparkling twinkle lights. They'll look amazing over the tables and the dance floor.
Bouquet With Greenery
Since fall isn't known for bright blooms, a bouquet full of greenery is a gorgeous way to celebrate the autumn weather.
Greenery Centerpiece
Similarly, centerpieces made of greenery feel seasonally-appropriate and extremely chic.
Light and Bright Decor
Accent the dark and moody feel of fall weather with light and bright decor. The contrast will surprise and delight guests.
Black Wedding Attire
Have your wedding party rock all-black for your fall nuptials. Bonus: they might be able to wear something they already own.
Velvet Bridesmaid Dresses
Velvet is just the right balance of cozy and chic—perfect for fall.
Black Wedding Cake
Skip the traditional white buttercream cake. Lean into your dark and moody theme with a black wedding cake.
Candles Everywhere
Is there anything more cozy than candle light on a fall evening? Set up candles everywhere for an extra-dreamy touch.
Balloon Arch
Here's a unique fall wedding idea: incorporate a balloon arch. The bright, cheery decor will complement the seasonal weather in a beautiful way.
All-White Wedding Reception
Go light and bright for your fall wedding wedding colors. All-white wedding decor will draw your guests attention to their beautiful surroundings. Plus, it'll look stunning in photos.
Festive Decor
For those who know fall as spooky season, this one's for you. If you and your partner love Halloween, incorporate it into your decor like this couple did.
Colorful Photo Shoot With Your Pet
If your pet is a major part of your love story, include them in your wedding day. We love the idea of doing a photo shoot with foliage flying around your furry friend.
S'mores Station
We think a s'mores station might be one of our favorite fall wedding ideas ever. Not only will it look amazing in pictures, your wedding guests will appreciate the sweet treat.
Leaves for Recessional
Swap out traditional confetti for a more seasonal option. Have your guests toss colorful leaves while you and your partner walk down the aisle at your outdoor ceremony.