Pumpkin Spice Up Your Life With These 50 Festive Fall Wedding Ideas
Get your Pinterest board ready.
Every season offers something special to couples, but autumn has a little of everything. From jewel-tone colors to fun holidays, the fall wedding ideas are endless. We rounded up everything you'll need to help you get inspired. Whether you're looking for seasonal food ideas, guidance in finding the perfect wedding centerpiece or are curious to know which fall wedding color palette is best for you, we have something for every couple. These wedding ideas for fall will have you itching to grab a hot apple cider and plan the best autumn wedding your loved ones have ever seen.
Our Favorite Fall Wedding Ideas:
Cakes | Decor | Colors | Centerpieces | Bouquets | Flowers | Food & Desserts | Editor's Picks
Fall Wedding Cake Ideas
Let your wedding cake match the autumnal energy of your big day. Below are five of our favorite fall wedding cake ideas that'll make you want to call a baker ASAP.
1. Semi-Naked Fall Wedding Cake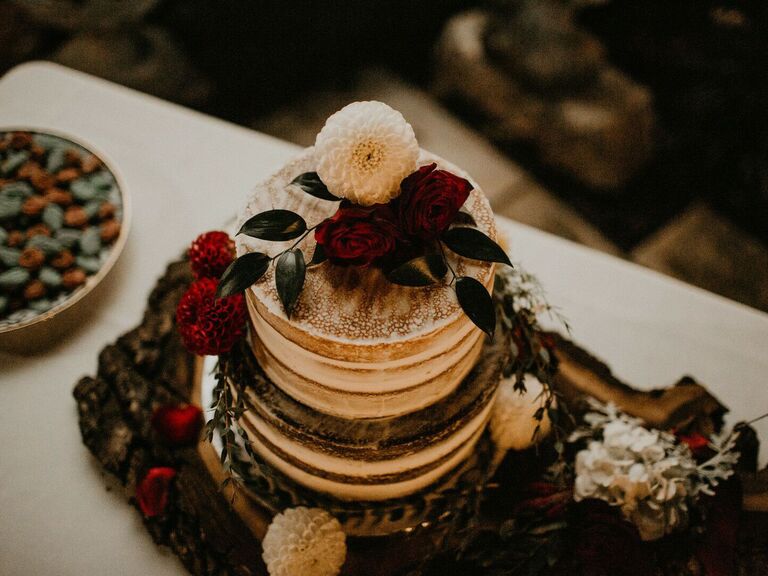 Want an eclectic wedding vibe? Consider a semi-naked wedding cake with dark accents. It's an unexpected twist on the dark wedding cake trend.
2. Black Fall Wedding Cake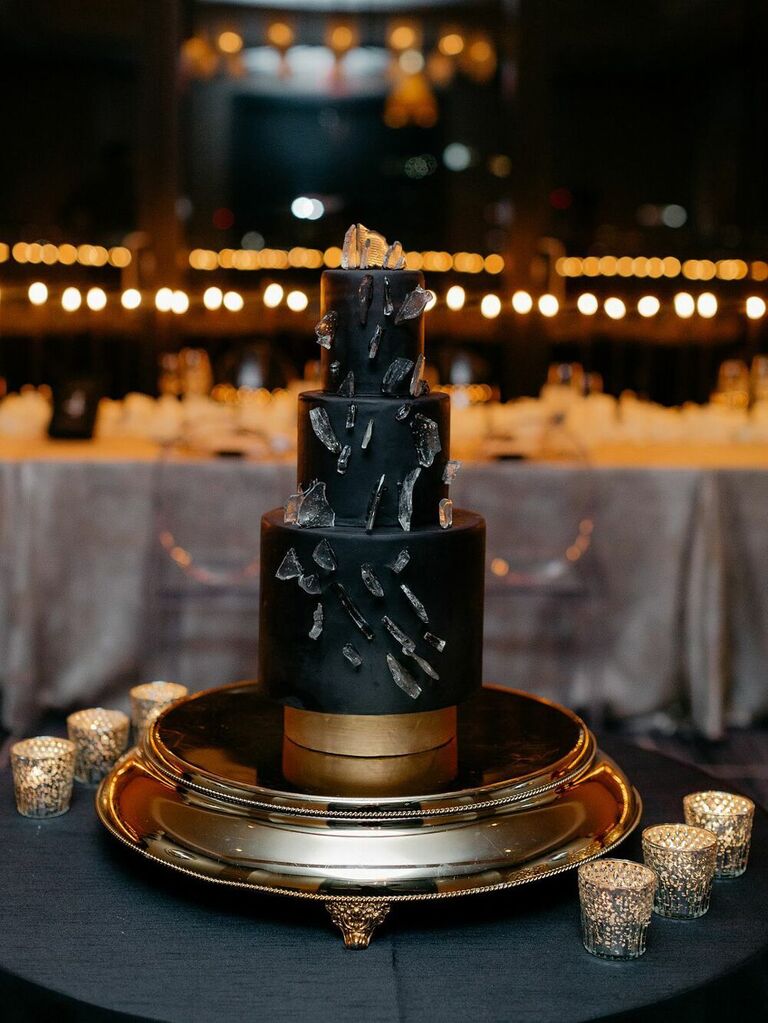 Skip the traditional white buttercream cake. Lean into your dark and moody theme with a black wedding cake.
3. Faux Autumn Leaves Wedding Cake
The bride's cousin baked this gorgeous four-tier confection for her special day. We love the fondant ombré autumn leaves cascading down the cake.
4. Elegant Gold-Painted Fall Wedding Cake
This unique wedding cake is a baked and floral masterpiece. The white cake has gold-painted flower details that match the blooms surrounding it. Beautiful burgundy dahlias, orange Free Spirit roses and rose hips adorn the cake.
5. Small Wedding Cake With Fall Blooms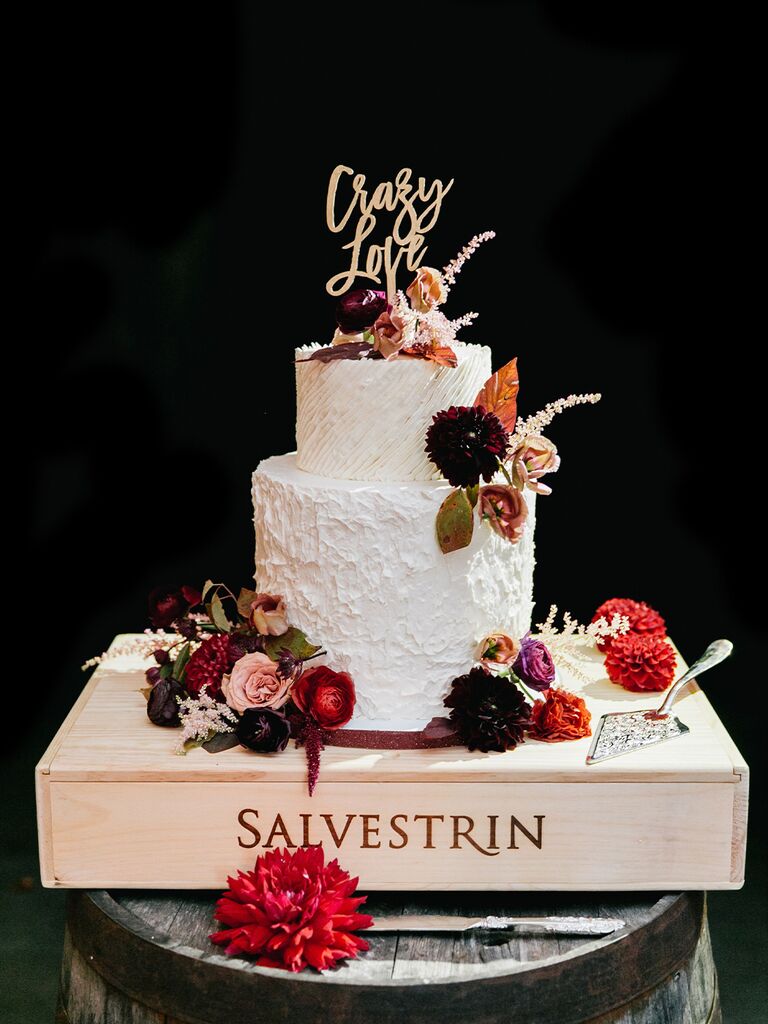 Jewel tones are always a favorite at fall weddings. This simple textured wedding cake stands out because of the scattered rich hues of the flowers on and around the cake.
Fall Wedding Decor Ideas
Once you hire your wedding decorator, you'll need to show them what look you want. Use this list of fall wedding decoration ideas so you all can start on the right page.
6. Halloween-Inspired Fall Wedding Decor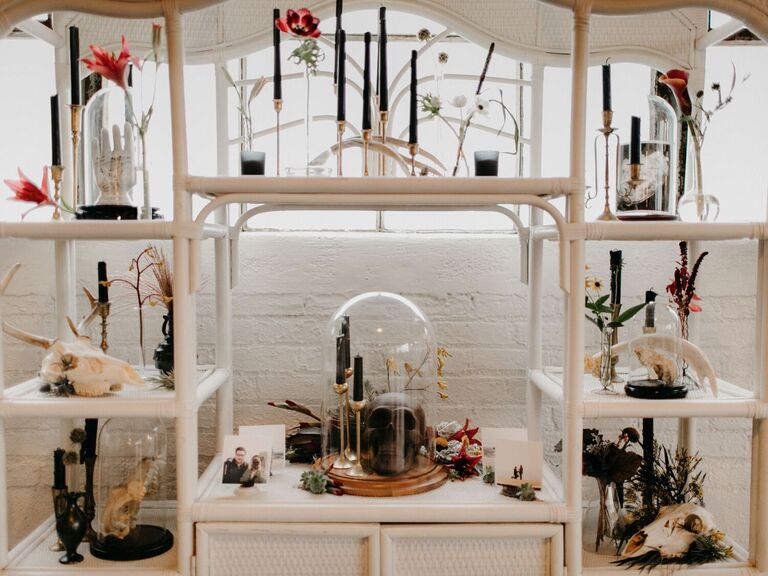 For those of you who know fall as spooky season, this one's for you. If you and your partner love Halloween, incorporate it into your decor like this couple did.
7. Candle Fall Wedding Decor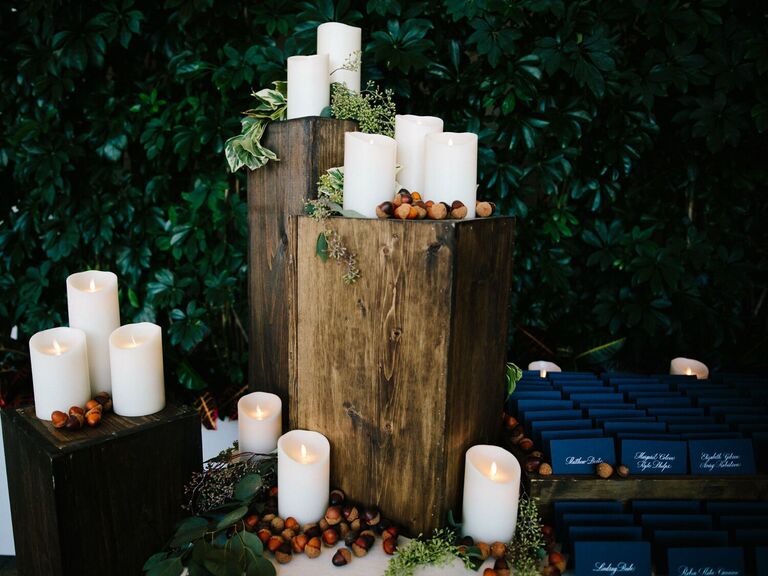 Is there anything more cozy than candlelight on a fall evening? Set up candles in your ceremony and reception spaces for an extra-dreamy touch.
8. Light and Bright Fall Wedding Decor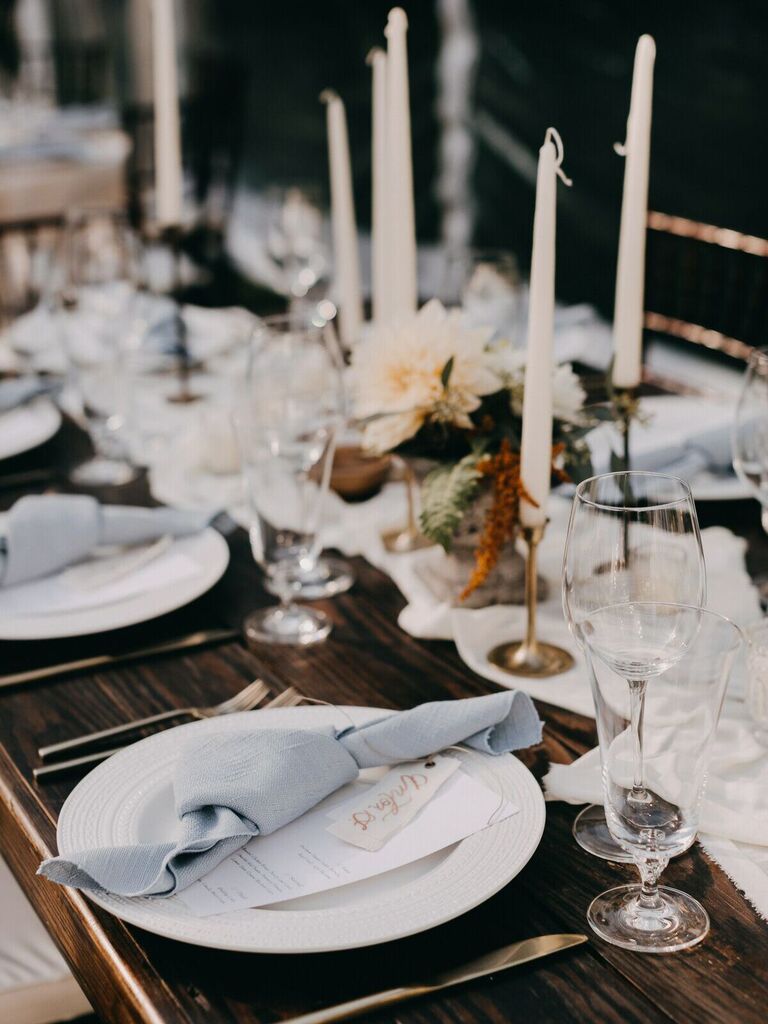 Accent the dark and moody feel of fall weather with light and bright decor. The contrast will surprise and delight guests.
9. String Light Canopy Fall Wedding Decor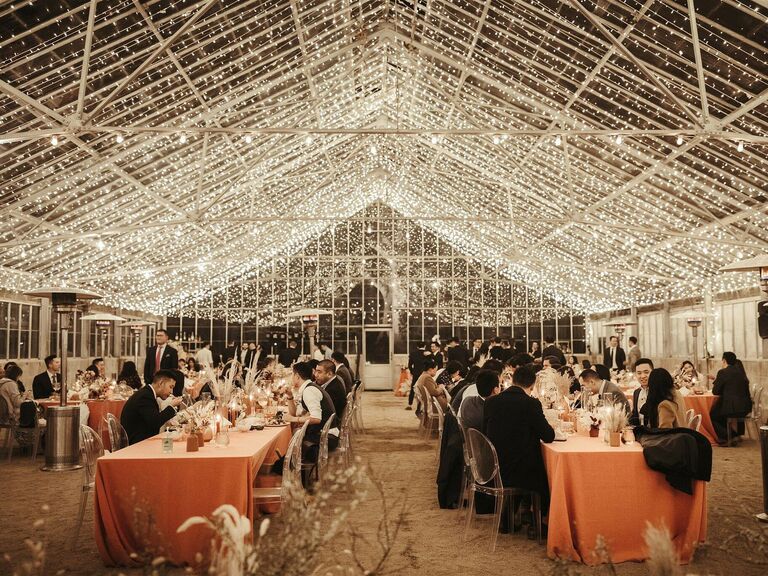 Light up the night and the beautiful foliage around you with sparkling string lights. They'll look magical over the tables and the dance floor.
10. Cozy Fall Wedding Outdoor Furniture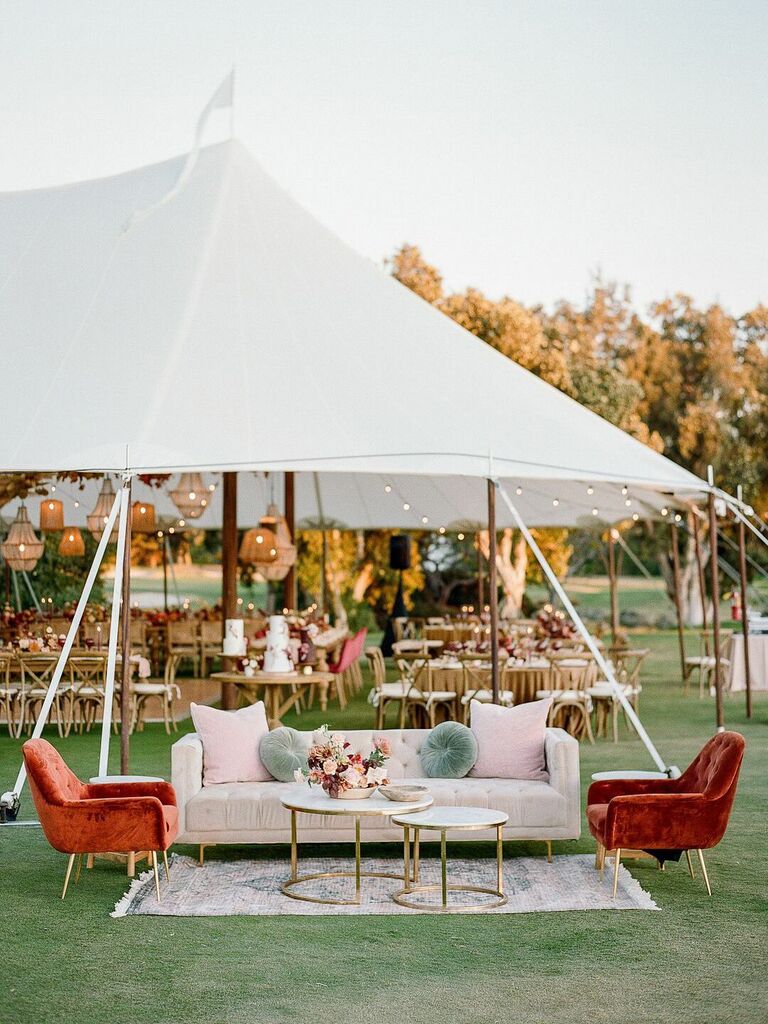 One of our favorite outdoor fall wedding ideas is creating a relaxing space for cocktail hour with plush furniture and twinkle lights. Your guests will score the perfect Instagram shot with this chic decor.
11. Wooden Bench Fall Wedding Ceremony Decor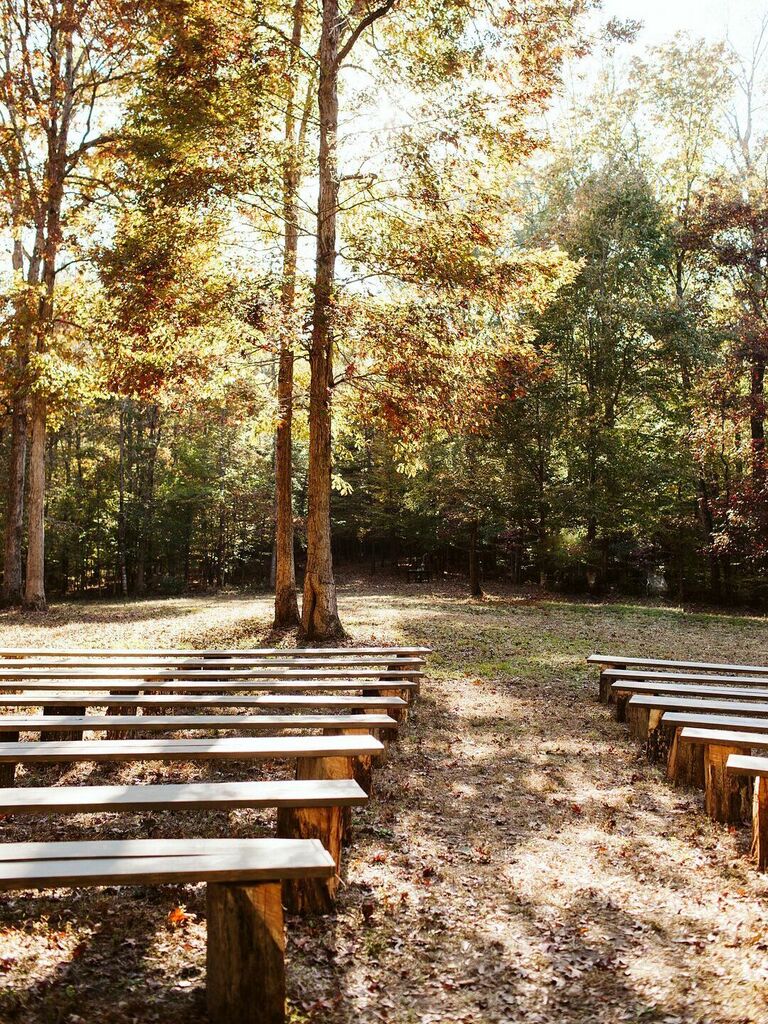 If you're searching for rustic fall wedding ideas, consider wooden benches for your ceremony guest seating. The wooden benches will draw your guests' attention to gorgeous natural surroundings.
12. Fruit and Vegetable Fall Wedding Decor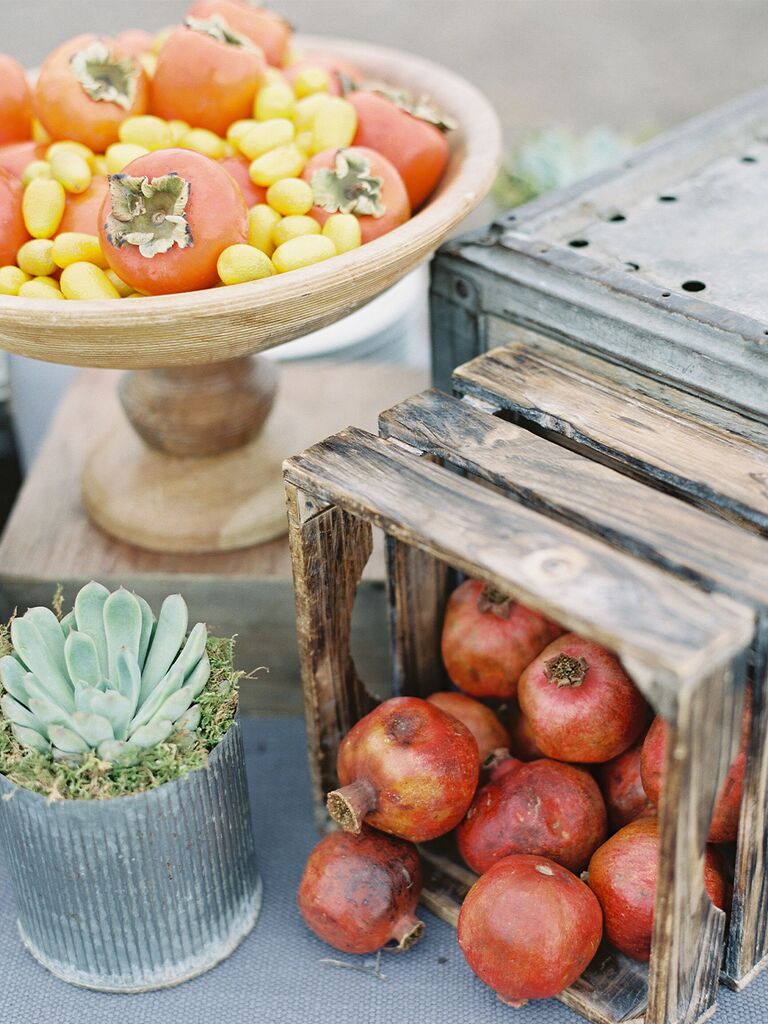 Have a mini fall harvest as decor at your wedding. This couple used wooden vessels to hold seasonal fruits and veggies.
13. Fall-Themed Wedding Reception Decor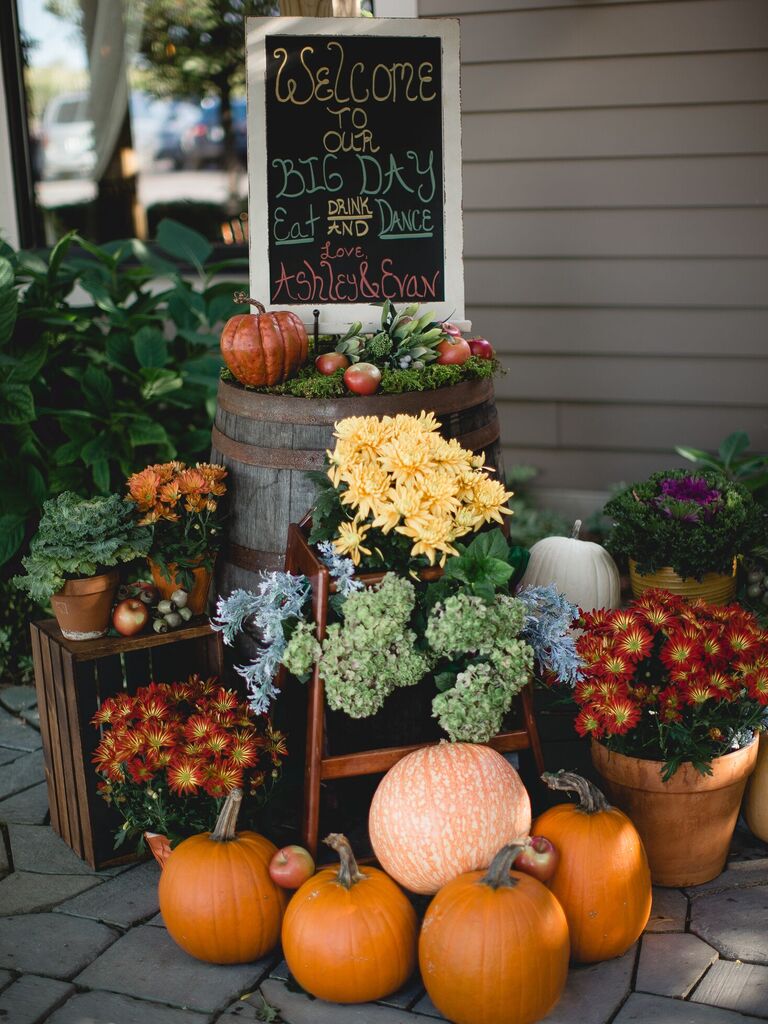 You can't have a fall wedding without at least one pumpkin sitting around. This couple had an assortment of pumpkins as reception decor at their venue's entrance.
14. Fall Leaf Wedding Ceremony Decor
At this intimate wedding, the love birds had ivory pillar candles lining the aisle. To add color to the scene, they also scattered fake fall leaves from the venue's entrance to the altar area.
Fall Wedding Color Ideas
Determining your wedding colors can be hard since there are so many great color combinations out there. To help, we gathered the most popular fall wedding color palettes below.
15. '70s Pastel Fall Wedding Colors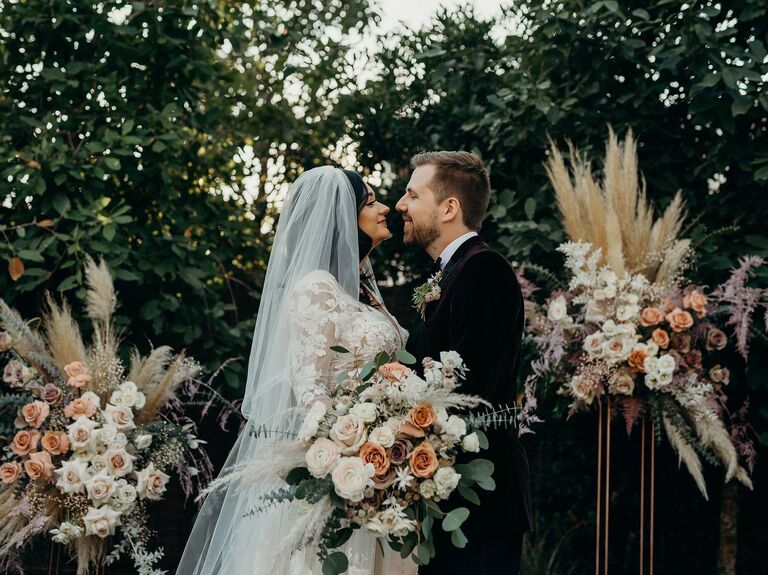 Pastels work for any season because they look beautiful at any time of the year. While pastels are typically for warm-weather weddings, these retro hues look equally stunning against fall foliage.
Find all the vendors you need
Discover top-rated pros for any budget, background and style.
16. Jewel-Tone Fall Wedding Colors
Jewel tones look picture-perfect in the fall. Have your wedding party rock mismatched attire to complement your gorgeous surroundings.
17. Neutral Fall Wedding Colors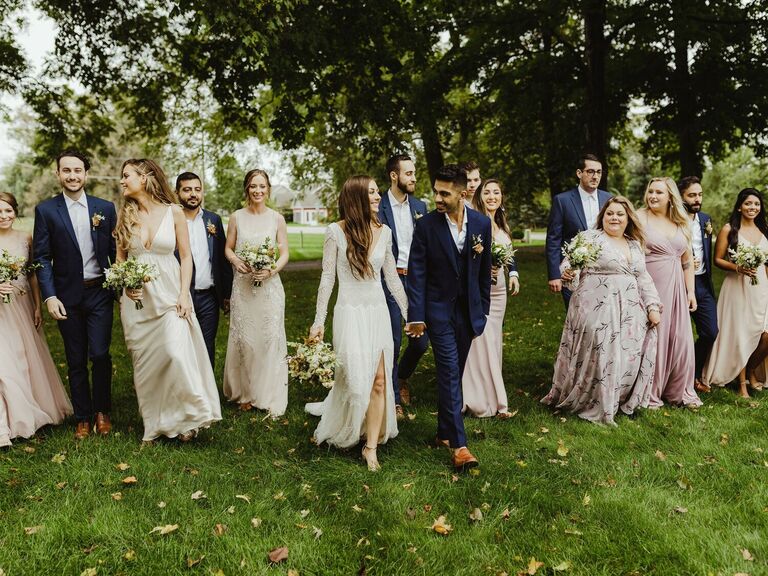 Normally, fall weddings bring dark and moody palettes to mind, but an airy neutral color scheme will look stunning in pictures and showcase the pretty autumn foliage.
Fall Wedding Centerpiece Ideas
To dress up your reception tables you'll need simple or unique accents. Check out these five centerpiece ideas for a fall wedding that just make sense.
18. Wooden Fall Wedding Centerpiece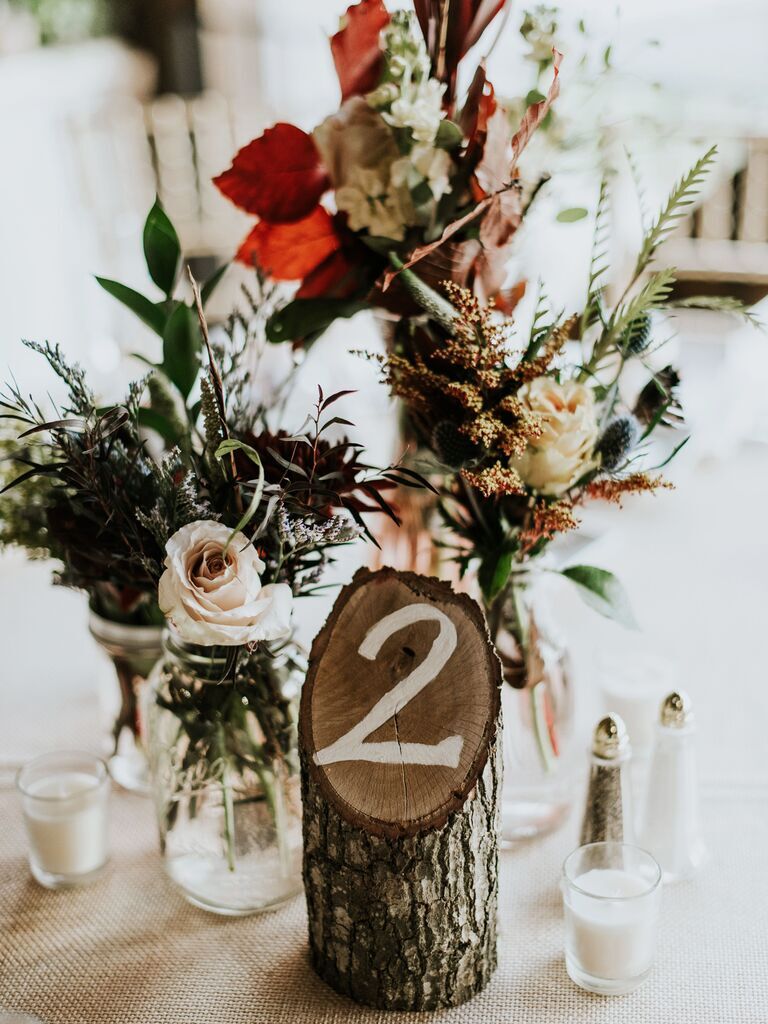 Bring a rustic feel to your tables with wooden stump centerpieces. Add mason jars filled with wildflowers and candles for a charming tablescape.
19. Bold Fall Foliage Wedding Centerpiece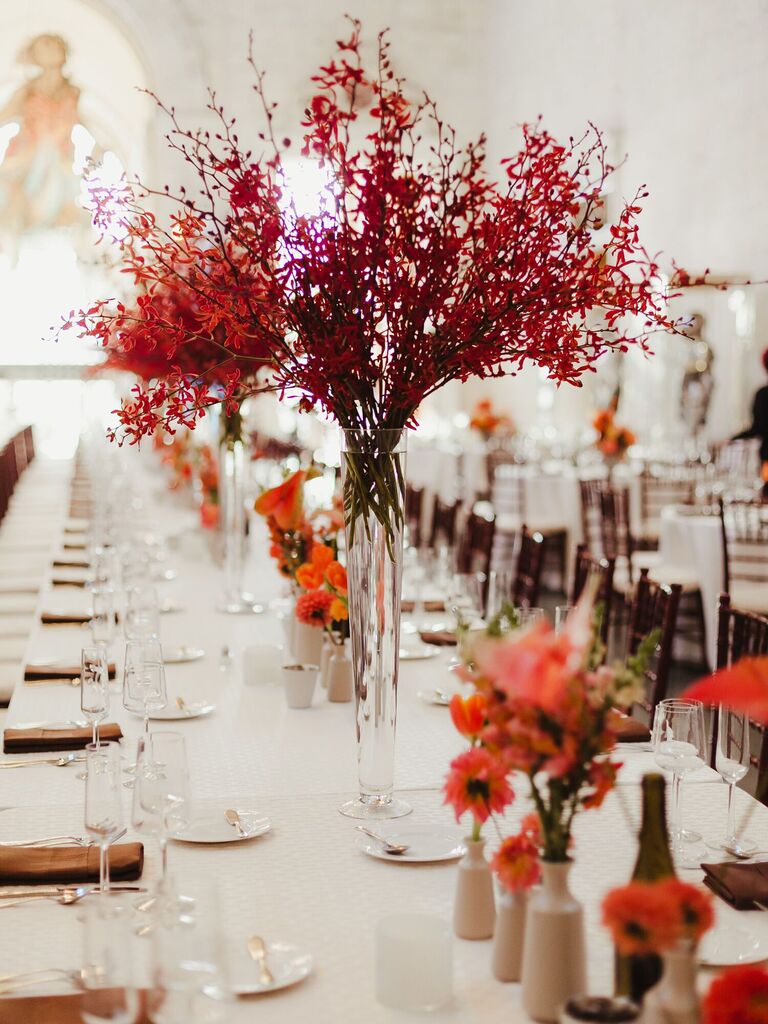 You can (and should) consider having bright color palettes for your fall wedding. Case in point: these jaw-dropping James Storie red aranthera orchid centerpieces.
20. Dark and Moody Fall Wedding Centerpieces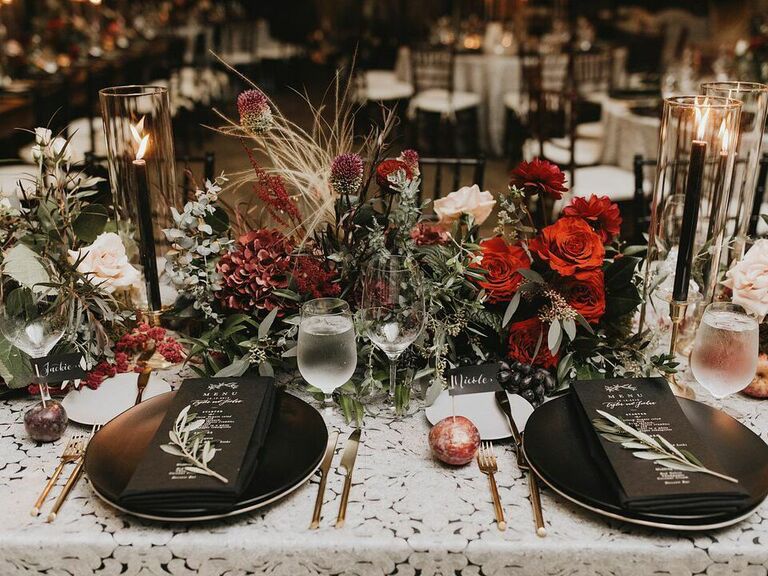 For a dramatic and festive vibe, bring darker hues into your tablescape designs. Black plates, food menus, name cards and florals are simple ways to make a bold statement.
21. Lush Greenery Fall Wedding Centerpiece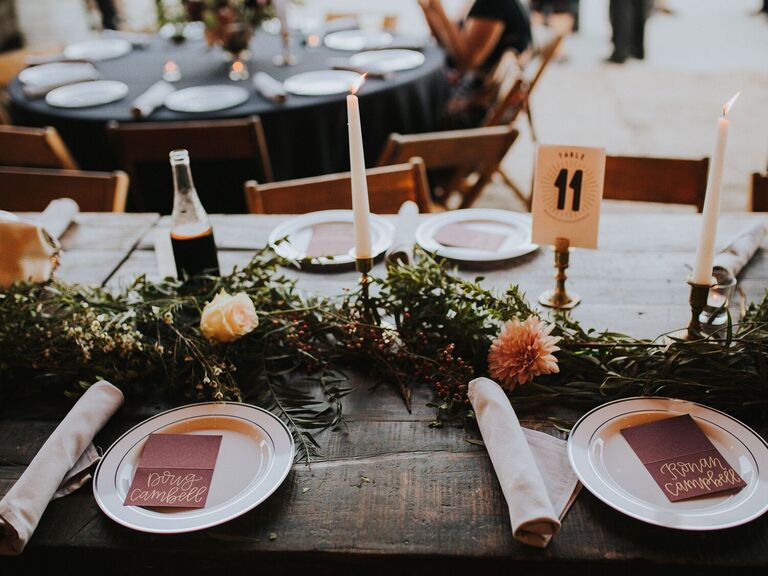 Fall wedding centerpieces made of greenery feel appropriate and extremely chic. Add dark or pastel seasonal blooms to make the decor seem like you're bringing outdoors in.
22. Fall Macrame Table Runner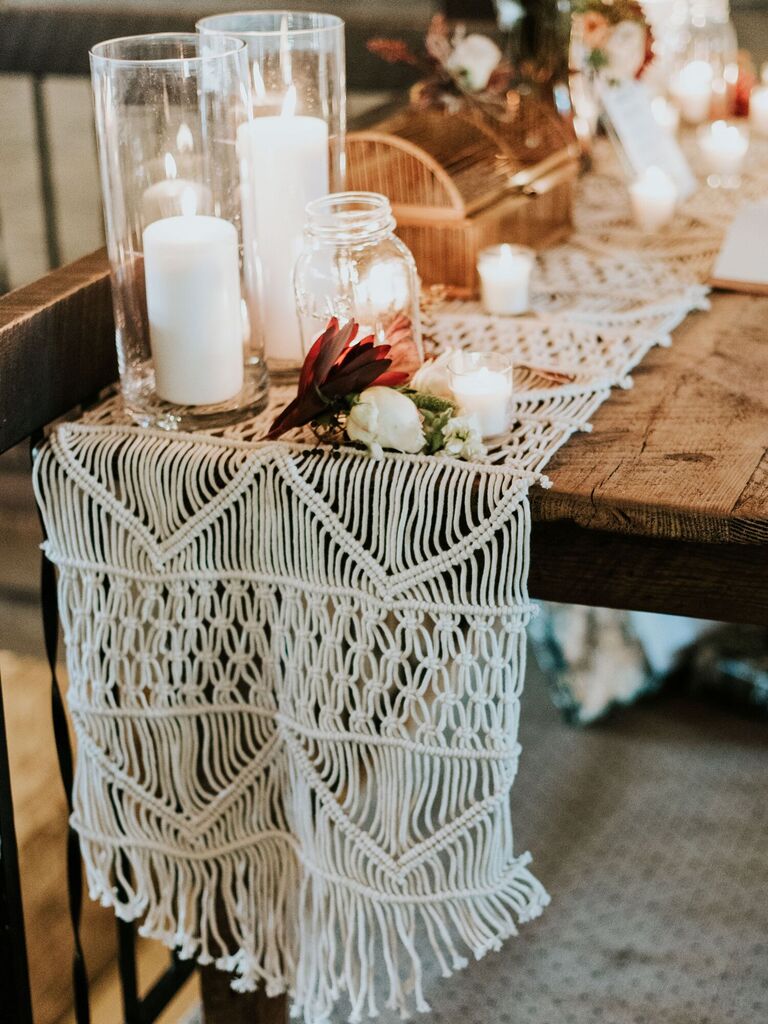 We love macrame accents for fall weddings because they're the perfect combination of cozy and stylish. Macrame is one of the best fall wedding table decoration ideas, but it can also be used for escort card displays or photo backdrops.
Fall Wedding Bouquet Ideas
Send yourself and your wedding party down the aisle holding breathtaking wedding bouquets. If you choose one of these fall favorites, we know you'll want to preserve them after the big day.
23. Jewel-Tone Fall Wedding Bouquet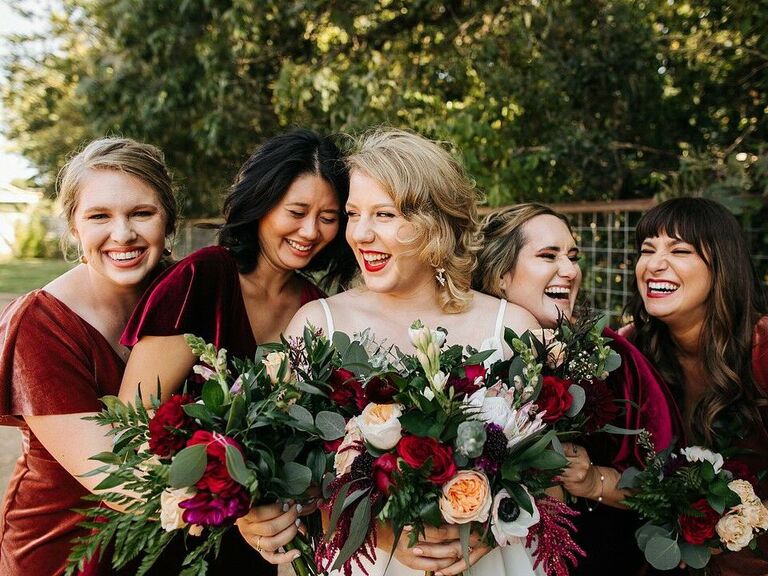 As we've said before, jewel-tone colors are great for any autumn wedding. Incorporate sapphire, ruby, emerald, gold and more hues into the bouquet for the perfect arrangement.
24. Whimsical Fall Wedding Bouquet
We love how dynamic these fall blooms are. The bride's florist added orchids, dahlias, roses, thistles and more to create a bouquet worth putting on Insta.
25. Burgundy-Forward Fall Wedding Bouquet
Just about every part of this bouquet has touches of yellow, green or purple which makes it look like a cohesive masterpiece. "I cried when I saw my bouquet because it was so beautiful," Katie, the bride, told The Knot.
26. Bohemian Fall Wedding Bouquet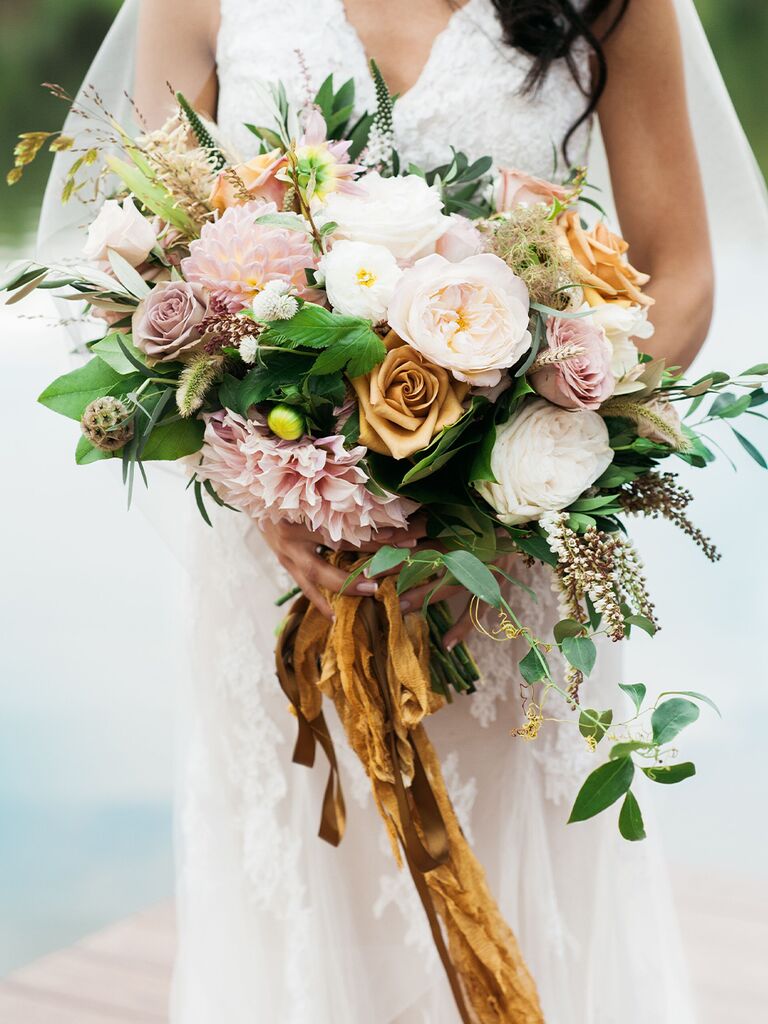 This romantic fall bouquet is perfect for people who want to stick to a neutral color palette. Our favorite part about this spray of flowers is the assorted brown and gold ribbons that hold them all together.
27. Dark and Moody Fall Wedding Bouquet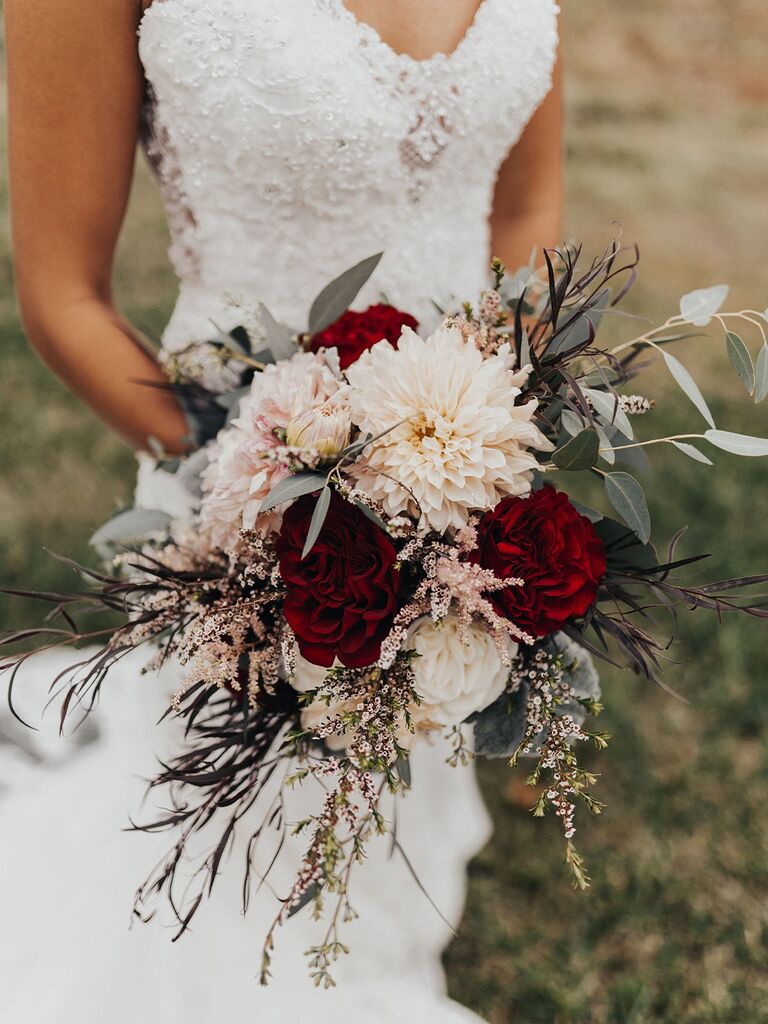 At this fall wedding, the bride had one of the most eye-catching wedding bouquets we've ever seen. Filled with a mix of roses, dahlias, astilbe and greenery the arrangement was a show stopper.
Fall Wedding Flower Ideas
Now that we've addressed bouquets, we can focus on wedding flower decorations for your ceremony and reception. Here are some ways to dazzle your guests with your favorite fall blooms.
28. Hanging Ombré Fall Wedding Flowers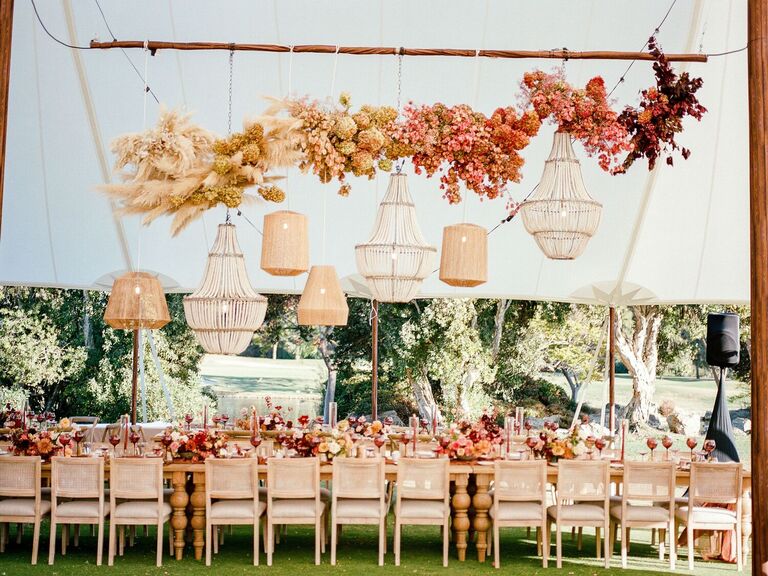 Because both light and dark colors work in the fall. That's why you should work in the full spectrum of colors into your floral arrangements. Collaborate with your florist to create a jaw-dropping installation like this one.
29. Dried Fall Wedding Flowers and Foliage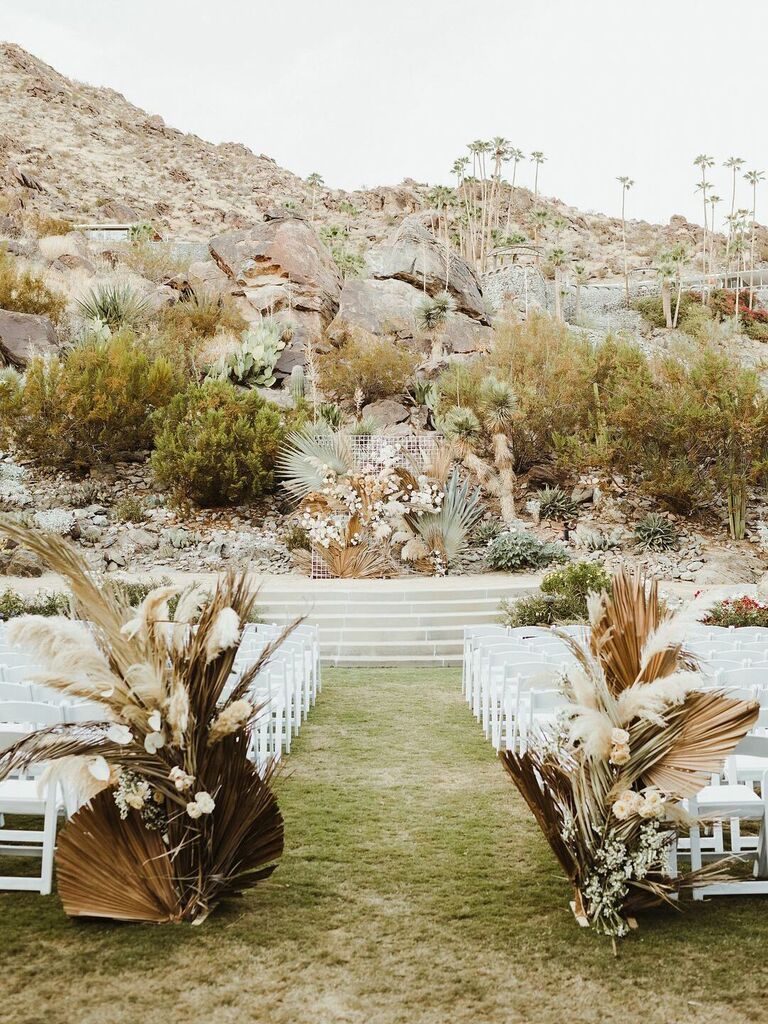 Accent the green foliage with neutral-color dried florals––yes, pampas grass is a must. They'll add an effortlessly cool boho vibe.
30. Rustic Fall Wedding Flower Wreath
At this beautiful affair, the couple had wreaths hanging from the white rustic doors that acted as the entrance to their outdoor wedding. The wreath baskets held fresh flowers, like hydrangeas and amaranthus.
31. Gorgeous Fall Floral Wedding Arch
This wedding arch really looks like something out of a fairytale. The untamed foliage makes it seem like the wedding arch grew out of the ground just for the happy couple's nuptials.
32. Bohemian Fall Wedding Flower Arrangement
We love this oversized boho arrangement with dahlias, garden roses, pampas grass and wildflowers. The red velvet tied around the vase really screams tis' the season too.
Fall Wedding Food & Dessert Ideas
Two things I love about autumn, besides the sweater weather, are the food and desserts that come with it. Below are nine seasonal delights you can ask your caterer to make for your wedding.
33. Fall Wedding S'mores Station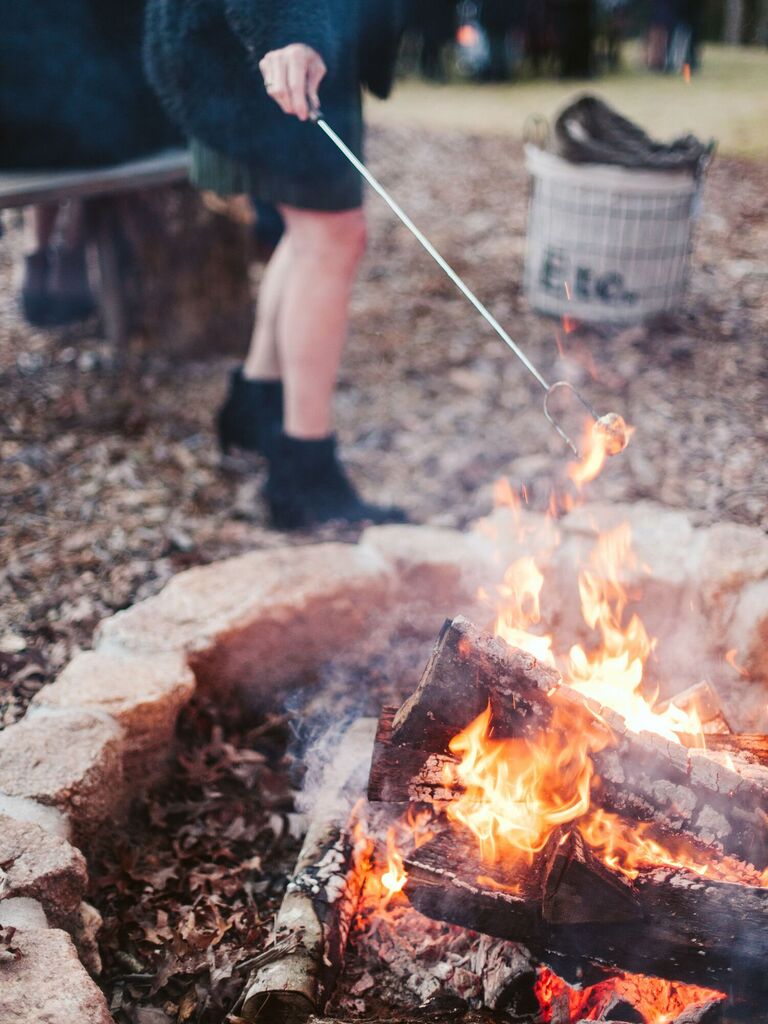 A s'mores station is one of the best fall wedding ideas ever. Not only will it look amazing in pictures, but your wedding guests will appreciate the sweet treat.
34. Fall-Inspired Wedding Cupcakes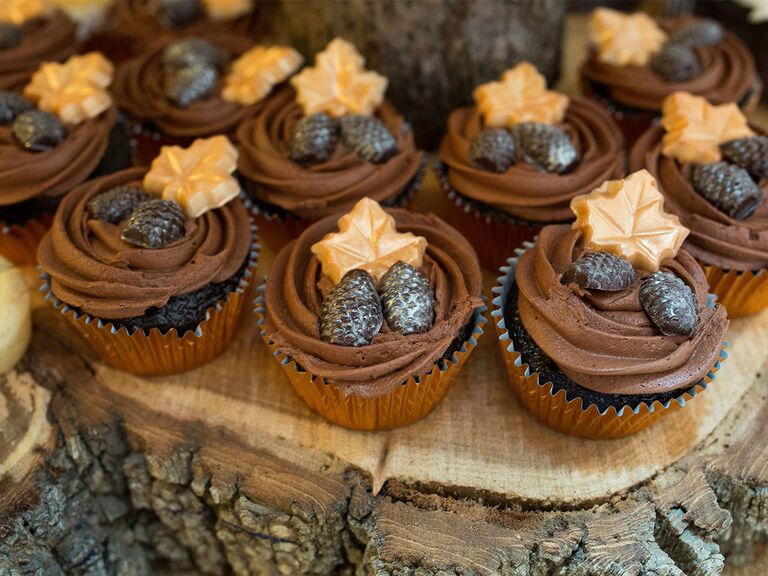 The bride and groom had chocolate cupcakes on their dessert table that perfectly fit the rustic fall wedding. Each cupcake was topped with a chocolate leaf and pinecone-shaped candies.
35. Leaf-Shaped Fall Wedding Cookies
Another must-have fall wedding idea is having a leaf motif on your big day. These leaf-shaped sugar cookies are a simple way to accomplish the goal without going overboard.
36. Fall Wedding Food Appetizers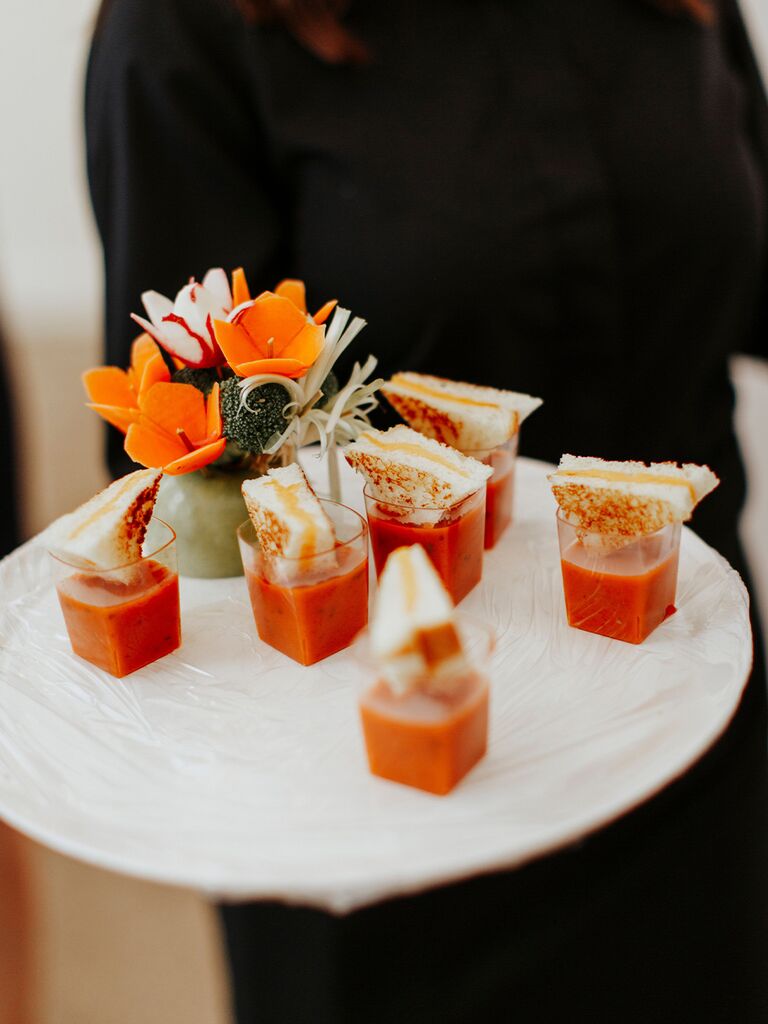 Grilled cheese sandwiches and tomato soup are a classic signal that there's a chill in the air. Serve these homey shooters at your cocktail hour.
37. Fall Wedding Acorn Squash Bisque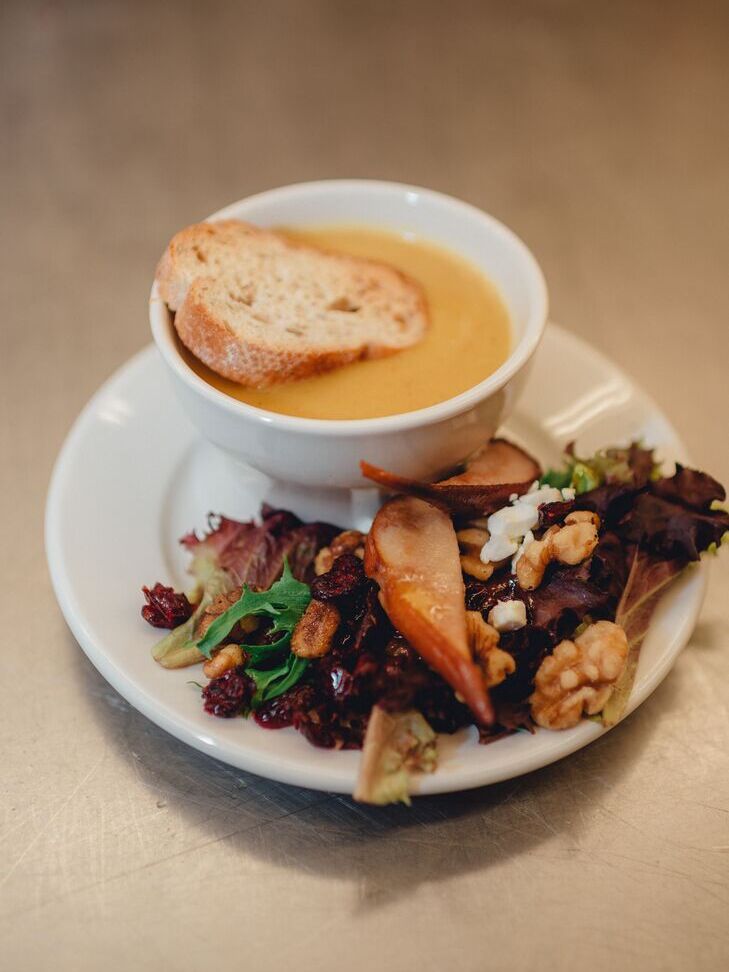 As the starter, the newlyweds offered guests a roasted pear salad and an acorn squash bisque. Your fall wedding food ideas don't have to be unique, anyone will tell you that having squash on your menu is always a good move.
38. Elegant Fall Wedding Cupcakes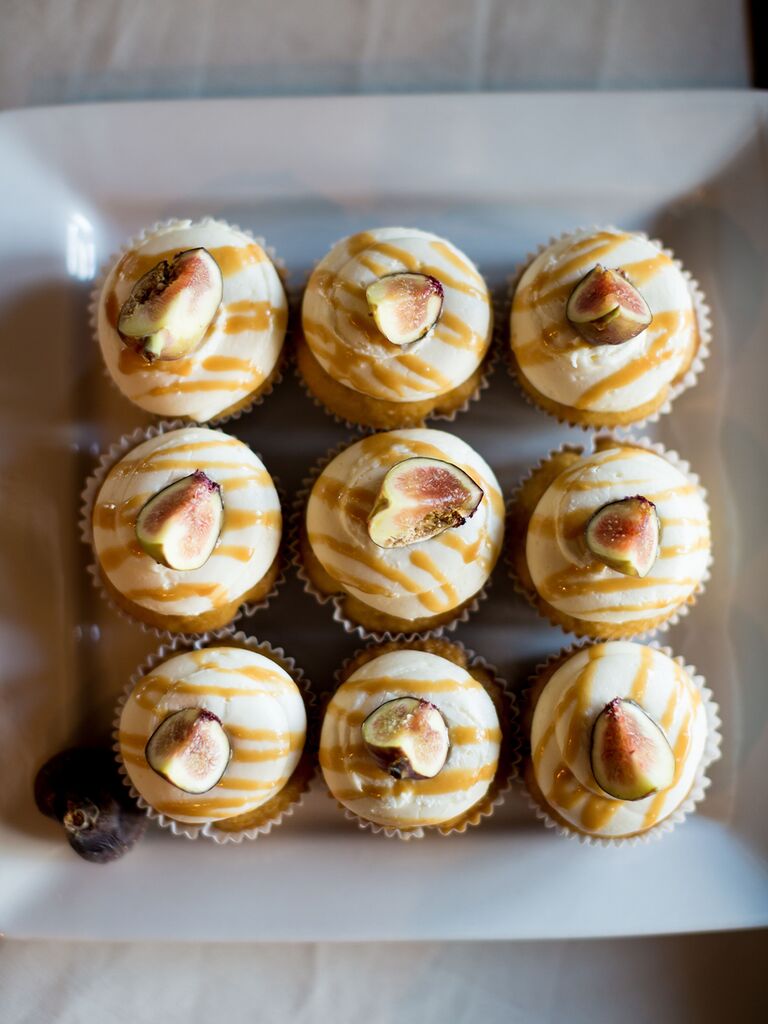 Figs are another seasonal staple you should include on your wedding menu. At this fig-centered wedding, the newlyweds served pumpkin and fig cupcakes with caramel drizzle and another batch with honey drizzle.
39. Fall Wedding Chicken Potpie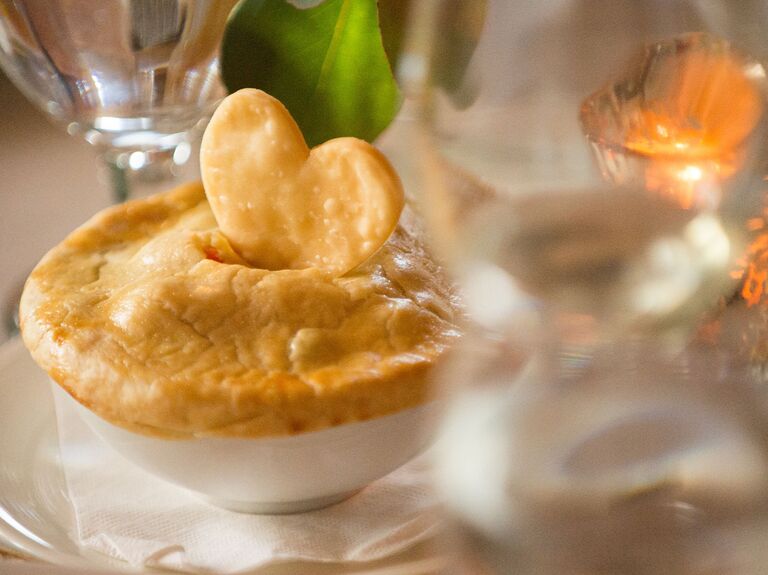 You really can't go wrong with having comfort food on your menu. We love how these personal chicken potpies have a heart-shaped crust topper.
40. Fall Wedding Dessert Bar
This is one of the best fall wedding dessert ideas on the list. As a late-night snack, the couple had an apple cider doughnut and drink station. Don't let your wedding night end without serving something like this at the reception.
41. Homemade Fall Wedding Pumpkin Pie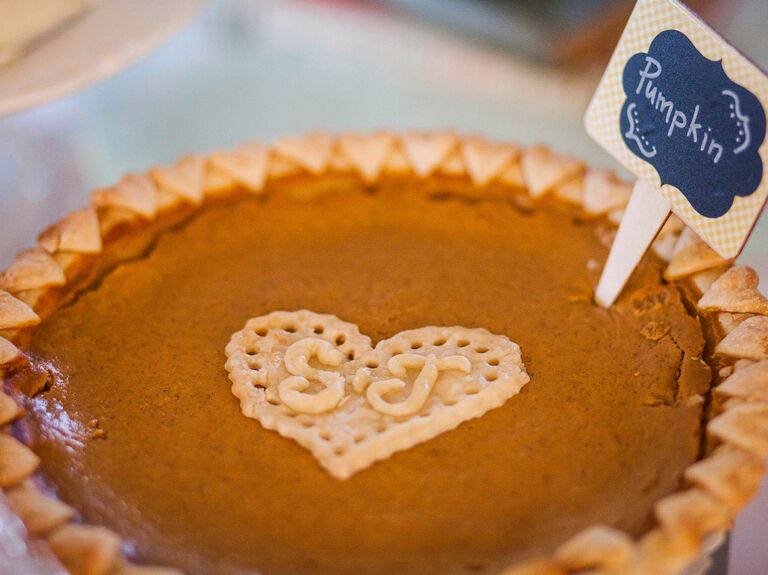 The bride's mother made several pies for the happy couple's wedding dessert table. We love how this pumpkin pie has a pie crust topper with the bride and groom's initials.
Editor's Picks: Wedding Ideas for Fall
No joke, fall is my favorite season, so I'm happy to share my top autumn wedding ideas. These are ideas that didn't quite fit in the categories above, but I deemed them necessary for this list to feel complete.
42. Fall Wedding Recessional Idea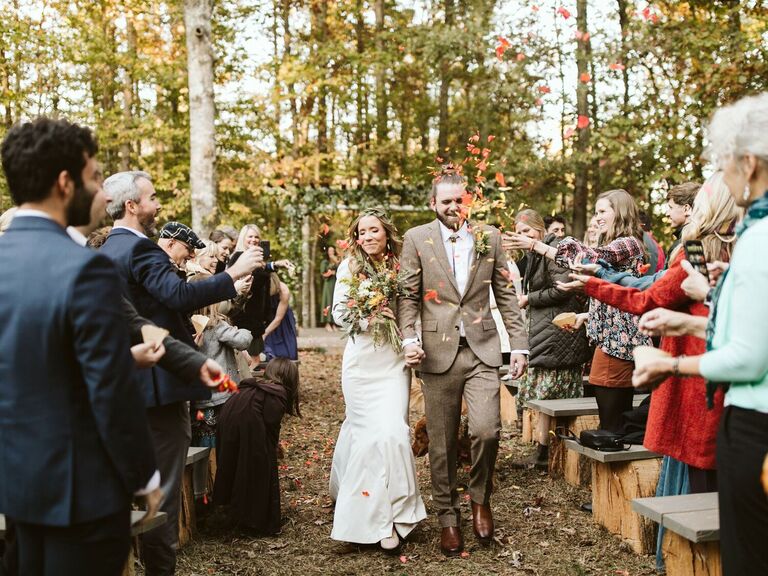 Here is one of my favorite free and simple fall wedding ideas. Swap out a traditional confetti send-off for a more seasonal option. Have your guests toss colorful leaves while you and your partner walk down the aisle at your outdoor ceremony.
43. Soft Fall Wedding Blankets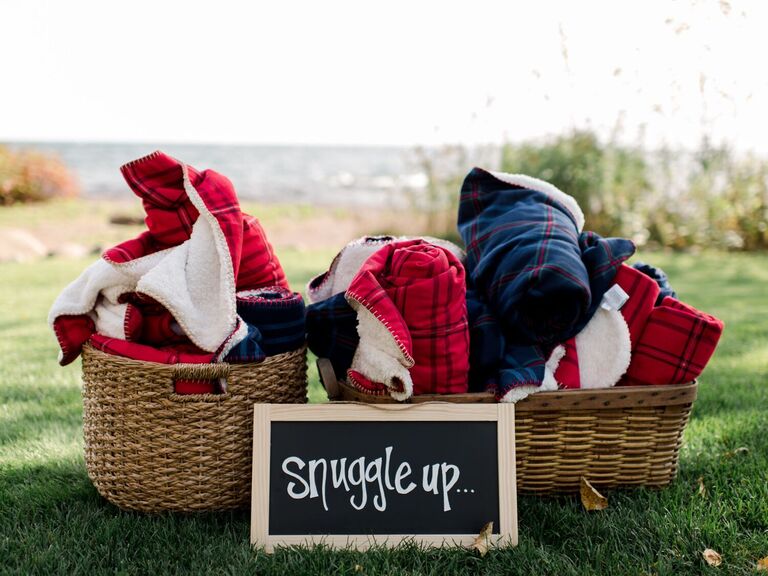 If you're looking for other outdoor fall wedding ideas, this is a must. Hand out cozy blankets to your guests so they can comfortably sit while watching you and your partner exchange vows.
44. Fall Wedding Barn Venue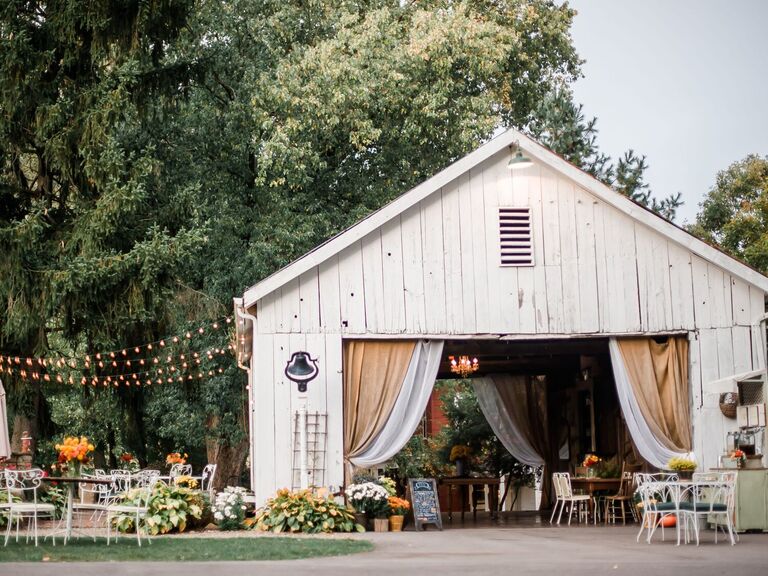 The colder weather and pretty foliage lend themselves perfectly to a rustic theme. Consider hosting your nuptials at a barn for the ultimate fall wedding venue. Whether you're hosting a casual barbecue or a formal dinner, the barn will be a picturesque backdrop.
45. Dark Fall Wedding Party Attire
For moody couples, have your wedding party dress in mix-matched dark hues. You can even see if people are comfortable wearing velvet, which is the right balance of cozy and chic––perfect for fall.
46. Fall Wedding Couple's Photo Shoot
If there's an abundance of colorful autumn leaves in the trees and on the ground during your wedding, take advantage of it. Pose among the foliage for a stunning photo shoot like this couple.
47. Minimalist Fall Wedding Invitations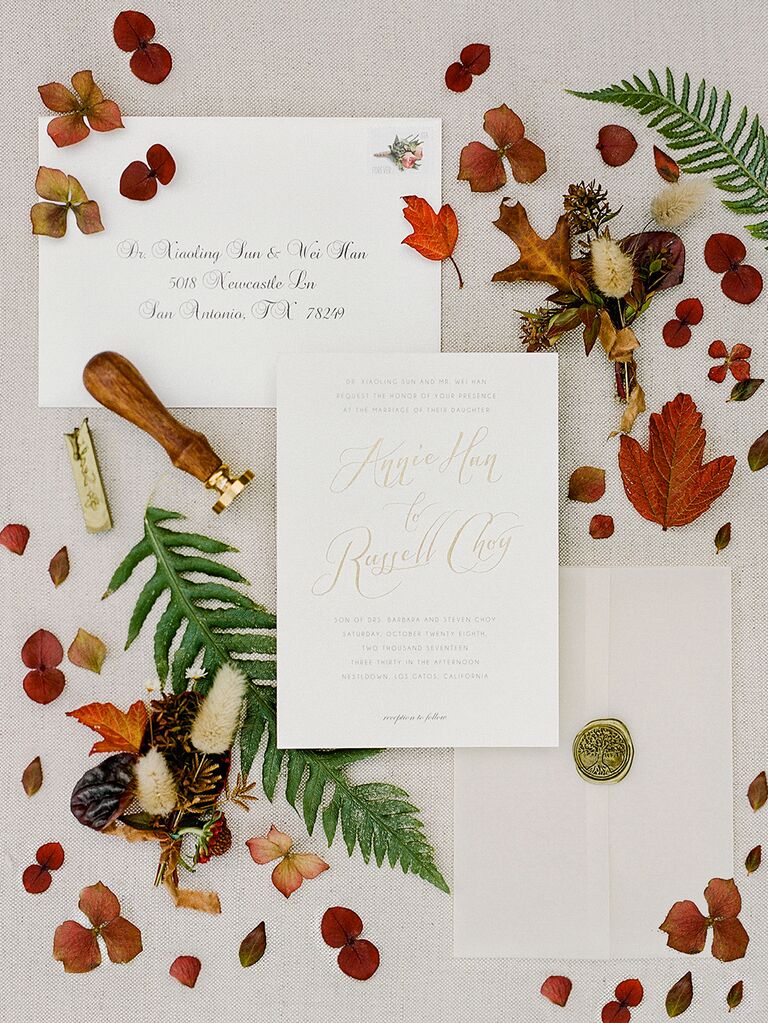 Not all elegant fall wedding ideas have to be over the top. Romantic calligraphy, gold accents and a custom wax seal are all it takes to wow your guests.
48. Fall Wedding Sweetheart Table
I love this dreamy sweetheart table setup. From the figs dispersed across the table to the autumn leaves sitting at the foot of it, it's something any fall lover would appreciate.
49. Maple Syrup Fall Wedding Favors
Give your guests something they'll actually want to use after the wedding. At this celebration, the couple handed out maple syrup wedding favors as a sweet surprise.
50. Fall Wedding Apple Escort Cards
I didn't think fall wedding reception ideas could get even more unique, but I was wrong. Instead of your typical escort cards, guests literally picked their seat assignments from baskets filled with apples. Each apple leaf was labeled with the guest's table number.