Everything You Need to Know About Getting Married in Maryland
Look to The Knot for local details about getting married in Maryland, from choosing your wedding venue to getting your marriage license.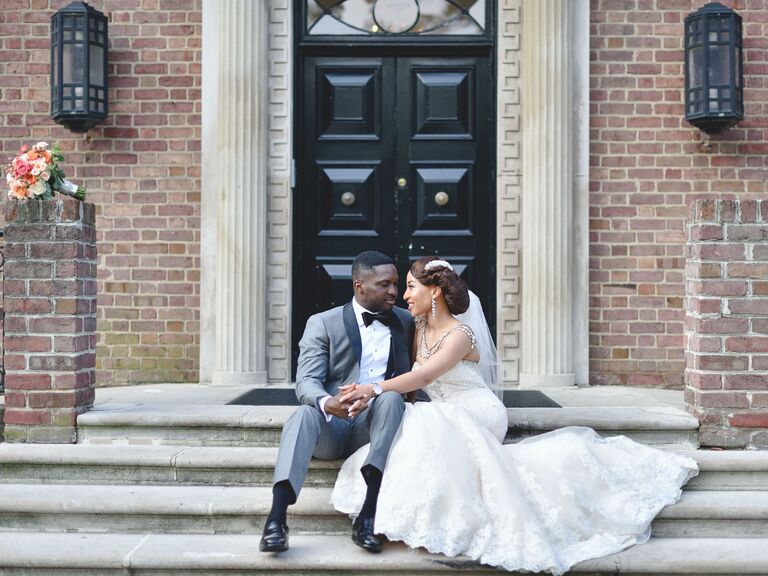 Tunji Sarumi Photography
Ultimate Guide to Getting Married in Maryland
With bustling cities, a multitude of golf courses and stunning bays that make an incredible setting for first look photos, Maryland truly has it all when it comes to hosting a wedding. Just like the state flower, the black-eyed Susan, getting married in Maryland is all about versatility.
Offering astounding diversity, the Maryland landscape ranges from the coastal areas of Delmarva Peninsula to the Blue Ridge Mountains, making the state an ideal setting for a wedding ceremony, no matter what your tastes might be. Visitors to Maryland enjoy a plethora of geographic wonders, and you can choose from an abundance of Maryland wedding venues for an unforgettable indoor and outdoor ceremony. Follow your wedding checklist to help you plan.
Top Wedding Trends in Maryland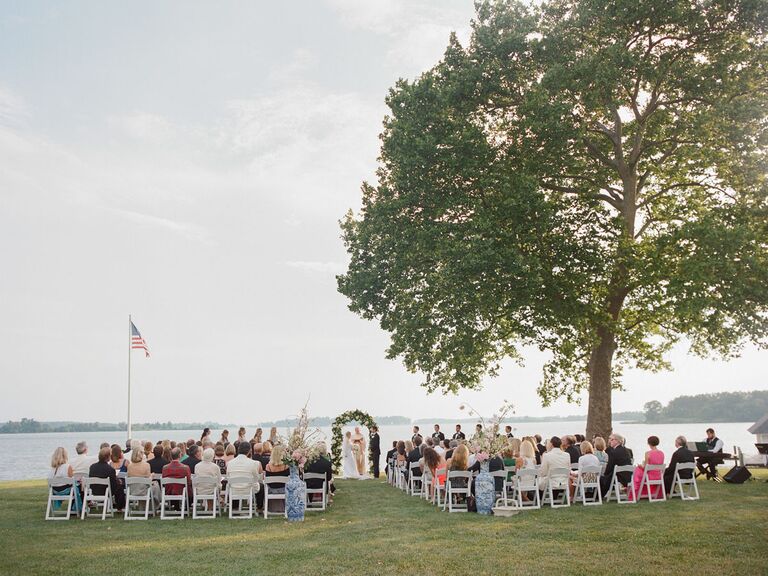 Wedding traditions in Maryland may differ from one location to another, but generally couples who choose to tie the knot in the Old Line State are big on tradition. Some couples choose an urban setting such as vibrant Baltimore or Columbia for their ceremony and reception, whereas others prefer to take to the beach to celebrate their nuptials. Quaint inns, banquet halls, golf courses and elegant country clubs are just some of the options Maryland couples have when planning their wedding.
A large percentage of couples opt for a semiformal or formal black-tie event, with 82 percent of the couples who tied the knot in 2015 opting for this wedding style. If a casual wedding is what you have been dreaming about, join the 18 percent of couples who opt for this laid-back way of getting married in Maryland.
Maryland Marriage Rates and Wedding Costs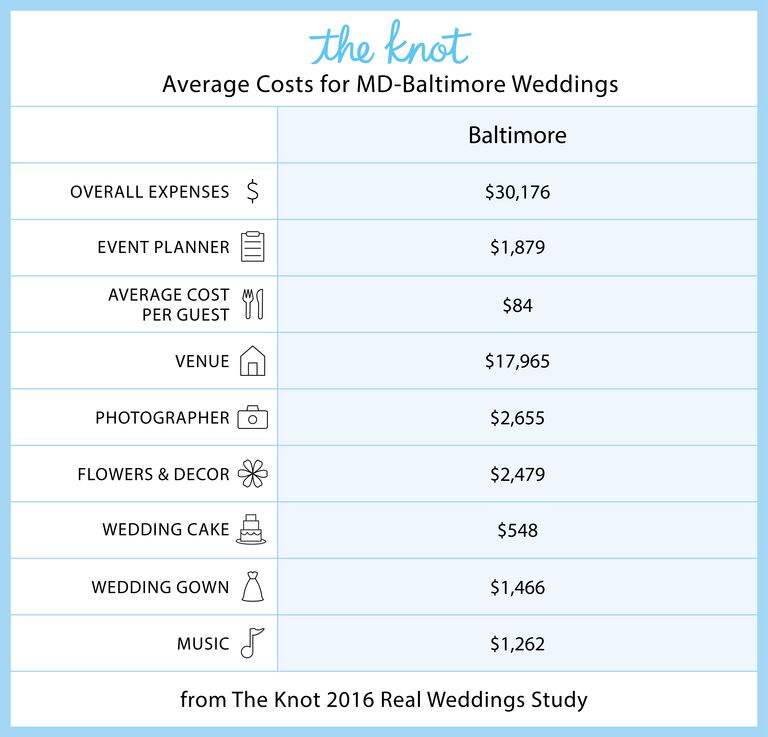 One of the most difficult parts of planning a wedding is creating a budget and then sticking to it. No matter what kind of wedding venue in Maryland you choose, a well-thought budget will allow you to make the most of your wedding and enjoy it at the fullest.

By using The Knot Wedding Budgeter tool, you can get specialized help to track your spending and learn more about the costs involved in getting married in Maryland. Before starting your budget, have a look at the costs involved in having a wedding in Maryland, according to costs provided by The Knot 2015 Real Weddings Study.
Maryland Marriage Statistics

The number of marriages in Maryland every year is similar to the national average at 6.5 per 1,000 people. Couples who choose to get married in Maryland tend to spend more than the national average on their wedding, with the average for 2015 being $31,078. Grooms-to-be spend an average of $5,856 on the engagement ring in Baltimore, and the average spend per guest is also above the national average at $260, according to The Knot 2015 Real Weddings Study.

Average Costs for a Maryland Wedding

By choosing to break down the expenses for your wedding, you can easily see how much you spend on each element of the ceremony or on fashion purchases. Moreover, a well-designed budget can be of help when it comes to interacting with vendors and negotiating the best rates. Above you can see the average costs for wedding venues in Baltimore, Maryland, which is the most popular wedding destination in the state.

Top Cities in Maryland to Tie the Knot

The amazing range of Maryland wedding venues across the state offers couples multiple options to choose from, whether their hearts are set on a bustling city or a quiet beach or a classy golf course. The most popular options for tying the knot in Maryland are:
Make It Legal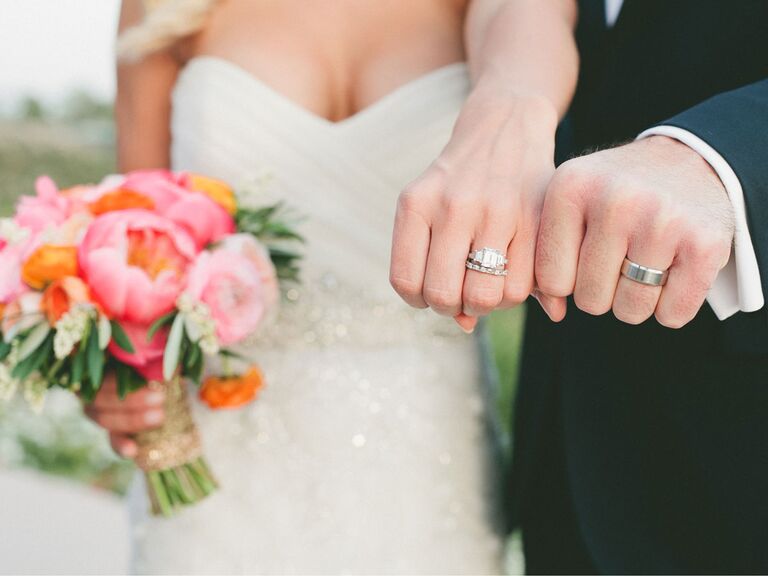 Getting a marriage license and taking care of other practical aspects is essential for a worry-free day that goes exactly as planned. From obtaining marriage license in Maryland to changing your name after the ceremony, take care of all the legal details before tying the knot.
The application process for a marriage license in Maryland differs from one county to another, but as a rule of thumb, the bride and groom are required to present identification documents and prove they are of legal age before submitting their application. To get married in Maryland, both parties need to be over 18 years old.
The good news is that it only takes about 15 minutes to apply for a marriage license in Maryland. You need to apply for a marriage license at least 48 hours before the ceremony. Below is a list with the documents and other legal requirements usually necessary to submit your application:
Full name and residence of both parties
Age of each party demonstrable with birth certificates
Social Security numbers for both parties
Divorce dates if either party was previously married
A license fee that varies according to county.
With the marriage license in hand, you need to think about who will perform the ceremony in front of your family and friends. In Maryland, marriage ceremonies can be performed by an ordained minister of a religious order, a judge, a clerk or a deputy clerk designated by the county administrative circuit court judge.
Permits and Other Legal Requirements for Maryland Wedding Venues
If you would like to choose a stunning beach, a national park or a historic building as your wedding venue in Maryland, you may need to get a permit to be able to celebrate your special day there. In most cases, you need to book an appointment with the administration of the venue to discuss the details and getting your permit if necessary. Keep in mind that popular destinations such as state parks are often fully booked for months in advance, so plan accordingly.
Rental charges may also be required for some parks such as the Sandy Point State Park or the Janes Island State Park. Some of the venues only accept local approved vendors for weddings taking place on the premises, whereas for others you may need to obtain a Maryland Park Service alcohol permit, usually available at the time you make the reservation.
How to Change Your Name After the Wedding Ceremony in Maryland

Newlyweds who decide to change their name after marriage can do so in Maryland by providing Social Security Administration and DMV with documentation proving the new name. To change the name on your Social Security card, you need to provide proof of identity in the form of a passport or driving license, as well as a copy of your marriage certificate. You will also need to fill out an application form and send it by mail to your local Social Security office.
In order to change your name on your Maryland driver's license, you need to notify DMV and provide them with proof of your name change, proof of Maryland residency and proof of Social Security number.
If you want to take the hassle out of the process or simply want to avoid waiting in line at the DMV or Social Security office, then let us help. Sign up for HitchSwitch and let this name change service do all the work, and you can complete the process in just a matter of minutes.
It's All About Timing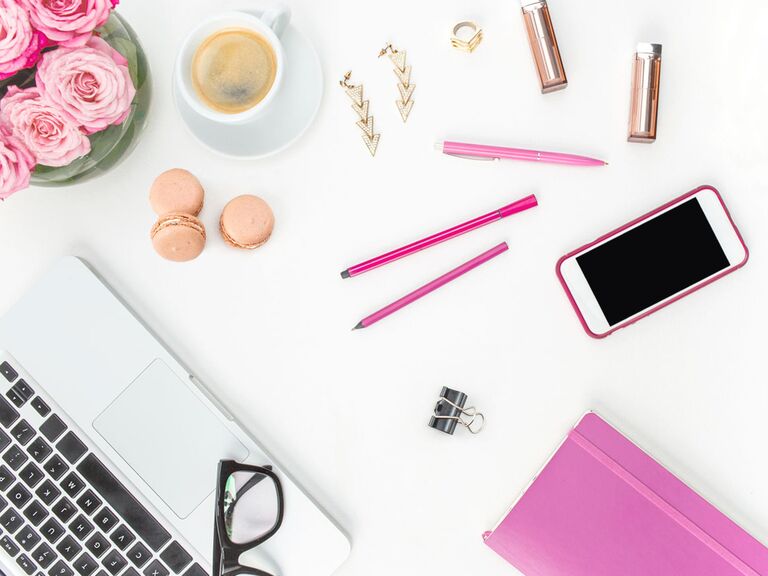 Summer and fall are the most popular seasons for getting married in Maryland, according to The Knot 2015 Real Wedding Study; 35 percent of couples chose summer for their wedding, while 42 percent opted for a fall wedding. Spring is the third most popular option, with 19 percent of the couples deciding to get married in Maryland between the months of March and May.
Four Season Wedding Possibilities in Maryland
The main reason for which Maryland couples decide to get married in summer and fall has to do with temperatures. The state has two climates, and the highest temperatures occur in July, averaging in the mid to upper 80s. Weather in Maryland is generally mild year-round, so winter weddings are also an option for couples dreaming of a winter wonderland ceremony.
In summer, temperatures generally average 72.7 degrees Fahrenheit in Maryland, and humidity might reach higher levels in the southern and eastern areas. The warmest month of the year is July, when temperatures average between 85 and 89 degrees Fahrenheit. The nights are generally cooler, which makes them ideal for an outdoor reception. Almost every year, heavy rains and high winds occur in August and September as a result of hurricanes moving up the East Coast.
Maryland Wedding Dates to Avoid

When picking the wedding date, it is important to consider other family events such as anniversaries and birthdays to make sure dates don't clash. Moreover, you should also avoid busy weekends when special events and festivals take place in Maryland, as this will ensure guests can arrive comfortably at the wedding destination and that they can find hotel accommodation without hassle.
If you are on a budget, it is a good idea to avoid national holiday weekends, as prices are higher during those periods. Have a look at our comprehensive guide for wedding dates that are best to be avoided in order to be sure the choice is perfect. Below you will also find some of the local events that take place in Maryland in 2017 and will certainly make certain weekends extra busy:
Dr Martin Luther King Jr Parade, Baltimore (mid-January)
St Patrick Parade, Baltimore (mid-March)
Preakness Stakes, Baltimore (mid-May)
Baltimore Kinetic Sculpture Race, Baltimore (early May)
Independence Day Celebration and Fireworks, Annapolis (July 4)
African American Festival, Baltimore (early July)
Baltimore Book Festival, Baltimore (late September)
Great Guest Experiences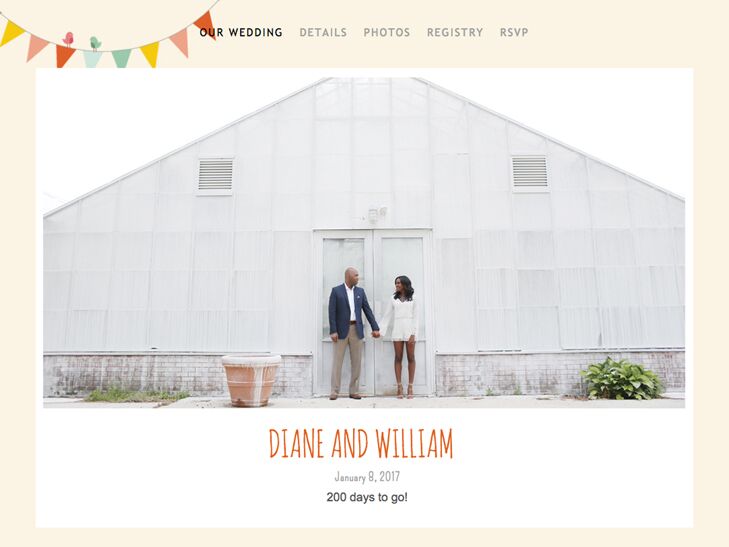 The key to a perfect, memorable wedding is to keep guests happy and entertained for the duration of their stay and fortunately this is very easy to do in Maryland. The wide range of wedding venues in Maryland means that it is possible to offer everyone an incredible experience. By creating a wedding website, you can keep the entire family updated on the progress of the wedding planning, and let them know all the details they need for having the time of their life at your wedding.
Around Town: What to Do and See in Maryland
Maryland is a place where you can easily discover numerous cultural and entertainment attractions to suit the preferences of just about anyone. From museums to state parks, there are numerous possibilities to entertain your guests during the wedding weekend. Below are some of the best tourist attractions in Maryland:
Baltimore & Ohio Railroad Museum, Baltimore
Antietam National Battlefield, Sharpsburg
Assateague State Park, Assateague Island
Baltimore Inner Harbor, Baltimore
Rocks State Park, Jarrettsville
Chesapeake & Ohio Canal National Historical Park
William Paca House and Garden, Annapolis
Gunpowder Falls State Park, Kingsville
Finding Your Way: Maryland Travel Info
Maryland is a state with an extensive traveling infrastructure, so it should not be difficult for any of your guests to reach the wedding venue. For those who prefer to travel by air, the Baltimore/Washington International Thurgood Marshall Airport, Salisbury-Ocean City Wicomico Regional Airport and Hagerstown Regional Airport provide quick ways to get just about everywhere in the state.
A range of interstate highways is available for those who want to drive to your wedding venue in Maryland. These include the I-68, I-70, I-95, which links the most important metropolitan centers on the East Coast, I-695 and I-895, which bypasses downtown Baltimore.
Go Local: Food and Favors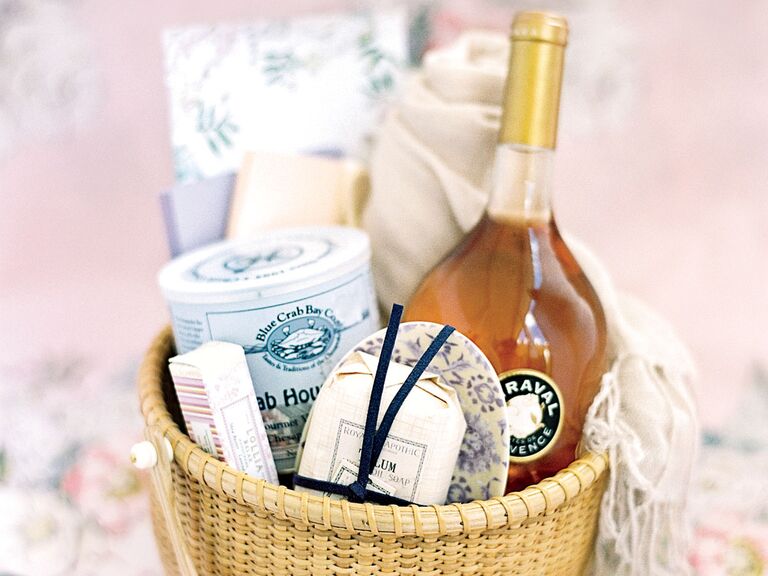 Whether both the bride and the groom stem from Maryland, or if you are welcoming family members from across the country and the world, it is always a good idea to incorporate local food into the wedding reception for an authentic touch.

Bring Authentic Maryland Flavors Into Your Wedding

From steamed blue crabs and Smith Island Cake to National Bohemian beer and cream of crab soup, there are so many unique flavors to discover in Maryland. Opt for stuffed ham filled with onions and greens for a truly unique Southern Maryland tradition, or add Crabby Bloody Mary to your wedding buffet for an element of surprise.
For a summer wedding, don't forget about traditional snowballs, a flavorful old tradition in Baltimore, or surprise your guests with an Orange Crush, which makes the perfect companion for spicy crab. Opt for oysters for a change if you're not a crab fan, as the Chesapeake Bay is abundant with them.
Do Your Guests a Favor: Maryland-Inspired Take-Home Treats
Wedding favors are the perfect option to send your guests away with a little something that will remind them of the event. Do-it-yourself wedding favors that incorporate Maryland-specific elements are always a good idea, but you can also opt for other cute ideas such as Old Bay wedding favors. A bag filled with local goodies is another great idea for a Maryland wedding favor. Check out The Knot Shop for other personalized wedding favor ideas.

Maryland City Guides

Maryland is home to thousands of wedding venues that can help you choose the exact destination that makes you happy with your choice for starting your new life together. If you are planning to get married in Maryland, have a look at some of the best wedding venues in Maryland and then turn to our wedding vendor marketplace to find the perfect local vendors to cater to your event.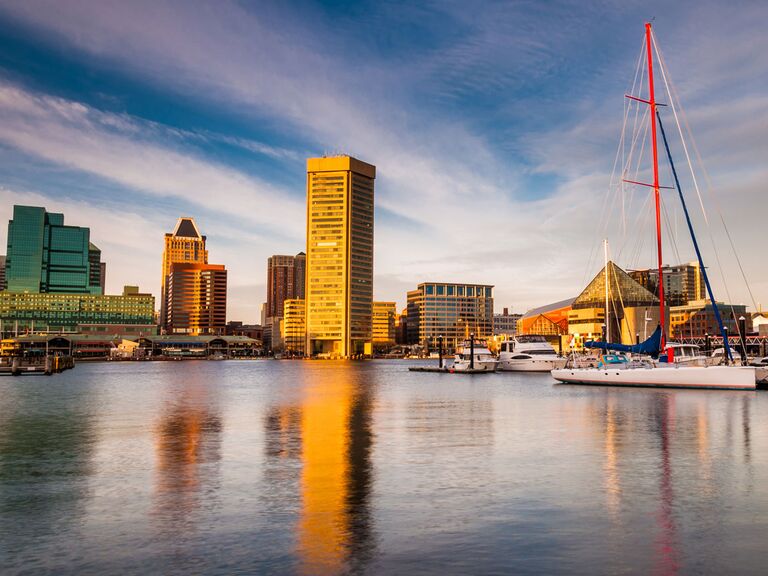 The largest city in Maryland, Baltimore is home to a wide variety of wedding venues, which range from beautiful banquet halls and mansions to hotels and stunning inns. This is also a city that abounds in museums and numerous other cultural activities to keep your guests happy and entertained during a wedding weekend.
Whatever your choice of a wedding venue in Baltimore might be, the cultural vibe and incredible food scene of the city make Baltimore the ultimate wedding destination in Maryland.
For a list of local Baltimore vendors, have a look at: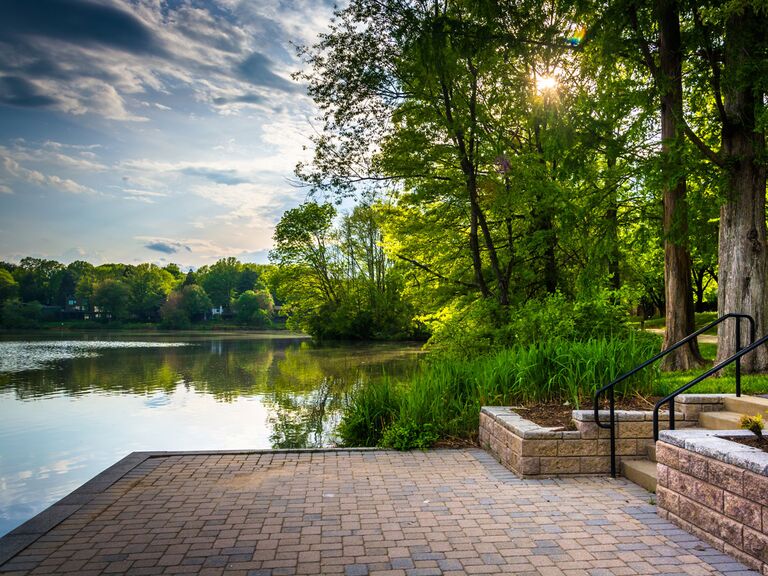 Historic manors and quaint inns are some of the most popular choices when it comes to wedding venues in Columbia. Those looking for something more formal may opt to have their wedding at one of the conference centers in the city.
For history buffs, a turn-of-the-century historic Georgian estate may be a good option, while those looking for a rustic wedding may turn to a historic farm with all the required amenities to become a perfect wedding destination.
Have a look at the list below to find the best local vendors in Columbia: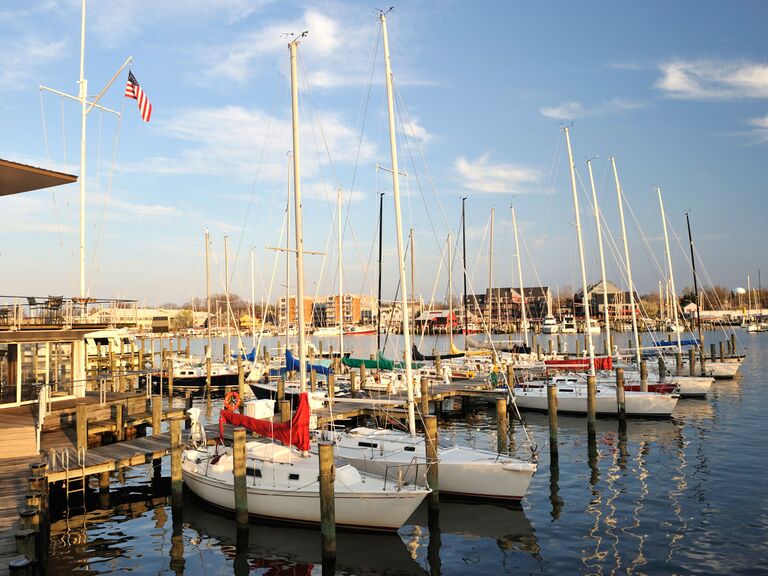 Located on the Chesapeake Bay, Annapolis is the capital of Maryland and part of the Baltimore-Washington metropolitan area. Home to a multitude of wedding venues that range from stunning hotels and conference centers to historical sites, Annapolis is the perfect place to host a wedding, whether you are interested in a formal or casual event.
The proximity of the Bay makes the city a splendid choice for those looking to tie the knot on the beach, and the beautiful sunsets in the area make for splendid first look photos. Below you will find some of the best local vendors in Annapolis.
Check out more Maryland wedding inspiration here.
Don't forget to download The Knot Wedding Planner app—it's a must-have for on-the-go planning.
Download for iOS: Wedding Planner App by The Knot
Download for Android: The Knot Wedding Planner