4 Must-See European Castles to Host Your Wedding
Follow Ciara and Russell Wilson's lead and select a castle as your venue.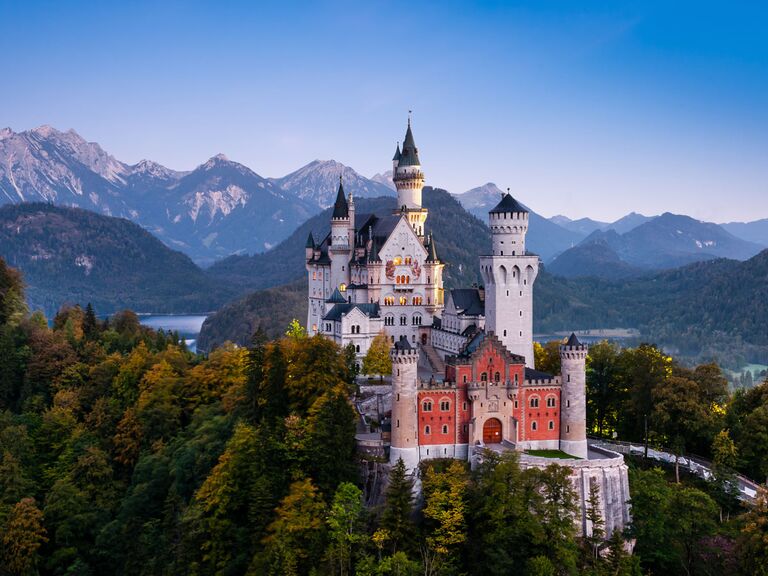 Looking to add a wow factor to your wedding? Choose a castle as the stately manor to host your marriage celebration. These venues are not only for the royal family, like the Duke and Duchess of Cambridge, or even celebrity royalty, like newlyweds Ciara and Russell Wilson, who married in an England castle.
"History buffs, lovers of classically beautiful architecture and those drawn to fairy tale romances are the perfect fit for castle celebrations," says Rebecca Hochreiter, vice president of marketing and customer development at Destination Weddings Travel Group. The bonus is that while "castles may be seen as made for traditional fairy tale weddings, you can really transform any space into the wedding of your dreams."
Want to whisk your wedding guests away for an unforgettable European experience? Hochreiter recommends considering these four castles when booking a venue for your grand event.
1. Ashford Castle
Located in Galway, Ireland, and built in the 13th century, Ashford Castle has belonged to several aristocratic families, most notably the Guinness family. It's known as one of the most luxurious hotels in the world offering a wide range of amenities guests won't be able to get enough of, including one of the most famous fisheries in Ireland.


Set on the banks of the river Esk just miles outside of Edinburgh, Dalhousie Castle has been around since the mid 1450s. It's most known for its extensive library and "secret bar" where wedding guests can enjoy a drink and take in the Scottish experience. This magnificent 13th century fortress holds the title of "Scotland's Oldest Inhabited Castle."
3. Airth Castle
Airth is full of beautiful medieval architecture—not to mention its historical significance to the famous Jacobite rebellion, housing notable sympathizers the Bruce family. Guests will enjoy the impressive spa and delicious food, known for focusing on local cuisine. For thrill seekers, it should be mentioned that parts of the castle are said to be haunted with centuries-old friendly ghosts.


This breathtaking castle was built in 1832 with one of the most stunning views in all of Ireland, overlooking the Twelve Ben mountains and the village of Clifden, in the heart of Connemara. Guests will enjoy the delicious cuisine along with a stroll through their impressive gardens.
Is a Castle Wedding in Your Budget?
Worried that a castle might not fit in your non-royal budget? You might be surprised. "Like any property type, castle rentals range significantly in price based on the level of their service and general offerings," Hochreiter says. "If you're looking for a luxe experience with every upgrade imaginable, then you'll certainly find a castle that can execute your vision. Those seeking cost-effective alternatives will be pleased to know there are smaller properties that'll work into your budget."