Wedding Dress Lace Glossary
Not all lace is created equal. Read on to decode the difference between the various types of romantic fabric.
by Lauren Greene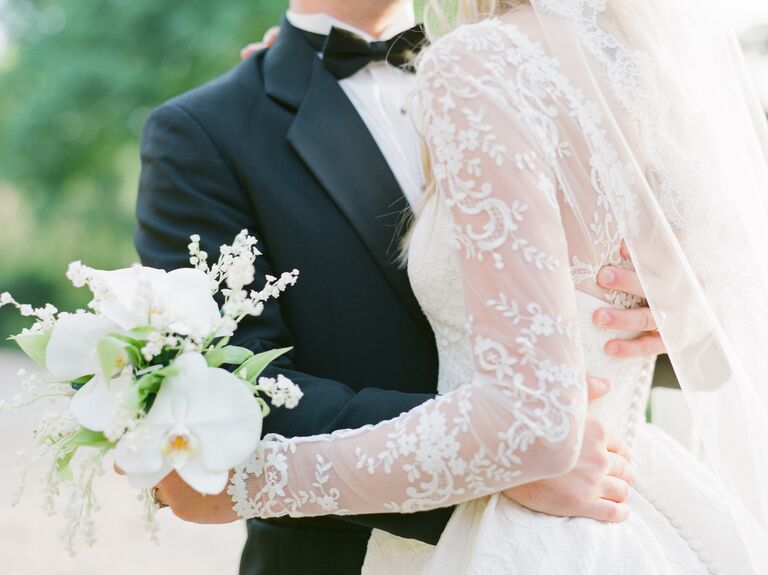 Depending on how it's used, lace can give your bridal look an utterly current vibe or a dose of retro romance. From Chantilly to eyelet, get the 411 on the different types of this timeless fabric.
Alençon
Sometimes called the "queen of lace," this French style (which dates back to the 16th century) has a distinct floral pattern outlined with corded detail. It's characterized by its 3-D effect, and frequently decorated with seed pearls and sequins.
Chantilly
Named for its origin in Chantilly, France, this delicate and dainty lace features flowers and ribbons on a plain net background. It's the most fluttery and romantic of the group and popular for sleeves and overlay, since it has a sheerness that also gives off a sexy vintage vibe.
Eyelet
This cotton fabric is sweet and summery. Embroidered cutouts give it a country-spun feel, while scalloped edges provide an heirloom quality. Since it's very breathable, it's the ideal choice for an outdoor, warm-weather wedding.
Guipure
Cotton-based with dense interwoven patterns, this lace can resemble embroidery or macramé. It's heavier than most lace and is usually limited to structured silhouettes, but its thick patterns make a dramatic statement.
Honiton
A type of guipure, this particular style looks to nature for inspiration and it's created by joining together round, heavy floral and leaf motifs. It tends to lend a regal, old-fashioned feel—for a great example, check out Prince George's intricate christening gown made of Honiton.
Point D'Esprit
To create this lightweight lace, small oval or square dots are woven in a scattered pattern into a netted fabric. Add sweet texture when you layer this fun French style—which has a similar feel to tulle—over a dress or incorporate it into a veil.
Schiffli
Another lightweight style, this machine-made lace has an allover delicate embroidered design. It looks great both as an overlay or as edging on a sleeve, hem or bodice of a gown.
Venise
Also known as "Venetian point" or "gros point," this heavy needlepoint-type design uses floral sprays, foliage or geometric patterns and is often said to look like carved ivory.