How To Be A Great Wedding Guest
Follow these rules and not only will you make a good impression, you just may go down in history as the best guest ever.
by Simone Hill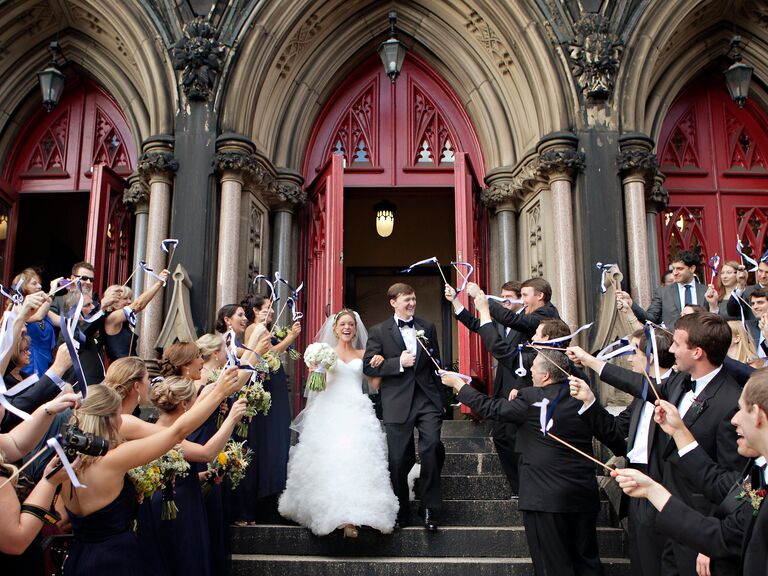 photo by
Kristen Gardner Photography
RSVP ASAP
Yep, that's a lot of acronyms, but the meaning couldn't be any more on point. If you know you can or can't make it to the wedding, don't procrastinate on popping that prestamped envelope in the nearest mailbox. If you need more time before you can commit to the date, keep the couple informed and give them a reasonable time frame of when you'll know. You should also RSVP in the way the couple has requested (for example, don't call if they included a card in the invite). It may seem minor, but this makes it a lot easier for the couple to keep track of who is and isn't attending.
Want Rock Star Guest Status? If you haven't seen the couple in a while, you could add a note of congrats into your RSVP envelope. They'll love it!
Dress on the Safe Side
You want your outfit to be comfortable and stylish, but also not so distracting that it draws the wrong kind of attention. Use the season and time of day to guide your look, and be mindful of the couple's religious observances (for example, you may want to throw a sweater over your shoulders if they're getting married in a Catholic church). Obviously, you'd never wear white to a wedding, and you should also avoid the color for pre-parties, like the rehearsal dinner and bridal shower. (The only exception to the wearing white rule is if there's a very clear all-white dress code.) Another color to avoid? Bright red -- it's one of those colors that might draw attention away from the couple, so don't risk it!
Want Rock Star Guest Status?Playing it safe also goes for formality, and it's always better to be overdressed than underdressed. If the invite has the often confusing phrase "black-tie optional," err on the side of caution and wear a long dress or dark suit or tux.
Respect Any Requests
Follow the couple's requests, as long as they're within reason. So if they've asked you not to post photos on social media until after the wedding, or they want everyone to come dressed in hoedown casual to the rehearsal dinner, do it. Don't put up a fuss.
Want Rock Star Guest Status? Your date or plus one is an extension of you, so it's your job to ensure they know what to expect and follow along with any special requests. Make sure they're in the know by passing on any theme or attire information ahead of time.
Keep Your Conversations With the Couple Short and Sweet
Of course you should let the couple know how happy you are for them and how much you love every detail of their wedding. But now is not the time to launch into an in-depth story about something other than their wedding. Keep your congrats short and simple, and then plan a brunch, drinks or FaceTime them after their honeymoon for some real quality time.
Want Rock Star Guest Status? Take time to congratulate the couple's parents (and even grandparents!). They may not be hosting, but this wedding is a really big deal to them. So introduce yourself and let them know how happy you are for their families.
Let the Photographer Snap Ceremony Photos
Totally fine to take photos before the ceremony, but once you're seated, it's time to stop snapping selfies with your date. The reasons for this are twofold. First, you don't want your phone or camera to block another guest's view of the couple. Even worse: You certainly don't want to obstruct the professional photographer's shots. There's nothing worse than having to crop out an iPad from an otherwise gorgeous ceremony photo.
Want Rock Star Guest Status?Take plenty of photos at the reception and hashtag away if the couple has requested it, but don't let it keep you from actually enjoying dinner and dancing. As in, put down that phone and join in the "Cupid Shuffle" with all the other guests on the dance floor.
Give a Gift
Okay, technically it's not a requirement that you give a gift. But let's be real: A wedding gift is a very nice gesture to congratulate the couple on their newlywed status. This doesn't mean your gift has to be extravagant or put you in debt. Peruse the registry and choose something off of their list, or just give cash or a gift card.
Want Rock Star Guest Status? Traditional wedding etiquette says you have up to a year after the wedding to give a gift. Don't be that person. If you really want to be a great guest, jump online and search for their registry as soon as you get the invite and buy them a gift. For a destination wedding, absolutely have that gift sent to their house beforehand.
Dance, Drink, Eat and Have Fun
No really. They've been planning out all the little details for months (maybe even over a year), and the best way to show them you appreciate it is to take part in all the fun. So jump into that photo booth, sign the guest book with a sweet, meaningful note, and get out there and dance.
Want Rock Star Guest Status? Make friends with other guests. Instead of just sticking to the people you already know, make an effort to meet a few other friends and family members at the wedding. Bonus points if you end up with a new group of friends at the end of the night.