8 Random Etiquette Questions Your Guests Might Ask You
They'll have questions, we have answers.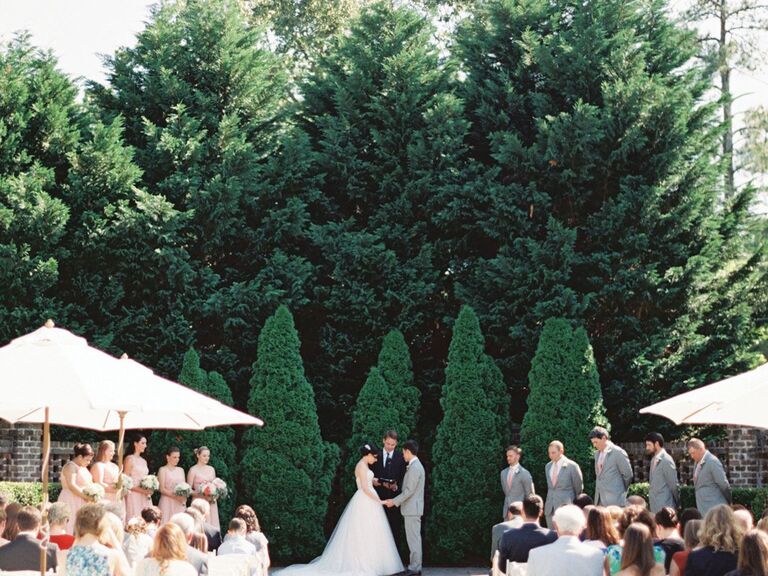 EMILY MARCH PHOTOGRAPHY
If it sometimes feels like wedding guest etiquette will never get easier to understand, you're definitely not alone. We totally get it if you're struggling to find the right way to handle certain questions and situations—as a to-be-wed or a guest. While the rules of wedding guest etiquette have undergone a very necesssary makeover to accommodate the modern mind-set (hi, social media and technology!), there are some tried-and-true guidelines all guests should follow, even if they seem outdated on paper. If anyone hits you with one of these commonly asked questions, here are the etiquette-approved answers (straight from yours truly) to help you navigate.
I'm so excited to be invited to your wedding, but I don't want to go alone. I can bring a date, right?
Uh—check the invitation envelope. Does it just say your name, or does it say your name "and guest"? If yours is the only name on the envelope, then you're the only one who's been officially invited. Guests should avoid asking the couple if they can bring a guest anyway—the couple likely has a budget and head count that's non-negotiable on this front. Instead, figure out who else might be attending the wedding solo and plan transportation (and accommodations) with them, if possible. If it's still way too uncomfortable to attend alone, you can always politely decline the invitation (but hopefully it doesn't come to that).
Where are you registered? It doesn't say on the invite.
And it shouldn't. Why? Traditional invitation etiquette says including registry info on the invitation makes the couple look like their asking too boldly for gifts, and technically, wedding gifts aren't mandatory. Guests can head to the couple's wedding website (often listed on their save-the-dates or invites) to see if they've shared their registry information there. If not, start asking around—try members of the couple's wedding party, the couple's family, and if all else fails, the couple themselves.
If your 3 p.m. ceremony is followed by a 6 p.m. black tie reception, do guys have to wear a suit for the ceremony and a tux for the reception? And do the ladies need two different dresses?
Good news: One outfit is all you need. Sure, the old-school etiquette rules say you have to wait until evening to break out the black tie attire, but these days, going formal during daylight hours is totally fine (only tails—if the couple's going way fancy with attire—are now considered improper for a daytime ceremony). You can and should wear your best look for both the ceremony and the reception, no changing required.
I have up to a year to get a wedding gift, right?
So, technically, yes—but chances are, if you don't send a wedding gift within two months of the wedding date, you'll forget (and the couple may think you've forgotten). Try to buy the couple a gift as soon as possible. Need a firm deadline? The date the couple gets back from their honeymoon is a doable goal.
Why did I receive an invite to the wedding reception, but not the ceremony? I know it says it's due to the small church venue, but what's the deal—is this acceptable?
Depending on their venues and preferences, some couples may choose to have an intimate family ceremony with a small guest list and then host a larger reception that includes all their relatives and friends. If you're a guest only invited to the reception, you may feel like you're missing out on a big part of the day, but don't take it personally—at least you'll be there to raise your glass to the newlyweds and hit the dance floor. Long story short, it's acceptable to extend an invite to the reception only, but it's never acceptable to extend an invitation to the ceremony only if you're also having a reception.
How long do I have to respond if there's no RSVP-by date?
Many invitations specify the date by which guests should reply. If anyone receives an invite without one, the best thing to do is simply to respond ASAP. Don't leave it on the coffee table where it might get lost amid the magazines and mail. Instead, check your calendar, mark your reply immediately and slip it in your bag to send out the next time you pass a mailbox. If you've put off replying for a few days or weeks because you're not sure of your schedule (or just forgot about it), the latest you should be responding is about three weeks before the date of the event. And please don't make the couple call you begging for a response—they have enough to worry about.
I don't want to deal with shipping costs on the wedding gift, so is it cool if I just bring it to the reception instead of sending it?
It's not necessarily wrong to bring a gift to the wedding, but it's not the most thoughtful way to present it to the couple, either. Someone has to lug all the gifts back home after the reception is over, and there's a slim chance your gift might get lost in the scramble. If you really want to bring something the day of, opt for a card with a check, cash or gift card. If you're really worried about shipping costs, consider dropping it off at their home yourself.
When is it okay to start taking photos at a wedding? I don't understand what the etiquette is anymore.
Thanks to camera phones, it's now easier than ever to capture those special moments, but that doesn't mean guests always should. Unless the couple has specifically asked everyone to lend a hand with photography, avoid using your camera during the ceremony. They'll likely have invested in a professional photographer, and not only do photos showing a room full of guests on their phones take away from the moment, but some guests trying to snap pics may actually get in the way of the photographer trying to do their job.
That said, unless the couple requests it, you don't need to lock away your camera all day. Since the wedding photographer can't be everywhere at once, the newlyweds often rely on guests to take pictures and videos that might not otherwise be possible by the photographer alone. There are bound to be lots of great photo ops, so do be sure to share those special wedding memories by posting on social media with the hashtag the couple has designated for their day. Another great option is using the photo sharing app The Guest, which instantly posts photos and videos taken with your phone's camera and shares them in a digital wedding album.