8 Wedding Ring Engraving Ideas You'll Love
Whether you're looking for something sentimental or funny, we've got you covered.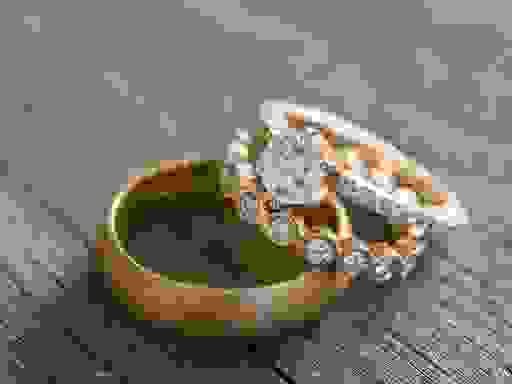 Susie Linquist Photography

Bought your wedding rings? Check. Got them insured? Check. Now it's time for the fun part—getting them engraved! Engraving your wedding rings is a wonderful way to further personalize them, and have a sweet reminder of your partner and marriage on you at all times. See eight of our favorite wedding ring engraving ideas below. 
1. Your initials together: MD + HN or MD & HN
2. Your wedding date: 8.12.17 or 8/12/17
3. The coordinates of where you met: If you first locked eyes in New York City, have 40.7128° N, 74.0059° W engraved.
4. Nicknames: Everyone has embarassing little pet names for each other, so rings are the perfect place to hide Pookie and Peanut.
5. A meaningful quote, song lyric, song title, saying or poem: Whether it's a line by Shakespeare, a lyric by The Beatles or another sentimental saying like "yours forever," a quote is a great thing to put on your wedding rings. (And if it's too long, do the initials of it instead—"AL" for "At Last," or split the line in half between your two rings, with one ring saying, "I would not wish any companion," and the other saying,"in the world but you," from The Tempest.) 
6. A Bible verse: If you and your partner both love a specific Bible quote, engrave the quote, or the chapter and verse. 
7. Infinity symbol: Keep it short and sweet with the infinity symbol to signify everlasting love.
8. Something funny: If humor is more your style, engraving "Non-refundable" or "Put this back on" on your ring will always make you smile. 
Check out 14 unique wedding bands, here.
Eleven wedding ring shopping rules, here.