Dynamic Real Wedding Website Examples to Inspire Your Own
Time to get your creativity flowing.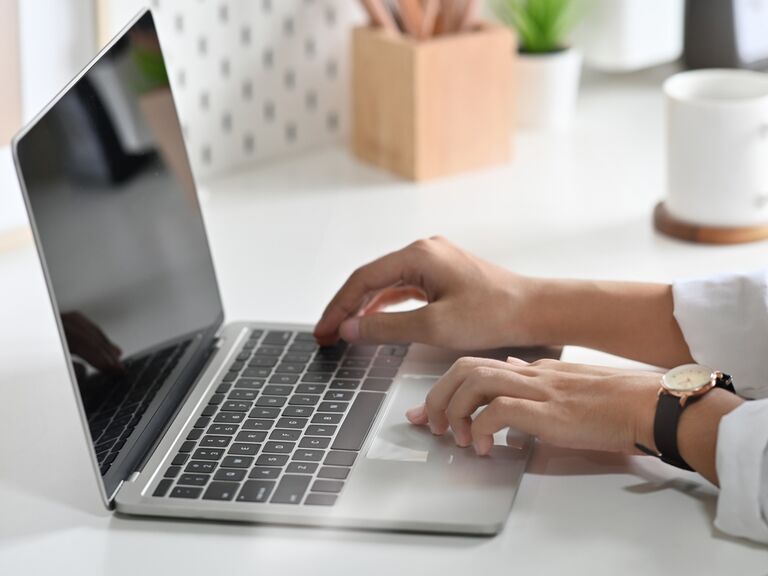 Shutterstock
Congratulations—you're engaged! Once you've posted your ring selfie and shared the happy news with your loved ones, it's time to start planning your wedding day. As you scout venues and fill out your invitations, there's one important aspect that shouldn't be overlooked: creating your wedding website. Acting as the digital hub for your wedding details, your wedding website is the home for your registry, your love story, engagement photos and day-of details. It also serves as a way to share up-to-date details with your guests (like last minute changes or dress code information). 
As you design your site to perfectly represent you and your partner, you might find yourself wanting to get inspired by wedding website examples from real couples. If that's the case, you've come to the right place. We've compiled a list of creative wedding websites from real couples, so you can steal one (or two) of their ideas. 
Create a Timeline of Your Relationship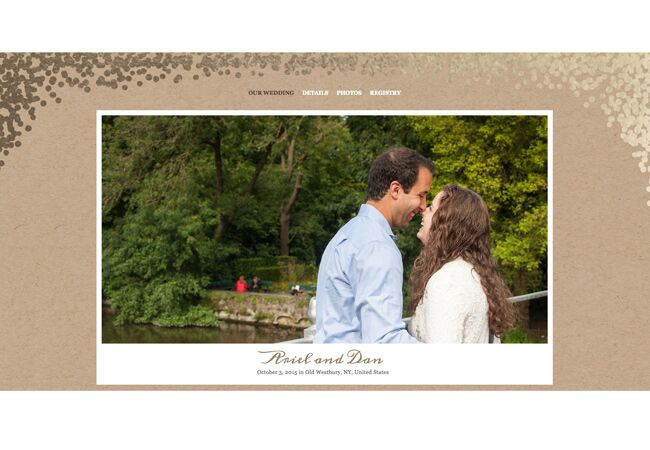 One of the first things people will likely do when they visit your wedding website (besides browse your registry picks) is read your "How We Met" story. Your friends and family will want to relive every sweet moment of your relationship, from when you met down to the proposal. One of the best ways to illustrate your love story is by creating a timeline.
Ariel and Dan opted to do this on their own wedding website. They broke down their relationship step by step, so their family and friends could go back in time and relive the romance. "Our story began at LaGuardia Airport in New York," they wrote. "We were both going back to school in Atlanta. After a mutual friend introduced us we realized our seats were very close to each other. Dan could tell that Ariel, a classic nervous flyer, could use some support. A pretty turbulent flight allowed us to get to know each other. Throughout the rest of the semester we became good friends. As summer approached, we learned that we would be interning across the street from each other. After having lunch together every day that summer we both knew it was only a matter of time. When we got back to school for fall semester the rest was history!"
Incorporate Your Family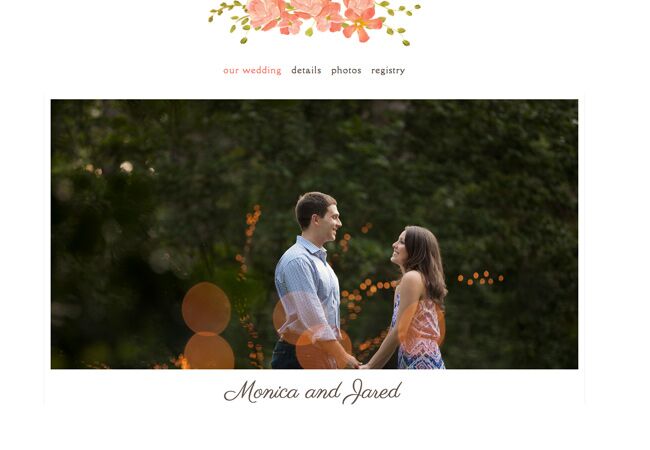 Extended family members often hold important roles in relationships. If you're especially close to your loved ones, you might consider incorporating them into your wedding website.
This was the case for Monica and Jared. In this wedding website example, the couple used their personalized webpage to explain how Monica's sister essentially brought the two together in the beginning of their relationship. "Jared had recently moved to Tallahassee to begin his new job at Tallahassee Orthopedic Clinic, and Monica had recently moved home after college," they explained.  "Jared and Monica met through mutual friends and became friends themselves; little did they know that Monica's sister Rachel was already devising a plan to make their match happen! Jared was working on Christmas Eve that year, and Rachel took full advantage of that situation by inviting him to their family dinner. It should be noted that Rachel did not inform Monica of this addition until Jared was already at the door–needless to say Monica was slightly surprised! That night, Jared met and mingled with Monica's entire family like he had known them for years (they all assumed he was the 'new boyfriend') and she got her first glimpse into the incredible person he is. Even though it wasn't until several months later when Monica finally agreed to go out on a date with him, she can look back and know that Christmas Eve was the night she started falling in love with her future husband."
Include Your Favorite Pop Culture or Sports Moments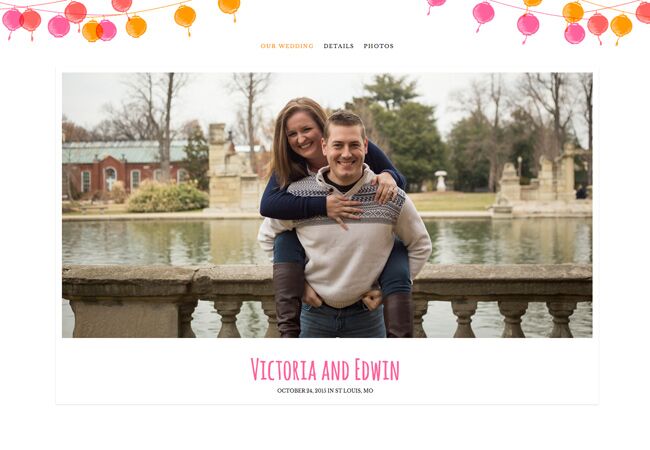 One of the most creative wedding website ideas is to incorporate your favorite pop culture elements throughout your design and your "How We Met" story. For many couples, their favorite book series or sports team may play a huge role in their relationship, so it only makes sense to weave it to their wedding too. 
In this wedding website example, fiancés Victoria and Edwin shared the story of how they met—and it was all thanks to the St. Louis Cardinals. "It was October, the Cardinals were in the playoffs, and St. Louisans had flocked to the hundreds of bars in St. Louis that were showing the Cards game that night," they wrote. "Ed's friend Jeff suggested they go to a bar in the Tower Grove neighborhood to watch the game and meet up with another friend of his. Victoria had plans to watch the game there too, with some friends of hers. As it turns out, Ed's friends and Victoria's friends knew each other, and introduced them. Ed and Victoria seemed to hit it off immediately, in their own awkward way. After getting to know each other over a few hours, Ed was clumsy enough to spill a drink on Victoria, which is her favorite part of the story to tell. By some miracle Victoria still liked Ed enough to continue hanging out with him and eventually even go on a date with him a few weeks later."
If you love this idea, you can further incorporate a sports team or pop culture moment into your wedding website through your design, verbiage and even your engagement photos (themed photoshoots, anyone?). Fully representing yourselves will take a little bit of creativity, but it will result in a wedding website that your guests will love using. 
Keep It Authentic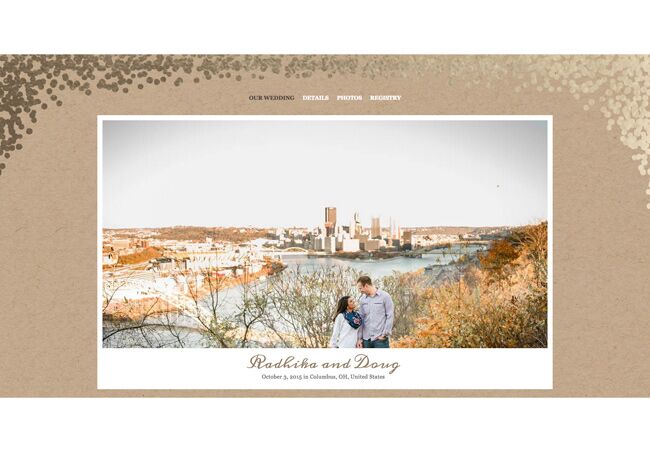 The best part about creating a wedding website is that it allows your friends and family to get to know you and your partner on a deeper level. Wedding websites are uniquely different to each couple, which is what makes them so personal and authentic. 
For Radhika and Doug, their origin as a couple was a bit unconventional—but they weren't afraid to celebrate it on their wedding website. "We met in college over a dead cat. No, it's not what you think," they wrote. "It was a senior level biology course at Case Western Reserve University, a vertebrate dissection lab that required long hours outside of the allotted class time. Both of us took the course while interviewing for dental school all over the country, forcing us to be in the lab together long past daytime on the weekends we were in Cleveland. And two unfamiliar people became friends."