The Worst Wedding Advice Real Couples Received
Read up on this list so you know which tidbits to *respectfully* ignore.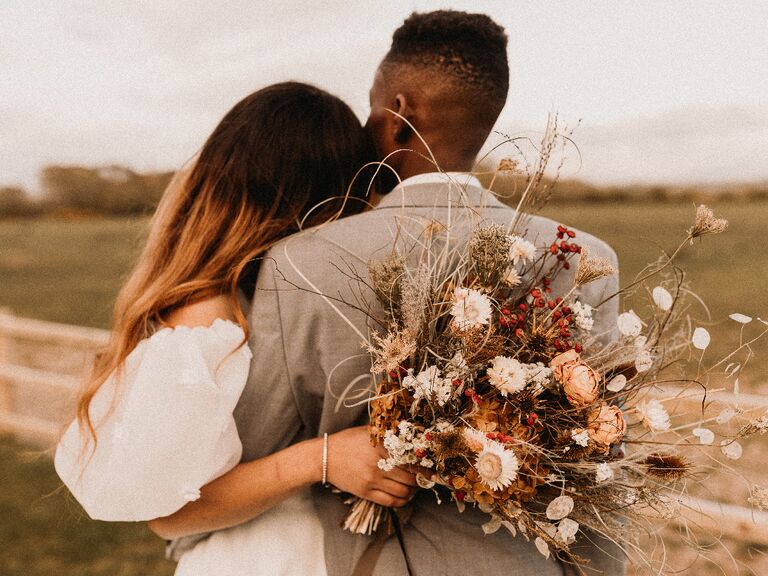 Tash Jones - Love Luella Photography/Getty Images
From the moment you get engaged, your loved ones will have plenty to say. Most will want to extend their congratulations and offer you well-wishes, while others might be curious to know when you'll be getting married, where your big day will take place, or how they can find your registry. And while most people have good intentions when it comes to talking about your nuptials, there's a chance you may be subjected to unsolicited wedding advice.
Although this can be a common experience for couples, there's no rule that says you need to listen to strangers' thoughts and recommendations for your big day. In fact, we're here to say that you *never* have to listen to the worst wedding advice you get. But what differentiates bad advice from good advice? We've got you covered. We asked The Knot's social media followers to tell us the worst wedding advice they ever received, and compiled the top answers here—that way, you can avoid making these mistakes for your own nuptials.
Just DIY your flowers.
If you're looking for sneaky ways to maximize your budget, DIYing flowers (or other decor, for that matter) may seem like a fool-proof way to save some cash. We'll let you in on a secret, though: Attempting to handle floral arrangements on your own almost *always* results in frustration and overspending.
Our advice: Regardless of what your wedding budget breakdown looks like, we highly recommend allotting funds to hire a florist. They are experts in their field, after all, and they'll be able to help you find flowers that are in season and within your budget. Plus, the last thing you want to worry about on your actual wedding day is arranging centerpieces or getting your ceremony arbor into place—that's what your vendors are for.
Make sure you'll be able to fit into your wedding dress.
Dare we say this might be the worst wedding advice of all time? Comments about physical appearance can come in many forms, but no matter how it's delivered, this is one you have every right to ignore.
Our advice: The "shedding for the wedding" mentality isn't just unnecessary—it's downright harmful. There's absolutely no need to lose weight or change your physical appearance for your wedding, so don't succumb to pressure you may feel from other people or societal expectations. While we are all about prioritizing your mental wellness leading up to the big day, take it from us: You do not need to "fit" into anything. You're beautiful as you are!
Don't make a seating chart, let guests sit wherever they want.
Hearing this may feel like a huge relief. Making a seating chart can be tedious work, and any opportunity to take it off your planning checklist probably sounds like a dream come true.
Our advice: Unfortunately, not having a seating chart is better in theory than in practice. Letting guests choose where they sit could end up being somewhat of a free-for-all. Without any guidelines, you may experience overcrowded tables, confusion, and games of musical chairs all night long. Plus, guests who don't know many other people in attendance may feel awkward trying to find a seat among strangers. Save everyone the headache—including yourself—by making a seating chart in advance.
Invite your entire family and don't leave anyone out.
Family politics and weddings go hand in hand, which means you might have a parent or a future in-law urging you to invite that second cousin you haven't spoken to in fifteen years because it's the "right" thing to do.
Our advice: This situation can be tricky, especially if your family members are contributing financially. According to traditional etiquette, anyone who's helping pay for the wedding generally gets a say in the guest list. With that in mind, it's equally important for you and your S.O. to have the final say in who gets an invite—it is your big day, after all. For our expert advice on how to handle common guest list pitfalls, check out our guide here.
You don't need a wedding planner.
Why spend the money on a wedding planner when you could just do it yourself, right?
Our advice: Wrong! If someone tells you that you don't need to invest in a wedding planner, we encourage you to take this "advice" with a grain of salt. If your budget allows, it's always a good idea to hire a planner as soon as possible, as they'll guide you through every single step of the wedding planning process and make it a seamless experience. If funds are tight, consider other alternatives, like a month-of or day-of coordinator. Having an expert by your side is crucial for a stress-free wedding day.
Don't tell your vendors you're inquiring about a wedding.
When it comes to the worst wedding advice, this nearly takes the cake. Some people might tell you to leave out the fact that you're hosting a wedding when you start reaching out to potential vendors, as costs for weddings tend to be higher than costs for smaller parties.
Our advice: Lying to vendors right off the bat is a major faux pas in the events industry, and it'll only create problems down the line. Vendors need to know exactly what you're planning in order to do their job correctly, so be honest about what kind of party you're hosting from the start.
Your wedding is THE most important day of your life.
You've probably been hearing this one for years. There's so much hype around the wedding day itself that you might really feel pressure to make it absolutely perfect.
Our advice: Here's the deal: We love weddings and want to help you make yours the best day possible—but it's crucial to maintain the perspective that it's just one day of your life. Your wedding day signifies the beginning of your marriage and a beautiful milestone you're about to embark on with your partner. The good news? You've got plenty more great days ahead of you. While we want your big day to go off without a hitch, keep in mind that it might not be perfect, and that's okay! Mistakes may happen, but the most important thing is that you embrace everything that comes your way, go with the flow, and maintain a positive outlook.
If someone invites you to their wedding, you have to invite them to yours.
This wedding myth is one that gets tossed around quite frequently. You might think that if someone invites you to their big day, it's proper etiquette to invite them to yours—but that's not the case.
Our advice: Wedding invitations aren't reciprocal, and you don't have to extend the RSVP to someone just because you went to theirs. Your final guest list lineup ultimately depends on how many people you can afford to host, as well as who you truly want to celebrate alongside you.
Everyone should get a plus-one.
The subject of plus-ones can be a tricky topic. Although you might want to allow every single person to bring a guest, this will quickly hike up the total cost of your wedding.
Our advice: Your guest list size has a direct impact on the final price, so it may not be feasible to extend a plus-one to every person on your guest list. If you need help determining who gets one and who doesn't, we break down everything you need to know about plus-one etiquette here.
Don't worry about hiring a videographer.
If you're looking for ways to trim down your budget, some well-meaning loved ones might tell you to skip a videographer because "you probably won't watch your wedding video anyway."
Our advice: One of the biggest wedding regrets we hear from real couples is that they didn't invest in a videographer. Having a wedding video will allow you to go back in time and relive your favorite memories from your big day. In fact, your videographer will likely catch special moments you didn't experience the first time around. Of all the wedding gifts you'll receive, there's nothing quite as special as a film that memorializes your big day forever.
You need to have a wedding party.
It's common to have bridesmaids and groomsmen stand by you on the wedding day, but don't be fooled if someone says this is an absolute necessity.
Our advice: There's no rule that says you need to have a wedding party. If you'd rather skip the formalities and just allow your closest friends and family members to watch the ceremony from the audience, you absolutely can.
Just allow kids, that way you won't upset anyone.
The decision to allow kids at your wedding is highly personal and depends on a number of factors. Does this fit in your budget? Is your venue suitable for kids? Do you want children at your wedding?
Our advice: Here's a list of questions to ask yourself before inviting children to your wedding. If you decide that it's not right for you, don't stress about what anyone else has to say. It's your wedding, which means you have to make the choices that are best for you and your S.O.
If you don't have alcohol it's not a real wedding.
People love to make jokes about how weddings are only fun if they have open bars, but we know just how hurtful that narrative can be if an open bar doesn't fit in your budget, or if you don't want to serve alcohol at your wedding.
Our advice: Remember the golden rule: You don't need alcohol to have fun, and you shouldn't feel pressured to serve something you don't want to. Whether you have an open bar, a cash bar, or no bar at all, your guests are there to celebrate you, and they'll have a great time no matter what.
Well, at my wedding…
Let's stop right there. This unsolicited wedding advice may be common, you don't have to listen to what anyone else did at their wedding.
Our advice: While your friend's wedding may have been wonderful, this is your big day, not theirs. If someone starts giving you unwanted wedding advice, you have our permission to smile and say, "Thanks for sharing! We're moving forward with our wedding plans and we'll keep everyone updated through our wedding website."
You don't have to use one of those wedding planning websites.
You've already got enough on your plate, so do you really have to sign up for a site like The Knot? Won't that only create more things to do?
Our advice: Nope—in fact, quite the opposite! As the most trusted wedding brand out there, we've created tools and products to simplify your wedding planning experience. From making your registry to selecting invitations to securing your vendors, we're here to help you through every single step, from the moment you get engaged until you walk down the aisle. So, what are you waiting for? Make your account now to get started, and thank us later.