The Worst Wedding Planning Advice Ever
Here are the most questionable tidbits couples have received during the planning process.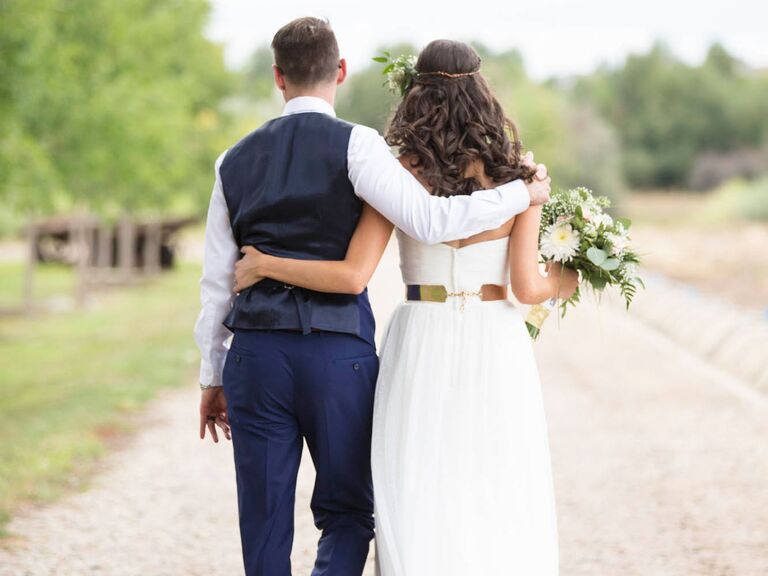 Lucky Malone Photography
From the moment you get engaged, it seems like everyone has some wedding know-how to share. Many of these tips are helpful, but some are borderline disastrous. We gathered some of the worst pieces wedding advice we've heard couples receive, then tell you the best way to handle it. Here's what not to do when you plan a wedding—even if someone highly suggests it!
Musical Vows
Bad Advice: "The worst wedding advice anyone has told me was to sing our vows to each other." Erin, Richmond, VA
Our Advice: We always encourage personalizing your wedding vows, but unless you moonlight as opera singers, save your karaoke debut for the wedding reception.
Catering Costs
Bad Advice: "My mother-in-law said that it was perfectly fine to spend $9 a plate on dinner for our guests. She based this on my sister-in-law's wedding, where they served cold meat sandwiches, au gratin potatoes, and questionable-looking fruit salad." Morgan, Madison WI
Our Advice: Food is one detail every guest remembers—plus, they're your guests, you want to treat them right! Whatever your budget, you should allot about 40 percent of it for wedding catering. Work with your caterer to prepare a menu within your budget and try to cut costs in other ways (like by trimming your wedding guest list) rather than skimping on the meal.
Food Faux Pas
Bad advice: "Cut back on costs and have a potluck and BYOB reception." Amy Lynn
Our Advice: A wedding is an event that you host, and your guests are your guests. Don't expect them to provide their own food and drink, or to pay for it. If cost is an issue, look into having an early brunch with mimosas or having your event catered by a local restaurant, which is often more affordable.
Gem Jealousy
Bad Advice: "I was recently a bridesmaid in a friend's wedding. I'm also engaged and was amazed when she told me I couldn't wear my engagement ring during her wedding because it was larger than hers…ridiculous!" Scarlet, Longview, TX
Our Advice: Being upstaged by a bridesmaid can be a very real insecurity for some brides. Handle the situation gently—explain that you'd rather not take off the ring for personal reasons. If she persists, remove it to avoid more drama.
Costume Bride
Bad Advice: "My future father-in-law thought that since we were getting married in an historic home and I'm a costume designer, we should wear hoopskirts and crinolines!" Abbey, Austin, TX
Our Advice: We love historic homes, but unless you're into the idea of a masquerade ball-themed wedding, consider playing up the decor rather than your attire. Also, remember that your wedding photos will be around for years to come, so wear something that you'll find as irresistible to look back on as it is to wear—and that won't leave your grandkids in hysterics.
Sibling Setup
Bad Advice: "My mother wanted me to ask random pretty girls at church to be in my wedding party so that my brother could meet and then date them." Anonymous
Our Advice: Weddings can be a fabulous place to match-make. But your bridesmaids should be your dearest friends and relatives, so pick attendants you know you (not your brother) will want standing by your side at the altar.
High School Threads
Bad Advice: "My mom insisted I wear my gold-colored junior prom dress as my wedding gown. She thought it was silly to buy yet another dress that I'd only wear once." Alyssa, Madison, WI
Our Advice: While hand-me-down gowns can add a sentimental touch and colored gowns and metallic details are gaining popularity, most prom dresses should probably stay safely in the back of the closet for the wedding day.
Budget Blunder
Bad Advice: "A woman I worked with overheard me telling another coworker how much my fiancé and I were planning on saving up for our wedding. She decided to pipe in and say, 'Wow, you might as well just buy a house, you'll get divorced anyway.'" Caroline, Flagstaff, AZ
Our Advice: Avoid snide money-related comments by discussing your wedding budget only with those who need to know, like your parents and fiancé.
Parents' Presents
Bad Advice: "I was told that the bride and groom don't receive the gifts. Instead, the bride's parents get them." Suzie, Norfolk VA
Our Advice: Give each of your parents a small, meaningful gift as a token of thanks for being so supportive throughout the wedding planning process. The Cuisinart mixer and all the other goodies on your registry? Those are definitely your gifts to keep.
Lip Switch
Bad Advice: "I was told that if the groom was unavailable during the toast, the bride has to kiss the best man." Anonymous
Our Advice: Locking lips with the best man—or anyone who isn't your new spouse—is not a good way to start your marriage. Plus, there's no reason the groom should be unavailable during toasts.
Scattered Seating
Bad Advice: "My fiance suggested we randomize the seating for all our guests because it would be cool for everyone to meet new people. I can just imagine my crazy friend from grad school and Aunt June at the same table. Yikes!" Vicki, Durham, NC
Our Advice: This idea is only partly off-track. Reception seating can be a great way to bring new people together and spark interesting conversation. But avoid placing anyone at a table with no one else they know, and spare everyone the stress by seating like-mannered guests together.