NEW! The Knot Wedding Planner & Organizer Binder
Need a way to stay organized and on track while planning your wedding? The Knot Wedding Planner & Organizer binder is everything you'll ever need.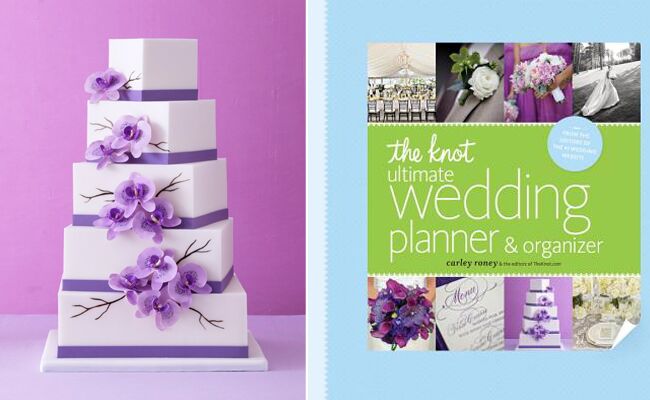 After having working at The Knot for seven years, I can honestly tell you that our brand-new planning binder and organizer is one of the best wedding planning resources out there (next to our Style Quiz).
No seriously! A small group of us worked on the binder to write, design and lay out all the pages over the last year and it's a total labor of love. Having been engaged and going through the process of planning my own wedding at the very same time, I can promise you, we left no stone unturned!
Like that cover? (We do too!)
Our photo editor, Rebecca Crumley spent hours researching and pulling her favorite photos from real weddings. (That cake by Mark Joseph Cakes came from our Cakes By Color slideshow if you want to see more from the shoot.)
Each tab of the binder starts with an introduction and our top tips to help guide you. These are the top 10 most precious pieces of info you have got to know before you jump into the process (like delegating tasks the week of the wedding to someone else other than yourself so that you actually have a chance to enjoy yourself).
Then there are lots of fun easy-to-follow glossaries — from room arrangement guides to bouquet styles. If you're a wedding nerd like we are, you'll want to be able to speak the language of your florist (like "I want my flower girls to carry 'pomanders') or your catering manager ("I think those eight-foot rounds might be too typical — what about farm tables?").
Okay, one of the funnest parts are these wedding style worksheets and inspiration pages! Tear out your favorite magazine photos, staple fabric swatches — do whatever you want with these pages, as long as they help inspire you and communicate your vision to your wedding vendors!
At the end of every tab is a checklist related to that section (calling all list addicts). We even created an express version of our longer, exhaustive planning checklist for those of you with a shorter engagement (and also the total procrastinators).
Convinced yet? If you have to see it in person before you buy, it's on sale at big bookstores across the country. Seriously though, do yourself the favor and order it online so it's in your lap by the weekend — it's the best $20 you'll spend this year.
> Buy The Knot Wedding Planner & Organizer
> Get TheKnot.com planning checklist