What's the Basic Wedding Reception Timeline?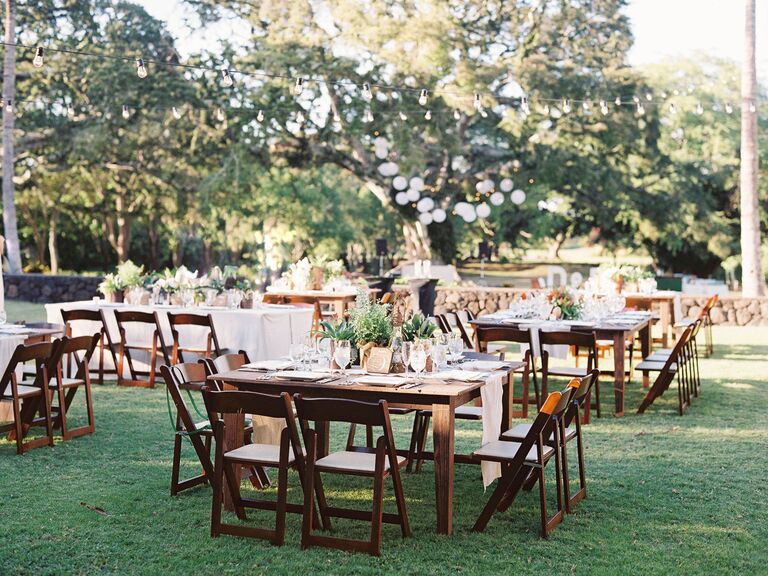 Q:

I'm not certain about the order of events at the wedding reception. Could you please give a rough timeline of the following events: receiving line, cocktail hour, first dance, champagne toast, best man and maid of honor speeches, dinner and cake cutting? I feel clueless!

A:

Great question! Here's the traditional order of wedding reception events, based on a basic four-hour celebtation. How long each event lasts depends on your party—is it a simple cocktail wedding reception or a seated dinner? (The average reception with full meal lasts for about four hours.) Keep in mind that you're probably not orchestrating the wedding reception alone—your banquet manager, caterer, bandleader (who might act as MC) and other wedding vendors are pros hands at this stuff, so they know what's supposed to happen when. Remember too, that nothing is set in stone—there are always options, and if the timing of one thing or the other doesn't suit your style, you can always mix it up. Then, to make sure your entire wedding day—not just the reception—runs as smoothly as possible, get your full, personalized (and free!) day-of wedding timeline, right here. 

Receiving Line

The line can form at the wedding ceremony site just after the wedding or at the reception site, depending on logistics. If you think your guests will get to the reception before you (if you and the wedding party will be taking pictures after the vows), you might want to have the line at the ceremony site. Another option is to hold the cocktail hour in a room other than the main reception room. You'll have plenty of time to get to the cocktail hour, and when the doors to the reception room open, you and your parents can form the receiving line as guests enter.

Cocktail Hour

The cocktail hour kicks off the wedding reception and can last for an hour or perhaps an hour and a half. Guests arrive, greet each other and you, and generally get into party mode.

First Dance

This moment can take place when you two are announced for the first time as husband and wife—just go directly to the dance floor. Alternatively, you can wait until after the salad course—it's entirely up to you.

Champagne Toast and Speeches

The toast generally happens after everyone is seated and the first course has been served. The best man starts the toast and gives his speech, followed by the maid of honor. The couple responds (the groom usually responds to the best man, but why not let the bride say something too?), and then parents and other guests can say a few words as well.

Dinner

Once cocktails are finished, the couple and wedding party have been announced, and the first dance is over (if you've chosen to dance before the meal), dinner should be served. Generally, not much more than half an hour should have passed since guests entered the main reception room.

Wedding Cake Cutting

The cake is usually cut during the last hour of the reception, which makes sense because it's time for dessert and coffee as the party is winding down. Also, the wedding cake cutting generally signals to guests that it's okay to leave soon, so don't cut the cake too early or things could start wrapping up before you're ready.

Not sure where to begin with your wedding planning? Take our Style Quiz and we'll pull together a custom wedding vision and vendors to match, just for you. After that, create a free, personalized wedding website to keep your guests informed (and excited!) about your plans, and a time-saving Guest List Manager to organize your attendees. Even better? You can sync your Guest List Manager and wedding website to update everything at once.