Find a Perfect Winter Gown
Luxe fabrics and sexy sleeves are a few of the stylish ways to winterize your wedding gown.
by The Knot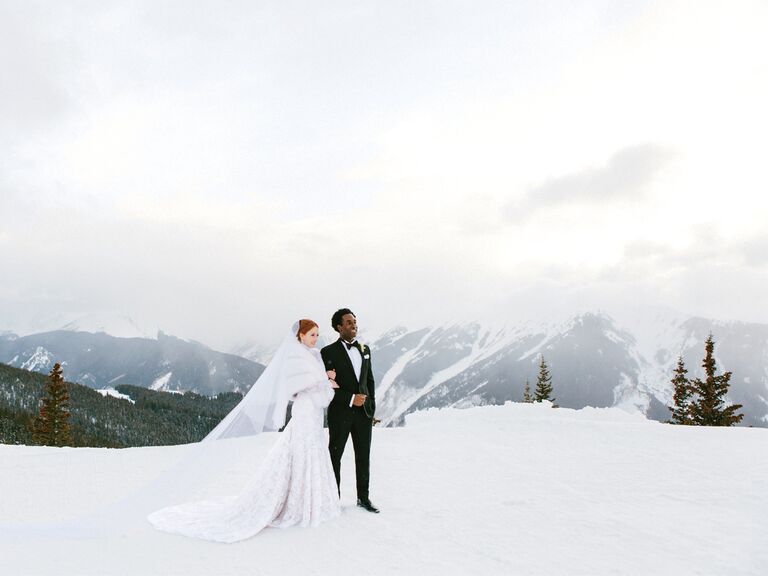 Winter brides who wed in cold climates face a serious dilemma: Will your wedding gown leave you shivering? You don't have to sacrifice style just because the weather is frigid. Here are five features to look for in a gown that's perfectly appropriate for winter.
Accessories
Don't feel forced into wearing a coverall just because the weather is cold. You can wear shoulder-baring strapless gowns or slinky sheaths because you'll still keep cozy with some seasonal accessories. Bundle up in a faux fur stole or a comfy cashmere wrap for a look that both exudes a charming winter style and keeps you warm.
Try these designers:Ines Di Santo, Carolina Herrera

Sleeves
If the idea of finding a stole that matches your look seems daunting, choose a gown that doesn't need one. Sleeved gowns are back in a big way (click here to see for yourself) and are simply perfect for winter brides who want a little extra protection from the elements. Sophisticated cap sleeves will keep you from feeling overexposed, while three-quarter sleeves, or even something full-length, will surely have you covered.
Try these designers:Elizabeth Fillmore, Vera Wang

Heavy Fabrics

The best part of winter wedding fashion is that you can indulge in luxurious silk satins without getting too hot or feeling weighed down by the fabric. If you're considering a ball gown, winter weddings are definitely the ideal time for full skirts. If you love the look of lace, opt for a heavier variety like Battenberg lace, which will keep you warmer than a more delicate type like Chantilly lace.

Try these designers:Kenneth Pool, Anne Barge

Embellishments
For a gown that truly stands out against the snow, choose a style that has plenty of embellishments. An ornately decorated bodice is flattering and fun, while allover shine (like a sparkly tulle ball gown) is fairy tale-worthy. And don't feel limited to crystals -- pearls, sequins, and the fabric itself can also add some amazing sparkle.

Try these designers:Oscar de la Renta, Jenny Packham

Color
Whether the shade is a bold departure from traditional white (we love icy-blue gowns) or a more subtle, understated hue (like blush pink), a colorful gown will add drama to your wedding day look. To avoid going overboard, opt for delicate (and crystal clear) accessories: Diamond studs or a simple solitaire necklace are an elegant way to complete your look.
Try these designers: Reem Acra, Lazaro