Home

Sucré
Details
Cake Delivery + Setup, Cake Tastings, Groom's Cakes, Cakes + Desserts
Contact Info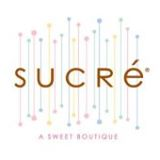 Reviewed on

5/10/2017
Sarah T
Sucre did a fantastic job with our wedding cake!! They executed my vision with no questions asked-while other cake vendors couldn't make it happen. The cake tasted amazing, even the fondant! Our wedding guests were blown away by how delicious is was. The cake was a little bit of... Read More a splurge, but the saying "you get what you pay for" definitely applies here. It was worth every penny!
---
Reviewed on

4/16/2016
Courtney T
Sucré executed the vision for the wedding cake perfectly and it tasted just as good! They were also really accommodating for my off the wall Grooms cake which I asked for a giant version of their BAC cookie with peanut butter buttercream and they did just that! We are so happy... Read More we chose them for our wedding!
---
Reviewed on

10/12/2015
Pamela S
I researched a few local bakeries that end up in disappointment before going to Sucre. i should have know better!. Sucre staff was great to work with. Amazing service i must say. One of the few bakeries that with no hesitation accepted a saturday appoinment since i live in... Read More Slidell and the commute is difficult due to work. The tasting i had was also amazing. We were able to choose 2 different fillings and 2 different cake flavors. They worked with me and my fiance on the design to make us both happy. The delivery was on time and the cake was amazing. Everyone gave me compliments on the flavor. They were also reasonably priced.
---
Macaroon Tree
Reviewed on

3/25/2015
Mary M
We ordered a macaroon tree for our groom's cake since my husband is OBSESSED with macaroons! It was such a hit! It looked beautiful, and tasted even better. So glad we decided to do it!
---
Gorgeous and Delicious
Reviewed on

11/21/2014
I ordered one of their "gallery" pre-designed two-tier cakes for our wedding. We wanted something simple, and they had a peony cake with ivory fondant that absolutely fit the bill. We added our own cake topper and were good to go. We had red velvet and cream cheese for one... Read More layer, and vanilla with salted caramel for another layer. We also ordered a selection of mini desserts to stage around the cake and for people to grab. We're not big sweets people but we wanted our guests to have little nibbles to round out our casual buffet-style meal (from Sucre partner Joel Catering...oh my goodness, hire them). My biggest regret about the wedding is that I didn't get to eat more of Sucre's desserts. I had a few of the small bites, and a slice of red velvet. It was the most MOIST and DELICIOUS cake I have ever had in my life, and while I don't eat a lot of dessert, I certainly have high standards for when I do indulge. I couldn't believe how good this was. Ours was a destination wedding, so we didn't take a tier home to freeze and eat on our first anniversary. If we had, I doubt there would be any left, and it's only a month after the wedding. So good, and so easy to work with!
---
Delivered 7 hours late!
Reviewed on

8/11/2014
Elizabeth R
Despite the desserts tasting delicious, this vendor caused me a nightmare on the day of my wedding. The desserts were contracted to be delivered between 9:30-10:30 but I had to chase at 11am. I was passed along to several staff who couldn't locate my order, kept putting me... Read More on hold, and were not polite or apologetic. We decided on a new time for the delivery - which was important because I needed to make sure they didn't inconvenience our caterers or cause any issues with fridge space. Instead of delivering at the new time, they delivered 1.5 hrs early which interrupted our photo session at the venue and disrupted our catering prep. I have received an apology box of chocolates and have been promised a refund of the delivery fee which has still not been processed......
---
Beautiful and Delicious!
Reviewed on

11/07/2013
Jennifer R
Sucre was awesome to work with! I changed my mind several times during the whole process and they obliged, no questions asked. The design of the cake was exactly what I envisioned, and the 2 flavors we chose (one was chocolate cake with peanut butter buttercream and jelly... Read More filling!) tasted delicious! Highly recommend them!
---
Great desserts and price
Reviewed on

10/28/2013
Greg B
We decided to skip the cake and get mini-desserts, cupcakes, etc. Sucre's prices were great, and the desserts were both beautiful and delicious. I can't recommend them enough if cakes aren't your thing but you want desserts at your wedding.
---
Delicious!
Reviewed on

6/18/2013
Kelly M
A beautiful cake that was delicious!
---
Gorgeous and Delicious Cake
Reviewed on

6/06/2013
Ashlee C
I am a bit surprised that Sucre is not as popular for wedding cakes as it deserves. Sucre makes amazing deserts and their wedding cakes are no exception. Sucre was wonderful to work with, providing us with many options and flavors and allowing us to taste a number of... Read More different combinations. They also worked with us when we walked into the consultation with almost no idea of what we wanted. They worked with us on our budget and were very helpful in answering our questions. The final result was a beautiful and unique cake that tasted amazing! Also, we incorporated their famous macaroon cookies into our grooms cake. They tasted great and so many people loved the idea! They were a bit confused by the fact that we wanted the cake to look like a chocolate cake and not match our wedding cake, but after we explained it to them, they followed the instructions to a T. My only complaint is that our cake was supposed to have a fleur di lis cake topper made by Sucre, but it was not there when the cake was delivered.
---
A slice of Heaven
Reviewed on

6/03/2013
Roishaunta T
I was very specific in the cake that I wanted. They had wonderful cakes flavors to choose from but the to die for Red Velvet made it very easy. The cake was pricey but the outcome was priceless! The cake was almost too pretty to cut but was so good we couldn't stop eating... Read More it. Couldn't have asked for better.
---
OUTSTANDING!!!!
Reviewed on

11/30/2012
sarah k
sucre provided my wedding cake, 120 small desserts, 2 macaron trees and several small cakes for our wedding... as a professional pastry chef my standards are very high. every single item was perfect! they ALL tasted delicious and were so beautiful!!!! i highly recommend them for... Read More all your pastry needs!
---
Delicious and perfect
Reviewed on

9/16/2012
Mary-Margaret M
My fiance and I tasted at a few different places at different price point. Sucre was on the high end but their cake tasted so amazing, we decided it was worth it. We have had a lot of mediocre wedding cakes in the past and we wanted something that tasted just as good as it... Read More looked. Our wedding cake turned out perfect and exactly how I envisioned it. We did two layers of lemon cake with raspberry buttercream and one layer of chocolate cake with salted caramel buttercream. To die for! I had a very difficult request for the groom's cake (a Calvin & Hobbes comic) and my jaw dropped when I saw it come to fruition on our wedding night. It looked incredible and the Italian cream cake inside was delicious! We had so many guests tell us how much they loved our cakes.
---
Best cakes ever!
Reviewed on

5/02/2012
Melissa G
You must use them for your cakes!!!
---
Beautiful Cake!!
Reviewed on

4/10/2012
Natalie N
The cake was great and they made the cake EXACTLY how I wanted it. Very pretty. Also, really great to work with. The salted caramel cake that we chose was ok..not the best I ever had but pretty decent. Unfortunately, since I was an OOT bride, I couldn't test my flavors before.... Read More However, they were great to work with and it looked amazing.
---
small wedding cake
Reviewed on

7/12/2011
Belinda A
I avoided killing my wallet by not mentioning wedding and I was able to have something affordable and tasty!
---
Who are you?
Reviewed on

11/24/2010
Heather C
I have been dreaming of my wedding cake longer than my wedding dress and it was the first thing that I started on a year in advance. When I walked into Sucre I fell in love! The shop is like a fairy tale and the cakes were so beautiful! I was SOLD! I did not even care about the... Read More price I wanted a cake from Tariq and that was that. Well, this dream was soon crushed when I began the process. I must have gone through 4 or 5 consultants (I actually lost count) for some reason they kept losing their employees. Each person apologized and stated that they were going to be around for the long haul and then a couple of months later they were gone and the next person said the same thing. Not only that, but, I had to reorder and re explain what I wanted each time! Never did I get chance to even talk to Tariq and these people were not very good at keeping in touch or even telling me what I needed to do to be sure I had a cake on my wedding day! I was going to be spending more than two grand on my cake and they did not even give me the time of day! It was heart breaking really. After 7 months of trying to make it work out with Sucre I decided that I could not bring myself to explain my order to yet another person. When I told this new person how crushed and disappointed that I was with my experience with them she simply said "That is too bad… do you want a cake or not?" I said Not. I ended up finding a small business run by one girl in Baton Rough (Holly Bratton) who charged me half the price and created a masterpiece that I could never have even dreamed up myself. Everyone was in love with my wedding cake.
---
Delicious and Beautiful
Reviewed on

11/09/2010
Meredith M
My husband and I both already loved Sucre' for their gelato, and after seeing some examples of their wedding cakes, we decided to go with them. Our tasting with them was great - one of their pastry chefs sat with us for an hour as we made sketches of the cake we wanted and tried... Read More several different flavors. The end result was even better than I could have imaged - I just wish I got to eat more of it @ my wedding! Everyone said it was delicious and what I did have, I loved. It was gorgeous and was just what we wanted. Make sure you stay on top of them though, they are sometimes hard to get to call you back.
---
beautiful and tasty wedding cakes!
Reviewed on

6/28/2010
maddie m
Sucre is the definitely on the high end price wise for wedding cakes. I thought it was worth every penny. Our red velvet wedding cake tasted delicious and was decorated exactly like we had described a year prior. They are very easy to work with , and their retail shop located on... Read More magazine street is SO good. i highly recommend!
---