Want to Have a Surprise Wedding? Here's What You Need to Consider
Surprise—welcome to your wedding!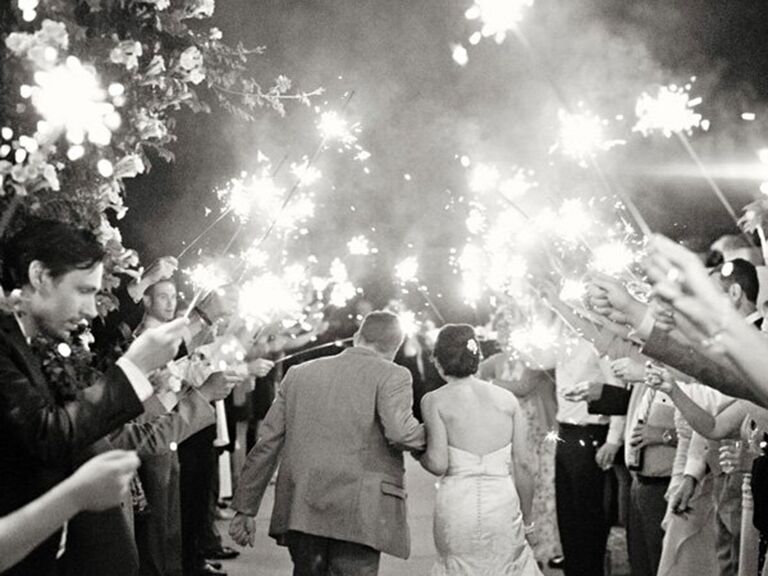 Lisa Hessel Photography
Some couples surprise their guests with a wedding—seriously! They lead their friends and family to believe they're attending another gathering (like a 30th birthday party, graduation celebration or another event), just to do the most unexpected thing possible: Get married.
Don't believe us? Mark Zuckerberg and Priscilla Chan tricked everyone into thinking they were attending a surprise graduation party, and then, boom—their loved ones learned they were there to witness and celebrate Chan and Zuckerberg's wedding. Kinda genius, right? But it's not only a way for A-listers to avoid the paparazzi. There are so many meaningful, personal and practical reasons why a couple might choose to go this route. Think you might want to have a surprise wedding? Keep these pros and cons in mind while deciding whether or not it's right for you.
Guests can't ask you all the questions you're too stressed to answer.
What are your wedding colors? Are my kids allowed to come? Can I bring a plus-one? When are you going to start having kids? No one will think to ask these intrusive questions if they think you're just throwing a nice dinner party.
There's less pressure to make it formal.
Since it's spontaneous, there won't be an expectation for the finery that often comes with weddings (unless that's totally your style). For a surprise wedding the focal point won't be the cake reveal or the floral arrangements, it's going to be the shocking fact that you're getting married right then and there.
You'll save some money (especially on invites).
Surprising guests on the fly with a wedding instead of planning it out means you'll save some money by not having to send out save-the-dates or wedding-specific invites. In fact, depending on what event you're making your guests think it is instead, you might not need to send printed invitations at all (although we always love a good paper invite). Also, since it's more spontaneous, you probably won't have to do an entire sit-down dinner or five-hour reception—although you absolutely can.
You might not get gifts.
This might actually be a pro if you already have everything you need and weren't planning on asking for gifts anyway. But if you've always imagined having your newlywed home stocked with new décor and appliances, you might want to think twice. Sharing a registry and wedding website would pretty much give everything away, and if your guests don't know they're going to a wedding they probably won't have a gift on hand. You might get a few gifts from guests after the fact, but since there's no etiquette rule around this you shouldn't expect them. 
It's hard to have any prewedding parties.
For the couple who doesn't love being in the spotlight, a surprise wedding might be just the thing. You get to pack all the love into one event: The excitement of prewedding welcome cocktails; the intimate, sentimental feel of the rehearsal dinner; the actual ceremony; and then the  celebration you always wanted.
Some of your friends and relatives might not get it.
This is one of the bigger cons of having a surprise wedding. Many friends and family would make sacrifices to attend someone they love's wedding that they wouldn't necessarily make for just any other party. So even if you're planning a surprise wedding under the pretext of different event they might not choose to come, even though, under typical circumstances, they wouldn't think of missing your nuptials. 
It's definitely unique (and they'll never see it coming).
Although we wouldn't necessarily categorize surprise weddings as a new trend, they're still uncommon enough that the novelty hasn't warn off yet. Be a trendsetter and you're guaranteed to have a wedding nobody will forget. If you're all about standing out from the pack and going your own way, this is one awesomely special way to do it.
Want to throw a surprise wedding at home? Here's how to plan an at-home wedding.