21 Unique Ceremony Ideas You Haven't Seen Before
Personalize your ceremony with one of these details.
by Andrea Fowler
It's becoming increasingly common for modern couples to forgo the traditional church wedding and personalize their ceremony to fit their own beliefs and personal style, and with that comes a whole wave of personalized wedding ceremony details. 
Sure, the reception is where the party is at, but that's not to say you can't have fun with the decor at the ceremony area, surprising your guests with an unexpected song while walking down the aisle or a unique unity ceremony idea. There are so many way to make your ceremony truly your own. Here are 21 totally unique ceremony ideas to inspire your day. 
1. Unique Ceremony Seating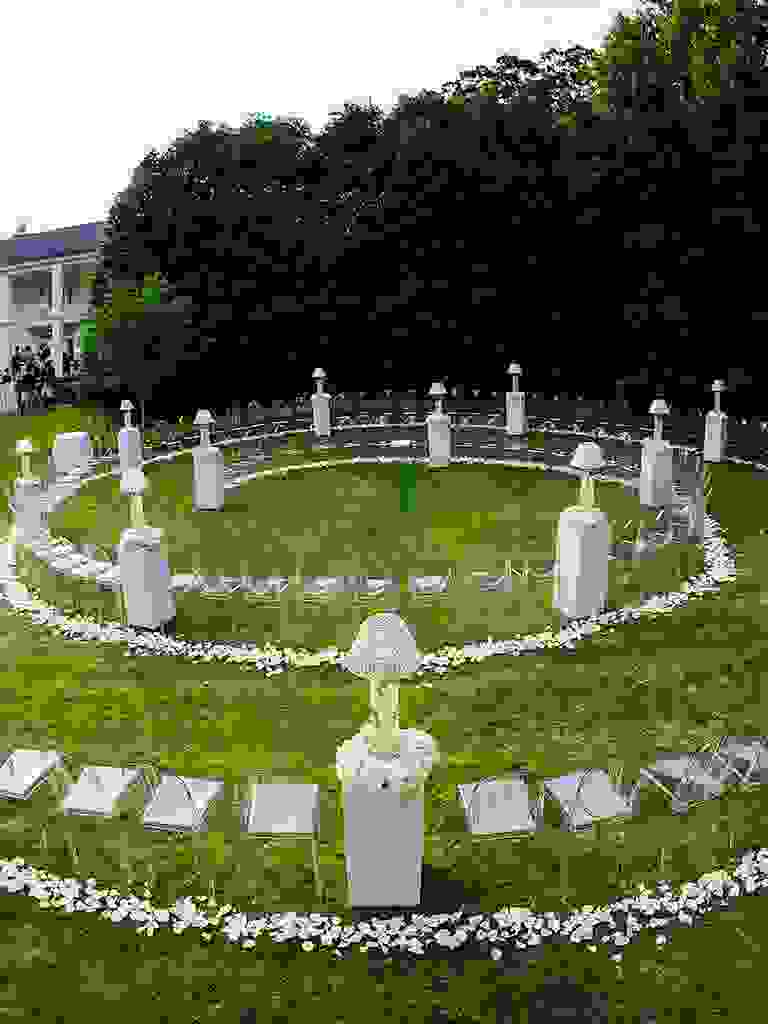 We've all attended weddings where we've struggled to hear the vows. Try implementing wedding ceremony ideas that embrace the guest experience, like this one – there's not a bad seat in the house.
From: A Glamorous Terrace Wedding at Little Gardens in Lawrenceville, Georgia
2. DIY Petal Toss Station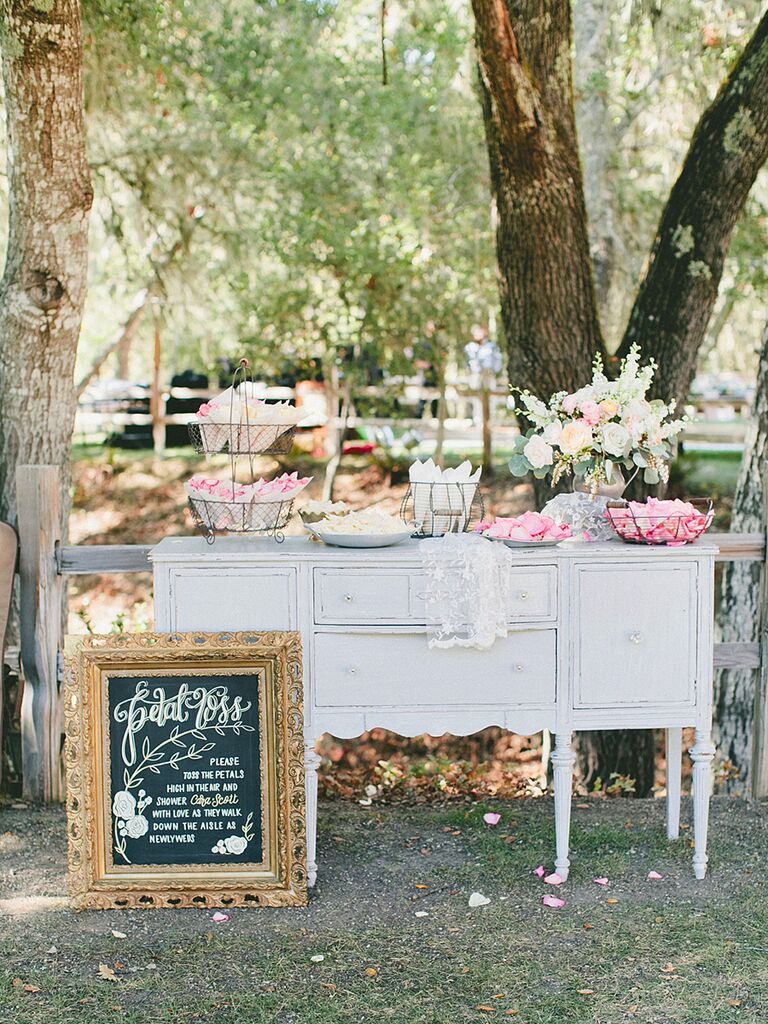 Unique wedding ceremony ideas like this one give your guests the chance to get in on the flower action. There's nothing more fun than a little audience participation.
From: A Romantic, Rustic Wedding at Lago Giuseppe Cellars in Templeton, California
3. A Surprising Ring Bearer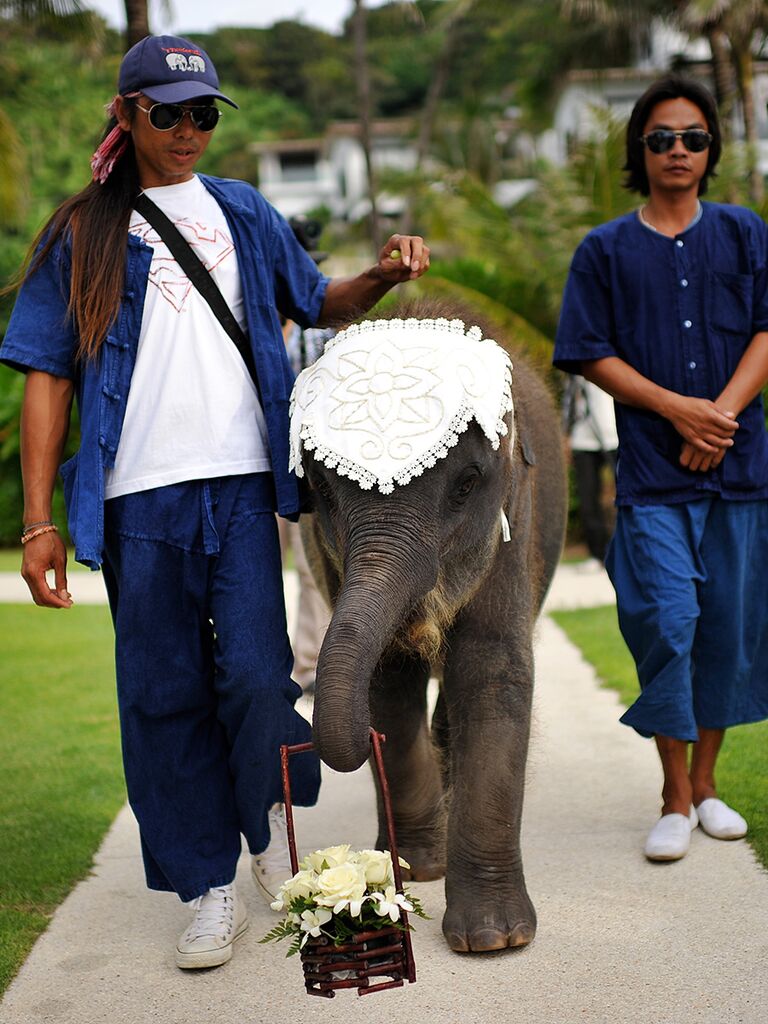 You don't need to go all the way to Thailand to incorporate surprising members of the wedding party. Pets make a fun addition to any ceremony.
From: A Destination Wedding at Katathani Phuket Beach Resort in Phuket, Thailand

4. Upgrading Outdoor Wedding Furniture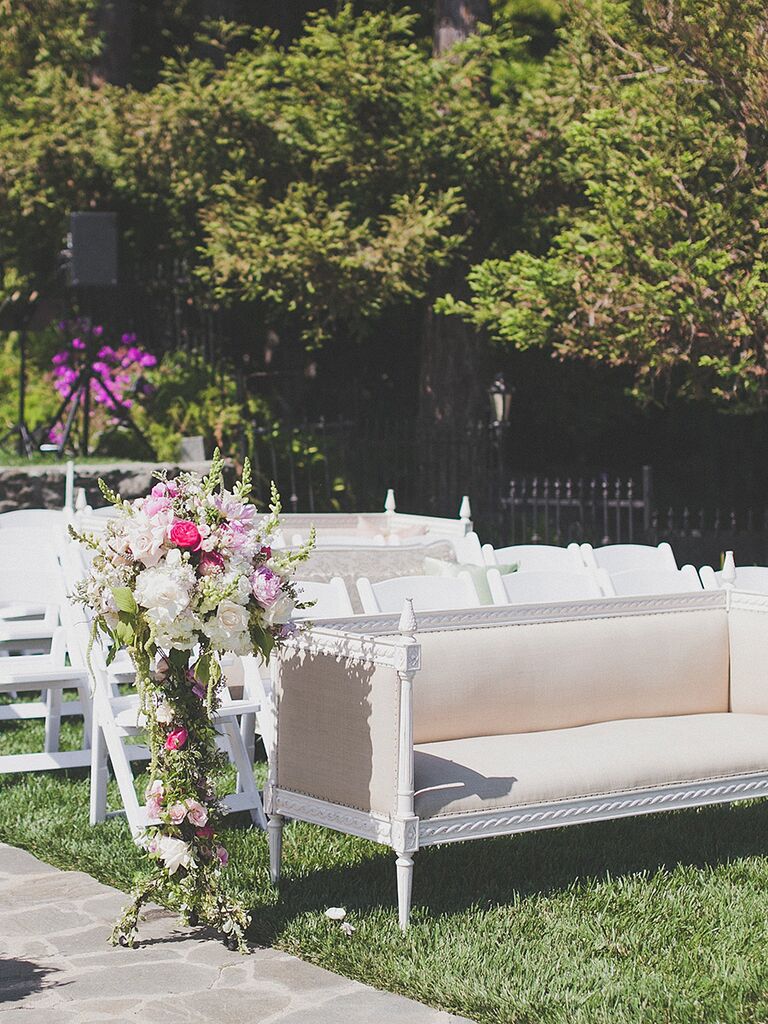 Say goodbye to uncomfortable rental chairs and hello to stunning shabby chic antiques. This is one of the most memorable wedding ceremony ideas we've seen yet.
From: A Romantic Garden Wedding at a Private Residence in Malibu, California

5. Flower Girl Blowing Bubbles (Instead of Tossing Petals!)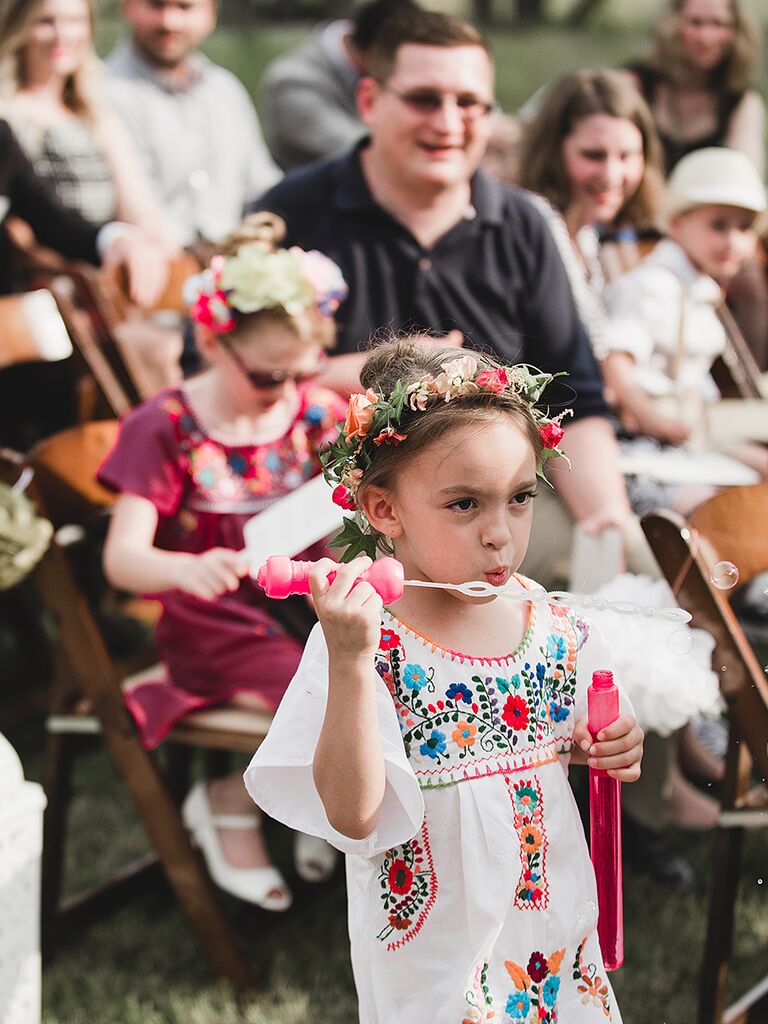 Kids have plenty of practice blowing bubbles, so why not give them a task that feels more natural? Rethinking tradition is a great way to spark wedding ceremony ideas like this one.
From: A Colorful Fiesta Wedding at Ma Maison in Dripping Springs, Texas

6. One-of-a-Kind Ceremony Entrance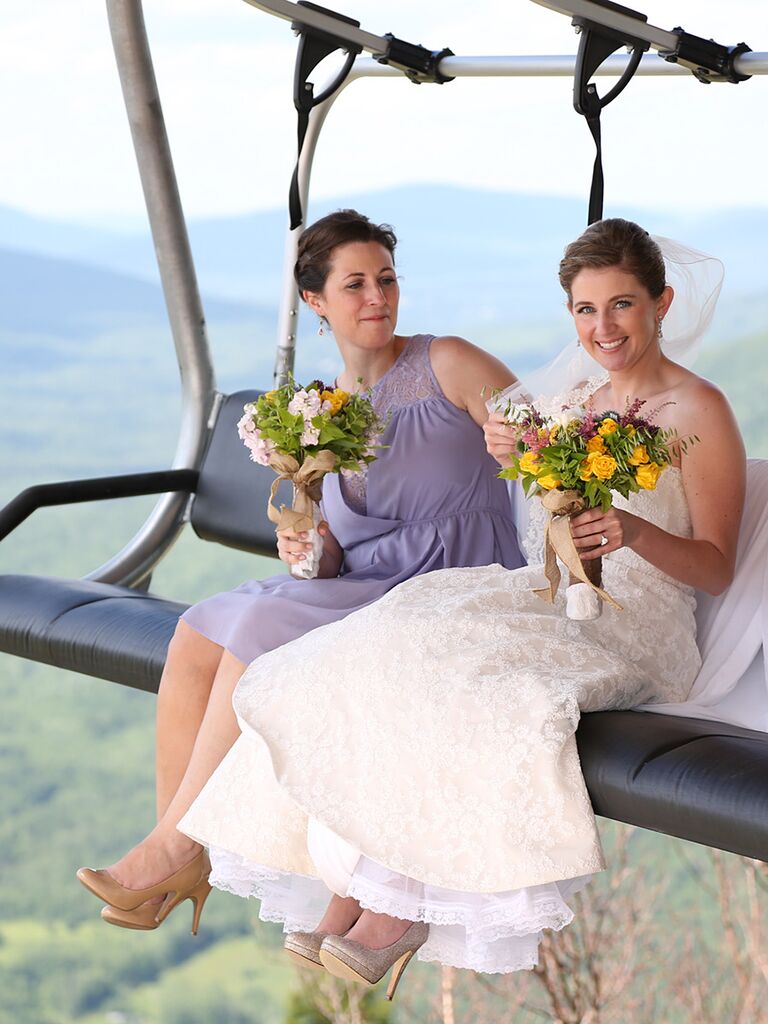 Your trip down the aisle should be a memorable one. Why not embrace whimsy and arrive in style?

From: A Whimsical, Rustic Wedding at Hunter Mountain Ski Resort in Hunter, New York
7. Unique Ceremony Program Display
Any old usher can hand out programs to guests, but for truly unique wedding ceremony ideas, try incorporating on-theme decorations like bicycles. 
From: A Whimsical, Eclectic Wedding at the Pocketbook Factory in Hudson, New York

8. DIY Paper Bouquet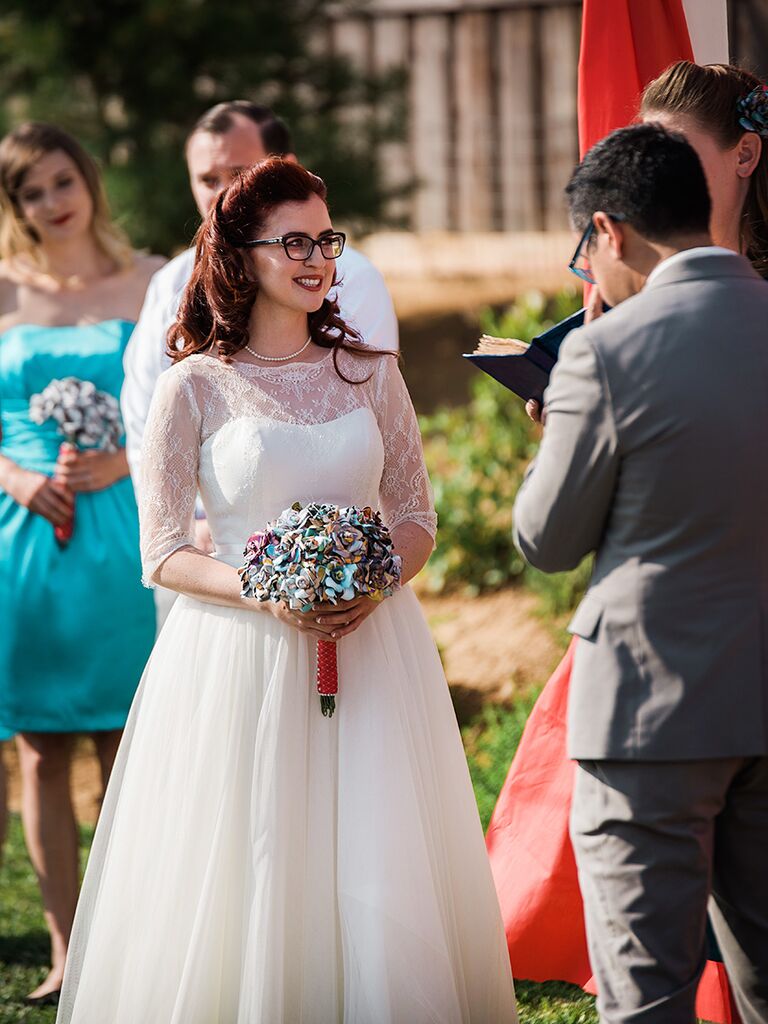 DIY wedding ceremony ideas like this one offer a unique twist on age-old traditions. 
From: A DIY Comic Book Wedding at a Private Residence in Beaumont, California

9. A Non-White Wedding Gown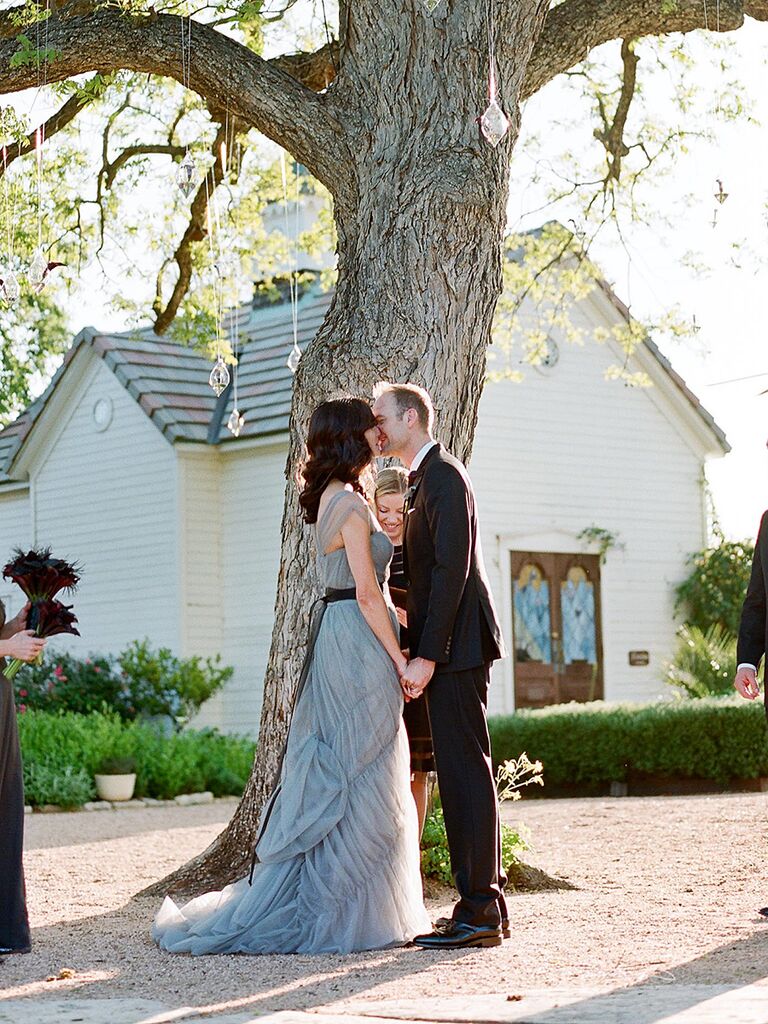 Embrace color in a way that feels both romantic and daring.
From: A Rustic, Outdoor Wedding in Austin, TX

10. Including Pets In the Ceremony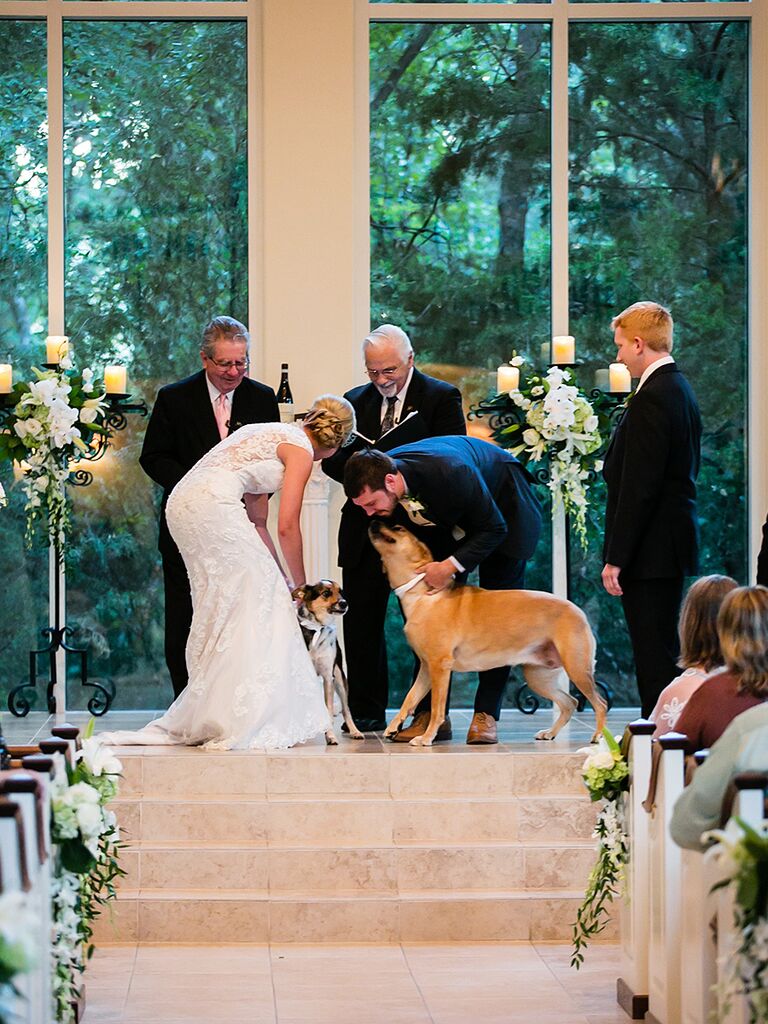 Make Fido your ring bearer or Fluffy your maid of honor. Wedding ceremony ideas that involve animals always prove to be a lot of fun.
From: A Classic Wedding With a Touch of Whimsy at Ashton Gardens in Corinth, Texas

11. Exchanging Vows Over Water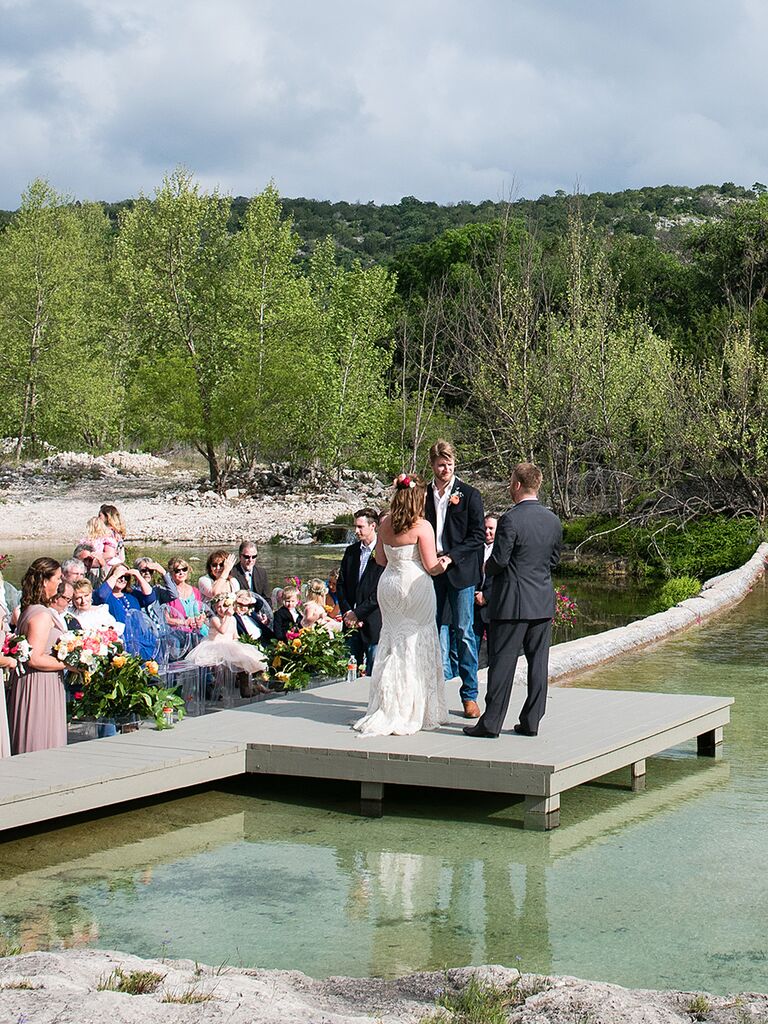 Whether you're standing over a bridge, dock, or pier, you can guarantee a lovely backdrop by tying the knot over water.
From: A Natural, Rustic Ranch Wedding at a Private Residence in Rocksprings, Texas

12. Outdoor Ceiling of String Lights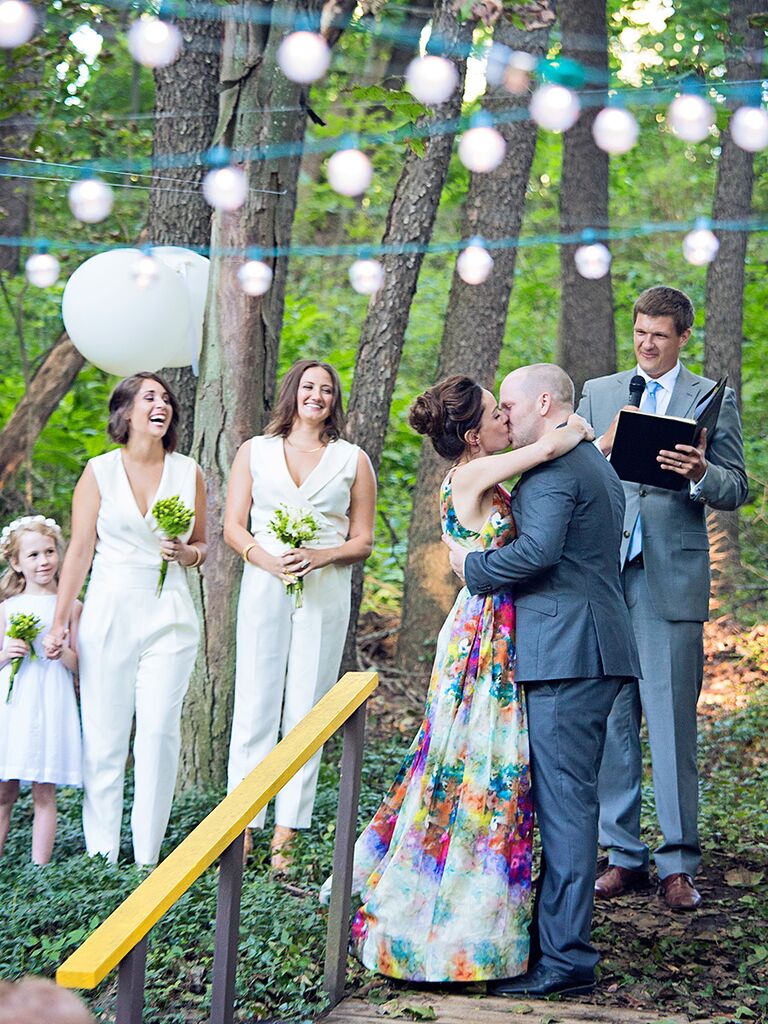 String lights look quirky and fun by day, but they truly come to life in all their romantic glory once the sun goes down.
From: A Modern, Colorful Backyard Wedding in Kalamazoo, Michigan

13. A Matromonial Rug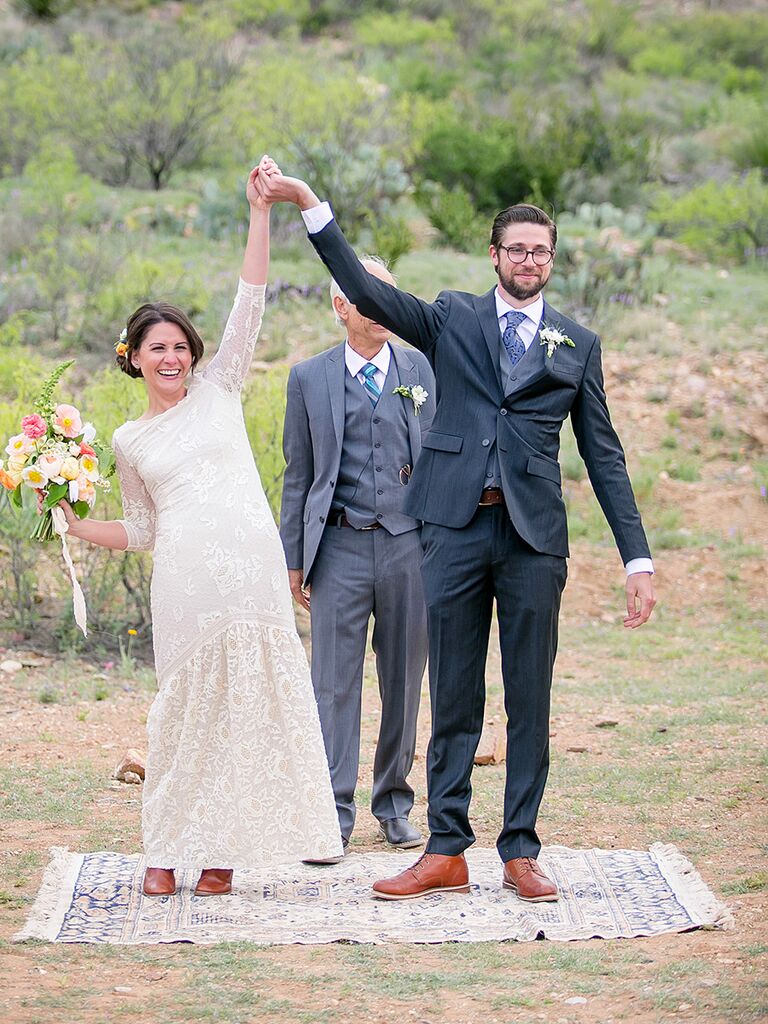 No stage, no problem. Wedding ceremony ideas like this reinvent our expectations for traditional vow exchanges. 
From: A Breathtaking Natural Wedding at Terlingua Ranch Lodge in Terlingua, Texas

14. Chic Sun Hat Bridal Accessory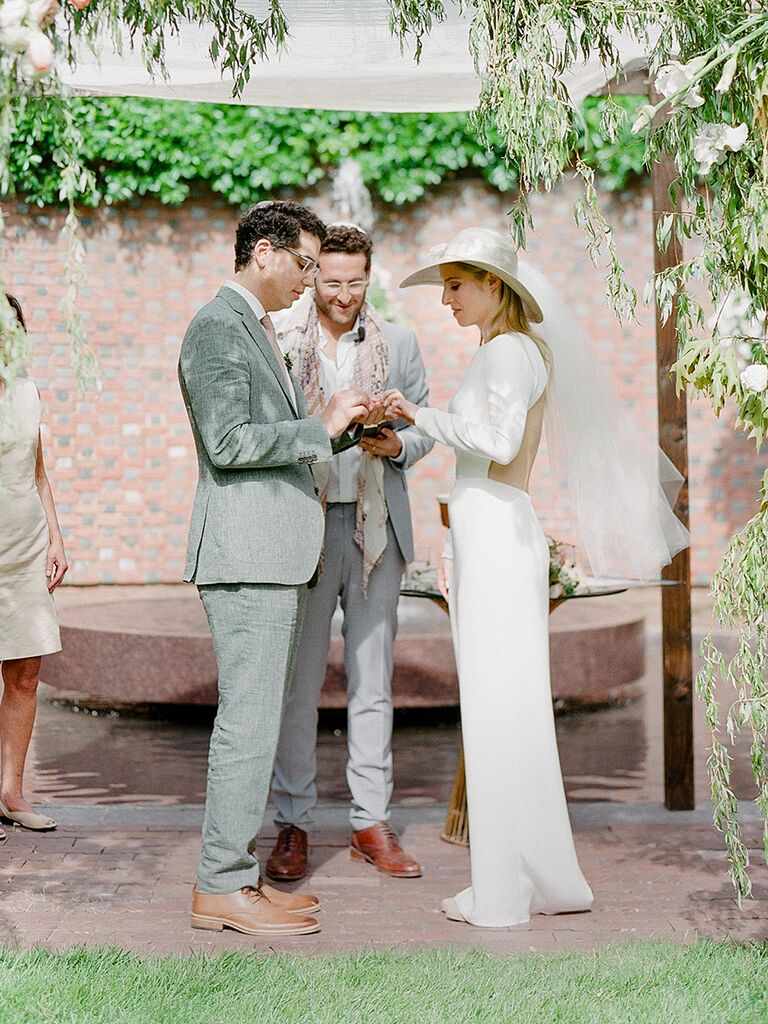 Sun-soaked ceremonies don't have to be sweaty affairs.
From: An Elegant, Bohemian Wedding at a Private Residence in Greenwich, CT

15. Musical Vow Exchange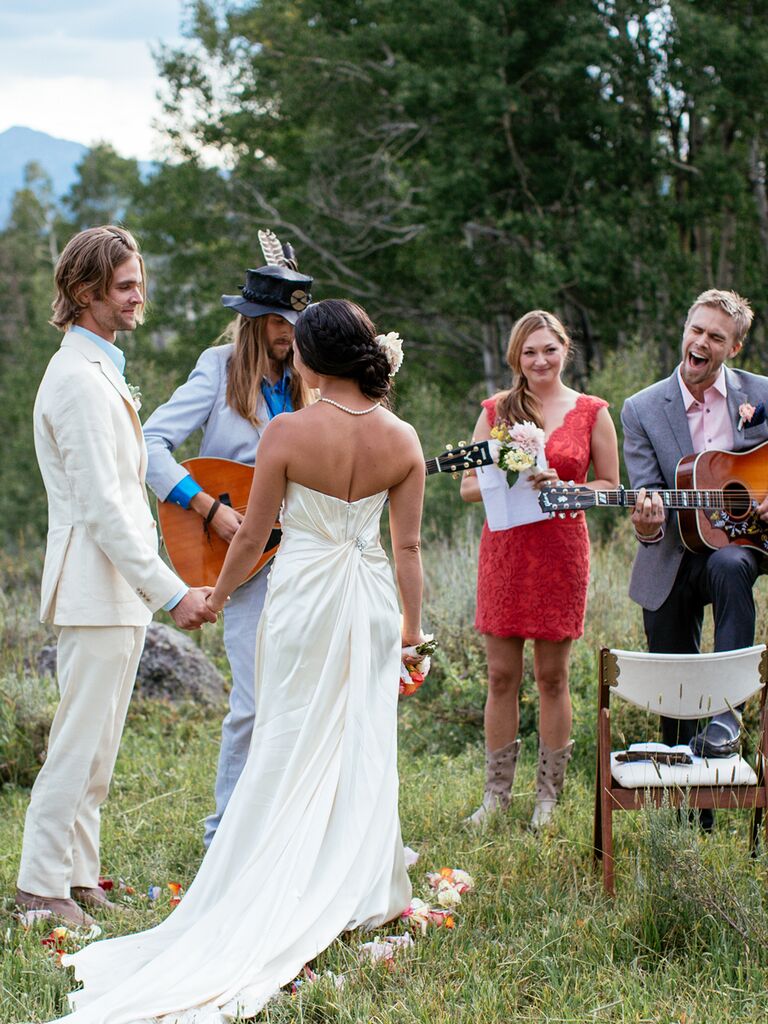 There's nothing quite as romantic as the unique wedding ceremony ideas that involve live music.
From: A Simple, Rustic Wedding at The Devil's Thumb Ranch in Tabernash, Colorado

16. Outdoor Nighttime Ceremony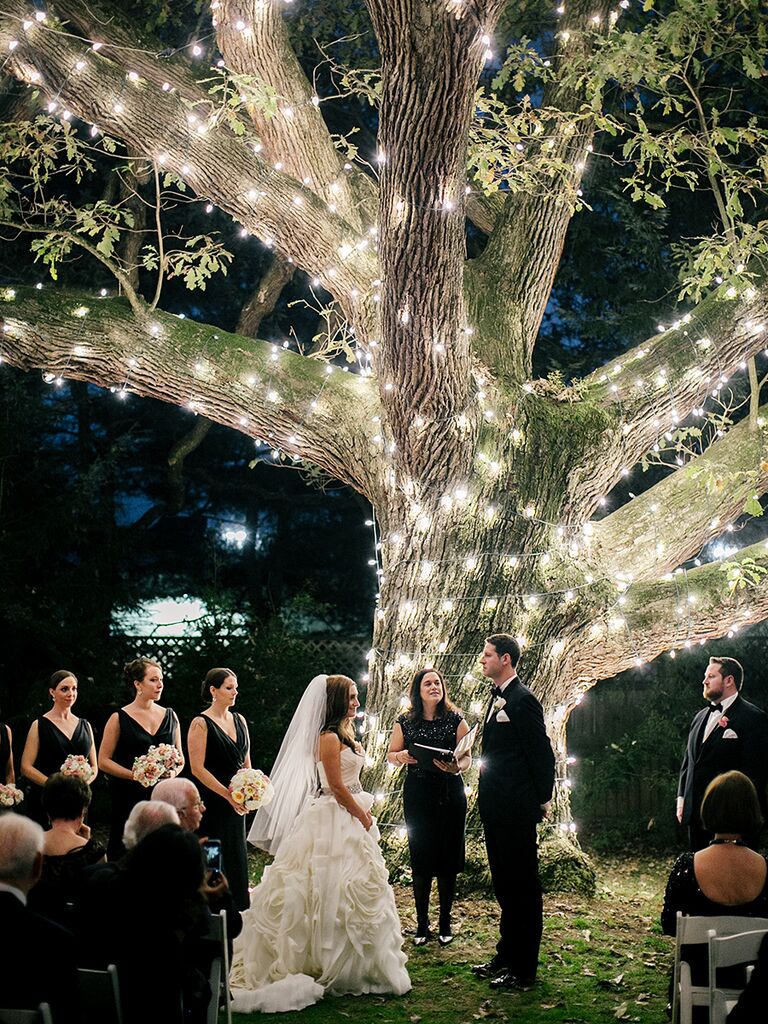 Cooler temperatures and stunning light displays make nighttime wedding ceremony ideas feel especially magical. 
From: A Magical, Romantic Wedding at Aldie Mansion in Doylestown, Pennsylvania

17. Pajama Party-Themed Ceremony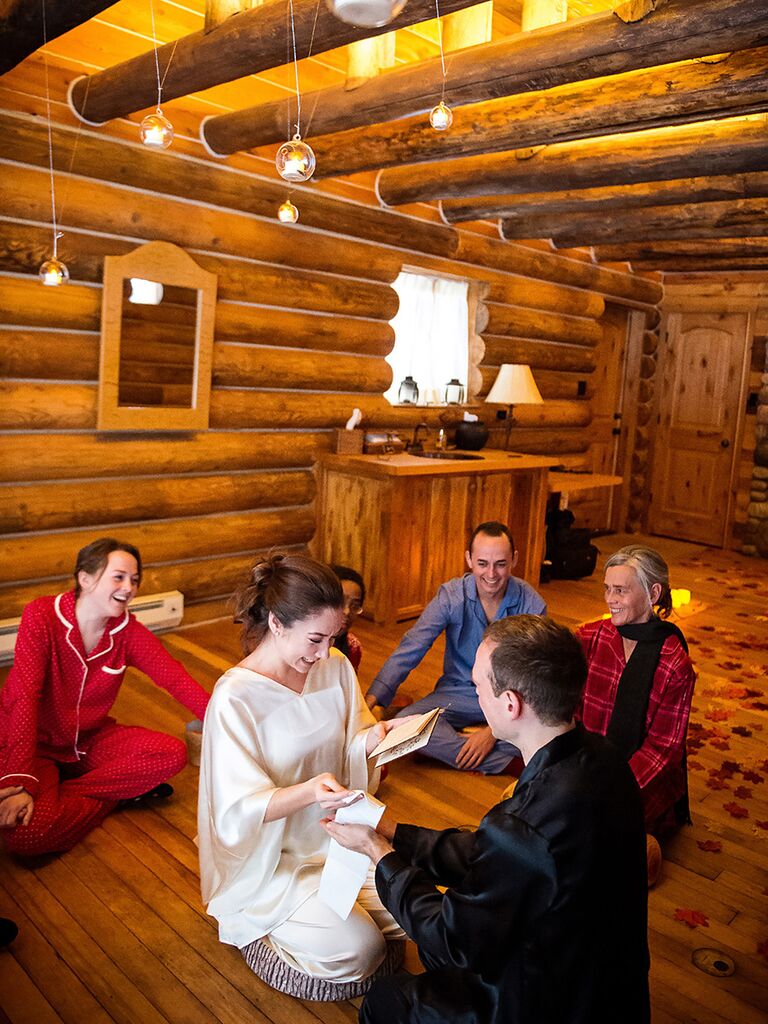 There's no need for uncomfortable outfits and painful shoes. On your Big Day, consider getting cozy with your closest friends and family.
From: An Intimate Pajama Party Wedding at Rainbow Ranch in Big Sky, Montana

18. Thank-You Cake for a City Hall Wedding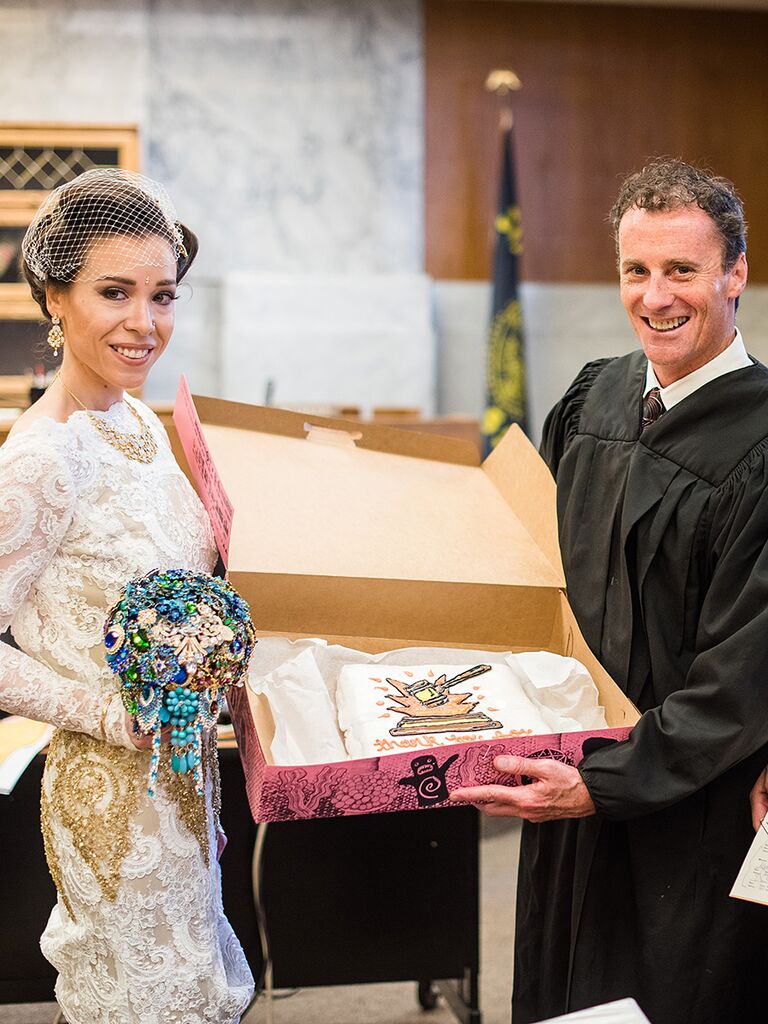 Wedding ceremony ideas that incorporate practices of gratitude feel especially wholesome.
From: An Urban Civil Ceremony at the Multnomah County Courthouse in Portland, Oregon

19. Asking a Friend or Family Member to Officiate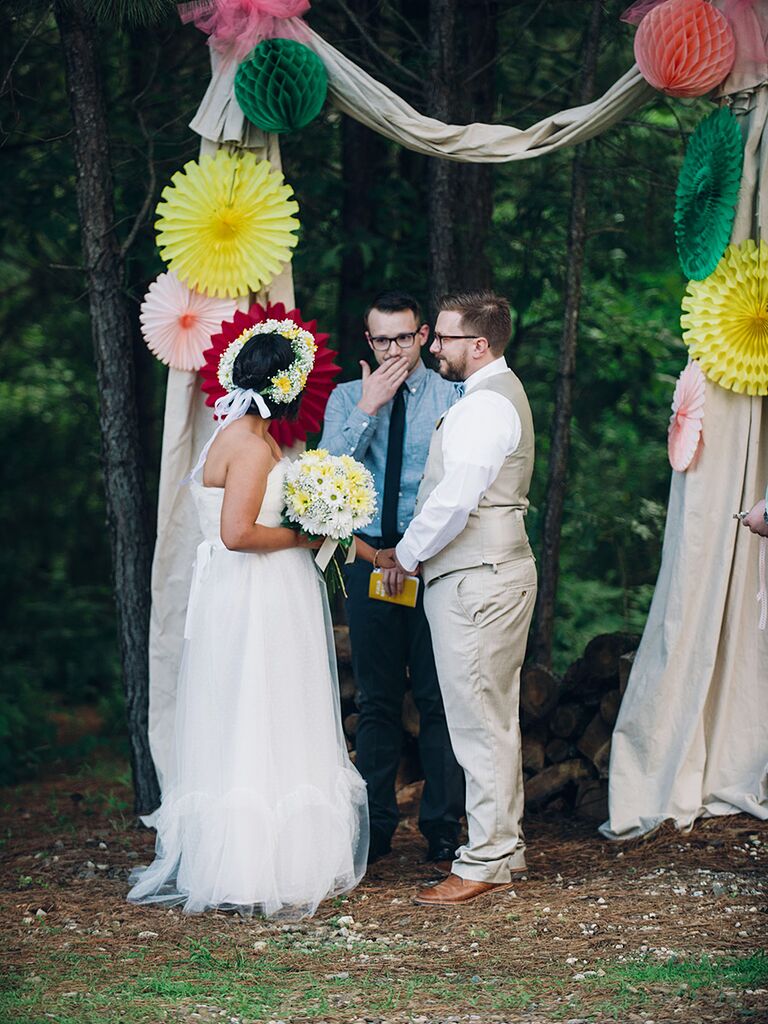 Online certification makes it easy for your funniest friends to oversee your nuptials.
From: A DIY Woodland Wedding at Hidden Hills Cabins in Broken Bow, Oklahoma

20. Custom Built Wood Ceremony Platform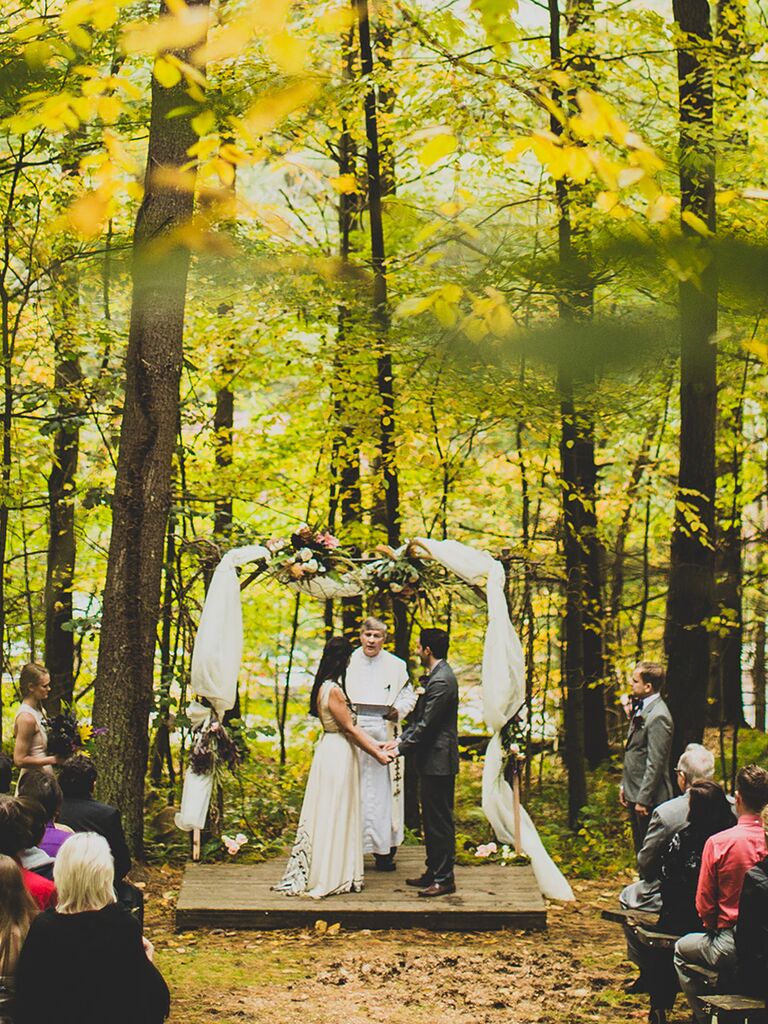 A simple platform can transform a wooded space into a wedding venue.
From: A Rustic Fall Wedding in the Woods at the Barn at Fallingwater in Mill Run, Pennsylvania

21. Lightsaber Ceremony Exit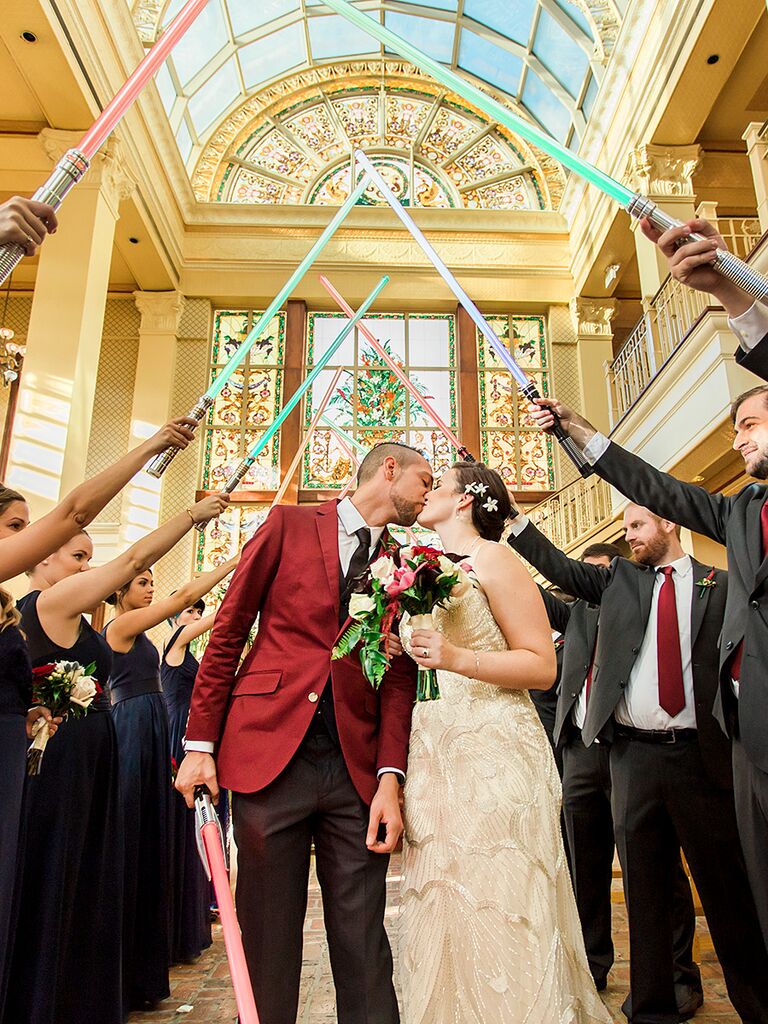 We love wedding ceremony ideas that incorporate the happy couple's favorite pop culture elements.