8 Steps To Flawless Bridal Makeup (From Makeup Expert Laura Geller!)
by Jamie Miles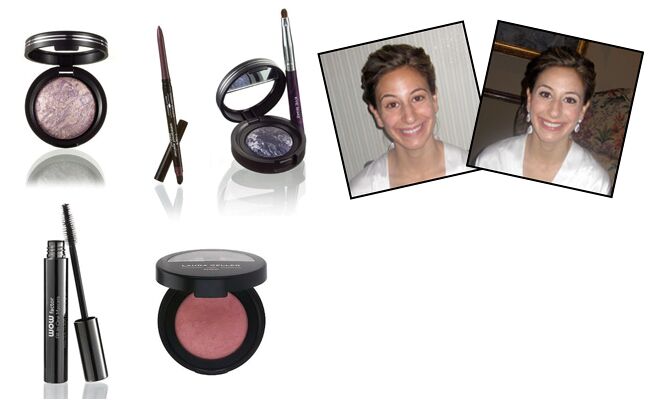 Hiring a makeup artist may not be the first planning to-do on your mind but trust us, it'll ensure you look incredible in those wedding photos. So we asked Laura Geller, makeup artist to the stars, and Pro Team artist Carrie Spagnolo of Laura Geller Makeup, to walk us through — step-by-step — how to create a flawless bridal look. To better understand the process, meet bride-to-be Kristen Terranova!

Kristen wanted a classic wedding day makeup look with a hint of glam for her New York City wedding, so here's what Laura Geller's team did…
Step 1: Start with primer.
She first applied a thin layer of primer. Primer works to smooth the surface of the skin for a professional make-up application, even skin tone and ensure that products applied on top of it will last all day long.
Try: Laura Geller Make-Up Tinted Under Make-up Primer in Champagne.
Step 2: Prep the under eye area with a creamy, full coverage concealer.
Next comes the concealer which can be used to cover anything from dark circles and rosacea to varicose veins and tattoos, without looking heavy. If you're going to be taking photos all day, you're going to want to use this around the eyes because it'll give you all-day coverage in the heat and humidity. Keep in mind: "A little goes a long way with this concealer," Laura advises.
Try: Laura Geller Make-Up Real Deal Concealer.
Step 3: Achieve the perfect base.
Make-up artist, Carrie, applied super-blendable foundation for the right amount of comfortable coverage and color, so it never appeared "caked on." Use your fingertips for a natural finish and if you're using a liquid foundation massage it all over the face and jaw line.
Try: Take Cover Anti-Aging Foundation SPF 20.
Step 4: Add drama and dimension to highlight your eyes.
Carrie accented Kristen's big brown eyes by using a rich eggplant eye liner instead of classic black. First, she lined her eyes with traditional waterproof, smudgeproof eyeliner, then topped it all off with a richly pigmented shadow and liner "to soften the look and still maintain drama and dimension."
Try: Baked Marble Eyeshadow in Pink Icing and Devil's Food,
Laura Geller Make-Up I-Care Waterproof Eyeliner in Eggplant and Eye Rimz Baked Shadow and Liner in Plum Like it Hot.
Step 5: Create wow-worthy lashes!
The makeup artist enhanced Kristen's natural lashes with individual false lashes for a natural and dynamic look. Look for a lengthening, volumizing and defining mascara to really amp up the drama. And a tip: Add multiple coats!
Try: Laura Geller Make-Up WOW Factor Mascara.
Step 6: Add a natural looking flush.
Carrie applied true pink blush to enhance and promote a "peaches and cream" flush.
Try: Baked Blush in Bora Bora.

Step 7: Set your makeup for a long-lasting look.
Carrie topped off Kristen's look with a sweep of highlighter she added to the cheekbones, browbones and inner corner of the eyes to create a lasting glow. Laura says this makes the "ultimate difference" in special occasion make-up. Don't forget a finishing powder to set the makeup so it lasts all night!
Try: Laura Geller Make-Up Split Baked Highlighter in Portofino/French Vanilla and Laura Geller Make-Up Balance-n-Brighten
Step 8: Pretty up your pucker.
Carrie added a natural lip liner and gloss in mauve and nude colored hues. You want to be sure the color and shine last!
Try: Laura Geller Make-Up Light Beams Lip Gloss in Mauve-a-Lous and Skinny Dip.

See the finished look? Ga-gorgeous!
> Get Answers to All Your Wedding Beauty Questions!
> Wedding-Worthy Beauty Looks from the Golden Globes.
> Beauty Ideas from Paris Couture Fashion Week.